Some posts on this site contain affiliate links. If you book or buy something through these links, I earn a small commission (at no extra cost to you). Take a look at my privacy policy for more information.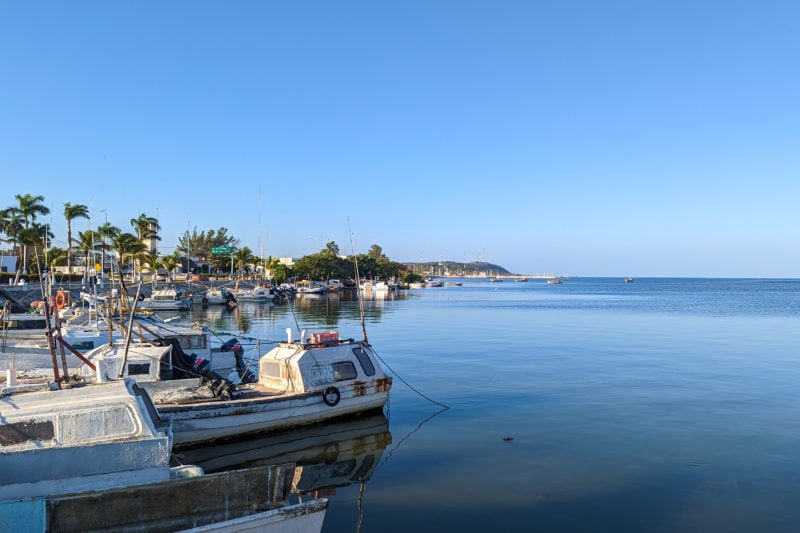 Looking for the best things to do in Campeche? Whether you only have one day in the city, or more time to explore, this guide has you covered.
I have to be honest – Campeche was never really on my radar until about a week before I went there. Despite visiting Mexico five times – and spending months exploring the neighbouring state of Yucatan – I'd never found time to visit.
As it turns out, this was a terrible decision, because Campeche is wonderful! Thankfully, on my most recent trip, I rectified that.
After spending a week exploring this all-too-often overlooked coastal city, I can confirm it's WELL worth adding Campeche to your Mexico travel plans. And this post contains everything you need to do while you're visiting. Buen viaje!
Campeche – A Quick Intro
Campeche is one of the oldest colonial cities in Mexico, founded in 1540 on the site of the Mayan village of Kimpech. As such, the city is rich with history and culture.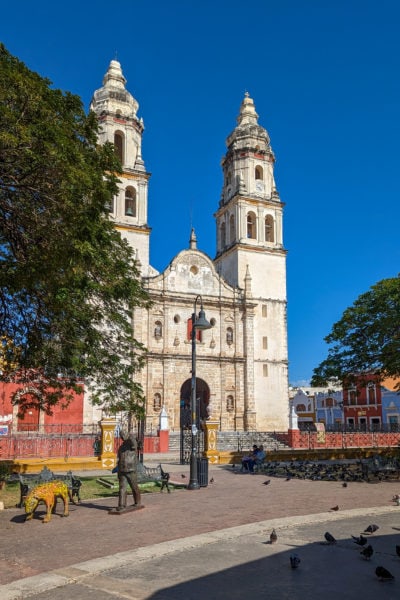 Surrounded by dense city walls – built in the 17th century to keep out pirates – Campeche was once one of the most significant ports on the Yucatan Peninsula. Many Campechanos became very wealthy from the local trades in materials such as salt, dyewood, and henequen – leaving behind a city centre of beautiful mansions and stunning colonial architecture.
Today, that city centre is a UNESCO World Heritage Site full of such colourful buildings that Campeche is often nicknamed the "rainbow city".
With its sweeping 7km-long seaside promenade, dreamy over-sea-sunsets, photogenic centre, vibrant food scene and fascinating history, there's PLENTY to keep you busy in Campeche.
That's not to mention the little-known Mayan ruins of Edzna, which see so few tourists you may not share them with another soul! A must when you visit Campeche.
Shortlist: Things to do if you only have One Day in Campeche
Many people only stop in Campeche for a day or two on the way to/from Palenque. Personally, I think the city deserves at least 2-3 days – but if you don't have time for that, here's a quick list of the can't-miss stops. More info on each one in the next section of this post.
Centro Historico – walk the city walls and explore the colourful downtown area (don't miss the Cathedral).
Walk along the Malecon (seafront promenade). If you stay the night be sure to catch the evening fountain show.
Visit San Miguel Fort – a 19th-century fort now home to an Archaeology Museum.
Take the Tram Tour for a nice overview of the city and some interesting history.
Take a half-day tour to Edzna if you have time to explore the ruins of a Mayan city with almost no other tourists.
9 Top Things to do in Campeche
1. Explore the Colourful Centro Historico
If you love colourful city centres, Colonial architecture, and history, you are in for a treat in Campeche!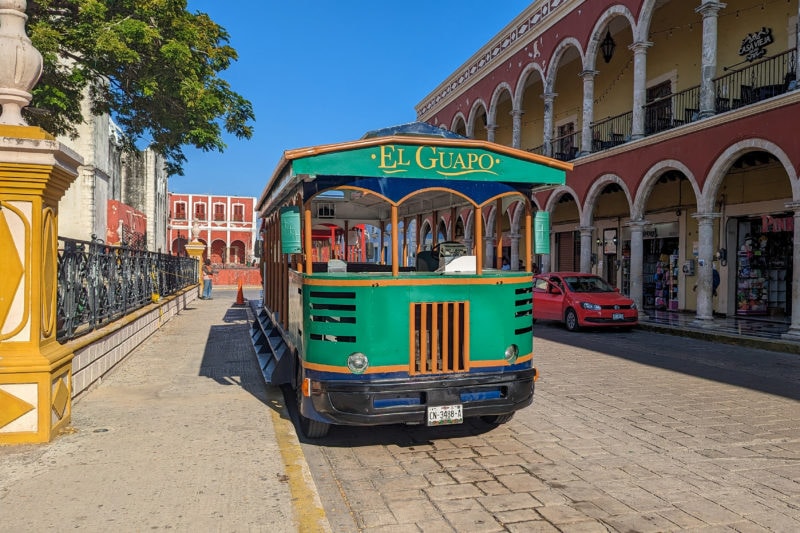 The Centro Historico is a beautiful, colourful neighbourhood surrounded by centuries-old city walls (more on those in section 4) and filled with historic mansions, Colonial architecture, and pretty churches.
At its heart is the Parque Principal (main square) – also called the Zocalo or Plaza de la Independencia – which is surrounded by several notable buildings, including the Cathedral and the reconstructed Town Hall (now home to the Palace Museum – section 14).
Heading out in almost any direction from the main square, you'll find streets lined with colourfully painted buildings. Easy to see why they often call Campeche Mexico's "Rainbow City"!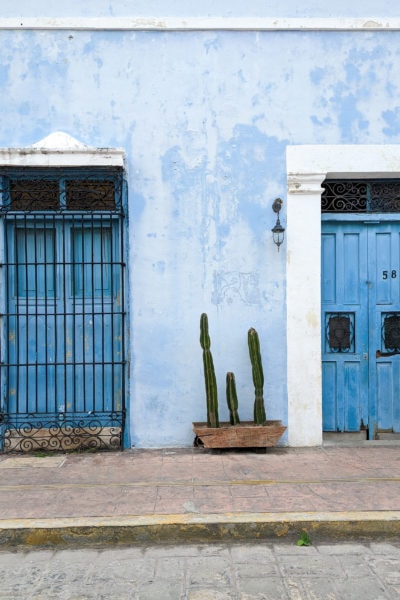 Don't just stick to the Centro Historico, though. The other barrios (neighbourhoods) within Campeche's UNESCO centre are also worth exploring. Guadalupe was home to wealthy Spanish before the Centro was walled and is full of beautiful architecture.
San Francisco, the oldest barrio in the city, was probably the first settlement in Campeche. And San Román, traditionally a poorer neighbourhood, is known for its historic church with a legendary icon of a Black Christ. Today, San Román also has some fantastic eateries and brunch spots – especially along the Malecon.
RECOMMENDED TOUR: Half-Day Private Tour of Campeche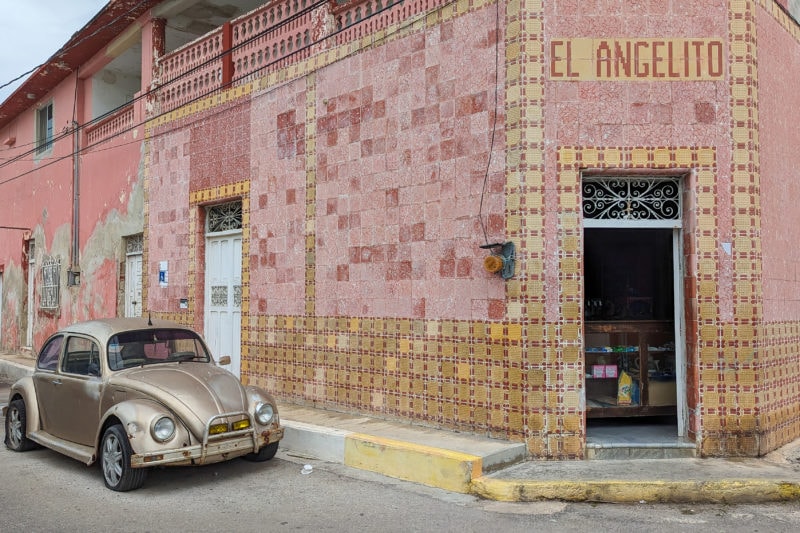 2. Hop on a Tram Tour for a Quick Overview
I LOVED taking the tram tour in Campeche. These cute, historic trams leave from Independence Square in the heart of the Centro Historico.
From there, they'll take you on a one-hour tour of the city's major sights, taking in several historic neighbourhoods and the seafront. There's an interesting commentary (in Spanish and English) as you travel.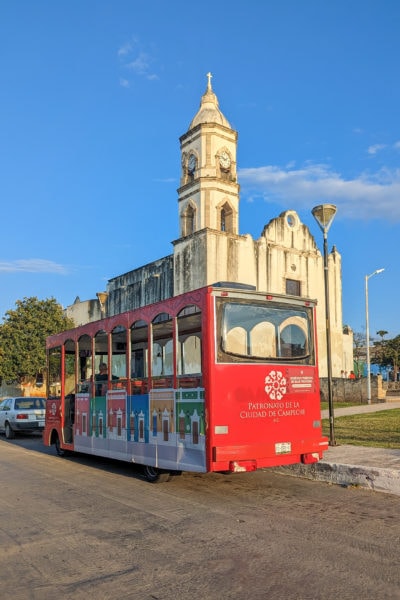 It's a fun way to see a lot of the city without tiring yourself out – ideal on a hot day!
The tram tours cost $100 MXN ($5 USD) and won't leave until they have at least 8 people on board. Some sources I read online said there are two tram routes, but at the ticket office, they told me there's only one – it's just that there are three different trams.
3. Take a Day Trip to Edzna (and have Mayan ruins to yourself)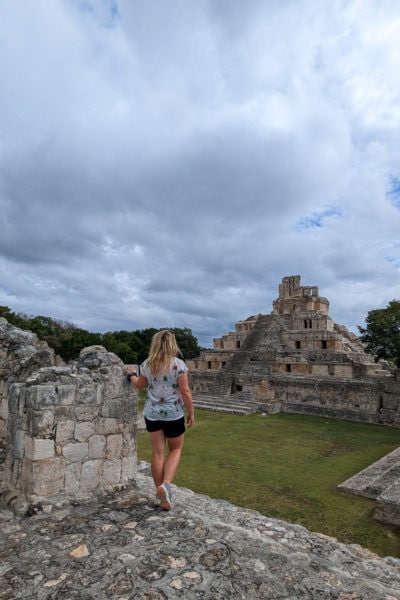 One of the best things that I did in Campeche was my trip to the Mayan ruins at Edzna. About an hour's drive from the city centre, this Mayan archaeological site boasts a pyramid to rival the one at Chichen Itza – but NONE of the tourists!
I was on a group tour with six other people. Besides us, no more than ten others were visiting Edzna that morning. If you want Mayan ruins to yourself, this is the place to come.
The history is pretty fascinating, too! Edzna was founded around 400BC and was a major Mayan city from around 200AD to 1200AD, when it was abandoned (historians don't know why). The most impressive sight is the Temple of the Five Storeys, a huge pyramid containing – you guessed it – five storeys and 22 rooms!
RECOMMENDED TOUR: Tour to Edzná and La Casa de los Itzaes
How to Get to Edzna
Entry costs $90 MXN (about $5 USD). There are bathrooms, but no shop or restaurant (I think there used to be one, but it is closed these days). You'll find a few signs in English explaining what some of the buildings are, but not many.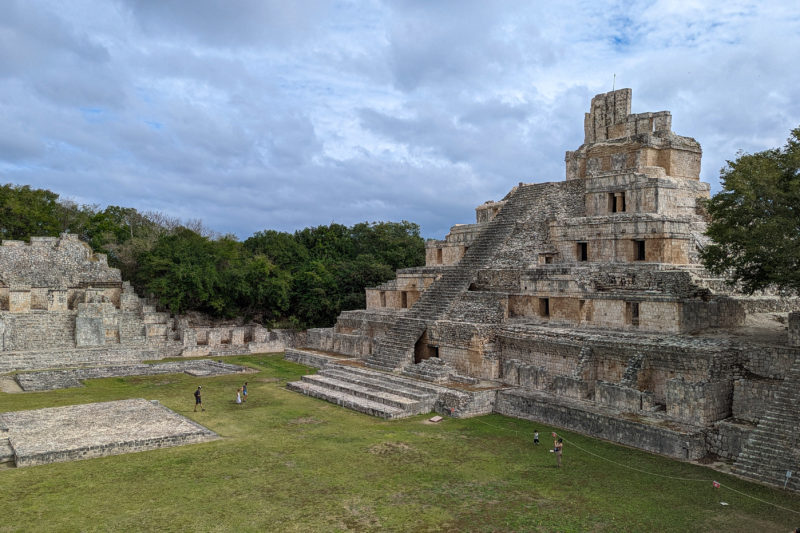 It is possible to get to Edzna by taking a colectivo (minibus) from Campeche, which will drop you off on the main road a short walk from the entrance. However, the colectivos are quite sporadic and I've heard it can be hard to get back to the city.
I decided it would be easier to book an organised tour. It's a more expensive option, but having a guide to explain the history was an invaluable experience. I booked a half-day Edzna tour with Kankabi OK Tours (just under $1000 MXN including entry fees and guide services) and highly recommend them! Alternatively, you can book a half-day tour on Viator – click here to check the latest prices.
4. Walk the Campeche City Walls and Bastions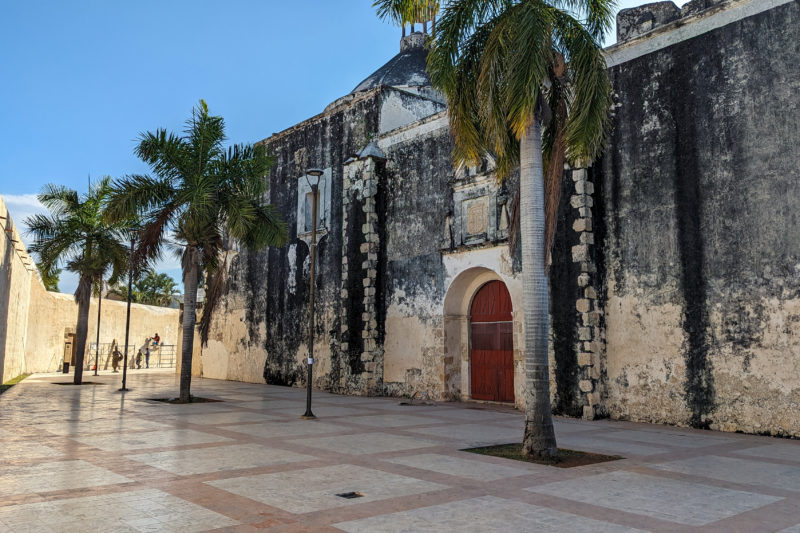 As mentioned above, Campeche's Historic Centre is completely surrounded by thick stone walls. The City Walls were built in the 1600s – largely to protect Campeche from frequent pirate attacks – and form part of the UNESCO-protected city centre.
At regular intervals along the walls are seven defensive Baluartes (bastions or bulwarks), as well as two impressive city gateways.
You can walk the full circuit of the Centro Historico following the city walls between the bulwarks. If you're short on time, try the short walk along the northwestern sea-facing section from Baluarte San Carlos to Baluarte Santiago.
Puerta de Mar* – "Door of the Sea", at the centre of the northwestern city walls.
Baluarte de la Soledad* – home to the Mayan Architecture museum.
Baluarte Santiago* – home to Xmuch'haltún Botanical Gardens (see section 13)
Baluarte de San Pedro – alongside the pretty San Juan de Dios church.
Baluarte San Francisco – the primary defence for one of the two city doors. Contains a small City Museum with exhibits about the defensive system and pirate attacks.
Puerta de Tierra – "Door of the Earth", directly opposite the Puerta de Mar at the other end of Calle 59.
Baluarte San Juan – the smallest of the seven baluartes.
Baluarte Santa Rosa – entrance is free and you can enjoy some nice views of the city from the top.
Baluarte San Carlos* – contains a small museum with some info about the history of the city and fortifications. Look out for the pirate in prison as you pass!
*Part of the coastal defence
5. Visit Campeche's Cathedral (and other churches)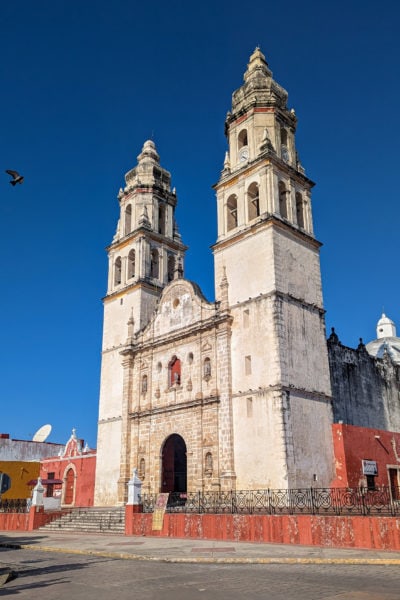 Officially known as Catedral de Nuestra Señora de la Purísima Concepción (Cathedral of Our Lady of the Immaculate Conception) – but more commonly called Campeche Cathedral – this is one of the oldest cathedrals in Mexico.
Work began in 1540 and went on until 1760. This striking, two-towered white Baroque-style cathedral is just one of several stunning historic churches in Campeche. Look out for these others as you explore:
Iglesia San Román – pretty church in the San Román neighbourhood, known for its icon of "Christo Negro" (Black Christ), about which there are several legends.
Iglesia del Dulce Nombre de Jesus – small, working church with a cheery yellow facade.
Church of San Jose – former Jesuit Temple with some beautiful tilework on its facade.
6. Wander Along the Malecón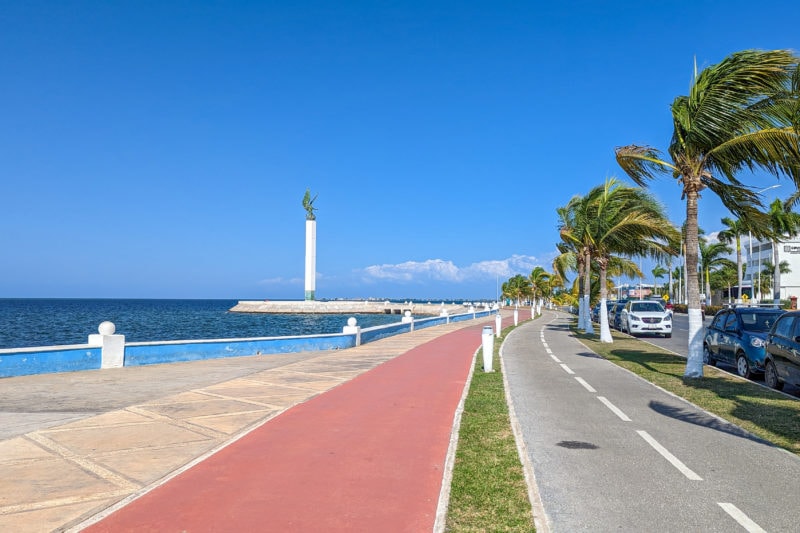 Stretching for around 7km along the city's waterfront, the malecón is a seaside walkway and bike path. This waterside promenade provides welcome sea breezes and gorgeous sunset views for walkers, joggers and cyclists. It's also home to several notable attractions and monuments, including:
The Monument "Encuentro De Dos Mundos" – aka "El Ángel Maya", a monument symbolising the fusion of Mayan and Spanish culture.
Campeche Sign – a large, photogenic sign with colourful letters in front of the above monument.
Look out for the brightly painted sculptures opposite Torre de Cristal Despacho.
La Naturaleza de lo Divino – a huge etched-metal mural showcasing elements of local culture (in front of the Fuentes Marinas Poesía del Mar).
Novia del Mar – a sculpture of a girl gazing out to sea. Local legend says she fell in love with a pirate and is waiting for him to return.
Parador Gastrónomico de Cocteleros – a cluster of waterfront restaurants known for their super-fresh seafood. Beware the almost-aggressive touting tactics of waiters trying to get customers to choose their establishment!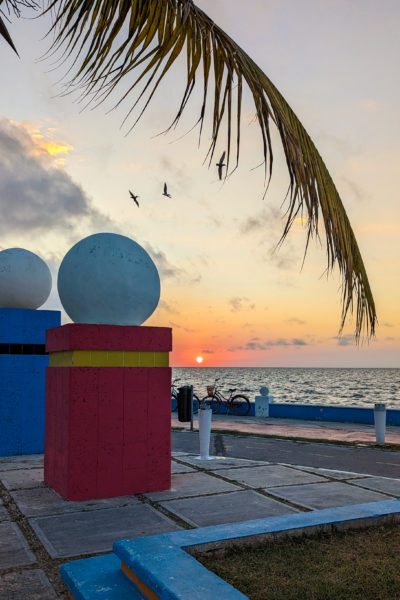 7. Watch the Fountain Show
The Fuentes Marinas (Marine Fountains) Poesía del Mar is one of the coolest things to do in Campeche after dark! It's a nighttime fountain and light show on the waterfront featuring 20m high fountains, all lit up in changing colours, with the whole thing timed to music.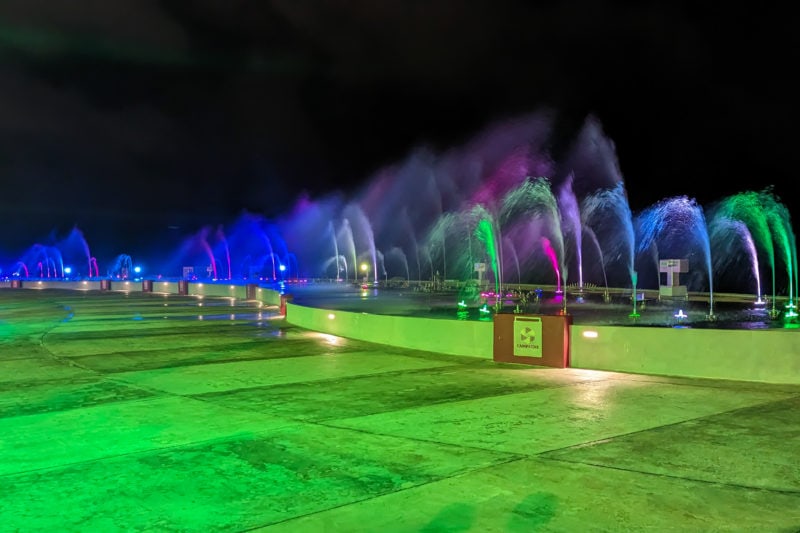 It's a little cheesy, but good fun and a great way to spend an evening in Campeche. The show is free to attend and there are usually a few street vendors around selling snacks.
A couple of online sources I read listed different days and times for the fountain show, but locals I asked told me it's on every night at 8pm. Therefore, I recommend asking at your accommodation or at the tourist information centre to double-check the times during your visit.
8. Visit San Miguel Fort and the Archaeology Museum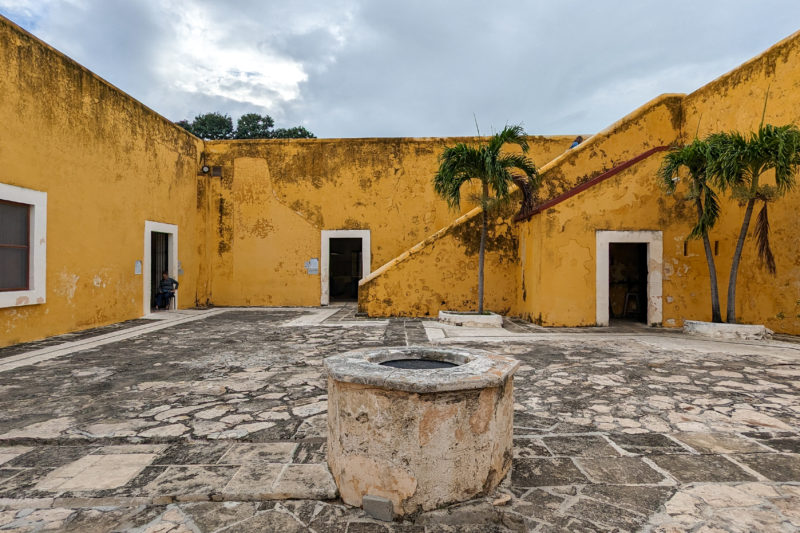 San Miguel Fort is one of two coastal forts located on either side of Campeche. It was built in the late 18th century as part of a coastal defence against pirates.
The small fort west of the city has a moat, two small bastions, some historic canons, and a bright yellow interior courtyard area. It's located on Buenavista hill and affords spectacular views of Campeche's coastline.
Today, the fort houses a small – but very good – museum dedicated to the region's archaeology. There are lots of Mayan artefacts and some interesting insights into the Prehispanic cultures. Entrance costs $70 MXN.
9. Dine Al Fresco on Calle 59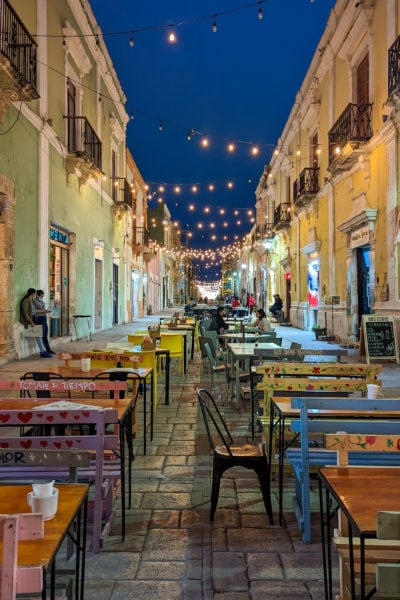 One of the central streets in the Centro Historico, Calle 59 runs from the sea-facing Puerta de Mar up to the Puerta de Tierra. Between these two historic gates is a pedestrianised cobbled street lined with restaurants and bars.
There are tables in the street for al fresco dining – both by day and at night. After dark, there are strings of fairy lights overhead and a lively atmosphere. Buskers and street performers are quite common, too, and many of the bars pump music out into the street. This is the Centro Historico's nightlife hotspot, and a must when you visit Campeche.
10. Try the Local Cuisine in Campeche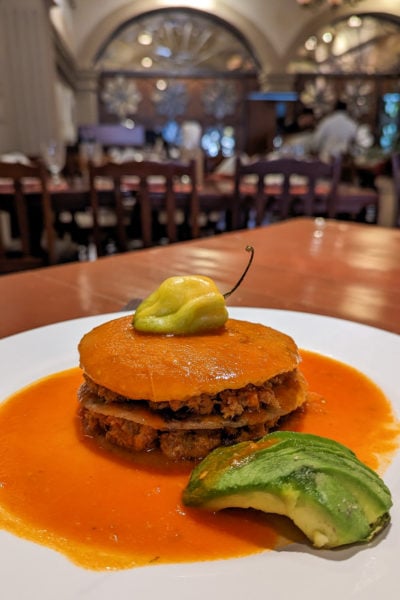 Speaking of dining in Campeche, be sure to try some of the region's traditional cuisine while you're there. The food here has deep Mayan roots, and overlaps a little with the cuisine in the neighbouring state of Yucatan – as the two states were once part of the same province. While you're visiting, be sure to try a few of the local specialities, including:
Pan de cazón – a stack of tortillas with a layer of shredded cazón (dogfish) in between each, all covered in tomato and habanero sauce. This is Campeche's signature dish and a must-try while you're here. I tried it at Margzola – which is meant to be one of the best.
Camarones al coco – jumbo shrimp coated in coconut batter and deep fried. A favourite across the Yucatan Peninsula.
Papadzules – corn tortillas stuffed with shredded dogfish and boiled eggs, served in a pumpkin seed sauce.
Brazo de la Reina – a local tamale stuffed with boiled eggs, roasted and ground melon seeds, and chaya leaves (similar to spinach).
7 Things to do if you Have More Time in Campeche
11. Visit San Jose Fort and the Museum of Subaquatic Archaeology
Fuerte de San Jose is the other of Campeche's coastal forts, or redoubts, also built at the end of the 18th century. This one is found in the east of the city, high on a hill behind the Bellavista neighbourhood.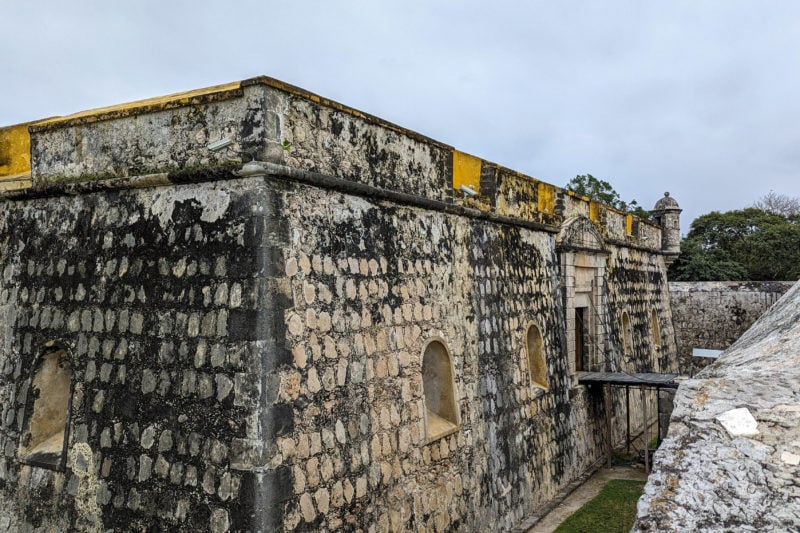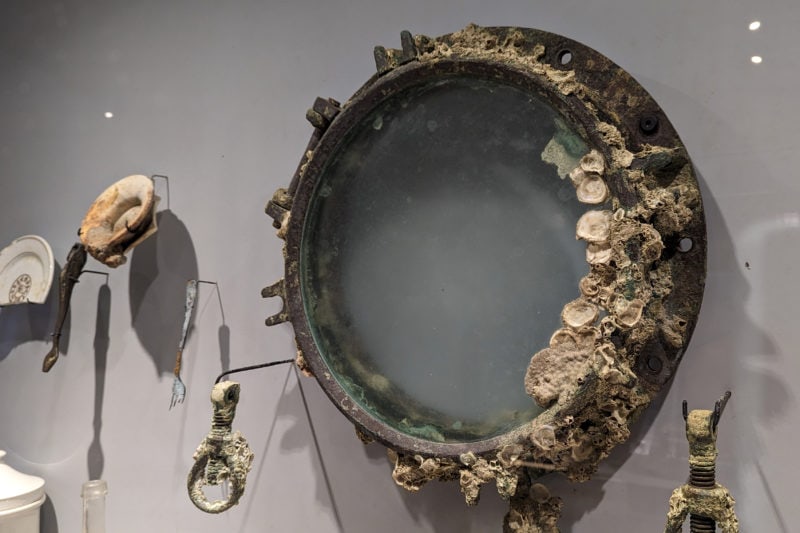 Again, the fort affords some spectacular views – both of the coast and the city centre – as does the nearby Mirador de Campeche. If you have time, then it's worth a visit for the view and the museum – but if you only have time for one I'd say San Miguel is the better fort to visit.
Inside is another small museum, this one dedicated to Subaquatic Archeology. There are some interesting artefacts recovered from cenote dives, underwater caves, and shipwrecks along the coast. Entry costs $70 MXN – but it's worth knowing that most of the information signs are in Spanish only, so you might not be able to find out much about what you're looking at.
12. Go Shopping for Local Goods at Bazaar Artesanal and Casa de Artisans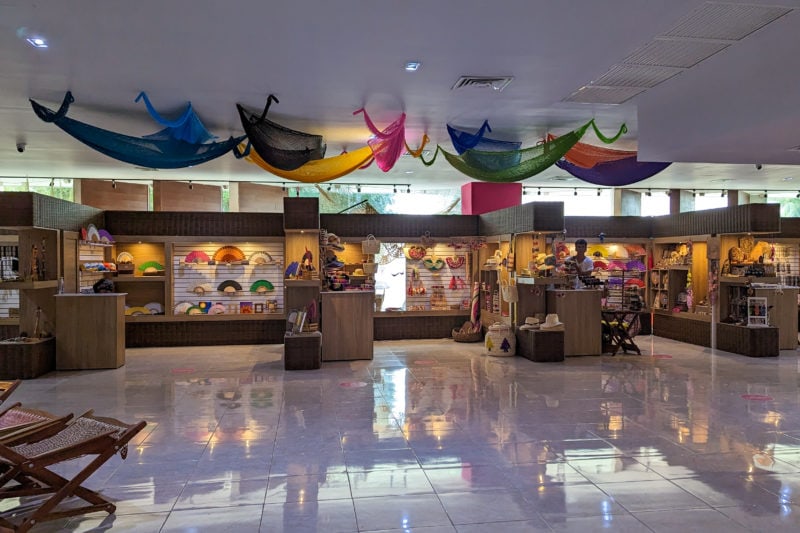 Campeche is known for its rich heritage of traditional handicrafts. Along with the neighbouring state of Yucatan, the region is known for its henequen industry (a natural fibre made from a local agave plant). Henequen baskets, boxes, bags, hats and other goods make excellent souvenirs.
The state is also known for hammocks and woven, hammock-style deckchairs – which you can see all over the city – as well as Tepakan pottery, dresses, stone works, and jewellery.
One of the best places for shopping is the state-run Bazar Artesanal near the malecón. It's a modern indoor market where local artisans can exhibit their works. You may even see some artisans at work as you explore the dozens of stalls.
In the Centro Historico, you can also head to the Casa de Artisans Tukulná. It's housed within a beautiful old mansion, and has a fancier, more boutique-y feel. Prices tend to be a little higher, but the work is generally more bespoke and of a higher quality.
13. Relax in the Xmuch'haltún Botanical Gardens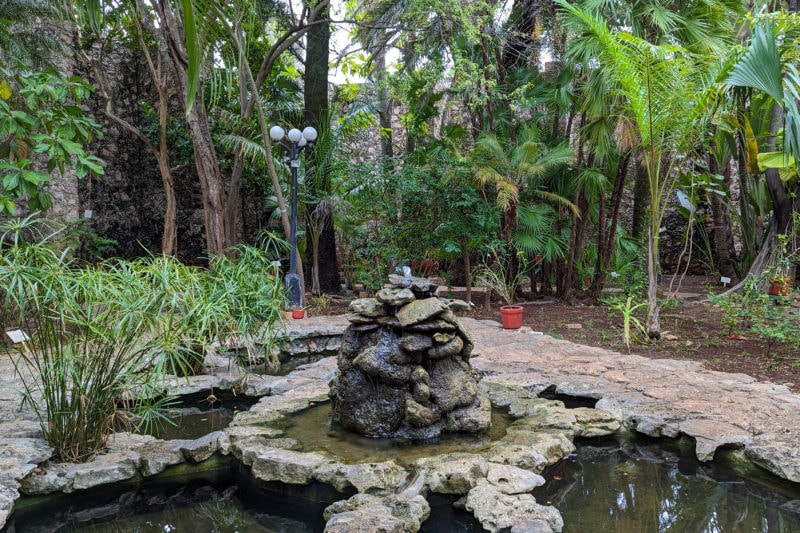 Housed within one of the famous baluartes, Xmuch'haltún is a very small – but cute – botanical garden. Many tropical plants, succulents, and tall trees are squeezed into the courtyard between the historic stone walls.
This is a surprising, tranquil spot on the edge of the Centro Historico – worth popping by to seek some shade and a bit of peace on a hot day. Entry costs just $15 MXN and you can explore the whole garden in about 15 minutes. I liked these peaceful gardens a lot, but if you're short on time in Campeche you could probably skip them unless you love tropical plants or fancy a nice place to sit for ten minutes.
14. Learn Local History at the Palace Museum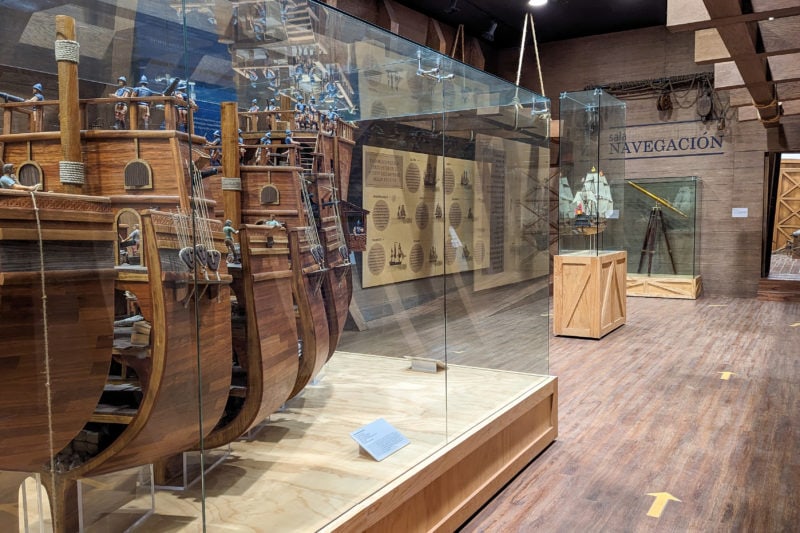 Housed within a reconstruction of the old City Hall – a beautiful, yellow palace on the Plaza Principal – the Museo El Palacio is a free museum with some interesting exhibits pertaining to Campeche's history.
One of the largest rooms is dedicated to navigation and Campehe's role as a vital Colonial port. There's an interactive exhibit designed to feel like you're on the deck of a ship – complete with a tilted, seasickness-inducing floor!
The larger signs throughout the museum are in English as well as Spanish, though individual artefacts are only labelled in Spanish. You could get a good overview of the museum in around 30 minutes (more if you want to read everything).
15. Catch a Glimpse of Colonial Life in Centro Cultural Casa 6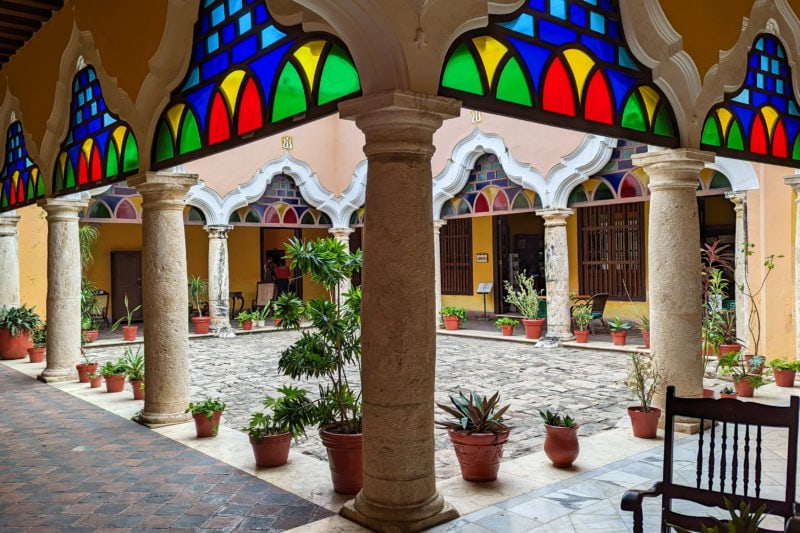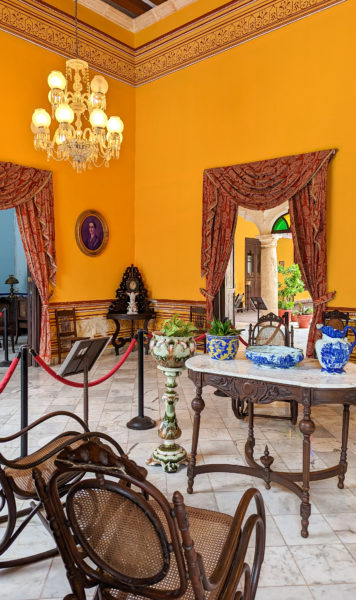 Centro Cultural Casa 6 is a cultural centre housed within a grand 16th-century mansion on the Plaza Principal. It's decorated and furnished in the way it would have been during the pre-revolutionary era, when the property was occupied by a wealthy campechano family.
Entry costs $20 MXN, and signs are in English as well as Spanish. You can explore the property fully in less than 30 mins, or spend longer if you want to read everything.
16. Pop Into Mansion Carvajal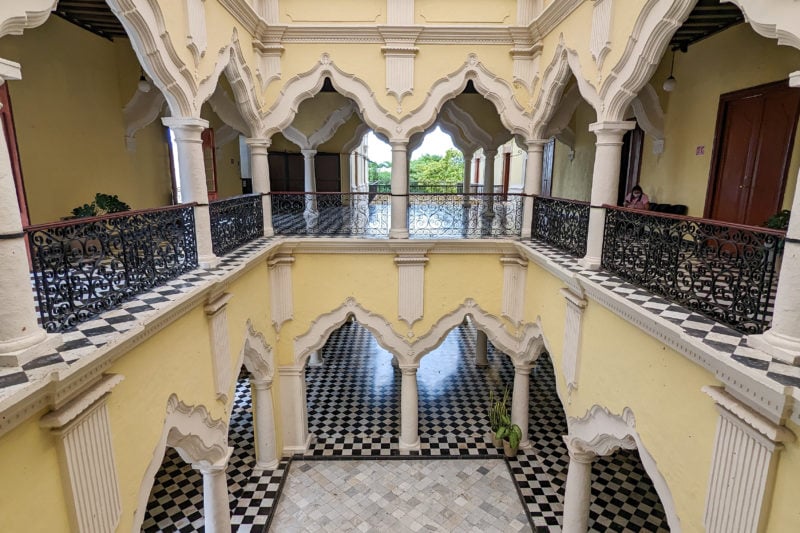 If you enjoy looking around historic architecture, it's worth popping into Mansion Carvajal while exploring Campeche.
This stunning Colonial mansion was built by the wealthy landowner Fernando Carvajal in the early 19th century. Today, it houses the state offices – but it's open to the public and is free to explore. You can't enter any of the rooms, but the central area of the property is very beautiful, with a black-and-white tiled floor surrounded by columns. Be sure to climb the iconic marble staircase with its wrought-iron railings for a view from the second floor.
Museums in Campeche
I've already mentioned some of Campeche's museums above in the things to do section, but if you have more time and want to learn a little more about the local area, here's a full list of museums in Campeche…
Museo De La Ciudad – a small museum in Baluarte San Carols dedicated to local history (see section 4).
Museo Arqueológico de Campeche (inside San Miguel Fort)
Museum of Subaquatic Archaeology (inside San Jose Fort)
Museo De La Arquitectura Maya (inside the Baluarte de Nuestra Señora de la Soledad) – a small museum with an overview of Mayan sites around Campeche state.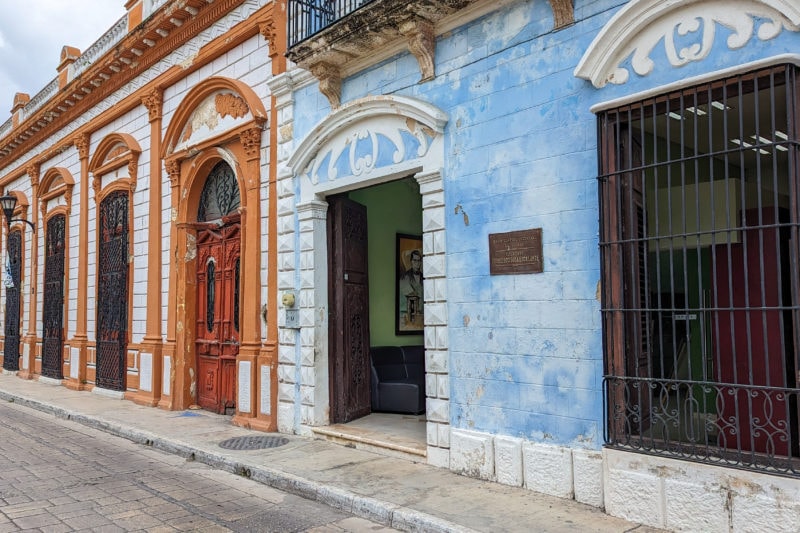 Great Places to Eat in Campeche
Bartola – a good brunch/breakfast spot with sea views on the Malecon in the San Roman barrio.
Luna y Luz – al fresco dining on Calle 59.
Margzola – known as one of the best places to try pan de cazon (a local speciality).
Taqueria los tonos – a cheap and cheerful taco spot that's always full of locals.
Santo Taqueria – a trendy new taco place in the Centro Historico where I had some of the best tacos of my trip!
Yes Honey – a modern juice bar with healthy food, good veggie options, and great salads.
Scattola 59 – pasta fusions, seafood, and nice vibes with al fresco dining on Calle 59.
More on Mexico
I hope you found this guide to the best things to do in Campeche helpful. Feel free to scroll down and leave a comment if you have a question – or a recommendation of your own.
Exploring more of Mexico? Check out these other posts…
27 Places to Get Off the Beaten Path in Mexico
How to Plan a Trip to Rio Lagartos