Work With Me
Interested in reaching a wide-reaching and engaged audience of travel lovers from over 170 countries? Readers of Emily Luxton Travels are young, modern, open-minded individuals with a strong interest in travelling, adventure, discovering new cultures, and occasional luxury travel. The majority of the audience are aged 25-34 and from the UK – download a media kit for the latest stats, and keep reading for some examples of ways we can work together. Contact me on hello@emilyluxton.co.uk for more details.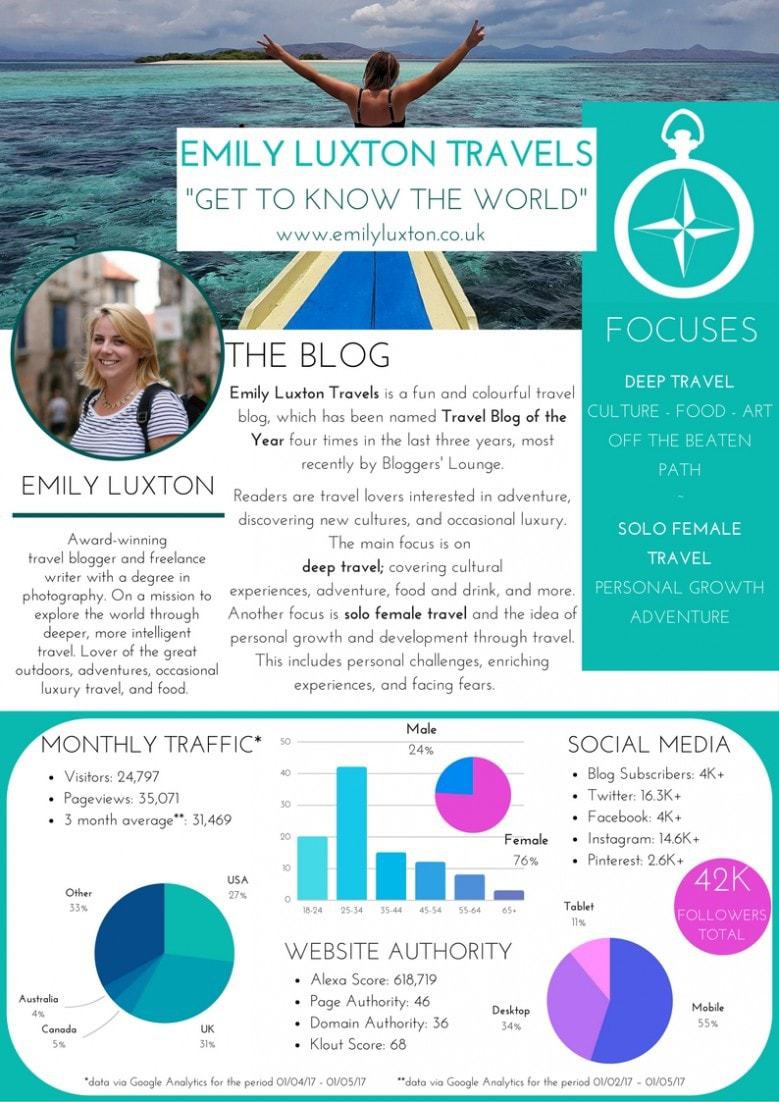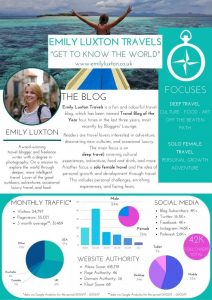 Blog Focus Areas
Emily Luxton Travels is a fun and colourful personal travel blog, which was named Wanderlust Magazine's Travel Blog of the Year 2014, DFDS Seaways' Best Travel Blog 2015, and the Blogger's Lounge Travel Blog of the Year 2015. Topics and trip styles are diverse, but the main theme overall is about getting to know the world through deeper, more intelligent travel.
Deep Travel: Cultural experiences and intelligent travel focusing on true understanding. Connecting with locals to talk about culture/food/history/political issues and really get to know a place. Getting "off the beaten path" to see beyond the tourist hotspots and seek out more authentic experiences. Travelling and exploring 'like a local'.
Food tourism: Exploring new cultures through food. Authentic experiences and eating 'like a local'.
Solo Female Travel – Exploring the world alone, facing fears, and examining the way that travel changes us.
Personal Development Through Travel: Travelling has been very good for me! My aim is to inspire others to see how they can develop, change, and grow through travel. I'm doing this through projects such as my 2016 Challenge to do one thing a month that scares me, and posts about various travel adventures or trying new things.
Adventure: Hiking, biking, outdoor activities, and extreme sports. This year I am also completing a challenge to do one thing every month that scares me.
Luxury: First class travel, amazing hotels, and general pampering. The angle is generally related to relaxing after a day of exploring or adventure, as opposed to travelling specifically for luxury's sake.
Ways to Work With Me…
We can work together on a number of projects, and I'm open to suggestions – so get in touch and let's get the ball rolling. Potential collaboration opportunities include the following (scroll down for more details and examples).
Freelance writing/Content Production
Reviews: hotels, tours, transport, products, and more.
Press Events/Trips
Sponsored Posts and Advertising
Contests and Giveaways
1 – Hire Me as a Freelance Writer
As a freelance writer with a wide range of capabilities and several years of experience in writing and blogging, I am able to provide high-quality articles to feature on any travel site, magazine or blogs. I can cover a range of styles and tones, from location-based articles and travel narratives, to general tips and tricks, or top fives/tens. I write hotel reviews on a freelance basis for the Telegraph, and have written for a number of online publications including the Monarch Airlines and LATAM Airlines blogs.
Check out my Portfolio page for a full list of my freelance articles.
2 – Reviews
On occasion, I partner up with great travel brands and businesses that I feel truly fit my blog and audience. I offer thorough and honest reviews for all travel related products and services. If you have a product, brand, or business that you would like me to review, please get in touch. Everything will be shared and promoted across social media, too – reaching an audience of over 37,000 followers on a site that recently ranked 28th place in a list of the top 50 luxury travel review sites by Simplexity.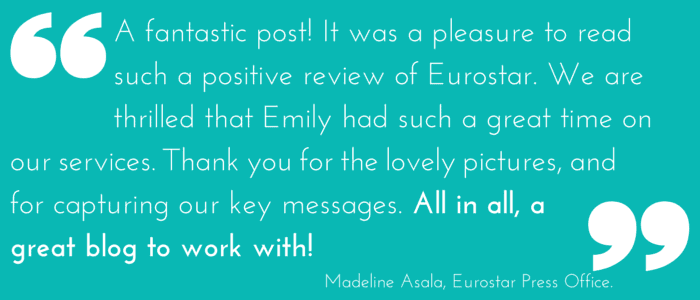 I've worked with some top brands, among them Eurostar, Thalys, Warwick Hotels, Barbour International, and many others, and have a great deal of experience in writing engaging and honest reviews.
For a full list of my previous work, head over to my Reviews section, or see below for a few examples of my top-performing posts.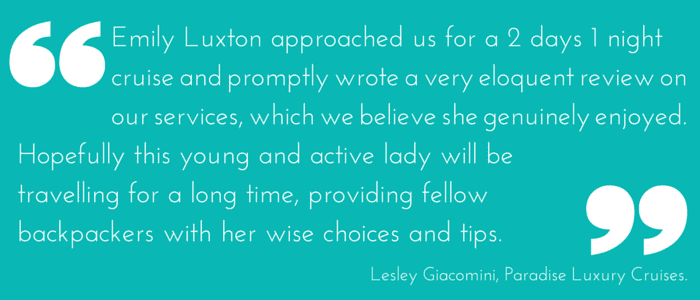 3 – Press Events / Trips
Looking for coverage for an upcoming event? Or perhaps you're after a travel blogger to help promote tourism. I'd love to partner up. I've worked with numerous tourist boards, including Marketing Greece and Visit Costa Brava, and they've always been very pleased with my work. Below are a few examples:
Festivals Edinburgh:
Participated in a three-day press trip to explore the Edinburgh Jazz Festival. During the trip, I ran a successful social media campaign and staged a social media takeover of the @edfests accounts. After the trip I produced several posts which are continuing to prove popular – Alternative Edinburgh has had 2.6K Pinterest shares to date thanks to the creation of a bespoke Pinnable title image and is receiving an average of 800 hits per month nearly two years after publishing.
Also working with Festivals Edinburgh I took part in the #blogmanay campaign run by Unique Events and Edinburgh Hogmanay. I've been informed that I had the second-highest twitter reach for the hashtag #blogmanay during the campaign. One tweet I put out during the torchlight procession received 83 retweets and 99 favourites.
Visit Spain: 
In 2016 I worked closely with Visit Spain on a campaign to promote tourism to the northern regions and the Camino del Norte as an alternative to the Camino Santiago. Five posts were created based on the trip, and my Camino del Norte Guide continues to see steady traffic with at least 320 hits a month.
Other Press Trip examples: 
Visit Centroamérica (CATA) – Eat Like a Local in Guatemala (still receiving an average of 525 hits a month)
Mark Warner Holidays – Learning to Ski with Mark Warner and Advice for First Time Skiers (received an average of 655 hits a month during ski season).
Visit South Africa – Nine Reasons to Visit Thanda Safari and One Week KZN Itinerary
Wakayama City, Japan – Seven Reasons to Visit Wakayama City and My Secret Wakayama City Guide. The former was recently featured in full in issue 12 of the Blogosphere Magazine.
The Money Shop £200 Challenge – Prague £200 Challenge and Prague off the Beaten Path
Wonderful Indonesia's 2016 Trip of Wonders Campaign – Cool Things to do in Lombok, Reasons to Visit Bandung, Most Instagrammable Places in Yogyakarta, and Seven Reasons to Visit Raja Ampat.
4 – Sponsored Posts and Advertising
Advertise directly on an award-winning travel blog with a huge and varied audience. Download a media kit to get up-to-date stats including audience and traffic information and follower numbers, and contact me for a list of rates.
5 – Contests and Giveaways
Sponsor a prize draw or competition on Emily Luxton Travels. Giveaways always go down very well with my audience, and the posts tend to get hundreds of shares and entries. One example was a giveaway sponsored by LakeLovers holiday cottages in the Lake District; it received over 2,800 entries and was the second-best performing post of 2015. View the contest here for an example of how things can work!
If you can think of any other ways you'd like to work with me, please get in touch. I'm open to any suggestions and I'd love to work with you!