Some posts on this site contain affiliate links. If you book or buy something through these links, I earn a small commission (at no extra cost to you). Take a look at my privacy policy for more information.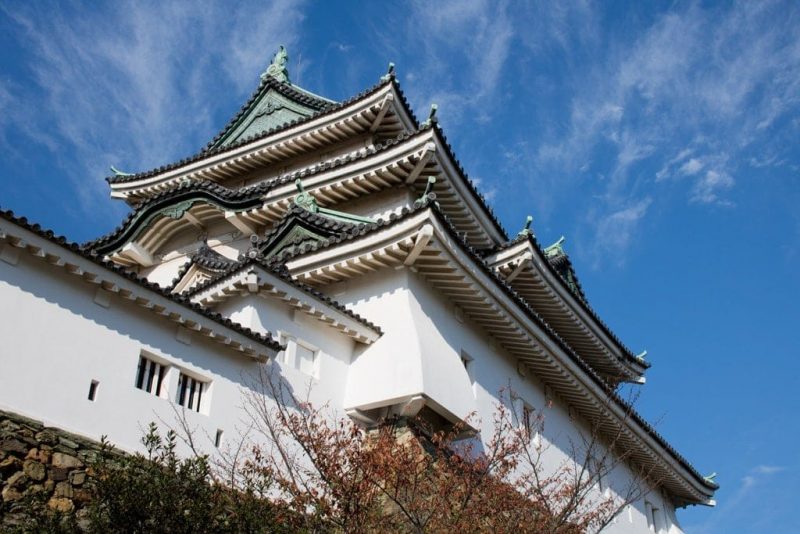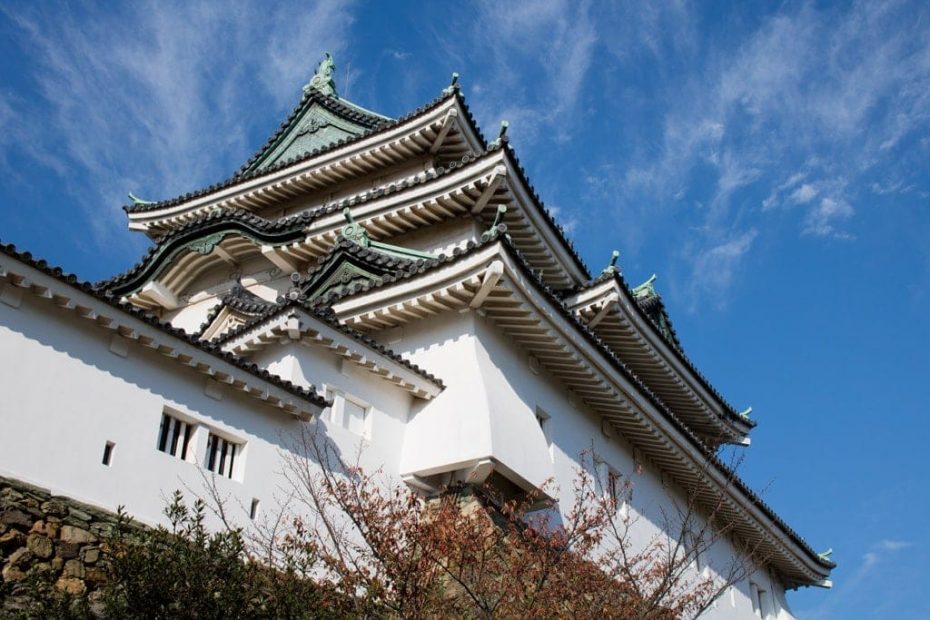 When people think of Japan, they tend to think of the major cities. The temples of mystical Kyoto, the food of Osaka, or the craziness of Tokyo. But, as with all countries, there's so much more to Japan than the big cities and major tourist sites. Recently, I headed to Wakayama City to discover a bit of Japan off the beaten path – and that's exactly what I found!
Despite being just an hour from Osaka by train, Wakayama City is completely off the radars of most western tourists. In three days there, I was the only white tourist I saw, and in fact I seemed to be one of the only tourists around. But travel in Wakayama City is just as easy as the rest of Japan, so don't be put off by the thought of going off the beaten path. It's well worth it, and it's a great way to discover a fascinating insight into Japanese history and culture.
Below is my mini Wakayama City guide to help you discover this beautiful, serene coastal city. This is a guide to spending two or three days in the city and exploring it's main attractions. Enjoy…
Why Visit Wakayama City
Getting There
Getting Around
What to See and Do
Shrines and Temples
What to Eat
Hot Springs
Beaches and Nature
Where to Stay
Why Visit Wakayama City?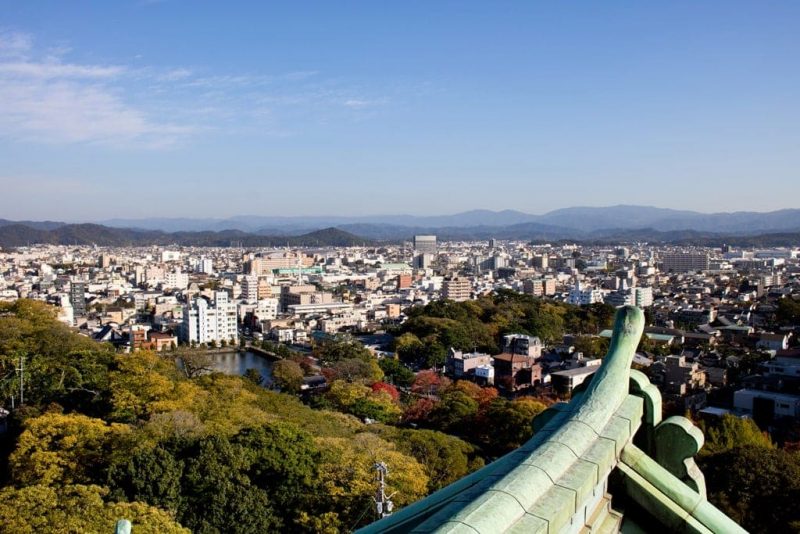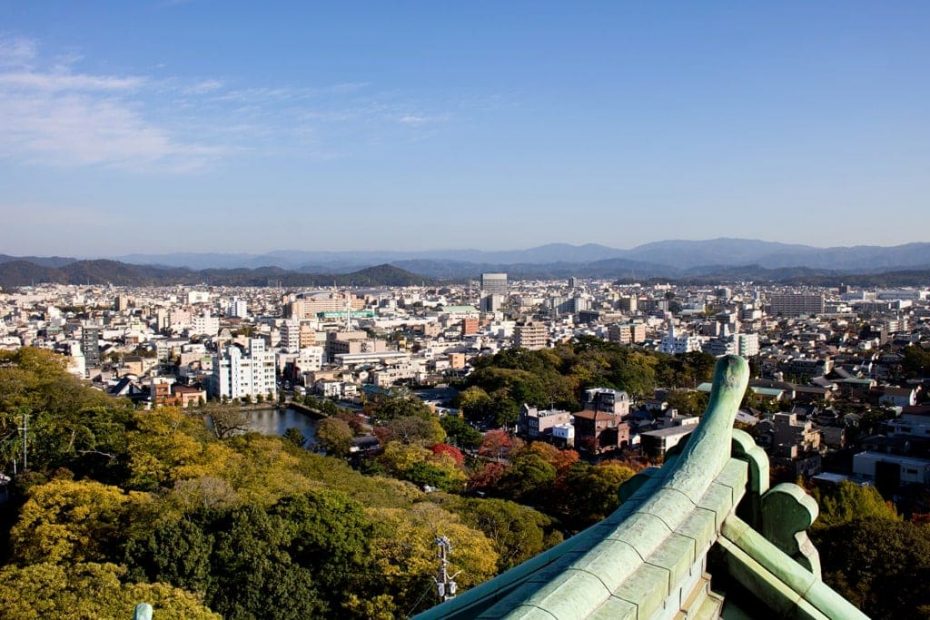 If you want to experience something a little out of the ordinary in Japan, or get off the beaten path – Wakayama City could be for you. A coastal city with some great beaches and plenty of stunning nature nearby, it's hugely popular with Japanese tourists, especially in summer. But it's still relatively undiscovered by Western tourists – which for me is the biggest attraction.
Wakayama is a peaceful little city, but there's loads to attract tourists. A distinctive cuisine, a ramen voted the best in Japan, a faux-Meditarranean port, dozens of shrines, natural hot springs, and plenty of green spaces… there's a lot on offer here. And looking down on it all is the gorgeous Wakayama Castle.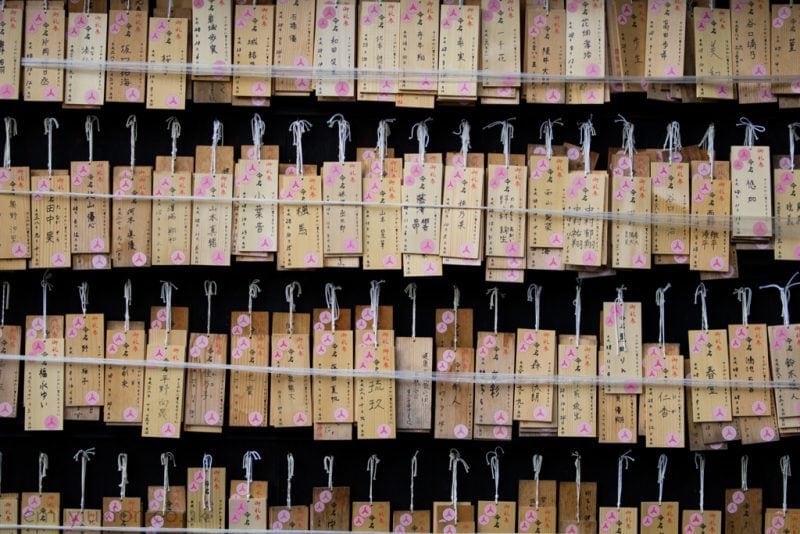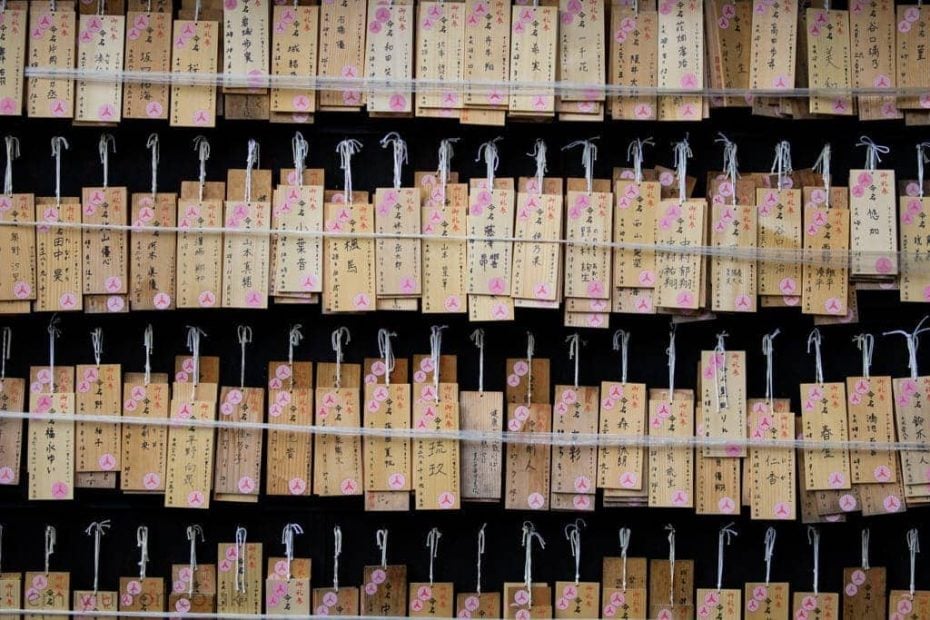 While I'm sure the city, and in particular the beaches, are amazing in summer, for me autumn was the perfect time to visit. Attractions were quiet, and the gold and red autumn leaves in the parks and natural spaces created the most beautiful backdrop. Read on to find out more about visiting this lovely city, and what to do when you're there.
My Wakayama City guide is packed full of my own top tips and personal recommendations. I did and saw everything mentioned below (with a couple of exceptions) in a three day, two night trip. As you can see, it's possible to do a lot in Wakayama City in a short time. But if you want to relax more, stay longer and take things slower than I did.
Getting There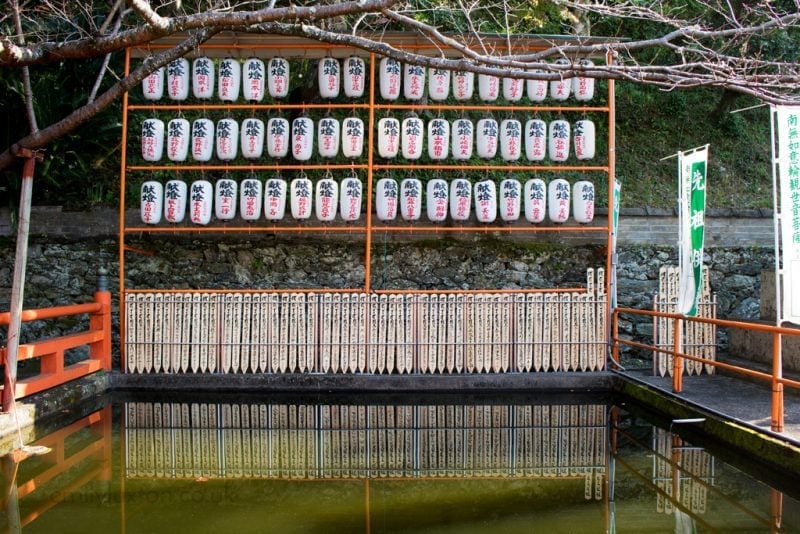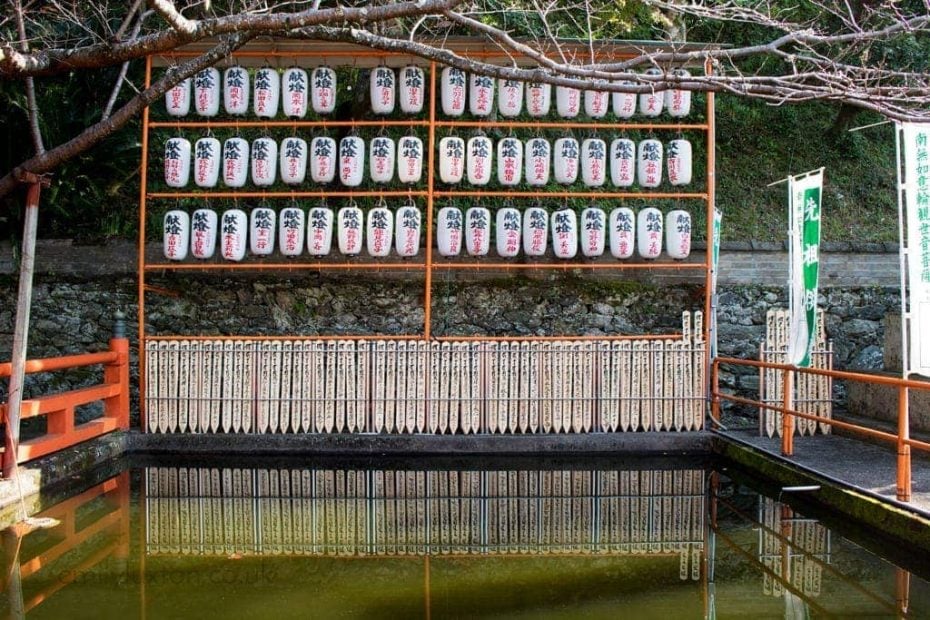 By Air: If you're flying into Kansai International Airport (KIX) in Osaka, you can take a direct bus (Limousine Bus, ¥1,150) to Wakayama Station. It takes just 40 minutes, non-stop. Alternatively, you can take the JR Line train for ¥890: take the JR Kansaikuko Line to Hineno Station and change here for the JR Hanwa Line to Wakayama Station; the whole journey should take around 50 minutes. Changing trains at Hineno is very easy; all signs are translated into English, and in my experience station staff throughout Japan were fantastically helpful.
NB – there are two central train stations in Wakayama City; Wakayama Station and Wakayamashi Station. Check which one is closest to your hotel to make your journey easier.
From Osaka: Head to Namba Station and take either the Nankai Limited Express (1 hour, ¥1,430), or the Nankai Line (1 hour 10 minutes, ¥920) to Wakayamashi Station. Alternatively, from Tennoji Sation you can take the JR Hanwa Line (1 hour 12 minutes, ¥860) to Wakayama Station.
From Tokyo: The Shinkansen (bullet train) from Tokyo Station to Shin-Osaka station takes 2 hours 30 minutes and costs ¥14,250. From there follow the route above to reach Wakayama City.
Getting Around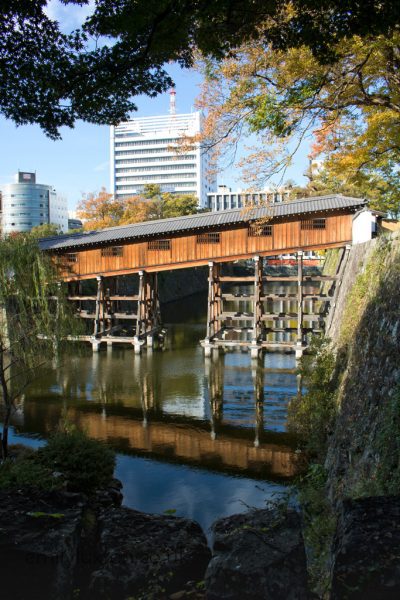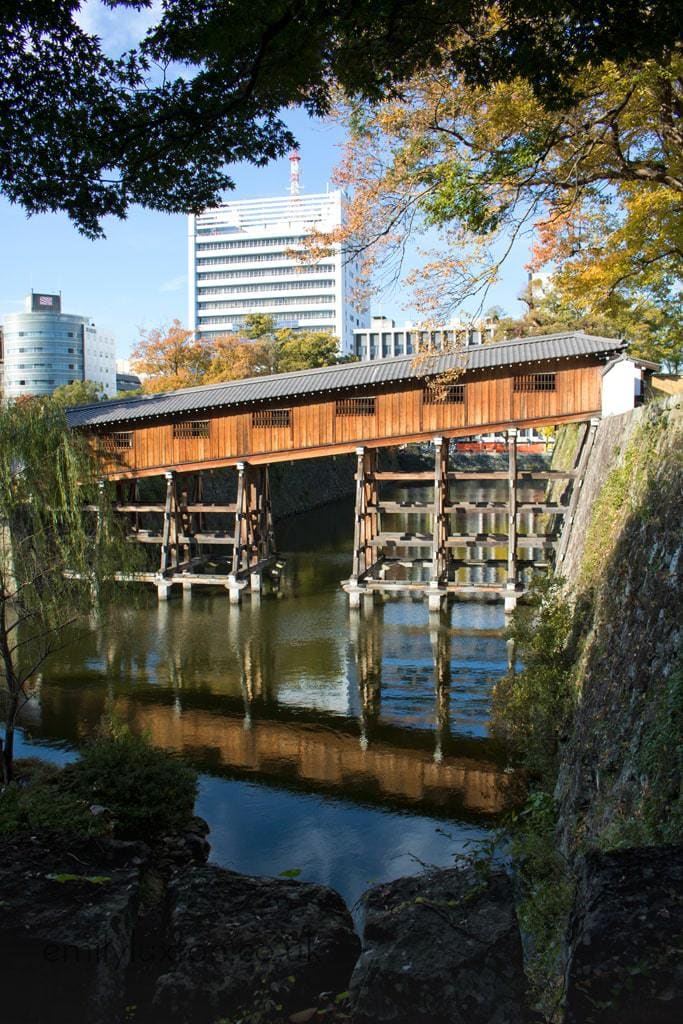 The public transport in Wakayama City, like most of Japan, is exceptionally easy to navigate. There are frequent local trains that will take you to various points in the city, as well as further afield in the province. Signs are generally translated into English, and at most stations there are plenty of staff on hand to offer help if you need it. Google maps is extremely accurate and up to date, and even shows the journey prices, which is handy. However, when I visited in November 2016 Google Maps didn't have any bus information so I found the busses in Wakayama City harder to use. You can pick up a bus route map from your hotel which should help.
Much of Wakayama City is extremely walkable. Streets are mostly in a grid formation, and despite being a large city the centre is fairly compact. It's very easy to get around by walking and this is a great way to see as much of the city as possible. I'd also recommend renting a bike so you can explore easily. The roads are quiet and very safe, so this is a great way to get further afield without needing to take a bus. Download a sightseeing map of Wakayama City here.
Taxis are available and can be flagged down easily, but they tend to be quite expensive and since public transport is so easy, I wouldn't recommend taking a taxi unless you need to.
What to See and Do in Wakayama City
Wakayama Castle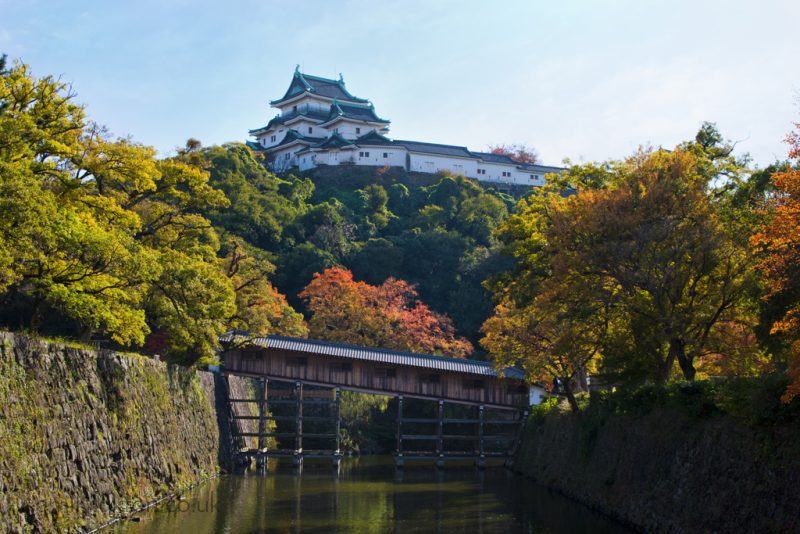 The main attraction in Wakayama is the bright white castle which towers over the city centre. Perched on top of Mt. Torafusu, Wakayama Castle originally dates from the Tensho Period (1500s) and it's ranked among the top 100 castles to visit in Japan. Inside the castle is an interesting museum, and some amazing views of the city – but the real highlights for me were the castle grounds, which are stunning, and the architecture of the castle itself. One of the prettiest sites in Wakayama!
Entrance fee: ¥400
Wakayama Park
The grounds surrounding Wakayama Castle have become a beautiful, free-to-enter park. It would be easy to spend an hour or two exploring the park and the castle, especially if the weather's nice, which is exactly what I did. Highlights include the gorgeous Ohashi Roka, a 27 meter long, slanted, covered bridge, the 17th Century Okaguchi-mon Gate, and the Koshoan Tea Room (¥460 for a cup of matcha tea). Download a map of the castle and grounds here.
No entrance fee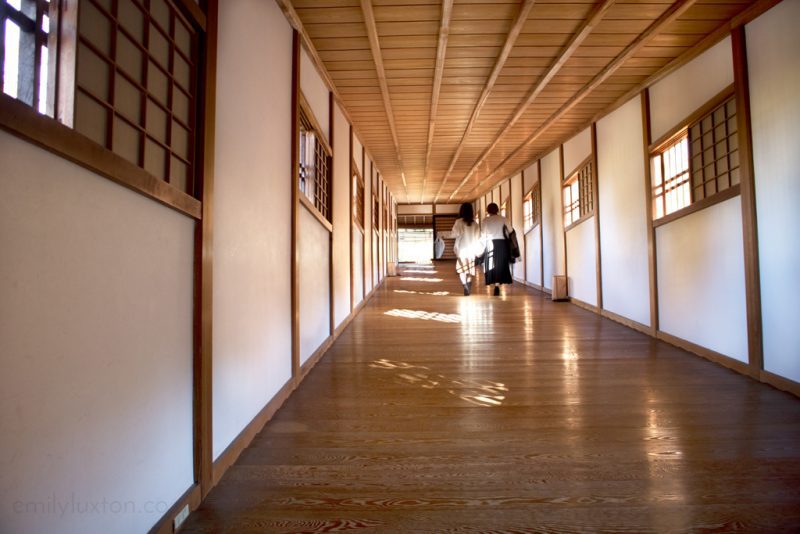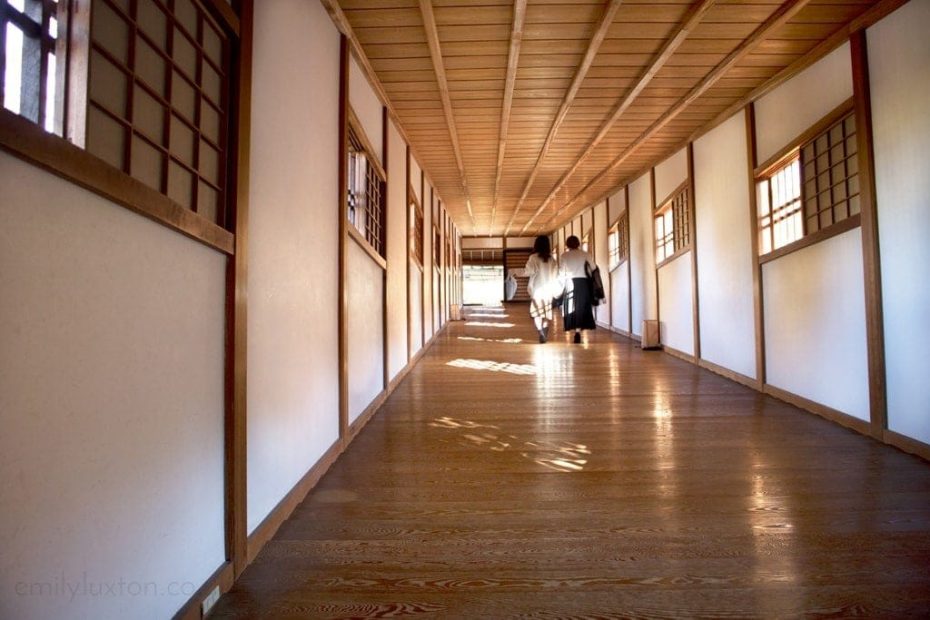 Momijidani Gardens
Also in the Wakayama Park is the beautiful Momijidani Gardens, overlooking the Ohashi Roka bridge. It's a beautiful natural space, set around a man-made moat and designed to create a feeling of zen within visitors. I'd say it works!
No entrance fee
Marina City and Porto Europa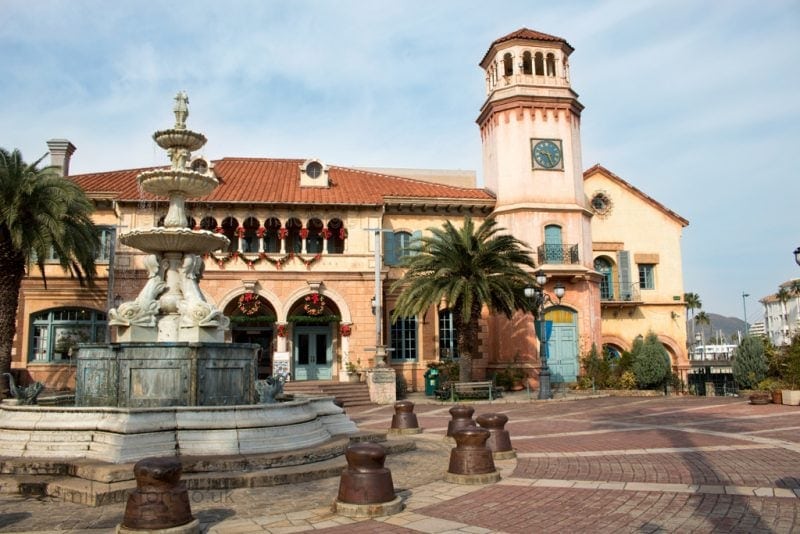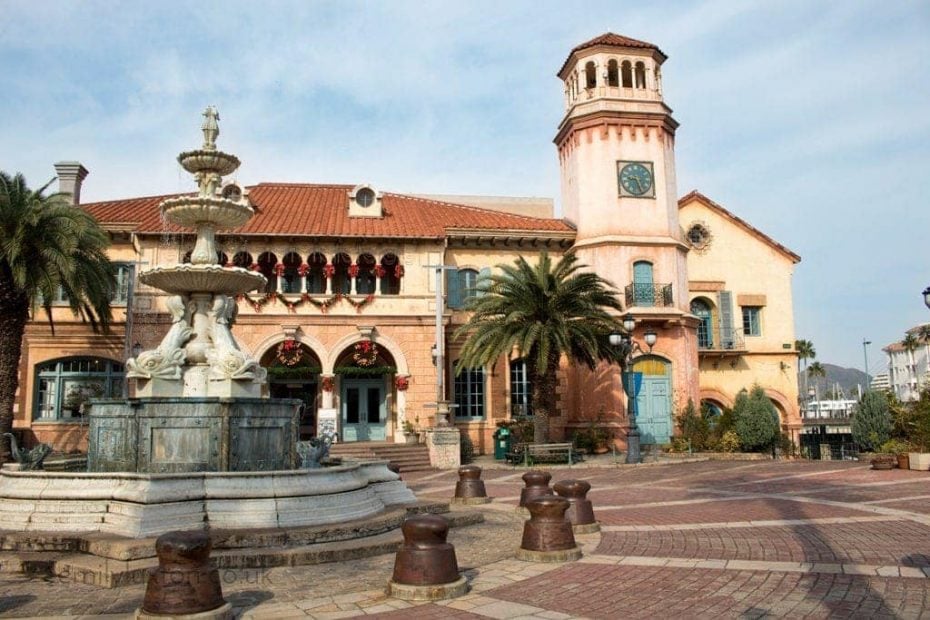 In the southernmost part of Wakayama City lies the artificial island of Marina City. This is a real tourist hotspot, home to the yacht harbour and a huge resort hotel. I got a real kick out of the small theme park Porto Europa, which has been designed to look like the streets of port towns in Mediterranean Europe. The Disney-esque, Japanese take on France and Spain is pretty interesting to see – plus there are street performers, shows, and lots of rides. Not the most traditional experience but it's good fun just the same!
No entrance fee. A pass for the Porto Europa rides costs ¥2,700. Read more.
Kuroshio Market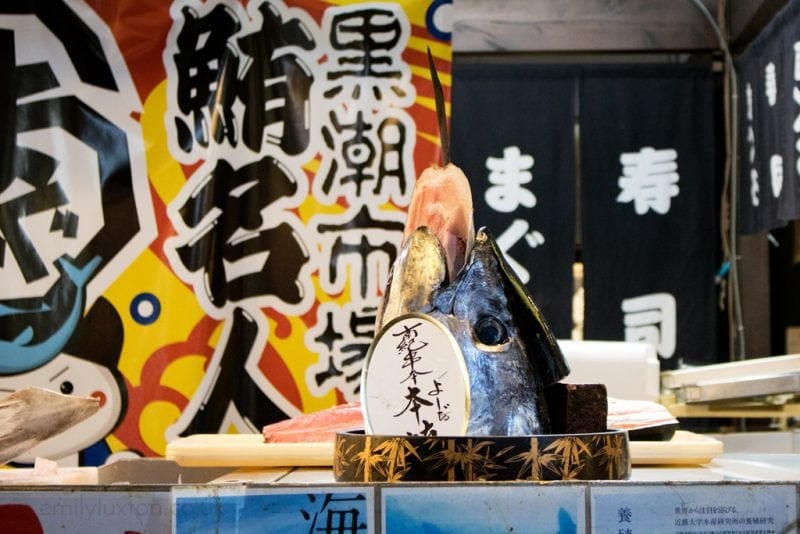 One of my favourite spots in Wakayama City was Kuroshio market, Wakayama's fish and seafood market. It's just outside Porto Europa, and features all kinds of incredible fresh seafood, from sushi to tempura to barbecue. Bring your appetite – and plenty of money! The real highlight here is the free live tuna filleting show, which takes place three times a day – don't miss it.
No entrance fee
Wakanoura Bay
Waka-no-ura, meaning Poem Bay, has been mentioned for it's scenic beauty by numerous Japanese poets. The surrounding town of Wakaura is known for it's trendy coffee shops, and bakeries like Shuneido chock-full of cream puffs and other goodies. This is also where you'll find the famous Furobashi Bridge, a beautiful arched stone bridge built in the 1850s, as well as numerous shrines and temples.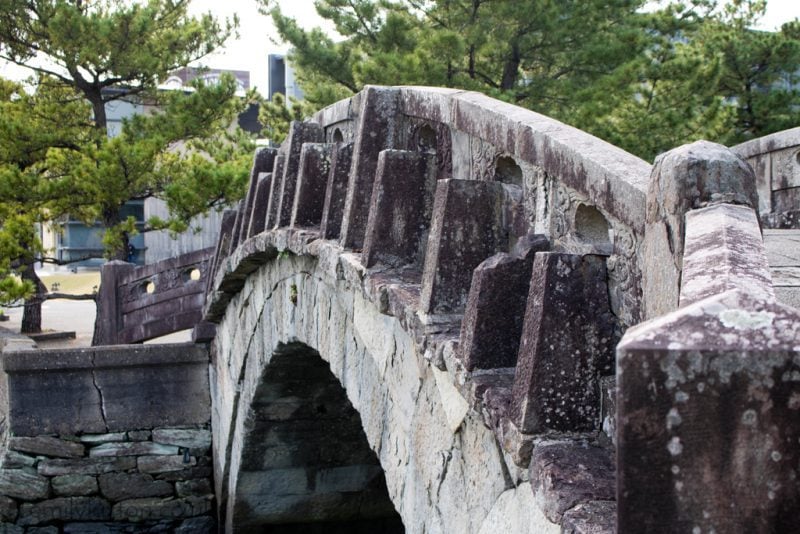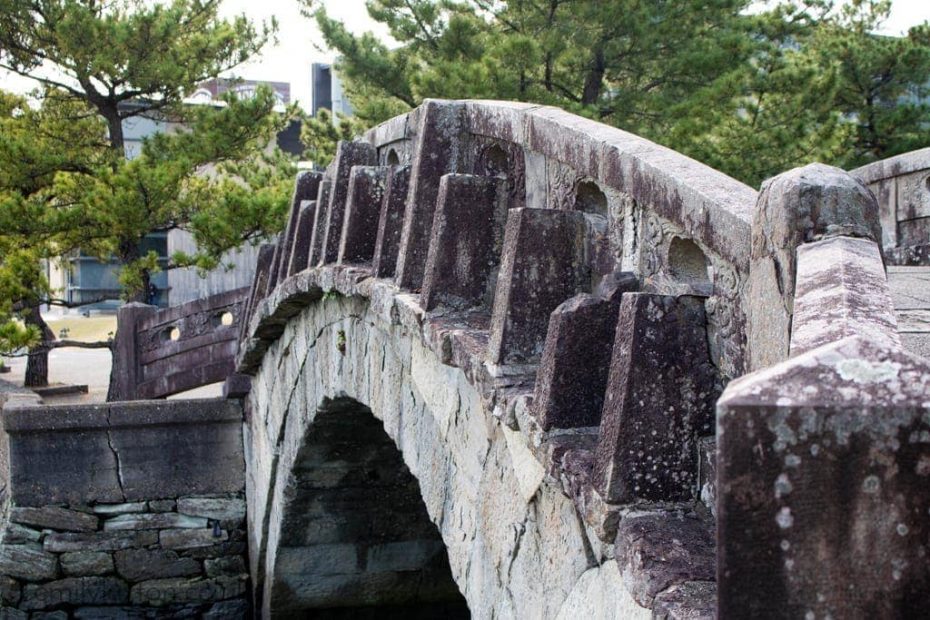 Don't miss Tamatsushima-jinja Shrine and the beautiful views from the hill behind, Shiogama Shrine which is set within a small cave in the cliff, and the tiny Kankaikaku shrine on the hilled islet of Inose-yama. This is a great place to discover on foot or by bike, so grab a map and get exploring!
No entrance fee
Visit the Stationmaster Cat
If there's one thing I regret not doing, it's taking a visit to Kishi Train Station – probably the only station in the world to have a cat as it's stationmaster. When Tama, the calico cat, was appointed stationmaster she instantly put this tiny train station on the map. After she died in 2015, her apprentice Nitama took on the important job. Only in Japan!
To get there, take the Kishigawa Line from Wakayama Station to Kishi. A one day pass costs ¥720 per adult (child ¥360) and allows visitors to hop on and off the train as much as they like. Perfect for visiting the various shrines and attractions along the 30 minute route.
No entrance fee
Wakayama City Shrines and Temples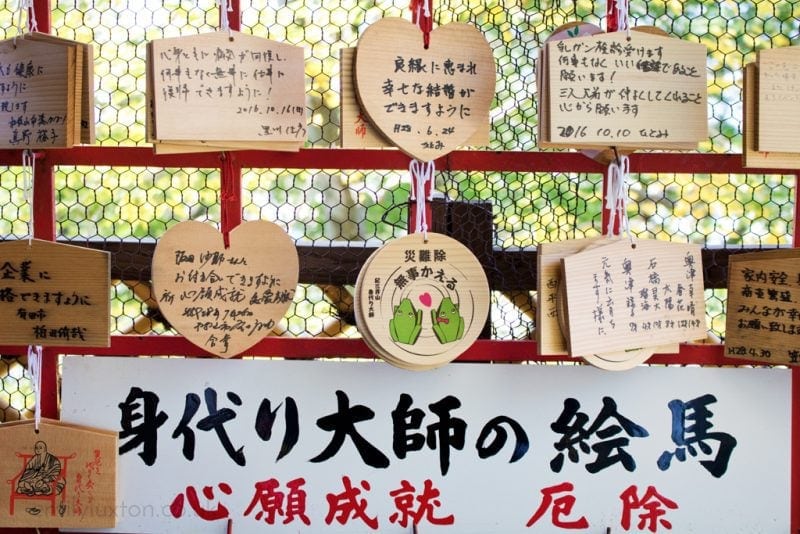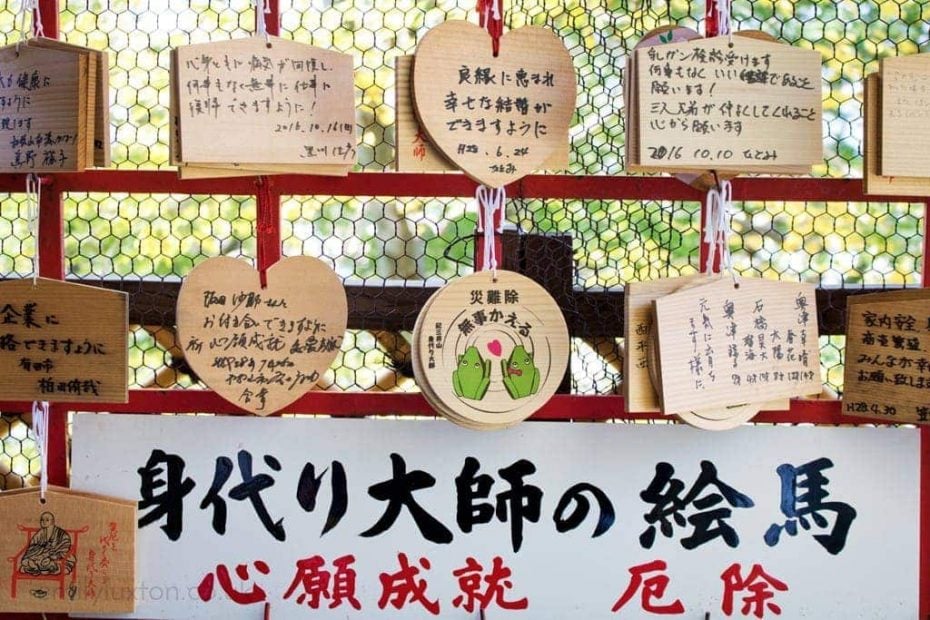 With so many Buddhist shrines and temples, you could spend days in Wakayama City and still not discover them all! Below are just a handful of temples and shrines I'd recommend visiting, but there are hundreds more. These are a few of the major highlights in Wakayama City…
Kimiidera Temple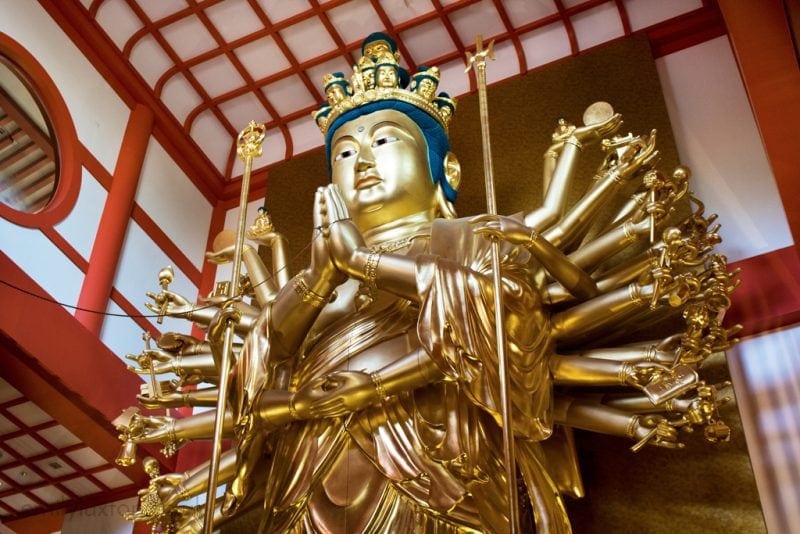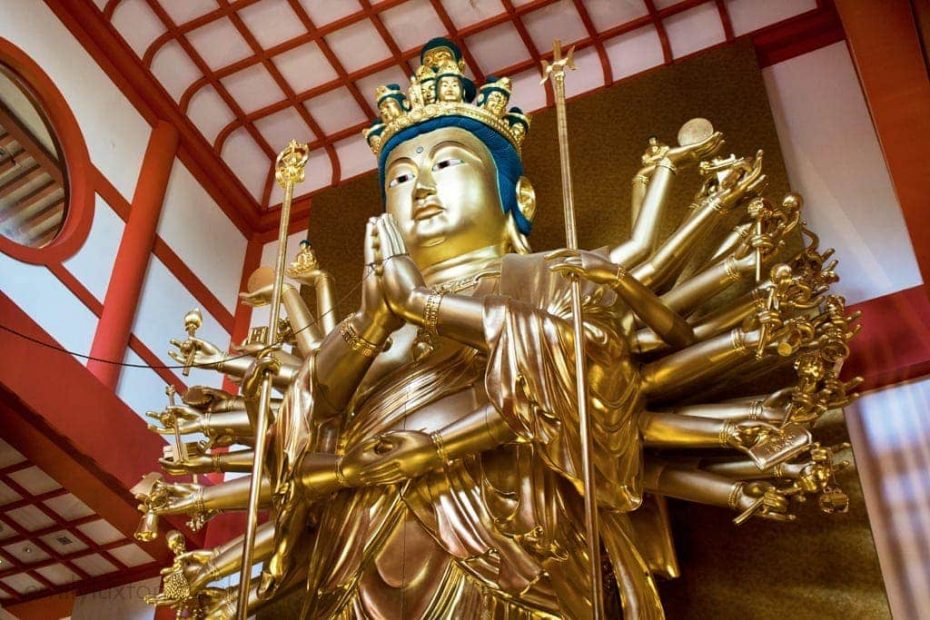 Founded roughly 1250 years ago, Kimiidera temple stands on the edge of Mt Nagusa-yama and has amazing views f the city. I fell in love with the serenity and peace at this leafy temple complex; it's beautiful! This is the second temple along the oldest pilgrimage route in Japan. Kimiidera is also home to a huge gold-coloured Buddha statue known as Senjyu Kannon; at 12m tall it's the largest wooden statue in the country, and it's pretty impressive.
Entrance fee: ¥200. To get there take a train from Wakayama Station to Kimidera: it costs ¥190 and takes 7 minutes.
Tamatsushima-jinja Shrine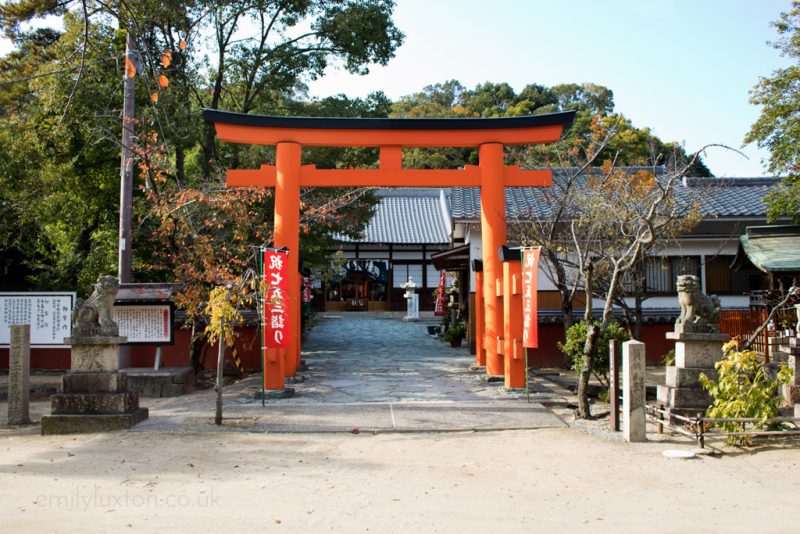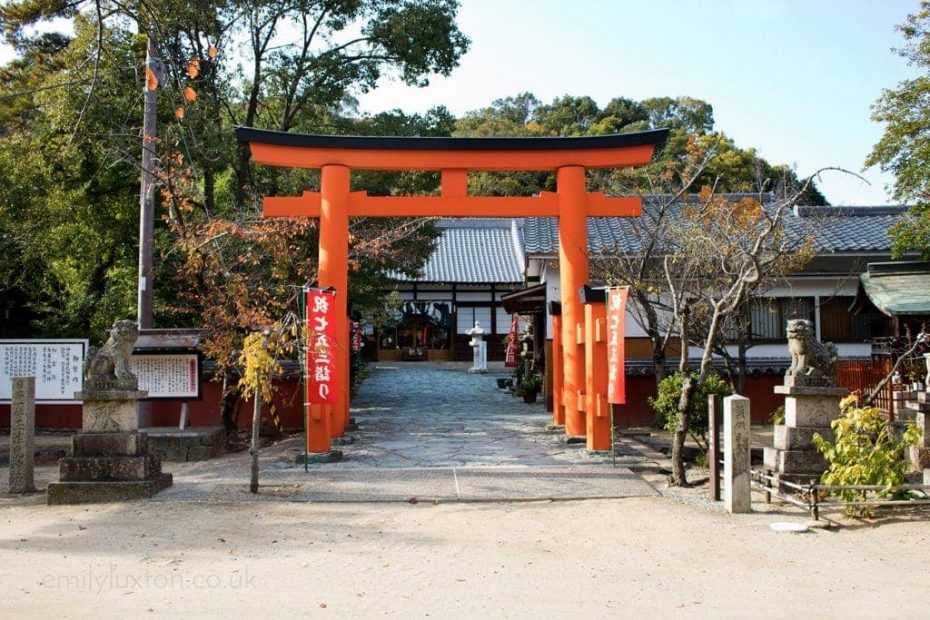 Another ancient temple, Tamatsushima-jinja Shrine in Wakanoura has been popular with Japanese poets for centuries and appears in many works. Don't miss the climb to the top of Mt. Kagamiyama behind the shrine – it only takes a couple of minutes and there are some great views from the top.
No entrance fee.
Wakayama Park Shrine Walk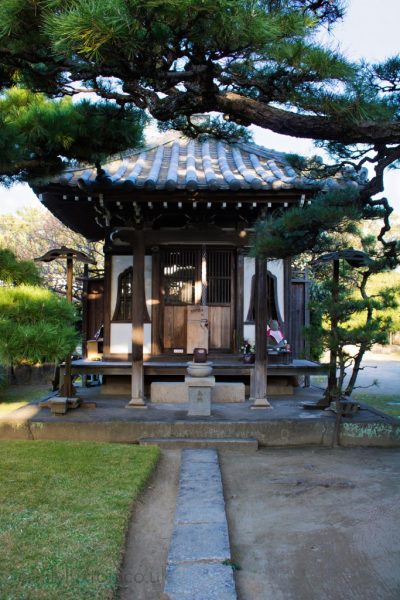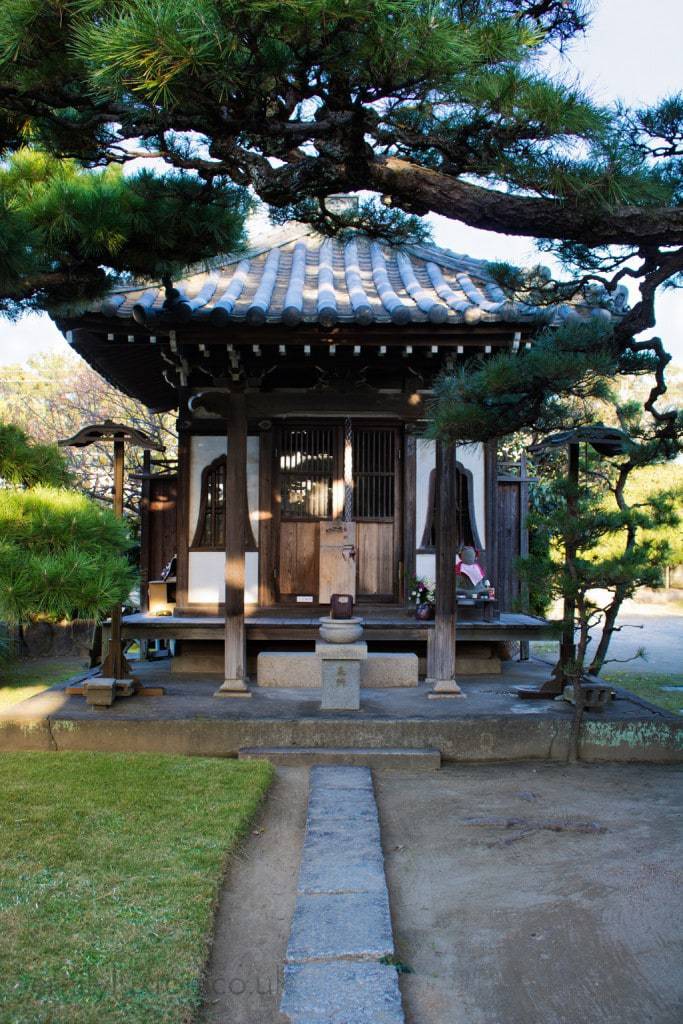 If your short on time, there's a great walk you can do to take in a handful of shrines and other attractions close by to Wakayama Castle. Starting at the Okaguchi-mon Gate in the southwest corner of the park, head south through Oka-koen Park to Sasutahiko-jinja Shrine. Two blocks down, take a right at the main road and head to Muryokoji Temple – also nearby are dozens more temples, so swing by these if you have time. Then head back up towards the castle by way of Hoonji Temple and the Okayama-no-jishodo Bell Tower.
No entrance fees.
What to Eat in Wakayama City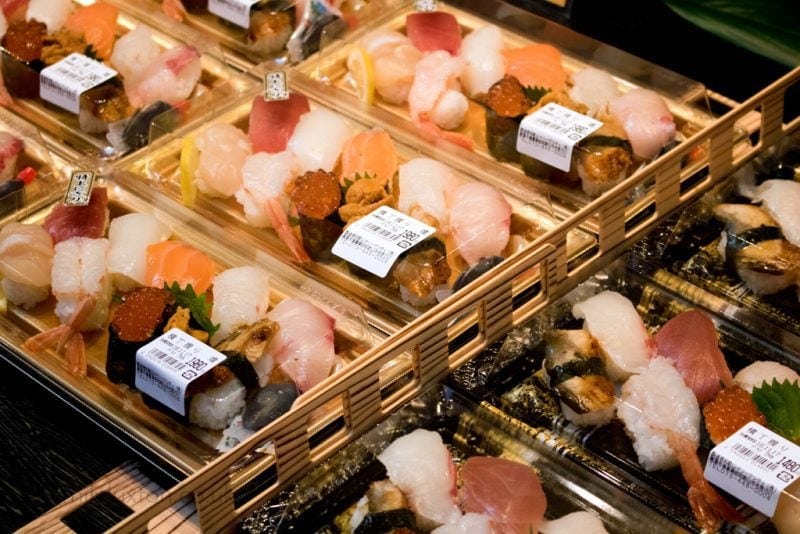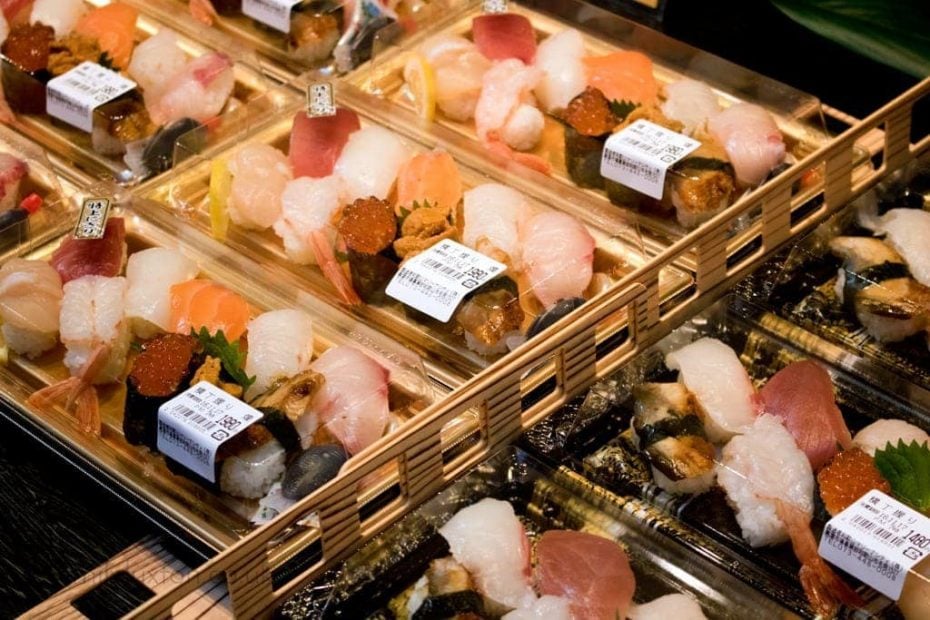 Seafood
Being a coastal town, Wakayama City is famous for its seafood. Head to the Kuroshio fish market to see a live tuna filleting demonstration, and to sample the best local seafood to your hearts content. Sushi, sashimi, tempura, barbecue… This place pretty much has everything you could possibly want, so get stuck in!
For the freshest of the fresh, go for the locally caught specialities. Sea bream, red snapper, shirasu (young sardine), ashiaka ebi (red-legged shrimp), hamo (pike conger eel), Wakayama seaweed, and nori seaweed are all popular local seafoods in Wakayama City.
Wakayama Ramen
While ramen is popular all over the country, Wakayama's take on the dish is very different – and is considered by many to be the best ramen in Japan. Known locally as Chuka-soba, the dish is simple, but the main difference is the broth used. Wakayama Ramen is made with a pork-bone soy sauce broth which is far richer than normal ramen dishes.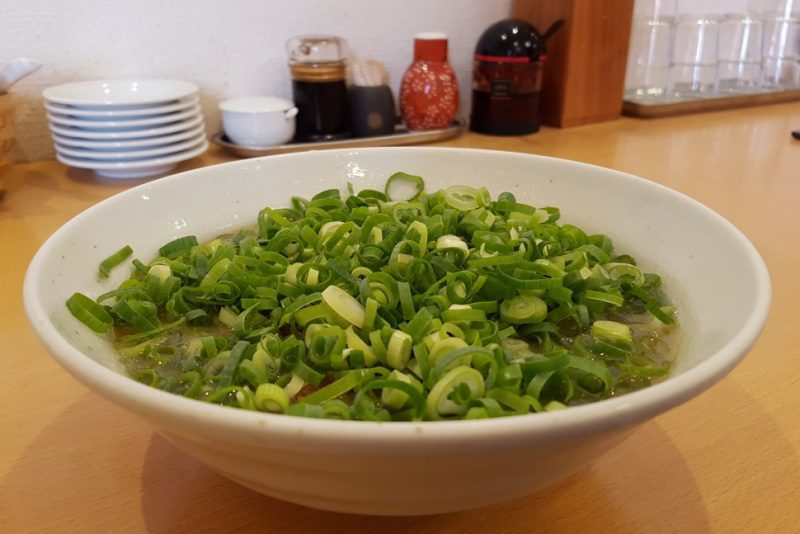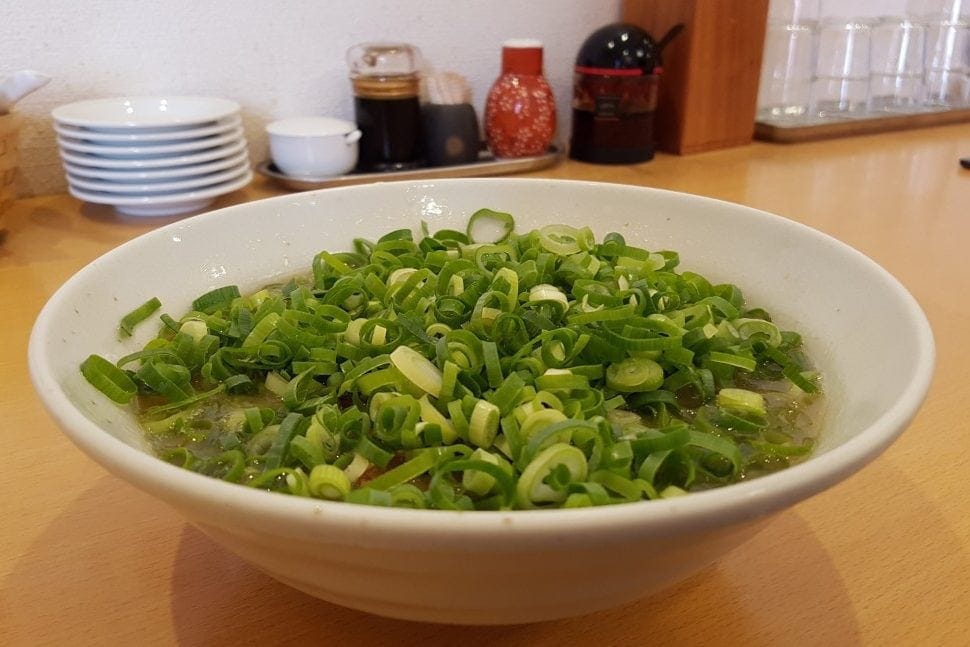 The most famous restaurant is Ide Shoten, so if you only have time to visit one restaurant, make it this one. It was voted Japan's "most delicious" ramen, and there's usually a long line of locals. I can also personally recommend Ramen Marui (the Junibancho branch), where the ramen comes smothered in spring onions. It's thick, rich, and totally delicious! Click here to download a mini guide to Wakayama Ramen, including a map detailing 26 of the best ramen shops in the city.
Other things you shouldn't miss include…
Green Tea Ice Cream
Cream Puffs from Shuneido
Umeboshi (salty pickled plums)
Tangerines
Wakaura Senbie (egg crackers embossed with scenes from Wakaura)
Ginger and Ginger Ale. Wakayama is knwon for it's production of raw ginger, so don't miss this key local ingredient.
Wakayama City Onsens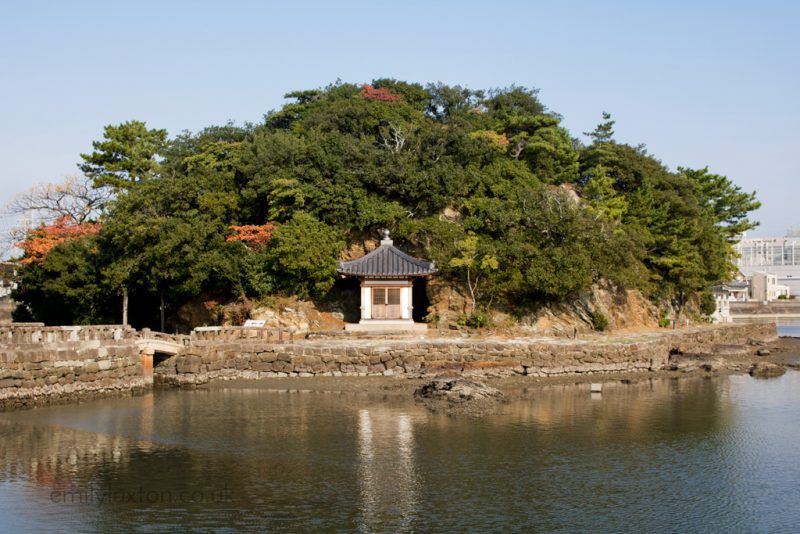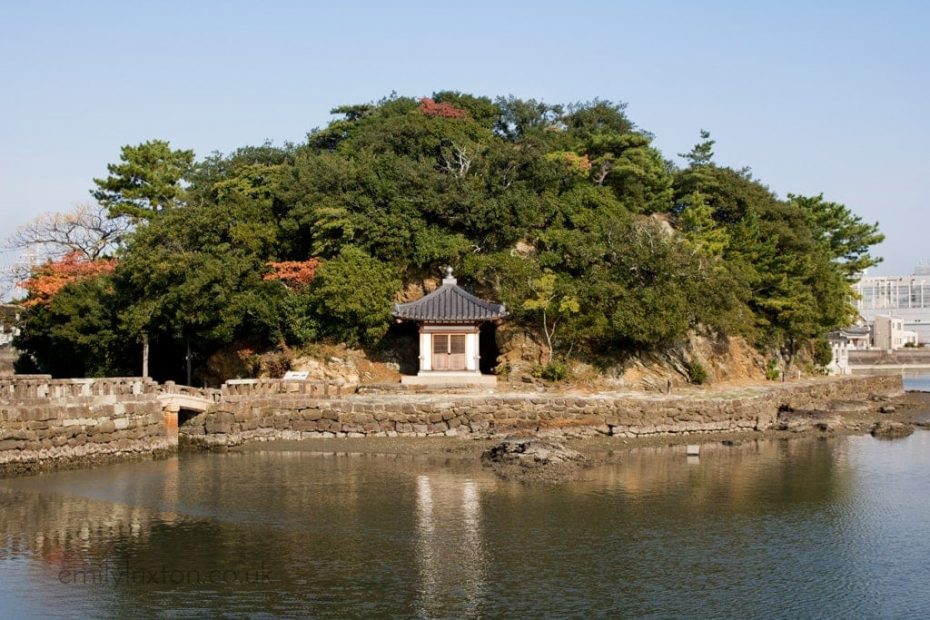 If you want to try the Japanese tradition of hot spring baths, called onsens, Wakayama City is a great place to do it. The city is famous for its ancient natural hot springs. Many hotels, even in the city centre, feature onsens – but the actual hot spring resorts tend to offer a richer experience. Wakayama's onsens are rich in minerals like hydrogen carbonate or chloride, thanks to the proximity to the ocean, and are said to be great for muscle pain, neuralgia, and dermatitis.
I headed to the onsen at Kiyukamura Kishu -Kada hotel in the national park near Kada, and absolutely loved it. Outdoor baths with an ocean view, overlooking the Tomogashima Islands… it was heaven. The main attraction at this onsen is the Bihada Hot Spring, where the water is cloudy and slightly viscous because it's packed full of natural minerals! To get there, take a train to Kada station. From the station car park there are regular free shuttle busses to the resort.
Closer to the city centre, there are onsens to be found at many hotels – although the experience of taking to the water in the middle of a national park is hard to beat.
Beaches and Nature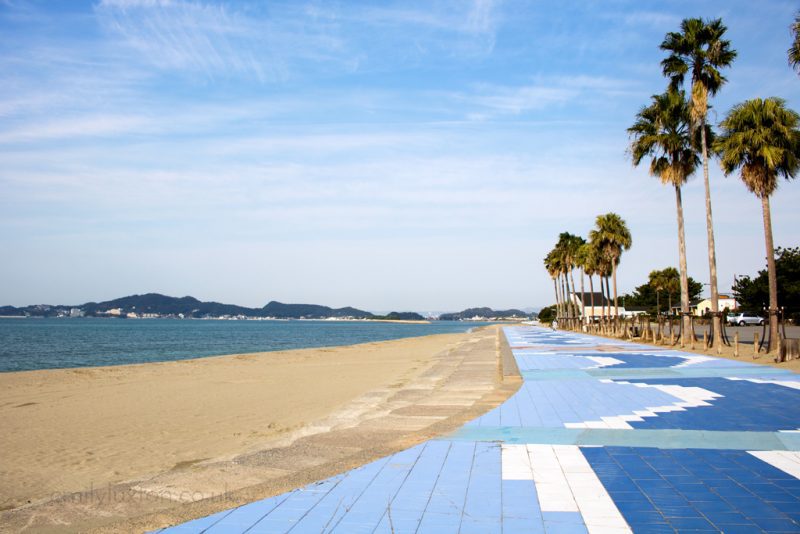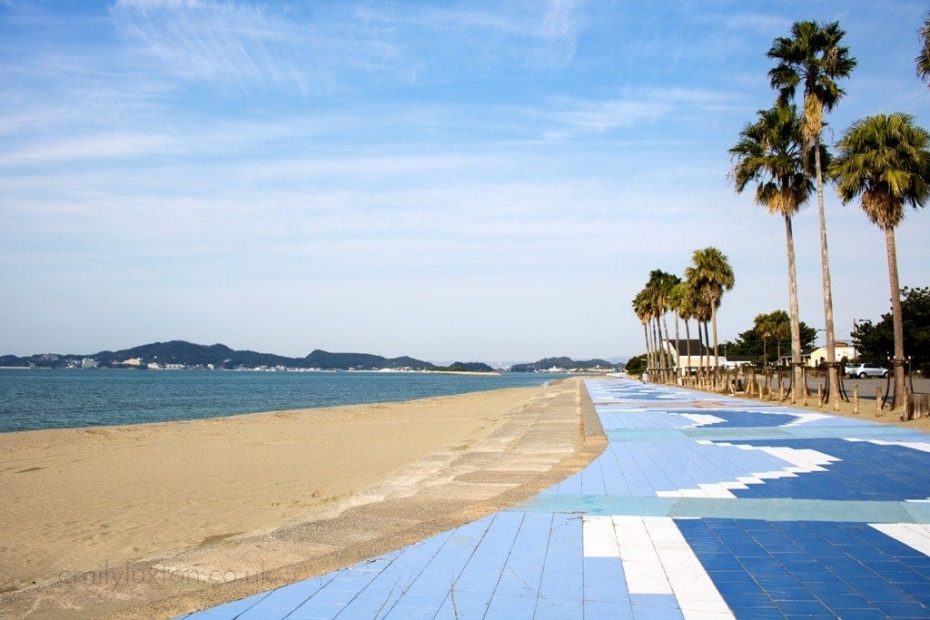 Wakayama City is in an ideal spot for nature lovers. Perched on the coast, the city has a number of beautiful beaches which in the summer are incredibly popular with locals.
Even in autumn, the beaches are really nice areas to go walking. I loved walking along the blue-tiled boardwalk at Hama no Miya Beach, not far from Marina City. A nice, clean beach and some lovely views – what more could you ask for? If you're headed to Wakayama City in summer, check out the full list of beaches here to get some ideas.
There's also plenty of nature, too. From the park surrounding the castle in the city centre, to the mountains and national parks surrounding the city. I loved Kishu Park near the port town of Kada, just on the outskirts of Wakayama City. There are some lovely walks you can do in the park, or you can explore the nearby Tomogashima Islands.
Where to Stay in Wakayama City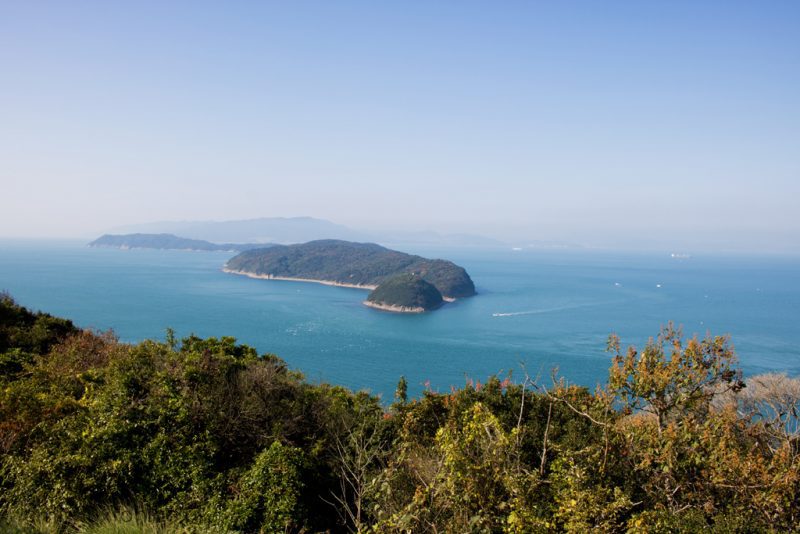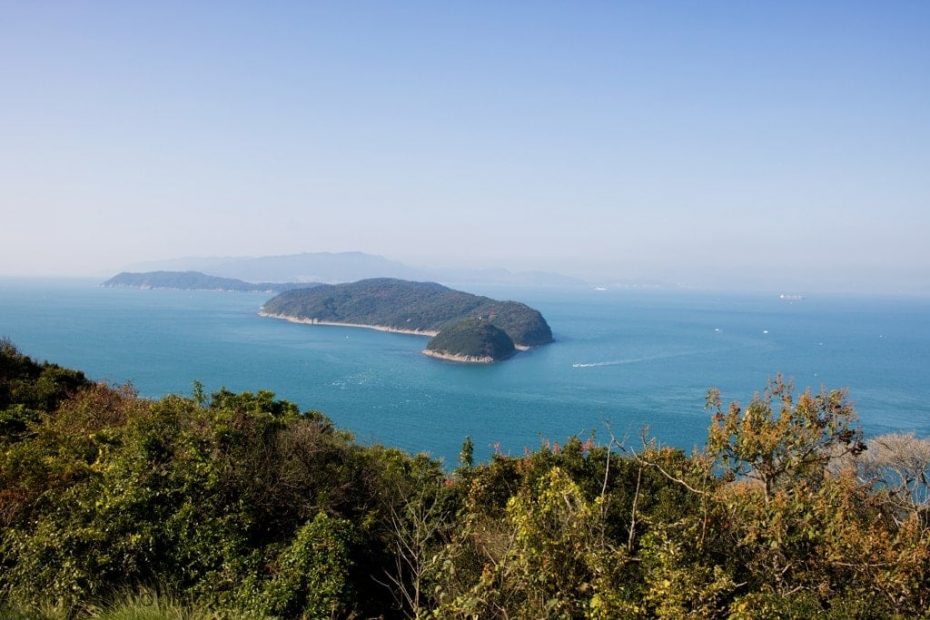 There are plenty of excellent accommodation options around the city. These can range from simple guesthouses and dormitories, to classic hotels, to gorgeous hot spring inns and resorts. Shop around to find somewhere that suits your needs and budgets.
In Wakayama City, there seemed to be four styles of accommodation:
Guest houses and hostels – Like Guest House Saika, which starts from £17 a night for simple dormitory accommodation. Or Guesthouse Rico (dorms from £22 per night) features both dorms and budget private rooms.
Business Hotels – I stayed one night at the Dormy Inn Premium (rooms from £47 per night). Rooms were small, but well furnished and comfortable – and they serve a free bowl of noodles to guests every evening at around 9pm. There's a small onsen in the hotel, and the service is wonderful. I'd happily recommend this hotel for anyone looking for somewhere quiet and comfortable to stay in Wakayama City.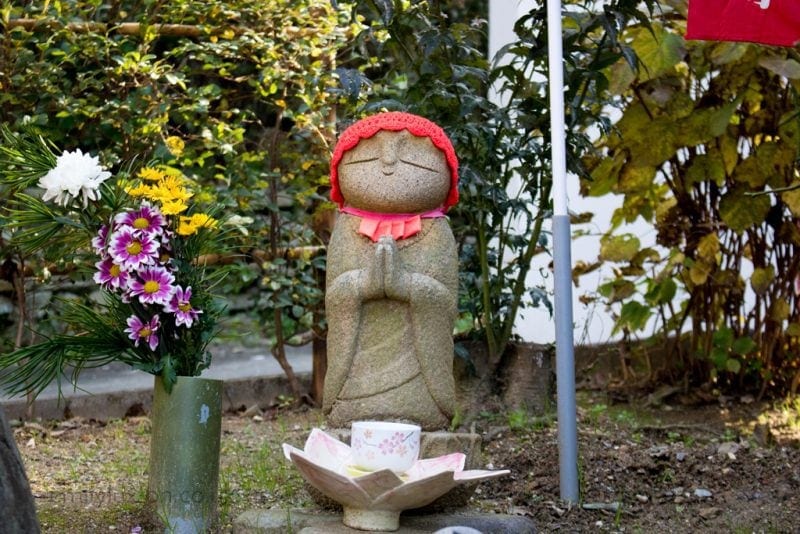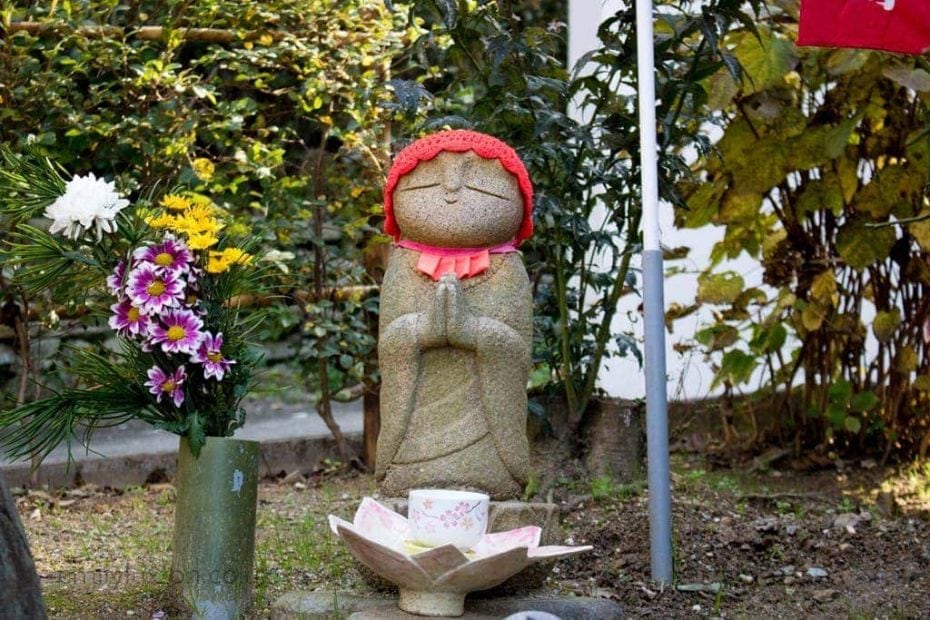 Hot Spring Resorts – Like Kyukamura Kishu-Kada (from £87 per night), where I spent my second night in Wakayama City. The onsen here is incredible, the surrounding national park is fantastic to explore. This is the perfect place for some rest and relaxation in total peace and quiet. Plus, the food in the resort's restaurant is gorgeous – best sushi I've ever had!
Beach Resorts – Close to the beaches, you'll find large resort hotels like Wakayama Marina City Hotel (from £73 per night). I didn't get a chance to stay here, but I did wander through the resort and it looked absolutely stunning.
That's All, Folks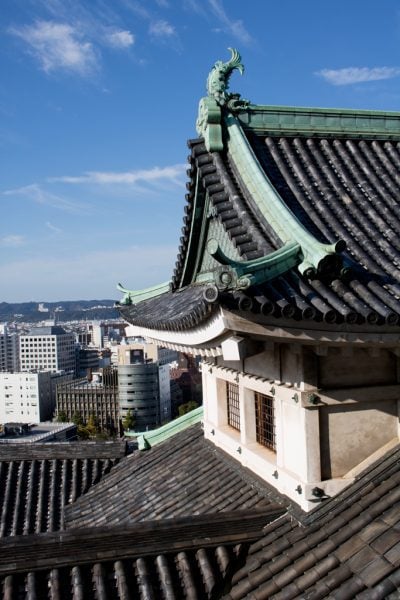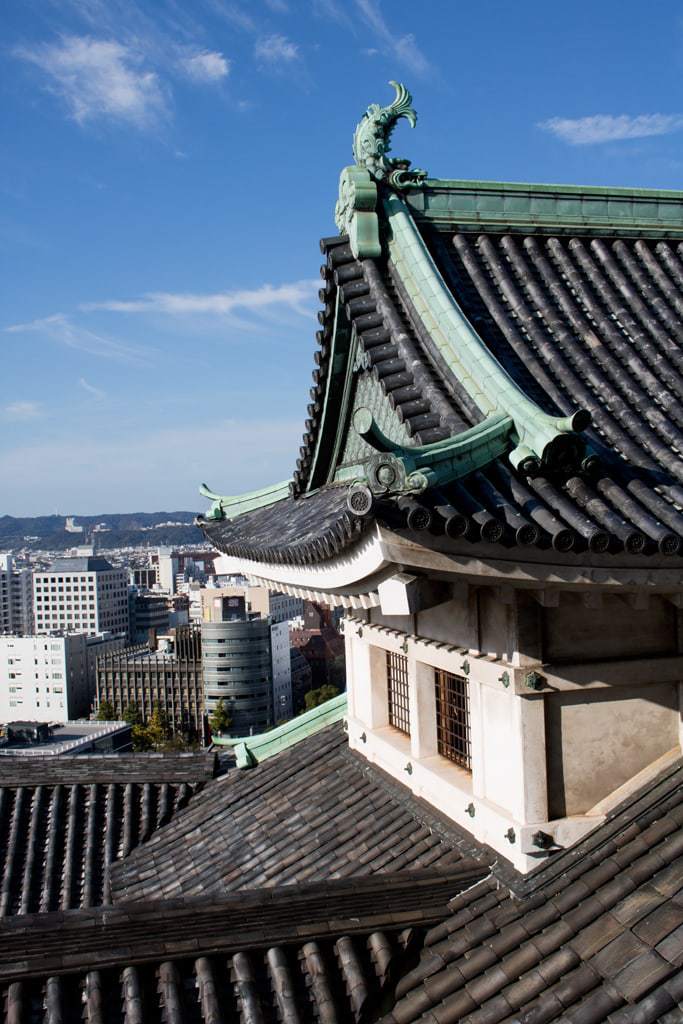 If you've been to Wakayama City and have a great tip or recommendation to share, scroll down to leave a comment and help your fellow travellers. Likewise, if you have a question feel free to ask in the comments or tweet me @em_luxton and I'll do my best to help out!
READ MORE: 17 awesome places to get off the beaten path in Japan
My visit was part of a press trip organised by Tashizan on behalf of Wakyama City. As always, all views and opinions are entirely my own and without bias.
If you found this post useful, please consider pinning the image below and sharing the love!