Some posts on this site contain affiliate links. If you book or buy something through these links, I earn a small commission (at no extra cost to you). Take a look at my privacy policy for more information.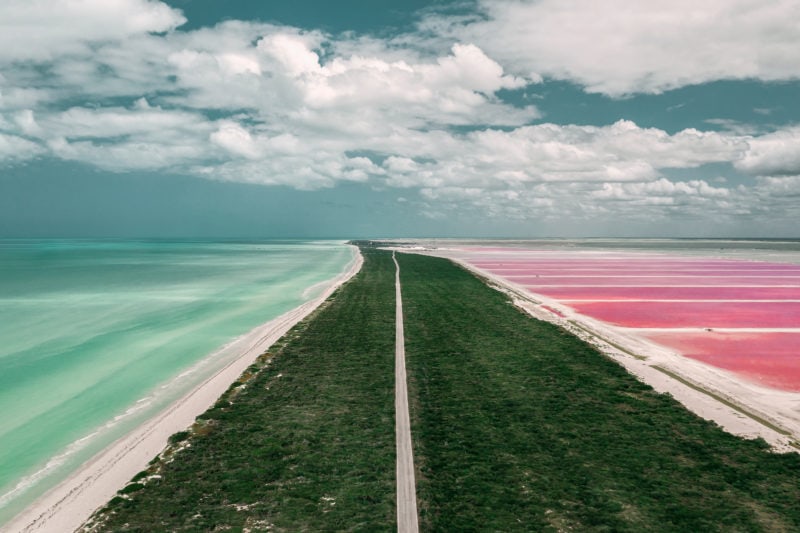 Crocodiles, flamingos, and pink lakes… welcome to Río Lagartos, Mexico!
This tiny, quiet town on the Yucatan Peninsula is perched on the shore of a brackish-water estuary, the Ría Lagartos. 
It's a quiet, lesser-known part of the Yucatan state that sees far fewer tourists than the peninsula's more popular Caribbean coast. But if tranquillity, nature, and stunning sunrises are your bag then Río Lagartos is seriously worth a visit.
The town is also home to one of the region's Insta-famous sights, the pink lakes of Las Coloradas. If you've seen the bright pink water on your Instagram feed, you've probably wondered if these lakes really are that colour!
Well, I can promise you they are – but they still really need to be seen to be believed.
So I recommend planning in a trip to both Las Coloradas pink lakes and the gorgeous little town of Río Lagartos for your trip to Mexico…
Planning a Trip to Río Lagartos Mexico
I spent quite a few days in Río Lagartos while I was in Mexico, and have visited those shockingly pink lakes at Las Coloradas on two separate occasions. The area is an amazing one – full of incredible nature. So use my travel guide below and start planning your trip to Río Lagartos!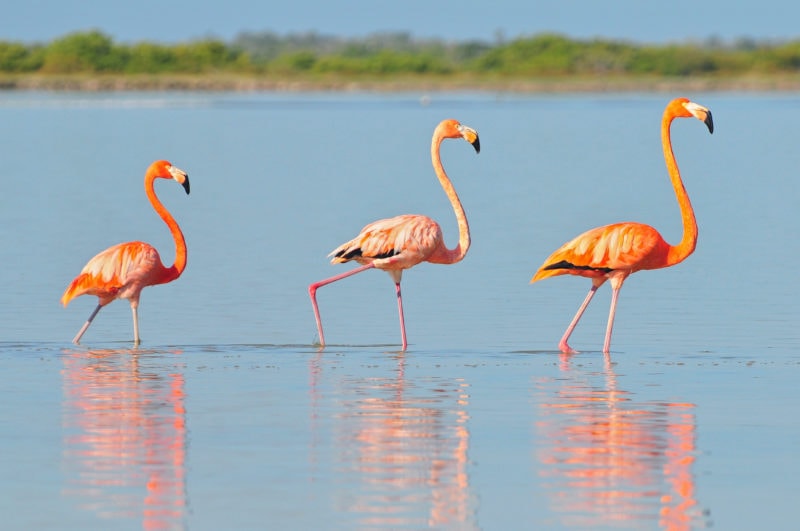 READ MORE: 27 Places to Get Off the Beaten Path in Mexico (Rio Lagartos is one of them!)
What's in a Name: Is it Ría or Río Lagartos?
The town's name is a double mistake. Río means river, but the town is on an estuary (a ría), not a river. Early Spanish explorers mistook the lagoon for an estuary. Then they mistook the local crocodiles for alligators (lagartos in Spanish). And the area became "Alligator River"!
These days, just for double confusion, the town is Río Lagartos and the lagoon and biosphere reserve is called the Ría Lagartos. So don't be surprised if you see it written in two different ways!
Whatever you call it, Rio Lagartos makes one of the best day trips from Merida – or it's perfect for a longer stop if you truly want to get away from it all!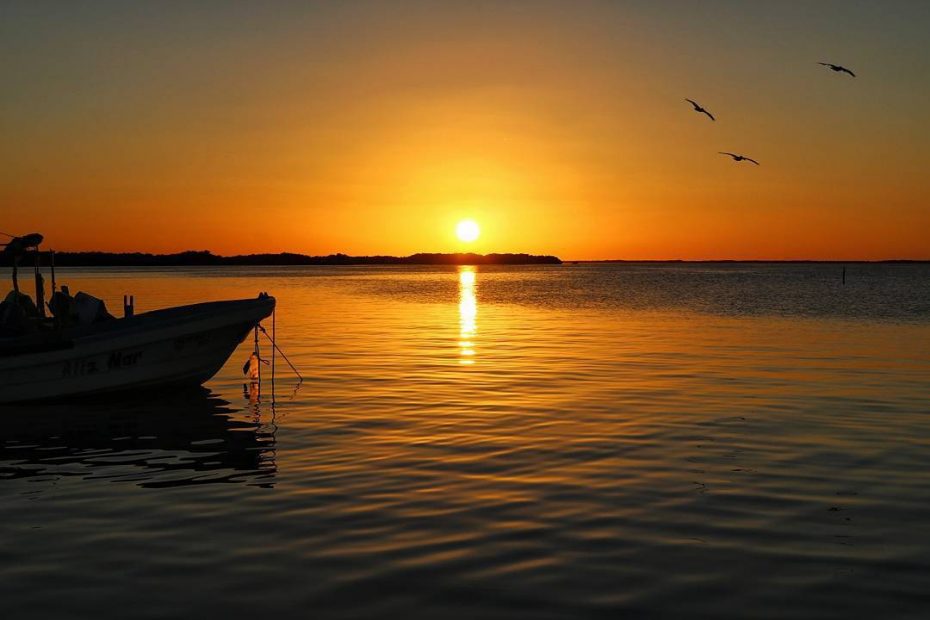 How to Get to Río Lagartos
By Car
If you're renting a car, Río Lagartos is really easy to reach. The route is fairly straightforward and from Cancun it takes about 3 hours. Just follow Google Maps or Satnav and follow signs to Tizimin, then push on north from Tizimin until you reach Río Lagartos.
By Bus
To reach Río Lagartos by bus, you need to reach Tizimin first and then swap either for a bus or colectivo.
From Cancun, you can take either an ADO or a Mayab bus – both leave from the central ADO Bus Station. The journey from Cancun to Tizimin takes around 3.5 hours and costs 128 MXN. Head to the ADO station a day or two before you want to leave, to check the times and prices.
From Merida, you can take a Noreste bus to Tizimin. There are several bus stations in Merida so make sure you head to the Noreste Bus Station. The jourey from Merida to Tizimin takes about 2 hours and costs 170 MXN.
From Tizimin to Río Lagartos you can either take a bus or a colectivo. Both take an hour and cost 45 MXN. Colectivos (shared taxis) are more frequent than buses, but you might have to wait for it too fill up. They're also not as comfy as buses – and might be a bit of a squeeze! They leave from a stand about two blocks from the bus station in Tizimin – ask someone to point you in the right direction.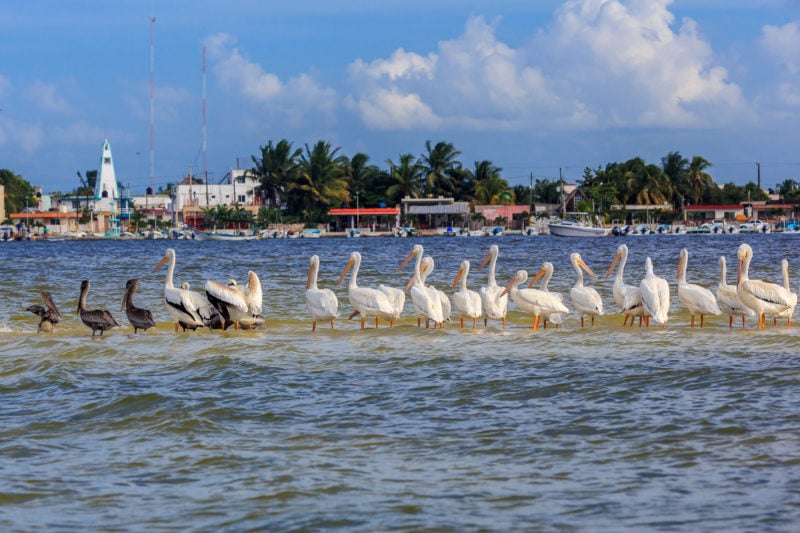 Useful phrases for Getting to Río Lagartos
Cuando es el próximo bús a Tizimin? When is the next bus to Tizimin?
A qué hora es el primero bús a Tizimin mañana? What time is the first bus to Tizimin tomorrow?
Donde están los colectivos para Río Lagartos? Where are the colectivos to Río Lagartos?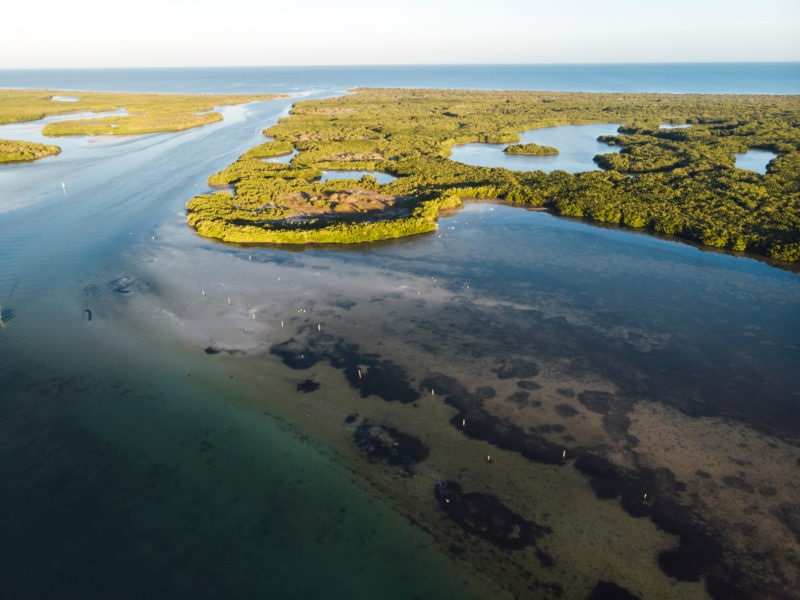 Where to Stay in Río Lagartos
Río Lagartos is a small town, so the selection of places to stay isn't huge! There are only a handful of hotels in town, but here are my recommendations…
Yuum Ha Boutique Hotel – I stayed at Yuum Ha Hotel and would totally recommend it. Stylish, tropical decor in a modern property overlooking the lagoon, it's in the perfect location and the rooms are seriously comfortable. This is (I believe) the newest hotel in town and that really shows.
Check prices on Hotels.com | Check prices on Booking.com
Hotel Tabasco Rio – A cheaper option that's still perfectly comfortable is the Hotel Tabasco Rio. I also spent a night here, and would happily recommend it (although I preferred Yuum Ha). Comfortable, quiet, and really friendly.
Check prices on Hotels.com | Check prices on Booking.com
Things to See and Do in Río Lagartos
Spot Flamingos in Ría Lagartos Biosphere Reserve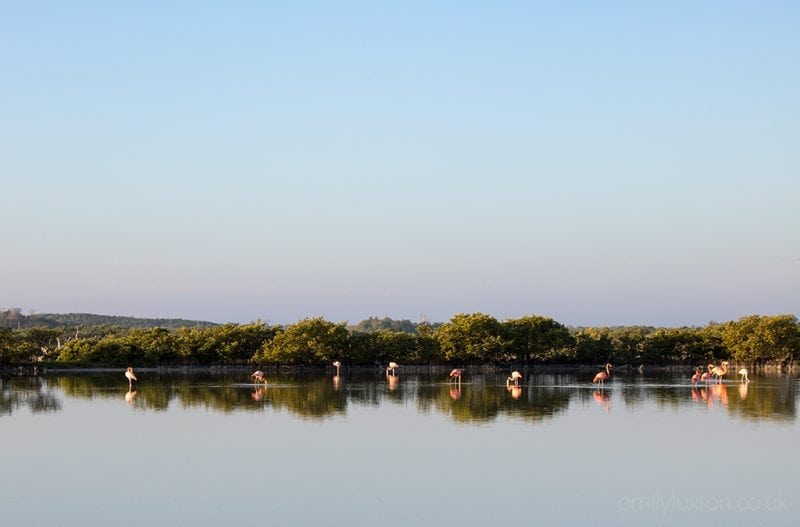 A protected reserve with over 400 bird species, Ría Lagartos is great for nature lovers and bird watchers. Even if you're not a big "twitcher", though, it's well worth a visit.
This is honestly one of the most beautiful places I saw in Mexico. As well as the famous flamingos, you'll see pelicans, racoons, and possibly even the elusive local crocs.
Take a Sunrise Boat Tour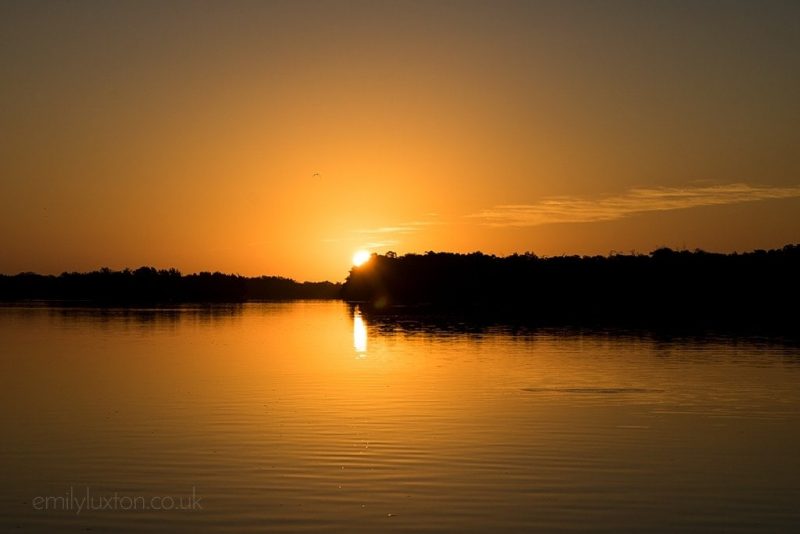 The most popular thing to do in Río Lagartos is to head out by boat to explore the biosphere reserve. Go for a sunrise tour to see the lake at it's most spectacular, and you'll find the reserve is far quieter first thing as most boat tours leave a little later.
Visit a Crocodile Farm at Feeding Time!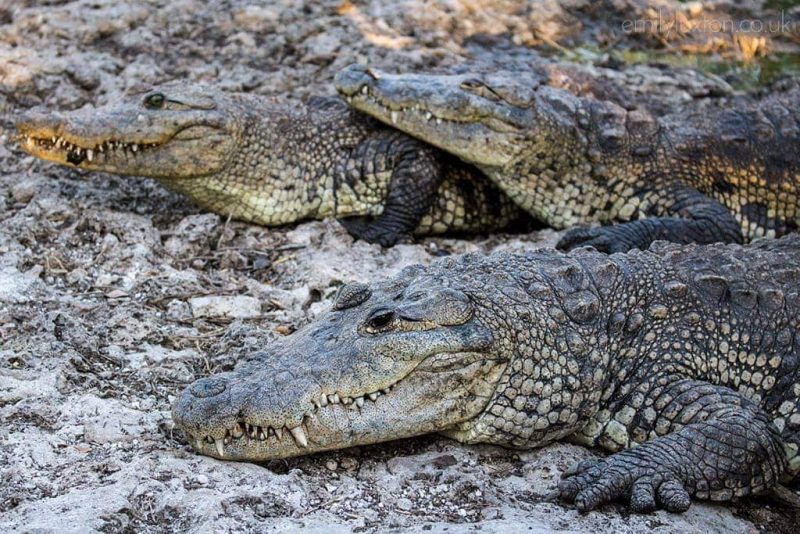 Down the road from the main town is Itzamkanac Granja de Crocodrilos, a crocodile farm. It's a volunteer-run collective of local farmers, and although this is a proper working farm (these crocs are being raised for meat, which is more common than you might think) visitors can come along for a tour once a day, at feeding time.
Guests can help feed the crocs, go inside the cages, and even hold the babies. I was a bit reluctant to mention the Crocodile Farm as one of the top things to do in Río Lagartos, as I know that attractions like this don't sit right with everyone. But I did think the crocs were being well cared for and the farmers really knew their stuff.
If you want to learn more about the local crocodiles and get a very hands-on experience with the beasties, it's a fun trip.
How to Visit the Pink Lakes at Las Coloradas Mexico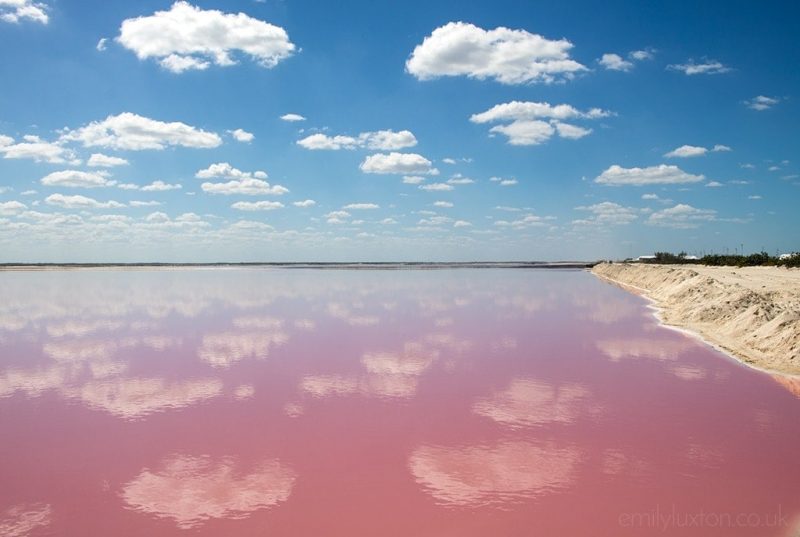 Home of the famous pink lakes, Las Coloradas is about a 30-minute drive from Río Lagartos. The town's name literally means "the red ones", and it's been named after the famous pink lakes which are found there.
These are man-made salt lakes built by the local salt factory, which can be spotted from a mile off thanks to it's huge mountains of white salt. The pink colour is caused by microscopic algae which is commonly found in sea salt fields. As the water evaporates and the salinity levels get higher, the algae gives off a red pigment, turning the lakes bright pink.
These insane, otherwordly lakes are an unmissable experience. Be warned, though, you aren't technically supposed to be here. The factory don't mind visitors popping by to take photos, but they draw the line at swimming. So don't get in, don't litter, and don't go passed the gates marked "no entry".
Final Río Lagartos Travel Tips
There are no ATM's in Río Lagartos, so bring plenty of cash. Tizimin is only a short drive away if you need to get cash or supplies.
The town is tiny, so you can easily walk around it. If you want to explore the local area though, you may need to rent a bike or hire a local driver. Ask at your hotel for recommendations.
If you've visited Río Lagartos recently and have any other great tips, scroll down and share them in the comments!