Some posts on this site contain affiliate links. If you book or buy something through these links, I earn a small commission (at no extra cost to you). Take a look at my privacy policy for more information.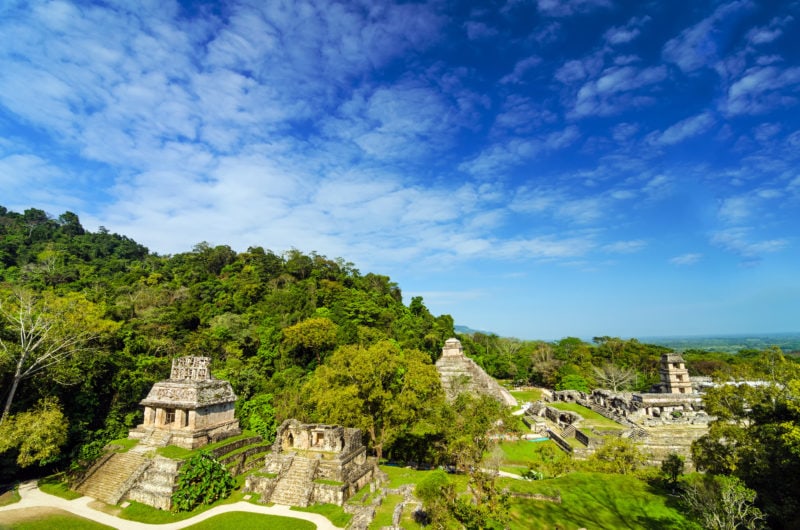 Mayan ruins, stunning waterfalls, and jungle day trips… these are the best things to do in and near Palenque!
Palenque is mainly famous for the ruined Mayan settlement found in the jungles just southwest of the city. This vast archaeological complex is a must-see, full of stone pyramids and ancient carvings.
But there's plenty more to see beyond those famous ruins. Surrounded by mountain rainforests and cloud forests, this small city is the perfect base for jungle adventures and nature-filled days out.
Within Palenque itself, you'll find a cute, compact "tourist zone" with jungle vibes and lots of nice restaurants. Sample local cuisine, pick up handicrafts and colourful souvenirs, or simply wander up to the main city centre to have a look at everyday life in Palenque.
I've broken this post into two sections. First up are things do to within Palenque city itself – or very nearby. Then, we have the things to see and do that are a little further afield, but still within day-trip distance. Hopefully, this makes planning your trip to Palenque a little easier.
I hope you love this peaceful, historic city and its jungle-clad Mayan ruins as much as I did! Buen viaje…
What to do if you only have a day or two in Palenque
Since many people only visit Palenque for a day or two in order to visit the famous Mayan ruins, here's a quick list of the can't-miss things to do while you're in town. You'll find more info on each one in the next section.
Visit Palenque Ruins and the Museum
Browse for souvenirs at the Plaza de Artesano.
Visit Parque Central and Santo Domingo Church – and snap a photo with the Palenque sign.
Take a tour of the waterfalls near Palenque.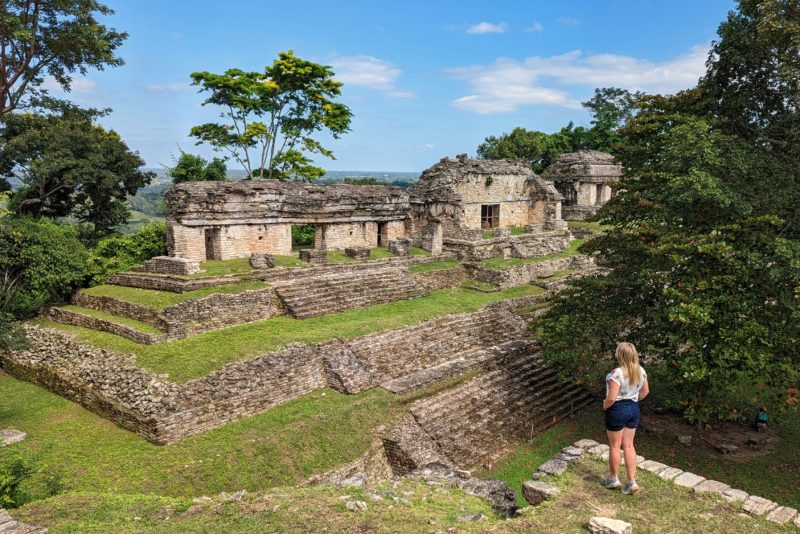 9 Things to do in Palenque (and Nearby)
When I was researching my trip, I found it frustrating that a lot of the online recommendations for things to do in Palenque were actually a couple of hour's drive from the town. Some even recommended San Cristobal – a town 5 hours away! What about Palenque itself?!
So, I've broken this post into two sections. First up are the things that are actually IN Palenque – or less than an hour from the town centre. Then, at the end of this post, I've listed the things that are a little further afield and need to be more of a day trip. Hopefully, this makes planning your trip to Palenque a little easier…
1. Explore the incredible Palenque Ruins
The Zona Arqueologica de Palenque is THE thing to do here! Going to Palenque and not visiting the ruins would be like visiting Giza and not heading to the pyramids!
This Pre-Hispanic city dates from around 200BC to 800AD – after which, the settlement was abandoned and overtaken by the jungle. Archaeologists estimate that only around 5% of the ruins have been excavated: satellite technology reveals a much larger area still buried beneath the jungle. Since the forest is protected, it's likely that many of these will remain lost to nature forever.
Palenque is smaller than more famous sites like Chichen Itza and Tikal, but it has some seriously impressive architecture and brilliantly preserved carvings.
It's also a really cool sight, with ancient stone pyramids dramatically surrounded by dense jungle. You'll often hear the cries of howler monkeys as you explore, and may even spot them in the trees – especially around the entrance to the ruins.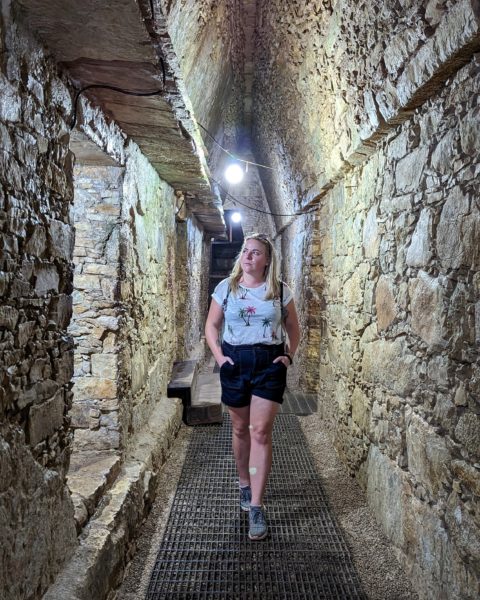 One of the most famous discoveries was the Tomb of the Red Queen, a burial chamber containing the remains of a noblewoman – including an elaborate jade mask. You can actually go inside this tomb, although the sarcophagus and its contents are now housed within the museum.
Unlike Chichen Itza, you can climb several of the pyramids in Palenque. Some have ancient carvings at the top – not to mention incredible views – so the climb is worth it.
You could easily spend a full day exploring Palenque Archaeological Zone. Don't miss the Motiepá Trail through the forest for jungle plants, towering sequoias, and wildlife. I've included a section on how to get to the Palenque ruins at the end of this post – or click here for a full guide.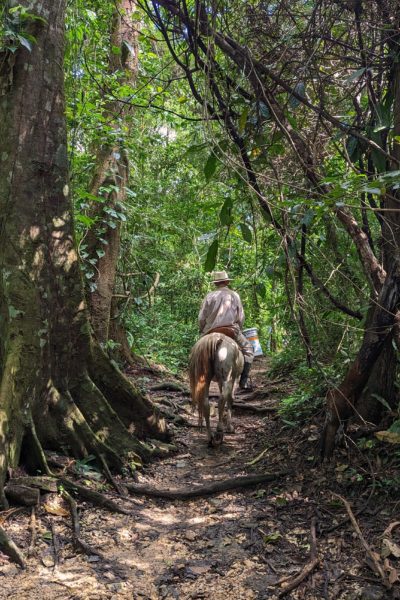 2. Learn more at Palenque Museum
For more information about the history of the ruins at Palenque, don't miss a trip to the Museo de Sitio de Palenque. This small but excellent museum is home to some incredible Mayan artefacts – including the extravagantly carved tomb of Pakal, discovered at Palenque in 1952.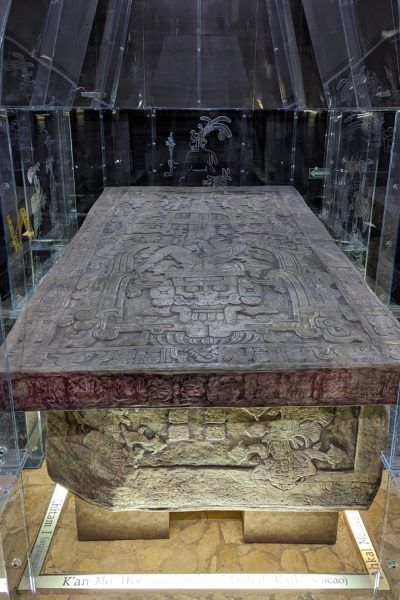 The museum is actually within Palenque National Park, next to the ticket office for the Zona Archeologica. So you can easily combine the two in one visit.
You can go to the museum first to get a bit of background before exploring the ruins. But I recommend getting to the ruins early and exploring these first to beat the crowds and the heat, then ending your visit at the museum to learn more.
3. Visit the 3 waterfalls near Palenque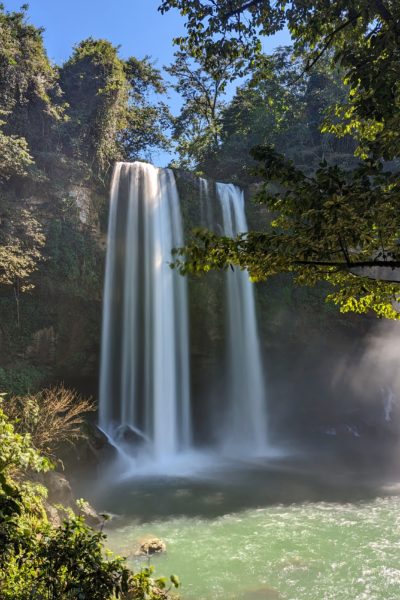 Chiapas is known for its spectacular waterfalls, and three of the state's most impressive cascades are within easy reach of Palenque. After the ruins, these are the second most popular things to visit near the city.
Misol-Ha: A stunning 35m cascade plummeting down a sheer rock face into a green pool. You can swim in the pool as long as you don't get too close to the fall. Don't miss the chance to walk along the rock face into a crevice behind the waterfall!
Agua Azul: A series of wide waterfalls along a river known for their unbelievably bright blue water. The colour of the water changes depending on weather and lighting – it was more green when I visited, but is a vivid cyan in some photos. Day tours combining both Agua Azul and Misol-Ha start from $33pp (click here to check prices and availability).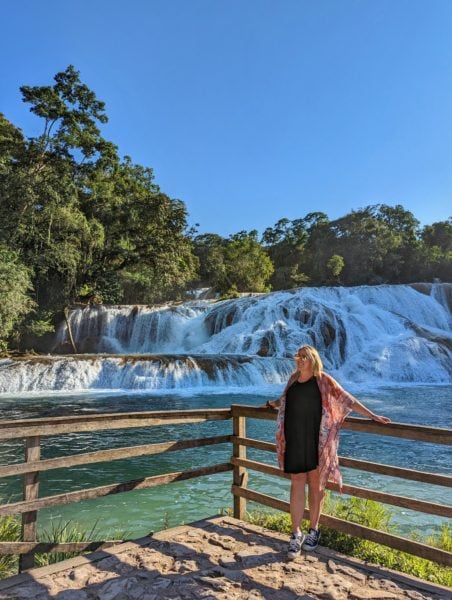 Roberto Barrios: A large park with numerous small cascades and pools of vivid green water. Click here for a useful guide to getting there by colectivo, or check out this half-day tour starting from $22pp.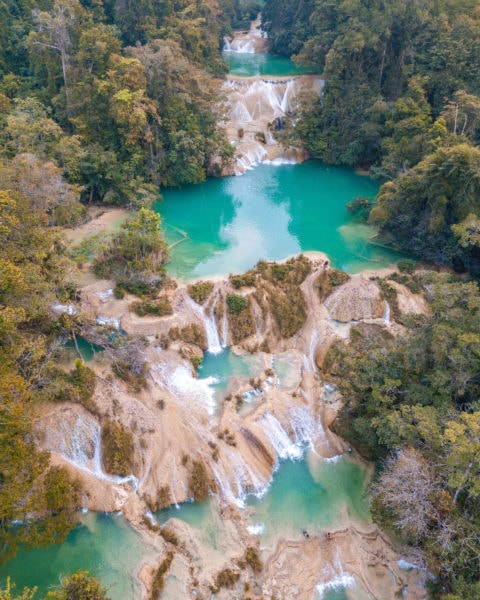 Both Agua Azul and Misol-Ha are found along the road leading towards San Cristobal. You can also book a tour which includes a visit to both falls and a transfer to San Cristobal – which is great if you want to see more of Chiapas state. Click here to check the latest prices.
4. Meet the animals at Aluxes Ecoparque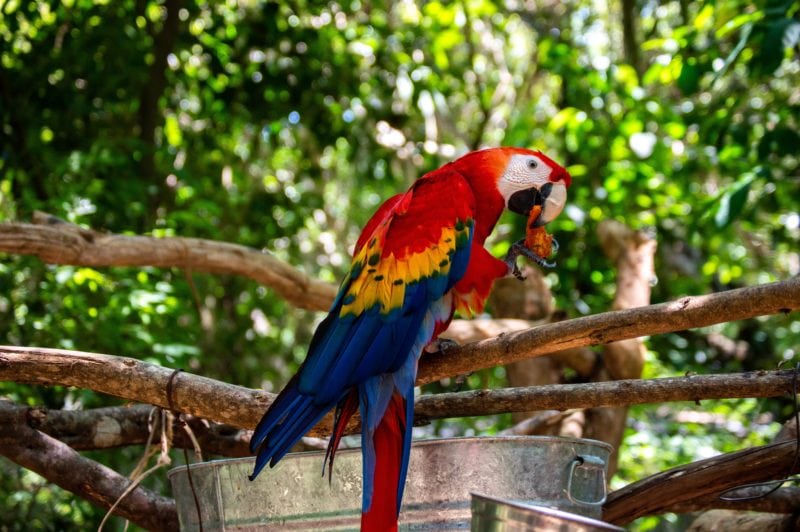 Love wildlife? You need to visit Aluxes Ecoparque while you're in Palenque. This is not a zoo; rather, it's a conservation area and rescue centre for the care and rehabilitation of wildlife confiscated by the authorities.
This non-profit, non-governmental civil association focuses on conservation, environmental education, and restoration, as well as the rehabilitation and breeding of native species. General entry is 150 MXN (60 for kids) – but you can also pay for special animal encounters like feeding the crocodiles or manatees.
5. Pick up local handicrafts at the Plaza de Artesano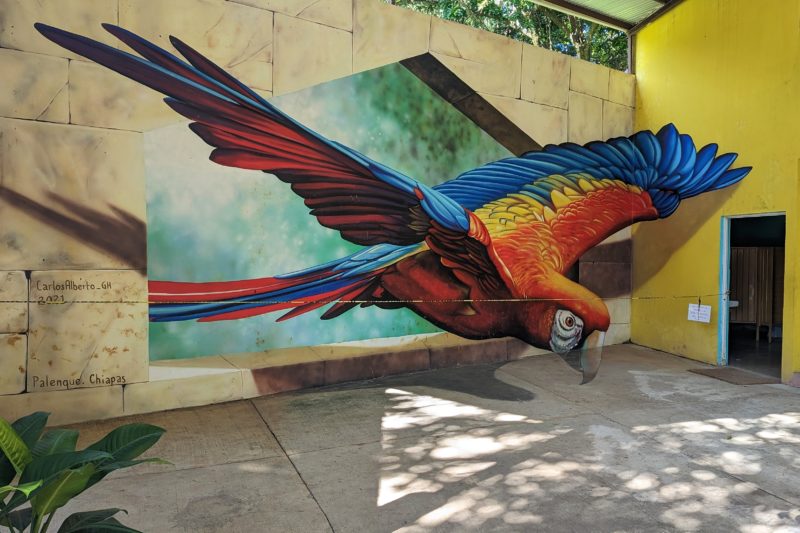 A short walk from Palenque's tourist centre, just down the road from the ADO station, you'll find the Plaza del Artesano (Artisan Square). This is a small, partly-covered market area filled with stalls selling locally made goods and handicrafts. It's a great place to pick up some fun souvenirs – and there are some colourful murals
The Plaza de Artesano is also just across the road from the colourful Palenque sign. All the Pueblo Magicos (Magic Towns) in Mexico have one of these iconic signs – don't miss the chance to snap a photo while you're visiting!
6. Wander around La Cañada tourist area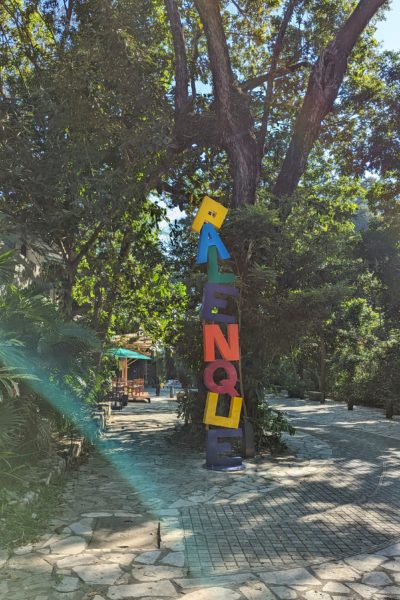 Many of Palenque's hotels and more touristy restaurants are found within a small area known as La Cañada. This is the city's tourist area, but it also happens to be a particularly beautiful neighbourhood, with wide, flagstone streets lined with so many trees it almost feels like walking through the jungle!
These few blocks are home to some really lovely restaurants – I especially loved Casa Antoliana. The neighbourhood is a little Disneyland-esque, but very picturesque and a nice place to have a wander around.
7. Take a walk into the "real" Palenque city centre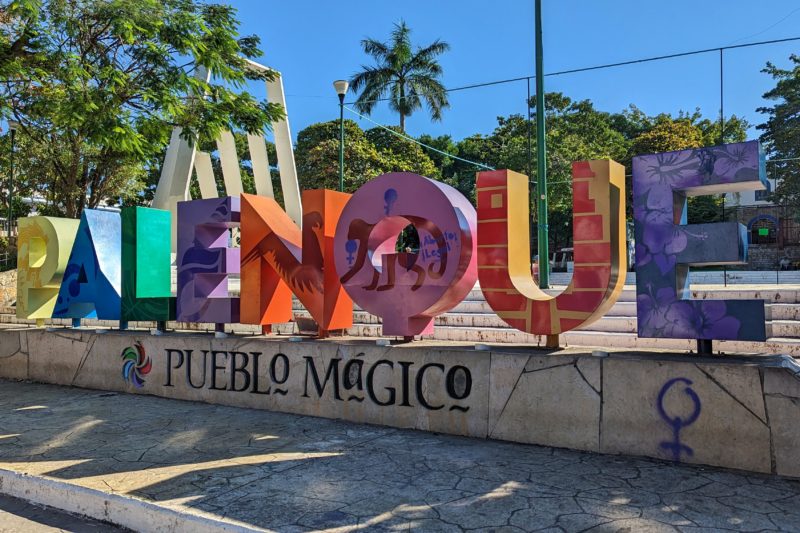 Although the tourist area is cool, you should also head into downtown Palenque for a glimpse of everyday life in the city. Follow Primera Avenida out of La Cañada and across the bridge to reach the city centre.
You'll find lots of busy streets lined with cafes, shops and markets. This is a great place to find some more affordable places to eat – particularly around the central park (see below).
8. Visit Parque Central and Santo Domingo Church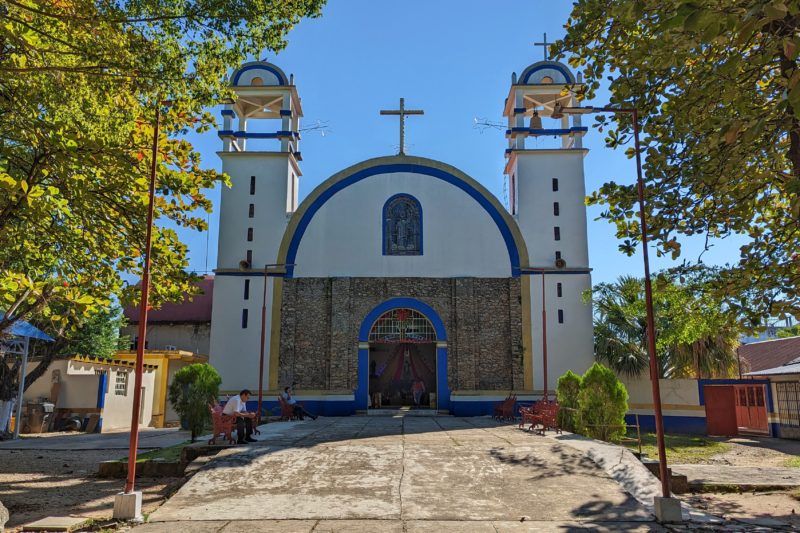 Within the city centre, two sights you can't miss are the Parque Central and Santo Domingo Church. The park is a large paved plaza, home to another colourful Palenque Pueblo Magico sign and some small garden areas. There are quite a few cafes and food vendors around the plaza, so this is a great place to find affordable local food.
Right next to the Parque Central, Parroquia Santo Domingo de Guzmán is a small, pretty church with a white, blue, and exposed stone facade. It's definitely worth a quick look while you're exploring Palenque city centre.
9. Eat some of the typical food of Chiapas
Every region in Mexico has its own unique cuisine, and Chiapas is no different. While you're visiting Palenque, be sure to try a few of the local specialities, including:
Tamales – a traditional prehispanic dish made with masa (a starchy, corn-based dough). The Chiapecan version is flavoured with spices and regional fruits.
Cochito al Horno – Chiapas-style slow-roasted pork flavoured with local spices.
Shuti broth – a Palenque speciality featuring small freshwater snails cooked in a broth flavoured with hoja santa (Mexican pepperleaf, also called jacuané)
Queso Bola – a strong cheese from the nearby town of Ocosingo.
Click here for a food guide from the local tourist board.
5 Awesome Day Trips from Palenque
A few blog posts I read suggested San Cristobal de las Casas as one of the best things to do in Palenque. Not only is that a completely different town – it's also about 5 to 6 hours drive from Palenque, so it's not really feasible as a day trip!
It's a beautiful city and well worth a visit in its own right, but it's NOT a day trip. So if you're wondering why I'm not mentioning San Cristobal here when some other blogs do, that's why!
1. Yaxchilan and Bonampak ruins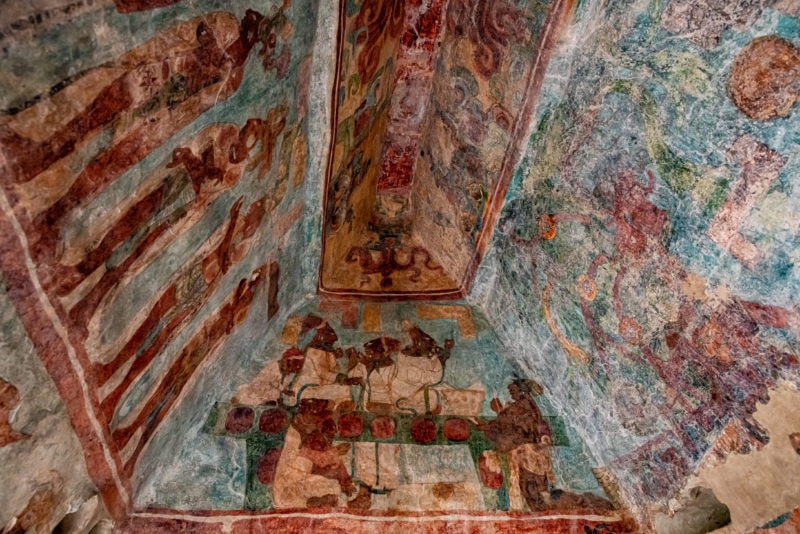 Palenque ruins are the best known, but there are many more Prehispanic ruins and archeological sites within Chiapas. Two of the most impressive are found southeast of Palenque, near the Guatemalan border: Yaxchilan and Bonampak.
Yaxchilan Archaeological Site is the larger of the two. It's deep in the Lacandon Jungle and can only be reached by boat!
Bonampak is known for having some of the best-preserved Mayan murals in Mesoamerica. These are housed within a three-room pyramid structure, which you can enter to witness the colourful murals dating from 300AD – though only 3 or 4 people are allowed in at once. FYI – I've read online that a local scam makes it difficult to visit solo, so it's a good idea to join a tour for this one.
RECOMMENDED TOUR: Bonampak and Yaxchilan archeological sites & tropical jungle (from $156.50pp)
2. Jungle Hiking Near Palenque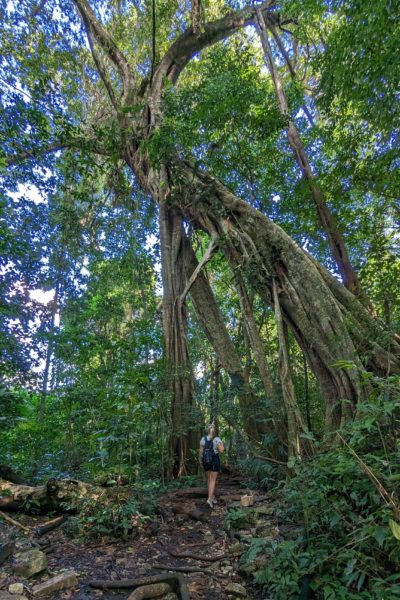 Palenque is a perfect base for exploring the jungles of northeastern Chiapas. The ruins are surrounded by subtropical rainforest, of course, but a little further afield you'll find the Lacandon Jungle, one of the largest montane rainforests in Mexico.
You can visit the Lacandon Jungle on a day trip from Palenque – many tours also include a visit to the Yaxchilan and Bonampak ruins. But if you want a proper adventure, consider a two day tour like this one (from $138pp)
3. Metzabok Lagoon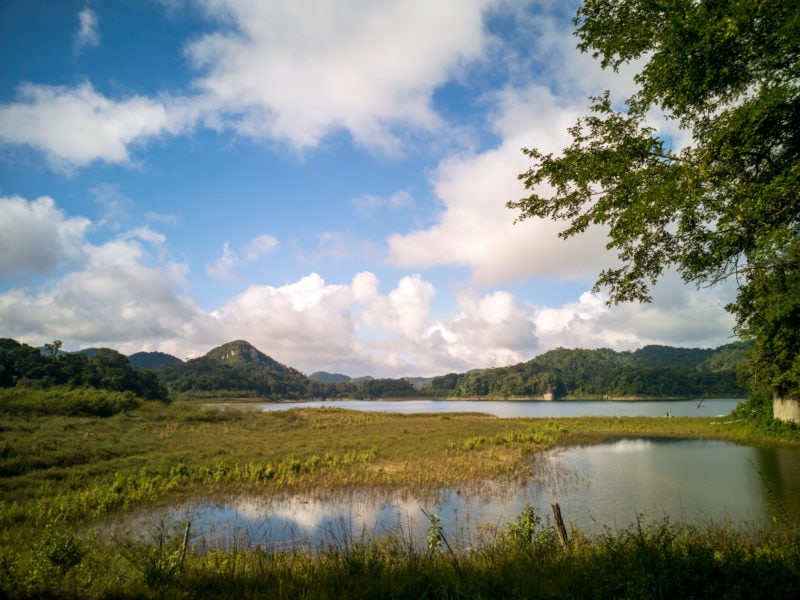 The Nahá–Metzabok Biosphere Reserve, about 2-3 hours drive from Palenque, is a great day trip for nature lovers. The reserve encompasses mountain rainforests, evergreen forests, cloud forests, and some stunning lakes. Within Metzabok are 21 lakes which are interconnected when the water level is high.
RECOMMENDED TOUR: Metzabok Lagoon Day Trip from Palenque (from $129pp).
4. Water Rafting in the Lacandon Jungle
Fancy a more exhilerating jungle adventure? Take a river rafting tour in the Lacandon Jungle. You'll raft through the lush jungle scenery on the Lacanjá river and explore the "lost city" of Lacanjá; an ancient Mayan archeological site.
This tour starts from $149pp – click here for the latest prices and availability.
5. Villahermosa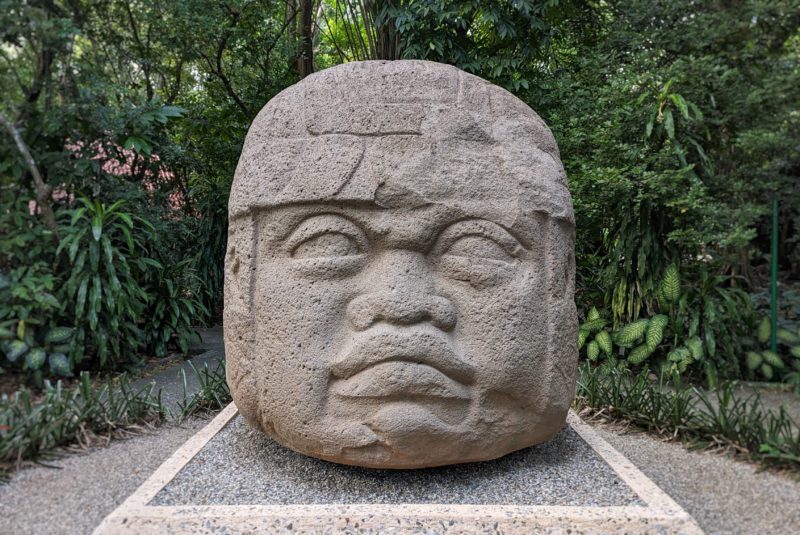 From Palenque, it's quite easy to take a day trip into Tabasco state and visit Villahermosa. This sprawling city is a little more "off the beaten path" – at least for foreign tourists – and it's only 2 hours by bus from Palenque.
The main draw here is the Parque-Museo La Venta. This "park museum" is full of sculptures, altars, and other stone relics from La Venta, an ancient Olmec city in Tabasco state that pre-dates Chichen Itza by over a thousand years. The Olmecs were the first major Mesoamerican civilisations, known for carving huge stone heads – many of which are housed within La Venta.
READ MORE: Check out my guide to the best things to do in Villahermosa to plan your day trip!
How to Visit Palenque Ruins
I've written a full guide on how to get to Palenque and the ruins, so check that out for more in-depth info.
Palenque Ruins Tours
If you're the kind of person who prefers joining an organised tour, there are plenty of options. Pop into one of the tour company offices in the tourist area, or book one of these tours online:
How to get to Palenque ruins on your own
It's VERY easy to visit Palenque Ruins yourself using public transport. You can hire a guide when you get to the park entrance, or simply explore the ruins alone. Here's how to visit Palenque Archaeological Zone…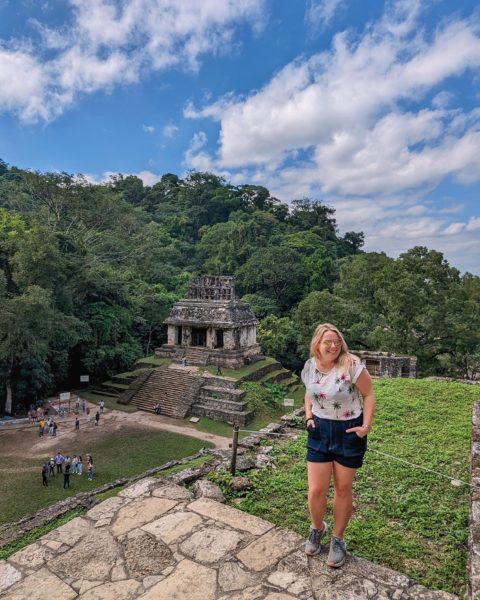 Take a colectivo (minibuses that run a public transport service) to the ruins. These leave from directly outside the ADO bus station and usually have a sign in the window that says "Ruinas" (ruins). The fee is MXN20pp – try to have the change ready.
The colectivo will drop you at the ticket office so you can pay your entry fee. As of January 2023, the cost was MXN104 to enter the National Park, plus MXN90 to enter the ruins.

FYI – the Museo de Sitio de Palenque is here at the ticket office. You can visit it before or after you explore the ruins.

Hop back on the colectivo to get to the actual entrance to the ruins. You can also walk – it's about 1km from the ticket office to the ruins following the road.
Show your ticket and enter the Palenque Ruins. You can hire a guide if you like (see below), or explore at your own leisure.
Once you're done exploring, take the Motiepá trail through the forest back down towards the ticket office and Museum. This trail will take you through the jungle and past a pretty waterfall.
Take the colectivo back to Palenque town centre.
Good to know
There are toilets at the ticket office, just before the entrance to the ruins, and within the ruins site itself. There are a lot of vendors and a couple of food stalls in front of the ruins entrance. I recommend bringing some snacks with you as the prices will generally be higher within the Archaeological Zone.
Don't forget to bring mosquito repellent (VITAL), suncream, and plenty of water.
Do I need a guide for Palenque?
A LOT of guides will offer you their services both at the ticket office and park entrance. Having one can be helpful if you want a more in-depth overview, but it's not essential.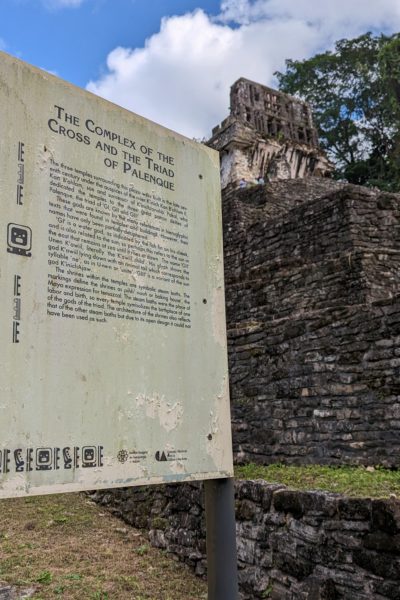 The Zona Archeologica is well signposted, there's a map at the entrance and a path leading around the site. There are signs in English and Spanish at all the pyramids and temples, so you'll get a pretty good overview of what you're looking at. And you can learn a lot more at the Museum, which is right next door to the ticket office.
I've gone into more detail on this in my guide to getting to Palenque, so check that out for more info.
More in and near Palenque