Some posts on this site contain affiliate links. If you book or buy something through these links, I earn a small commission (at no extra cost to you). Take a look at my privacy policy for more information.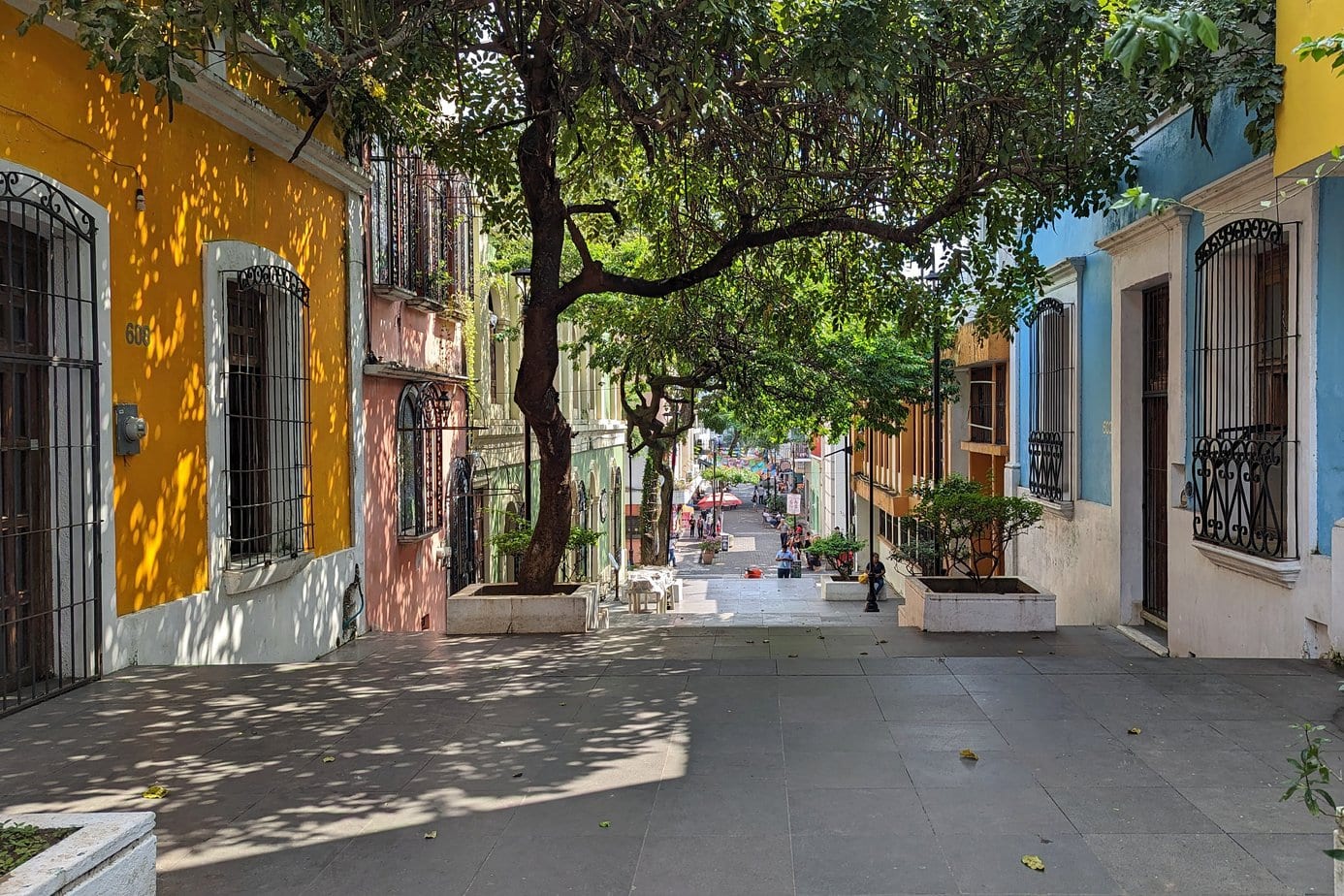 Whether you only have one day, or a little longer, these are the best things to see and do in Villahermosa, the state capital of Tabasco, Mexico…
A lot of people – and online sources – told me to skip Villahermosa. The Mexican state of Tabasco is better known for its oil fields than for tourism, and most people agreed that there's simply not enough to do in the state capital to tempt tourists.
But I was passing through anyway, so I decided to give Villahermosa a chance! And I discovered that this river-surrounded city actually has quite a lot to offer.
It may not be quite the "beautiful town" the name promises, but there's plenty to fill a day or two in Villahermosa. This is a city of wide rivers, serene lakeside walks, and rich archaeology. Oh, and one of the best ceviche I've eaten in a while! And if you stay longer, there are plenty of day trips to explore more of Tabasco itself.
If you're simply passing through, as I was, or sticking around for a while, these are my picks for the best things to do while you're visiting Villahermosa. Buen viaje…
Shortlist: If you Only Have a Day in Villahermosa
Since many people just stop over in Villahermosa for a day on the way to somewhere else, here's a quick list of the can't-miss stops. More info on each one in the next section.
Parque-Museo Villahermosa – Mesoamerican archaeology in a park setting with a small (skippable) zoo.
La Cevicheria – for amazing seafood (or vegan ceviche).
Malecon de las Ilusiones – lakeside walk.
Regional Museum of Anthropology – for Mesoamerican artefacts and the area's history.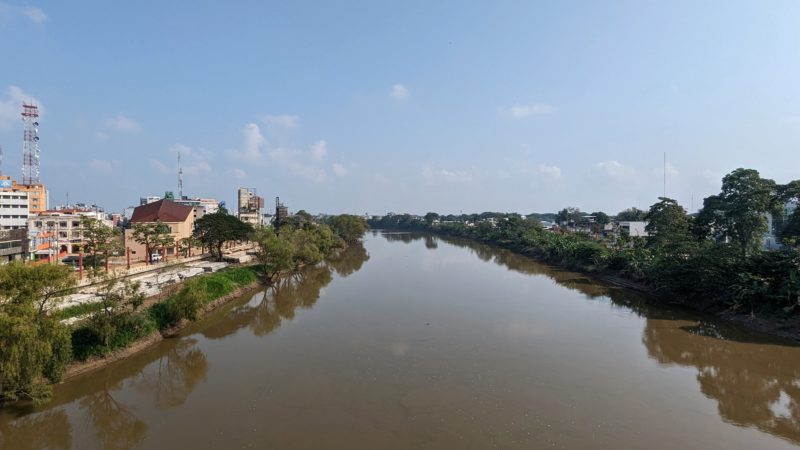 9 Things to do in Villahermosa
Tabasco in general is a bit more of an "off the beaten path" destination in Mexico. Villahermosa doesn't get a lot of non-native tourists, so if you're not Mexican you may find yourself standing out.
This can also mean (generally) lower prices than more touristy spots in Mexico – winner! It helps if you can speak a little Spanish here, as I found not many people I interacted with spoke English and most tours I saw appeared to be only in Spanish. BUT everyone was super friendly and very patient with my (disastrous) Spanish.
Anyway, without further waffle, here are the top things to do in Villahermosa…
1 – Discover Prehispanic Carvings at Parque-Museo La Venta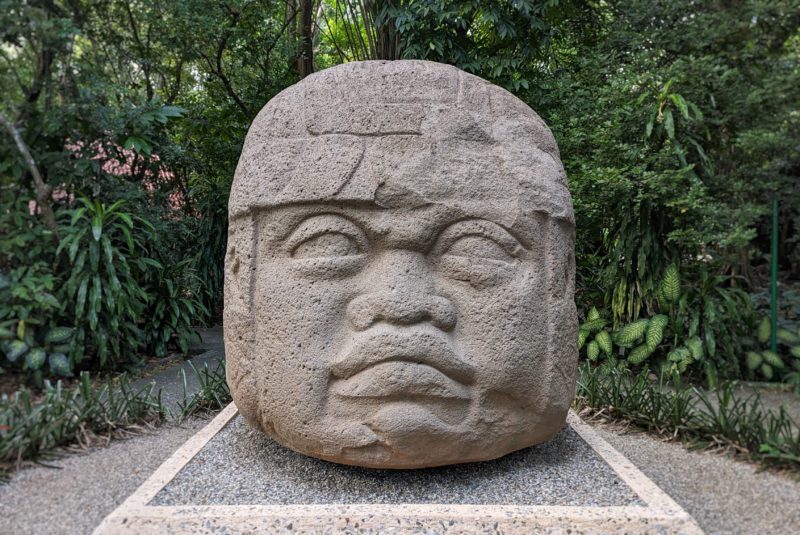 Without a doubt, the top thing to do in Villahermosa is to visit the Parque-Museo La Venta. This "park museum" is full of sculptures, altars, and other stone relics from La Venta, an ancient Olmec city in Tabasco state that pre-dates Chichen Itza by over a thousand years.
In fact, the Olmecs were the first major Mesoamerican civilisation. They founded La Venta around 1200 BC, and between about 800 to 400 BC it was the most important settlement in Mesoamerica.
Most of the sculptures that have been transferred to the Parque-Museo in Vellahermosa date from 700-400 BC. Most impressive are the enormous carved stone heads – thought to be portraits of Olmec rulers.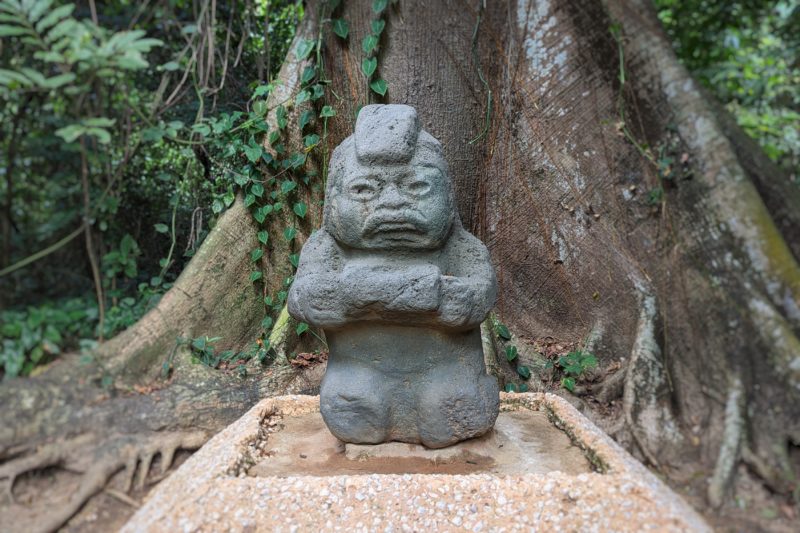 Signs are all in English as well as Spanish and have lots of information. The sculptures are laid out along a trail that winds through a forest, so wild animal encounters are not uncommon. Especially the coatis: cute, fluffy mammals who seem to have the run of the park! There are also lizards, boas (apparently) and occasional monkeys, as well as the ever-present mosquitos – bring repellent!
It's worth noting that there's also a zoo inside the Parque Museo. Enclosures were mostly large and looked to be in OK condition, but I found it a little depressing. If you dislike animals in captivity, you can skip the zoo and head straight for the Archeological Park once inside.
Top tip – visit on a Monday, when entrance is free for everyone (except during summer holidays). This is also good if you don't want to feel like you're supporting the zoo. On other days, visitors pay $57 MXN (about $3 USD).
DAY TRIP – La Venta itself is about 1.5 hour's drive from Villahermosa and can be visited as a day trip.
2 – Walk Along the Laguna de las Ilusiones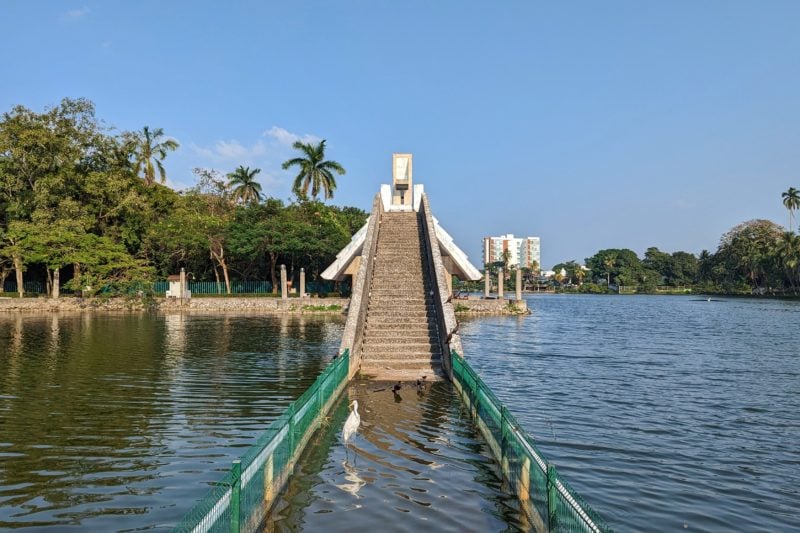 In the northwest of Villahermosa is a vast and beautiful lagoon called Laguna de Las Ilusiones. Skirting the lake is the Malecon de las Ilusiones; a wide walkway shaded by trees which winds along the water's edge through the Parque Tomás Garrido Canabal.
There are vendors selling street food, scurrying coatis, and a couple of playparks for families. It's a really lovely, serene area and a great spot for a walk once you're done visiting La Venta. The lake itself is rich in birdlife; walk along the Malecon spotting great egrets, herons, and cormorants.
I recommend visiting in the late afternoon, when the sun is less fierce and the golden light makes the lake all the more beautiful.
3 – Climb the Mirador de las Aguilas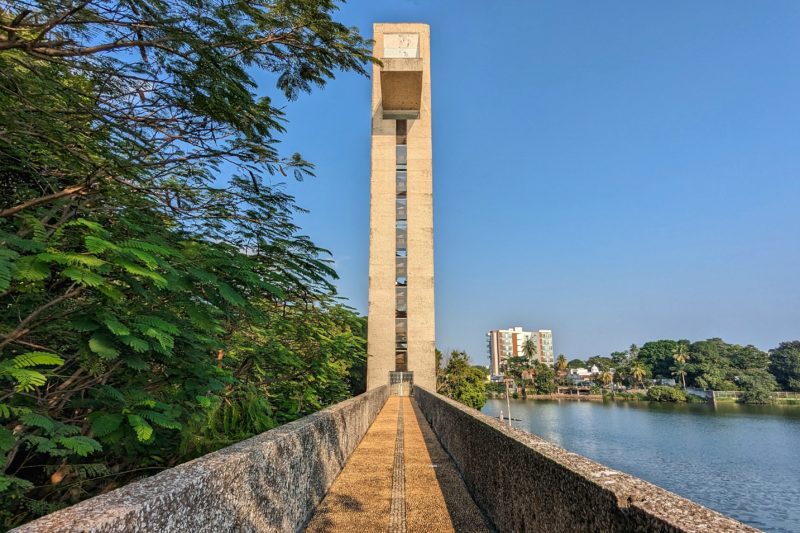 Sadly, this was closed when I went: apparently, it's a bit of a potluck as to whether you'll find it open or not. So don't make a trip here especially! But if you're visiting the Laguna de las Ilusiones anyway, and you're lucky enough to find this free observation tower open, climb to the top for some stunning views of the lakes. From photos I've seen online, it looks well worth it!
4 – Eat Ceviche at La Cevicheria Tabasco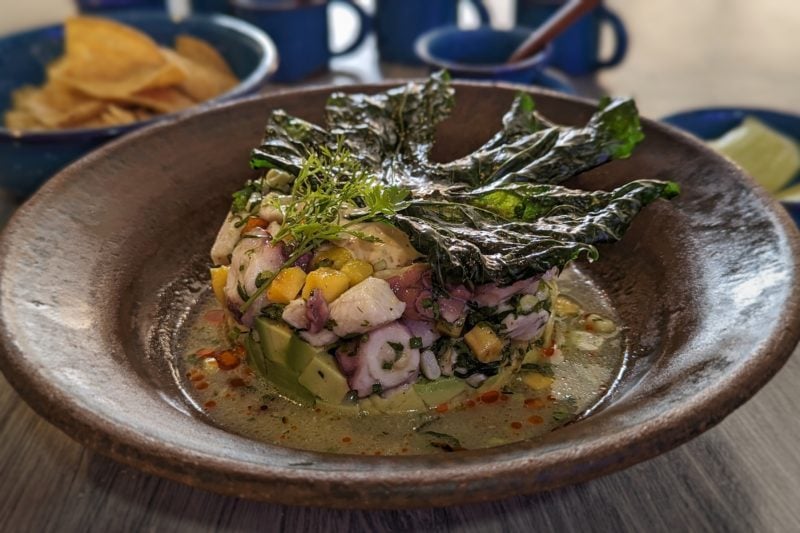 Honestly, it might be worth visiting Villahermosa JUST to eat at this restaurant!
La Cevicheria Tabasco has a great range of fresh, delicious ceviche and seafood dishes (there's also a yummy-sounding vegan ceviche) – all served in a funky environment with fantastic service. I recommend the ceviche de la casa (which comes with a ginger dressing). And if you're a fan of Mexican agua frescas, try the bright pink Agua de Matalí (similar to agua de jamaica).
5 – Admire the Señor de Tabasco Cathedral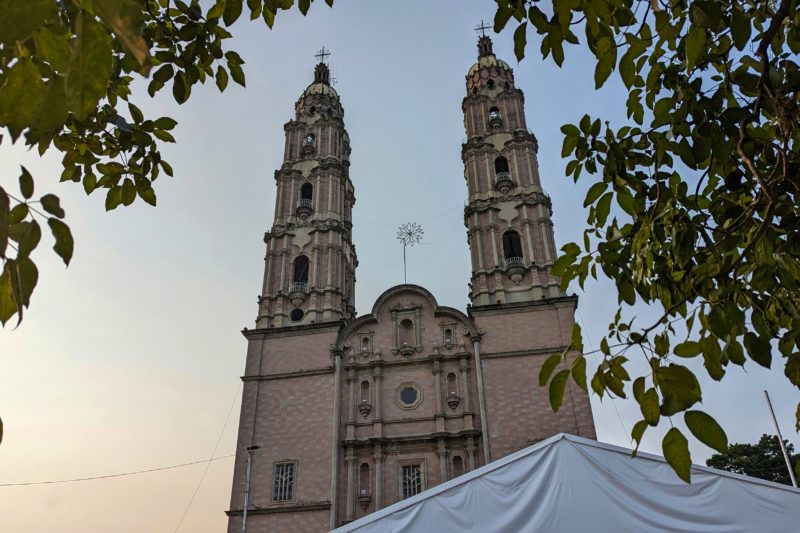 You can see the twin towers of the rosy-hued Tabasco Cathedral from across the city. It was built between 1945 and 1970, after the original cathedral was destroyed during an anti-religious campaign in the 1930s. As a result, there's not much in the way of history or religious iconography to see, but the facade and the tall, carved towers are pretty – so it's worth swinging by if you have time.
6 – Wander Around the Zona Luz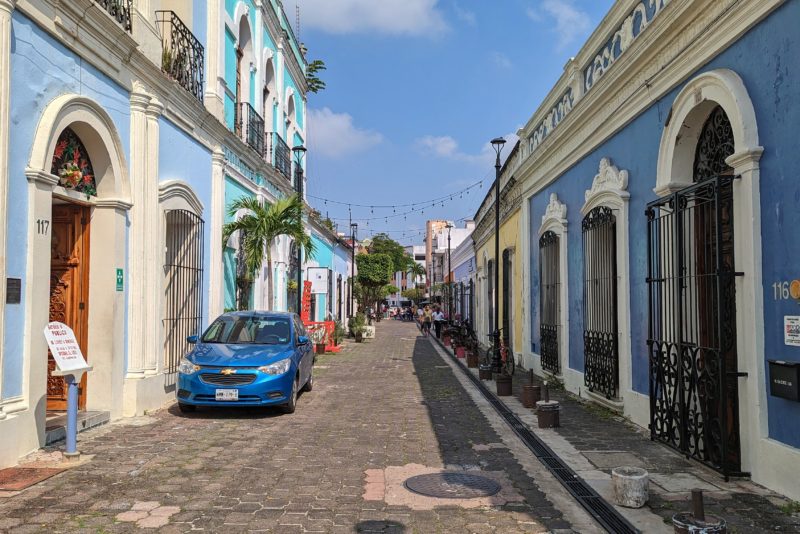 Like many other Mexican cities, Villahermosa has a historic centre, called the Zona Luz. It's not as pretty as others I've seen, but there are a few nice streets with pastel-coloured buildings – particularly Narciso Sáenz and the pedestrianised Calle Lerdo de Tejada – and there appeared to be quite a lot of new stuff popping up when I visited, so the area has the potential to become quite lovely.
Don't miss…
Plaza de Armas – the city's main plaza, home to the Government Palace.
Monumento al Bicentenario de la Independencia – a large, rusted iron monument on the far side of the Plaza de Armas.
Simon Bolivar statue at the top of the steps at Calle Lerdo de Tejada.
Parque de los Pajaritos – a cute, leafy square home to a number of parrots and a (now thankfully empty) aviary.
Galería de Arte El Jaguar Despertado – small gallery and cafe showcasing local art and culture.
7 – Learn More at the Regional Museum of Anthropology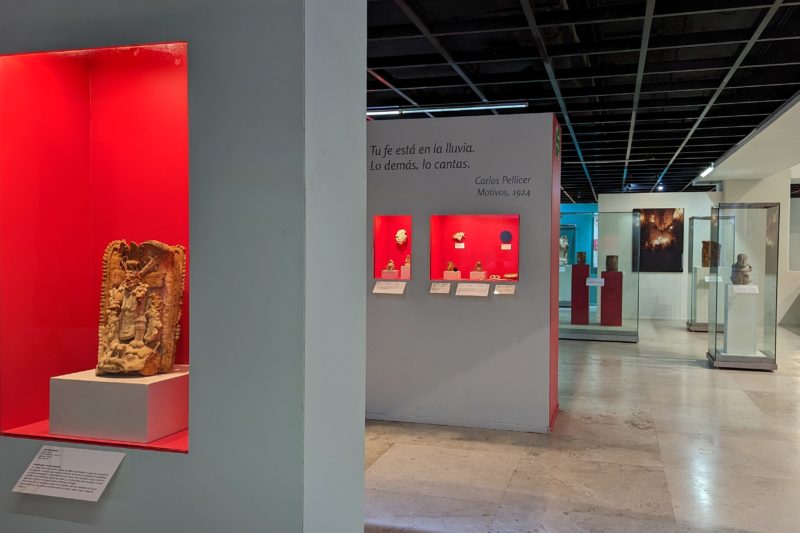 Villahermosa's Museo Regional de Antropología "Carlos Pellicer Cámara" is apparently Mexico's second-largest collection of anthropological artefacts. Housed within a large, modern building, it's a great place to learn more about the Olmec civilisation, as well as the history of the Maya, Zoque and Nahua cultures in Tabasco.
This is also the home of the infamous Tortuguero Monument 6 – the stone tablet that gave rise to the myth that the Mayans had predicted the 'end of the world' for 21st December 2012.
8 – And at Casa de los Azulejos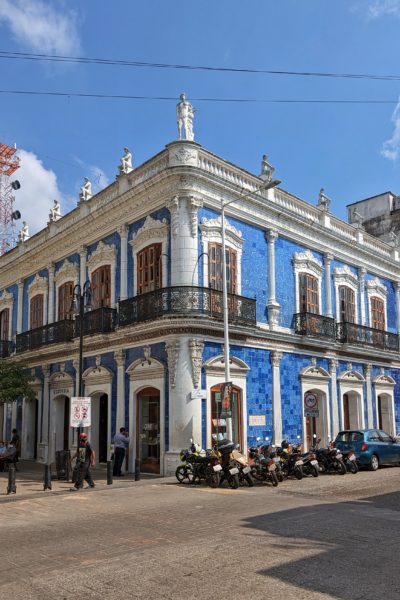 Known as the "house of tiles", this gorgeous blue-tiled building in the Zona Luz is home to the Tabasco History Museum.
The exhibits tell the story of the state's history, but really, the main reason to visit is for the stunning Catalan tiles which cover every room.
9 – Walk Along the Grijalva River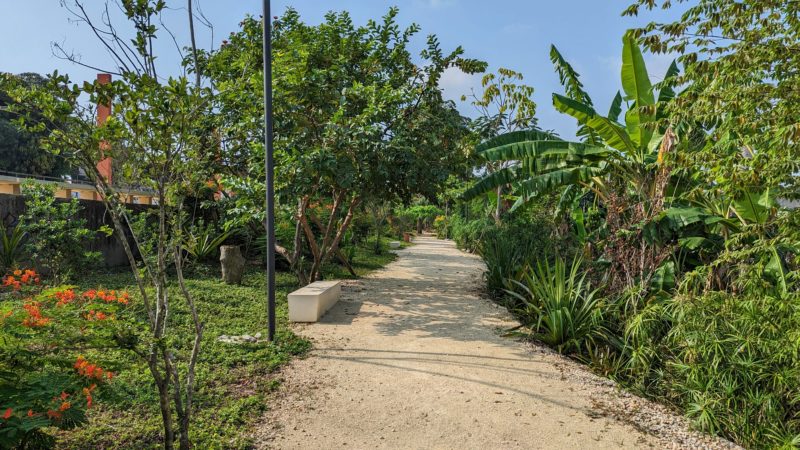 Perhaps the "hermosa" (beautiful) part of Villahermosa comes from the number of parks, lakes and rivers there are in the city centre.
If you have time for one last activity in Villahermosa, take a walk along the Grijalva River's eastern bank. You can cross the river via the wordily-named Puente Peatonal Manuel Pérez Merino (formerly the Puente Solidaridad) near the Plaza de Armas.
On the far side, you'll find a wide esplanade and a cycle lane. Between the walkway and the river is a long area of parkland with a gravel path winding between lush tropical trees and flowers.
There was also a new esplanade being built on the city-side bank when I visited, so soon you'll be able to walk a circuit along both sides of the river.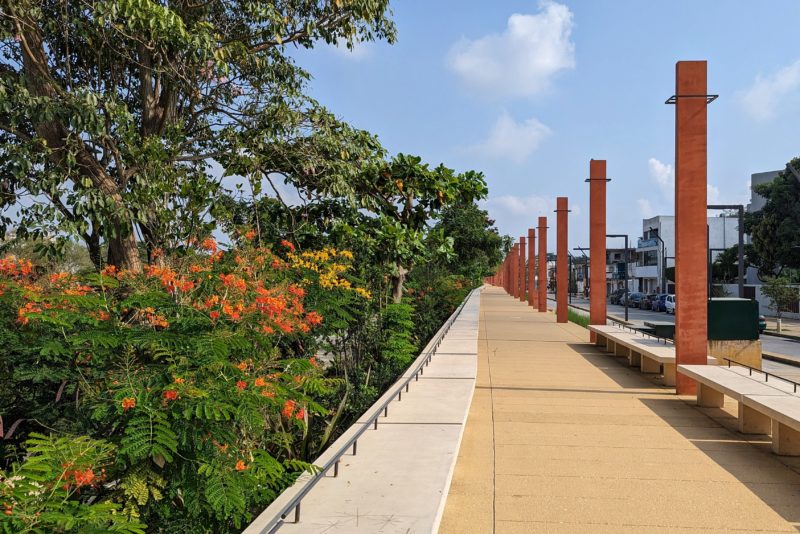 Where to Eat in Villahermosa
Antigua Cafe – a cute little spot for breakfast or lunch with decent coffee and a nice view of the Obelisco Plaza. I loved the house special Cappucino Antigua.
Cafe del Correo – OK coffee and very friendly service in the heart of the Zona Luz.
La Cevicheria Tabasco – I already mentioned this one above. Great restaurant with fresh ceviche (including vegan options) and excellent service.
If you find any more great places to eat in Villahermosa, leave a comment to let me know and I'll add them in!
More Day Trips from Villahermosa
La Venta – Visit the archaeological site of an ancient Olmec city from between 1200 and 400 BC. It's about a 1.5-hour drive from Villahermosa, or you can take a bus or colectivo from outside the ADO station.
Chichonal Volcano – Hike into the Chiapas mountain range to reach the top of a volcano for a view of the emerald-green lake inside the caldera.
Villaluz Waterfalls and Tapijulapa "Magic Town" – rappel and zipline over waterfalls, visit a cave, and visit the Pueblo Magico of Tapijulapa. If you don't want to book a tour, it's also possible to visit both of these spots by driving. You should also be able to get to Tapijulapa by bus and colectivo (connecting in Jalapa) but it looks like a tricky journey.
Pantanos de Centla – A Biosphere Reserve and extensive wetland region in Tabasco. Take a tour to see local wildlife.
Palenque – the famous Mayan ruins of Palenque in Chiapas state are just over two hours from Villahermosa. You can get there by bus, and take a colectivo straight to the ruins from outside the ADO station – although personally, I think it's worth spending at least a night in Palenque before returning. You can also take a day tour to Palenque from Villahermosa which includes a guided tour of the ruins. Find out more in my post about how to get to Palenque.
More on Mexico
How to Plan a Trip to Rio Lagartos