Some posts on this site contain affiliate links. If you book or buy something through these links, I earn a small commission (at no extra cost to you). Take a look at my privacy policy for more information.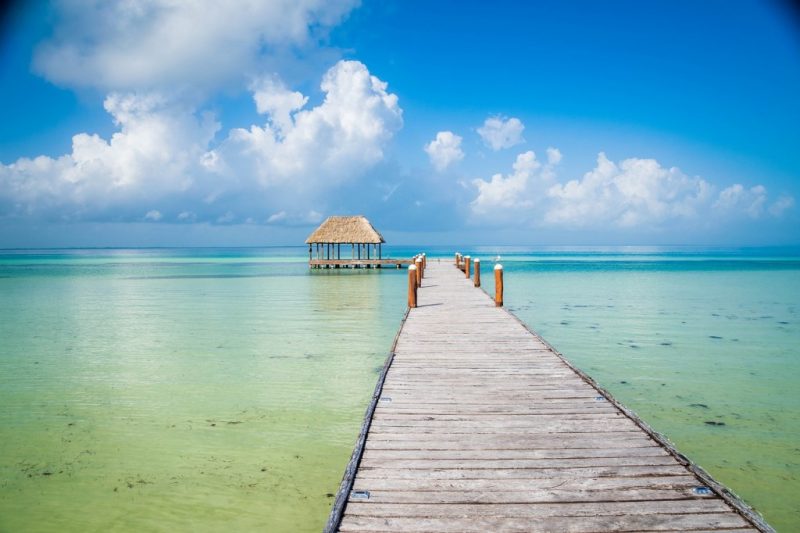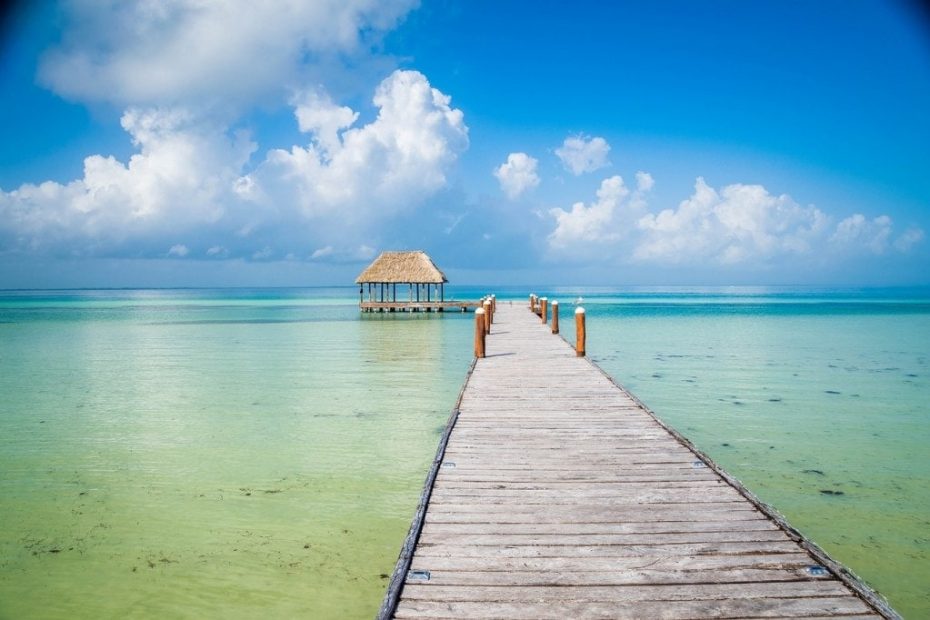 From luxurious beachside villas to stylish boutique hotels… these are some of the best hotels in Isla Holbox!
I've made no secret of the fact that I ADORE Isla Holbox. This dreamy little island off the coast of the Yucatan Peninsula is the perfect tropical getaway. White sandy beaches, swaying palm trees, and glorious over-sea sunsets combine for true holiday vibes.
Then there's the town's colourful, shabby-chic aesthetic. Sand roads, no cars, and street art murals on almost every surface… it's truly a special place.
When I first visited several years ago, the island still felt like a bit of a secret. These days there are way more hotels on Holbox – so there's truly something to suit everyone. Luckily, much of the island remains protected, so it will (hopefully) never become quite as over-developed as some of the Yucatan's other tourist hotspots.
Unlike nearby Cancun, there aren't really any big resorts on Holbox. Instead, there are lots of boutique hotels, luxurious villas, and stylish aparthotels for those who prefer self-catering. There are also hostels with both dorms and private rooms – perfect for anyone visiting Holbox on a budget.
Whatever your budget or travel style, there are some fantastic hotels in Holbox to choose from. Here's my pick of the best to help you narrow down your search…
Best Hotels in Holbox: Map
Click on the map below to open in Google Maps – and keep scrolling to find your perfect Holbox accommodation…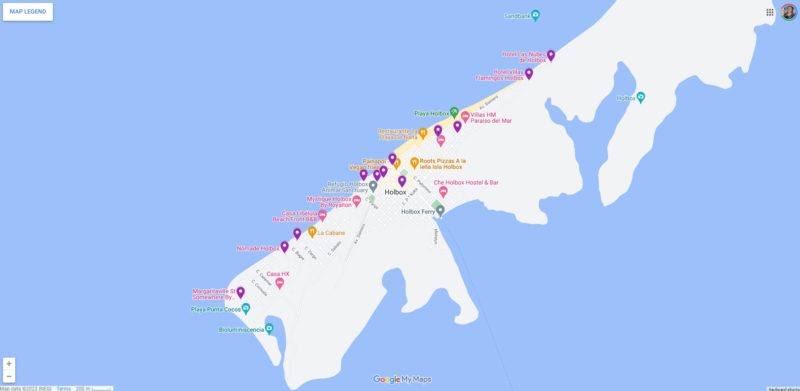 10 Best Hotels in Holbox
1. Hotel Villas Flamingos
Hotel Villas Flamingos offers a tropical paradise to soothe your soul and rejuvenate your spirit. This enchanting 4-star hotel is just a few steps from the crystal clear waters of the Caribbean Sea, providing an unforgettable experience of sun, sand, and sea.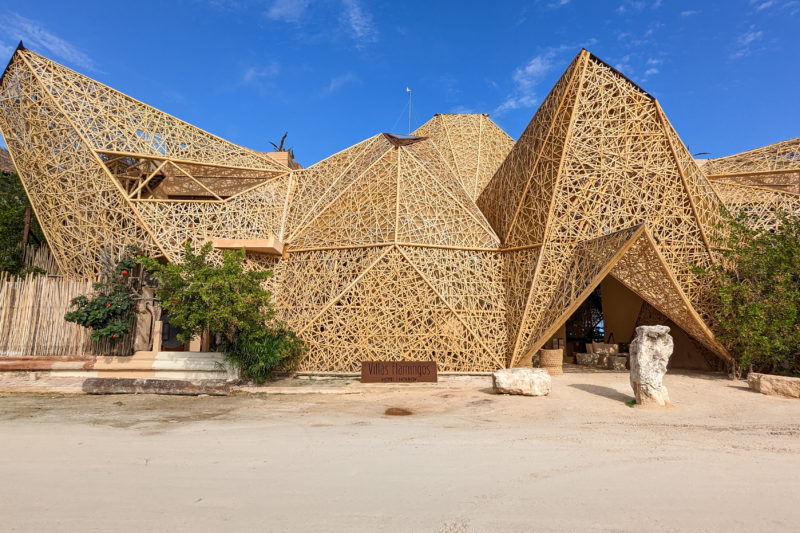 The hotel features a range of comfortable and well-appointed bungalow-style accommodations. All are tastefully decorated in a minimalist style which perfectly complements the natural surroundings.
Each villa boasts a private terrace where you can enjoy spectacular sea views while the hammocks provide the perfect place to unwind and relax. For something a little bit special, the Bungalow Mangle also has a hot tub and netted hammock with a sea view inside the room.
Whether you're in the mood for adventure or simply want to relax and soak up the sun, Hotel Villas Flamingos has something for everyone. You can stroll on the beach, indulge in water sports, or simply lounge by the pool and enjoy a refreshing cocktail.
When it comes to dining, the hotel's restaurant serves a delicious selection of local and international cuisine made with fresh, locally sourced ingredients. And for those who want to stay connected, the hotel offers free Wi-Fi throughout the property.
2. Ser Casasandra Boutique Hotel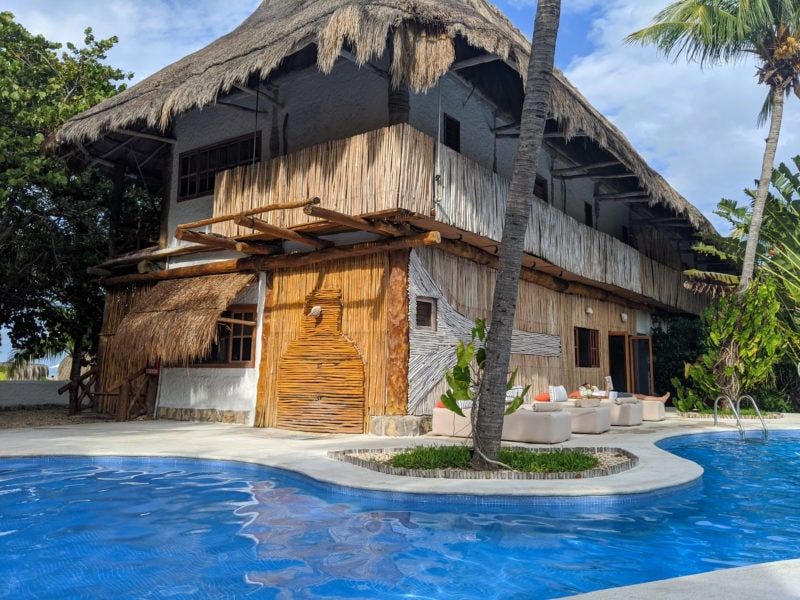 Ser Casasandra is a beautiful and luxurious hotel that offers guests stunning ocean views, comfortable accommodations, and amenities. It's perfect for relaxing and unwinding in a beautiful tropical setting.
One of the standout features of Ser Casasandra is its location. The hotel is a short walk from the beach, meaning you can enjoy easy access to the crystal-clear waters of the Caribbean Sea. Plenty of restaurants, cafes, and shops are nearby, making it easy to explore the local area.
This stunning hotel offers guests a unique experience with its beautifully decorated rooms. These feature wood-beam ceilings, hand-made furniture, and vibrant colours, creating a warm and welcoming atmosphere. Each room has a private balcony to take in stunning island views.
For those looking to relax, you can lounge on the sun terrace by the outdoor pool, perfect for soaking up the sun and taking a refreshing dip. The tour desk can help you arrange activities to make your stay more enjoyable.
But let's talk about the dining experience at Boutique Hotel Casasandra, which is simply exquisite!
The Gourmet Restaurant serves delicious Mexican and international cuisine in an elegant atmosphere, providing guests with an extraordinary dining experience. In fact, my friend Foodie Flashpacker (whose recommendations I trust implicitly) rates it as one of the best restaurants in Holbox! And if you're feeling peckish, the snack bar is open all day and offers a variety of snacks and drinks.
3. Suites Villas el Jardín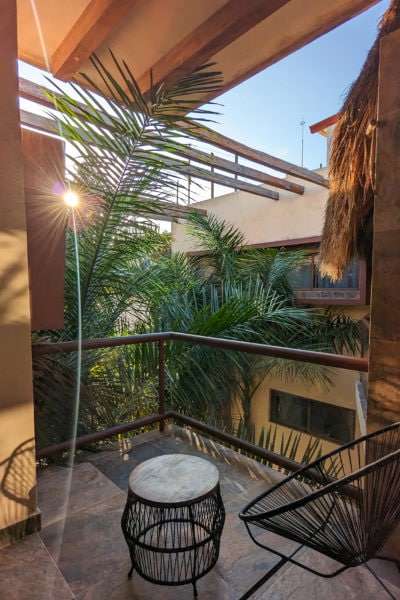 On my most recent trip to Holbox, I stayed at the Suites Villas el Jardín – an adults-only boutique aparthotel. I LOVED this hotel – with its serene courtyard filled with leafy tropical plants, and calm vibes.
The location is perfect. A block away from the main square and all the action of Holbox town centre, and less than a 4-minute walk to the beach! Despite that, the hotel was very quiet at night and had a really tranquil feel. The best of both worlds!
My room was one of the Superior Apartments, which is more like a suite. You get a large lounge with a well-equipped kitchenette, a dining area, and a full-size fridge. So it's PERFECT if you don't want to eat out for every meal. I loved making my own breakfast to eat on the balcony every morning, and bringing takeaways back with me on evenings when I was too tired to dine out.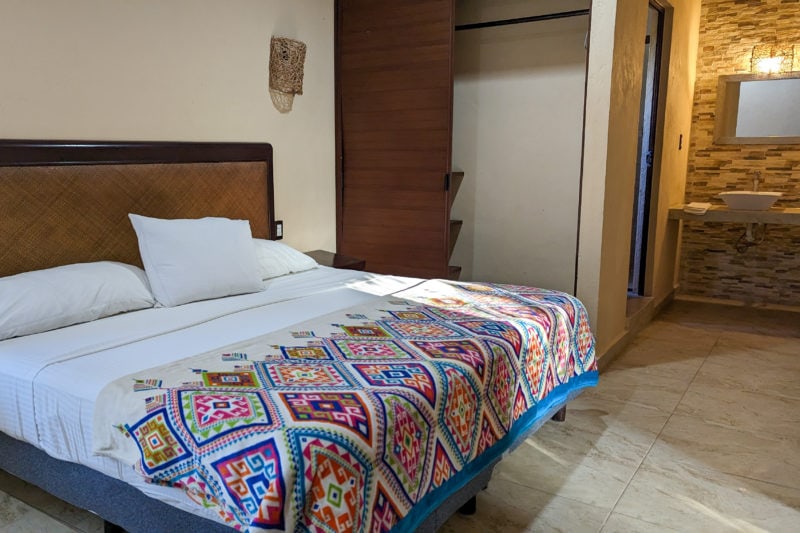 The bedroom, which is separate from the lounge, is super spacious and has a large closet. My room was really well decorated: minimalist and modern, with a few colourful local touches.
The standard apartments are similar, just a little smaller (646 feet² rather than 700 feet²). Also, the Superior Apartments have a balcony with views of the courtyard. This was a real highlight for me, so I so recommend the extra splurge!
There's also a tiny pool in the garden – more for dipping and sitting than swimming. But with the beach so close, I never ended up using it!
4. Las Nubes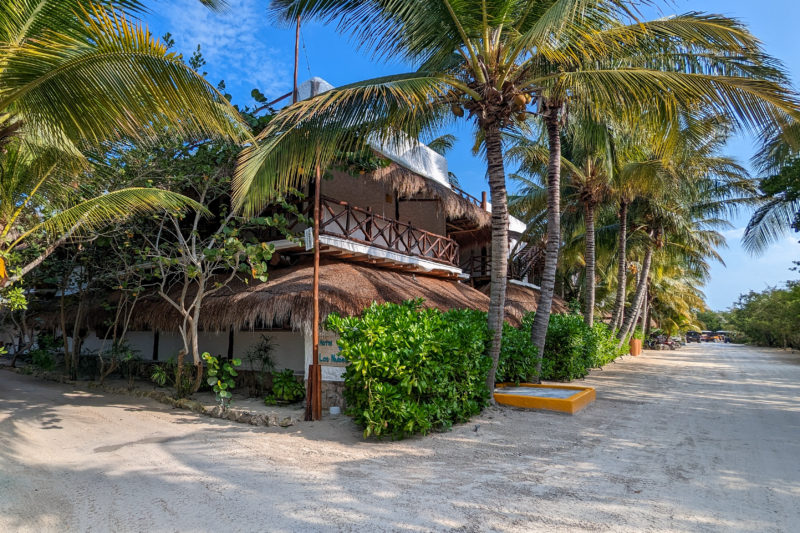 Las Nubes is situated on the beachfront and surrounded by lush vegetation, providing guests with a tranquil and picturesque setting.
This is the very last of the beachfront hotels in Holbox, before the protected nature reserve begins. So you'll find the place very tranquil and surrounded by nature!
The hotel has various room types, including standard rooms, suites, and bungalows. Each room is beautifully decorated and equipped with modern amenities to ensure guests have a comfortable and enjoyable stay.
The cosy bungalows are perfect for couples on their honeymoon, with hammocks, terraces, and balconies to lounge on and soak up the sun.
Each suite boasts breathtaking views of the Gulf, making it the perfect spot to take in the beauty of the sunset or sunrise. And, for those looking to unwind even more, the rooms come equipped with minibars and whirlpool tubs for extra relaxation.
Guests can indulge in delicious cuisine at the hotel's restaurant, which serves fresh and local ingredients. The bar offers a wide selection of drinks, including signature cocktails.
The hotel also boasts three amazing pools, including an adult-only pool overlooking the stunning turquoise waters of the Caribbean Sea. Guests can also take advantage of the hotel's spa services, offering a range of treatments to help guests relax and rejuvenate.
If you want to explore the island, Las Nubes offers a variety of activities and excursions, including kayaking, paddle boarding, and snorkelling. The hotel also has bicycles for rent, making exploring the island at your own pace easy.
5. Nomade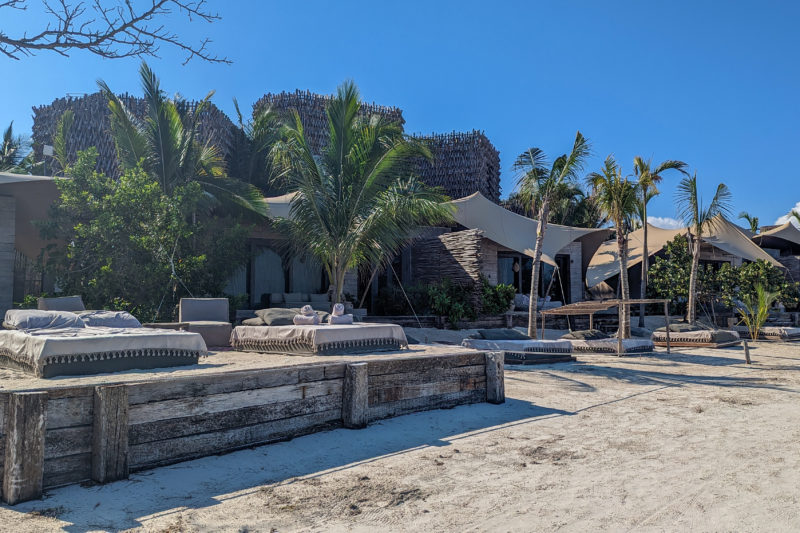 The Nomade Hotel is a 5-star adults-only retreat that offers a memorable island experience. With stunning natural surroundings and comfortable accommodations, this hotel is the perfect place to escape from the hustle and bustle of everyday life.
The hotel offers three unique room styles with all the amenities for a comfortable stay, including air conditioning, free Wi-Fi, a private bathroom, and bath robes.
For something a little different, you could stay in one of the Treehouse Suites, where you can wake up surrounded by the jungle, 7 metres in the air giving you stunning 360-degree views of the tropics and sky. Guests can also enjoy a refreshing dip in the hotel's outdoor pool or relax on the terrace and take in the stunning views of the ocean.
The hotel also offers a variety of activities for guests to enjoy. From snorkelling and kayaking to yoga classes and spa treatments, there's something for everyone at this hotel. And for those who want to explore the island, the hotel is conveniently located just a short walk from the beach and many of the island's top attractions.
6. Zomay Beachfront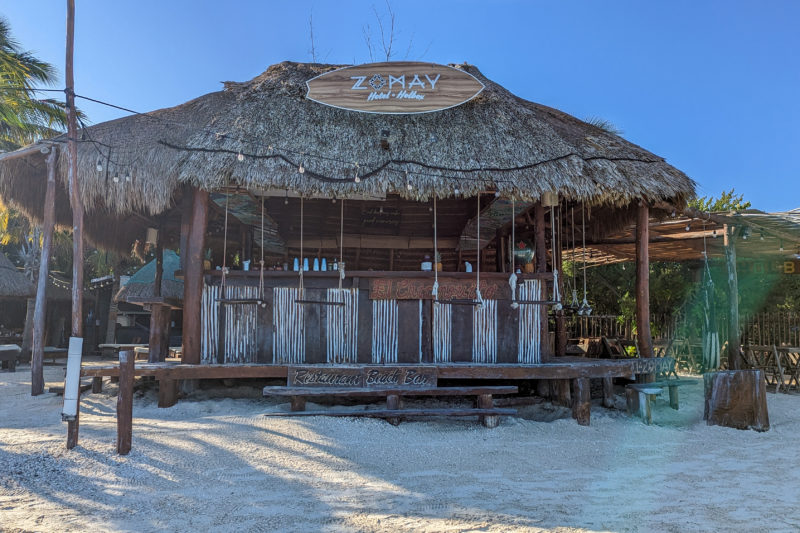 Zomay Beachfront Holbox is a 4-star hotel that offers guests an exceptional beachfront experience. The hotel boasts a range of amenities, including a beautiful garden, terrace, and bar, making it the perfect place to relax, and the private beach area is a true gem, where guests can enjoy the crystal-clear waters and white sand in peace.
Zomay Beachfront Holbox is conveniently located just a short distance from Playa Holbox and 2.3 km from Punta Coco, making it the perfect base for exploring the island's many attractions.
The hotel offers standard rooms, suites, and bungalows that are air-conditioned and equipped with free Wi-Fi and a private bathroom. Some of the rooms also have a balcony with stunning garden views, and each room includes a safety deposit box, bed linen, and towels, ensuring guests have everything they need for a comfortable stay.
Families with kids will appreciate the hotel's children's playground, providing a safe and fun space to play.
Guests can start their day with a delicious continental breakfast. The on-site restaurant serves a range of Mediterranean, Mexican, and international cuisine, catering to vegetarian, vegan, and dairy-free dietary requirements.
7. Hotel Mittoz in Holbox Town Centre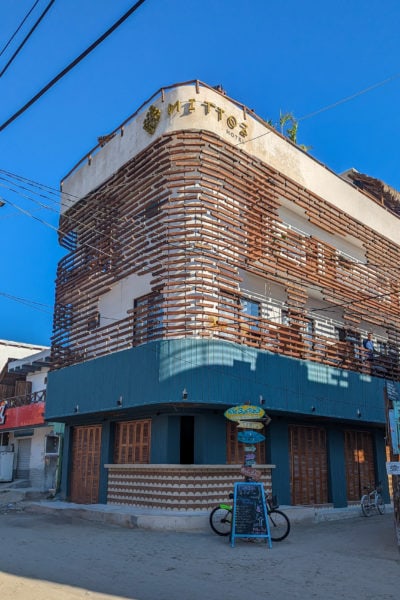 Hotel Mittoz offers 3-star accommodation and has 20 beautifully decorated rooms designed to provide maximum comfort. Each room has air conditioning, flat-screen TV (with satellite channels) and a private balcony where guests can relax and enjoy the breathtaking views of the Caribbean Sea.
The hotel is just a few steps away from the white sandy beach, making it an ideal location for relaxing and soaking up the sun. But it's also right in the centre of town, surrounded by all the bars, restaurants and shops of the centre. Guests can also take advantage of the hotel's outdoor pool area and a fantastic rooftop sun terrace with a bar and pool.
The hotel offers a range of amenities, including free Wi-Fi, a 24-hour front desk, and a tour desk to help guests plan their activities on the island. Hotel Mittoz also has a restaurant serving an a la carte breakfast, delicious Mexican cuisine, and fresh seafood.
This location may not suit everyone's preferences, as it's situated amid all the hustle and bustle and can be noisy. If you seek a peaceful night, this might not be the right place for you. On the other hand, if you're planning on hitting Holbox's awesome bar scene at night, this venue would be a great choice to lodge.
8. Spirit Holbox
Spirit Holbox is a true gem that offers guests a luxurious and unforgettable vacation experience. The hotel is located right on the beachfront. It offers the best of both worlds as the resort is close enough to the town centre that you can walk, ride one of the hotel's bikes, or request a golf cart taxi to reach the town.
Once there, you can explore the local shops, dine in the restaurants or simply mingle with the friendly locals and tourists. However, if you prefer to avoid the hustle and bustle of the town, you can enjoy the tranquillity and peacefulness of the resort.
The 4-star, stunningly designed resort features accents of the Greek islands, while the contemporary Mexican design takes advantage of local materials, always in harmony with the land it inhabits.
Spirit Holbox offers a range of luxurious rooms that cater to all your needs. All of which come with free Wi-Fi, flat-screen TV, safety deposit box and private bathrooms. Some rooms have balconies offering a breathtaking view of the sea, where you can enjoy the soothing sound of the waves and let the sea breeze refresh your soul.
The hotel has a rooftop swimming pool with incredible views. There's also a rooftop terrace and gardens, perfect for unwinding, relaxing, and enjoying a refreshing swim under the warm Mexican sun.
The restaurant offers delicious local cuisine that will leave your taste buds craving for more, and the resort offers room service, a concierge service, and can even help organize tours for our guests to explore the island.
9. Villas Palapas Del Mar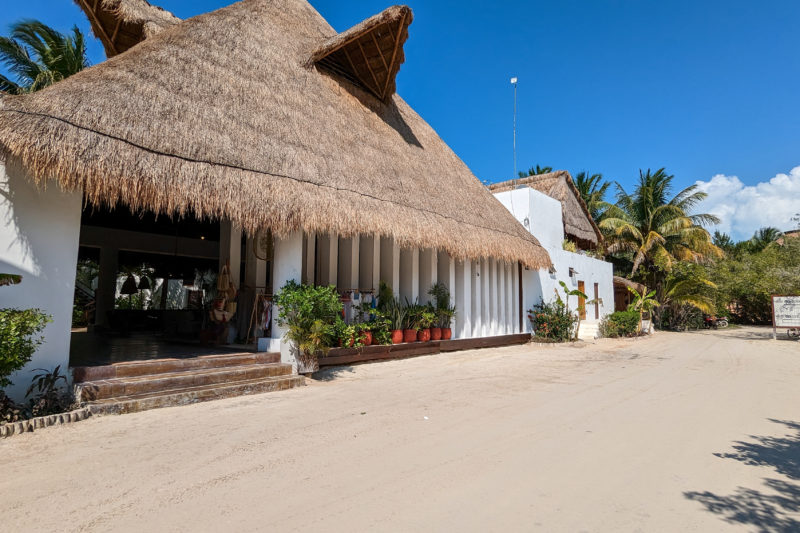 Villas HM Palapas del Mar is an exquisite 4-star hotel with a serene atmosphere only a few meters from the sparkling sea. It's the perfect destination if you're looking for a luxurious yet eco-friendly experience.
With 52 stunning villas designed to seamlessly blend in with its natural surroundings, it is the perfect mixture of comfort, relaxation, and adventure. This boutique hotel boasts charming villas and palapas that offer stunning views of the crystal-clear waters of the Caribbean Sea.
The villas are beautifully decorated, spacious, and comfortable, and each villa features a private terrace with a hammock, perfect for soaking up the island's tranquil atmosphere. Various suite options are available, some of which have a private pool. If you're feeling adventurous, the hotel offers a variety of activities, including snorkelling, kayaking, and bike rentals to explore the island.
Villas HM Palapas del Mar offers a range of board types, including 'All Inclusive'. You can indulge in the well-stocked buffet, including homemade pastries and bread, fresh fruit juices, cold meats, and cheeses. The restaurant also serves delicious Mexican and international dishes and desserts. For a snack, enjoy hamburgers, hot dogs, nachos or ceviche, sandwiches, quesadillas and fajitas.
10. Margertivaville St Somewhere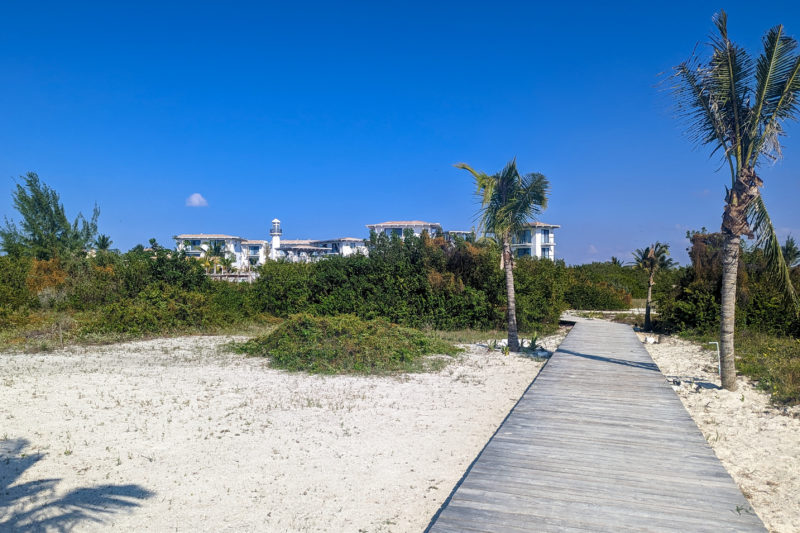 Margaritaville St. Somewhere, a 5-star beachfront hotel with 39 individually decorated rooms, promises a luxurious experience full of personalized comforts and top-notch amenities.
Whether looking for a romantic getaway or a family vacation, this hotel has something for everyone. It's all on its own down at the far western tip of Holbox, near Punta Cocos, so it feels deliciously remote.
The rooms have private bathrooms, premium bedding and down comforters, minibars, and espresso makers to help you feel at home. You can relax and unwind while enjoying the view from your private furnished balcony or patio. You can also stay entertained with a 43-inch LED television with satellite channels while staying connected with complimentary Wi-Fi.
Need to cool off? You can head down to the private beach and enjoy a day of swimming, sunbathing, and relaxing, or take a dip in the outdoor pool. You can also explore the island on the hotel's free bicycles.
The hotel's amenities include a spa, concierge services, dry cleaning/laundry services, a 24-hour front desk, and luggage storage.
The hotel features two restaurants serving world-class a la carte dishes. There are also two bars/lounges where you can relax and take in the view while enjoying a delicious drink. Room service is also available during limited hours, allowing you to enjoy a meal in your own room.
Located on the waterfront, Margaritaville St. Somewhere is just a 5-minute walk from the secluded beaches of Punta Cocos and the surrounding nature reserves. If you really want to get away from it all, this is the place for you!
Hostels and Budget Hotels in Holbox
1. Tribu Hostel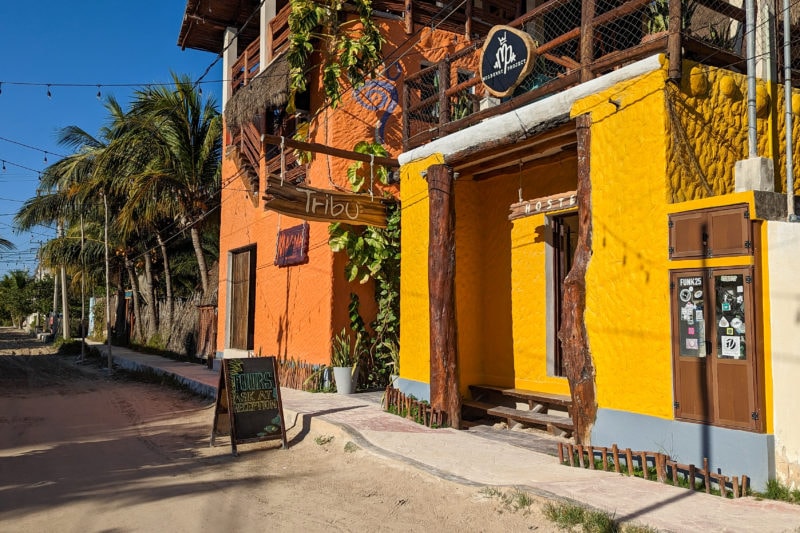 If you're looking for budget-friendly accommodation with a comfortable and friendly environment, look no further than Tribu Hostel, a hostel full of art, music and cultural exchange.
Excellently located just a stone's throw away from Holbox's stunning white sandy beaches and only a two-minute walk from the town centre.
Whether travelling solo, as a family or as a couple, Tribu provides various room options to suit your needs. From large dormitories (female-only option available) for 10 or 6 people to private rooms for 2 or 4 people and even a suite with a king-size bed. All rooms come with a private bathroom, Wi-Fi and a balcony.
The hostel has a shared kitchen which all guests can use, and there is a garden where you can relax in one of the hammocks or enjoy a cold beer or fruit daiquiri at the hostel bar.
Tribu offers a range of activities to keep you entertained during your stay and organizes daily events such as quiz nights, salsa nights, free yoga classes and special dinners. I've enjoyed many nights in this hostel's lively bar – their quiz nights are the best!
If you want to explore Holbox, Tribu Hostel offer a variety of tours and activities, including kite surfing lessons, bike rentals, kayak tours, fishing tours, and horse-riding tours.
2. Barco Verde Hostel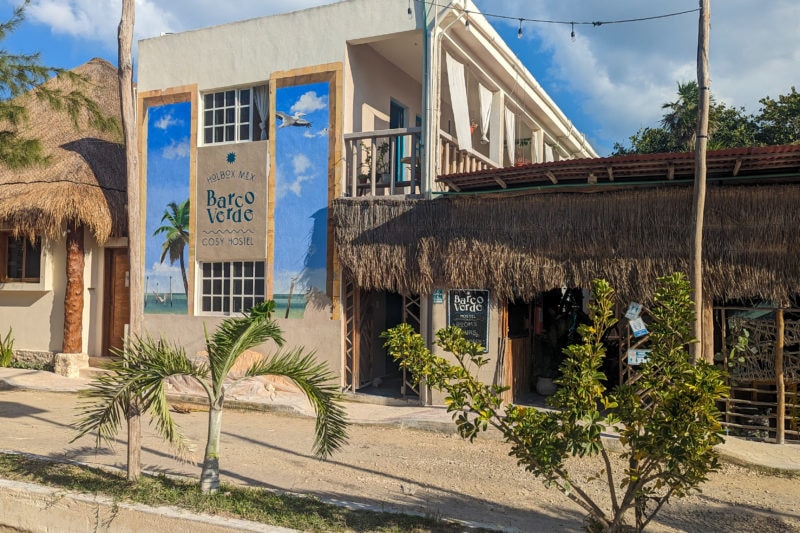 The Barco Verde Hostel is just a block from the beach at Playa Holbox and five minutes from the main square, making it the perfect starting point to explore the island's natural beauty and enjoy stunning sunsets.
I stayed here on my first trip to Holbox a few years ago, and the location was perfect! Close to all the bars and beaches, but nice and peaceful at night. While Tribu is more of a party hostel, Barco Verde is a lot more chilled out.
The tiny hostel features six spacious rooms, made up of four dorms and two private rooms. All rooms include air conditioning (at night only), Wi-Fi, fans, private bathrooms, and hot showers. The four dorms can accommodate four to five people. The beds have curtains for extra privacy, as well as phone charging points, and lockers. The two private rooms can comfortably fit four people with two double beds.
The hostel has a common area perfect for unwinding and relaxing, whether you want to nap in the hammock, read a book, or work remotely on your laptop.
If you're looking for adventure, the location is ideal for snorkelling and cycling, with bike hire available at the hostel.
Barco Verde Hostel provides a range of services to make your stay as comfortable as possible, including shared kitchen access from 8 am to 3 pm, drinking water, cutlery, plates, bowls, and hot water. The hostel also offers a laundry service, and in the evenings, they are happy to organize, upon request, family dinners for guests to enjoy.
More on Holbox
Check out my other posts about Holbox to help you plan your time on my favourite island…
Best Bars & Beach Clubs in Holbox
What to Eat in Yucatan State, Mexico
Got another recommendation for the best hotels and hostels in Holbox? Scroll down to leave a comment!