Some posts on this site contain affiliate links. If you book or buy something through these links, I earn a small commission (at no extra cost to you). Take a look at my privacy policy for more information.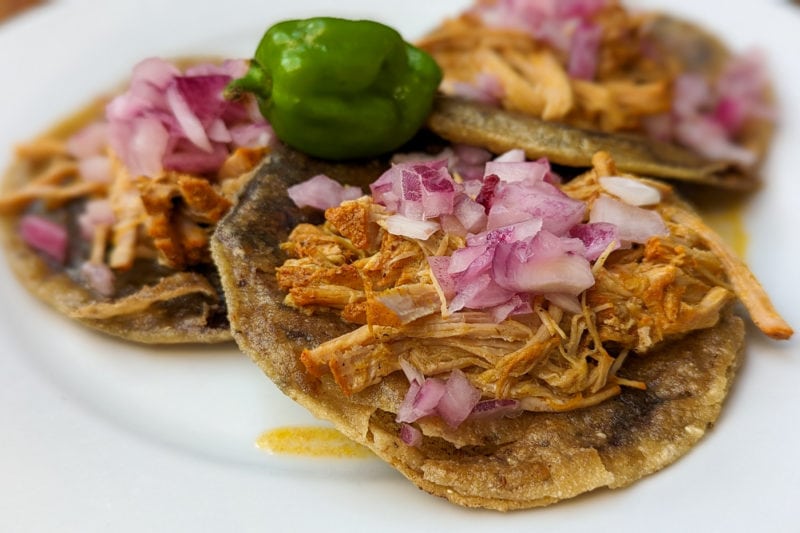 Welcome to my Yucatan food guide! These are some of the most famous Yucatecan dishes you have to try while you're there…
Most people probably associate Mexican food with things like tacos, fajitas, and enchiladas. But there is SO much more to this country's incredible gastronomy.
Every region of Mexico has its own culture and cuisine – and the Yucatan Peninsula is one of the most distinctive. A blend of Mayan and Spanish influences, Yucatecan cuisine features many dishes you won't find anywhere else.
The Yucatan Peninsula, particularly the state of Yucatan, is probably my favourite part of Mexico. It's certainly the part I've visited the most. In fact, I'm pretty sure I've spent more time in that area than anywhere else in the world (besides home)!
Thanks to local and expat friends living in Merida – and the few months I spent living there myself – I've also managed to get very well-acquainted with the local food scene!
Although there are some much longer Yucatan food guides out there, with 30 or 40+ dishes on them, I've decided to make this one a little shorter. That way, you actually have a chance of trying everything on the list!
So what follows is a list of the top, can't-miss dishes that will give you the perfect insight into Yucatecan cuisine. Buen provecho!
What is Yucatecan Cuisine?
Hear the word "Maya" and you may be thinking of ancient civilizations. But at least 50% of Yucatan's current population are Maya – the highest percentage in any Mexican state – so that native culture is still very much alive throughout the region.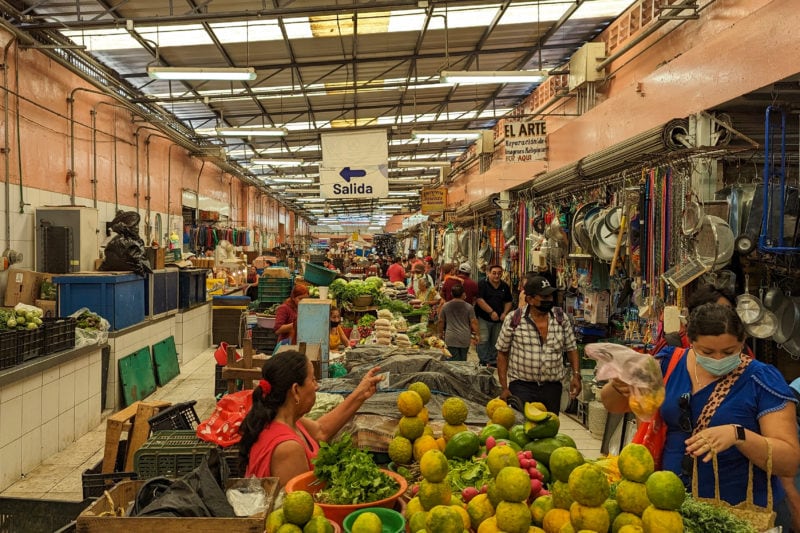 Those Mayan influences are particularly strong in the food of the Yucatan region. Dishes that pre-date the arrival of the Spanish are still common, while other dishes blend Mayan traditions with influences from Europe, the Caribbean, and other parts of Mexico.
Several of the Yucatan's most iconic dishes use pork, a meat that didn't exist in Latin America until the Spanish arrived in the 1500s. These dishes, like much food in the Yucatan Peninsula, are a kind of Mayan-Spanish fusion, blending ingredients and cooking techniques from both cultures.
The Spanish also brought Eastern and North African spices, oranges, and other elements that were adopted into the local cuisine. Even corn tortillas were brought to the Yucatan by the Spanish colonisers from other parts of Mexico.
The result is a unique and delicious cuisine that's been shaped by the region's history and geography.
Common ingredients in Yucatecan cuisine:
Achiote seeds. Called annatto in English, the bright red seeds of the achiote tree are used to make a flavoured food colouring which is prolific in Yucatecan cooking. It's an essential ingredient in several of the region's most famous dishes, such as cochinita pibil.
Pumpkins and squashes. Pumpkin originated in North America and has been cultivated in Yucatan for thousands of years.
Black beans. Native to the Americas, black beans have also been a long-time staple food of the Yucatan. They're used to make frijoles refritos (refried beans) and many other dishes.
Maize. The main crop of all Mesoamerican peoples, maize formed an essential part of the culture and development of the region. The Maya believed that man was born from maize and that the plant was a gift from the gods. From tortillas to beverages, it's still used in basically every way imaginable!
Cacao. The seed pods of the cacao tree are used to make chocolate. The Maya mixed them with water, maize, and chilli powder to make a hot chocolate drink.
Habanero peppers. This super spicy pepper comes from the Amazon Rainforest and has long been a crucial part of Mayan cooking.
Sour oranges. Oranges aren't native to Mexico, but were brought by the Spanish colonisers and adopted into Yucatecan cuisine. Seville or sour oranges are used in many dishes, creating the Spanish-Mayan fusion cuisine which Yucatan is known for.
Pink pickled onions. Chopped red onions pickled in sour orange juice to make a tangy accompaniment that is served with many, MANY dishes in Yucatan.
12 Yucatan Food and Drinks to Try
1. Cochinita Pibil – Yucatecan Pork Cooked in a Pit Oven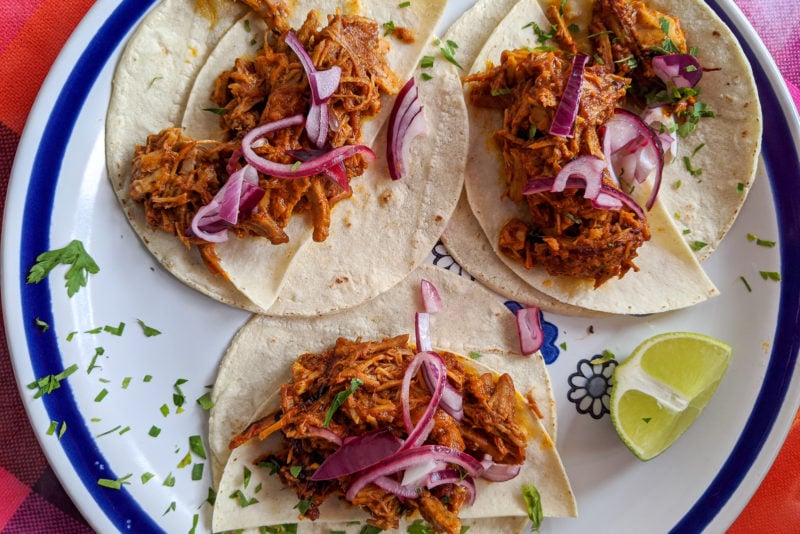 Cochinita Pibil is probably the most famous food associated with the Yucatan Peninsula. This classic pork dish is a brilliant example of the way Yucatecan cuisine combines both traditional Mayan and Spanish influences
The dish is made from pork (traditionally cochinita, a suckling pig) that's been marinated in a blend of spices, including achiote paste, garlic, and sour orange juice. It's then wrapped in banana leaves and slow-cooked in a pit oven called a píib in Yucatec Mayan – or pib in Spanish. Hence the name "pibil", which means "in the pib".
The achiote (annatto) spice is a crucial ingredient as this is what gives the dish its characteristic pinkish colour. The pork and the Seville oranges are Spanish influences, while the pit cooking and achiote are Mayan elements. So it's a true fusion dish that's uniquely Yucatecan.
Once it's been slow-cooked, usually for several hours, the meat is super tender and richly flavourful. It can be served in a variety of ways, such as in tacos or on top of panuchos (see #3 on this list). Pickled red onion is usually served as an accompaniment.
If you're looking for a truly authentic Yucatecan meal, Cochinita Pibil is a must-try.
2. Sopa de Lima – lime soup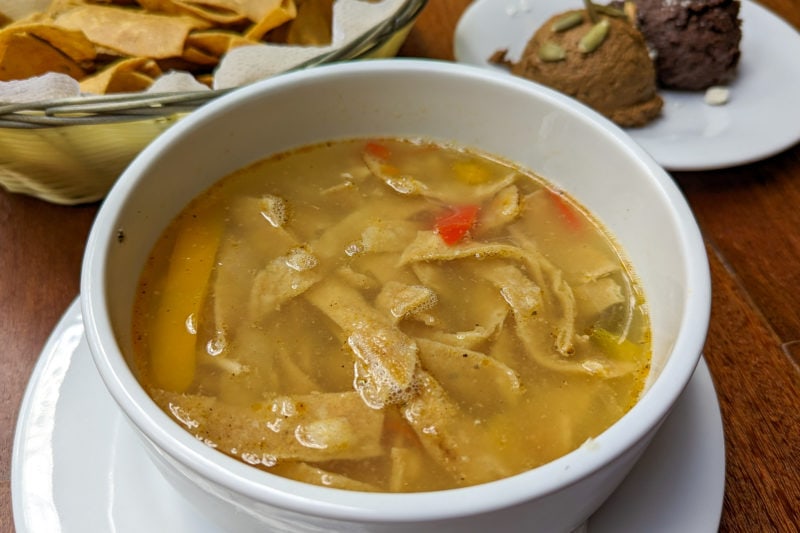 Sopa de Lima is a classic Yucatecan soup that's made with chicken, lime, and crispy tortilla strips. The soup is flavoured with a blend of spices and herbs, including oregano, garlic, and epazote.
When I first heard about lime soup, I was a bit unsure. It's also not the prettiest-looking dish: the broth is quite thin and it's quite a beige-looking meal! BUT – upon tasting it for the first time I was an instant convert. I've also found this to be a surprisingly good hangover cure!
The lime gives the soup a refreshing tanginess that perfectly complements the richness of the broth. Sopa de Lima is a great way to start any Yucatecan meal. Just be careful, as it can be more filling than it looks! Sharing might be a good idea.
3. Panuchos – stuffed tortilla snacks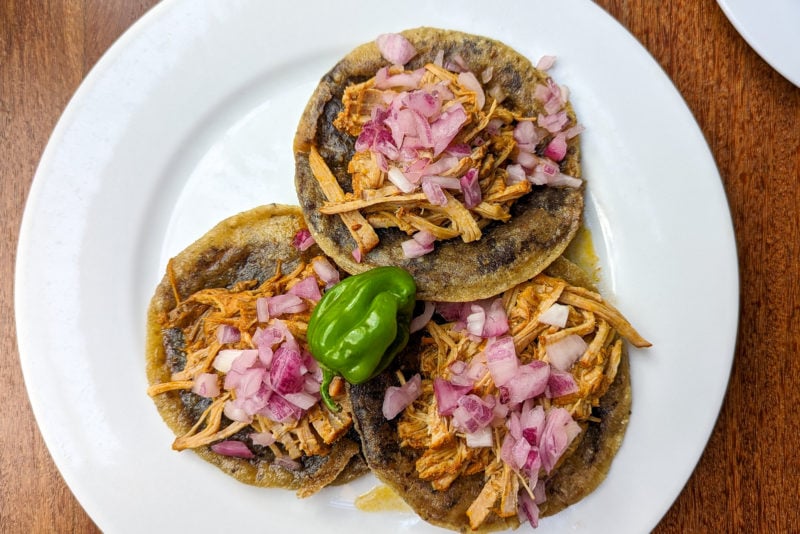 Panuchos are a popular street food in Yucatan. They're made from thick, fried tortillas that are stuffed with refried beans, then topped with meat and/or veggies.
Like tacos, panuchos can be served with a variety of toppings. Cochinita pibil is a popular one, as is pibil-style chicken – these are usually added with lettuce, tomato, avocado and pickled onions. Panuchos can also be made with ground beef, eggs, or cooked vegetables.
Whatever the topping, they're usually served with habanero salsa and lime wedges. Panuchos are a delicious snack – but a few of them can be a surprisingly filling meal. So they're perfect for a quick lunch on the go!
4. Salbutes – taco-style street food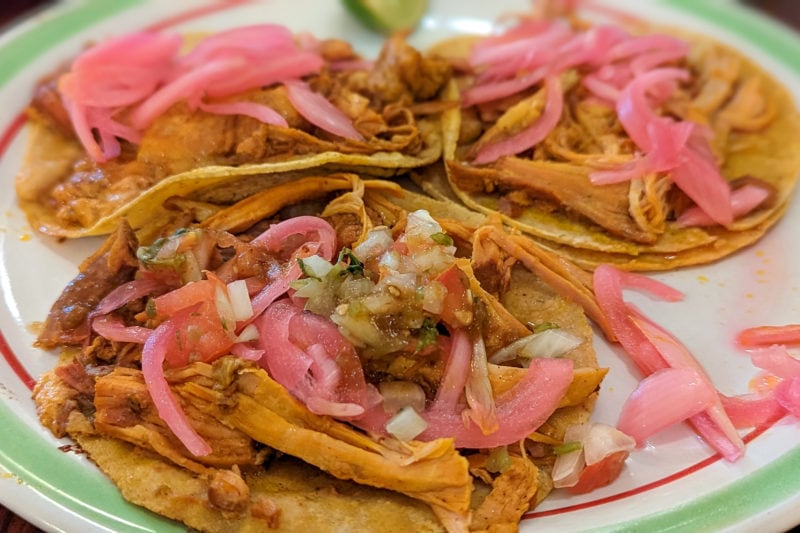 Salbutes are similar to Panuchos, but they aren't stuffed. They're made using puffed, deep-fried corn tortillas which are usually topped with shredded turkey or chicken, lettuce, tomato, and avocado. A little like a crispy-fried taco.
Again, they're usually served with a side of habanero salsa and lime wedges – as well as the bright-pink pickled red onion which you'll find all over Yucatecan cuisine! Salbutes are a slightly lighter option than Panuchos, so they can be great as a snack or appetizer.
5. Poc Chuc – Yucatecan grilled pork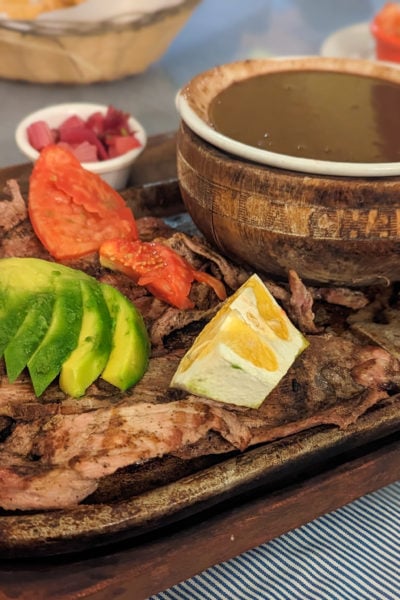 At a glance, this classic Yucatecan dish looks a little bland! Poc chuc can be a very brown dish – but looks can be deceiving, and this is actually a very tasty meal!
The secret is in the spices! The pork is marinated for several hours in a mix of sour orange juice, achiote, and garlic. As you can see, the marinade is a similar recipe to that of cochinita pibil. The difference here is that the pork is then grilled over a very high heat.
Along with cochinita pibil, poc chuc could be seen as one of the Yucatan's signature dishes. The pork is typically served with a frijole (bean) soup, chiltomate (a thin tomato sauce), pink pickled onions, and sliced avocado.
6. Queso Relleno – Yucatecan Stuffed Cheese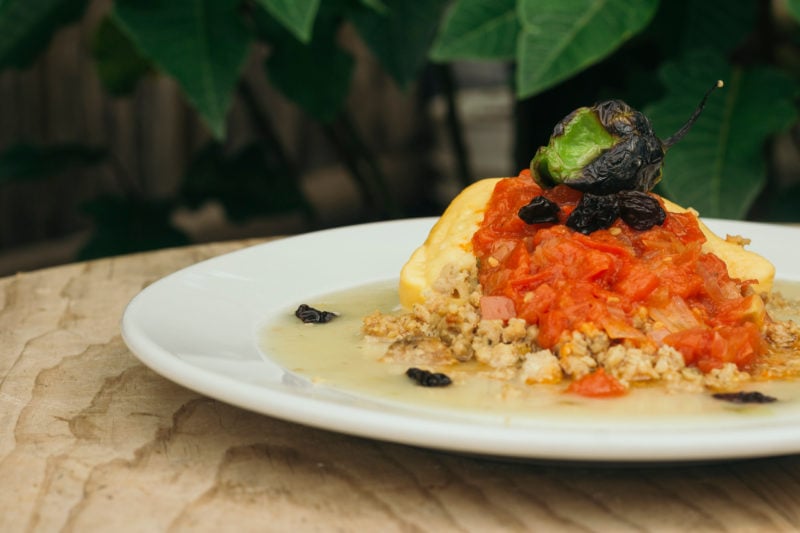 Queso relleno – meaning stuffed cheese – is one of the Yucatan's more unusual dishes. It's made by stuffing a large Edam cheese ball with ground pork or beef, raisins, capers, olives, and almonds.
The cheese ball is then baked until the cheese is melted and the filling is cooked through. Queso relleno is a hearty and flavorful dish that's often served for special occasions or celebrations.
7. Papadzules – Yucatecan enchiladas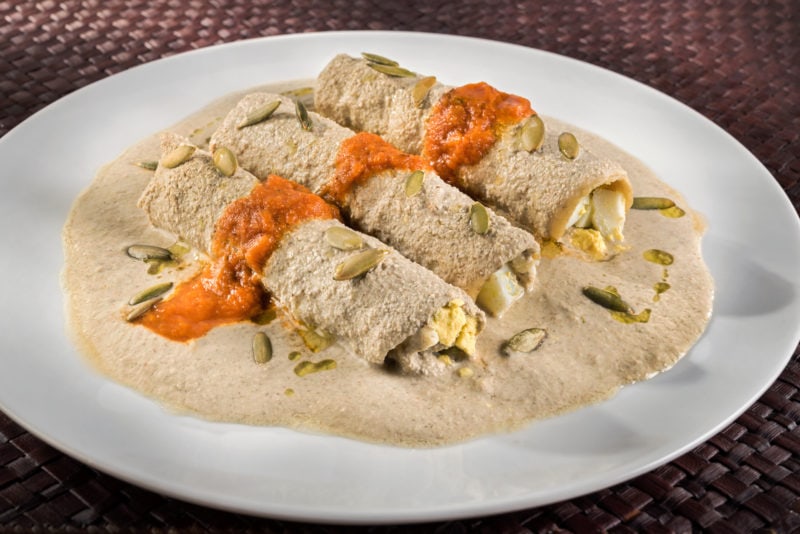 Papadzules are a Yucatecan speciality that are similar to enchiladas. They're made by wrapping boiled eggs in tortillas which are then soaked in a pumpkin seed sauce. The dish is usually served with a tomato and habanero salsa on top.
8. Huevos Motuleños – Yucatecan Breakfast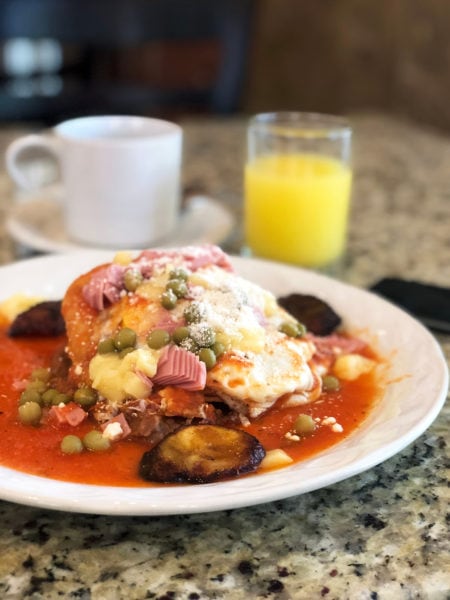 Huevos motuleños is a breakfast food that's popular throughout the Yucatan Peninsula. It consists of fried eggs on top of tortillas and refried beans, smothered in a slightly spicy tomato sauce, and topped with crumbled cheese.
Peas and small pieces ham are often included in the sauce, and the dish is often served with plantains and avocado on the side.
The name comes from the town of Motul in Yucatan. Huevos means eggs, so the name simply means "eggs, Motul-style". It can be a little on the sloppy side (and pretty messy to eat) but huevos motuleños is a hearty breakfast so it's perfect before a day of exploring.
9. Pan de Cazon – a layered dogfish dish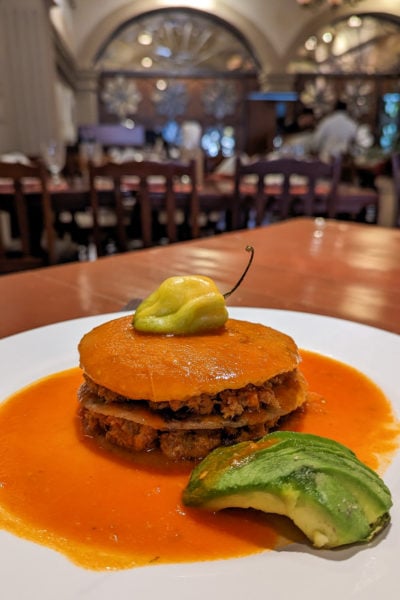 Pan de Cazón is actually a dish from the neighbouring state of Campeche – which is where I tried it for the first time. But as Campeche was part of Yucatan until 1857, both states share a lot of dishes, and Pan de Cazón is also popular across the Yucatan Peninsula.
It's a layered, almost lasagna-like dish made using a small shark called dogfish (cazón in Spanish). Pan means bread, so the name of the dish literally means "bread of dogfish".
Pan de Cazón is made by layering fried tortillas, refried black beans, and ground shark meat that's been seasoned with a blend of spices. The dish is topped with tomato sauce and cheese before being baked in the oven.
10. Lomitos de Valladolid – pork loin in a tomato sauce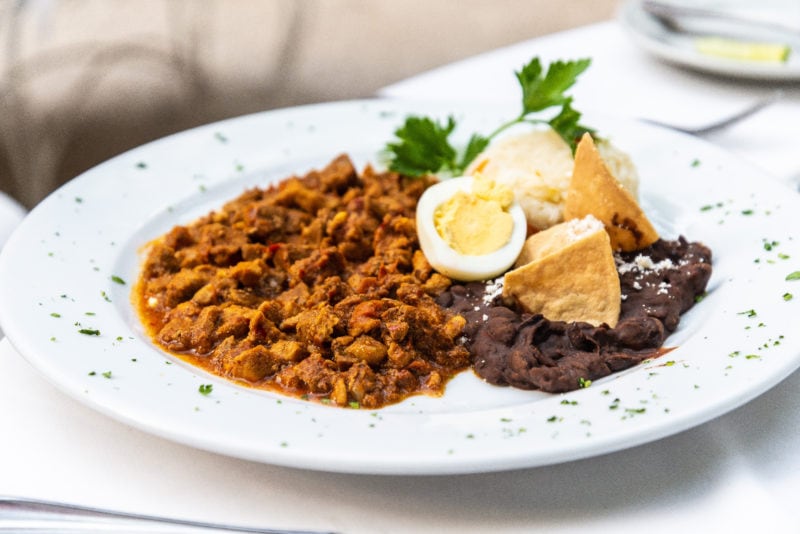 Lomitos de Valladolid is a traditional pork dish from the charming Yucatan town of Valladolid.
A lomito is a pork loin in Mexican Spanish, so this dish is simply pork, Valladolid-style. Diced cubes of pork and chopped onions are cooked in a thick tomato sauce to create a hearty, stew-like dish. This is often topped with boiled egg pieces and usually served with a side of rice, black beans, and tortillas.
11. Yucatecan tamales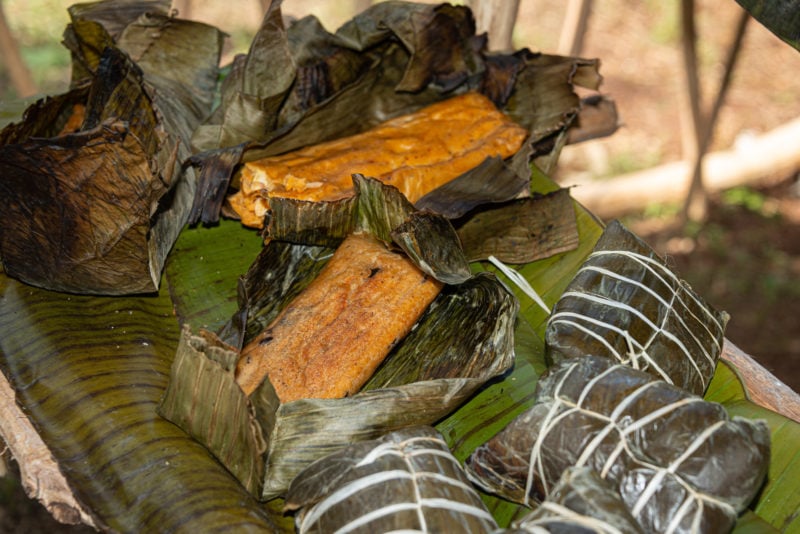 No visit to the Yucatan Peninsula is complete without indulging in Yucatecan tamales, a unique twist on the Mexican classic! Tamales are a traditional Prehispanic dish made of masa (a corn-based dough) which is stuffed with a variety of fillings, then steamed in a corn husk.
Yucatecan tamales are typically larger and fluffier, and are steamed in banana leaves instead of corn husks. Additionally, the dough is often flavoured using achiote paste, resulting in a distinct reddish colour and subtle earthy flavour.
As with all tamales, the fillings can vary, but Yucatecan tamales are usually filled with chicken or pork. They may also include Mayan-style beans, eggs, or other ingredients.
Tamales have been around since at least 5,000 BC – so don't miss the chance to savour this super traditional dish while you explore the Yucatan!
12. Agua de Chaya – a unique Yucatecan drink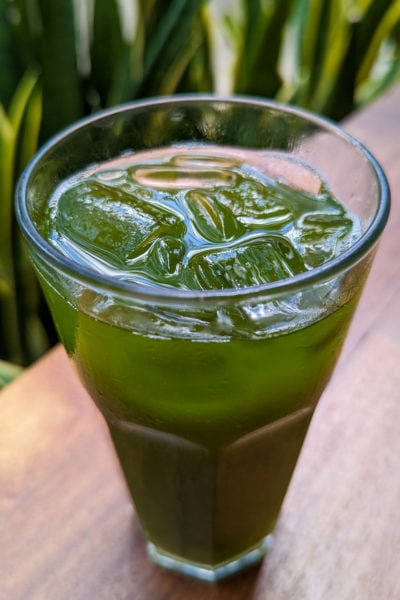 To wash down all of these yummy Yucatecan dishes, make sure to try Agua de Chaya, a refreshing and healthy drink that's unique to this region!
Chaya is a leafy green plant native to the Yucatan Peninsula, known for its numerous health benefits. It's similar to spinach and is rich in vitamins, iron, and antioxidants.
Cooked chaya leaves are often served in many traditional Yucatecan foods, or as a side dish. But they can also be used to make a nutrient-rich, vitamin-packed beverage.
The leaves are boiled and blended with water, which is then sweetened with a touch of honey or agave syrup. Be sure to give this unique, traditional drink a try during your Yucatan food discoveries.
Where to Learn More about Yucatan Food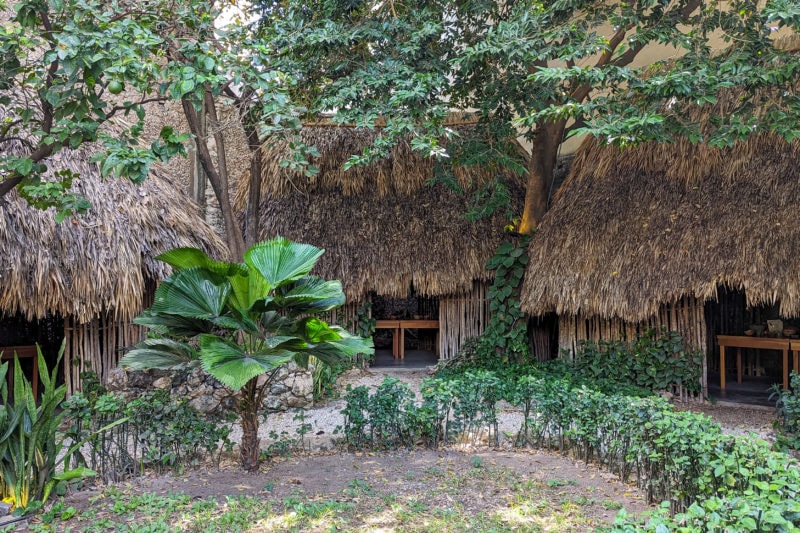 If you want to find out more about Yucatecan cuisine, head to the Museo de la Gastronomia Yucateca (MUGY) in Merida.
This Gastronomy Museum is in a beautiful building with a large, airy central courtyard. The museum itself is fairly small, but it covers Yucatecan gastronomy well, including its Mayan origins, major influences, and the main spices and ingredients. There's also a small outdoor area with exhibits and live demonstrations in traditional Mayan grass huts.
It's also a great place to eat! There's a gorgeous restaurant attached to the museum which focuses specifically on traditional Yucatecan dishes. The menus have lots of information about each dish and the waiters will always be happy to explain more. So it's the perfect place to learn all about the food in Yucatan state!
Best Food Tours in Yucatan
If you want to learn more about Yucatecan cuisine, or just have some fun and meet new people, why not take a food tour or a cooking class? These are one of my favourite ways to travel a little deeper and delve into the culture of a destination.
Some of the top-rated food tours in Yucatan…
I hope you've found this guide to the best food to try in Yucatan helpful! Try to try as many of these foods as possible on your trip.
Have I missed anything? Scroll down to leave a comment with your favourite Yucatecan dishes!