Some posts on this site contain affiliate links. If you book or buy something through these links, I earn a small commission (at no extra cost to you). Take a look at my privacy policy for more information.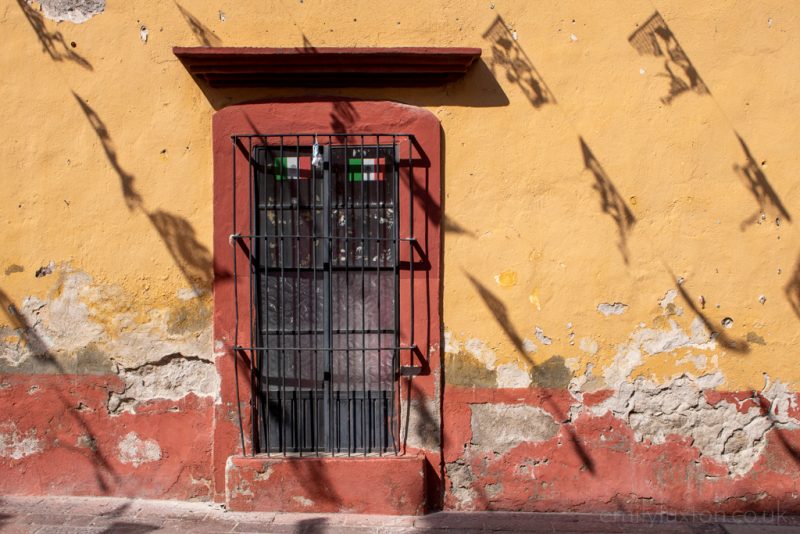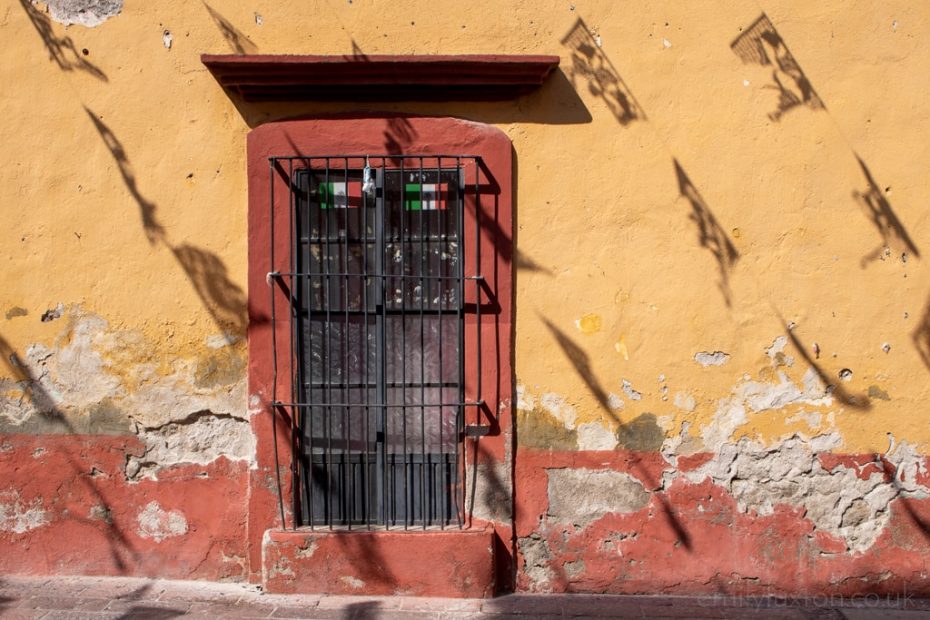 Fancy exploring Mexico off the beaten path – getting beyond the well-trod tourist hotspots and popular cities? This is the post for you! I've spent several months exploring Mexico over multiple visits, but for some reason I've never posted much about my favourite discoveries there.
So in this post, I've rounded up some of my own top suggestions, as well as gathering recommendations from fellow travel bloggers. Although some of these destinations are better known than others, none are as well-visited by foreign tourists as the famous destinations. If you want to get off the beaten track in Mexico, you can't go far wrong with some of these incredible destinations.
Mexico Off the Beaten Path
I've split the post into the following categories, so you can skip ahead if you need to. Or just have a browse through and find the perfect "off the beaten path" spot in Mexico for your next trip…
Cities
Nature and Outdoors
Coast and Beaches
Small Towns
Off the Beaten Path Cities in Mexico
Morelia, Michoacan
Recommended by: Me
The city of Morelia, and the surrounding state of Michoacan, is the perfect place to get off the beaten path in Mexico! Although fairly popular with local visitors, the region doesn't get too many foreign visitors yet. But it should!
RELATED POST: Discover the 8 Magic Towns of Michoacan
Morelia itself is an enchanting, historic city with a downtown made up of pink-hued stone buildings. This is where the Mexican revolution against the Spanish was born – in fact, the city is named after the revolutionary hero José María Morelos, who's birthplace you can visit in the centre. On the tower of the city's striking cathedral, look out for the blurred patches towards the top of the facade. This is where the Spanish coats of arms were destroyed shortly after the revolution.
For an incredible foodie scene, beautiful stone buildings, and a city rich with history, don't miss a trip to Morelia.
Don't Miss
Morelia Cathedral
A day trip to Lake Zirahuen – one of my favourite discoveries!
Fuenca Tarascas aqueduct – which you can also see on the 50 peso note.
Wandering along Callejon de Besos (Kissing Street) – one of the prettiest streets in the city!
Queretaro, Queretaro
Recommended by: Me
Santiago de Queretaro has a Centro Historico that would have any Instagrammer twirling their skirt and holding their hat! With its pastel-painted buildings and tumbling bushes of purple bougainvillaea, the city centre almost looks more like a set than a real place. But it's oh-so-real and, although it's certainly emerging as a popular destination, it's still far more off the beaten path than Mexico's better-known historic cities.
Better still, this city is in the heart of Mexico's cheese and wine country. If, like me, you had no idea Mexico even HAD a cheese and wine country, prepare to be pleasantly surprised. Rent a car and head out exploring a few vineyards and cheese stores. You'll find several not far from the nearby small town of Tequisquiapan with its bubblegum pink cathedral – equally worth a visit for a day (or more).
Don't Miss
Grab a drink in the stunning Plaza de Armas and wander the side streets of the historic centre.
Queretaro Regional Museum
Take a day trip to a nearby vineyard to taste some local wines.
Visit the beautiful nearby towns
Merida, Yucatan
Recommended by: Nathan, Foodie Flashpacker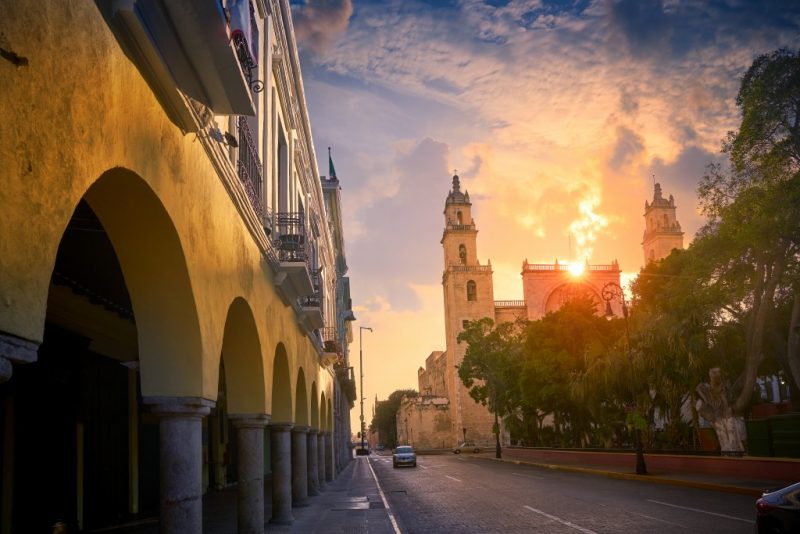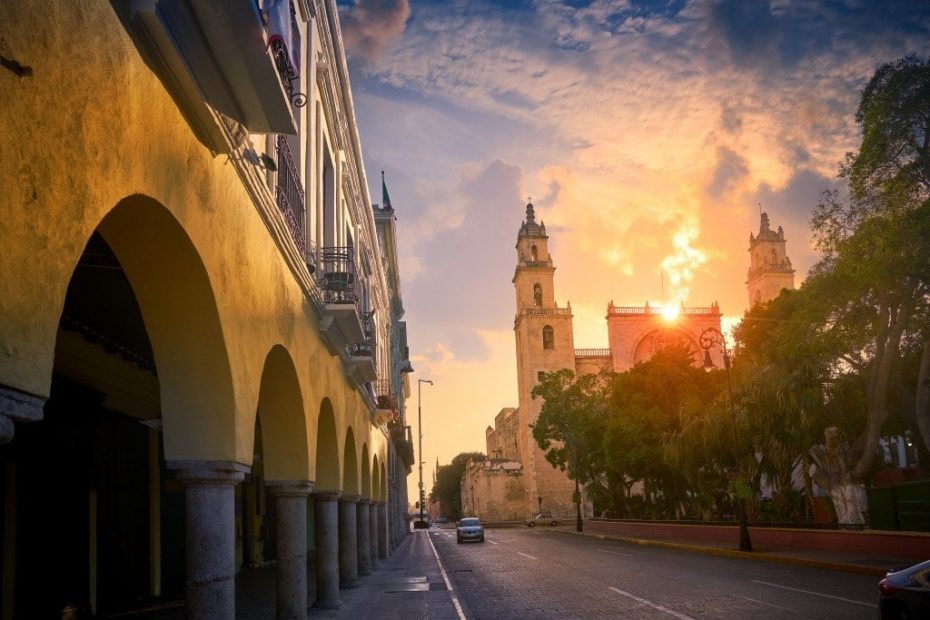 Merida, Mexico is the perfect off the beaten path destination in Mexico. Merida is the capital city of the state of Yucatan and most travellers only stay for a night, if they come at all. But that's a mistake: there is so much to see and do here, so you should plan to stay several days, at least.
Merida has a distinct Mayan culture that is different from much of the rest of Mexico. Merida also makes a great base to explore nearby ruins such as Uxmal, and there are museums dedicated to the history of the Mayan people for you to explore.
The food in the Yucatan is different than the food found throughout Mexico. Of course you'll still be able to find the ubiquitous tacos, but here you can also find Mayan dishes such as panuchos, salbutes, sopa de lima, and cochinita pibil. The restaurants in Merida range from street food and stalls to Michelin quality dining, and everything in between, for you to try these local dishes.
This area of Mexico has the highest concentration of cenotes in all of Mexico. Cenotes are freshwater sinkholes and caves and the Yucatan has more 6,000 of them. You could make an entire trip dedicated to just exploring cenotes. In fact, when my sister visited, we did just that!
Don't Miss
Plaza Grande and the Palacio De Gobierno
Day trip to explore the nearby cenotes
Museo de la Gastronomia Yucateca (MUGY)
Guadalajara, Jalisco
Recommended by: Leigh, Campfires & Concierges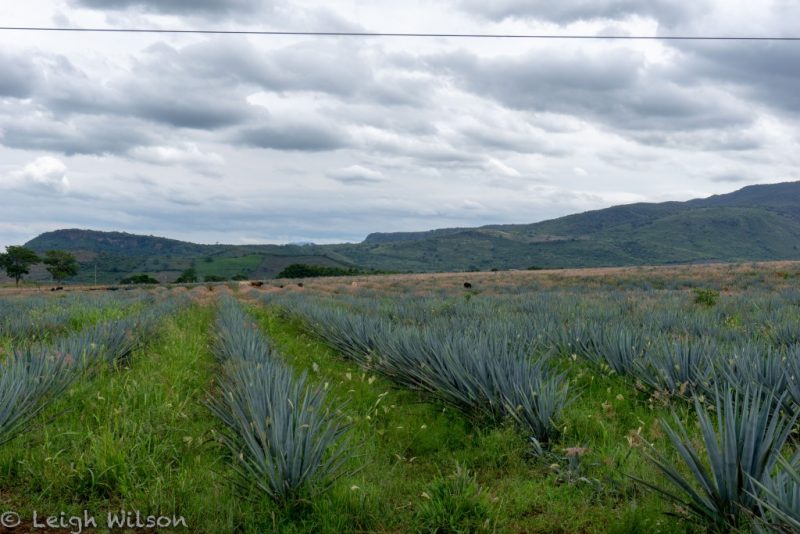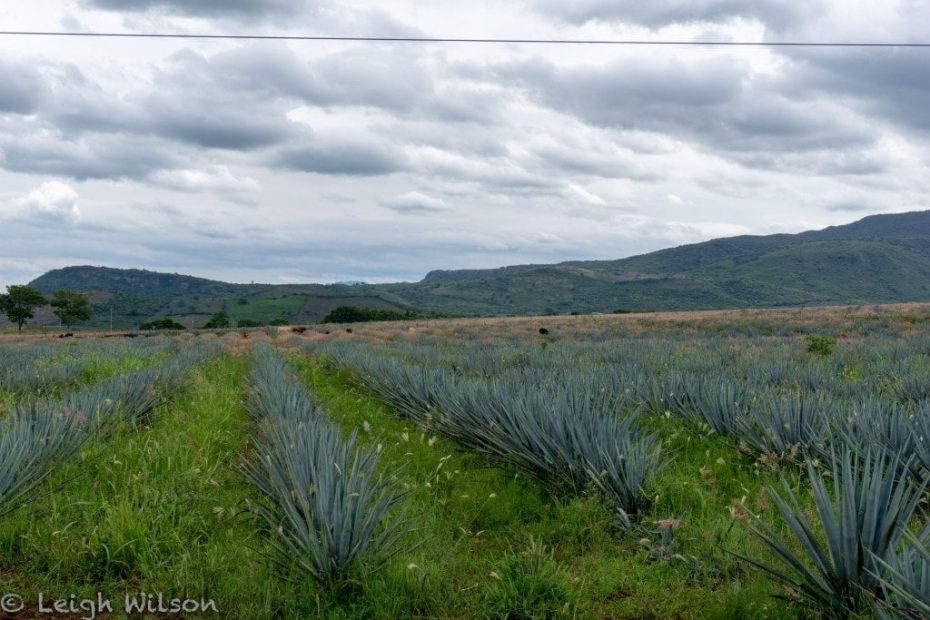 One of the reasons I loved visiting Guadalajara is all of the cool day trips from Guadalajara. The capital city of Jalisco is full of history, culture and amazing food. We took several tours in and around Guadalajara, and we were often the only gringas on the tour. The people of Guadalajara were so friendly, and we loved seeing a side of Mexico that is less visited by Americans. Jalisco also happens to be where my grandma was born, so it was really special to visit.
I'm all about Mexican food, so of course, my number one recommendation in Mexico is to take a food tour and explore all of the cuisine that is local to Guadalajara. I don't believe I had a single taco when visiting; the food of Jalisco is quite different, but equally delicious!
Don't Miss
Tapatio Bus Tour
Tlaquepaque neighbourhood
Day trip to Tequila & Distillery Tours
Eat Tortas Ahogadas & Birria, two local specialities
Puebla, Puebla
Recommended by: Becky, sightDOING. Check out her Puebla itinerary for more info!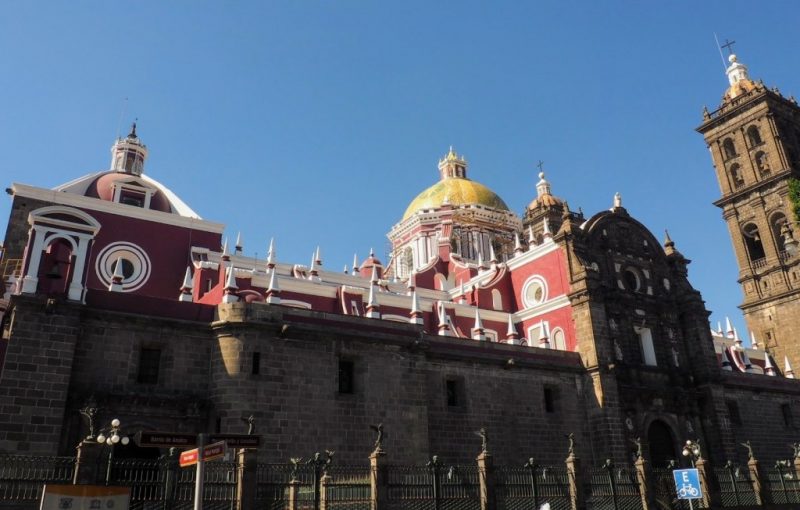 About two hours south of Mexico City, yet barely visited by travellers, is the city of Puebla and its sister Cholula, less than ten miles away. Together, these cities make an extraordinary side trip from the capital, particularly in the evenings when they really come alive!
You'll find plenty of history here, most of it unexpected. You'll also find views of gorgeous volcanoes outside the city. Don't miss a chance to try Puebla's famous mole poblano, a spicy chocolatey sauce traditionally served over turkey.
Don't Miss
The Great Pyramid of Cholula. This underground pyramid is larger than the famous Egyptian pyramids!
Views from the Rooftop at the Museo Amparo (and the modern art inside)
Puebla's Zocalo. Go on Friday or Saturday nights for a colorful light show outside the cathedral
Guanajuato, Guanajuato
Recommended by: Sarah, Live Dream Discover. Check out her post on the best things to do in Guanajuato for more info!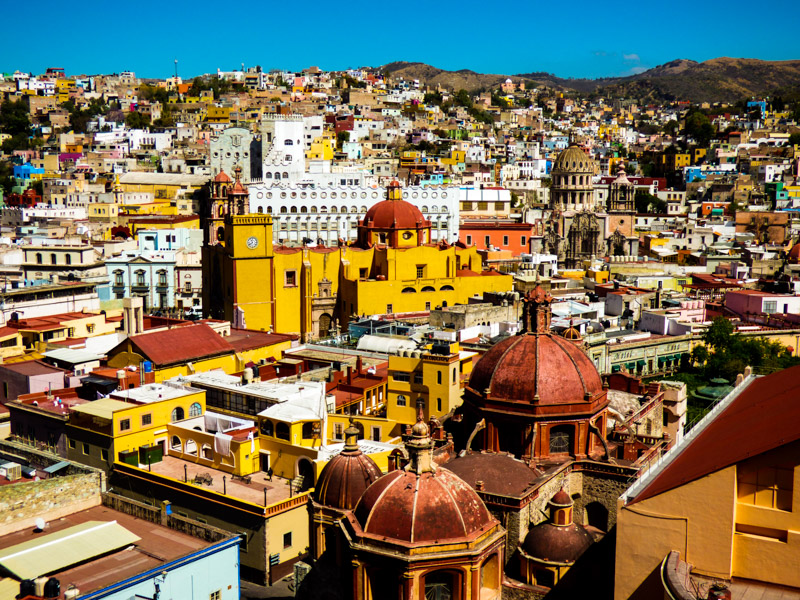 The UNESCO World Heritage City of Guanajuato feels very European with its cobblestone streets, sidewalk cafes and pretty squares. However, despite being popular with Mexican tourists, the city remains relatively unknown to international visitors who flock to the smaller and more westernized neighbouring city of San Miguel de Allende.
Probably the first thing you'll notice about Guanajuato is that it's super colourful. Most of the buildings are brightly painted in rainbow hues, making for beautiful backdrops around every corner. The second thing that will hit you is the altitude and abundance of hills. You'll definitely get your exercise as you wander this vibrant city, as well as plenty of opportunities to view the colourful centre from above.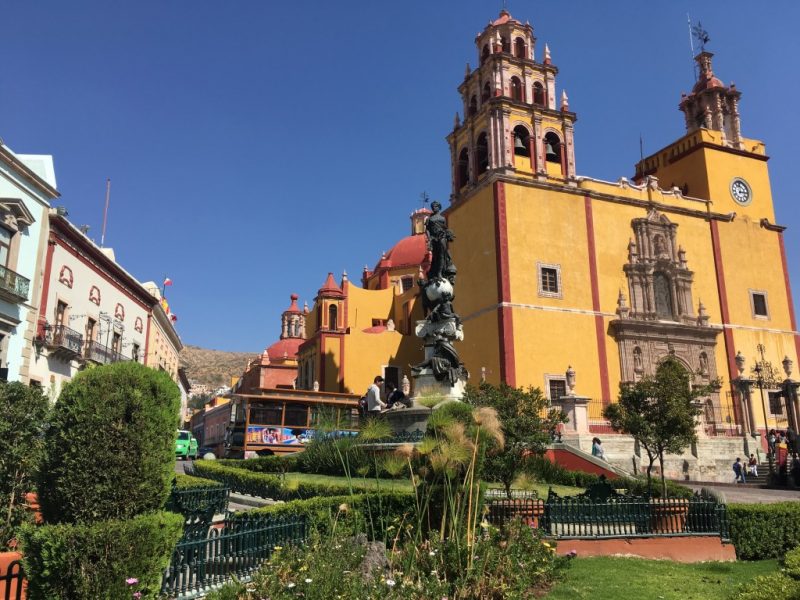 Being a real working city as opposed to a top tourist destination, Guanajuato will fulfil any dreams of having an authentic Mexican experience. The streets are always alive with university students, working locals, families, and Mexican visitors – so just wandering the downtown core is an adventure in itself. It's easy to spend hours exploring the cobblestone streets and narrow callejons (alleyways), relaxing in one of the tree-shaded squares and admiring the many churches and colonial-style buildings.
Don't Miss
Monumento el Pipila
Museo de las Momias (Mummy Museum)
Teatro Juarez
Mercado Hidalgo
Xalapa, Veracruz
Recommended by: Janine in the World, Check out her Xalapa travel guide for more tips on what to see and do!
Xalapa, Veracruz doesn't seem to find its way onto many Mexico bucket lists, but it really ought to! If you're curious to visit a colonial city that is rich in culture and beauty but without hordes of English-speaking tourists, Xalapa is the perfect place.
This traditional city has exceptional food, a strong independent arts scene, and incredible scenery. Picture colourful colonial buildings lining charming cobblestone streets, with a stunning mountain view in the background.
Stroll the compact downtown and wander in and out of bookstores, art galleries, cafes serving up rich, locally grown coffee, and beautiful city parks. If you're curious about mesoamerican history, spend an afternoon browsing artifacts at the anthropology museum!
This region is also known for its excellent food, no doubt due to the fact that so much of it is grown locally. The three central markets are perfect for sampling local cuisine on a budget – don't miss the mole de Xico!
Don't Miss
Museum of Anthropology
A stroll through Parque Los Berros
Stop for a bite at Mercado La Rotunda
Coffee at Kariva Cafe
Colima, Colima
Recommended by: Ayngelina, Bacon is Magic.
Although Colima Mexico is a popular spot for Mexican tourists, few international tourists ever visit. Perhaps because it doesn't have a beach or grand attractions. But if you're looking to have a few relaxing days where you can experience the authentic culture in western Mexico, this place is a bargain!
With plenty of green spaces and lots of parks, one of the most popular things to do is just sit outside and enjoy the energy of the city. Shopping is also popular, with lots of opportunities to buy handicrafts that weren't just created for tourists – as well as very reasonably priced gold.
Colima is a great base for many west coast cities and beaches such as Manzanillo, Playa Peña Blanca and Santiago Bay. Here you'll find fantastic seafood at local prices, such as the traditional dry fish ceviche which you don't often find in other Mexican cities.
Don't Miss
Volcan de Fuego
Regional Museum of Colima in Mexico
Cathedral Basilica of Our Lady of Guadalupe
Chihuahua, Chihuahua
Recommended by: Tanya, Can Travel Will Travel
The small city of Chihuahua is the capital of Chihuahua state in the desert of northern Mexico. It's also the start- or endpoint of the Copper Canyon Railway, which runs through the mountains to Los Mochis on the coast.
Due to its reputation for drug cartels and violence, Chihuahua isn't visited much by tourists. However, we stopped there before our Copper Canyon trip and found an incredibly beautiful, historic city, that felt surprisingly safe and welcoming.
Chihuahua is made for exploring by foot. Wander around the central areas and admire the views of this beautiful city, surrounded by a backdrop of mountains. You can get a real feel for the city around the pedestrianised Plaza de Armas. It comes alive at dusk when families and friends gather to socialise, eat and dance.
Leading from Plaza de Armas are two pedestrianised streets worth strolling down. It's cowboy country, so every other store sells cowboy hats, boots and shirts, in different colours and designs!
Don't Miss
A City Walking Tour. Buy tickets from a booth on the Plaza De Armas
Try on a cowboy hat and boots
Visit the Mammoth Museum or Palacio de Gobierno
Chihuahua Caves
Mexico Off the Beaten Path: Nature and Outdoors
Peña de Bernal, Queretaro
Recommended by: Me!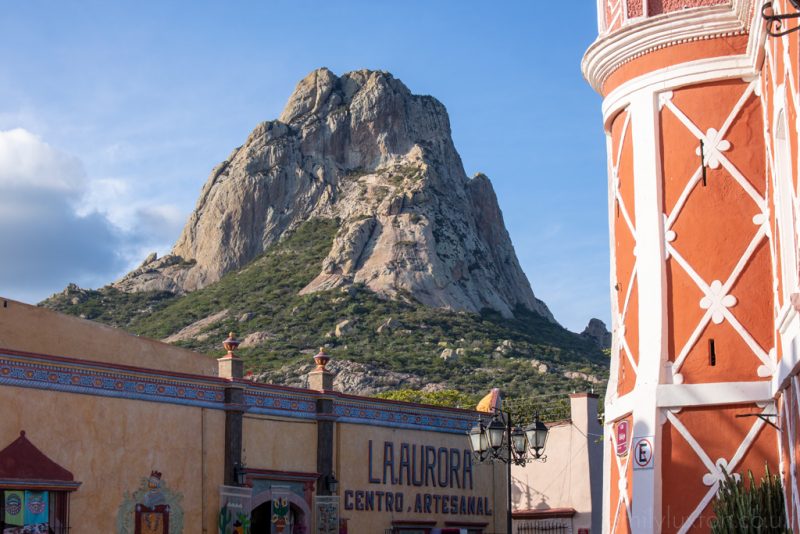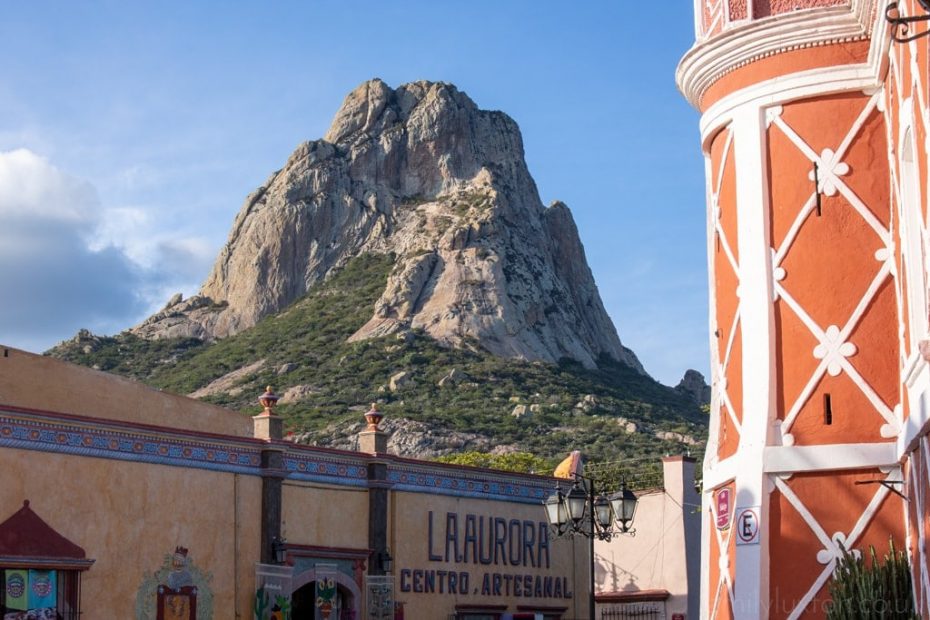 One of my favourite recent discoveries in Mexico was Peña de Bernal. Located about an hour from Queretaro, the small amounts of tourism the town sees seems to be folks coming for a few hours as part of a larger tour. But I can really recommend staying for longer: a night or two would give you a chance to really make the most of the town, and the stunning nature around it.
Peña de Bernal is actually the name of the huge rock monolith that towers over the tiny town of Bernal. Think Devil's Tower (seen in Close Encounters), but with a sleepy Mexican village clustered around its base. The landscape around the town wouldn't look out of place in a Wild West movie.
The Peña is said to hold a special energy – many visitors take the chance to touch its face, or buy quartz crystals from the (MANY) local shops selling it. There's definitely a kind of magic in the air around Peña de Bernal, but I don't know if that's something spiritual coming from the landscape, or the simple fact that this one of the most beautiful and unique places I've yet seen in Mexico.
Don't Miss
Climb to the top of the peña. If you're feeling up for a challenge, a hike to the top of the monolith should take around 2 hours – but I'm told it's pretty challenging, with a fairly precarious pathway in places. Honesty time: I did not attempt it!
ATV tour around the base of the rock
Dine with a view of the peña at one of the town's rooftop bars.
Huasteca Potosina, San Luis Potosi
Recommended by: Nate Meets World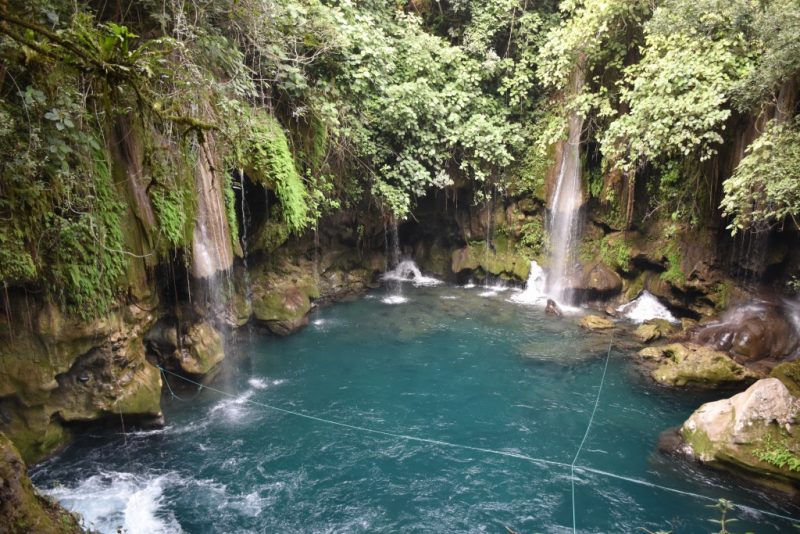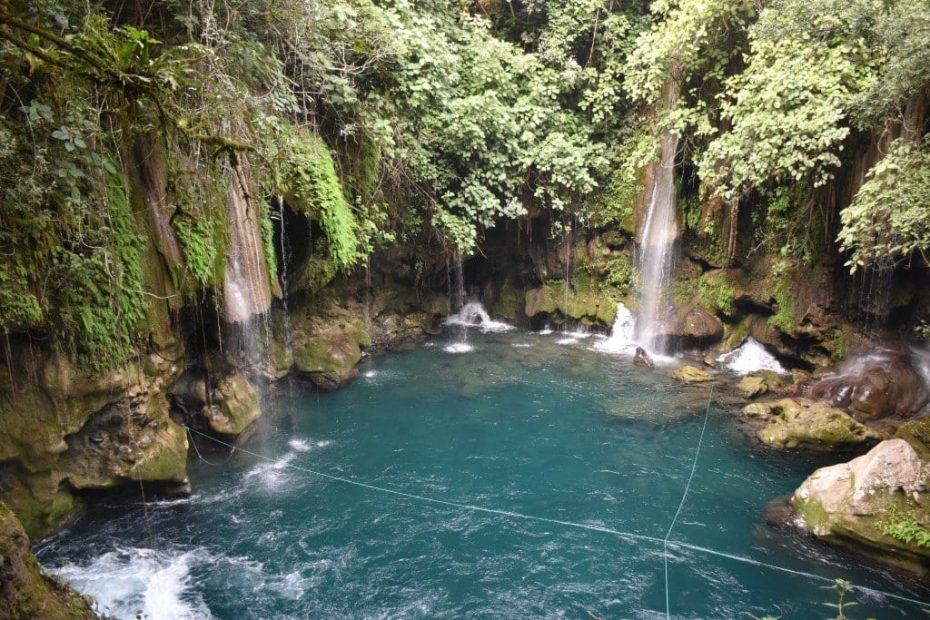 Huasteca Potosina is a region in the state of San Luis Potosi filled with wonder! This area is filled with wonderous waterfalls, stunning swimming holes and gorgeous gardens.
The most popular thing to do is Cascada de Tamul, which is located near the town of Tanchachin. After paddling a canoe for one hour on Rio Tampaon, you arrive at the 105-meter waterfall. Its sheer power means you can't get too close but it's observable from a distance, where you can still take some amazing pictures!
Puente De Dios (Bridge of God) looks like something from a fantasy world. The small waterfalls cascading into a stunning turquoise pool will be etched in your memory forever. This is my favourite attraction in Huasteca Potosina. It's a short drive from the town of Tamasopo.
Edward James Surrealist Garden is straight out of Alice in Wonderland. This garden was created by none other than British poet Edward James, who created a 'surrealistic' garden after the beautiful orchids in his tropical garden were destroyed by a winter frost. You will never see another garden like this one.
Don't Miss
Media Luna Swimming Park
Tour all the waterfalls (don't miss Micos, El Salto, and Tamasopo)
Cave of Swallows (Sotano de las Golondrinas)
Copper Canyon, Chihuahua
Recommended by: Patrick, German Backpacker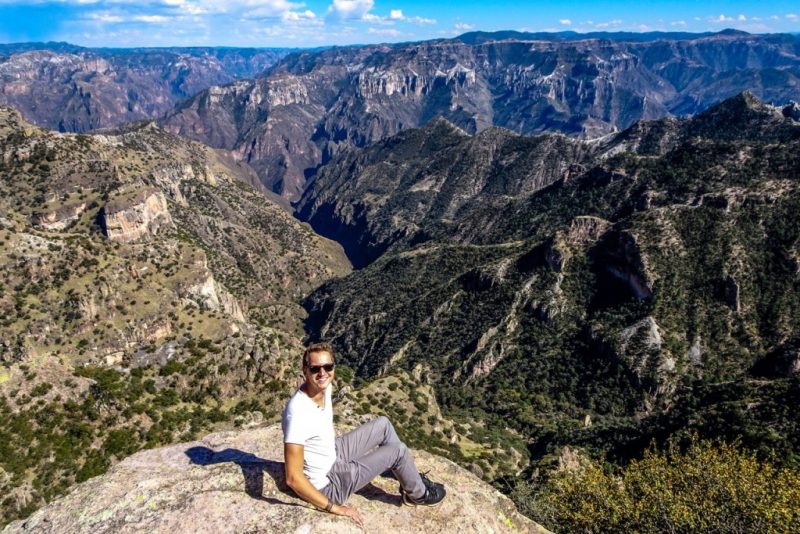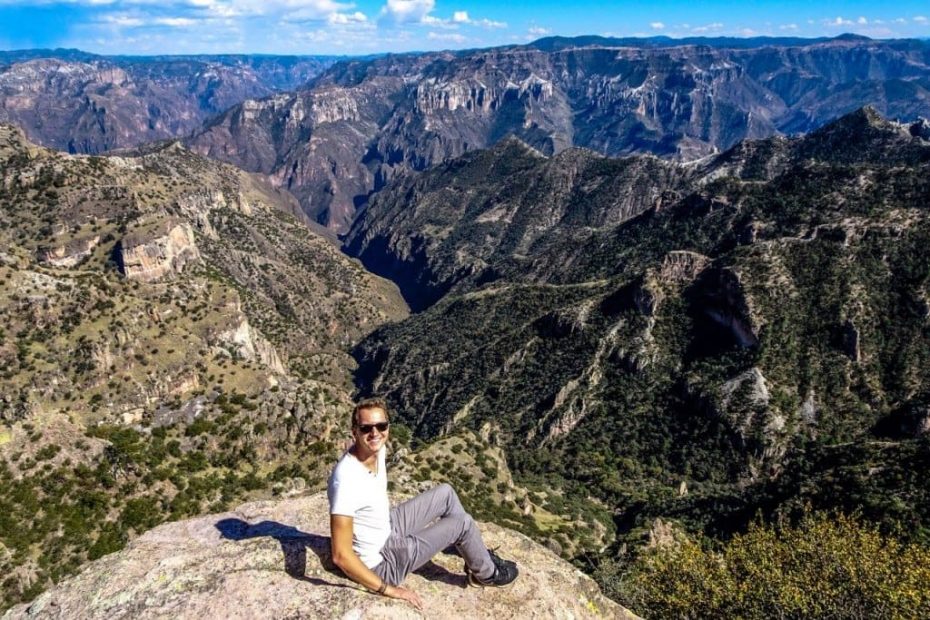 While most people backpacking Mexico stick to the southern part of the country, my best travel experience in four months exploring Mexico was my train journey through Sinaloa and Chihuahua on "el chepe" – the railway connecting the Pacific coast at Los Mochis with Chihuahua, passing through the breath-taking Copper Canyon (Barrancas del Cobre).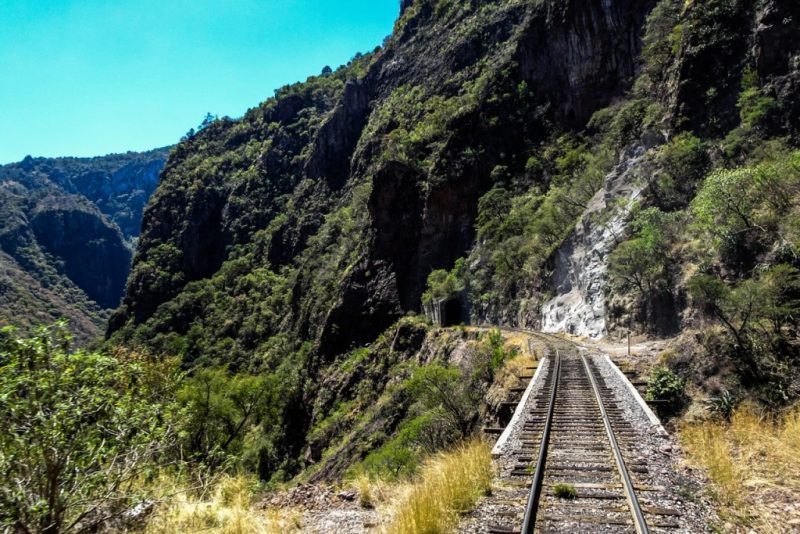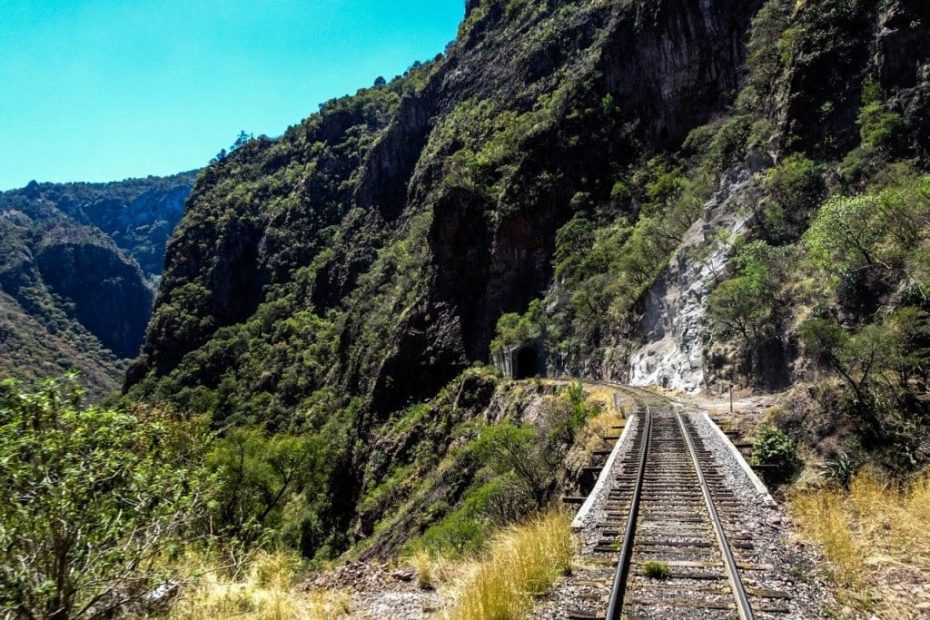 While you could do this train journey in one go, I highly recommend breaking up the trip and spending some time in the places along the way, such as the picturesque "pueblo magico" El Fuerte and obviously the Copper Canyon at Divisadero and Creel, which will be the highlights of your trip. This part of Mexico is entirely different to the south when it comes to landscape, culture and food and although you won't find many gringos here, it's a place that you certainly shouldn't miss.
Don't Miss
The train journey on "el chepe"
Views of the Barrancas del Cobre from Divisadero
Zip lining through the canyon at the action part in Divisadero
Exploring the local culture in Creel
Capulalpam de Mendez, Oaxaca
Recommended by: Claire, Claire's Footsteps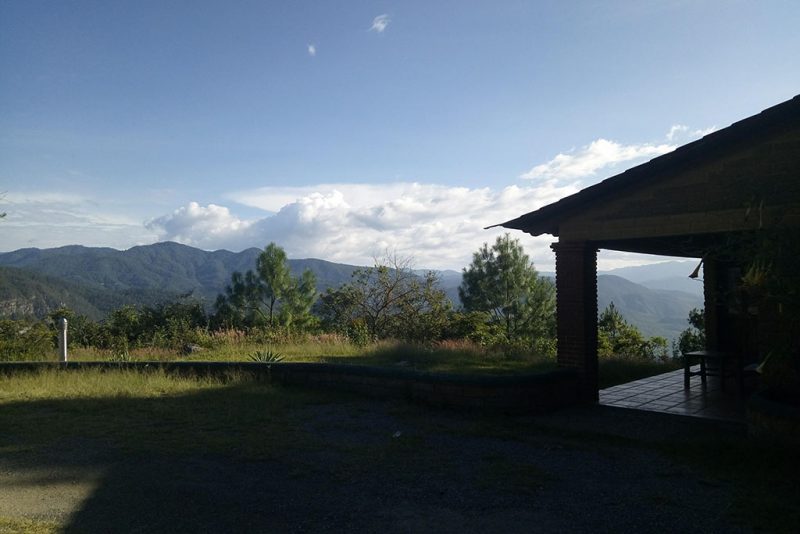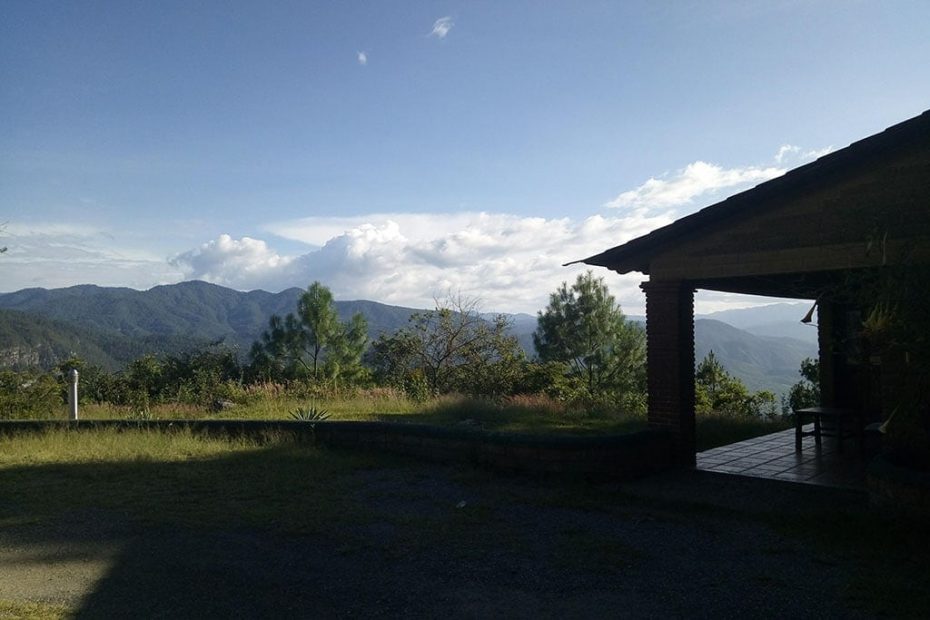 There are lots of things to do in Oaxaca, but getting up into the Sierra Norte mountains that overlook the city is something that not so many tourists do. You can take a collectivo taxi to the mountains, and base yourself in a local village. There are lots of hiking trails all around the region, as well as cultural opportunities (many areas are Zapotec) and the experience of rural Mexican hospitality!
Capulalpam is just one of the pueblos in this area where travellers can base themselves. There are lovely cabañas that overlook the forest, which makes for a serene break from the hubbub and noise of Oaxaca City!
Don't Miss
Hiking the many trails. It is advisable to do this with a guide, as they are not marked.
Looking out for white-tailed deer who are native to this area
Caving at Arroyo Cave
Palenque, Chiapas
Recommended by: Kate, Our Escape Clause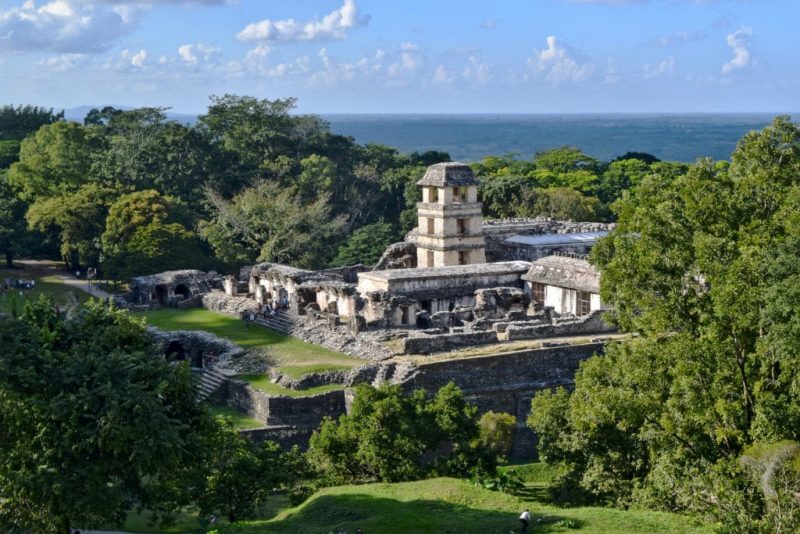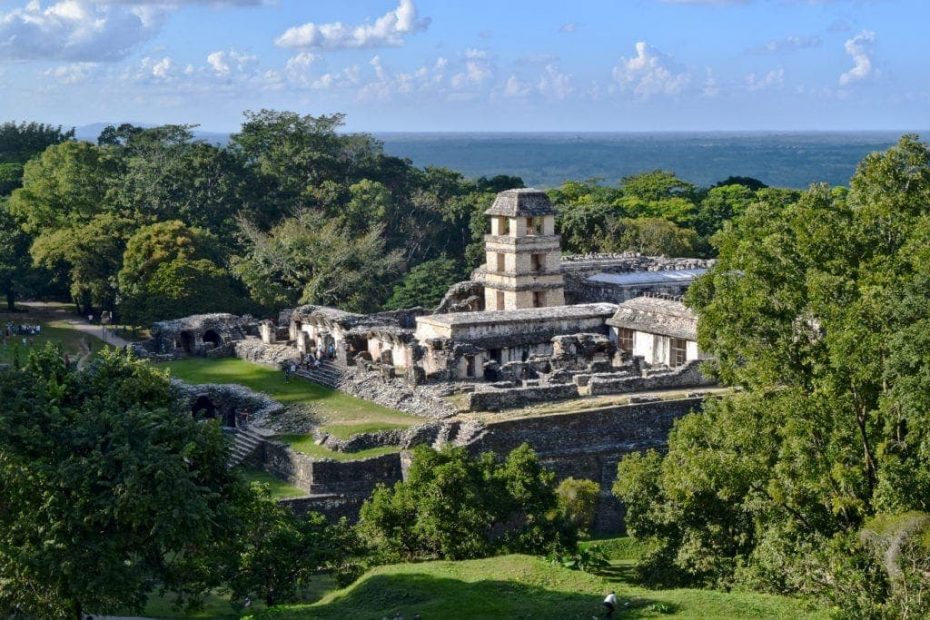 Nestled deep inside Chiapas, the ruins of Palenque are absolutely one of the best places to explore Mexico off the beaten path.
With a fraction of the visitors of more popular ruins in Mexico but all the beauty and history, Palenque is an absolute delight to visit.
In the 7th century, Palenque was a thriving Mayan city: not as big as Chichen Itza or Tikal, perhaps, but thriving all the same. And yet, like so many Mayan cities, by the time the Spanish arrived in the 16th century, the area was sparsely populated and already being reclaimed by the jungle.
Today, much of the city has been excavated again, with its grand buildings and temples rising up out of the jungle. Unlike in more crowded areas, these ruins are still available to be explored in a hands-on way. You can even go inside one of the temples!
Entry to the ruins is 70 pesos. The easiest way to arrive is via a taxi, collectivo, or tour either from the small modern city of Palenque or (more popularly) from San Cristobal las Casas, which makes for a long but incredible day sightseeing in Mexico.
Don't Miss
Visit the Palenque Museums
Take a waterfall tour (don't miss Agua Azul)
Aluxes Ecopark
Lake Bacalar, Quintana Roo
Recommended by: Me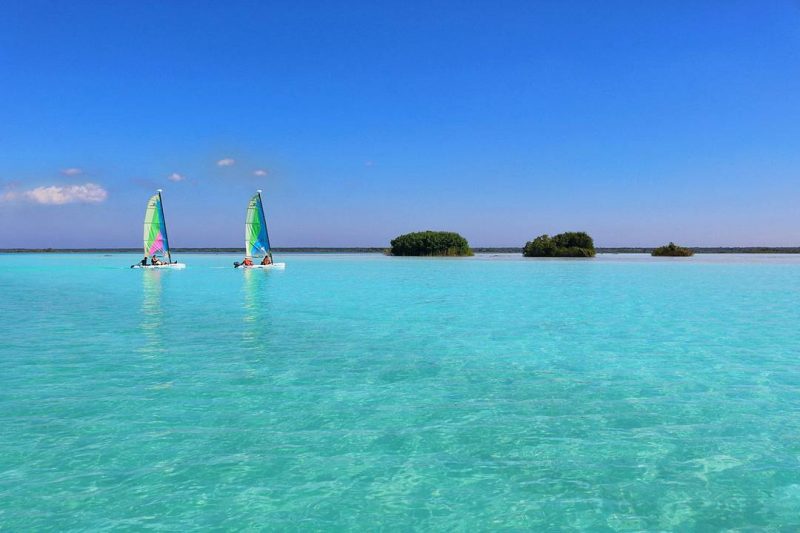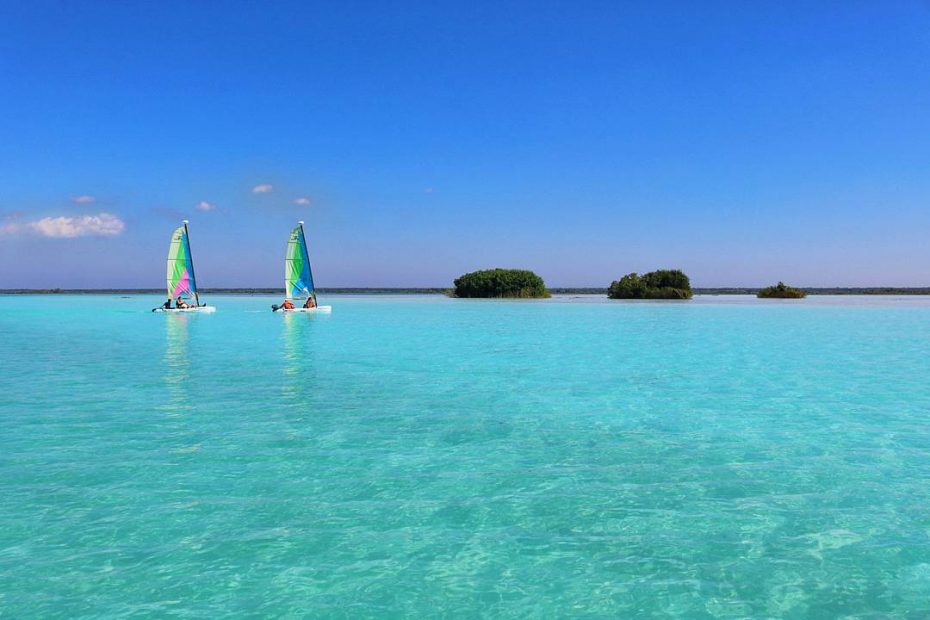 Lake Bacalar remains one of the most beautiful hidden gems I've ever discovered in Mexico! It's nicknamed the "Lake of Seven Colours", because of the numerous shades of blue you'll find here; from deepest emerald to a cyan that could make the Caribbean sea jealous!
Although it's definitely becoming more popular with tourists, Bacalar still feels fairly off the beaten path and is certainly not at all crowded. Perhaps because it's a little out of the way. And at 42km long, there's plenty of places along the shore to have a slice of this stunning lake to yourself.
Don't Miss
Boat tour of the lake to see the underwater cenote!
Swimming / chilling on the beach / SUP
Watch the sunrise over the lake
Rio Lagartos, Yucatan
Recommended by: Me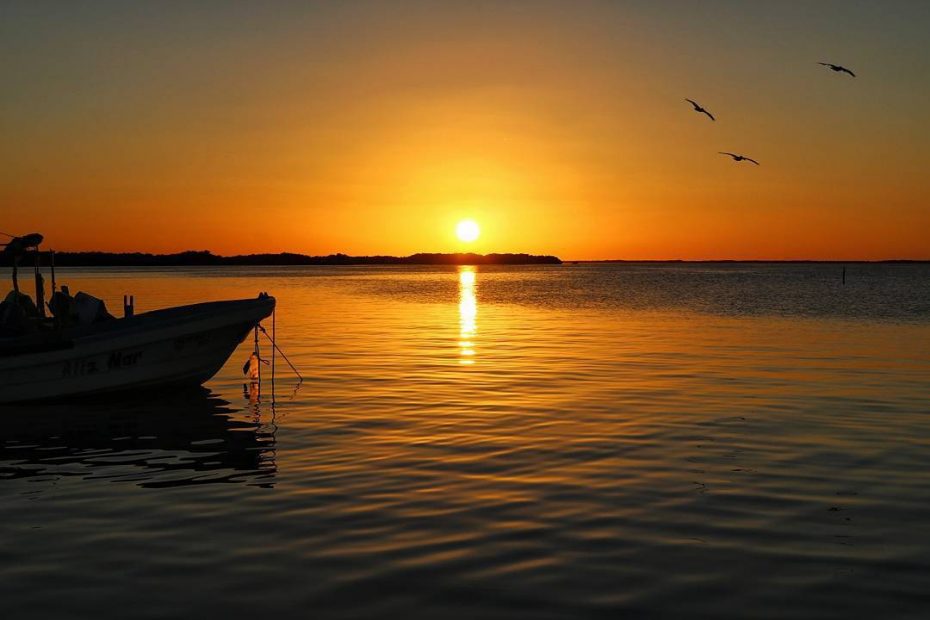 Another of my favourite hidden gems in Mexico is Rio Lagartos. This quiet little town sits on the shore of Ría Lagartos, a brackish-water estuary home to some incredible wildlife. Including the crocodiles which gave the town its name when the Spanish conquistadors mistook them for "lagartos" (alligators).
Explore the estuary and surrounding biosphere reserve. With over 400 bird species, including flocks of flamingos, this area is ideal for nature lovers. It's also just an amazing place to feel like you're truly getting away from it all. Very few tourists make it up that way, and the ones that do tend only to come for an hour or two on an organised tour. Staying a night or two can feel like a real adventure!
Don't Miss
Take a boat tour of the estuary and go wildlife spotting
Head to nearby Las Coloradas, the pink salt lakes that have gained famed on Instagram!
Visit the local crocodile farm
Coastal Destinations and Beach Towns
Xcalak, Quintana Roo
Recommended by: Campbell, Stingy Nomads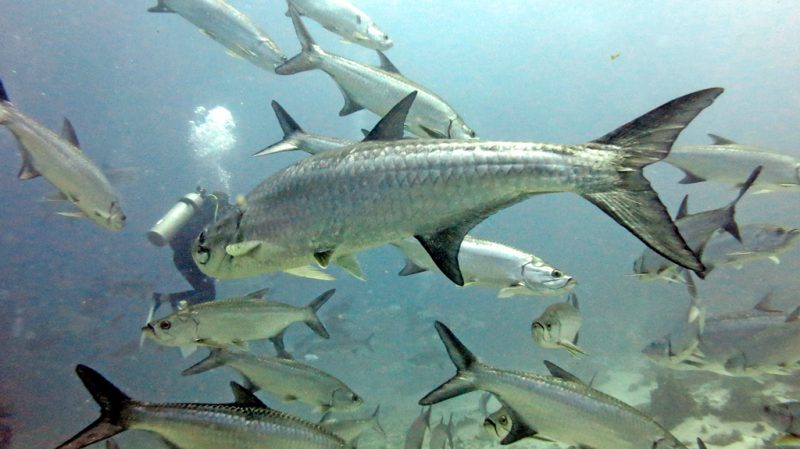 Xcalak is a small village in Quintana Roo Mexico. It's five hours drive south of Cancun, on the border with Belize. This is one of the last "wild" stretches of Mexican Caribbean remaining on the southern end of the Costa Maya. If you're looking for coconut palms, white sand beaches, and crystal clear, warm water, this off the beaten track little fishing village with only 350 residents is the place to go.
Don't Miss
Diving! The diving in Xcalak is some of the best in Mexico with a barrier reef located just 600 meters offshore, it is incredible that this amazing piece of paradise is still so far off the tourist radar. Diving here the highlight is being surrounded by schools of massive tarpon, these huge bonefish is often bigger than the divers and this dive is a very unique experience.
Fishing – The big tarpons is a fisherman's dream and a bucket list spot for fly fishing.
Snorkelling
Birdwatching
Yelapa, Jalisco
Recommended by: Lori, Southerner Says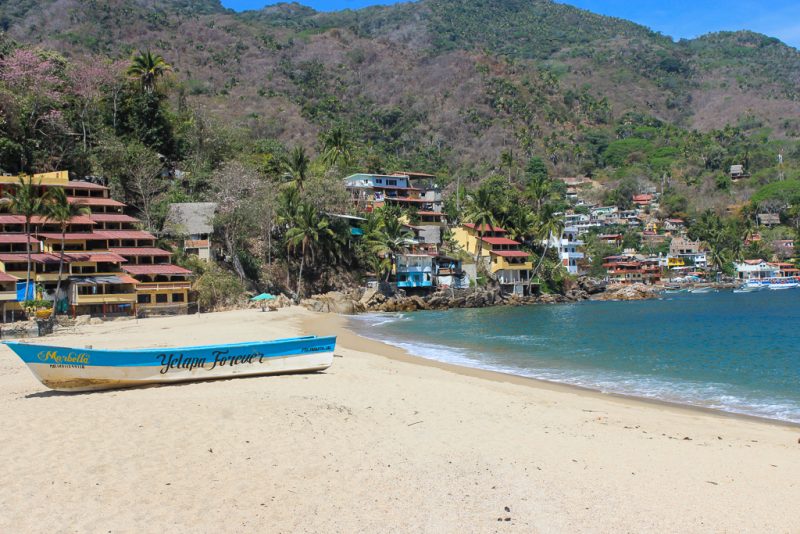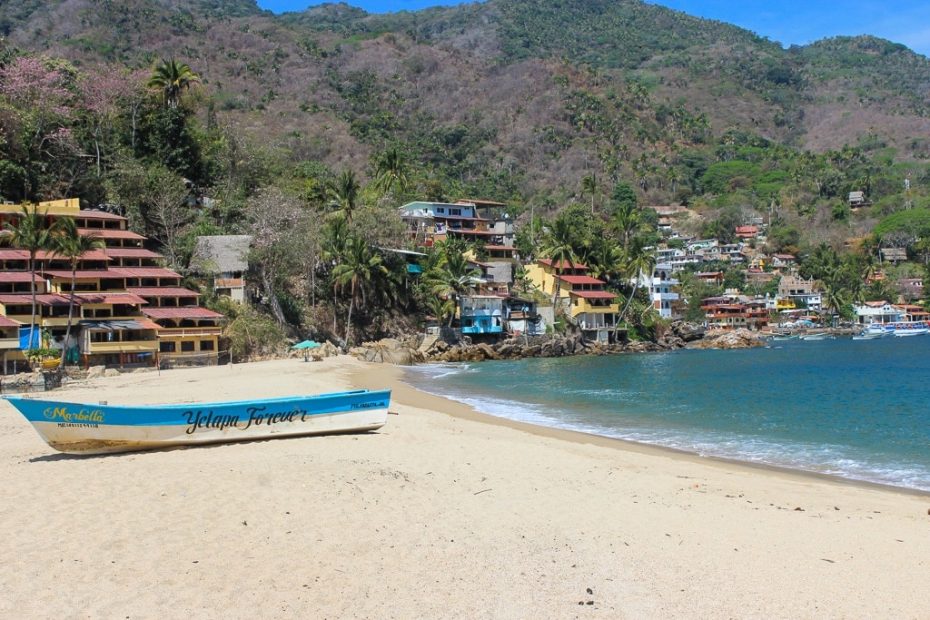 Nothing says off the beaten path like a destination that requires a boat to get there!
Yelapa, a small fishing village located south of the popular Puerto Vallarta, Mexico, can only be reached by water taxi. The jungle in this area is so dense there are no public roads to reach it.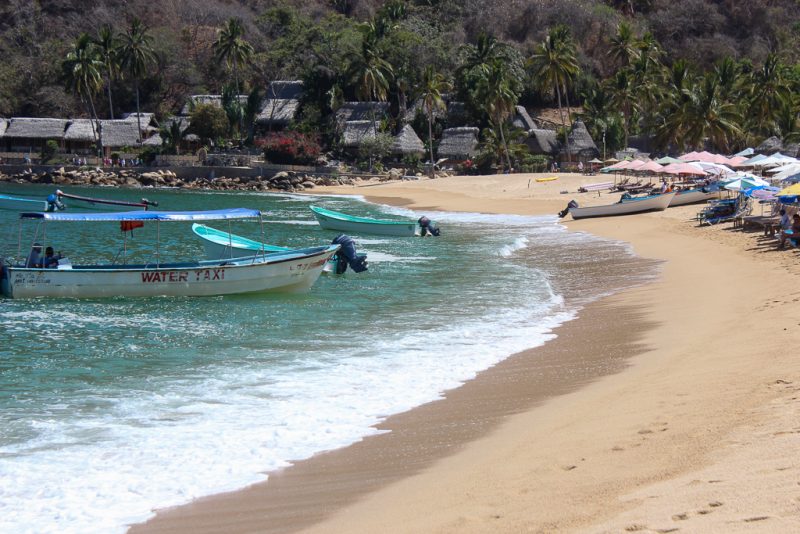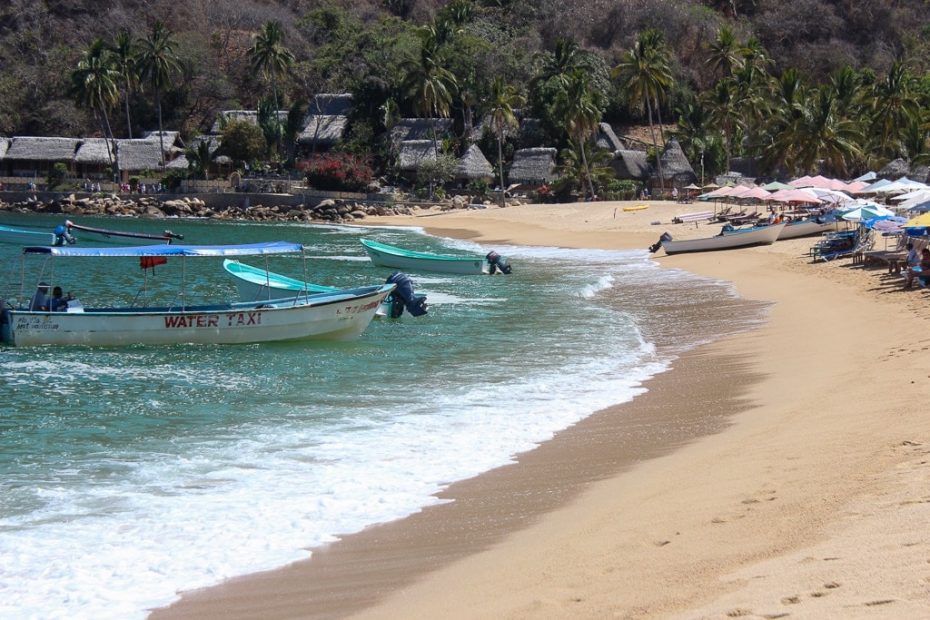 While you're there, don't miss a chance to try the fresh catch of the day or a famous Yelapa pie. Yes, pie! The Pie Lady of Yelapa has been making "pays" and selling them to visitors on the beach for over thirty years. There are seven flavours including coconut and chocolate but my favourite is cheese.
Don't Miss
Hike to a waterfall
Ride horses
Snorkel
Campeche, Campeche
Recommended by: Wendy, The Nomadic Vegan
Despite being listed as a UNESCO World Heritage Site, for some reason, the city of Campeche is still completely off the radar of most tourists visiting Mexico. While the modern sections of the town are admittedly of little interest, the colonial centre is a beauty. One of its most distinctive features is its extensive system of fortifications, which are remarkably well preserved. These include the fortified city walls and a number of bastions, or baluartes in Spanish.
Many of the houses that line its cobblestone streets are painted in different shades of pastel pinks, blues, greens and yellows, making Campeche a very photogenic place. A visit here is not so much about ticking individual sights off a bucket list. Instead, it's the kind of place where you just want to wander around aimlessly and soak up the atmosphere.
Don't Miss
Visit at least one of the baluartes (bastions) in the city's fortifications
Stroll the streets and admire the pastel buildings
Stop in at Natura 2000 for a lunch of vegetarian and vegan Mexican dishes
Loreto, Baja California Sur
Recommended by: Lizzie Lau. Read about the time a 20' whale shark bumped her kayak!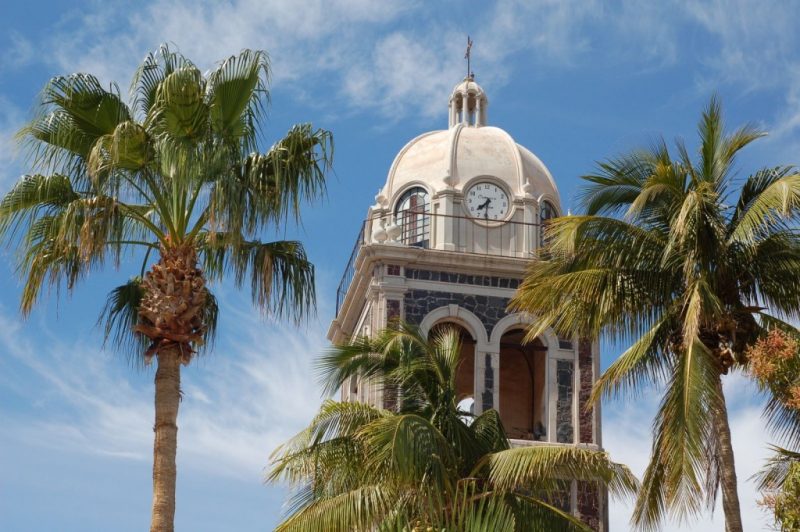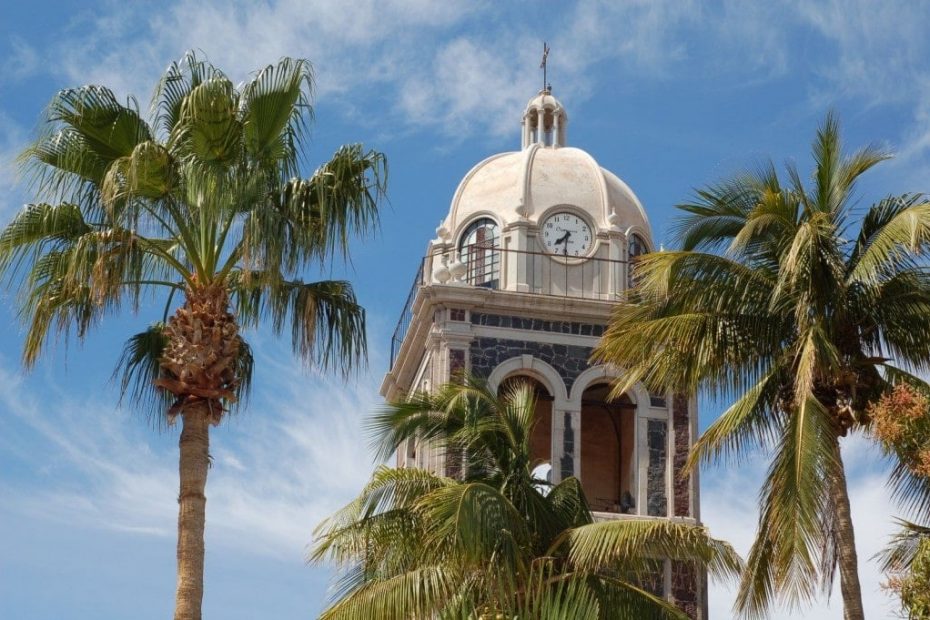 Designated as one of Mexico's Pueblos Magicos in 2012, Loreto is said to be the oldest settlement on the Baja Peninsula. It is still considered off the beaten path, so hotels and restaurants are relatively inexpensive.
Check out the Hotel 1967 and El Zopilote Brewing Company & Cocina. The vibe in this town of 20,000 people is peaceful and laid back. You can walk the malécon without being shouted at by timeshare vendors, and safely explore the cobblestone streets and colonial architecture in the historic district. Don't miss the Jesuit stone church, which was part of the Misión de Nuestra Señora de Loreto Conchó.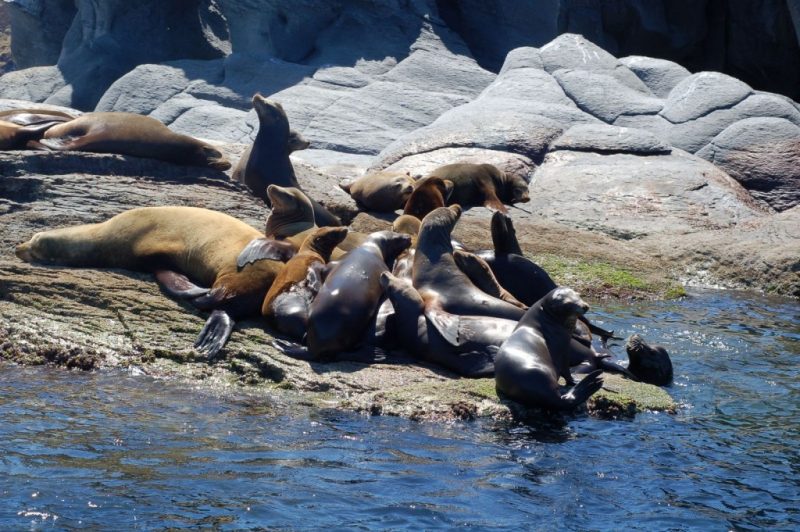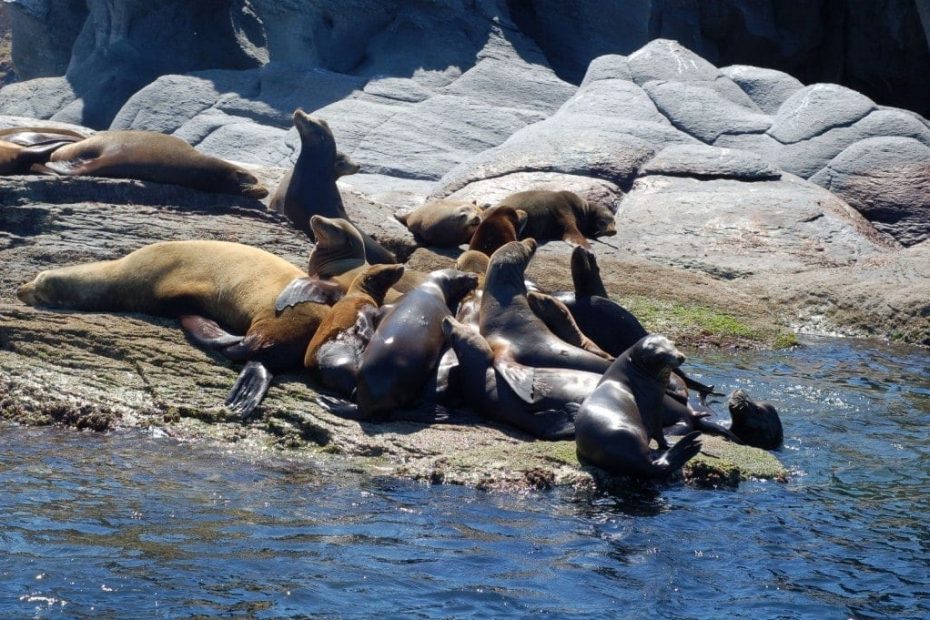 The real magic happens once you get offshore. Visit between January and March to see the humpback and blue whale migration. On a ride out to Isla Coronado, you'll encounter whales, dolphins and sea lions.
Take your snorkel gear, because there will also be great opportunities to see tropical fish in the crystal clear water. In the Parque Nacional Bahía de Loreto, the shoreline, ocean and offshore islands are all protected from pollution and uncontrolled fishing.
Don't Miss
Whale Watching
Kayaking
Paddle Boarding
Snorkelling and SCUBA diving
Off-road Excursions (ATV or burro)
Huatulco, Oaxaca
Recommended by: Iliah, Negra Bohemian
Everyone loves a great Mexican beach town, but it's difficult to find a beach town in Mexico that isn't jam-packed with tourists and all-inclusive resorts. Those looking for an eco-friendly beach experience in Mexico that flies off the radar should look no further than Huatulco.
Tucked away on the southern coast of Mexico's state of Oaxaca, Huatulco is home to fabulous beaches, gorgeous bays, and thriving Indigenous communities. And – it's an eco-traveller's dream come true.
Huatulco has over thirty beaches boasting toasted-colour sand and crystal waters. It's hard to believe that this town is located on the Pacific Ocean! Huatulco is also the perfect place for nature lovers; one can find lush mountains and a national park filled with biodiversity. Plus, Huatulco has one of the only certified "green" airports in the world.
Don't Miss
Take a boat ride around the bays and look for whales
Visit the ecological reserve, Hagia Sofia
Visit the Bahías de Huatulco National Park
Enjoy the beautiful beaches
Mazunte, Oaxaca
Recommended by: Me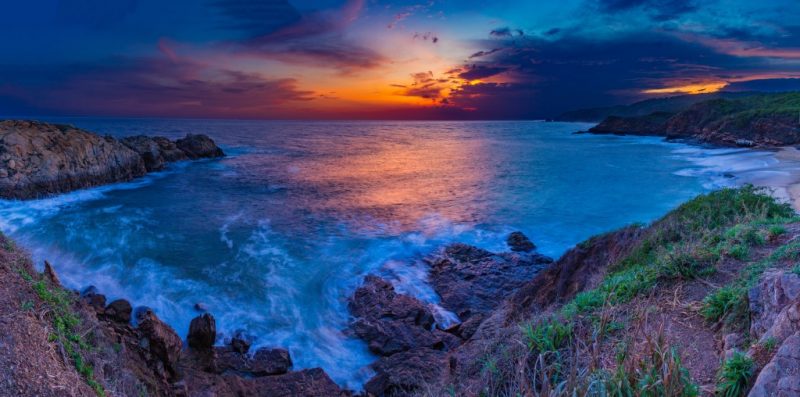 Just down the road from the more popular beach resort of Puerto Escondido lies the tiny surf town of Mazunte. Although it definitely sees its fair share of tourists, I still felt Mazunte was a more off the beaten path destination in Mexico. It's also one of the most beautiful beach towns I've discovered so far!
This is a town of simple pleasures. A peaceful bay, strong surf, and a handful of great restaurants mean you can while away your time peacefully. Or, you can hit the water on a boat tour to see the local dolphins or migrating whales. The Punta Cometa lookout point offers sweeping sunset views across the ocean. You can also watch the sunrise over the water – head to the cliffs above the beach for the best view.
Don't Miss
Dolphin spotting tour
Surf lessons – or a SUP session in the bay!
Sunset from Punta Cometa
Small Towns to Get Off the Beaten Track in Mexico
Taxco, Guerrero
Recommended by: James, Travel Collecting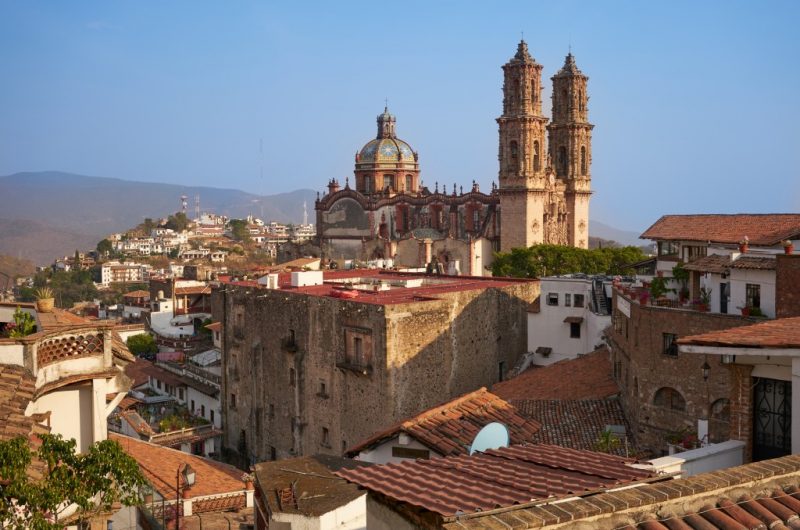 Taxco is a small colonial town set on a hillside in the state of Guerrero. Narrow cobbled streets wind up and down the hill, past white houses with orange tiled roofs. The churches are incredible over-the-top baroque confections.
It is also a major silver town. There's a great silver market, as well as multiple tiny silversmith workshops you can pop into to see the artisans at work – and maybe buy a piece or two.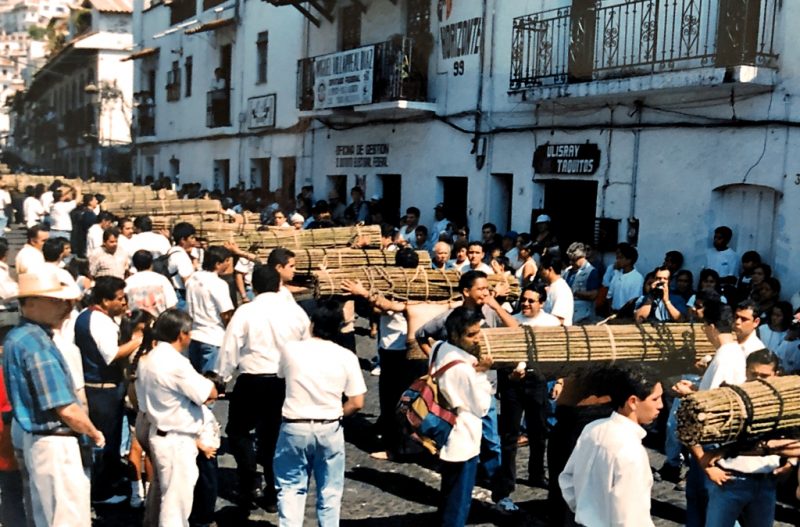 However, Taxco is at its absolute best during Semana Santa (Holy Week). Every day in the week before Easter, there are nightly processions of penitents. Hooded men, bent over double, lash themselves with thorns or carry large bundles of thorny sticks on their shoulders. Young women in lace shawls carry heavy candles, and incense fills the air. It is a creepy but incredible sight.
Don't Miss
The baroque Templo de Santa Prisca
The main zócalo / square, Plaza Borda
The silversmiths and silver markets
Patzcuaro, Michoacan
Recommended by: Me!
Patzcuaro, and the rest of the towns surrounding Mitchoacan's Patzcuaro Lake, is one of my favourite spots to get off the beaten path in Mexico. If the white-washed houses with their red-tiled roofs and signature red stripes along the bottom look familiar, it might be because nearby Santa Fe was the inspiration for the town in Disney's Coco! This distinctive architectural style can be seen all around the lake, and it makes for some very photogenic towns!
Sleepy Patzcuaro is a quiet, picturesque town with plenty of attractions. But it's also the ideal base for exploring all the small towns of the area. There's Tzintzuntzan, a pretty little town overlooked by the ancient pyramids of the Purépecha, the local indigenous tribe. Or, my favourite, Santa Clara del Cobre. Not only is it seriously picturesque, but this little Pueblo Magico is famous for its copper production – so it's the perfect place to do some shopping!
Don't Miss
Casa de los Once Patios
Plaza Grande – the second largest plaza in Mexico!
Day trip to explore the nearby small towns
Take the ferry to Janitizio Island
Izamal, Yucatan
Recommended by: Trijit, Budget Travel Buff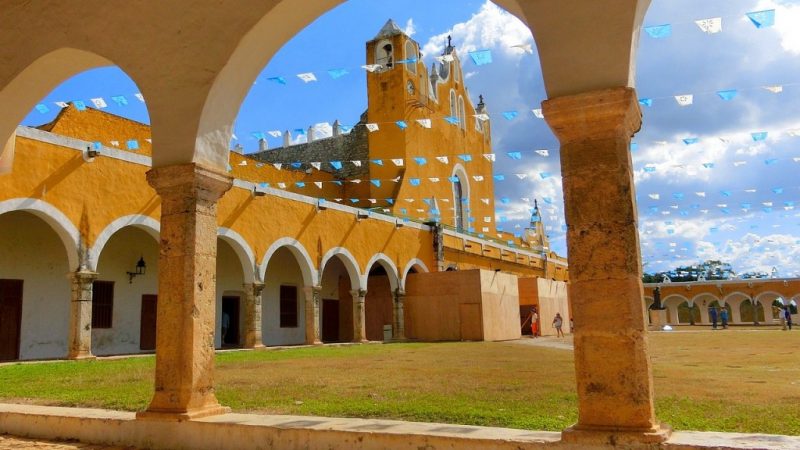 Izamal is just one-hour driving distance from Merida, the capital of Yucatan. It's also known as 'The Yellow City of Mexico'. Izamal is a fabulous city for its various attractions, vibrant culture and historical significance but with less crowd. The city was also awarded Pueblo Magico status by the tourist board of the Mexican Government for its natural beauty. The main building of this colonial city is painted mustard yellow colour which results in some amazing photos!
Don't Miss
Kinich Kakmo Pyramid. It is the third-largest Maya structure in Mexico, built in between 400-600 AD.
Visit Convento de San Antonia de Padua, the most iconic building of Izamal. The monastery was built in 1561 and there is no entry fee to visit this yellow convent.
Strolling around the city is ideal if you love photography.
Tequila, Jalisco
Recommended by: Bailey, Destinationless Travel
The town of Tequila, as the name suggests, is the home of tequila (the drink of course). In fact, the drink was named after the town, not vice versa, and this is the official birthplace of the world-famous spirit that's stocked in just about every bar around the world.
Tequila, Jalisco is a classic rural Mexican town where the tacos are cheap, the people are friendly, and there are Blue Agave plantations as far as the eye can see. If you came to Mexico in search of a true Mexican experience then Tequila is the perfect place visit!
But besides all that, Tequila is the place to be in Mexico to sample some of the world's finest tequila as well as learn about how it's made! This is actually the only region in all of Mexico that can officially produce tequila (like Champagne to the French) and any other spirit made from Blue Agave elsewhere in Mexico is actually referred to as mezcal!
Don't Miss
Enjoy a tequila distillery tour and tasting
Head to a Blue Agave farm and learn to plant and harvest Agave
Eat authentic Mexican food
Drink tequila in all forms – especially Cocktails!
Malinalco, State of Mexico
Recommended by: Katja, Globetotting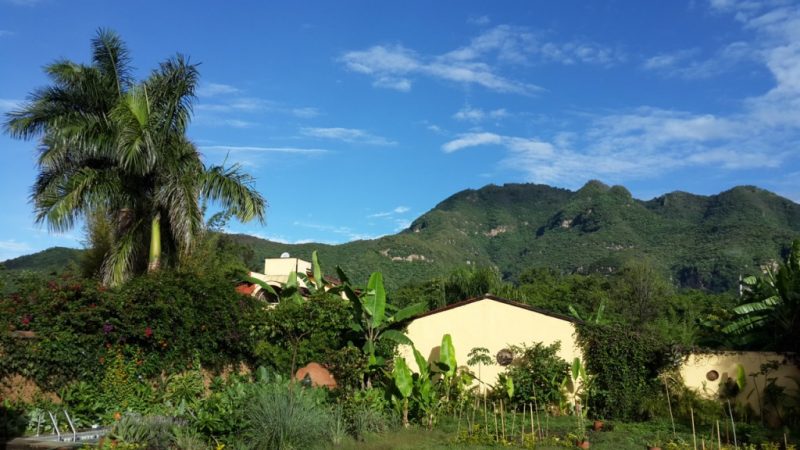 Magical Malinalco is the perfect place for a weekend break from Mexico City. Officially designated a Pueblo Magico, it's one of a handful of pretty colonial towns within easy weekend distance from the capital.
Surrounded by emerald-green mountains, Malinalco is characterised by colourful colonial houses, colourful streets and gardens filled with tropical fruit trees and flowers. A market takes over the central town square at weekends and the surrounding restaurants and cafés are packed with visitors and locals alike.
I personally love just wandering the streets of Malinalco but officially the main attraction is the archaeological zone. During Aztec times, this area was a base for the military elite and the remains of a complex for the Eagle and Jaguar warriors sits at the top of the Cerro de los Idolos (Hill of the Idols).
Don't Miss
Climb the 358 stairs to the top of the Hill of the Idols for views over the town and to see the Cuauhcalli, the House of Eagles.
Visit the Augustine monastery of the Divino Salvador and see the unusual black and white murals filled with subversive symbols.
Meet the local insect life at the "Bug Zoo", home to snakes, tarantulas, millipedes and more creepy crawlies.
So that's it! Is there anywhere you'd add to this list of places to explore Mexico off the beaten path?
Pin This Post!