Some posts on this site contain affiliate links. If you book or buy something through these links, I earn a small commission (at no extra cost to you). Take a look at my privacy policy for more information.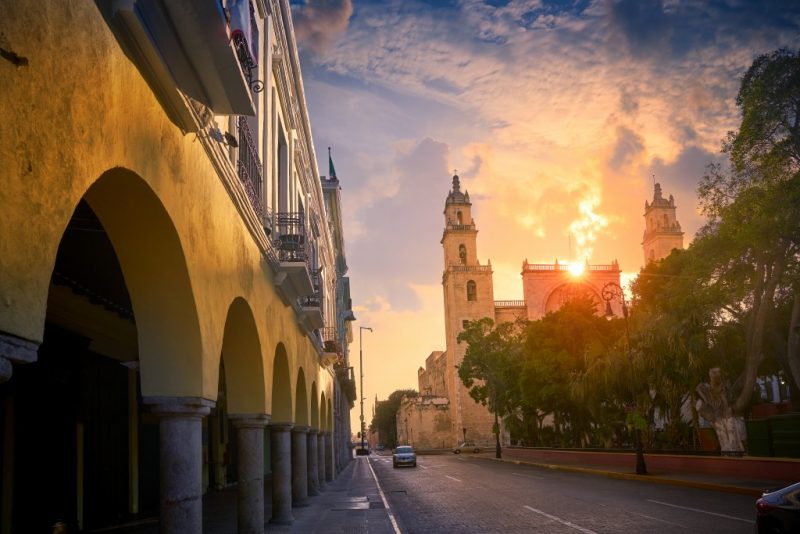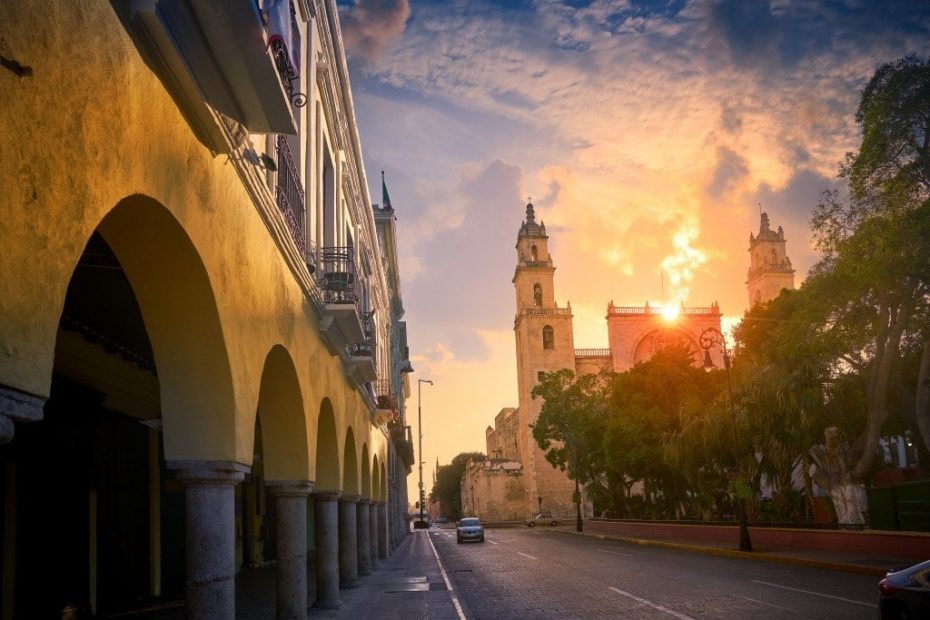 Wondering what to do in Mérida, Mexico? The vibrant, chilled-out capital of the Yucatan state has plenty to offer!
I've spent more time in Mérida than I can count. Across five trips to Mexico, I've spent several weeks in the gorgeous Yucatan capital – even living here for over a month at one stage.
And yet… I've NEVER written about the city. Not once! Not except for a couple of mentions in passing – and never in the detail that I'm definitely qualified to give.
The places I love the most are often the hardest to write about. Maybe it's the fact that I actually lived here (albeit temporarily), so my time in the city was spent mainly doing everyday things like meeting up with friends, coworking in cafes, shopping, and doing laundry. (And, let's be honest, partying!).
In between all that, however, I have done pretty much every single thing there is to do in Mérida!
And now, finally, whilst sitting in the leafy courtyard of my lovely hotel listening to music drifting on the air from the Plaza Grande a block away… I'm writing up the post I always should have, to help you figure out what to do with your time in Mérida. Buen viaje!
Shortlist: Things to do if you only have One Day in Mérida
Many people only spend a night or two in Mérida on the way to or from somewhere else. Personally, I think the city deserves at least 3 days – but if you don't have time for that, here's a quick list of the can't-miss highlights. More info on each one in the next section of this post.
Visit the Plaza Grande and Merida Cathedral
Take the Merida Free Walking Tour and/or the hop-on hop-off bus tour.
Go for a walk or bike ride along Paseo Montejo
Visit the Mayan ruins at Dzibilchaltún (and the nearby Mayan World Museum of Mérida if you have time)
Head to some of Mérida's fab free museums, like the Gastronomy Museum and City Museum, or pop into the Governer's Palace to see the murals.
EAT – this city is known for its rich gastronomy and amazing restaurants!
Enjoy the city's nightlife – from free shows in the Plaza Grande to saloon-style cantinas and hipster bars.
17 Things to do in Mérida
1. Take the Merida FREE Walking Tour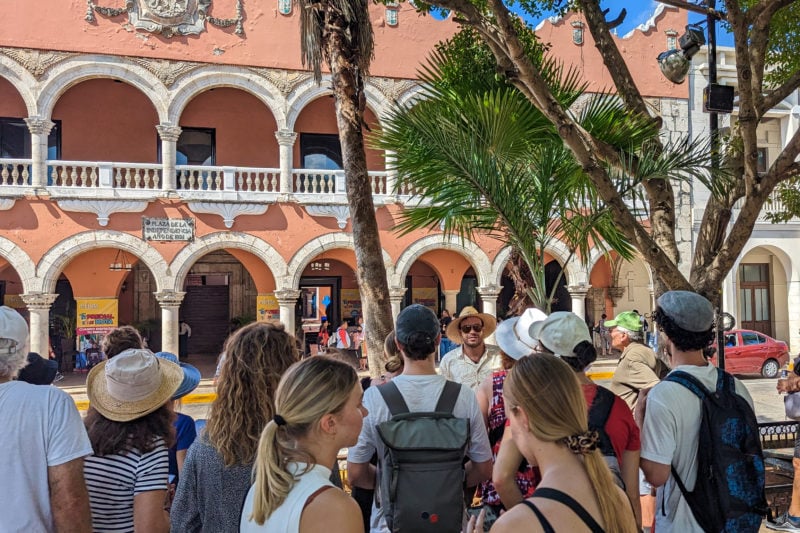 One of the best things to do in Mérida is to take the free walking tour. Discover the colourful Centro Historico and some of its most iconic buildings, churches and parks with a passionate and knowledgeable local guide.
These tours will give you a brief overview of the city's history and some interesting facts about various buildings. Try to do the tour on your first day in Mérida, as the guides are full of tips for the rest of your visit. These are real "insider" tours with some great local recommendations for food, nightlife and other attractions.
There are a couple of different free tours in the city. I recommend the Free Tour Merida by Free Walking Tour Mexico, which departs from the Parque de Santa Lucia every day at 10am and 5pm. Although the tours are free, tipping (aim for $10-15 USD pp) is encouraged as the guides are volunteers.
2. Wander Around Plaza Grande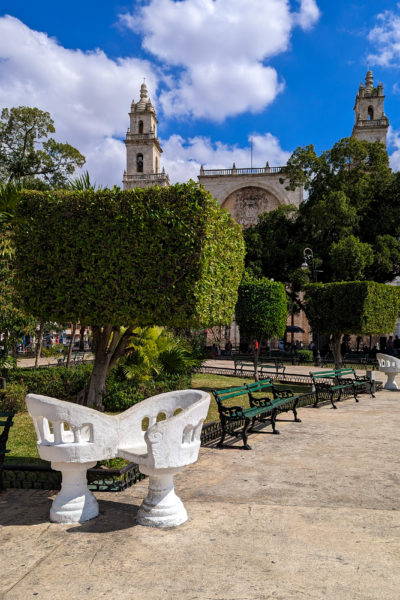 At the heart of Mérida's colourful Centro Historico, the Plaza Grande is the city's central square. Also called the Plaza Principal or Zocalo, this bustling park is a lively hub which hosts regular events. There are some pretty gardens and – of course – the obligatory colourful Mérida sign. Look out for the iconic "You and Me" chairs; white-painted benches with two seats facing one another.
The Plaza is also surrounded by some of the most notable buildings in Mérida:
Mérida Cathedral (more on that in a sec)
Palacio del Gobierno (Governer's Palace) – a striking green building home to several incredible murals. More on this one in the "Museums" section near the end of this post.
Casa Montejo – one of the oldest buildings in the city with an impressive carved facade and a free museum inside.
3. Visit the Cathedral of San Ildefonso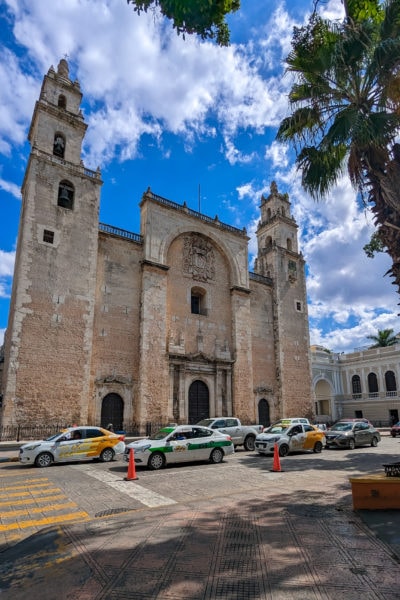 The Catedral de San Ildefonso – aka Mérida Cathedral – is the oldest cathedral in Mexico. It was completed in 1598, and was built on the grounds of the Mayan city of T'ho – using stone reclaimed from one of the ancient temples. Don't miss this historic building when you visit Mérida.
4. Stroll Along Paseo de Montejo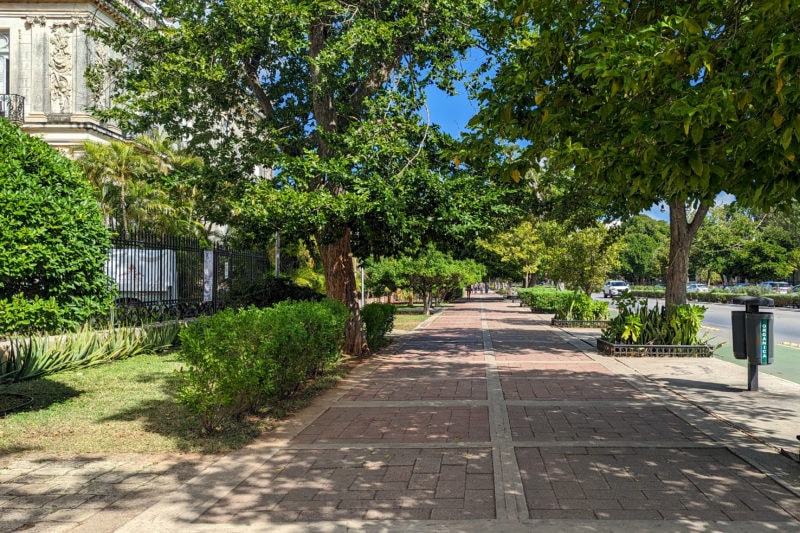 Paseo de Montejo is a wide avenue and major road, lined with tree-shaded walking paths and several stunning 19th-century mansions. There's a lot to see here, so spend some time walking along the leafy boulevard and checking out some of these top sights…
Monumento a la Patria – the most iconic monument in Mérida, dedicated to the Homeland. It was created by the Mexican-Colombian sculptor Rómulo Rozo, with Prehispanic-inspired carvings and depictions of scenes from Mexican History.
More monuments – Monument to Felipe Carrillo Puerto, Monumento Justo Sierra, and the Monument to the Montejo.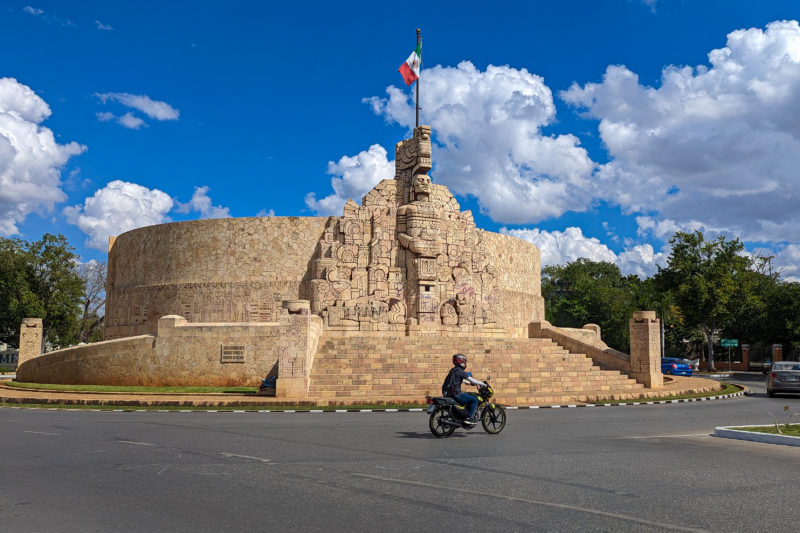 Tour the beautiful mansions– Quinta Montes Molina (dating from 1902) and Montejo 495 (built 1906-1912).
Visit Palacio Canton – a majestic yellow mansion housing an Anthropology Museum.
Foodie recommendations: Gelato Fiorella for amazing ice cream, Rosas & Xocolate for one of most famous restaurants in Mérida, and La Bottega for Mediterranean food in a fancy wine bar.
Paseo 60 – trendy shopping mall with a cool food court around a sleek courtyard.
5. Take the Hop-on Hop-off Bus tour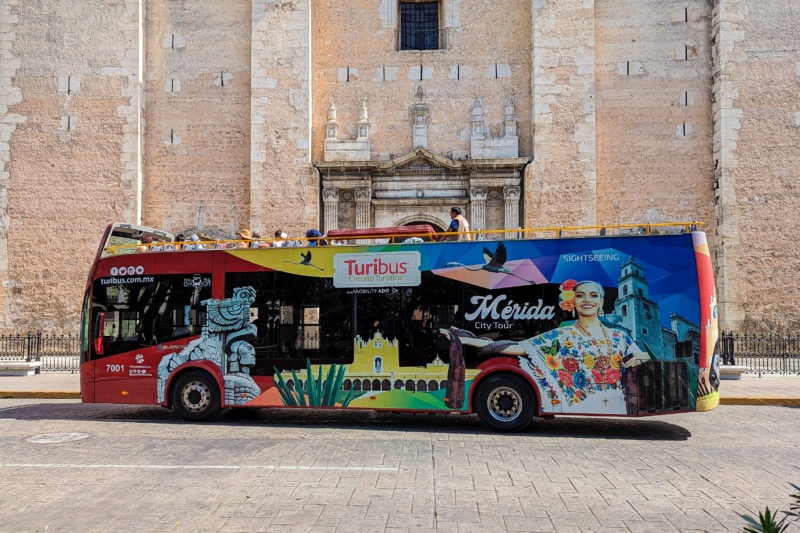 If you're short on time, or want to see a lot of Mérida without doing too much walking, the hop-on hop-off open-top bus tours from Turibus are PERFECT.
At $120 MXN (roughly $7 USD) per adult, it's not too expensive. And it's such an easy, hassle-free way to see a lot of the main sights in one go.
There are two different routes – I recommend the Ruta Norte if you only have time for one, as this will take you through the Centro Historico and along the Paseo de Montejo. Hop off at Plaza Paseo 60 for a stroll along the wide boulevard and a closer look at the monuments and palaces there (you can grab lunch in the Paseo 60 food court).
You can buy your tickets online via the Turibus website (which is in Spanish) or through Viator (click here), which is about $1 USD more but may be easier if you don't speak Spanish.
6. Explore the Mayan Ruins at Dzibilchaltún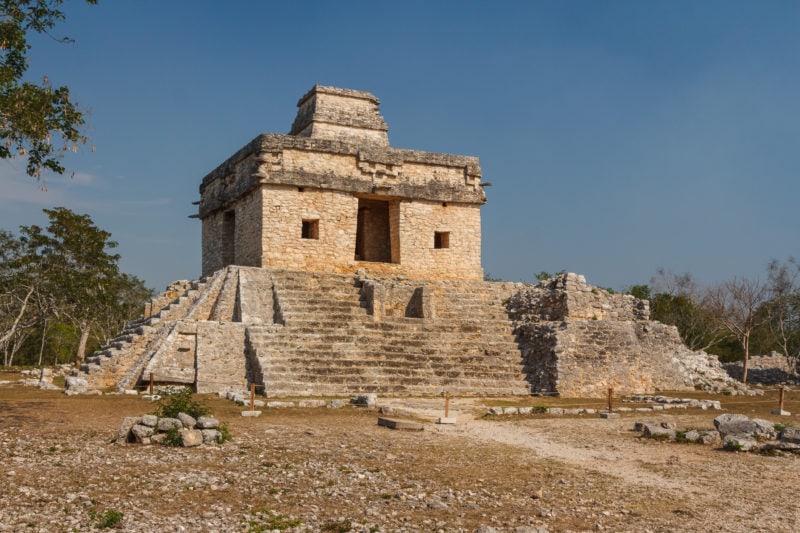 Chichen Itza gets all the glory, but there are many more Prehispanic sites in the Yucatan Peninsula. One of them, Dzibilchaltún, is on the outskirts of Mérida – so it's a must when you're visiting the city!
The ancient Mayan settlement, surrounded by thick vegetation, was inhabited since 500 BC – although most of the buildings you can see today date from around 600-1150 AD.
The most famous sight at Dzibilchaltún is the Temple of the Seven Dolls – named because several small effigies were found here when the temple was discovered. There's also a cenote near the centre of the ruins, Cenote Xlakah. You can swim in the cenote's pool, so it's perfect for cooling off after exploring the ruins!
7. Learn More at the Gran Museo del Mundo Maya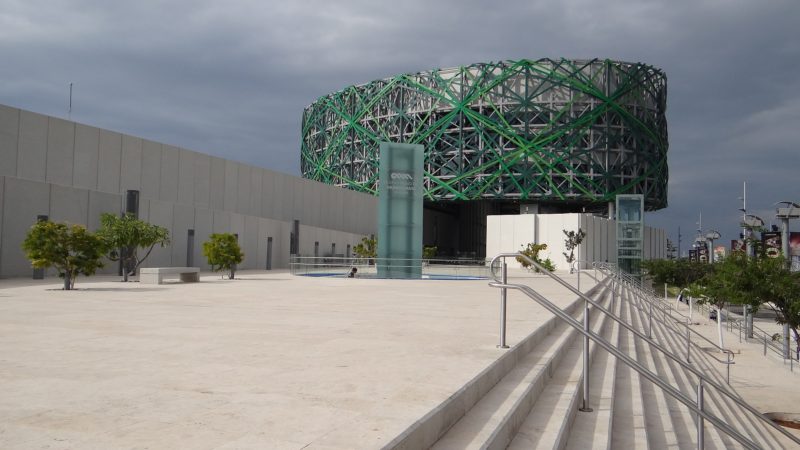 Combine your trip to Dzibilchaltún with a visit to the nearby Gran Museo del Mundo Maya (Mayan World Museum of Mérida).
This is a swanky new museum in the north of the city dedicated to the region's Mayan heritage, with interactive exhibits covering the history of the Maya, as well as the Mayans of today.
8. Check out the Costco Cenote!
The Yucatan Peninsula is famous for its cenotes (water-filled limestone sinkholes), and several of the best ones are within easy reach of Mérida. But did you know there's actually a cenote in the city centre? Specifically, in the carpark of a Costco?!
Cenote Ka' Kutsal – often called the "Costco Cenote" – is in the carpark behind the Costco in the north of the city, not far from the Gran Museo del Mundo Maya.
You can't go swimming in the Ka' Kutsal Cenote, but it's worth a visit if you're in that area. If you want to go swimming in a cenote, book a day trip to one of the cenotes outside the city, like Cuzama or Santa Bárbara.
9. Watch a Mayan Ball Game (Pok Ta Pok)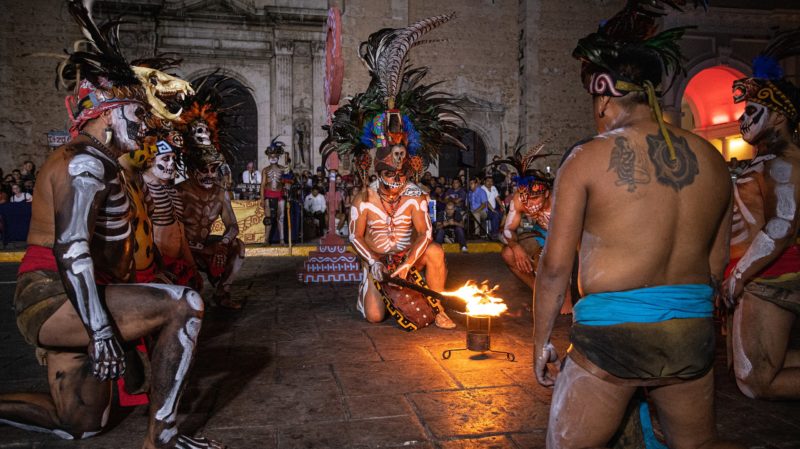 One of the most intriguing aspects of ancient Mayan culture was the ball game called Pok Ta Pok. Anyone whose seen my favourite animated movie, Road to El Dorado, will probably recognise this game, in which two teams compete to knock a rubber ball through a stone hoop using only their hips.
It was played both recreationally and ritually, with ritual games sometimes ending with the sacrifice of the losing team in order to honour the gods.
These days, you can watch a recreation of this traditional game – minus the ritual sacrifice – in front of Merida Cathedral. This is usually held on Saturdays at 8pm – but check at the Tourist Information office (on the Plaza Grande) or at your accommodation, as the timings may change.
10. Don't Miss the Mérida Cathedral Video Mapping Show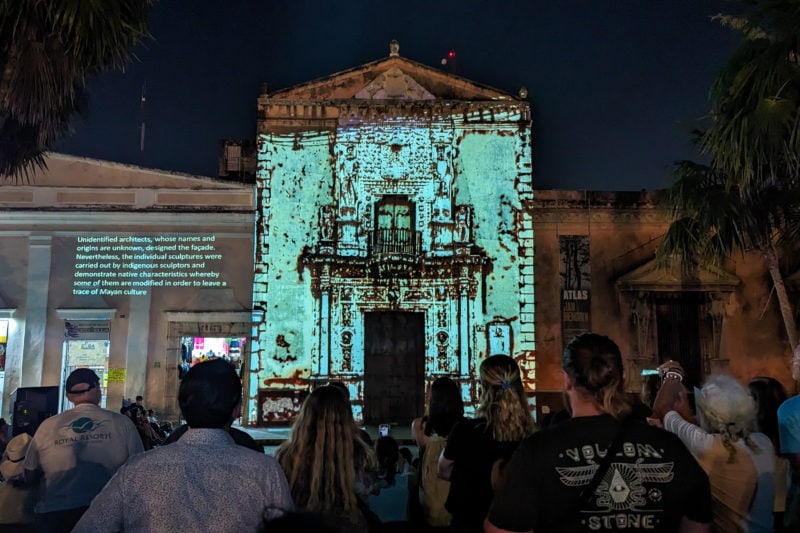 There ALWAYS seems to be something going on in the Plaza Grande in the evenings! At weekends, don't miss the free outdoor Video Mapping events.
These are two fascinating sound-and-light shows which play out the city's history on the facades of two iconic buildings: the Cathedral (Fridays at 8pm) and Casa Montejo (Saturdays at 8pm). Projections also highlight and enlarge interesting parts of the building's architecture. After the Casa Montejo Video Mapping, there's a short play followed by some traditional dances. It's a brilliant cultural event and a fun insight into local history.
11. Explore Mérida's Markets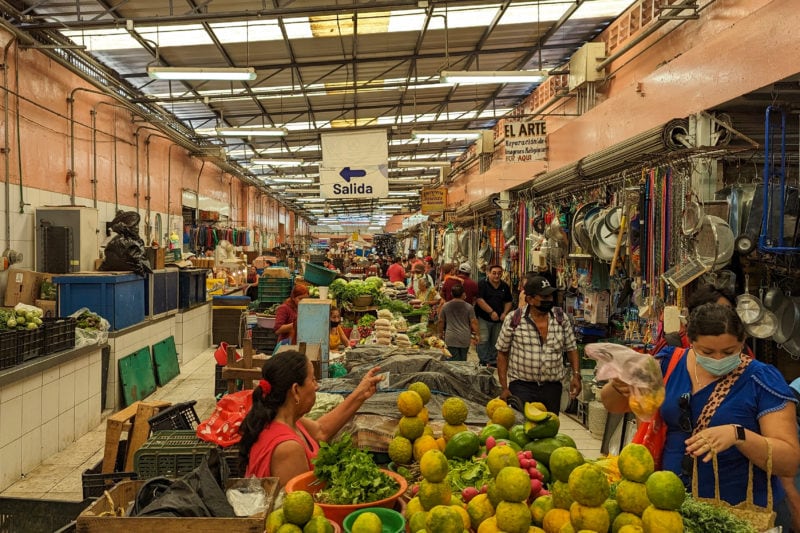 Mercado de Lucas Galvez – Big, sprawling, and maze-like, you can buy everything from fresh fruit to a pet rabbit at this enormous city centre market.
There are some great, affordable food stalls both inside the covered market and in the courtyard behind. Don't miss the nearby Mercado de Artesanos in the arches next to the City Museum.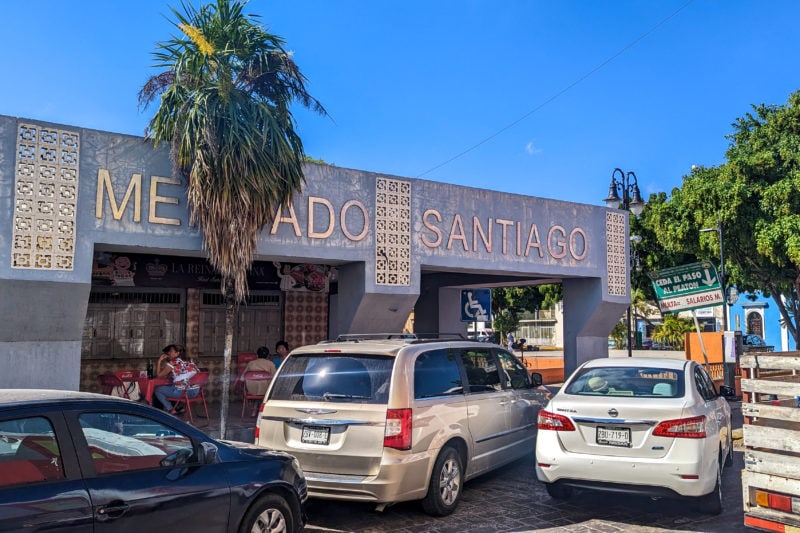 Mercado Santiago – This smaller indoor market is home to some excellent eateries. Don't miss the famous Taqueria La Lupita.
Mercado de Santa Ana – A small public market known for its excellent outdoor food stalls in the picturesque Parque Santa Ana. A great place to try authentic, affordable food.
12. Sample Local Yucatecan cuisine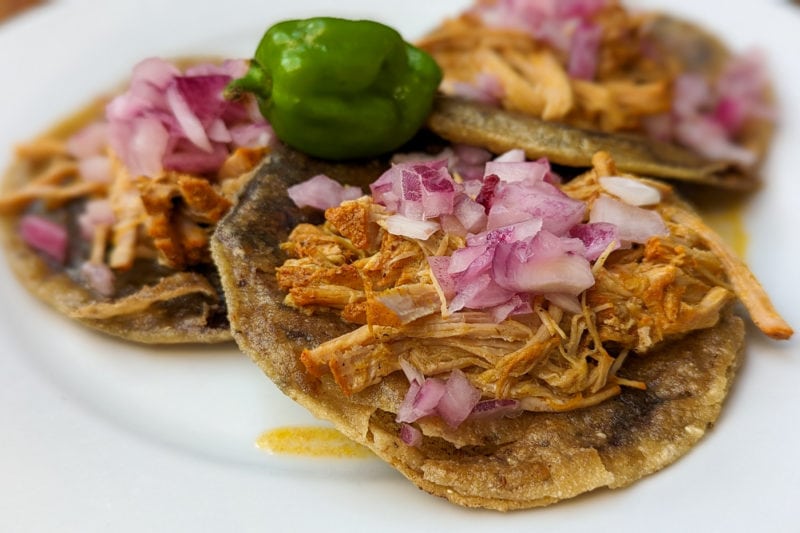 Every region in Mexico has its own unique cuisine, and Yucatan is no different. Mérida in particular is known for its thriving gastronomical scene and brilliant eateries. I swear, there seems to be a brilliant new restaurant opening every week! While you're visiting, be sure to try a few of the local specialities, including:
Cochinita Pibil – traditional Yucatec Mayan pulled pork, marinated in orange and achiote (a local spice) and slow-roasted.
Sopa de Lima – lime soup, usually containing chicken or turkey and topped with tortilla chips.
Panuchos – corn tortillas stuffed with beans and deep fried, often served with turkey or cochinita pibil on top.
Queso Relleno – "stuffed cheese": a partially hollowed-out Edam cheese, stuffed with minced meat, raisins, nuts, various spices, and sometimes olives and/or boiled egg. This is a beast of a dish, so it might be worth sharing it!
Poc Chuc – strips of roasted pork that have been marinated in sour orange juice, served with refried beans and pickled onions.
Try this Merida Street Food Tour (from $59 USD) to learn more.
READ MORE: Yucatan Food Guide
13. Dine at the Gastronomy Museum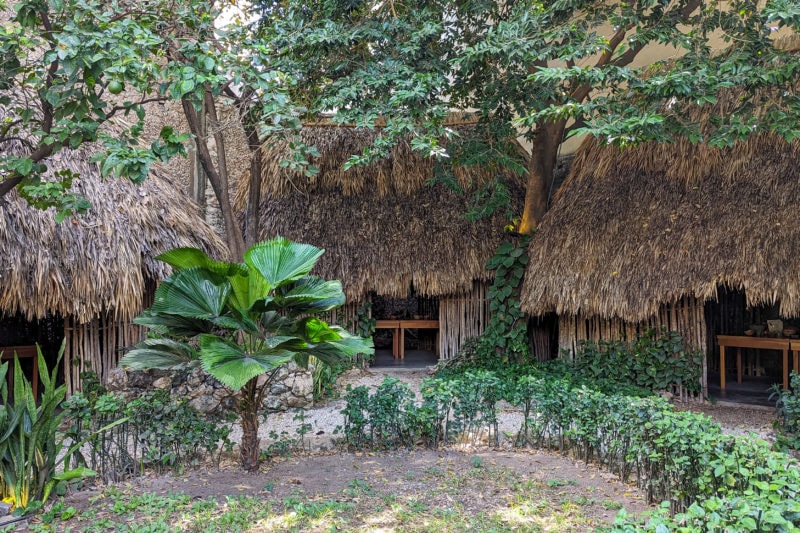 Speaking of Yucatecan cuisine, foodies should DEFINITELY check out the Museo de la Gastronomia Yucateca (MUGY).
This Gastronomy Museum is in a beautiful building with a large, airy central courtyard. The museum itself is fairly small, but it covers Yucatecan gastronomy well, including its Mayan origins, major influences, and the main spices and ingredients. There's also a small outdoor area with exhibits and live demonstrations in traditional Mayan grass huts.
But the main reason to visit the Gastronomy Museum in Mérida is to eat! The restaurant here is one of the best places to sample Yucatecan cuisine, with a menu full of unique local dishes prepared by knowledgeable chefs. Don't miss it!
14. Go Bar Hopping in Mérida!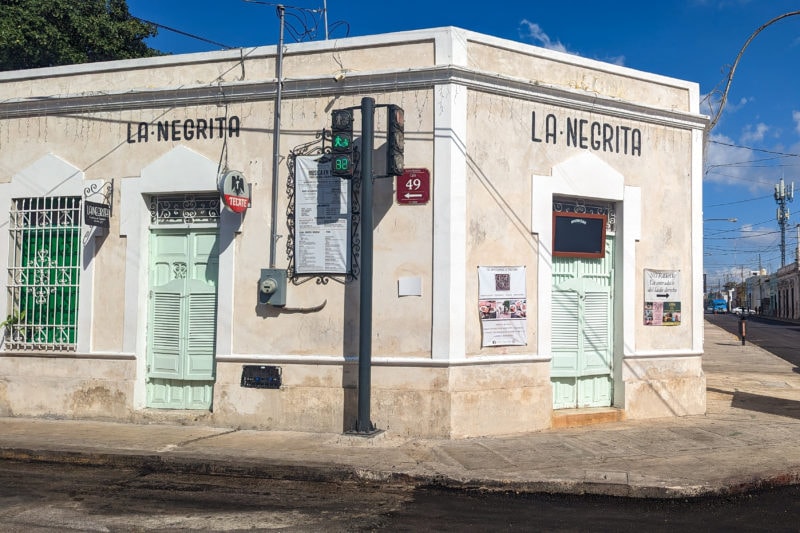 As well as gastronomy, Mérida also has a brilliant nightlife scene. There are so many bars and drinking spots to choose from, from traditional saloon-style cantinas to swish cocktail bars and hidden speakeasies. I'm pretty sure this nightlife is directly to blame for how little I've written about Mérida in the past!
La Negrita Cantina – don't miss this historic local favourite, known for its vintage charm and live music.
Catrin – a seriously cool bar with a quirky courtyard, colourful decor and great drinks.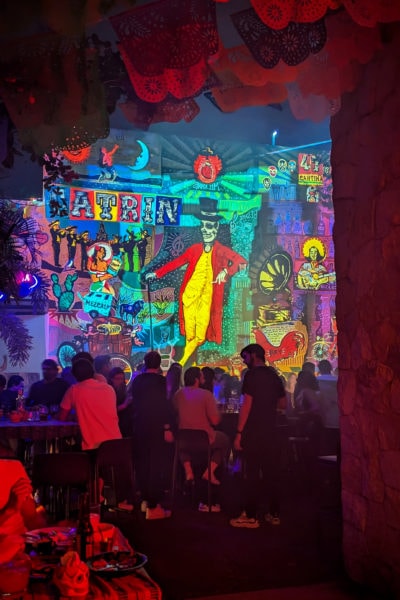 Malahat – a trendy, intimate speakeasy just off the Parque de Santa Lucia, known for its excellent cocktails.
El Cardenal – another local favourite cantina with a cute backyard and lots of live music.
Hermana Republica – fab craft beer venue with a beautiful interior.
La Mezcaleria Mérida – one of my favourite late-night party hotspots in the city, with both live music and DJs and a breezy patio out the back.
Delorean – super-local live music venue with cheap drinks and very few gringos in the audience!
Merida Cantinas Walking Tour (from $49 USD)
Get more great nightlife recommendations from this epic guide to the food and nightlife scene in Mérida from my friends Tom and Meg!
15. Take a Cooking Class
If you want to learn even more about Yucatecan cuisine and Mérida's amazing foodie culture, a cooking class is the way to go. During the 5-hour Taste of Tucatan cooking class (from $79 USD pp), you'll head to the local market to buy supplies, then to a local home for a cooking lesson.
This is such a fantastic way to immerse yourself in local culture and travel a little deeper. Plus, you'll enjoy a delicious 3-course meal and discover some classic local dishes.
16. Explore Mérida's pretty churches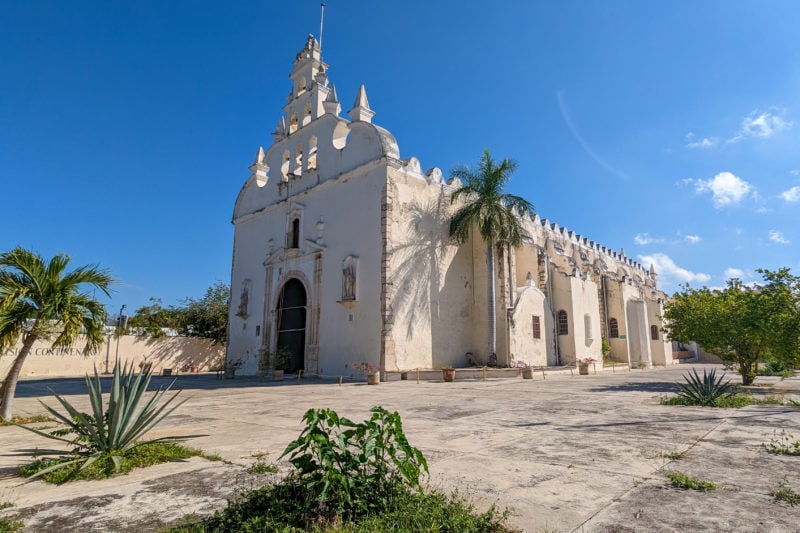 Mérida is one of the oldest European-founded cities in Mexico and is known for its stunning Colonial architecture. As well as the palaces, villas and haciendas that dot the city centre, there are lots of pretty churches to discover, including…
Rectoría El Jesús Tercera Orden – a striking, two-towered church whose walls were built from stones taken from a dismantled Mayan temple. You can still see traces of Mayan carvings on the facade.
Parroquia Santa Ana – this yellow 18th-century church stands on a lovely park.
Temple of La Candelaria – tiny, orange-painted working church just off the Parque San Juan.
Parroquia de Santiago Apóstol – pretty, white church next to a bustling indoor market.
17. Cycle the BiciRuta Mérida Bike Ride on Sundays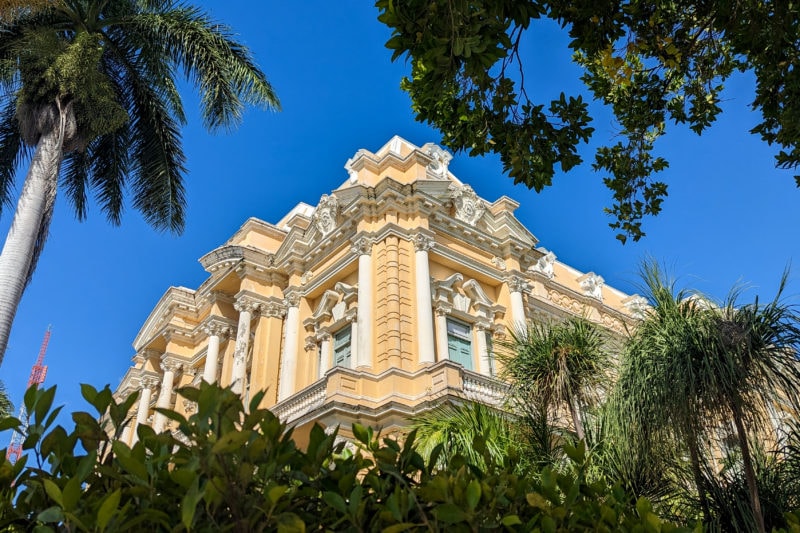 Every Sunday morning, the Paseo de Montejo is closed to vehicles to allow the traffic-free bike ride called the Biciruta. The full route runs from Ermita de Santa Isabel, through the Centro Historico – passing the Cathedral – and up to the Monumento de la Patria.
If you're visiting on a weekend, rent a bike and cycle all (or part of) the route. It's a great way to see the main sights along the leafy Paseo de Montejo boulevard without the usual heavy traffic.
5 More Great Museums in Mérida
I've already mentioned two of the best museums in Mérida above (the Gastronomy Museum and the Grand Mayan World Museum), but there are lots more to discover. Many of them are free, and can be a great way to escape the heat and learn a little more about local history…
1. Casa Montejo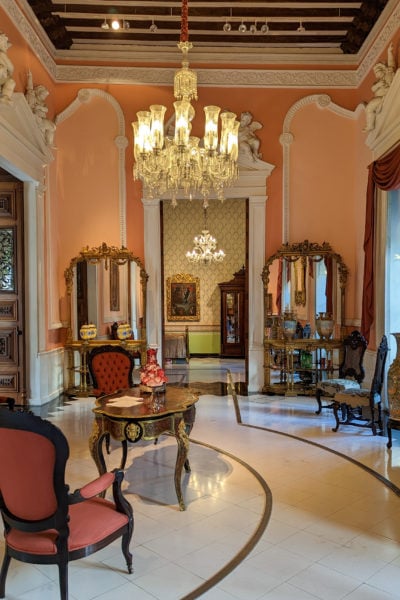 This restored stately home dates back to the 1540s, with its intricately carved facade facing the Plaza Grande. Inside Casa Montejo is a small, free museum with historic furnishings and decorations, giving an insight into how wealthy colonials once lived. There's also a small art gallery with temporary exhibits from a variety of international artists.
2. C.A.C.A.O. Museo – the Chocolate Museum
If you love chocolate, it's worth popping into this small museum on the Paseo de Montejo. C.A.C.A.O Museo is part of an artisanal chocolate factory. Entry is free, and includes a short tour to learn about the chocolate-making process and its roots in Mayan culture. It also includes a chocolate tasting at the end.
3. Museum of the City of Mérida
The Museo de la Ciudad de Mérida is another free museum, this time focusing on local history. It's fairly small, but has some good exhibits showcasing the origins of the city and the Prehispanic roots of the area. Upstairs, there's an art gallery with temporary exhibitions showcasing a variety of artists.
4. Palacio de Gobierno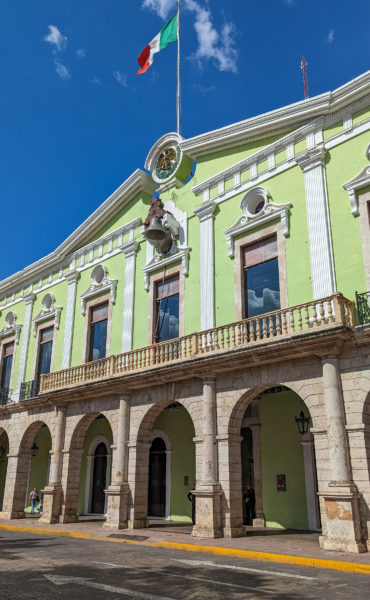 Situated alongside the Plaza Grande, the Palacio de Gobierno del Estado de Yucatán (Governer's Palace) is an elegant, light-green-painted government building dating from the 1890s. Inside are several huge murals by local artist Fernando Castro Pacheco, which showcase a symbolic version of the region's history. Entrance is free (and welcomed – don't let the guards on the door put you off!).
5. Palacio Cantón: Museum of Anthropology and History
The Museo Regional de Antropología de Yucatán is housed within one of the most spectacular mansions along the Paseo de Montejo. Built in the early 20th century for General Francisco Cantón Rosado, this striking yellow mansion is a great example of the eclectic Beaux Arts style.
Inside is a small museum dedicated to local anthropology, with several interesting Mayan artefacts. Admission is $90 MXN, and it's worth a visit just for a look at the inside of the majestic building.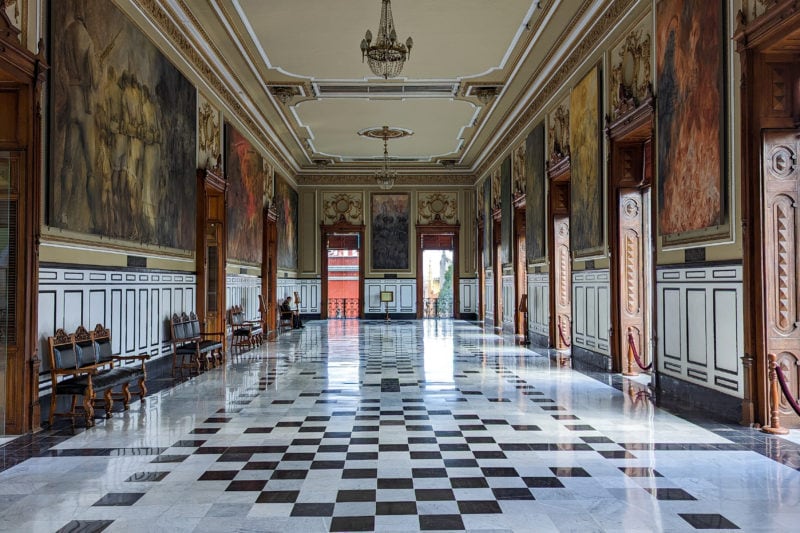 Best Day Trips from Mérida
Merida makes a brilliant base for exploring the rest of the Yucatan Peninsula. Plan a couple of day trips to take in one or two of these nearby highlights…
Chichen Itza – the famous Mayan ruins, home to Mexico's most iconic pyramid (one of the new seven wonders of the world) is about 1.5 hour's drive from Merida, so it makes a great day trip. You can drive, or take the bus to Valladolid and hop in a colectivo. Alternatively, there are many Merida to Chichen Itza tours – like this Chichén Itzá, Izamal, Valladolid, & Cenote Trip (from $62 USD).
Uxmal Mayan Ruins – less famous than Chichen Itza, the ruins at Uxmal are about an hour's drive from Merida. They're usually much quieter – and you can still climb the pyramids to get close-up to the ruins. Try this tour of Uxmal and Sotuta de Peon Hacienda (from $77)
Las Coloradas (the famous pink lakes ) and Rio Lagartos – these stunning pink lakes within the Rio Lagartos Biosphere Reserve are almost 3 hours from Merida, so it's quite a long day trip. This tour combines the Pink Lakes with a visit to Chichen Itza – perfect for those who are short on time (from $124.50).
Celestun Biosphere Reserve – known for its flocks of pink flamingoes and idyllic white sand beaches, this biosphere reserve lies within much easier reach of Merida – around 1.5 hour's drive away. You can get there by public bus, or try this Ria Celestun Biosphere Reserve Tour (from $154 USD)
Progreso Beach – the closest beach to Merida, Progreso is a local favourite – known for its amazing seafood and chilled-out vibes. You can get there super easily – take the Autoprogreso bus from downtown (buses leave every 20 minutes or so and take about an hour).
Cenote Tours – There are lots of awesome cenotes within day trip distance of Merida. Try this Full-Day Cuzama Cenote Tour (from $97 USD) or this Tour to the Cenotes of Santa Barbara & Mayapan ruins (from $129.85 USD).
More Nearby
How to Plan a Trip to Rio Lagartos
9 of the Best Day Trips from Cancun
I hope you found this guide to what to do in Mérida helpful. Got a great suggestion of your own? Scroll down to leave a comment!