Some posts on this site contain affiliate links. If you book or buy something through these links, I earn a small commission (at no extra cost to you). Take a look at my privacy policy for more information.
Yves might have the best view in Barcelona.
As we sat on his roof terrace around a table so full of dishes I almost couldn't put my wine down, enjoying a mild and breezy May night in Catalonia, I could barely take my eyes off that shimmering city of light spreading out like a golden puddle beneath us. It was, as Barcelona always is, mesmerising. But, in the end, I had to look away: there was tapas to be eaten.
Earlier that evening, when I'd arrived at Yves's home in Pedralbes, one of Barcelona's most attractive suburbs, we'd stood on the roof ter
race just as the sun was starting to set, turning that beautiful city a warm, pinkish gold. It was a beautiful moment of calm, one which came – as they so often do – before a storm.
Down in the kitchen, surrounded by more jars, bottles and bowls of herbs and spices than I've ever seen in my life, there was barely time to enviously admire Yves's absurdly well-equipped and well-stocked kitchen, before a frenzy of cooking began. Four travel bloggers, one seasoned and passionate chef, the ambitious time-challenge of an hour from Yves, and eight tapas dishes. The game was on.
While I gutted a botifarra – a traditional Catalan pork sausage – to make meatballs, my co-chefs all set about tackling different tasks. There was hake to be grilled, nuts to be ground, and garlic mayonnaise to be handmade. Yves darted between us all, handing out instructions or b
anter ("it's perfect – I'm very surprised"), sharing some seriously helpful cooking tips, and charming us all with his infectious love of Catalan cuisine. A self-termed 'Social Cooker' who gave up his life in online marketing several years ago to follow his passion, Yves runs cooking classes and private dinners from his beautiful home, under his Buy, Cook & Eat… Like a Local programme. Speaking Catalan, Spanish, English and German, Yves is warm and welcoming, incredibly knowledgeable, and a brilliant cook, making his classes a fantastic way to experience Barcelona like a local, have a more authentic food experience, and really get to know the Catalan cuisine.
After three weeks spent eating my way around Catalunya, enjoying sea food along the Costa Brava, tasting wines at vineyards in Emporda, and generally eating everything that came my way, this in-depth Catalan cooking lesson with Yves from experiential travel startup Bonappetour was the perfect way to end my trip; learning about the ingredients and origins of some of my favourite tapas, and taking home the perfect souvenir in the form of new recipes and cooking experience.
Like the recipe for one of my favourite tapas dishes, also one of the most simple and popular: patatas bravas. All too frequently served up with shop-bought bravas sauce, under Yves's supervision we learnt how to home-make garlic mayonnaise and a spicy tomato sauce, w
hich we splashed on top of the oven-backed potato wedges to create the classic Spanish tapa. Most tapas is like that; a surprisingly simple recipe which all is about combining great, bold flavours, brought together relatively quickly into a dish which tastes delicious and looks far more fancy than it actually is. Another example: we lightly grilled some sliced baguette, topped with a fatty, spreadable chorizo paste and a sprinkle of cheese. It took minutes to make, but looked really impressed and tasted incredible.
Slightly more complicated to prepare was the Romesco sauce, which thankfully wasn't one of my tasks. A red pepper-based sauce made with almonds and hazlenuts, Romesco features in many Catalan dishes, having originated amongst fishermen in Tarragona – and fellow blogger Matt faced the daunting task of preparing it all with a mortar and pestle. The result was well worth the effort. My botifarra meatball dish was another of the more complicated ones, but still relatively simple. I fried the meatballs with some mushrooms, added a generous glug of Ranci (a sweet Catalan wine similar to sherry, which literally translates as rancid wine), and let it all reduce. Naturally, it was the best dish of the lot – thanks, of course, to me – and one I'll definitely be making again.
Alongside all that we served up grilled hake, a bean salad, the very traditional Catalan dish of Padrón peppers blackened in a pan- which pop as they cook, like popcorn – and mushrooms fried in garlic. The table on the roof terrace was stuffed with dishes, all of them incredibly te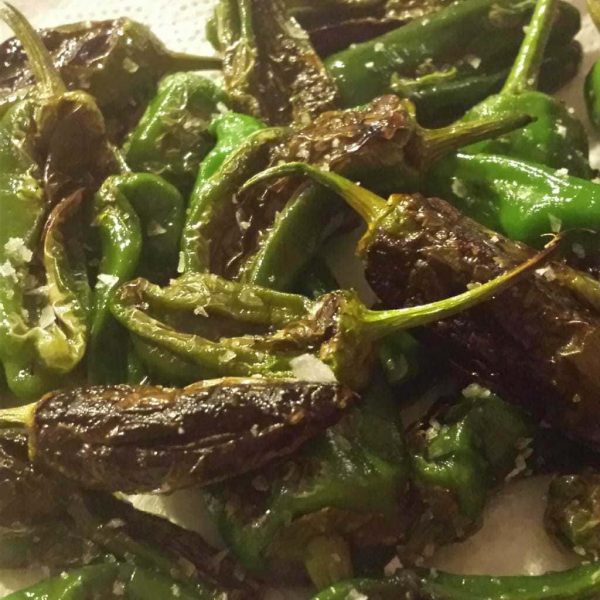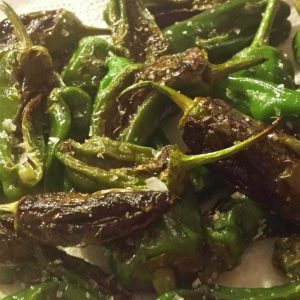 mpting, and, surrounded by that magnificent view, we feasted on some of the best food I've ever tasted. And for dessert was another absurdly simple but delightfully effective dish; chocolate truffles, wrapped in puff pastry and fried, creating a hot and crispy chocolate explosion. Beautiful!
It was easily one of the best food experiences I've ever had on my travels, and definitely one of the highlights of my time in Catalunya. Getting to know more about the Catalan food I'd so fallen in love with, learning to cook tapas, and chatting with a friendly and passionate local about his cuisine… what a perfect end to a trip which had centred so much on food.
[stextbox id="info" caption="More Information" bgcolor="F0F0F0″ cbgcolor="0ABAB5″ bgcolorto="F0F0F0″ cbgcolorto="0ABAB5″]
BonAppetour is a brilliant new company which brings travellers and locals together for authentic foodie experiences – whether that's cooking lessons, market tours, or homemade meals. With hosts in 50 cities across 25 countries and five continents, there are so many exciting food experiences on hand to help you travel deeper, meet locals, and really connect with a new culture. Definitely highly recommended.
View Yves' Page on BonAppetour to see what experiences he offers!
Disclaimer: I received one free experience with Bonappetour in order to research and write this review. However, that hasn't influenced my opinion in anyway, and all thoughts and words above are my own and 100% honest. It really was that good!
Also – the links in this article are affiliate links, which means I'll make a small commission from BonAppetour on all sales generated by me. This doesn't affect the price you pay at all, so if you liked the review please support my site by using these links to reach BonAppetour!
[/stextbox]