Some posts on this site contain affiliate links. If you book or buy something through these links, I earn a small commission (at no extra cost to you). Take a look at my privacy policy for more information.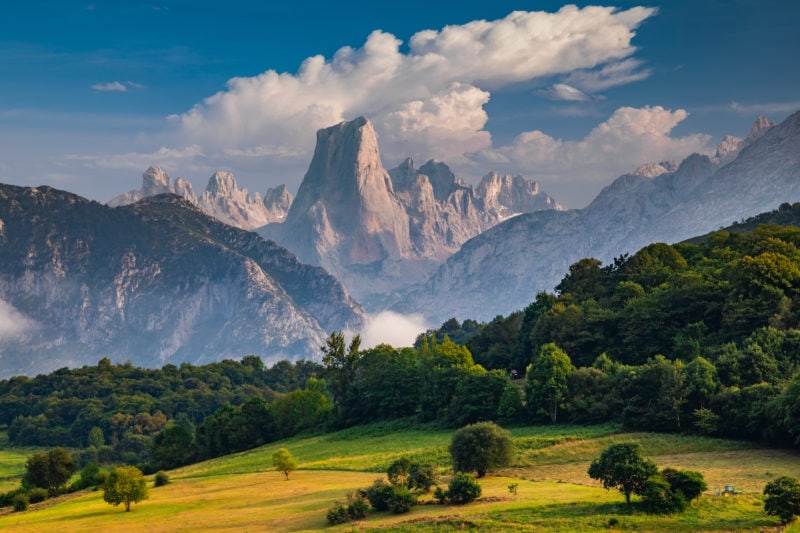 Your guide to the best National Parks in Spain for hiking, biking, and other outdoor adventures…
When you think of Spain, it's easy to picture the country's vibrant cities, stunning beaches, and rich cultural heritage. But did you know that Spain is also home to some of Europe's most breathtaking national parks?
From rugged mountains and dramatic gorges to lush forests and pristine coastline, Spain's natural beauty will leave you awestruck.
These stunning national parks are also the PERFECT setting for adventure. There are hiking and biking trails galore, and ski slopes in the mountains during winter. In summer, you can go kayaking on winding rivers or horse riding along forested mountain trails.
For thrill-seekers, there's also a plethora of adventure sports to try, including rock climbing, canyoning, rafting, caving, and paragliding.
So lace up your hiking boots and get ready to experience some new adventures at the best national parks in Spain…
8 Best National Parks in Spain
There are fifteen national parks in Spain – covering a wide variety of landscapes. Below, I've outlined a few of the very best for hiking, biking, and other outdoor adventures.
The following rankings are based on a study by Spain-Holiday, which ranked all the country's parks based on 3 different data points: the amount of hiking routes in the parks and each park's rating on Google and on AllTrails.
1. Picos de Europa: Asturias, Cantabria and León
Hiking, rock climbing, and mountain views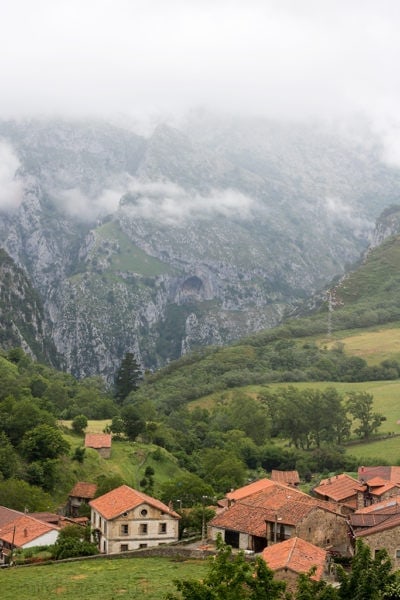 Nestled in the north of Spain, the Picos de Europa National Park is a paradise for hikers and nature enthusiasts. With over 150 hiking trails listed on All Trails, 30 self-guided driving routes, and 17 viewpoints dotted across the park, there are dozens of ways to soak up the dramatic mountain landscapes of this stunning national park.
Picos de Europa is also home to the Ruta Vadiniense, an epic long-distance walking trail that connects the Camino Santiago with the Camino del Norte.
Expect towering limestone peaks, deep gorges, and densely forested valleys. Although the mountain landscapes are snowy in winter, there are no ski resorts in the Picos de Europa – this national park is best known for its hiking and rock-climbing opportunities.
Don't miss the Teleférico de Fuente Dé, a cable car that rises from 1094 to 1847m above sea level, for panoramic views that will take your breath away. I did this a few years ago when I was exploring Cantabria and I highly recommend it.
2. Sierra Nevada: Andalusia
Skiing, snowboarding, hiking, and trail running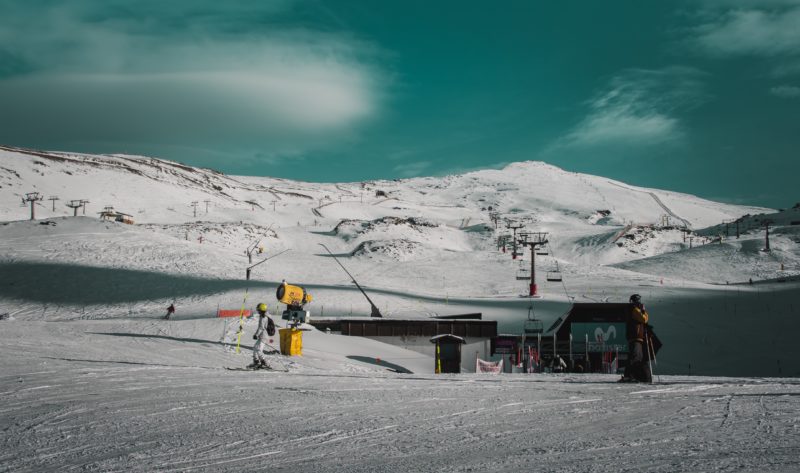 Sierra Nevada National Park, located in the region of Andalusia, is a year-round playground for outdoor enthusiasts. In winter, it's a ski lover's dream, boasting some of Spain's best ski resorts.
Ski lifts go from Sierra Nevada village to a myriad of slopes to suit all beginners. As well as skiing and snowboarding on the slopes – you can also try snowshoeing and cross-country skiing in the later months of the season (January to March).
During the warmer months, the park comes alive with hiking, mountain biking, and rock climbing opportunities. The high-altitude meadows are dotted with wildflowers, creating a picturesque backdrop for your adventures. And if you want a whole new perspective on the Sierra Nevada's mountainscapes, you could even try your hand at paragliding!
Trail running is a popular adventure sport all year round. The high peaks have some excellent trails during the summer months, and in winter the lower parts of the national park are below the usual snow limit. So if you're a fan of trail running, the Sierra Nevada is the place for you!
3. Teide National Park: Tenerife
Stargazing, hiking, and wildlife spotting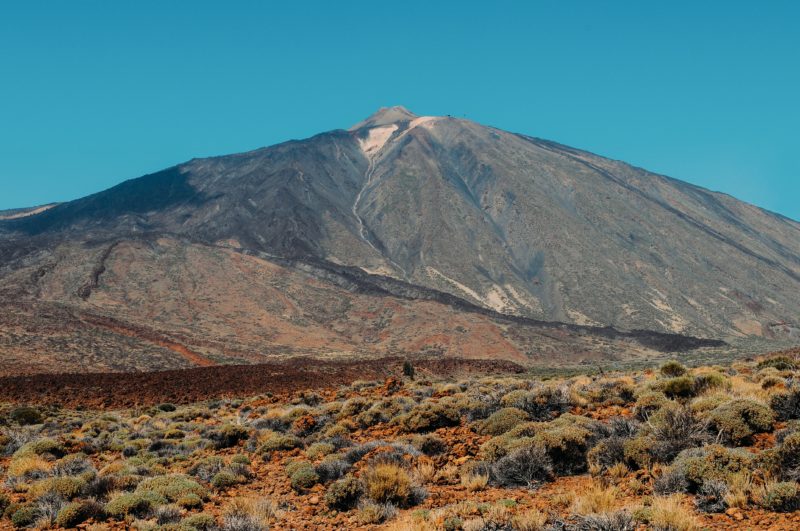 Tenerife, part of the Canary Islands, is home to Teide National Park. It's named for Mount Teide, Spain's highest peak at a whopping 3,715m above sea level. This towering volcano is the star attraction in the national park. You can hike to the summit – or take the cable car up – for a view that's out of this world.
The lunar-like landscapes surrounding the huge volcanic crater at Mt Teide's summit can seem like you've stepped onto another planet. Formed by countless volcanic eruptions, these bizarre landscapes are – perhaps surprisingly – a haven for flora and fauna.
There are 168 plant species, 58 of which exist only on the Canary Islands; keep your eyes peeled for the striking Teide Violet, which only grows at altitudes of over 2,500 metres. There's also an abundance of wildlife and birdlife to look out for, several of which are endemic to the island: such as the Tenerife Gecko, the Tenerife blue chaffinch (aka the Teide Finch), and the Canary big-eared bat.
Teide is also known as a prime stargazing location – especially the peak of Mount Teide, from which you can see 83 of the 88 constellations.
Far from the light pollution of Tenerife's towns, this peak has been officially recognised as a Starlight Destination thanks to its perfect stargazing conditions. Take a stargazing tour or head to the Teide Observatory – the world's largest solar observatory.
4. Ordesa y Monte Perdido: Huesca (Aragon)
Canyoning, mountain hiking, and snowshoeing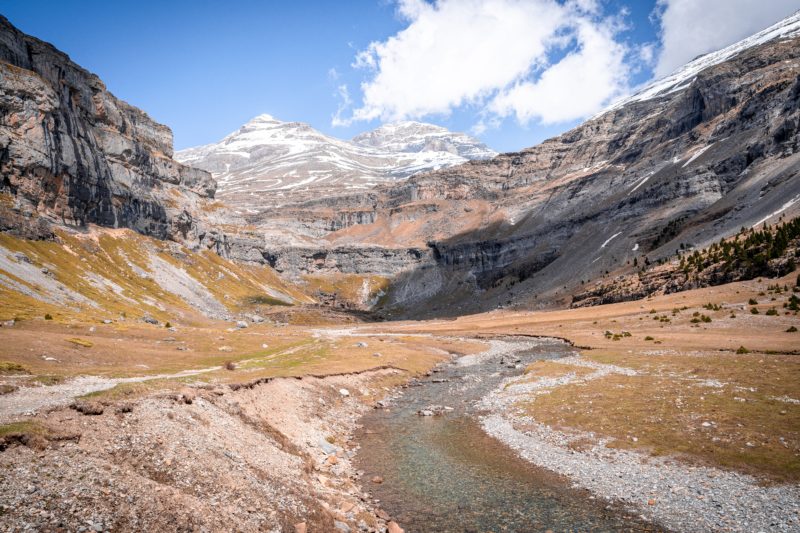 Located in the Pyrenees Mountains, Ordesa y Monte Perdido National Park is a UNESCO World Heritage Site and one of Spain's best-loved national parks. With a Google rating of 4.9, you know you can expect great things from this mountainous region on the French border.
The park's crown jewel is the Ordesa Valley, a glacial canyon surrounded by towering peaks. Hiking trails of varying difficulty levels crisscross the park, offering something for everyone. Be sure to explore the stunning Monte Perdido, which stands at over 3,000 meters, providing awe-inspiring vistas.
For adventure enthusiasts, there are several canyoning opportunities in Ordesa y Monte Perdido National Park. Get hands-on experience with the park's river-filled canyons as you jump, slide, climb, and rappel through the ravines! In winter, the snow-covered landscapes provide the perfect opportunity for sports such as ice climbing and snowshoeing excursions.
5. Aigüestortes i Estany de Sant Maurici: Catalonia
Watersports, hiking, and biking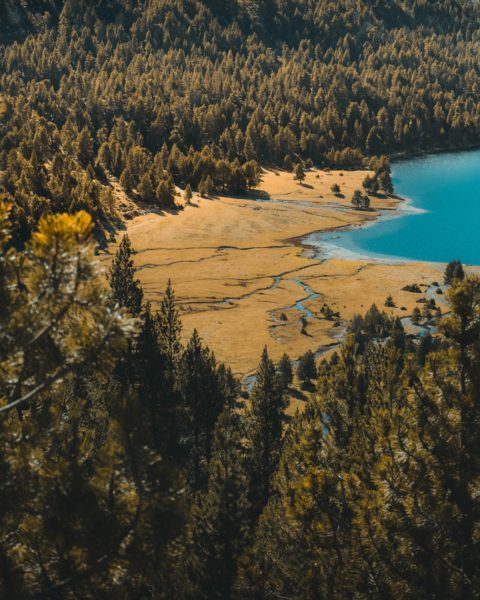 Located in the Catalan Pyrenees, this national park is a bit of a hidden gem. Its name might be a tongue-twister, but the natural beauty is pure poetry!
This is the only one of Spain's fifteen national parks found within Catalonia (aka Catalunya). Alpine lakes, dense forests, and jagged peaks await adventurers. Hike to the Sant Maurici Lake for a picture-perfect moment surrounded by the stunning Aigüestortes landscape.
While the 47 hiking routes and numerous biking and horse riding opportunities are perfect for exploring – the true joy of this national park is found on the water! Aigüestortes is crisscrossed with rivers and lakes, which provide rich habitats for birds and wildlife. They also provide ample opportunities for watersports, from the gentle (fishing, kayaking, and paddleboarding) to the more thrilling (rafting, hydrospeed, and canyoning).
6. Sierra de Guadarrama: Castile and León
Winter sports, rock climbing, and mountain biking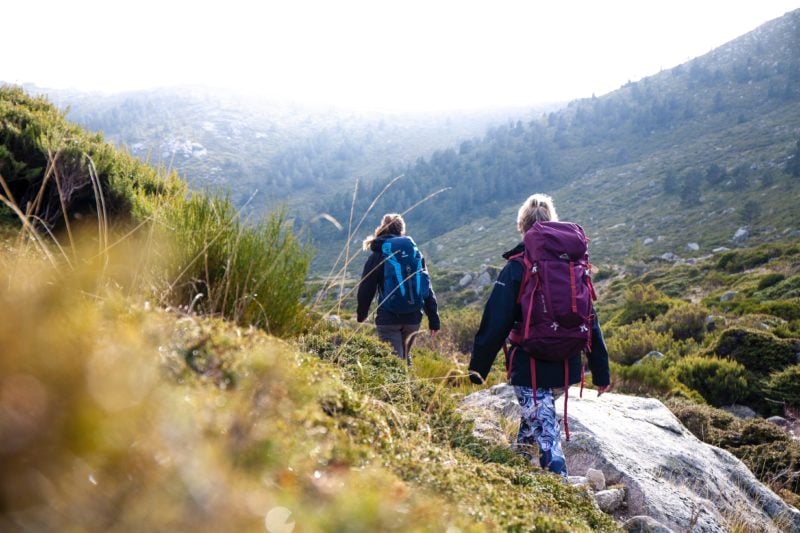 Just a stone's throw away from Madrid, Sierra de Guadarrama National Park offers a convenient escape to nature for those visiting the Spanish capital. The park is characterized by its rugged terrain, high peaks, and dense forests.
It's a haven for outdoor activities like hiking and mountain biking – with six official bike routes, eight signposted hiking trail, and 202 trails listed on AllTrails. You can even take a guided horseriding tour to explore the mountain scenery – the perfect way to get back to nature!
And in winter, the park transforms into a snowy wonderland, making it a popular destination for skiing and snowshoeing.
Sierra de Guadarrama is also known as one of the most important areas in Spain for rock climbing. With a wide variety of climbs to suit all levels and abilities – and a range of courses on offer – it's a great place to learn rock climbing!
7. Sierra de las Nieves: Andalusia
Caving, canyoning, hiking, and horse riding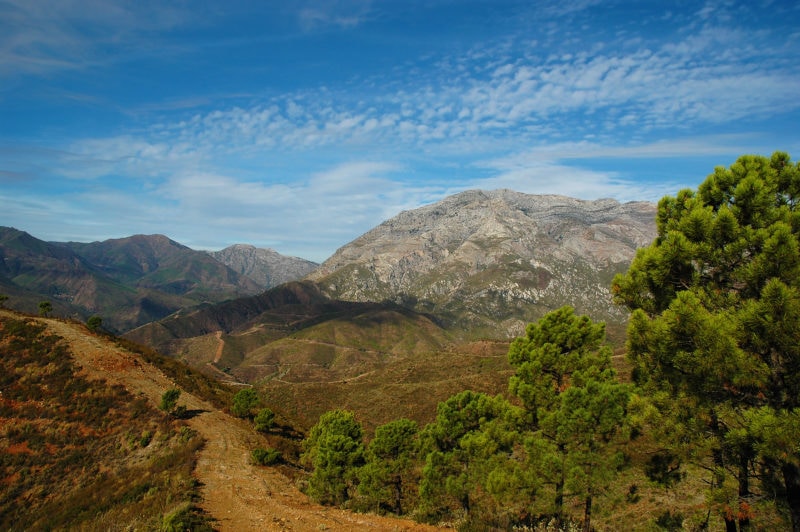 Nestled in the province of Malaga, Sierra de las Nieves National Park is a pristine wilderness that beckons explorers. It's known for its stunning limestone formations, dense forests, and, of course, the rugged Sierra Blanca mountain range.
Hike to the summit of La Torrecilla for panoramic views that stretch all the way to the Mediterranean Sea. Down below, the karstic landscapes are home to a rich network of caves, sinkholes, and galleries, including the deepest vertical cave in Andalusia.
You can try caving or potholing with a local tour company for a thrilling underground adventure. There are plenty more activities to entice adventure seekers, including canyoning, canoeing, and horse riding.
For hikers, there are a range of trails crisscrossing the park. The best known is the Gran Senda de Málaga, a 650km long-distance trail across the whole region which can be broken down into 35 stages. Or there's the 10km Ruta de las Cascadas which will take you past several beautiful waterfalls, including the 51m high Barranco de la Rejía. As you hike, look out for the unique Spanish fir, which is only found in this region.
8. Garajonay: La Gomera
Forest hiking, wildlife, and culture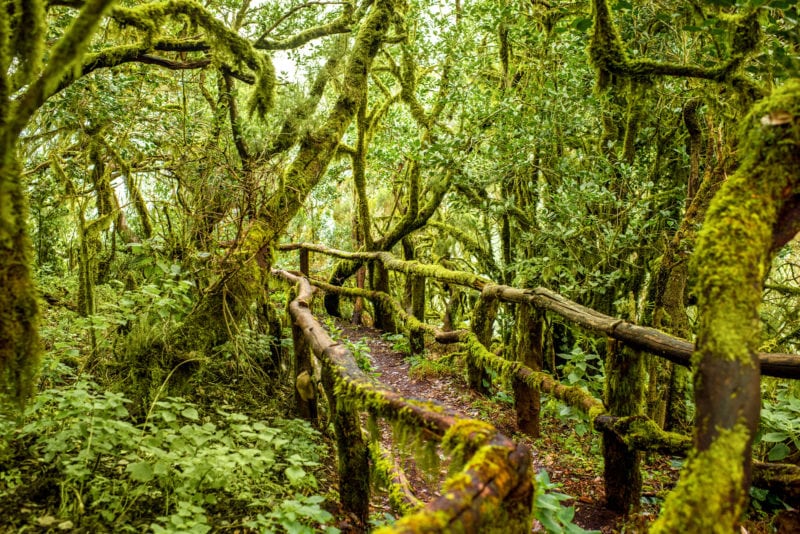 Found on the island of La Gomera in the Canary Islands, Garajonay National Park is a lush, subtropical paradise. The area's mild temperatures and high humidity create a special microclimate – home to diverse plant life and unique animal species endemic to the Canary Islands.
The majority of this little-known natural wonderland is coated with dense laurel forests. This pre-historic forest of twisted, moss-clad trees above a thick carpet of ferns covers around 70% of the park. There are also deep ravines, towering peaks, and twisted rock formations formed by the erosion of volcanic rock. All in all, Garajonay is a must-visit for nature enthusiasts.
Explore the network of hiking trails that wind through the ancient forest landscapes, and don't forget to look up to spot the colourful native bird species.
Although the National Park itself is uninhabited, La Gomera has a rich cultural heritage that is worth exploring. Listen out for the local whistled language, the silbo Gomero, a UNESCO World Heritage tradition which was developed by the island's original inhabitants to communicate across the valleys.
Do you know any more fantastic national parks in Spain? Scroll down to share in the comments!