Last Updated on
Barcelona has a surprising secret. Forget churros and chorizo, there's a new food revolution going on in the Catalan capital, and it's name is chocolate.
Perhaps not so surprising when you consider that Spain is where Europe's favourite sweet – at least as we know it today – was born! When cacao first entered this continent, it entered through Barcelona; first in the hands of Christopher Colombus, who presented some beans to King Ferdinand and Queen Isabella as one of the curiosities of the new world, and later by conquistador Hernando Cortes. His recipe for chocolate drink, learnt from the Aztecs and sweetened with sugar, gave birth to a food revolution which has left Europe the highest consumers of chocolate worldwide to this day.
These days, countries like Switzerland and Belgium may be taking all the credit as chocolatiers, but back in the city where cacao first landed in Europe, there's an incredible new chocolate scene being built on Barcelona's rich history with my favourite food. And how better to uncover that history and explore the city's most delicious food scene than with a local? While I was in town a few weeks ago, I headed out on the City of Chocolate tour from Context Travel – a company who create walking tours led by local Ph.D-level scholars and other experts, rather than trained guides with a memorised script. The idea is to allow people to "travel deeper" – a concept I'm incredibly passionate about – and to provide a real, cultural insight into a destination, through its food, art, and history.
Esther, our guide, was a Barcelona native who was beyond passionate about her subject. It would be hard not to be – this is one topic I'll never get bored of talking about. She showed us a whole new side to her city, leaving me more in love than ever with the capital of Catalunya and it's incredible cuisine.
We opened with the history, starting with those very first cacao beans and the development of the chocolate drink, which the Spanish flavoured with cinnamon, vanilla, cloves and other spices. Those devious 16th century Spaniards kept the source of their chocolate a complete secret from the rest of Europe for almost 100 years, but eventually, word spread, as did chocolate itself; first to Italy, then Austria and Holland. When Spanish princess Anne or Austria married King Louis XIII in 1615 she took cacao beans with her, reportedly announcing "I love chocolate and I love my husband. In that order." A woman after my own heart.
Starting in the oldest part of the city, the Barri Gotic (Gothic Quarter), we headed for the oldest chocolate shop in Barcelona to cement our ne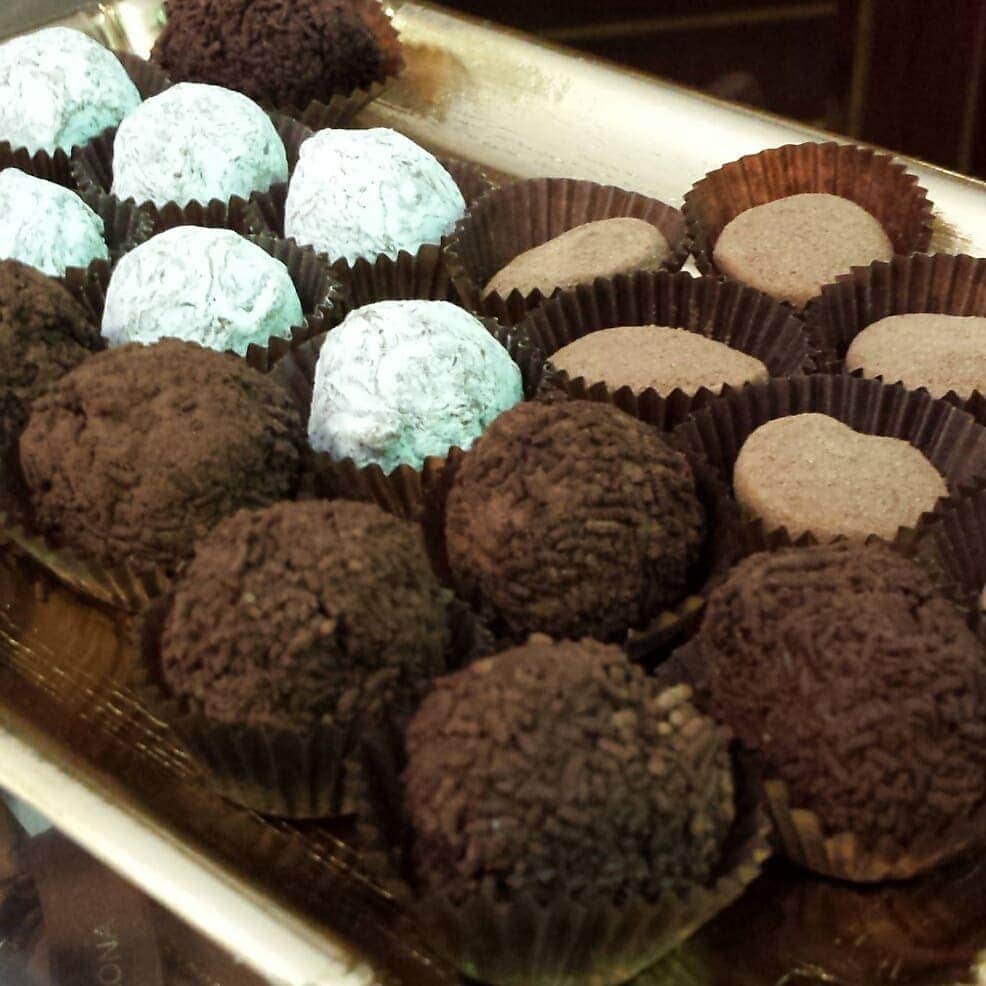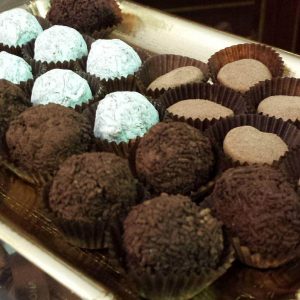 w-found historic knowledge. At almost 200 years old, Fargas is the third oldest shop in the city, and a plaque on the pavement outside to commemorates that fact. The age was impressive, but what really struck me was the smell as we entered the shop; that incomparable, wonderful, heavenly scent of chocolate. Fargas produce all their chocolate on site, and are still using the original grinding wheel – although thankfully it's mechanized these days, rather than powered by donkey. Now that the smell and the fascinating history lesson had really whet our appetites, tasting some the store's best chocolates was a truly wonderful experience. I loved the catànies – a typical Catalan sweet consisting of a roasted almond surrounded by white chocolate ganache, a dark chocolate coating, and finally dusted in powdered chocolate.
These rich and totally divine bonbons at Fargas set the bar pretty high for the rest of the tour, but fortunately the goodies kept coming, as Esther led us next to Petrixol street. Known as "sweet street", this is considered the best part of Barcelona for drinking chocolate – and we headed into one of the more famous establishments to do just that; Granja la Pallaresa, one of the three oldest 'granjas' in Barcelona. An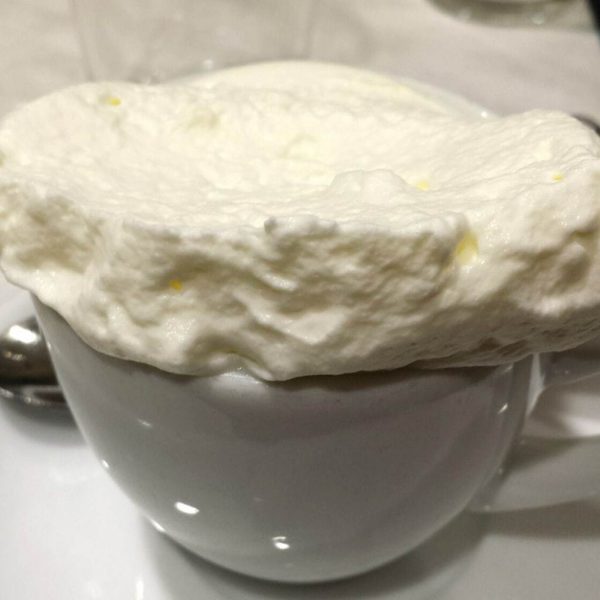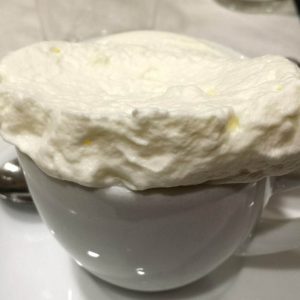 yone with a knowledge of Spanish might be wondering what a farm is doing in the middle of the city centre, but in Catalan the word 'granja' is also used to mean a shop which sells sweet things. Granja la Pallaresa began life as a cow house, selling dairy products, but these days the cows are gone and what remains is a cosy cafe serving up incredible pastries, yummy churros, and some of the best hot chocolate in Catalunya.
We tried it suisse-style; a thick hot chocolate drink served with a huge blob of whipped cream on top. Into this calorific delight, we dunked ensaïmada, a yummy spiral-shaped pastry from Mallorca, and as if all that wasn't enough, Esther also ordered us all a drink of Cacaolat. Barcelona's favourite chocolate milkshake, this is served up in retro glass bottles all over Catalunya – a must-try when you visit!
I could feel my waistline expanding as we headed back to La Rambla for our penultimate stop at Pasteleria Escribà. Owner Christian Escribà is the son of the world-renowned "magician of chocolate" Antoní Escribà, and has taken up his mantle with gusto, creating simply insane cakes and chocolate sculptures for Barcelona's rich and famous; from huge castles to a lifesized gorilla. We were able to have just a little tast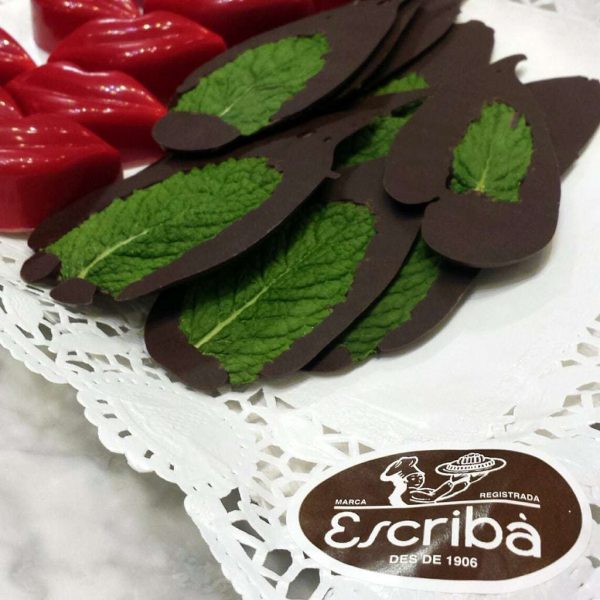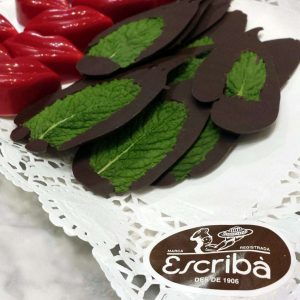 e of all that chocolatey wonder, with chocolate covered mint leaves originally developed as the scales for an enormous dragon, and cartoonish lips of red-painted white chocolate. It was all a bit bizarre, but absoutely delicious and incredibly good fun – a great sign of what's going on in Barcelona's chocolate resurgence at the moment, which is all about being creative and experimental.
That's exactly what's going on at the super trendy Cacao Sampaka chocolate shop, our final stop on the tour. Cacao Sampaka's mission is to revive the art of chocolate tasting, sorting chocolate by intensity and origin (with tasting notes), as well as crafting some incredible – and often quirky – flavour combinations. Wasabi, lavender, gin and tonic, parmesan cheese, bergamot – you'll find truffles of all flavours here, alongside the more 'standard' options. I loved the 'seasons' collection, with chocolate bars inspired by each season – summer was a white chocolate bar flavoured with lime and cayenne pepper, which was incredible!
If only that tour could have gone on forever. As it was, in just three hours I learnt so much, gained about four stone, and uncovered such a lot of Barcelona's sweeter side! This is genuinely the best tour I've ever done, not only thanks to the frequent chocolate tastings but also to the infectious passion and incredible knowledge of fellow chocaholic Esther, who was an absolute gem. What a perfect way to discover a city!
RELATED POST: 2 Days in Barcelona
[stextbox id="info" caption="More Information" bgcolor="F0F0F0″ cbgcolor="0ABAB5″ bgcolorto="F0F0F0″ cbgcolorto="0ABAB5″]
Group tours run Mondays and Thursdays at 4pm and starts at $88 per person. Visit Context Travel for more information and to book.
Context Travel are one of my chosen affilate partners, which means I make a small commission on any sales generated through my site. This doesn't affect the price you pay at all, nor does it bias my opinion (I only partner with brands I believe in). So, if you decide to book anything based on my recommendation, please help me out by using the links in this post to reach the Context Travel site. Thank you!
[/stextbox]