Some posts on this site contain affiliate links. If you book or buy something through these links, I earn a small commission (at no extra cost to you). Take a look at my privacy policy for more information.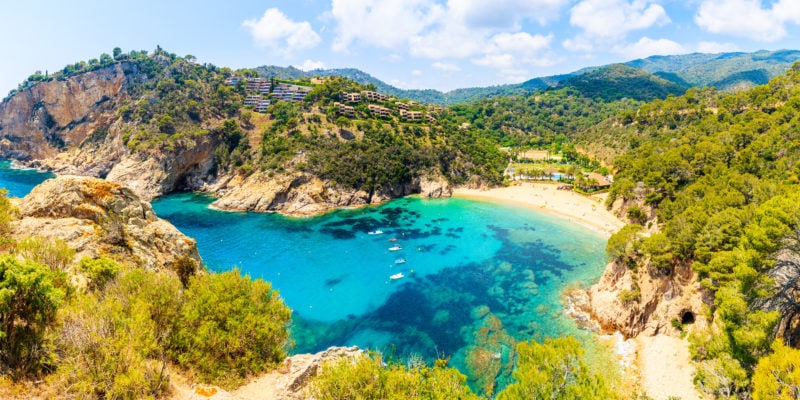 From culture-filled cities to beautiful beach towns, these are some of the best places to visit in Costa Brava.
Tucked away on the northeastern coast of Spain, the Costa Brava stretches from Blanes (about 70km east of Barcelona) to the French border.
The name Costa Brava translates to 'rough coast' or 'wild coast'. It's a fitting description: this 75km section of Spain's coastline is particularly rugged and rocky. It's the perfect setting for an adventurous trip, perhaps camping near a beautiful Spanish beach or road-tripping along the coast in search of hidden gems. But that doesn't mean there's not plenty of culture, wellness, and relaxing beaches to enjoy, too.
If you're after a more outdoorsy type of holiday, Costa Brava is the region for you: you'll find bike trails galore, beaches to suit every taste, thrilling watersports, and the vast network of coastal footpaths known as Camins de Ronda.
Costa Brava is also one of the best regions for camping in Spain, with dozens of great campsites to choose from. Yelloh! Village has a big presence in the region, with several campsites known for their fantastic facilities and friendly vibes.
Fans of culture won't be disappointed, either. From art galleries and museums to ancient archaeology and unbeatable gastronomy, there's so much more to Costa Brava than its beautiful beaches.
Below, I've rounded up some of the best places and most beautiful towns to visit in Costa Brava. I've also recommended a few of the best Yelloh! Village campsites along the coastline, to help you plan where to stay.
Time to plan your perfect holiday in Costa Brava…
NB – this post was written in collaboration with Yelloh! Village. All words and opinions are my own and based on past trips to the region.
Best Places to Visit in Costa Brava: Map
11 Best Places to Visit in Costa Brava
Blanes & Lloret de Mar
Blanes marks the official start of the Costa Brava, so it's a great place to start. It's also one of the most popular seaside resorts in the region, along with the neighbouring town of Lloret de Mar.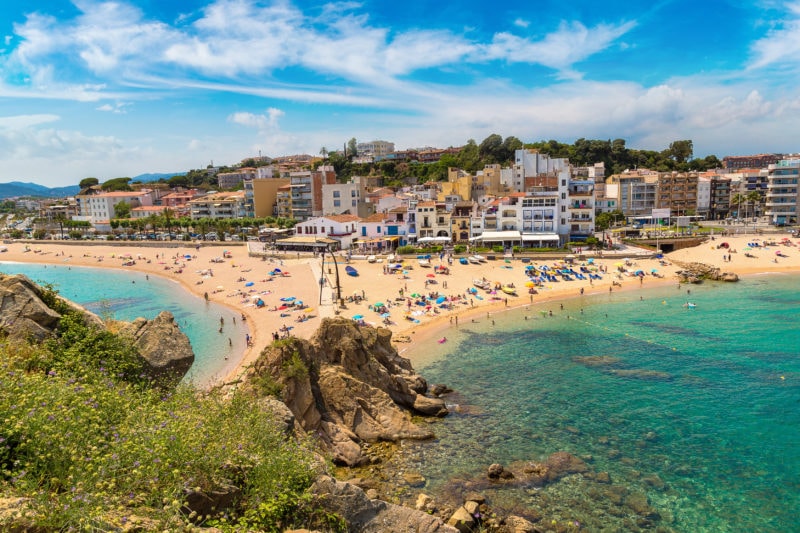 Both towns have beautiful beaches, plenty of accommodation options to suit all budgets, and lots of attractions. Blanes is a former fishing village, and still has an active fishing port, as well as a charming old town to explore. Lloret de Mar is known for its nightlife and has a reputation as a "package holiday" destination, while Blanes is a tad more relaxing.
The stretch of coast between the two towns is glorious. Don't miss the Jardins de Santa Clotilde, a tranquil, clifftop garden overlooking the dreamy beach of Platja de sa Boadella.
Girona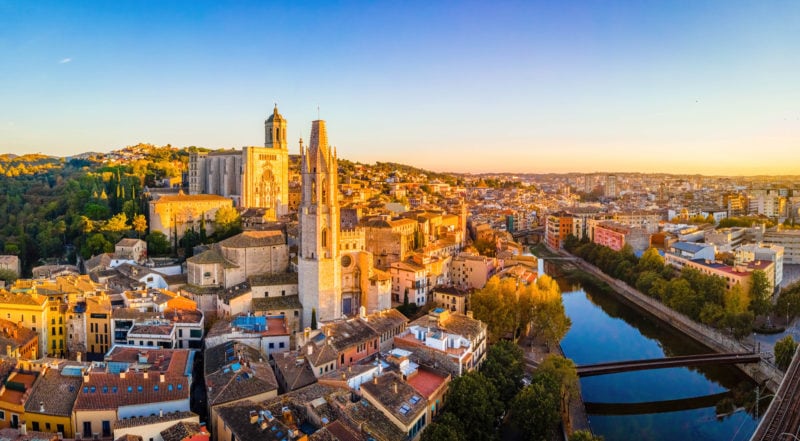 Although not actually on the coast, Girona is the largest city in the area and makes an excellent day trip for anyone staying on the Costa Brava. It's also incredibly pretty and quite underrated: don't miss it!
Explore the colourful Jewish Quarter, the 12th-century Medieval City Walls, and walk across Girona's striking red bridge – which was designed by Gustave Eiffel (of Eiffel Tower fame!).
Girona was also a key filming location for the HBO series Game of Thrones. Fans can take a walking tour to discover some recognisable sights! Try to visit during the springtime Temps de Flors Festival, when the historic city centre is covered in colourful floral displays.
Sant Feliu de Guixols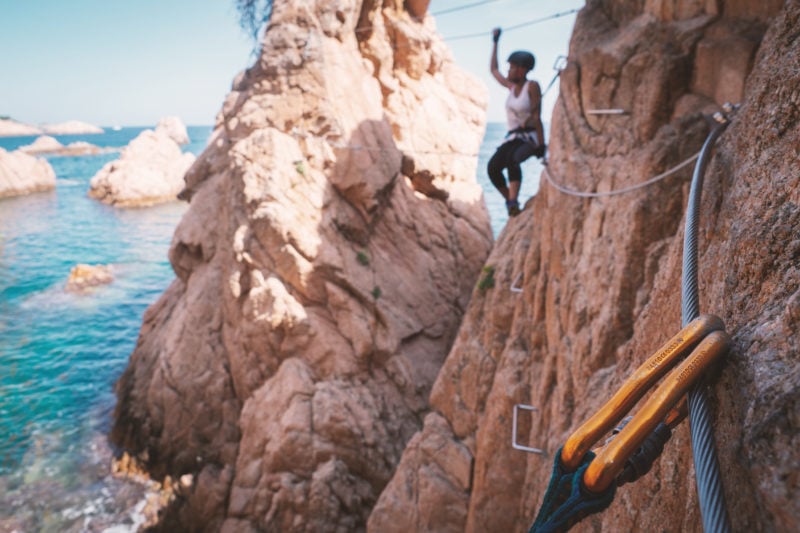 I visited Sant Feliu de Guixols on one of my first trips to Costa Brava and instantly fell in love!
This is a great setting for outdoorsy types. The coast walk from Sant Feliu de Guíxols to S'Agaró is one of the most popular walks on the Costa Brava. Or, if you're feeling braver, there's also the Via Ferrata Cala del Molí. A white-knuckle claiming route on the cliffs above the ocean, it's the only via ferrata in Europe that's by the sea.
There are two Yelloh! Village campsites near Sant Feliu de Guixols. Sant Pol is a moderately-sized campsite with two pools and direct access to the beach. Mas Sant Josep is just four miles inland, but boasts a huge aquatic park featuring whirlpool baths, waterslides, and a waterfall!
Begur & Fornells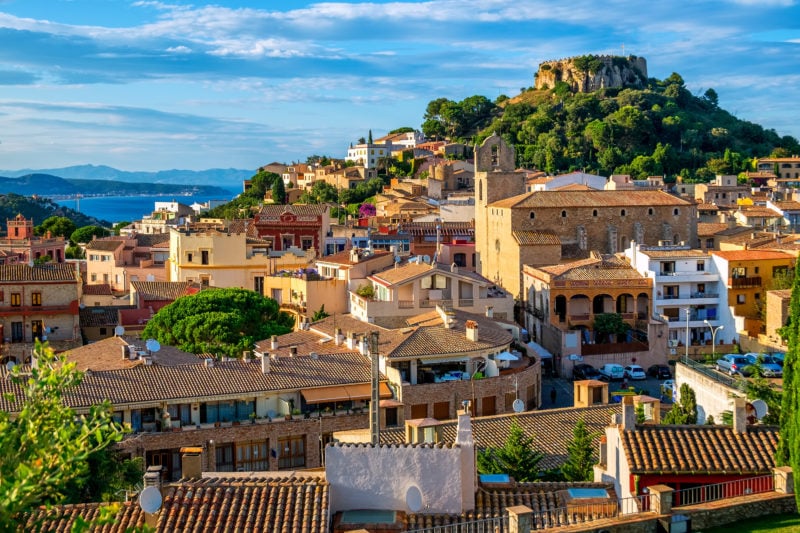 One of my personal favourites is the beautiful town of Begur – along with the nearby beach village of Fornells. These can both be visited together as a lovely Costa Brava day trip, or you could stay in Fornells and walk up to Begur from the seaside.
With its colourful historic quarter and hilltop 15th-century castle, Begur is one of the most beautiful places to visit in all of Costa Brava. It's very popular with locals from Barcelona as a weekend getaway, but it's not usually too busy. When I visited in May I had the place to myself!
Don't miss the panoramic views from the castle. Looking out across a tumble of terracotta roofs you can glimpse Emporda's mountainous interior, while along the coast on clear days you'll see as far as the Pyrenees.
Just ten minutes drive away, Fornells is a quiet little seaside village. This is the ultimate escape, with rocky coves overlooked by dense pine trees.
Tossa de Mar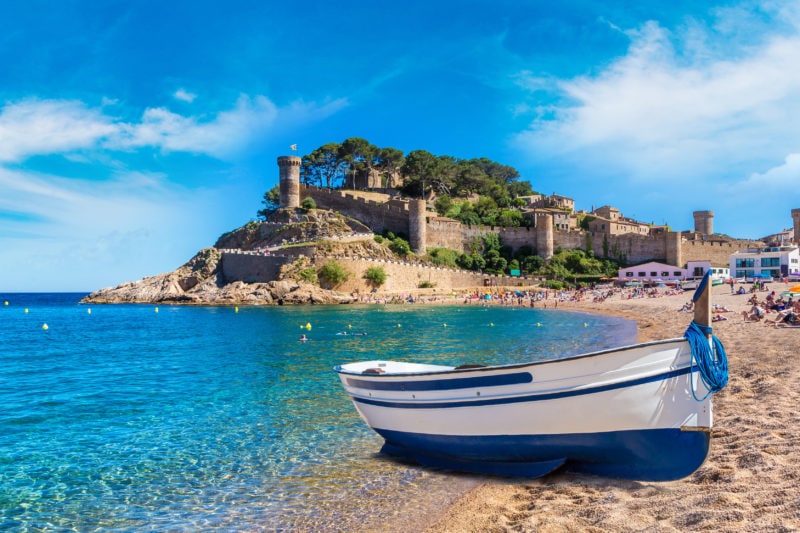 Just along the coast from Lloret de Mar, Tossa de Mar is a pretty, historic and traditional coastal town. The town was built around its Medieval castle, which sits on a small headland, providing a romantic backdrop for Tossa's beautiful, golden sandy beaches.
Wander through the charming old town, visit the castle ruins, or relax and unwind on the stunning Platja Gran beach. Need to get a bit more active? Hike up to the viewpoint at Balcón al Mar for epic sea views, or walk the coast path to the tiny, hidden coves of Cala Bona and Cala Pola.
Calonge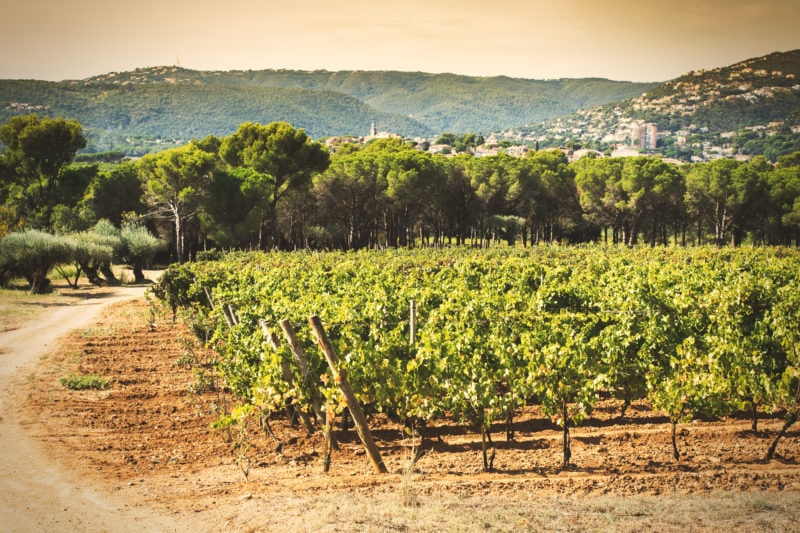 Set slightly back from the coast, the medieval hilltop town of Calonge marks the start of the DO Empordà Wine Route – so this is a must for wine lovers! Though a fairly small wine-growing region, Emporda is known for producing incredible wines at a really good value.
Calonge is surrounded by some top vineyards. I particularly love Clos d'Agon, whose sloping vineyards have gorgeous sea views, as I discovered when I went wine tasting near Calonge.
In the town itself, you can explore the 11th-century castle or visit the Roman village of Castel Barri. And if you need to cool off after all that wine and history, the seaside resort towns of Sant Antoni de Calonge and Palamos are just a couple of miles away.
Cap de Creus National Park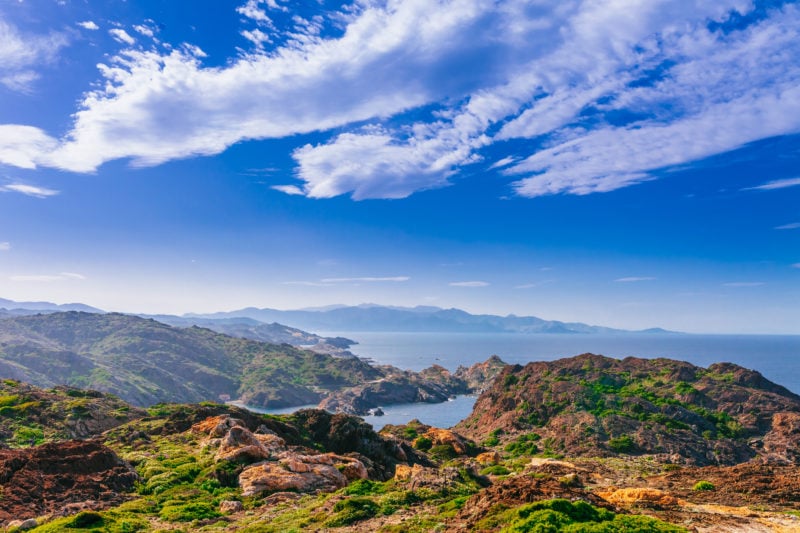 Near the north of the Costa Brava, the stunning Cap de Creus National Park is one of the most beautiful places to visit.
It's a rocky, mountainous peninsula covered with forest and windswept gorse. Perfect for hiking! There are plenty of hidden rocky coves and almost-secret beaches to discover for those who want to get away from it all.
Camping goes hand in hand with all that gorgeous nature. Luckily, there's another fantastic Yelloh! Village campsite just down the road. Camping Sant Miquel is right on the coast in Colera, a stones' throw from the national park. So it's the perfect choice for nature lovers!
Figueres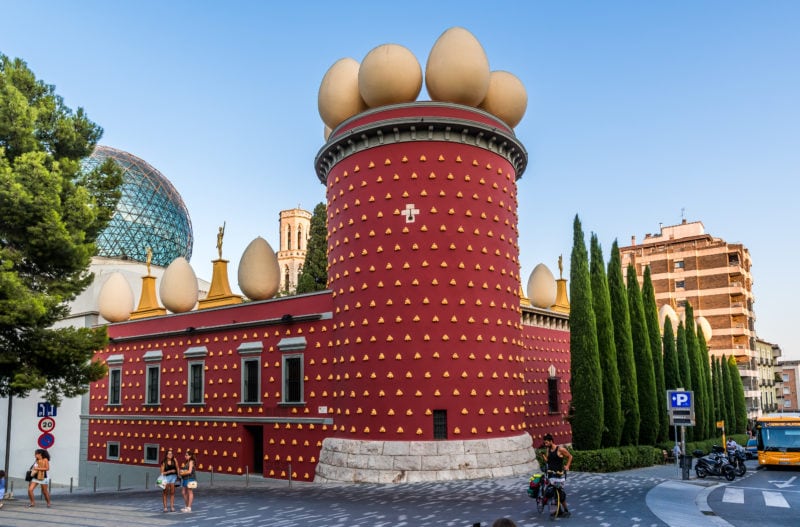 Heading inland, Figueres is another fab day trip from the Costa Brava. The capital of the Empordà region, this small, picturesque city has deep Catalan roots.
Figueres was the home of the famous surrealist painter Salvador Dalí. Today, it's home to the Dalí Theatre-Museum – a bizarre attraction that's part art gallery, part experience.
That's the main reason tourists visit Figueres, but the town also boasts excellent gastronomy and several fascinating monuments. Don't miss the medieval walls and the castle of Sant Ferran when you visit!
Pals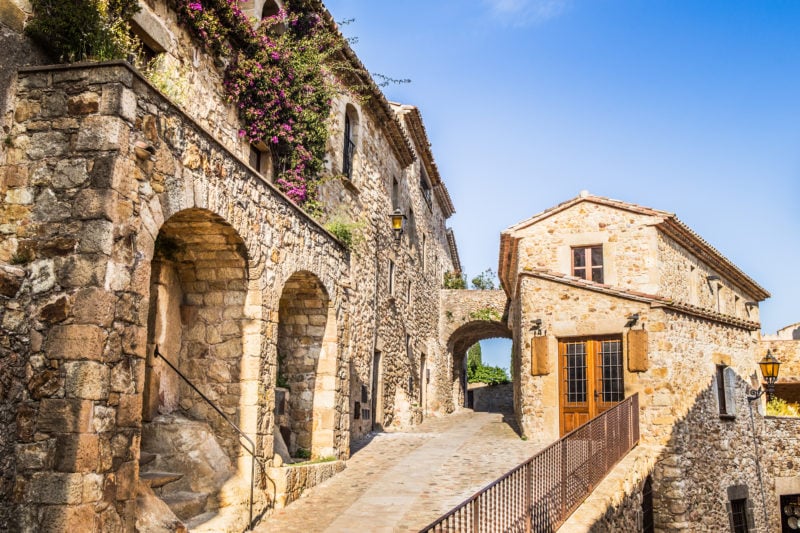 Pals is well known as one of the most beautiful towns in Costa Brava. This charming medieval town sits perched on a hilltop in the countryside of the Baix Empordá region.
Wander through the picturesque medieval quarter; a maze of narrow, cobbled streets and honey-coloured stone buildings. Don't miss the circular Romanesque tower Torre de las Horas (Tower of the Hours).
Gulf of Roses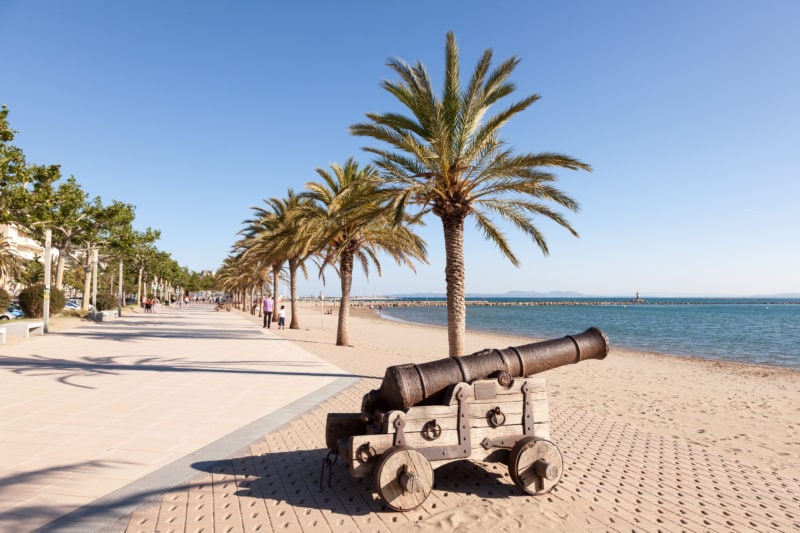 If you're looking for sheltered beaches, the Gulf of Roses is the perfect setting! This wide bay near the northeastern end of the Costa Brava is definitely one of the best places to visit for beach-lovers!
At the furthest end, the beautiful town of Roses has glorious white sand beaches and a rich historical heritage. The highlight is the Ciutadella de Roses; the ruins of a pentagonal-shaped military fortress. It was built during the reign of King Carlos I, in the 17th century – but the sight has been occupied since the 3rd century BC.
Nearby Empuriabrava is a more luxurious resort, known for its large yacht marina. Take a boat tour of the river to catch a glimpse of some of the town's mansions!
L'Escala and Empúries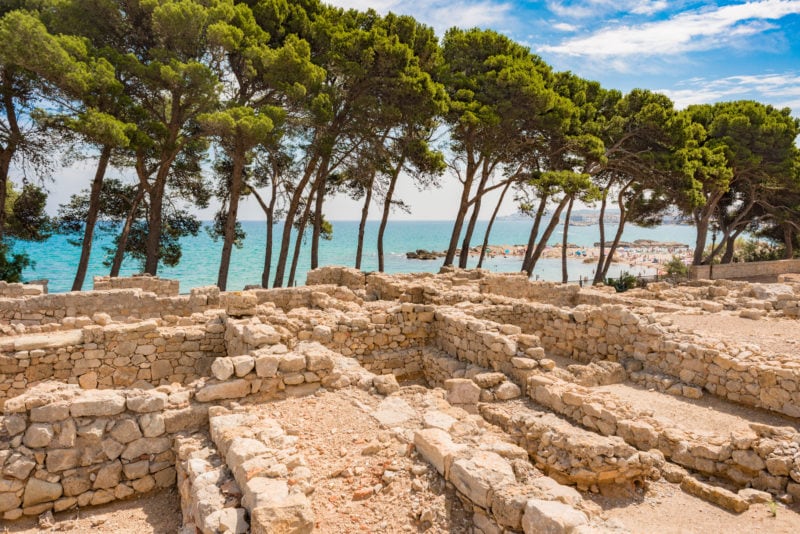 At the southwestern end of the Gulf of Roses, the small coastal town of L'Escala also has some significant history to discover. The seaside archaeological site of Empúries, just outside of town, was an ancient Greek (and later Roman) trading port. Today, it's an absolute must-visit!
L'Escala itself is a small fishing town known for its gorgeous sandy beaches and nearby Montgrí nature reserve. Surrounding the town are bike trails, rocky coves, and a pretty marina.
Nature lovers can stay at the fantastic Punta Milà Yelloh! Village campsite on the outskirts of L'Escala. It's set within the Montgrí nature reserve, surrounded by pine trees. This peaceful campsite has direct access to the sandy beaches at Cala Montgó.
More Great Places to Visit in Costa Brava!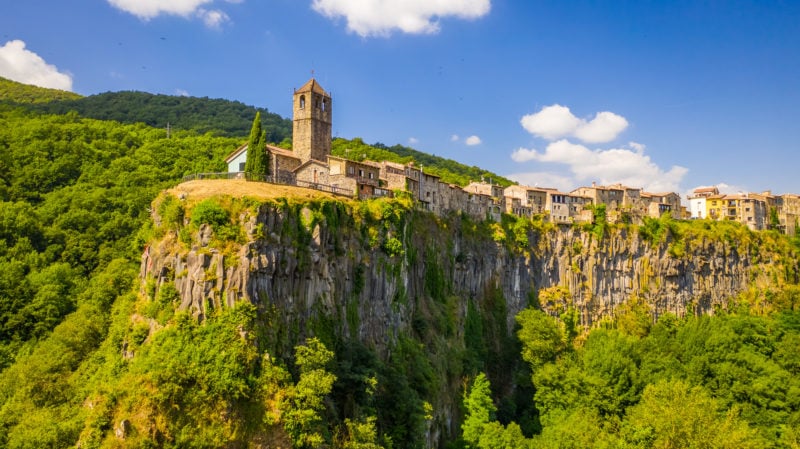 If you still need some recommendations to fill your time, here are a few more beautiful places to add to your Costa Brava itinerary…
Parc Natural dels Aiguamolls de l'Empordà – national park
Cadaqués – fishing village
Sant Pere de Rodes – Benedictine monastery
Girona Via Verde (Greenway) – bike trail on a disused railway line
La Garrotxa Volcanic Zone – national park known for its extinct volcanic cones.
Castellfollit de la Roca – clifftop town in the volcanic zone.
Girona Pyrenees – mountainous region inland.
Calella de Palafrugell – pretty seaside town. Walk the coast path from here to Begur.
Peratallada – fortified medieval town similar to Pals, also in the Baix Empordá.
Are there any more towns, villages or other beautiful places to visit in Costa Brava that I've missed? Scroll down to leave me a comment!