Some posts on this site contain affiliate links. If you book or buy something through these links, I earn a small commission (at no extra cost to you). Take a look at my privacy policy for more information.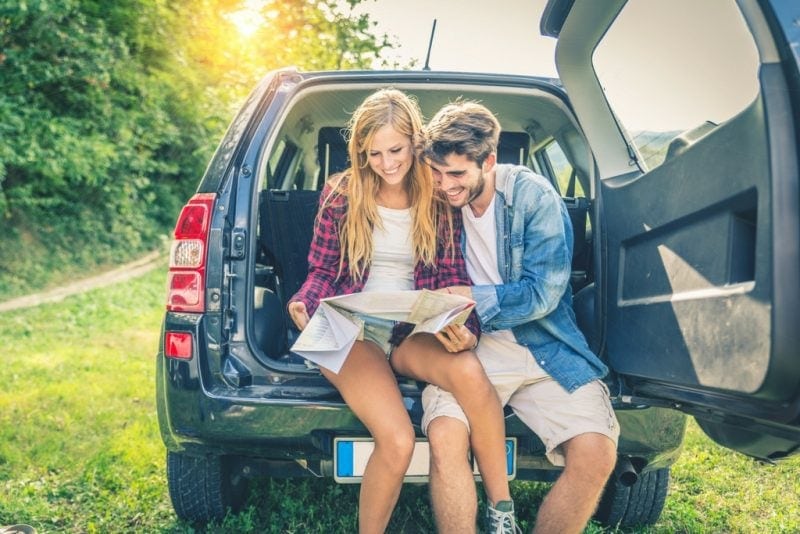 Considering taking a road trip through France and Spain? With so many incredible routes and some epic driving scenery – plus great food – there are a lot of reasons to take a driving holiday between these two countries.
A couple of years ago, I took a road trip through the north of Spain, loosely following the Camino de Santiago all the way through the four coastal regions known as Green Spain. Whilst there, I discovered a beautiful region of amazing landscapes, great food, and gorgeous cities. And it's all within such easy reach of the UK.
Which got me thinking about how this would be the perfect place for a European road trip. On Eurotunnel Le Shuttle it only takes 35 minutes from Folkstone to Calais with your own car, and from there it would be possible to drive all the way through France to Spain. The route is lovely, and there's so much to see and do along the way. Here are six great reasons to take a road trip through France and Spain…
READ MORE: Check out this 20 day caravan tour itinerary through south west France for more inspiration.
1 – There's So Much Choice for a Road Trip through France and Spain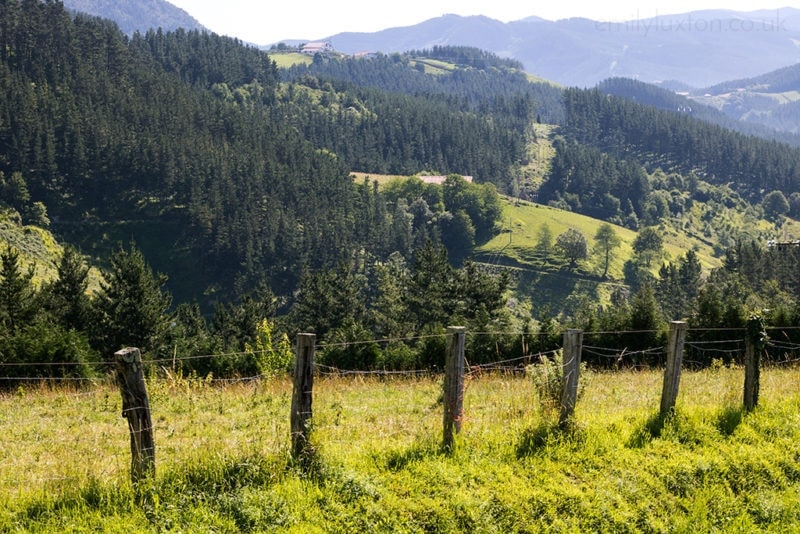 What's great about a road trip through France to Spain is how much you can customise and tailor the route to you. Once you've crossed from Folkestone to Calais on Eurotunnel Le Shuttle, central Europe is your oyster. Do a bit of research and throw together your dream European road trip!
You could take the coastal route through France, stopping at pretty and largely overlooked seaside towns like Boulogne-sur-Mer before turning inland after St Malo. Or, you could take the inland route across France, stopping by towns like Orléans, Bourges, and Blois along the way.
READ MORE: A Brit's Guide to Shopping in France
Either way, head for the pretty beach town of Biarritz in the South Western corner of France, before hopping across the border and into the Spanish Basque Country. Once in Spain it's a stunning coastal route, with dramatic cliffs and the blue sea on one side, and rolling green mountains on the other. Heading through San Sebastian, Bilbao, Santander, and Oviedo, you'll eventually reach Santiago de Compostela.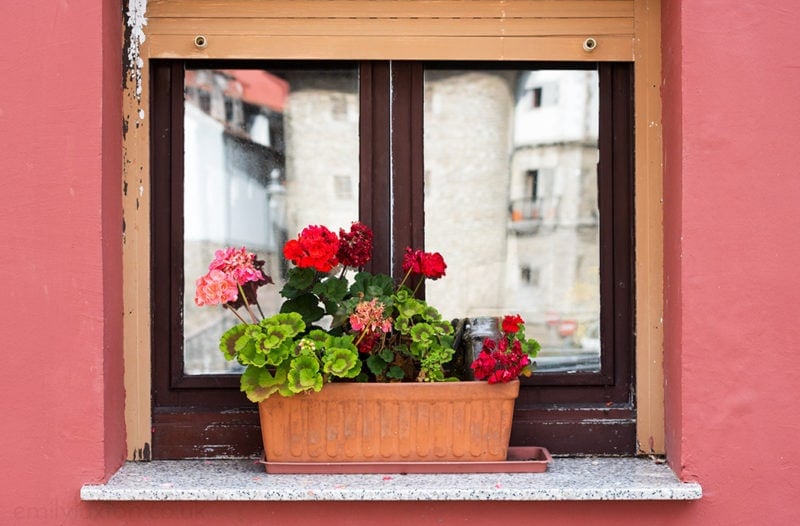 Here's how I'd do it…
Day One: Calais to Orléans (4 hours)
Day Two: Orléans to Bordeaux (5 hours)
Day Three: Bordeaux to San Sebastian (2.5 hours)
Day Four: San Sebastian to Oviedo (4 hours)
Day Five: Oviedo to Santiago (3 hours)
Map provided by
Wanderlog
, a road trip planner
RELATED POST: Road Trip in Northern Spain – Route from Basque Country to Galicia
2 – There are Dozens of Beautiful Cities Along the Way
Both France and Spain are full of beautiful cities. My road trip route above takes in some really lovely ones, many of them seriously underrated. These are some of the best stopovers along the way.
Orléans – The upscale city of Orléans makes a great road trip stop – or an awesome day trip from Paris. With cobbled streets and half timbered houses, it's seriously picturesque, and there's a lot of history here. Most notably, that of Joan of Arc, who famously donned armour here to help protect the city from the invading British army.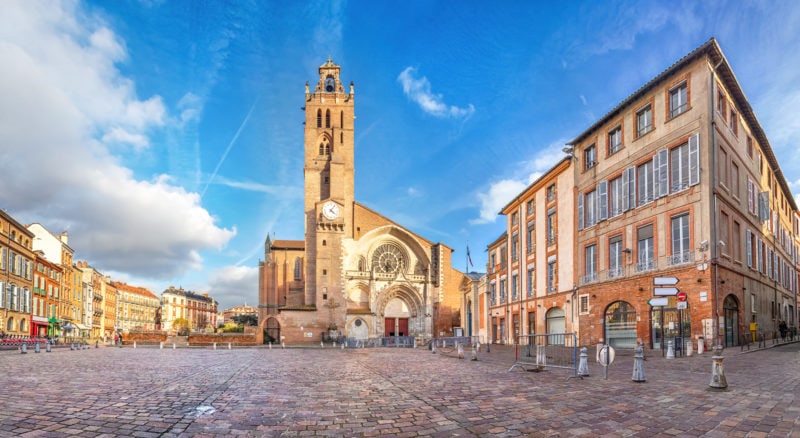 Toulouse – Known as La Ville Rose (the pink city), this gorgeous city of terracotta tiles lies on either side of the Garonne River. It's a bit of a detour from the route but worth it if you can spare an extra day or two to see a little more of France.
Bordeaux – Also on the Garonne River, the city of Bordeaux is full of 18th and 19th century mansions and is one of the most beautiful cities in France.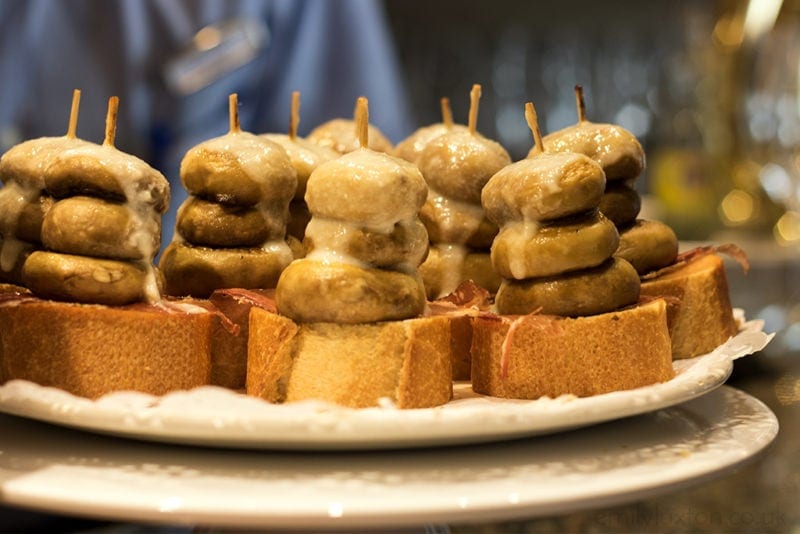 San Sebastian – One of my favourite cities in northern Spain, San Sebastian is a vibrant town full of character. The honey-coloured old town centre, with its narrow pedestrian lanes and lively pintxos bars, is a must-visit.
Oviedo – A city of historical and religious significance, Oviedo is where the original Camino Santiago pilgrimage began. The stunning cathedral towers over the historic centre, where you'll find plenty of Asturian cider houses – an unmissable experience.
Santiago de Compostela – Famed for its impressive cathedral, Santiago has a winding city centre with a lively feel. You'll find plenty of tapas bars and cute shops to keep you busy.
3 – You Can Explore Wine Country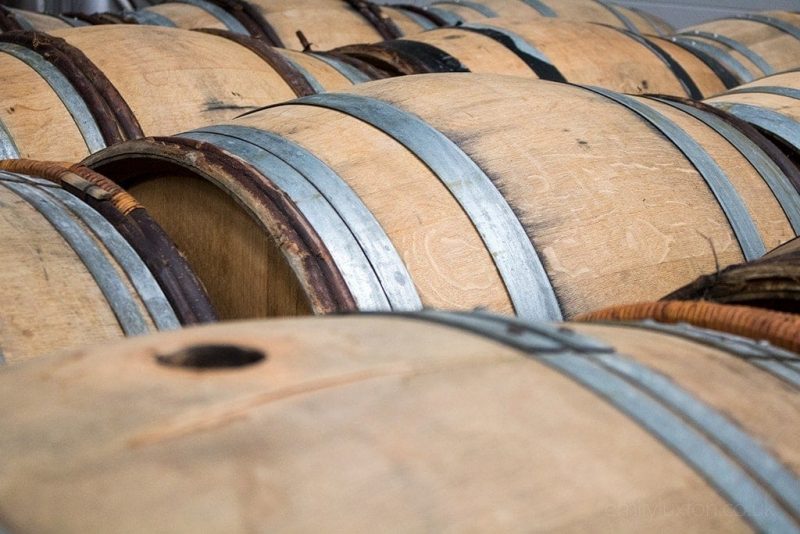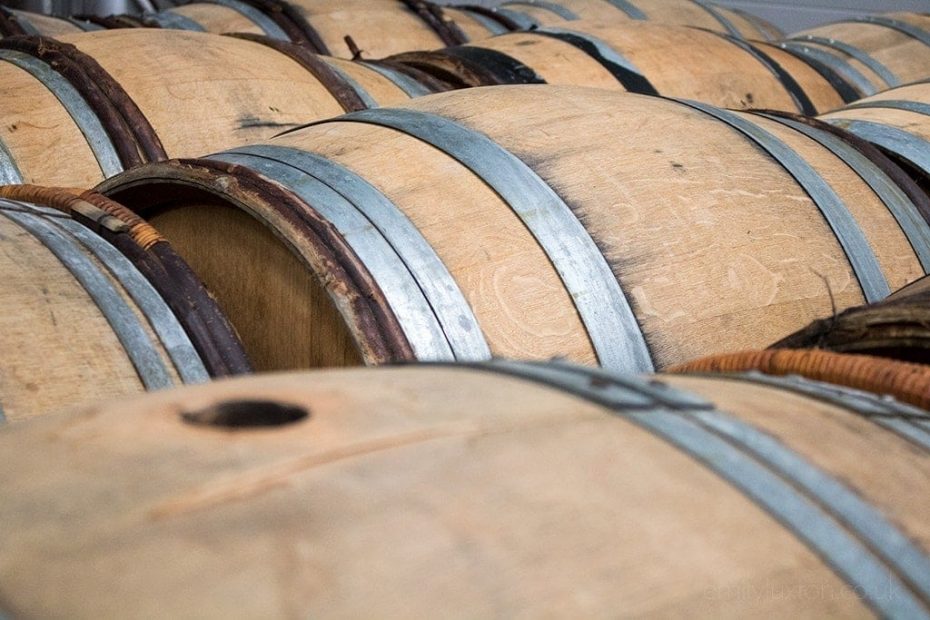 It goes without saying that one of the big draws for tourists visiting France is the wine. A road trip through France could take you through La Côte d'Or in Burgundy, where the small stretch of road leading from Santenay to Dijon passes through some stunning scenery and some of the best vineyards on the planet. En route to Spain, there's also Bordeaux, considered by many the wine capital of the world. Swing by some of the most famous estates, take a wine tour, or even spend the night at a château.
Spain might be somewhat overshadowed by its neighbour in terms of wine, but it's actually the third largest wine producer in the world. The green valleys around Galicia* specialise in zesty white wines which go beautifully with the region's incredible seafood.
Read more about the region's cuisine in my Galicia Food Guide.
4 – You Can Discover Deserted Beaches Along the Way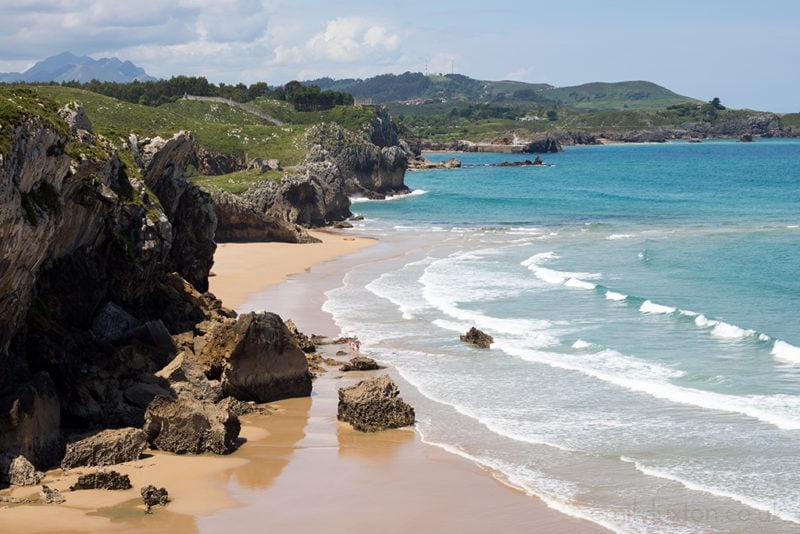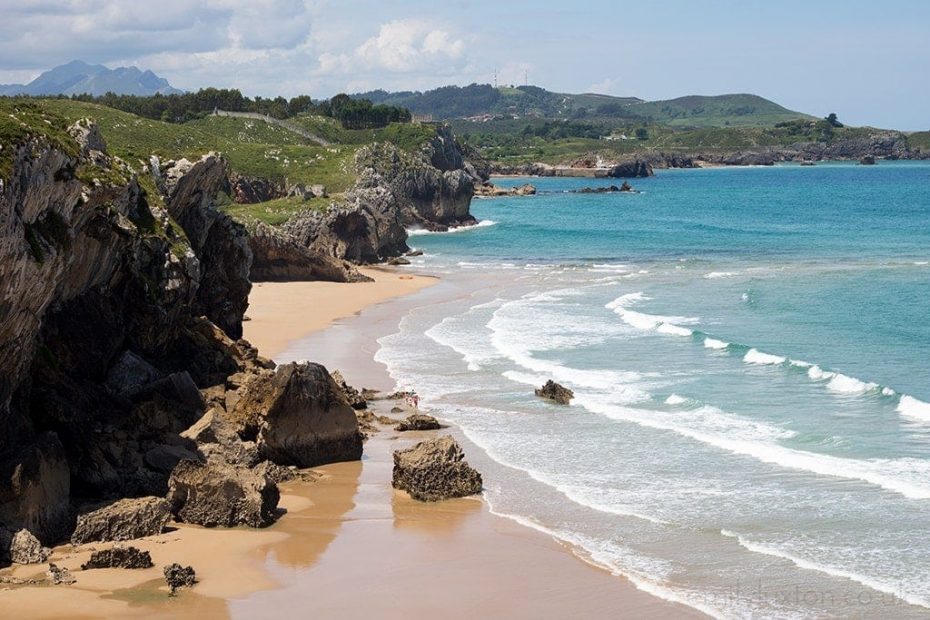 Spain's southern coast might be jam-packed with holidaymakers, but the north coast is a different world entirely. Despite having some of the prettiest beaches I've ever come across, this region is very underrated and you'll often find you have a beach all to yourself, even in summer.
Having a car will allow you to stop off wherever you like, so you'll be able to discover some of the best beaches along the way. Head for the stretch of coast around Llanes in Asturias for hidden rocky coves and white sandy beaches with no crowds.
5 – A Road Trip Through France and Spain Includes Some Stunning Drives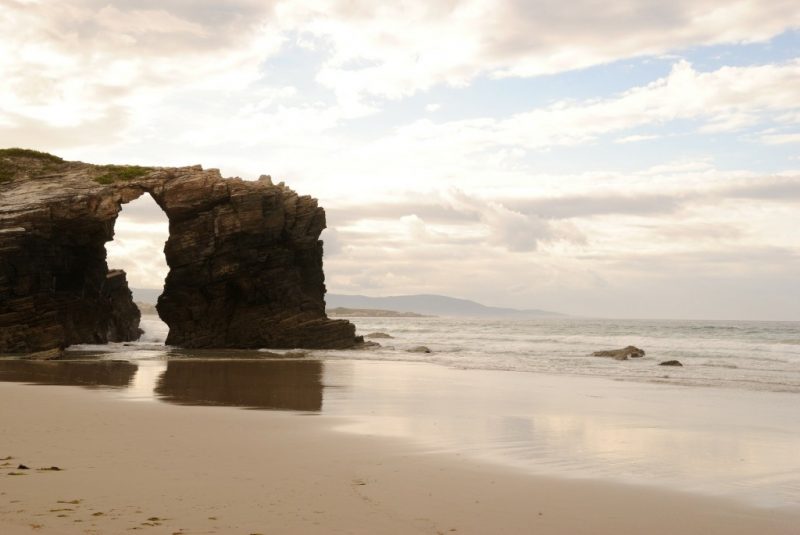 A great road trip has to involve good roads. Luckily, both countries boast plenty. With everything from mountains to marshlands, there are plenty of stunning drives through epic landscapes all across France and Spain.
The coastal drive from Bordeaux to Biarritz is considered one of the most scenic in the country. On the one hand is the Bay of Biscay with its windswept surfing beaches, and on the other lies the wild and rugged Landes de Gascogne national park.
Stretching along the border between France and Spain, the Pyrenées-Atlantiques offer winding mountain roads through some spectacular scenery. Equally dramatic and mountainous are the Picos de Europa in Cantabria at the heart of Green Spain. This national park is home to some breathtaking drives through towering gorges.
(Find out more about the Picos de Europa in this post).
6 – It's So Easy to Reach!
The crossing from Folkestone to Calais takes just 35 minutes with Eurotunnel Le Shuttle, and with up to four departures an hour, the continent really is within easy reach. Taking your car on holiday means no baggage restrictions, no long waits at airports, and no faffing about with hire cars. You can also take a roof box or bikes with no supplement! The only tricky part is choosing which Europe road trip route you want to take, there are so many to choose from.
Another way to save time is to get a Sanef toll tag, which will mean you can use the automatic lanes at tolls to save even more time. Eurotunnel Le Shuttle customers get an exclusive offer when booking their ticket through the site. It's so easy to reach France with your own car, giving you total freedom to plan any road trip route you fancy.
If you've ever taken a road trip through France and Spain I'd love to hear from you. Scroll down to leave a comment!
This post was brought to you in collaboration with Eurotunnel Le Shuttle. As always, absolutely all words and opinions are my own. See my disclaimer for more information.