Some posts on this site contain affiliate links. If you book or buy something through these links, I earn a small commission (at no extra cost to you). Take a look at my privacy policy for more information.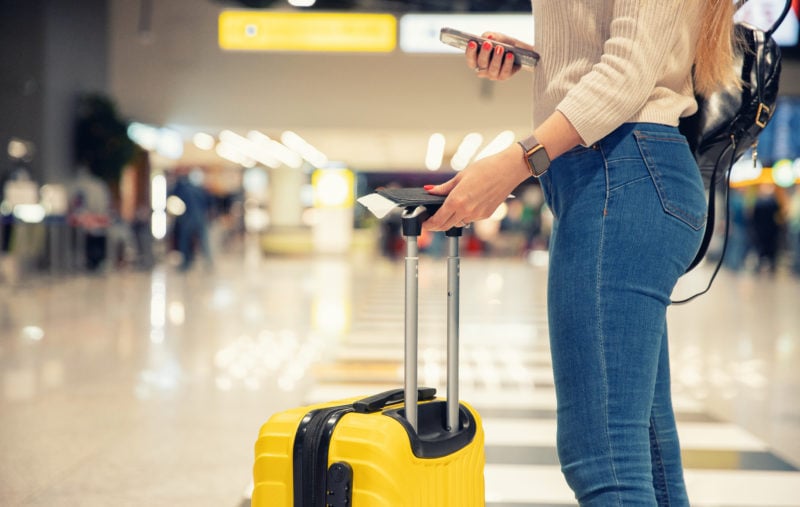 A round-up of the best carry on luggage, specifically small wheeled suitcases, for women and female travellers…
If you're travelling on a budget, packing everything into a hand luggage sized suitcase can help you save money – especially on short-haul flights where hold luggage is rarely included. You'll also save time at the airport, as you won't have to wait at the baggage reclaim belt for your bag to resurface.
In this post, I've chosen my favourite carry on suitcases, and also gathered recommendations from fellow travel bloggers, to make sure this list only includes tried-and-tested cabin bags that you can trust.
All the cases on this list are suitable to use as hand luggage. However, don't forget that some budget airlines these days now only include a "personal item" in the ticket price. So you may need to pay extra to add a cabin suitcase. Check the table at the end of this post for clarification.
This really is some of the best carry on luggage for women and solo female travellers available at the moment, so you're bound to find the right one for you. Enjoy…
Some (not all) of the carry on cases included below were gifted to me or to the bloggers who recommended them. But all opinions are 100% honest.
Best Carry On Luggage for Women
Sunwave by Rock Luggage – 35L
Pros – Stylish design with lots of fun colour options. Expandable. Super tough. Unfolding with two halves to organise your packing. Integrated TSA lock.
Cons – Slightly too big for Ryanair (fine for most other airlines though).
Size: 54 x 40 x 22cm (or 24.5cm expanded to 40L)
Price: £89.99
Recommended By: Me!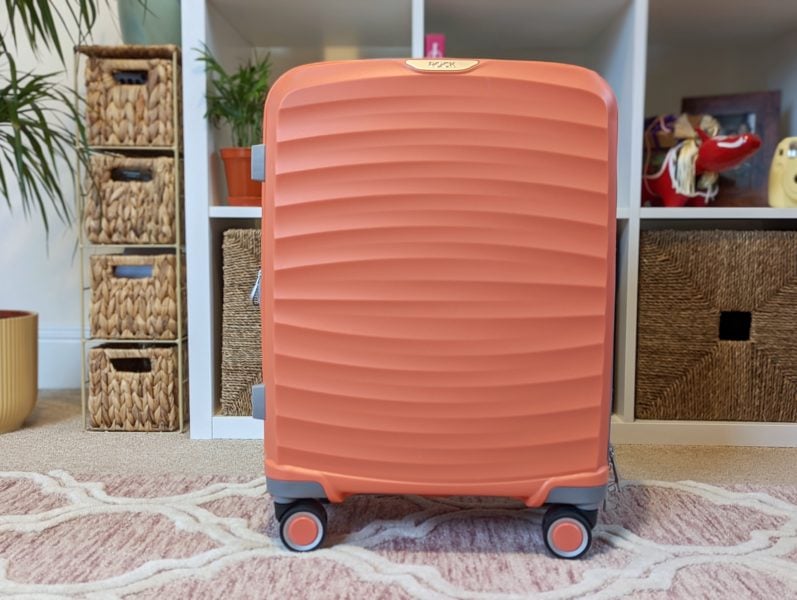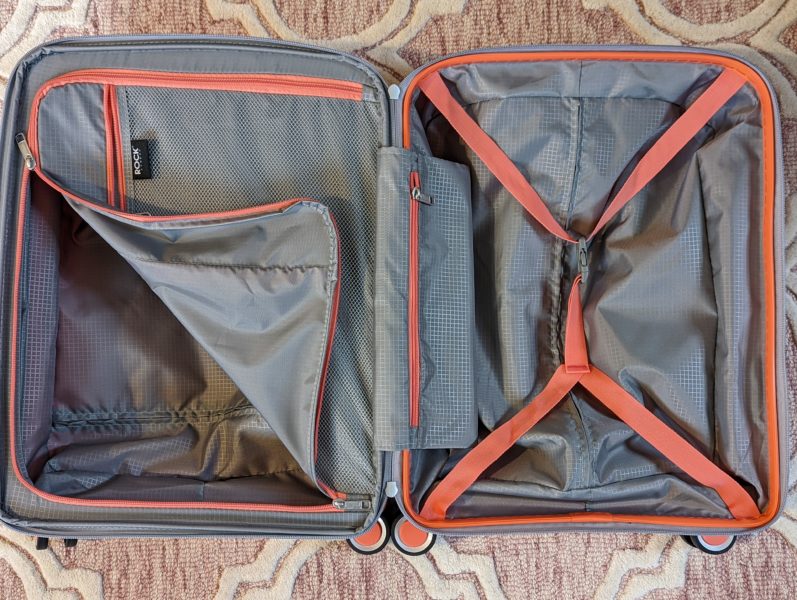 I absolutely LOVE the Sunwave Small Suitcase from Rock Luggage. It's a hardshell case made from super durable impact-resistant material, so it's perfect for frequent travellers like me. The design is really pretty and there's a fun range of colours to choose from – I love my cute peach case!
Despite the durable material, it's also a really lightweight case, which is ideal when you're packing on a weight restriction! The Sunwave has 8 smooth-rolling wheels so it's easy to pull the case along, either alongside you or behind, and it manoeuvres really well too.
I also love that it unfolds into two halves, unlike my old cabin case. There's a mesh divider (with pockets) so you can pack clothes into one half, and other items into the sealed half. Plus the expansion zip means you can expand the case by up to 20%, to make room for any souvenirs you've picked up. Just be careful that doesn't take it over any cabin luggage size restrictions, though.
The Travel Hack Pro Cabin Case – 28L + Handbag Compartment
Pros – Stylish and elegant design. Integrated handbag compartment. Lots of pockets.
Cons – Only 2 wheels. Laptop compartment only padded on one side.
Size: 54 x 40 x 22cm (or 24.5cm expanded)
Price: £65 (currently sold out, click here to check stock)
Recommended By: Justine, Wanderers of the World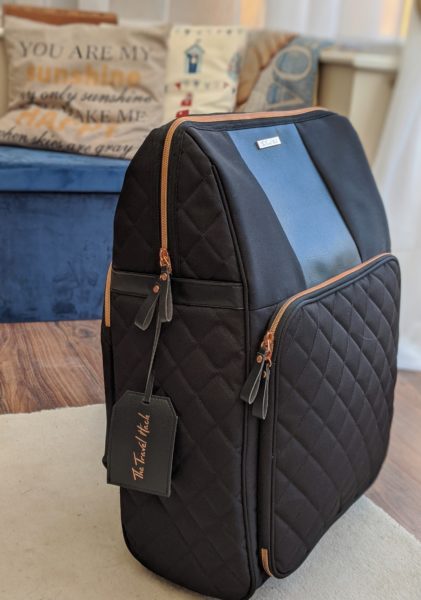 One of my favourite bloggers, Monica from the Travel Hack, has a range of luggage and it is absolutely gorgeous! Her fab carry on luggage was all designed for women, and it comes in a lovely, elegant design which looks much more expensive than it is.
I've tried and tested the awesome Tote Bag, but the suitcase comes highly recommended in this detailed Travel Hack cabin case review by blogger Justine. She says the bag's biggest selling point is the integrated handbag compartment, as well as its impressive size and numerous pockets.
"Ultimately, this is a super-stylish luxury cabin case without the hefty price tag!"

Justine, Wanderers of the World
IT Luggage "World's Lightest" Cabin Suitcase – 38L
Pros – Super lightweight (only 1.6kg). Surprisingly durable. Handy external pockets.
Cons – Only two wheels, so you can't pull it alongside you.
Size: 55 x 40 x 20cm (or 24.5cm expanded)
Price: £59.99 – click here to check the latest prices
Recommended By: Me
I've had my IT Luggage cabin suitcase for years, and only recently replaced it when I received some new carry on luggage as a gift. The best thing about this two-wheeled case is that it's ridiculously lightweight – which means it's a great carry on case for solo female travellers as it's much more manageable than a heavier case.
The soft fabric case feels so lightweight you'd expect it to break down quite easily. But I travelled all over with mine, cramming it into overhead lockers and dragging it over all kinds of surfaces, and it still looked almost new when I finally replaced it!
If you're looking for an affordable, simple carry on suitcase that's great for women on the go, you can't go wrong with the IT Luggage Cabin Suitcase.
Gear Warrior Wheeled Duffel International Carry On by Eagle Creek – 37L
Pros – Sturdy. Expandable. Lots of pockets and compartments. Compression straps. Padded side handles.
Cons – Expensive.
Size: 55 x 35 x 20cm (or 24cm expanded to 40L)
Price: from £130.79 – click here for latest
Recommended By: Katy from A Rambling Unicorn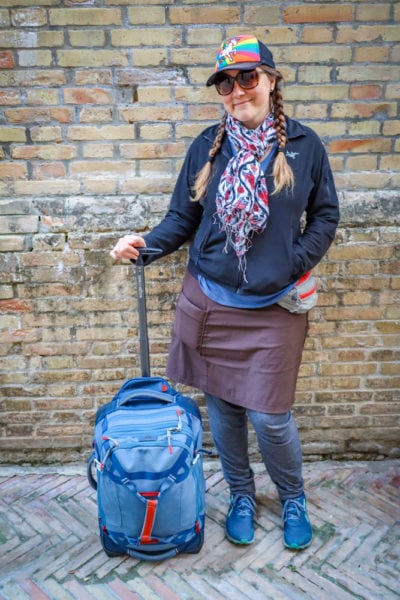 Gear Warrior is a sturdy yet lightweight bag that is excellent for both short- or long-term travel. It is surprisingly roomy for a carry-on and has ample pockets for easy organization.
I love the rugged yet stylish design and the fact that it only has 2 wheels. This maximizes space and keeps the total weight down (it only weighs 2.15 kg). Straps on the front of the bag compress the contents and also make it easy to lash gear on the outside.
This luggage is exceptionally durable. It is my favourite feature about the Gear Warrior and why I'm recommending the bag so highly. I've been travelling around the world for over two years with this carry-on and it has held up like a champ with zero issues.
Away Carry On – 39.8L
Pros – Two separate compartments. TSA Lock. 360° Spinner Wheels.
Cons – The bag can get scratched and ruin the aesthetic, so buy in a dark colour.
Size: 55.1 x 34.8 x 22.9 cm
Price: from £245
Recommended By: Shannon from Adventuring with Shannon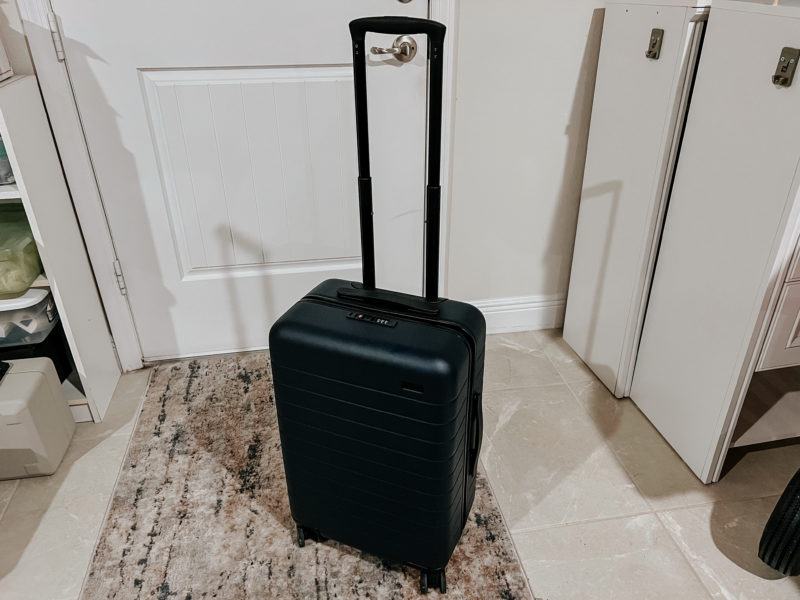 The best carry on luggage for female travellers is definitely the Away brand carry-on. This awesome roller carry-on has everything you need to make travel simple. The design includes a durable polycarbonate hard shell and a centre opening which gives you two separate compartments for ideal organization.
The 360 spinner wheels are amazing and really hold up over time. What makes this bag special is that it not only has a TSA lock to protect your valuables, but it also comes with a laundry bag and a compartment separator that also has storage.
If you love this bag but want something a little bit bigger, they also offer the "Bigger Carry On" which is acceptable on all US airlines but may struggle to fit as a carry-on on budget European airlines.
Tumi Latitude International Carry-On – 35L
Pros – Extremely lightweight. Fits anywhere. Amazing Organization.
Cons – This bag is very expensive. However, it can often be found on sale online or discounted in outlet stores.
Size: 35.6 x 55.9 x 22.9 cm
Price: from £760 – check here for special offers
Recommended By: Mikaela from Voyageur Tripper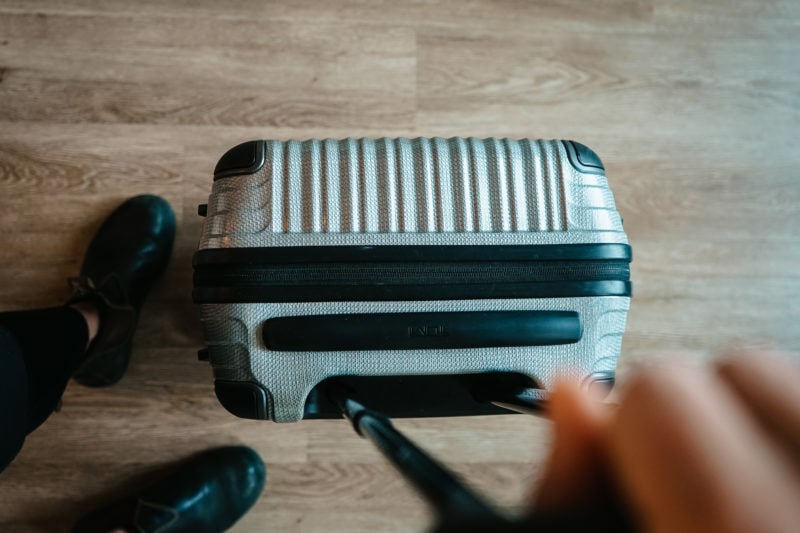 The Tumi Latitude is an excellent suitcase for a few reasons. For starters, it gives solo travellers peace of mind. The suitcase comes with TSA approved locks and an excellent warranty.
The carry on is also incredibly lightweight, so it won't contribute much weight to your overall carry on weight allowance. Plus, that makes it easy to lift into overhead bins. The narrow width makes it suitable for international flights, but also domestic flights where the aircraft has smaller overhead bin space.
The inside of the suitcase has been thoughtfully designed such that it offers ample organisation and attractive straps and zippers.
Tumi International Dual Access Carry-on Alpha 3 – 35L
Pros – Sturdy. Dual entry access pocket. Meets international requirements. Dual spinner wheels. Separate garment sleeve.
Cons – A bit heavy. Expensive.
Size: 55 x 35 x 23 cm
Price: from £884 – click here to check the latest prices
Recommended By: Claudia from Claudia Travels
As a frequent traveller and packing expert, possessing a fashionable and sturdy carry-on bag is a must. My brand of choice of choice is Tumi.
Tumi's International Dual Access Alpha 3 Carry-on bag meets the cabin storage requirements for both domestic and international carriers in North America, Europe and Asia. The four dual spinner-wheeled, Alpha 3 model weighs just over 4.5kg and is made of ballistic nylon.
The unique dual access, split-case zip permits entry to the main compartment (both with security zippers), and the front U-zip pocket allows quick access to important documents or electronic devices. With protective bumper rails and moulded side panels, the Alpha 3 is built for the toughness of road and air travel, and is easily cleanable with a damp cloth. Colour choices include basic black and black with gold hardware for a dash of bling.
American Tourister Bon Air Spinner Hand Luggage – 32L
Pros – Super lightweight. Extremely strong and durable. Fun range of colours. Integrated TSA lock.
Cons – Slightly smaller capacity than some bags.
Size: 55 x 40 x 20cm
Price: from £54.99 – click here for latest prices
Recommended By: Me
I've had the larger Bon Air Spinner suitcase from American Tourister for years (read my review here), so I know exactly how durable these cases are. Mine has been all over the world with me and is still going strong!
Strength, durability and a super lightweight build are the three main selling points. So this is an ideal carry on case if you're a frequent traveller!
It unfolds into two halves with a mesh divider and several pockets to aid organisation, and the four smooth spinner wheels make it a brilliantly manoeuvrable bag.
Tripp Holiday 6 – 37L
Pros – Super strong material. Lightweight. Integrated TSA lock. Simply, stylish design.
Cons – No internal pockets. The black one is quite a common case so you might want to add an identifying feature!
Size: 55 x 40 x 20cm
Price: £59.50 – check here for latest
Recommended By: Me
The Tripp Holiday 6 is one of the highest-ratest cabin cases on Amazon, so you can be pretty confident this is a great bag.
It's another hardshell case that opens into two halves, which is always my personal preference as it makes packing so much easier. It's made from the same material as the Bon Air above, polypropylene, a lightweight yet incredibly tough and durable material. Perfect if you're looking for long-lasting carry on luggage that won't break the bank!
Cabin Max Anode Carry On Suitcase – 35L
Pros – Built-In USB to charge your phone on the go! Fits Ryanair's carry on luggage size (additional fee). Lightweight and durable.
Cons – Fairly basic design.
Size: 55 x 35x 20cm
Price: £44.95 – check prices here
Recommended By: Me
Cabin Max are the carry on luggage specialists, so this is a great option for women travelling on a budget.
One of the unique selling points with this bag is its built-in external USB charger port, which connects to an internal power bank pocket (power bank not included) so you can charge your phone on the go!
It's also made from a super strong and lightweight material, opens into two halves, and has 4 smooth spinner wheels. There's a slightly larger version, but the smaller 55x35x20 fits hand luggage restrictions for even the stingiest airlines like Ryanair!
Pacsafe Toursafe Anti-Theft Wheeled Carry On – 42L
Pros – Anti-theft design features. Internal and external compression straps to reduce bulk. Lightweight.
Cons – Only two wheels. More like a wheeled hold-all or backpack. Design might not appeal to all tastes.
Size: 56 x 38 x 23cm
Price: £89.99 – check prices here
Recommended By: Me
The Pacsafe Toursafe cabin luggage is perfect for women travelling solo because it's packed with clever anti-theft features.
It's made from cut-resistant materials with puncture-resistant zip and lockable zip sliders. There's an RFID blocking pocket, and a brilliant cut-resistant anchor strap that you can secure around a fixed object to protect your bag.
As well as all the safety features, it's a solidly built, durable bag with a compact design to help you pack light. I like the compression straps (both on the inside and outside of the bag) which mean you can pack things down nice and tightly to maximise the space.
Carry On Luggage Sizes for Budget Airlines UK – 2023
These days, many budget airlines only include a small cabin bag in the standard ticket fare, referred to as "underseat luggage" or a "personal item". These are pretty small and have to fit under the seat in front of you.
If you want to take a larger carry on bag, you'll need to pay extra. It's also sometimes included if you pay for priority boarding or an upfront seat, so check out your options when booking your flight.
The tables below should give you a rough idea of what size carry on luggage travellers can take on most budget flights from the UK. These are always subject to change, though, so be sure to double-check before booking anything…
Included (Free) Hand Luggage Allowance
Last updated Jan 2023:
Airline
Size
Weight
Aer Lingus
25 x 33 x 20 cm
NA
British Airways
Personal 40 x 30 x 15 cm
Cabin 56 x 45 x 25 cm
23kg total
easyJet
45 x 36 x 20 cm
15kg
KLM
Personal 40 x 30 x 15 cm
Cabin 55 x 35 x 25 cm
12kg total
Ryanair
40 x 20 x 25 cm
NA
TUI
55 x 40 x 20 cm
(1 piece only, includes personal item)
10kg
Wizz Air
40 x 30 x 20 cm
10kg
Included (free) carry on luggage allowance for major budget airlines.
Large Cabin Bag (Pay Extra or Included with Upgraded Ticket Types)
Last updated Jan 2023:
| Airline | Size | Weight |
| --- | --- | --- |
| Aer Lingus | 55 x 40 x 24cm | 10kg |
| British Airways | Included (see above) | 23kg total |
| easyJet | 56 x 45 x 25 cm | 15kg |
| KLM | Included (see above) | 12kg total |
| Ryanair | 55 x 40 x 20cm | 10kg |
| TUI | Included (see above) | 10kg |
| Wizz Air | 55 x 40 x 23 cm | 10kg |
| | | |
Paid-for add on cabin baggage sizes for major budget airlines
Read More
I hope you found this round-up of the best carry on luggage for women useful! Feel free to leave a comment with any questions – or to share your own favourite cabin sized bags.
Antler Clifton Luggage Set Review
11 Best Travel Backpacks for Female Travellers
16 of the Best Carry on Bags and Backpacks for Female Travellers