Some posts on this site contain affiliate links. If you book or buy something through these links, I earn a small commission (at no extra cost to you). Take a look at my privacy policy for more information.
A round-up of the best carry on sized bags or backpacks for women and female travellers…
If you're travelling on a budget, whether it's a short break or a long term round-the-world trip, packing everything into a hand luggage sized bag or backpack can help you save money… as well as saving you time at the airport.
In this post, I've chosen my favourite bags and backpacks, and also gathered recommendations from fellow travel bloggers, to make sure this list ONLY includes tried-and-tested cabin bags that you can trust.
All the bags on this list are suitable to use as cabin luggage. However, don't forget that some budget airlines these days now only include a "personal item", and this needs to fit under the seat in front of you. So you may need to pay extra to add a large cabin bag. Check the table at the end of this post for clarification.
But this list also includes some really small carry on bags and backpacks to suit women travelling with only that stingy underseat personal item allowance. Perfect if you're on a really tight budget!
To help you find the right cabin luggage for your needs, I've divided the post up into sections (use the contents menu below to browse). I've then listed all the bags in ascending size order.
These really are some of the best carry on bags for female travellers available at the moment, so you're bound to find the right one for you…
Some (not all) of the carry on bags and backpacks included below were gifted to me or to the bloggers who recommended them. But all opinions are 100% honest.
Best Carry On Bags for Women
Travel Hack Tote Bag, 30L
Pros – Fits EasyJet's underseat/personal Item dimensions. Tons of pockets – including one for hair straighteners! Can be combined with rolling luggage. SO pretty!
Cons – Not small enough for Ryanair's stingy personal item allowance! Carrying over the shoulder can be quite heavy if you overfill it.
Size: 45 x 36 x 20cm
Price: £39.95 – check here for latest prices
Recommended By: Me!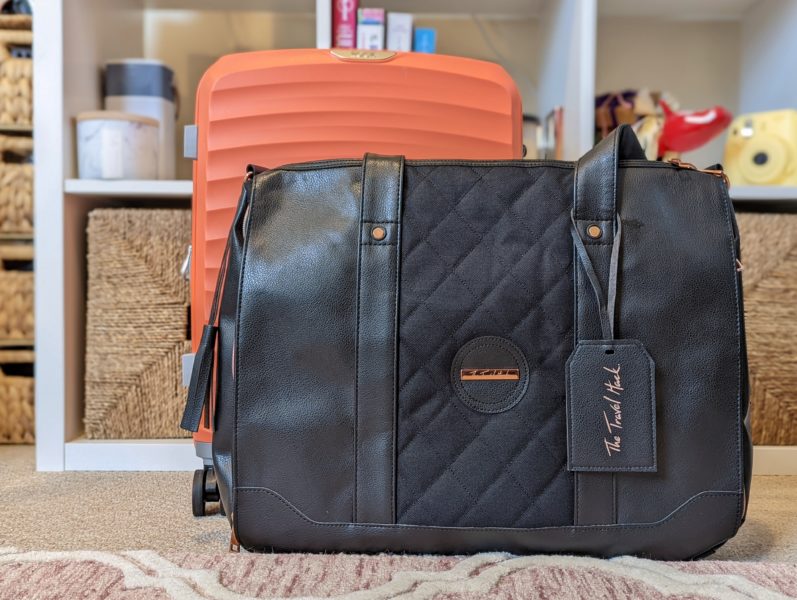 One of my favourite bloggers, Monica from the Travel Hack, has a range of luggage and it is absolutely gorgeous! She sent me the newest addition, the 30L Travel Hack Underseat Tote Bag, to try out and I LOVE it.
This is the perfect carry on bag for people who don't like backpacks or prefer a shoulder bag. It's a huge tote bag with about a million pockets (OK, ten pockets) so you can stay super organised. And you can easily pack enough for a one or two night break as it's surprisingly roomy.
It also features a clever handle pass-through on the back, which means you can combine it with your wheeled luggage without the bag falling off. And the design is really stylish and feminine: faux leather with rose gold details and a pink interior. So pretty!
Kipling Darcey Small Spinner, 30L
Pros – Lightweight. Water-resistant fabric and very durable (mine has lasted nearly a decade). Fits all aeroplane carry-on sizes.
Cons – Things can get lost in it. The monkey tag fell off on the first use!
Size: 55 x 35 x 20.5cm
Price: From £90
Click here to see available colour options and prices
Recommended By: Shobha from Martha's Vineyard Tourist
The Kipling Darcey Small Spinner cabin bag is super lightweight, so it's easy to pick up and haul into the overhead bin, and easy to wheel. I can even put a backpack on the handle if I don't want to wear it. It's so sturdy!
The bag can be checked in if needed, and it easily fits enough for a weekend away – or a week if it's a beach holiday. It's also available in lots of colours and patterns (but I have it in black).
Jewel Small Suitcase by Rock Luggage, 34L
Pros – Really stylish design. Really roomy for such a small case. Super lightweight. Smooth easy-glide wheels.
Cons – No side handle.
Size: 55x40x20cm
Price: £74.99
Recommended By: Me!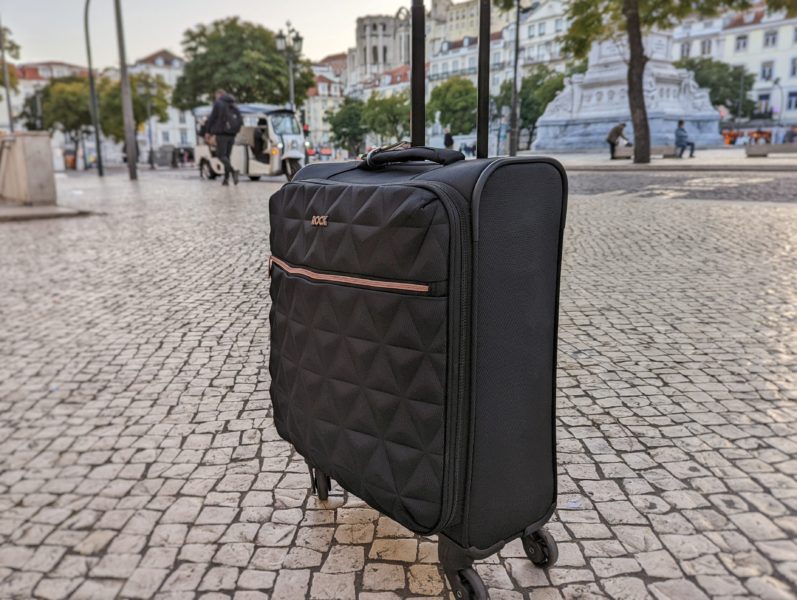 I got the Jewel Small Suitcase from Rock Luggage just in time for my recent trip to Lisbon. Its bang-on the right size for TAP Air's (and Ryanair's) large cabin bag allowance, so it's ideal for a short break on a budget.
This is SUCH a pretty bag, I absolutely love it! I have it in black with rose-gold trim, but there are a couple of other options available, and it just looks so stylish.
It's also super lightweight (just 2.5kg) and really maximises the space inside. I was able to pack about five outfits, two jumpers, and a spare pair of shoes as well as all the usual travel essentials. And there's a big outside pocket (big enough for my 13″ laptop) plus a larger interior pocket for organisation. This has to be one of the best carry on bags for women in the UK right now – I genuinely love it!
READ MORE: Check out my list of the best carry on luggage and suitcases for women for more options like this one.
Best Carry On Backpacks for Women
Travel Hack Stowaway Ladies Cabin Backpack, 20L
Pros – Stylish. Flies for free on Ryanair. Lots of pockets!
Cons – Small capacity if flying with only one bag.
Size: 40 x 20 x 25cm
Price: £35 (currently sold out, check here)
Recommended By: Kylie from Between England and Iowa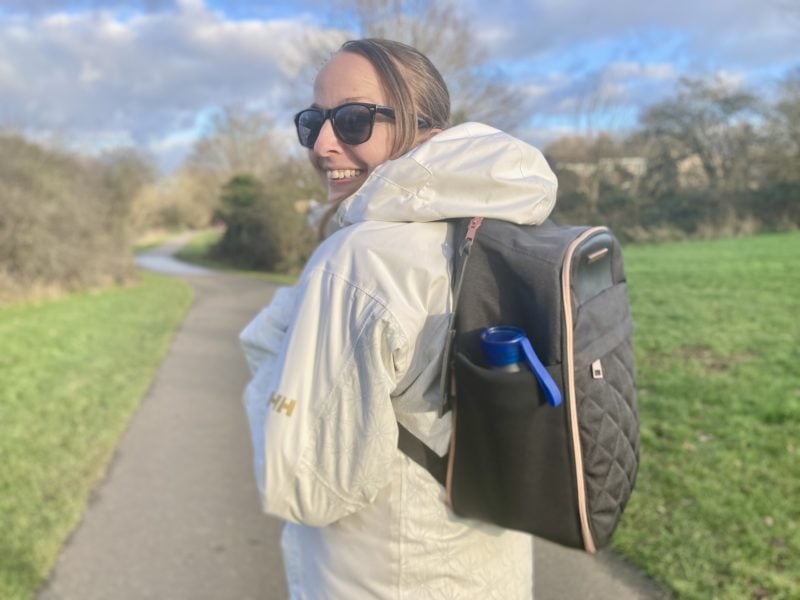 The Travel Hack Stowaway Backpack is a great carry on bag for female travellers. It has a stylish black and rose gold design, making it look smarter than typical "backpacking" backpacks.
With a 20L capacity, the backpack is on the smaller size. However, it's perfect for short breaks or for use as a cabin bag alongside checked luggage. The Travel Hack backpack fits within the dimensions of Ryanair's underseat luggage allowance, so it's guaranteed to fly for free on their flights.
There are eight pockets altogether. This includes: a 13inch laptop pocket, an easy access top pocket and an expandable water bottle compartment. Inside is a roomy main compartment with two smaller internal mesh pockets, great for organising everything.
In addition to the backpack, a matching compression packing cube is available to buy, which comes in the same pale pink as the internal material of the backpack.
Cabin Max Chicago, 20L
Pros – Ryanair "personal item" size so no extra fees. Super lightweight (only 800grams). Fits a surprising amount. Laptop sleeve.
Cons – Quite small to use as your only bag (but doable).
Size: 40 x 20 x 25 cm
Price: £29.95 – check here
Recommended By: Me!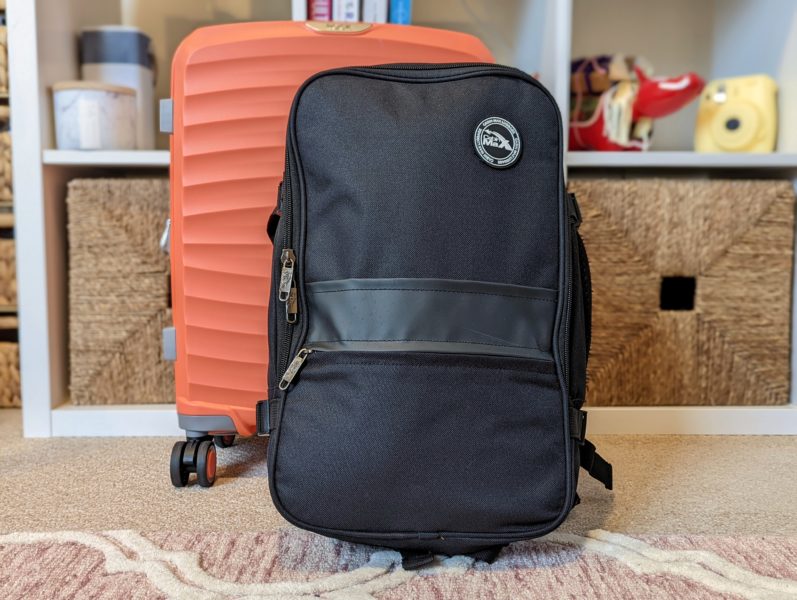 I bought the Cabin Max Chicago backpack for my recent trip to Seville, to use as my underseat personal item on Ryanair alongside my larger cabin bag. It's really compact and exactly fits the dimensions for a free item on all budget airlines, so it's ideal for a cheap getaway in Europe!
The bag's clever design really maximises on the space inside, so you can fit a surprising amount, and there are compression straps on the sides to help you get it all in.
I also loved the roomy back section, perfect for my laptop, which has three dividers to help keep things organised.
Deuter Trans Alpine 24L
Pros – Lightweight. Comfortable – advanced ventilation system, adjustable padded anatomic shoulder straps and padded back, wide hip belt. Rain cover and hydration sleeve.
Cons – The Airstripes back padding is good, but the back can still get a little sweaty on demanding hikes.
Size: 50 x 24 x 20 cm
Price: From £83.29 – check prices and colours here
Recommended By: Milijana from World Travel Connector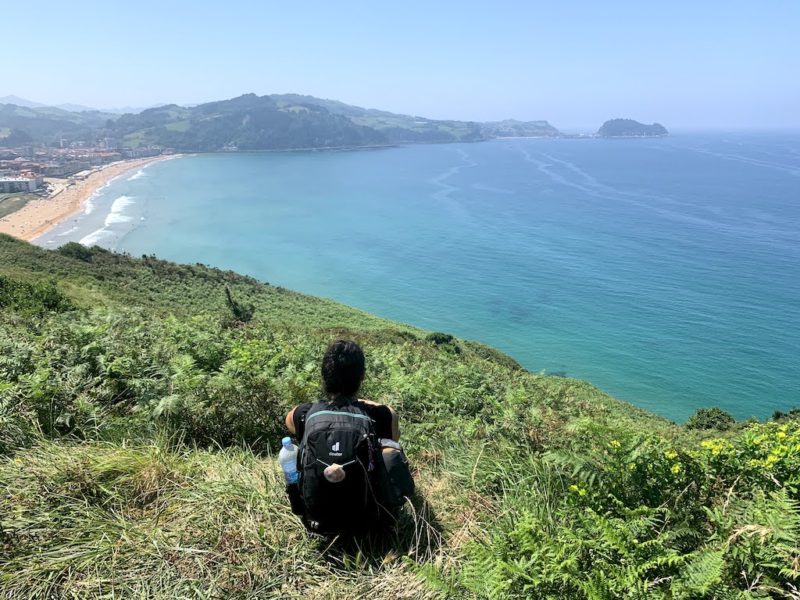 Deuter Trans Alpine 24L backpack is the perfect hiking, travel, biking, and commuter backpack with many well-thought features. I've hiked 828 km of Camino de Santiago and carried all my Camino packing necessities in the backpack for a month.
It's a perfect carry-on backpack which fits nicely under a plane seat and in a cabin luggage compartment. It's lightweight and comfortable, with compartments practically everywhere! There's a bottom compartment, a front compartment with a hidden pocket for valuables, the main storage compartment with a few small patches, elastic side pockets, two belt pockets for small daily necessities, an elastic compartment close to the back that fits a 15'' laptop, an integrated removable rain cover, and a hydration sleeve.
I can not recommend Deuter Trans Alpine Unisex 24L backpack enough, especially to female travellers who want a lightweight, practical, comfortable, and versatile carry on backpack.
Arcido Saxon, 25L
Pros – Comfy straps. Stylish design. Foldaway straps. Lots of pockets and organisation hacks. Hidden laptop compartment.
Cons – Only available in grey.
Size: 45 x 33 x 20cm
Price: £96
Recommended By: Me – read my review here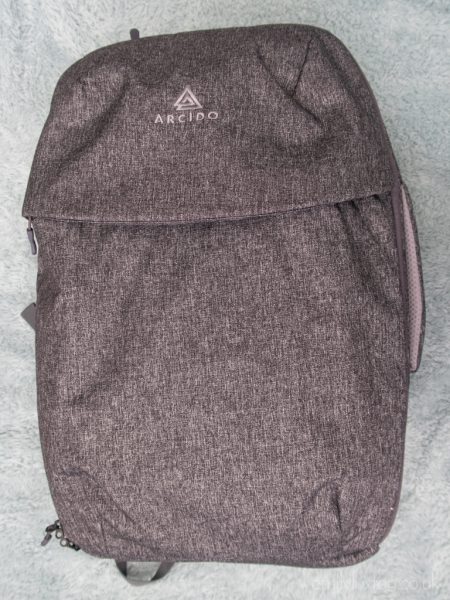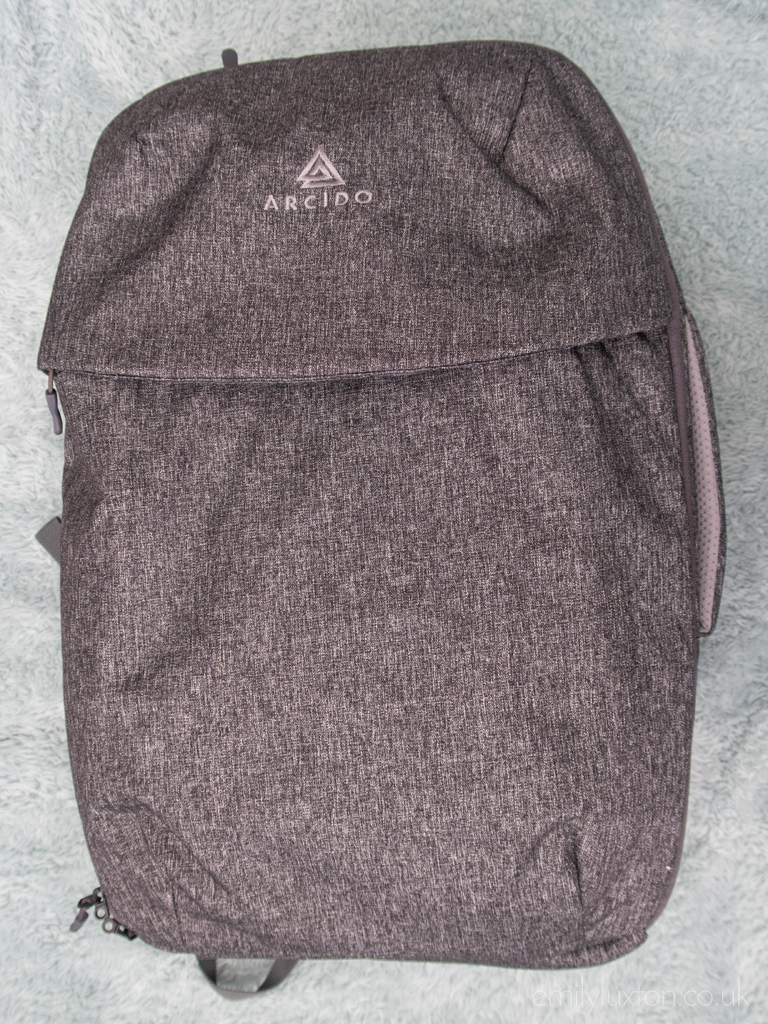 This is probably one of my favourite carry on bags for women. I've been using the Arcido Saxon backpack for the last two years, usually in conjunction with hold luggage, but it's very roomy and works well for short breaks.
What I love about the Saxon backpack from Arcido is how well designed it is. The whole design is sleek, neat, and simple.
Plus, as with all the best backpacks, there's an abundance of pockets, including a hidden laptop compartment along the back of the bag with a hidden zip. There's also a discrete padded top pocket which is ideal for your phone and other valuables. This really is the perfect carry on backpack for safety-conscious ladies!
Tropicfeel Shell Backpack, 22L – 40L (Expandable)
Pros – The inbuilt wardrobe system keeps everything organized. Super comfortable to wear. The Clamshell opening is awesome!
Cons – You may struggle to fit a laptop in when using the bag at full capacity.
Size: 50.8 x 30.5 x 19.1 cm
Price: From £213
Recommended By: Cazzy from Dream Big Travel Far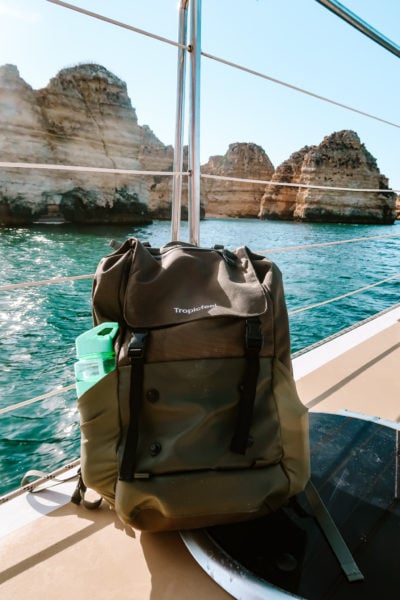 The Tropicfeel Shell Backpack is the perfect carry on bag for a city break, or even longer adventures. The wardrobe system inside helps keep everything organized, especially if you're a naturally messy person!
It can be expanded and reduced with ease, so it's a great day bag as well as hand luggage. I also like that you can add on extra features, such as a toiletries bag, which makes this cabin backpack perfect for women!
The Tropicfeel Shell is genuinely comfortable to wear and I love that you can even fit in an extra pair of shoes with the expandable kangaroo pocket at the bottom of the bag!
Basically, if you're a woman who likes to carry a lot of items while travelling this is a great cabin backpack if you want to stay organized!
Peak Design Travel Backpack, 30 – 45L (Expandable)
Pros – Tons of great pockets for organization. Multiple zipper access points. Incredibly versatile (eg, can be converted to a 30L bag by closing two snaps).
Cons – Fairly expensive. Hip straps are not adjustable so may not fit all travellers. Shoulder straps aren't comfortable for carrying heavy loads.
Size: 56cm x 33cm x 24cm (standard)
Capacity: 30L min, 35L standard (max carry-on size), 45L max
Price: £226.50
Recommended By: Jessica from Uprooted Traveler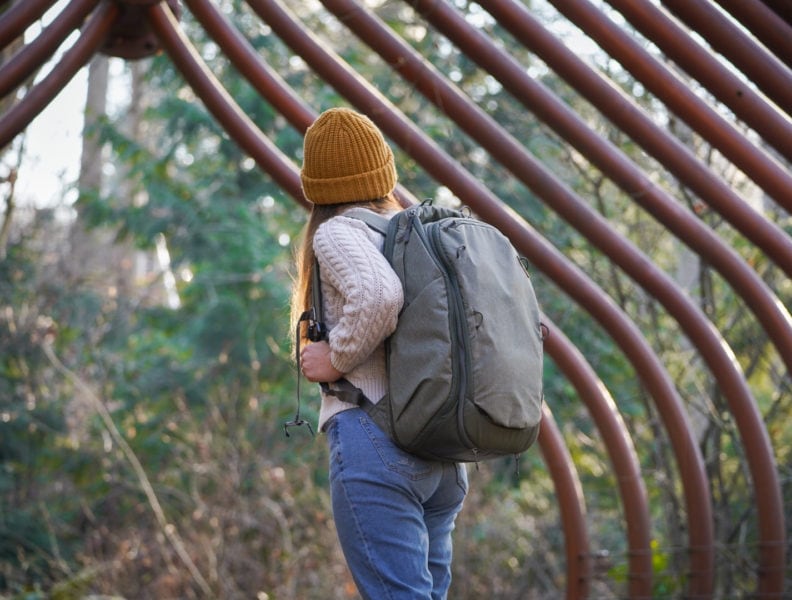 I'm a devout one-bag traveller and after looking for the right backpack for years, I have fallen in love with the Peak Design Travel Backpack. The bag is incredibly versatile, with tons of pockets and zippers that allow for easy organization and access, and backstraps that can be effortlessly tucked away so the bag can be carried like a duffel bag.
Given that I only travel with one bag, I love the ability to use the bag at its smaller 30L capacity and, when needed, expand it to the more beefy 45L, which is the maximum volume for most carry-ons.
Whether you're a photographer like me, or a female traveller who is trying to keep a bunch of stuff organized, the clever design of this bag will be a lifesaver during your travels. Plus, I love the sleek, minimal design and find it looks a bit more professional than some other popular backpack choices.
Gomatic 40L Travel Bag
Pros – Carry-on size. Water-resistant. Laptop compartment. Separate shoe compartment. Removable waist strap.
Cons – Space inside main compartment can feel limiting. Not great support for hiking.
Size: 23 x 53 x 36 cm
Price: £249
NB – the brand is called Nomatic internationally
Recommended By: Lora from Explore with Lora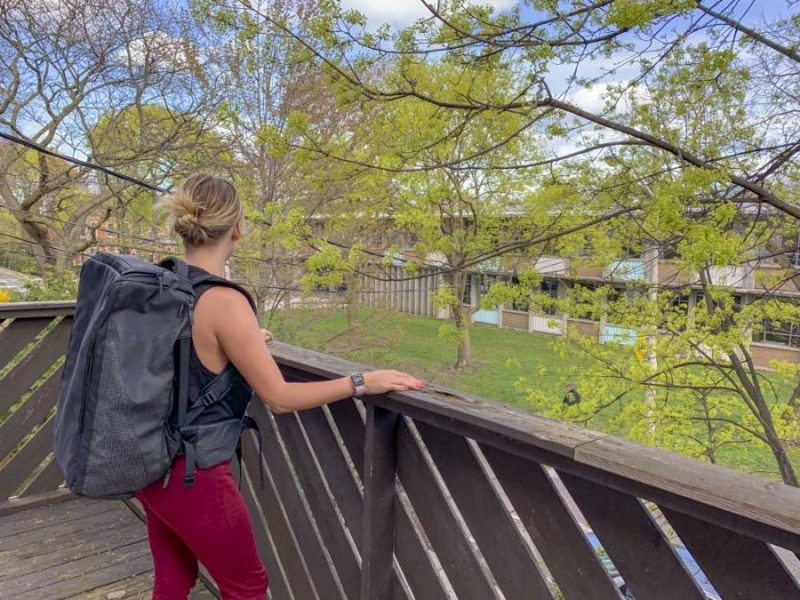 I love the Gomatic 40L bag because it has so many features designed with the needs of digital nomads in mind. Every part of the bag has a function! The exterior side pockets and laptop sleeve keep my electronics safe and secure, while the bottom compartment is great for storing dirty shoes or laundry.
As a female traveller, I find the size of the bag perfect for my frame, and the adjustable waist straps make it easy to carry while it's on my back. But it's nice that they are removable as well, so I have the option to carry it as a duffle when needed. This bag meets all of my needs – and then some!
Osprey Fairview 40L
Pros – Opens like a suitcase. Lightweight frame (1.44kg). Compression straps inside and out. Multiple pockets and padded sleeve for laptop. Hideaway straps if you want to put it in the hold. Multiple ways to carry it, including side handle and shoulder strap.
Cons – Difficult to keep clean
Size: 54 x 35 x 23 cm
Price: £76.45
Recommended By: Larch from The Silver Nomad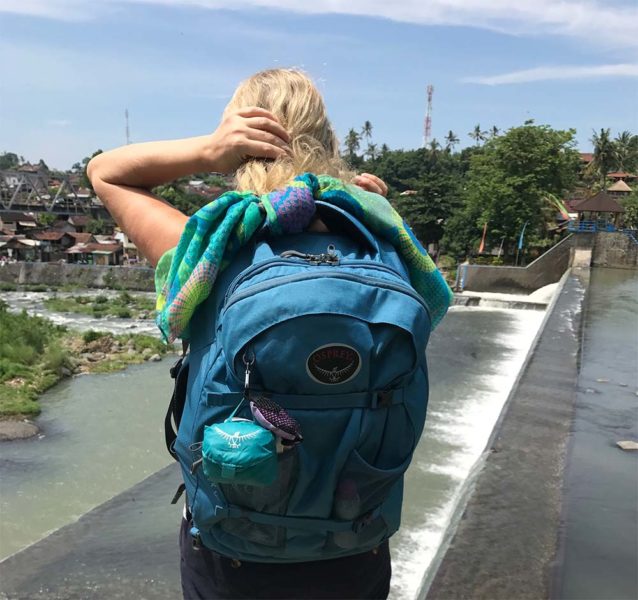 The Osprey Fairview 40L carry on backpack is designed specifically for women and female travellers. It has padded shoulder straps that gently curve to fit a female body, as well as comfortably padded waist straps to help distribute the weight.
The backpack has a lightweight but sturdy frame, so it doesn't take much of your carry on weight allowance. If you need to pop it in the hold, the straps zip away neatly.
Inside, the main section is very roomy, and the Fairview can be laid down and unzipped like a normal suitcase. It has a small top pocket for your essentials, as well as netted pockets on the front for carrying water bottles. Inside there's a padded slot for a laptop as well as another full-sized pocket, which is useful for documents (or underwear!).
Cabinzero Military Backpack 44L
Pros – Maximizing carry-on dimensions. Looks good for any type of trip even flashpacking. Durable material. Tracking
Cons – Not waterproof (a waterproof cover is extra).
Size: 52 x 36 x 19cm
Price: From £78.90
Recommended By: Veronika from Travel Geekery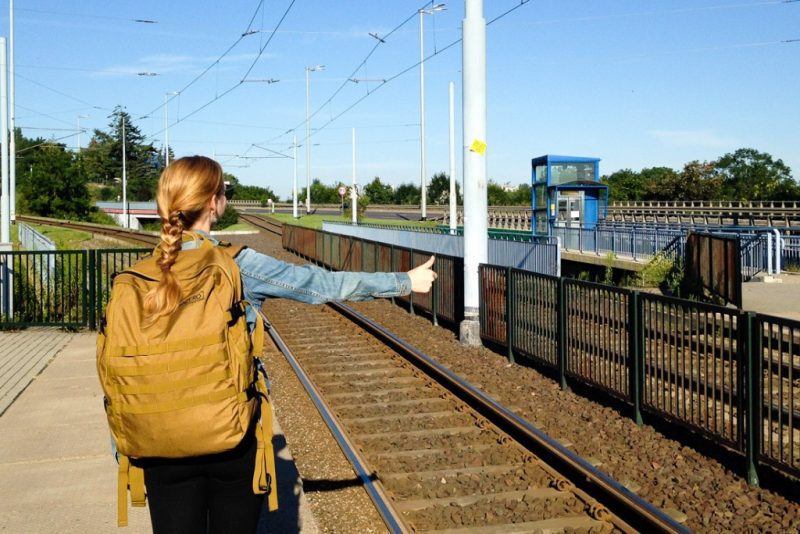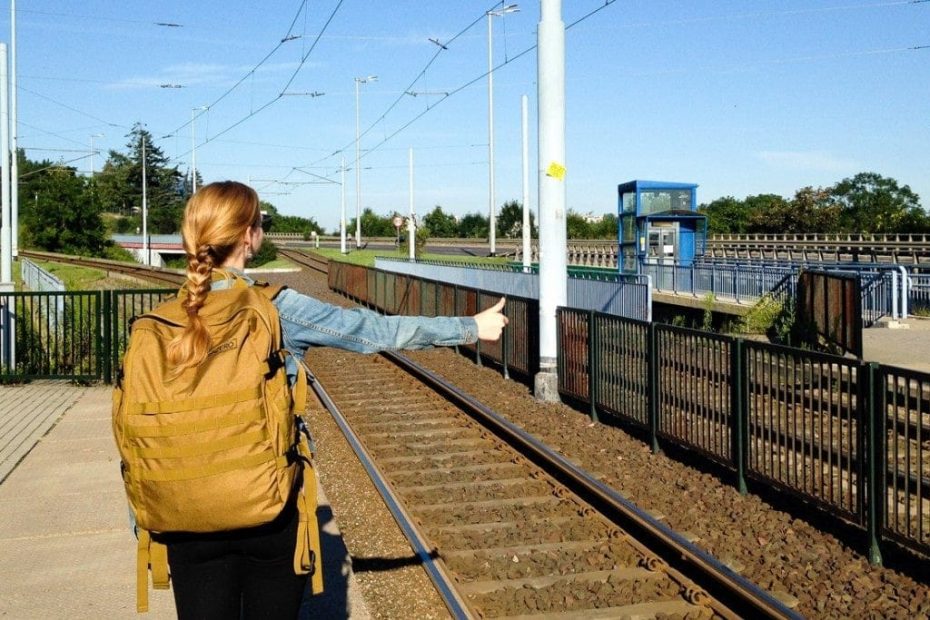 I absolutely love my Cabinzero bag! I take it on most short trips around Europe and once even took it for two weeks in Costa Rica when travelling with a carry-on only.
I've had the Military Backpack 44L in Desert Sand for about 6 years now and it's never disappointed. In fact, I even used it on a backpacking trip crossing the mountains of Bulgaria. I carried this backpack with everything for 4 days straight!
Cabinzero have several models that make great carry on bags for travel, but the Military model also features a waist strap. Even though I have a petite figure and a heavy load on my back normally leads to severe back pain, the Cabinzero backpack provides good support and hasn't let me down.
However – if you like to have the insides of your backpack neatly organized, you'll need to get packing cubes since the inside space is not divided.
Pacsafe Venturesafe EXP45, 45L
Pros – Opens like a suitcase. Made of anti-theft material. Durable. Organization/pockets for cables & smaller items.
Cons – Straps might be uncomfortable for some travellers. Only basic colours.
Size: 55.1 x 35.1 x 22.1 cm
Price: £199.90
Recommended By: Mayuri from To Someplace New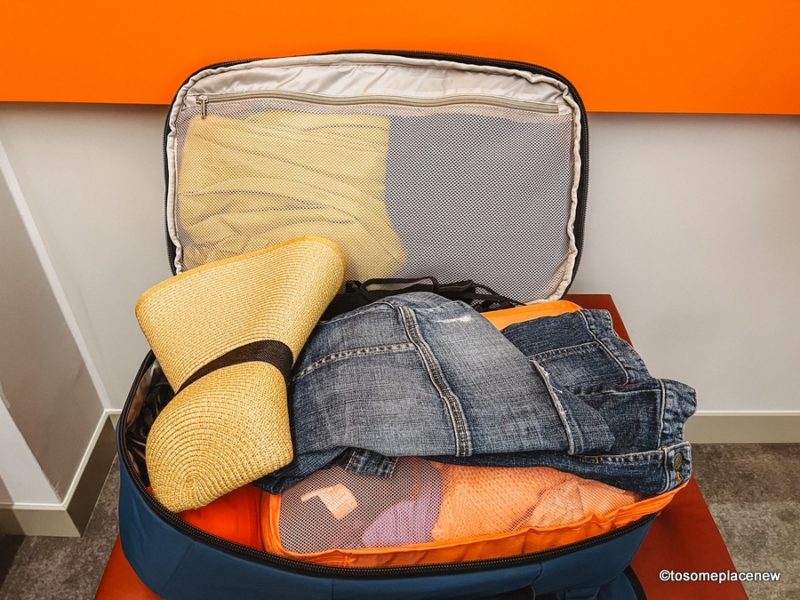 The Pacsafe Venturesafe 45L is the perfect carry on backpack for safety conscious women. It's made of anti-theft material, so it's great for traveling in crowded touristy areas. I've used it on multiple trips to Europe and found it fits everything I need for up to three weeks.
I love that the backpack opens like a suitcase, so I can keep a large packing cube with clothing and outfit essentials inside. It has extra room to store hats, cosmetics, accessories or even a pair of shoes! The exterior part of the backpack has a very generous pocket, which I use to store charging cables, documents, etc.
Unlike some travellers, I actually like the straps, and feel that they are comfortable for long trips. I am 5'1″ and petite and it fits my body frame properly. The top handle makes it easy to hand carry the backpack when needed.
Best Carry On Camera Backpacks for Women
Lowepro Fastpack BP 250, 20.5L
Pros – Protects camera gear well. Has both a hip and chest strap. Water bottle storage.
Cons – The miscellaneous storage pocket could be bigger.
Size: 31 x 26 x 50 cm
Price: £129
Recommended By: Samantha from Intentional Detours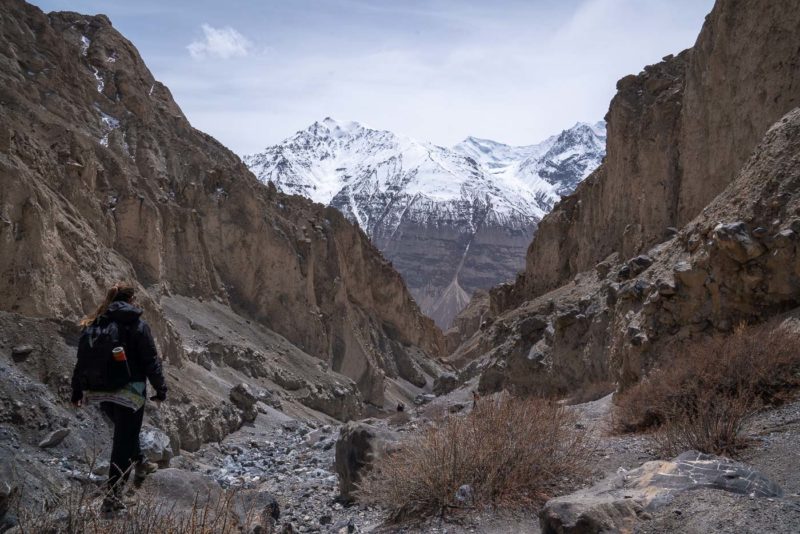 One of the best photography carry on backpacks for women is the Lowepro Fastpack BP 250. This pack has excellent protection for all your cameras and camera gear, so it's perfect for hiking, traveling, or simply neatly storing electronics.
I've used this bag in various locations, including a glacial hike in Northern Pakistan. It truly showed its stuff when it kept all the gear I'd stored in the padded section unharmed even when it took a direct hit whilst breaking my fall!
Aside from having enough room for a full-frame camera and numerous lenses and accessories, the Lowepro Fastpack also has a heavily padded laptop slot. While not sweatproof, the back section is made of comfortable material.
What makes the Lowepro above the rest is that it's as much of a photography bag as it is a functional hiking backpack. I particularly love that it comes with both a chest strap AND a decent waist strap. It also has numerous zipped portions and pockets for small/valuable items, and the water bottle holder comes with a zip-tie to make sure it won't fall out!
WANDRD PRVKE 21L
Pros – Sleek and stylish design. Ample laptop and tech sleeves. Comes with rain cover and made from waterproof material. Optional padded camera cube + side access quickdraw for camera.
Cons – Bulky waist straps
Size: 43 x 28 x 17 cm (25L capacity with roll-top fully extended)
Price: From £169.96
Recommended By: Haley of Haley Blackall Travel
The WANDRD PRVKE 21L backpack is an ideal carry-on and daypack for women because it combines an attractive sleek design with functionality. The bag offers double technology sleeves for carrying your laptop (up to a 16" MacBook Pro) and tablet or e-reader. The spacious compartment at the top with a flexible roll-down top is great for storing anything you may need on a flight.
The WANDRD PRVKE 21L also comes with an optional padded camera cube, and with the side access quickdraw for your camera, you don't have to put your bag down on a muddy trail.
Waterproof materials and zippers make up the exterior of the bag with a complimentary rain cover that tucks away conveniently at the base of the backpack. The WANDRD bag also comes with all the added features like padded waist straps, hidden passport/cash pocket, key garage, and straps for external carry.
Thule Aspect DSLR Camera Backpack, 32L
Pros – Sturdy. Comfortable. Removable padded dividers and side zipper for easier access.
Cons – It feels somewhat bulky when used as an everyday camera bag. Not waterproof.
Size: 30 x 22 x 52cm
Price: £115.16
Recommended By: Maria & Katerina from It's All Trip to Me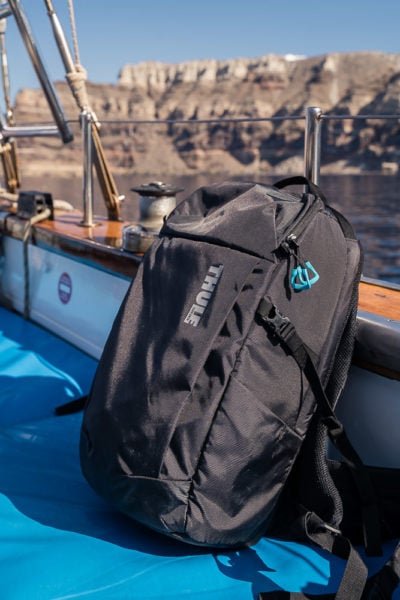 The Thule Aspect DSLR Camera Backpack is easily one of the best carry on bags for women with a passion for photography. It can fit not only all your camera gear, but also everything you need for a weekend trip.
It's the perfect size to be used both as an everyday camera bag and a compact carry on bag. Unlike most camera backpacks that are designed for men, the Thule Aspect DSLR feels less bulky, which makes it equally suitable for women. Moreover, the upper compartment has enough space for a female traveller's personal items.
Carry On Bag Sizes for Budget Airlines UK – 2023
These days, many budget airlines only include a small cabin bag in the standard ticket fare, referred to as "underseat luggage" or a "personal item". These are pretty small and have to fit under the seat in front of you.
If you want to take a larger carry on bag, you'll need to pay extra. It's also sometimes included if you pay for priority boarding or an upfront seat, so check out your options when booking your flight.
The tables below should give you a rough idea of what size cabin bags travellers can take on most budget flights from the UK. These are always subject to change, though, so be sure to double-check before booking anything…
Included (Free) Hand Luggage Allowance
Last updated Jan 2023:
Airline
Size
Weight
Aer Lingus
25 x 33 x 20 cm
NA
British Airways
Personal 40 x 30 x 15 cm
Cabin 56 x 45 x 25 cm
23kg total
easyJet
45 x 36 x 20 cm
15kg
KLM
Personal 40 x 30 x 15 cm
Cabin 55 x 35 x 25 cm
12kg total
Ryanair
40 x 20 x 25 cm
NA
TUI
55 x 40 x 20 cm
(1 piece only, includes personal item)
10kg
Wizz Air
40 x 30 x 20 cm
10kg
Included (free) carry on luggage allowance for major budget airlines.
Large Cabin Bag (Pay Extra or Included with Upgraded Ticket Types)
Last updated Jan 2023:
| Airline | Size | Weight |
| --- | --- | --- |
| Aer Lingus | 55 x 40 x 24cm | 10kg |
| British Airways | Included (see above) | 23kg total |
| easyJet | 56 x 45 x 25 cm | 15kg |
| KLM | Included (see above) | 12kg total |
| Ryanair | 55 x 40 x 20cm | 10kg |
| TUI | Included (see above) | 10kg |
| Wizz Air | 55 x 40 x 23 cm | 10kg |
| | | |
Paid-for add-on cabin baggage sizes for major budget airlines
Read More
I hope you found this round-up of carry on bags and backpacks for women useful! Feel free to leave a comment with any questions – or to share your own favourite cabin sized bags.
Antler Clifton Luggage Set Review
11 Best Travel Backpacks for Female Travellers
20+ Insanely Useful Backpacking Essentials
11 Best Carry On Luggage Suitcases for Women