Some posts on this site contain affiliate links. If you book or buy something through these links, I earn a small commission (at no extra cost to you). Take a look at my privacy policy for more information.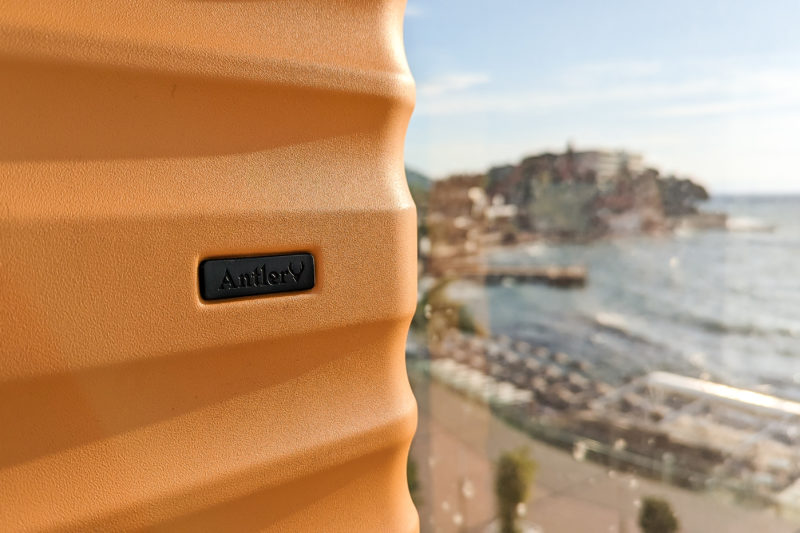 My review of the Clifton luggage set from Antler: hard shell wheeled suitcases in cabin, medium, and large sizes.
Having worked as a travel blogger for over 11 years now, and travelled to almost 60 different countries, I think it's safe to say that at this stage, I'm pretty well travelled!
I've also gone through a fair amount of luggage in that time, so I know exactly what to look for. Decent luggage can really help make a trip easier.
Since you're essentially living out of your case for the duration of any trip, size is really important. A well-designed case should maximise the space, whilst still being nice and portable. Some decent inside pockets and other clever designs never hurt, either.
You also need something well-built and durable, so it'll survive whatever happens to it between the airport check in and the baggage belt at your destination. I'd always choose a hard shell case for that reason.
Over the last couple of months, I've been road- (and flight-) testing the Clifton luggage set from Antler, and I've been thoroughly impressed. These four-wheeled hard shell suitcases are an absolute DREAM to travel with.
Antler gifted me all three Clifton cases in exchange for this review – but all words and opinions are my own. I hope you find this helpful…
Antler Clifton Luggage Review: The Basics
The Clifton luggage range from Antler is a set of hard-shell 4-wheeled suitcases that come in three sizes (see below).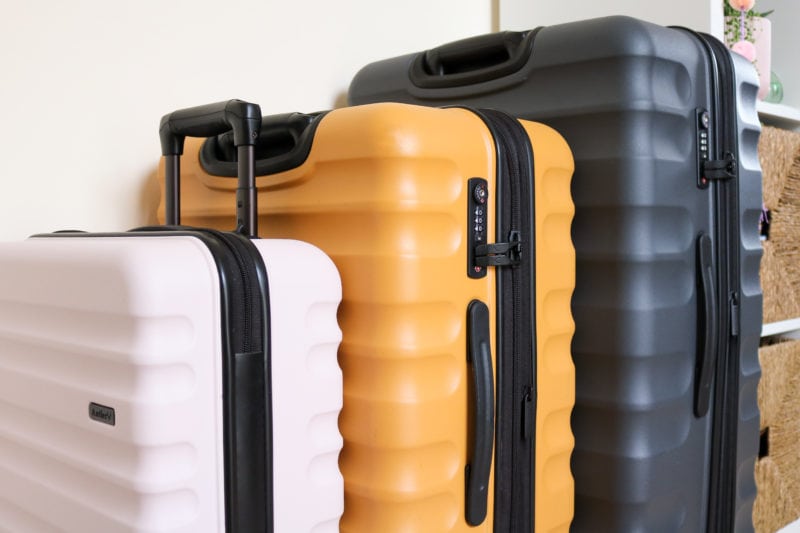 Quick Specs
Material: Polycarbonate (super strong & super lightweight)
Innovative, twist-grip handle (my FAVOURITE feature!)
Expander zip on the medium and large cases (for when you bring home waayyyy too many souvenirs!)
4 Wheels: Double Wheel System with 360-Degree Rotating Wheels
TSA Fixed Combination Lock
Colours: a great range of 10 choices
Antler Clifton Sizes: Cabin, Medium, or Large?
As mentioned above, Antler's Clifton luggage comes in three sizes: cabin, medium, and large. See below for the size and capacity details:
CABIN: 20x40x55cm – 37L capacity – 2.8kg

MEDIUM: 30x45x67cm – 75L capacity – 83L with expansion – 3.9kg weight.

LARGE: 35x52x80cm – 121L capacity – 155L with expansion – 5kg weight.
Which size to choose really comes down to your individual travel needs. The Antler Clifton cabin suitcase is a surprisingly roomy little number, ideal for packing light on short trips. At 20x40x55cm, it falls well within the cabin baggage size allowance for most airlines – even Ryanair*.
Most airlines only allow for 10kg or 15kg as carry-on weight, so the lighter the case is, the more room for clothes (and souvenirs!) you'll have. At less than 3kg, this case leaves plenty of the allowance left over.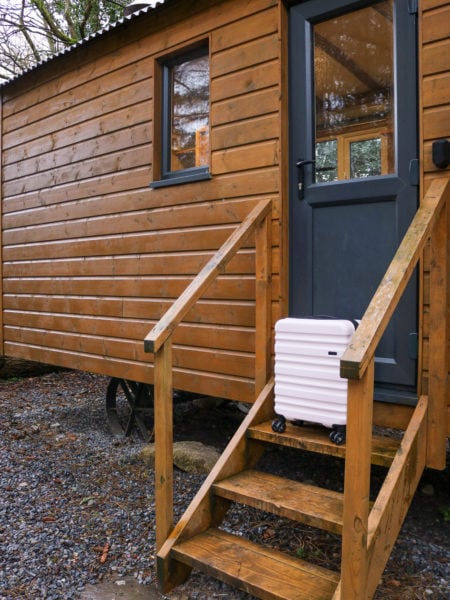 If you're going away for longer (or, like me, you're simply more of a hold-luggage kinda gal), the medium and large suitcases are PERFECT. They're both super roomy – and they both feature an expander zip so you can add some extra "breathing room" to your case.
As a solo traveller, I'm not sure I'll ever need to use the large suitcase. At 80cm tall and with a 121L capacity, it's a bit of a beast – but it would be ideal for families. I've already promised to lend it to my sister for her next family holiday with her husband and two kids. There's plenty of room for all four of them in the case – and it'll easily fit into their car boot for a driving holiday.
Just be aware of any hold baggage weight allowances when you're flying – as completely filling this 121L case could easily take you over.
*Click here to check my list of carry-on luggage allowances for the major budget airlines.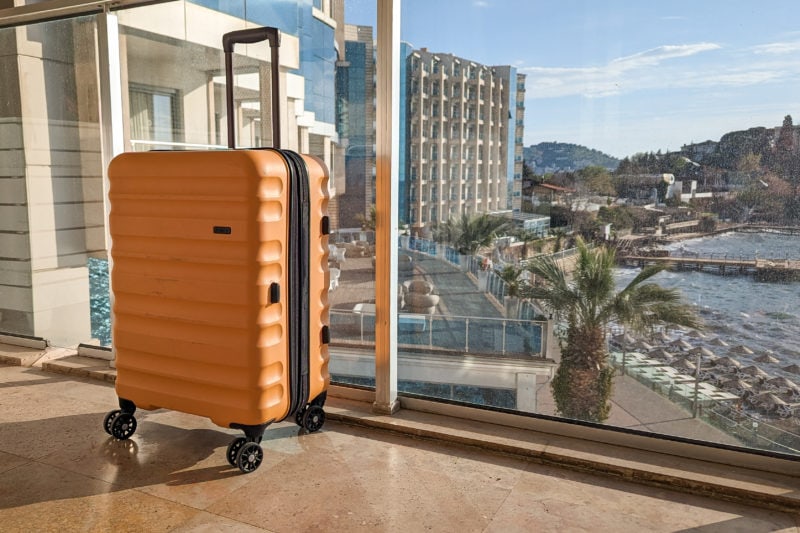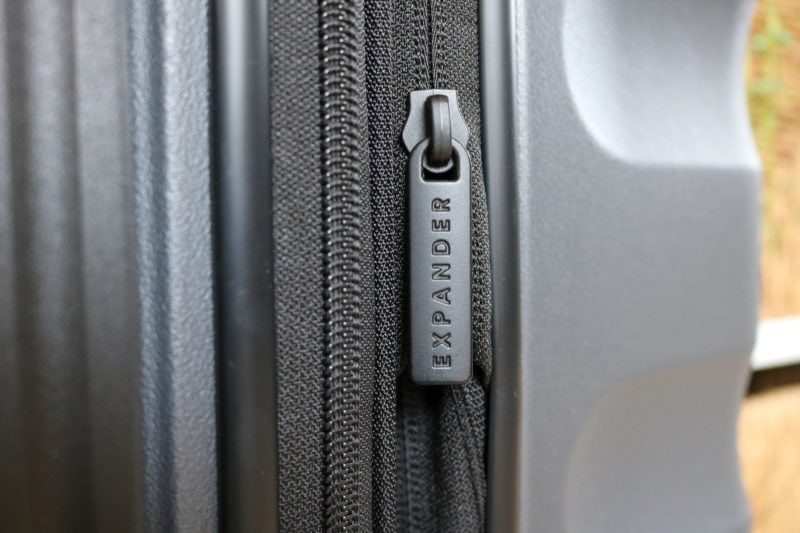 Antler Clifton Luggage Review: My Experiences
Over the past few weeks, I've been trying out the Antler Clifton luggage and I have to say, I'm impressed.
Roomy and Organised
I took the cabin suitcase on my recent long weekend in St Ives and for an overnight stay at my favourite glamping lodges in Dartmoor.
Despite its small size, the case is super roomy. I packed in four outfits, a rainjacket, my converse, my toiletries bag, laptop, and camera (as well as a few other bits and bobs) and it all fit in nicely!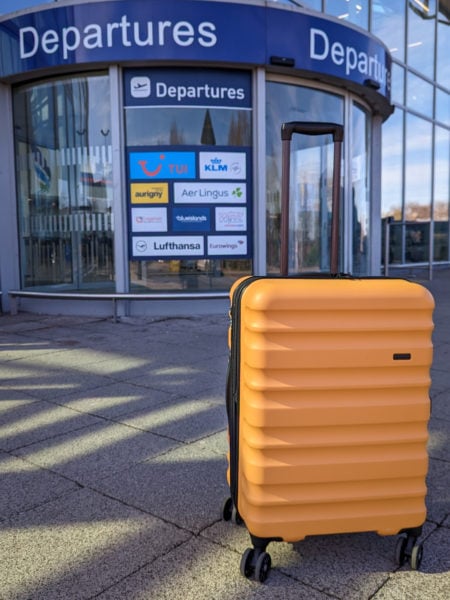 Next, I took the medium-sized Antler Clifton case on my week-long trip to Turkey. It's an ideal size for a week or two-week trip: plenty of room inside, but still small enough for easy travel.
All three case sizes open out down the middle into two sections. One side is an open section with straps for holding everything in, while the opposite side has a zip-up cover with two large pockets.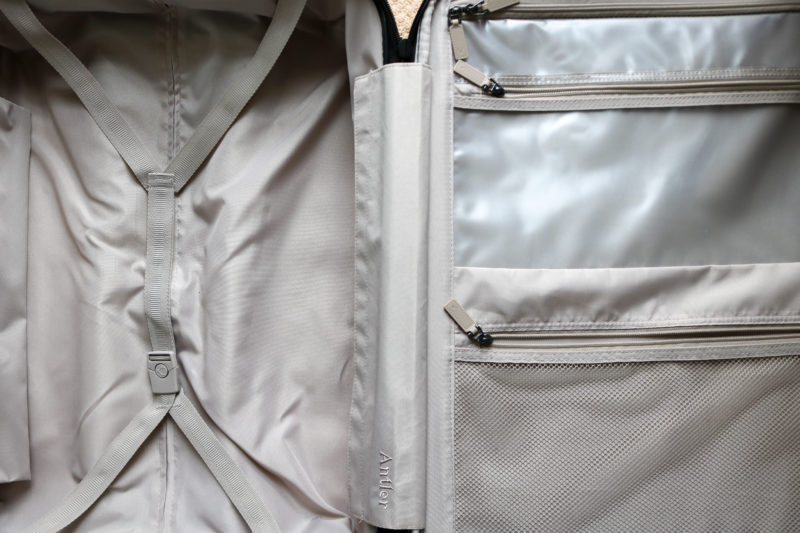 I LOVE all these little organisational details – it made packing for my Turkey trip so much easier. There's a large mesh pocket (great for small loose items like charging cables) and a large clear plastic pocket which could be good for storing small liquids – or for keeping your travel documents safe.
On the other side of the suitcase, you also have a long thin inside pocket, which again is super handy for storing small loose items. All these organisational spaces made life on the road so much easier – especially when I was staying at a different hotel every night and needed quick access to my stuff.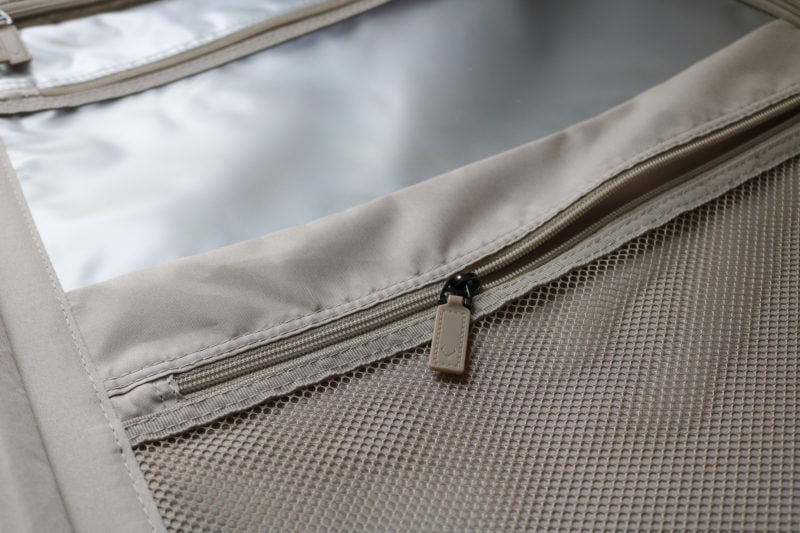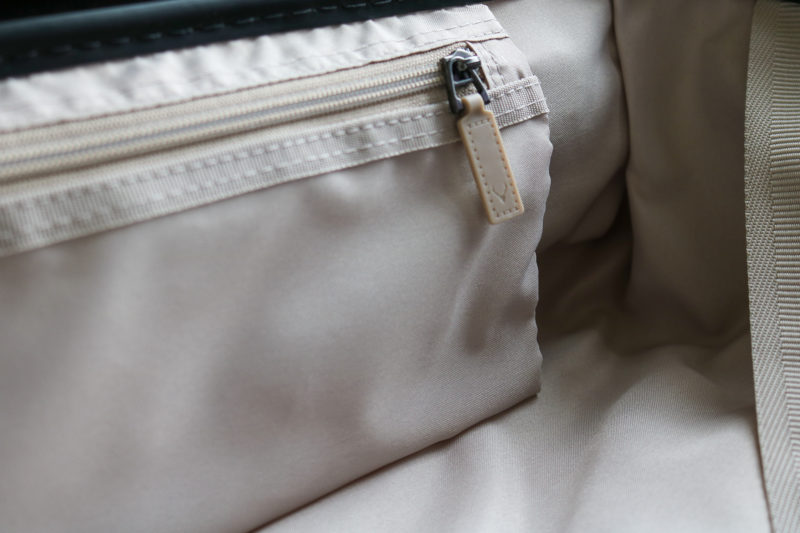 Hardwearing and Long Lasting
We were travelling around a lot in Turkey, so I needed a sturdy case that could withstand being loaded on and off buses every day. The Antler Clifton case really impressed me!
As the marks on the light yellow body of the case can attest, it took more than a few knocks on its journey from my Bristol Airport to Antalya, then all around Turkey, and back to Bristol!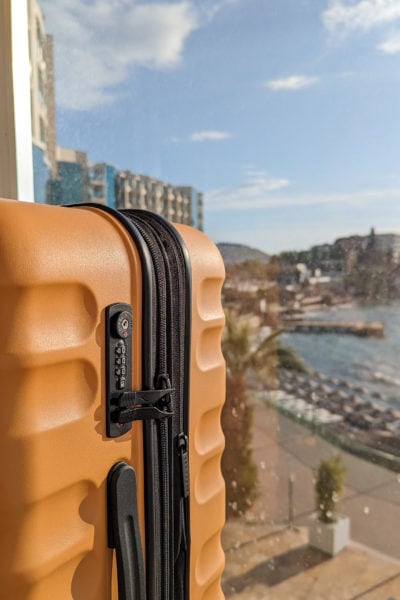 But other than scuff marks – the suitcase still feels brand new. I've had polycarbonate suitcases before and it's always a sturdy, hardwearing material. But you can really feel the craftsmanship with the Clifton cases: these feel truly built to last. They even come with a 10-year warranty, so you can use it with confidence.
It's not just the shell that feels strong and well-built, though. Inside, the lining is a strong, water-resistant fabric. All the straps, handles, wheels and zips feel durable and well-made. This is just a really good quality, well-made case – and the attention to detail really shows.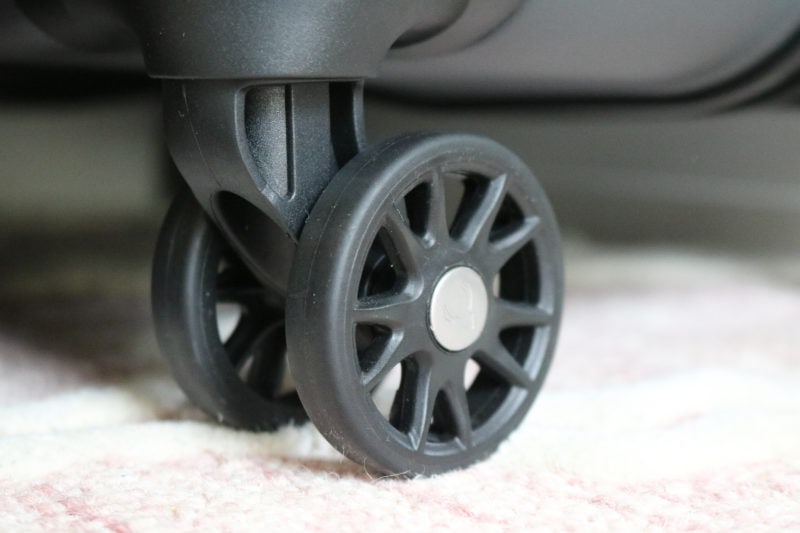 After using a cheap hardshell case for my two-week trip to Sri Lanka last year (a last-minute emergency purchase), only to have the wheels break en route back to the UK, I can confirm that a polycarbonate hard shell is not enough: all other parts of the case need to be strong, too!
Twist-Grip Handle
Oh, and then there's the handle. Other than the expansion zip, this is my favourite thing about the Antler Clifton case.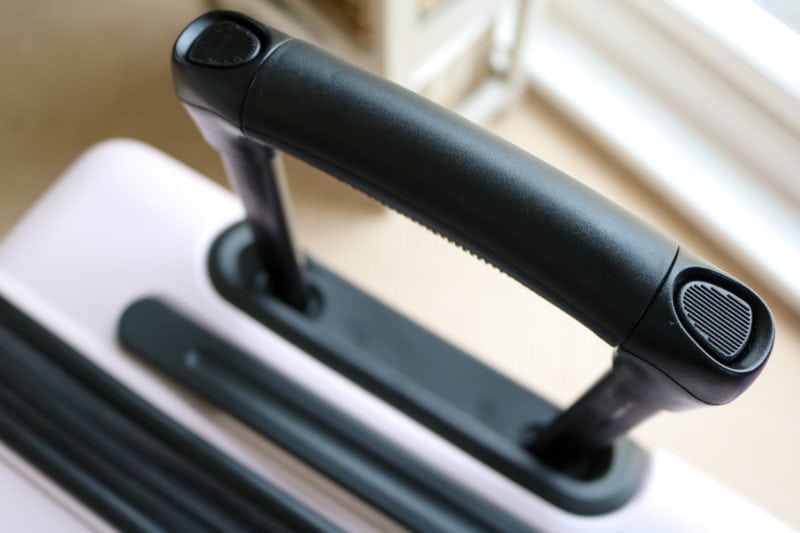 The main, telescopic handle (the one you pull up to wheel the suitcase alongside you) is GREAT. It has a twist-grip handle, which is quite hard to describe, but essentially involves a wrist-controlled twisting motion. You can twist the handle as you steer the case – and it makes manoeuvring through busy airports and train stations so much easier.
Again – the handle is also clearly well-made and durable, right down to the button you press to extend and retract it.
Super Stylish
OK, so a practical, durable, brilliantly-made organisational suitcase is all well and good… but I'm still shallow, and I also want my suitcase to look pretty!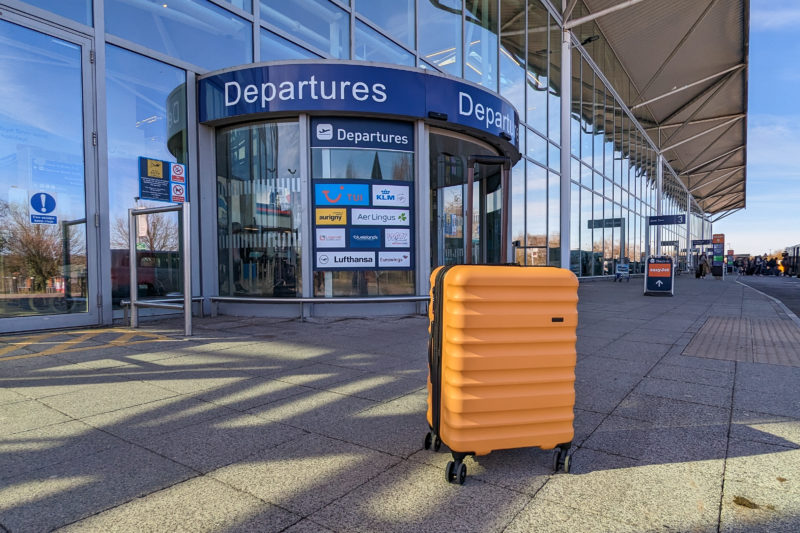 And OH but these cases are pretty! I love the simple, elegant style of the Antler Clifton luggage range. Sleek cases with rounded corners, matte black trim, and a classic ridged shell… what's not to love?
There's a range of colours, so you're bound to find something to suit. Most of the colour options are what I would call "sensible" – including Navy, Black, a creamy Taupe, and a lovely dark green "Sycamore".
But if you're like me and want the most colourful luggage possible, there are a couple of more fun options. I picked the mustard-yellow Ochre, the baby-pink Blush, and more practical deep-grey Slate.
If I had some personal feedback for Antler – I'd say that there aren't enough bright colours! Although the new Poppy (a fun bright red) looks perfect for colour-loving travellers like me.
As an aside – if you're planning to put the Antler Clifton case through heavy use, I'd recommend getting one of the darker colours. The ochre and pink ones I picked are definitely going to show up any dirt or scuffs a lot more than my large case in slate.
That said, I quite like it when my suitcases look as well travelled as I am! And the Clifton is colour-fast, so any scratches should stay true to the colour of the shell.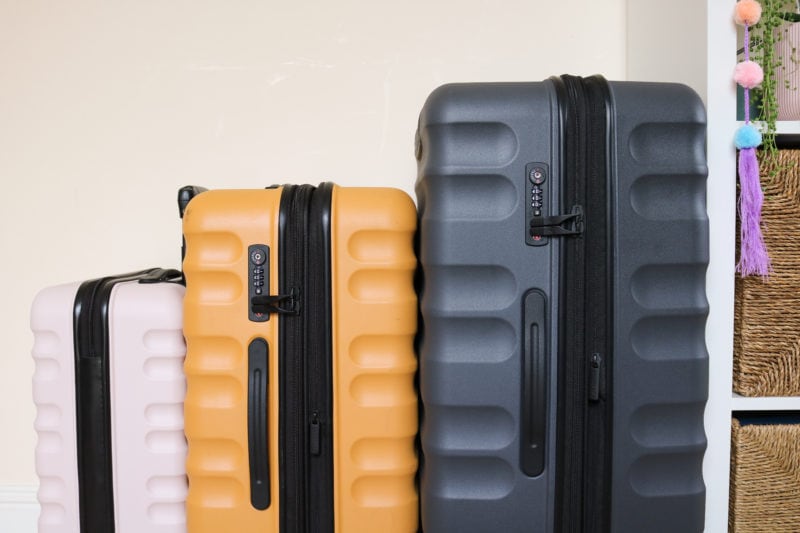 Antler Clifton Luggage Review: The Quick Version
In case you skimmed through the review above – here's a quick list of what I love about the Antler Clifton luggage range:
These are super durable cases that feel built to last – and come with a 10-year warranty for peace of mind.
Loads of handy internal pockets and a clever design for organisation.
The brilliant twist-grip handle and smooth wheels which make negotiating busy airports a dream.
These cases are about as lightweight as possible for hard shell luggage – so they don't take up too much of that precious luggage allowance.
The two larger cases expand thanks to an extra zip – so you can buy a few extra souvenirs!
Elegant design for really smart-looking luggage – and a range of colours to suit most tastes!
I hope you found this review of the Antler Clifton luggage set helpful. If you have a question – or some feedback of your own – leave a comment below!