Some posts on this site contain affiliate links. If you book or buy something through these links, I earn a small commission (at no extra cost to you). Take a look at my privacy policy for more information.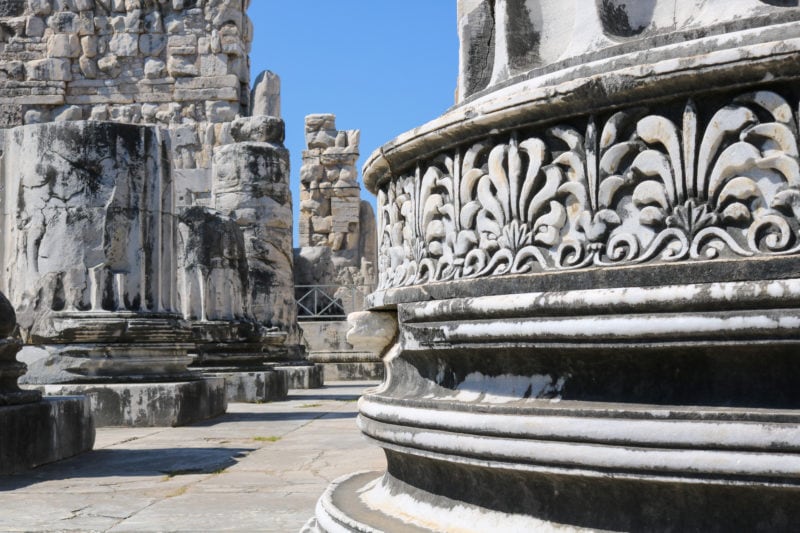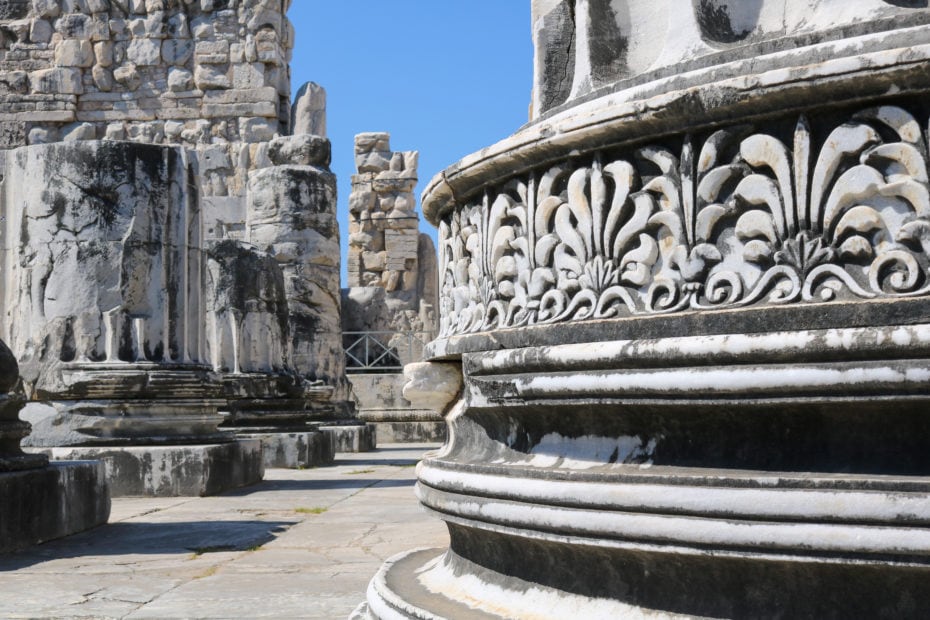 An in-depth review of the Jet2 Treasures of Turkey tour. Delve into the amazing history of the Anatolia region with this seven-day guided tour package.
Only a handful of times have I arrived at an airport with tears in my eyes. It could just be all the wine I had with lunch (in the sunshine overlooking Antalya's turquoise harbour), but as I sat in the back of a cab reflecting on the week I just spent discovering Turkey with Jet2, I was feeling genuinely emotional.
This trip was a perfect storm of great company, glorious landscapes, new cultures, good food, and a brilliant guide with an infectious passion for his subject.
The Treasures of Turkey tour from Jet2holidays is a brand new package tour, part of their new Discover More collection. It's a seven-day tour of Turkey's Anatolia region, starting and ending in Antalya.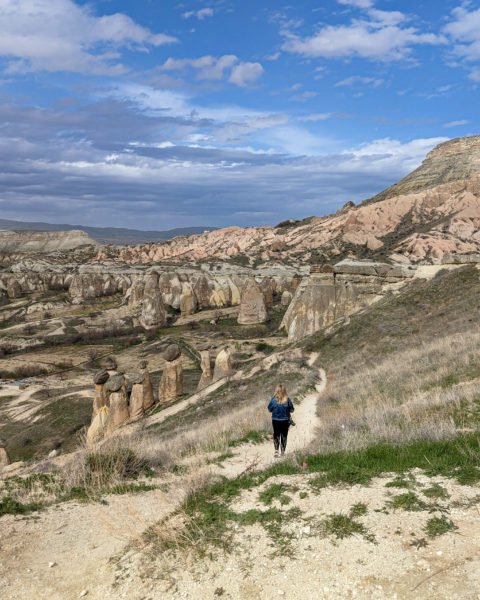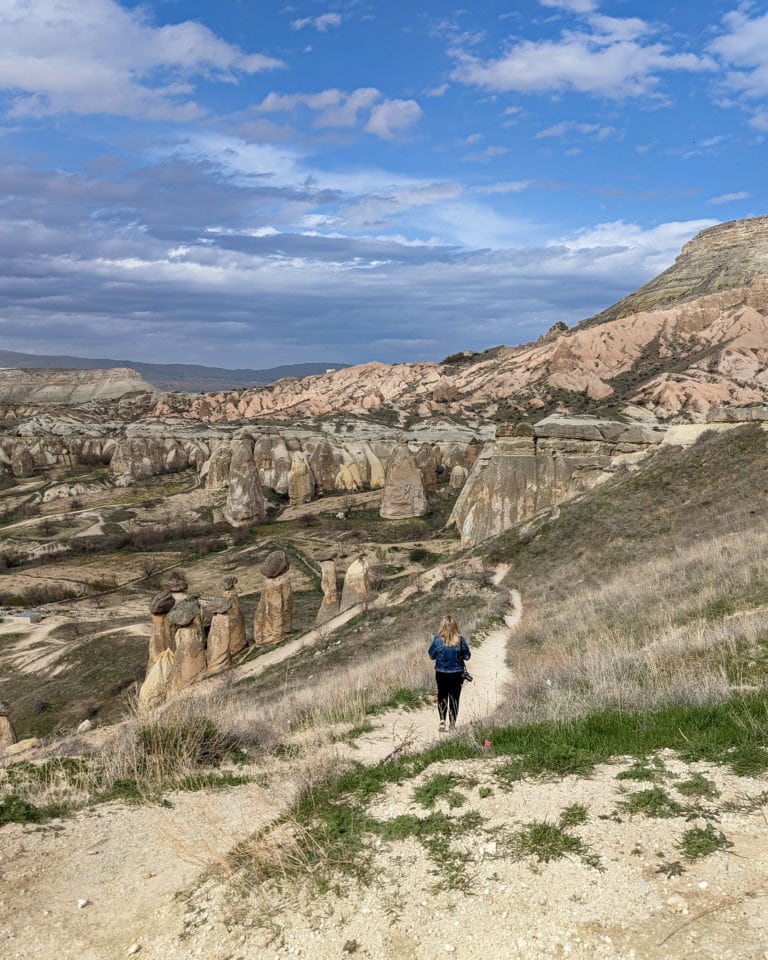 The main theme is history – with stops at around fourteen major attractions, including three UNESCO sites.
But that doesn't mean this trip is just for history and archaeology buffs! For me, the joy of the tour was discovering Turkey's fascinating culture and exploring a surprisingly diverse array of landscapes. Landscapes like the dazzling Aegean coastline, the snowy peaks of the Taurus mountains, and the arid valleys of Cappadocia.
Read on for my review of the Treasures of Turkey tour from Jet2. Seven days of adventure, culture, and discovery in Turkey's southwestern Anatolia region…
My Treasures of Turkey trip was hosted by Jet2 in exchange for this review. But all words and opinions are my own – as always!
About Jet2's New Tours
Jet2 are well known for budget flights and package holidays to Turkey – as well as a range of other destinations. Now, they're also moving into the realm of escorted tours, with the launch of the new Discover More collection from Jet2holidays.
This is a collection of tour packages designed to appeal to those guests looking for a little more adventure, history, or culture than the average "fly and flop" holiday. As someone who advocates deeper travel, these new tours sounded right up my street!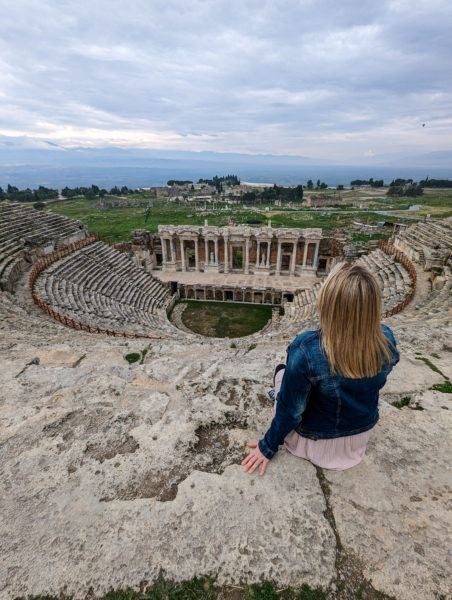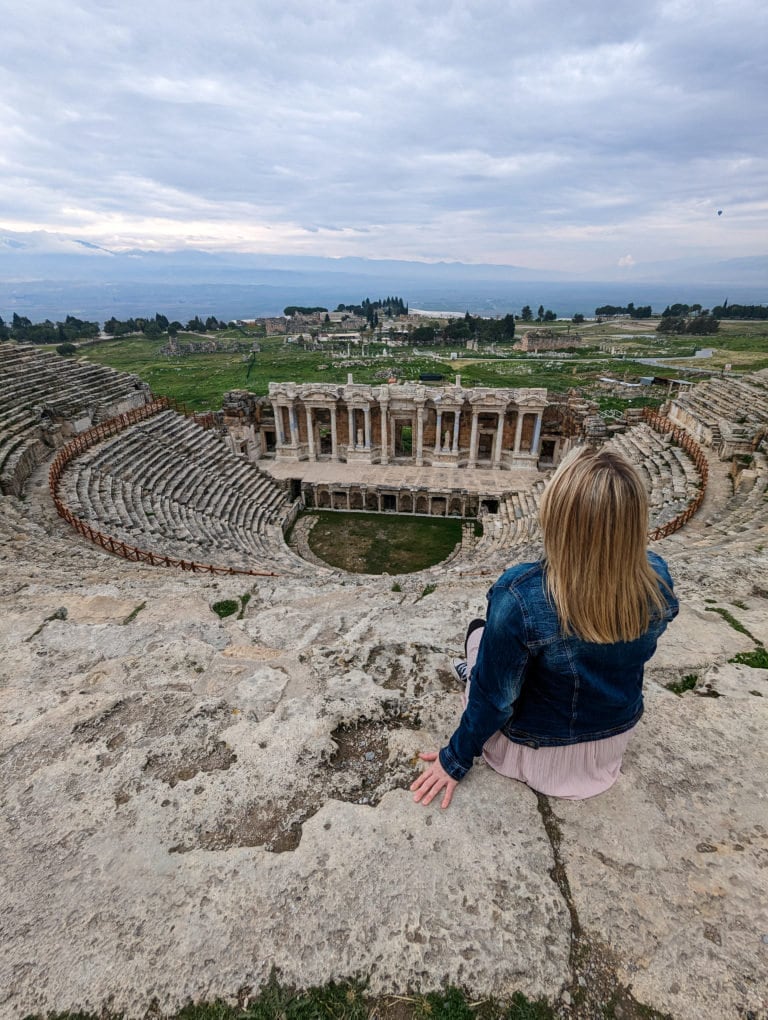 What is the Jet2 Treasures of Turkey Tour?
Treasures of Turkey is a seven-night guided tour of Turkey's southwestern Anatolia region.
The tours run Friday to Friday, starting and ending in Antalya and travelling by coach through Turkey's incredibly diverse landscapes to visit fourteen historic sites across Antalya, Konya, Cappadocia, and Kusadasi. See below for the full itinerary.
These ATOL-protected packages include Jet2 flights to Turkey with 22kg hold luggage, transfers to and from Antalya airport, 4-star half-board accommodation for seven nights, coach travel, and English-speaking guides.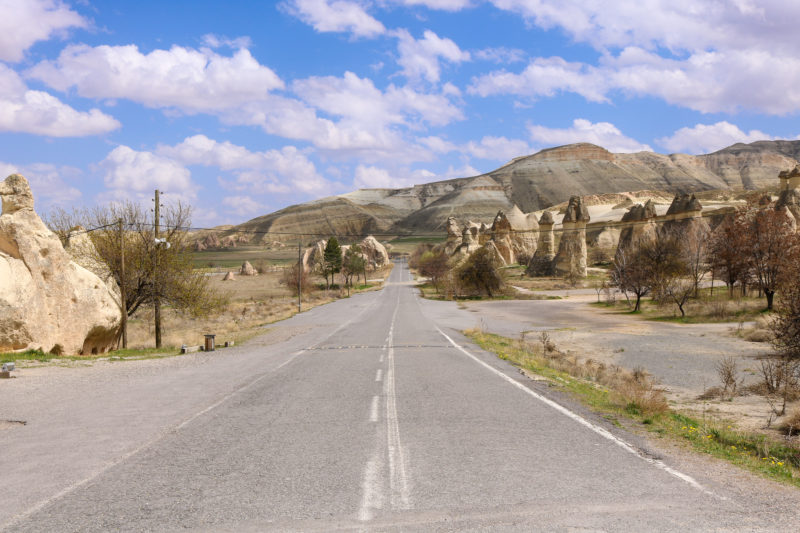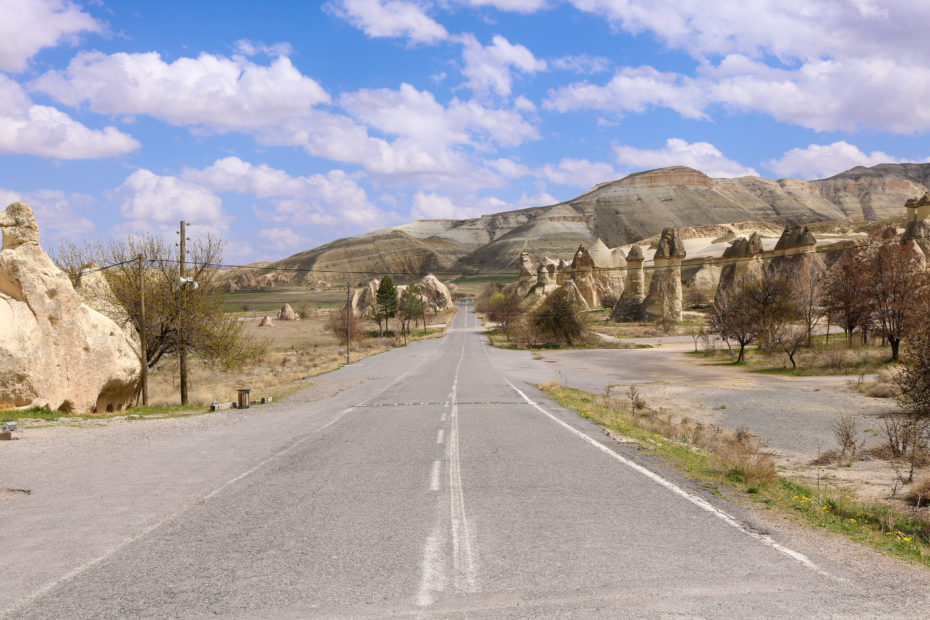 The Treasures of Turkey Itinerary
DAY ONE: Arrival day – spend the first night in Antalya.
DAY TWO: Antalya to Konya, via Perge Ancient City. Visit Mevlana Mosque and Museum in Konya.
DAY THREE: Konya to Cappadocia. Visit Kaymakli underground city and the village of Çavuşin in Capadoccia.
DAY FOUR: Stay in Cappadocia. Visit Goreme Open Air Museum, Zelve Valley, and a carpet-making workshop.
DAY FIVE: Cappadocia to Pamukkale. This is a long driving day with various comfort stops. Visit the travertines at Pamukkale and the Cleopatra Pool for a swim in the thermal baths.
DAY SIX: Pamukkale to Kusadasi, stopping at the ancient city of Ephesus en route.
DAY SEVEN: Kusadasi to Antalya. Visits to the ancient city of Miletus and the oracle site at Apollo's Temple in Didyma en route.
DAY EIGHT: Free day to explore Antalya before the return flight.
What to Expect from the Jet2's Treasures of Turkey Tour (Review)
My trip included Jet2 flights from Bristol airport, which was my first time flying with them. I was pleasantly surprised by how enjoyable the flight was, as my experience with budget airlines hasn't always been great. But the service on board was amazing, the flight was comfy, and I had a fabulous experience!
The Tour and Guide
Our tour guide, Mustafa, was FAB. Such a great, knowledgeable guide whose genuine passion for Turkey and its history was truly infectious! With a tour like this, the guide can really make or break the trip – and Mustafa was brilliant.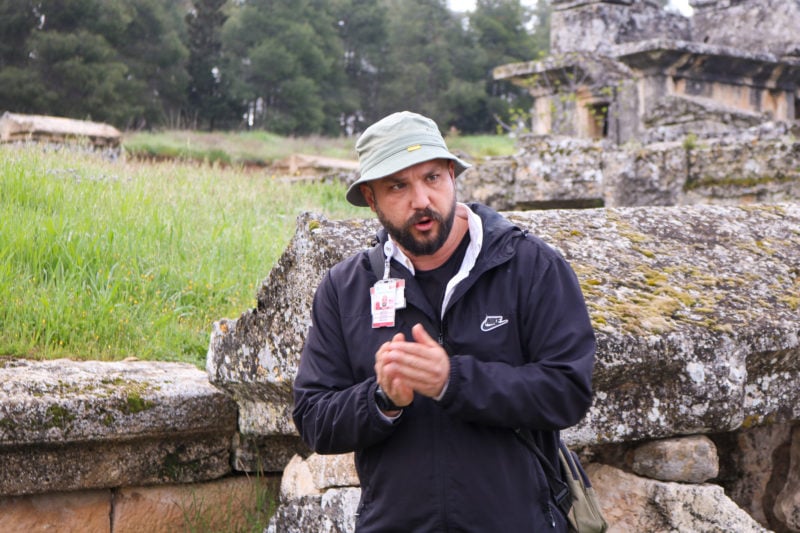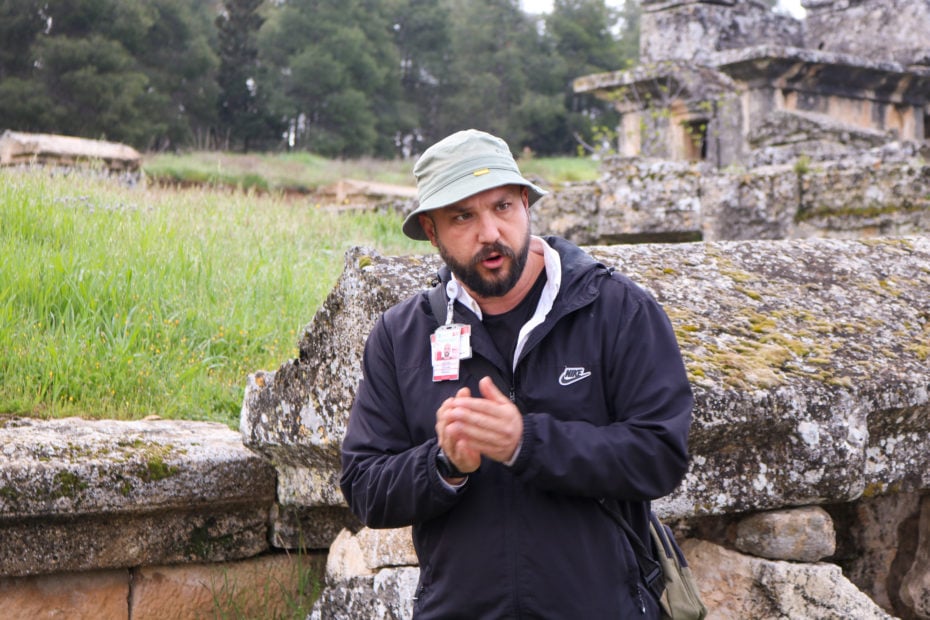 The tour itinerary is incredible. Even the drives from one destination to another were epic – a chance to marvel at the incredible diversity and scope of Turkey's many landscapes.
From the glittering coastline of Antalya, we crossed the monochrome snowscapes of the Taurus mountains, then the gaping flatness of the Konya Plains, the arid sand-coloured valleys of Cappadocia's rock-strewn landscapes, and out across rolling farmland to the west coast.
I've outlined the itinerary in brief above, and I've gone into a bit more detail on each of the stops at the end of this post.
We stopped at some of Turkey's most incredible historic sites: ancient cities like Perge and Ephesus, centuries-old churches hewn into rock stacks in Capadoccia, a modern-day spa built around the same thermal springs once used by Cleopatra, a temple once home to oracles said to hear whispers from the god Apollo… the attractions on this itinerary abound with history, legend, and culture.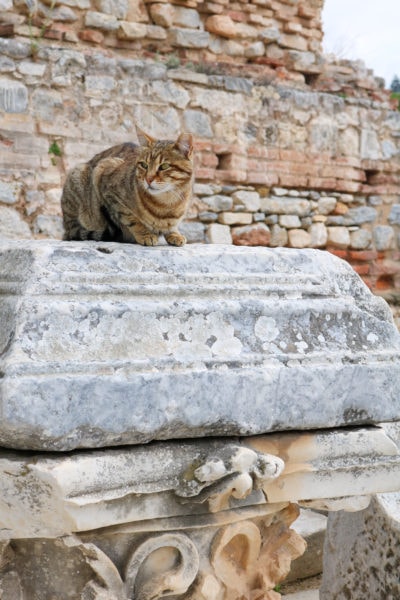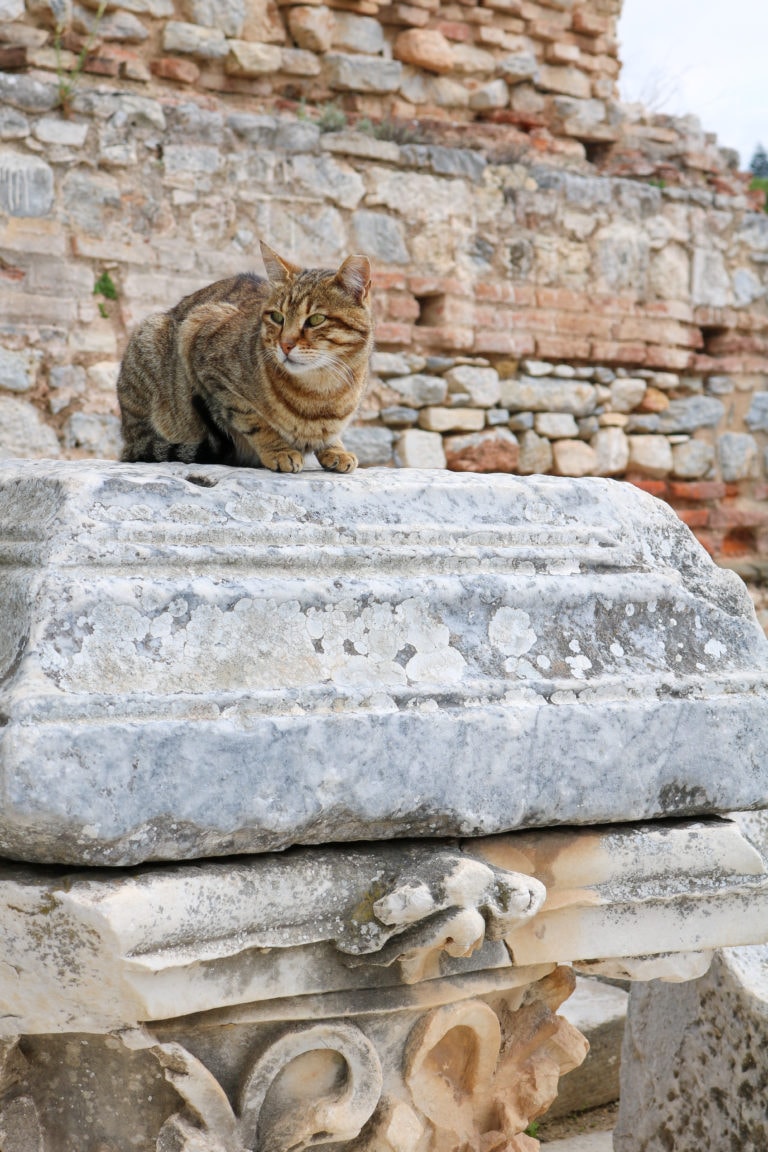 The pros of a package tour…
The tour itself was pretty intense! Packing five destinations and fourteen attractions into just seven days is always going to feel a bit manic. But with our guide keeping us on schedule – and factoring in plenty of stops for wees/snacks/fresh air – things went super smoothly.
I think you'd really struggle to build a trip like this yourself, so I felt very lucky to have the package all sorted by Jet2, and everything on the ground sorted out by Mustafa.
When I saw the itinerary, I was worried that the trip might feel a bit rushed. And at times, it did – but never too much. We had a couple of hours of free time most afternoons, which we could use to explore at our own pace, enjoy the hotel pool if there was one, or just relax in our rooms after a full-on day of exploring. And despite that jam-packed itinerary, we even found time to squeeze in some extra visits at Mustafa's recommendation.
The Food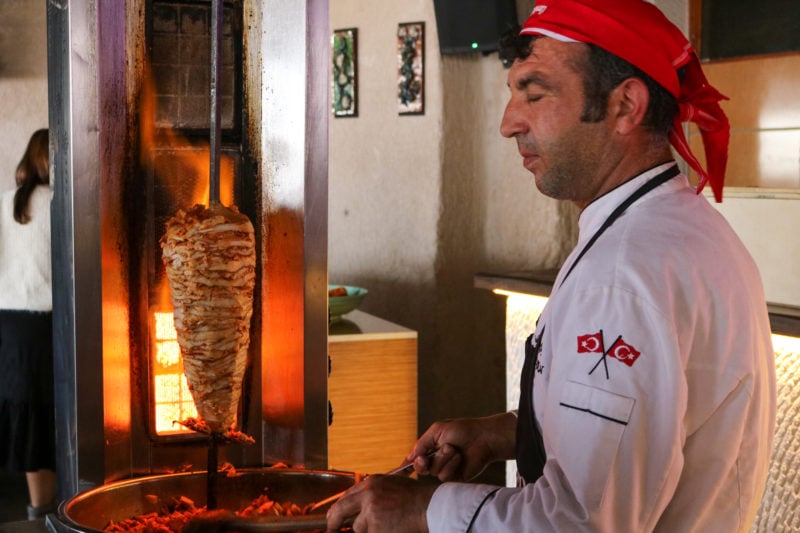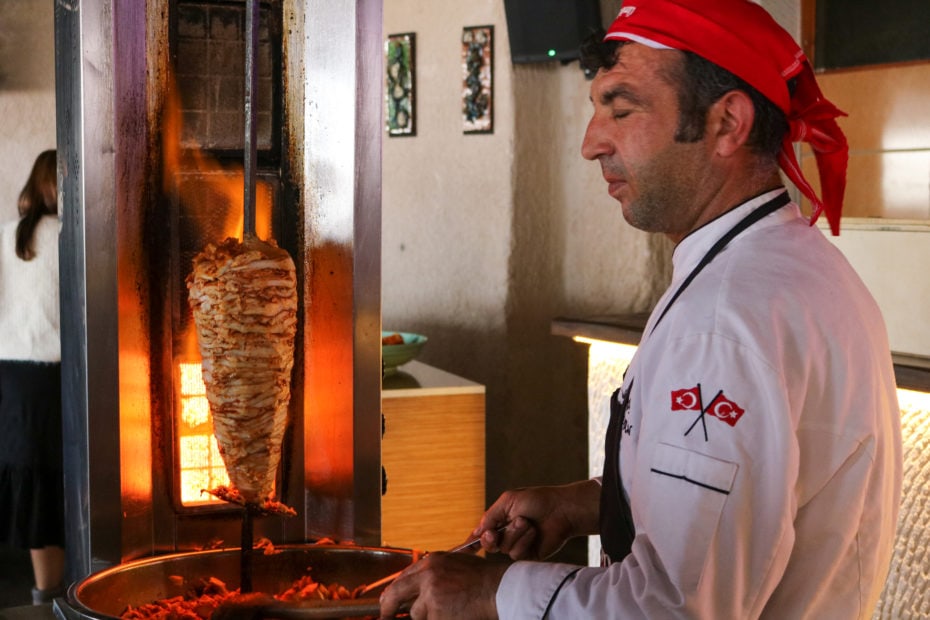 Food and travel, for me, go hand in hand. I always say the best way to experience a destination's culture is to eat it!
On the Jet2 Treasures of Turkey tour, most of our meals were buffet-style. Breakfast and dinner were always in the hotel, while lunch was often at a roadside restaurant halfway through a long drive. Thankfully, almost every buffet had plenty of local food. There was always at least one more "Western" option (frequently spaghetti bolognese) – but I strongly encourage you to try as much local cuisine as possible on your trip.
All the hotel buffets were great (well cooked, good service, lots of options), as were most of the lunchtime roadside stops. There was only one I didn't love, on the first day. But we were driving through the Taurus mountains, so options were limited – and everything was fine, just not delicious (or particularly exciting).
My favourite meals were at the slightly more "local" restaurants – especially the doner kebabs at our stop in Capadoccia, and the brilliant family-run restaurant we stopped at during the long drive from Kusadasi back to Antalya.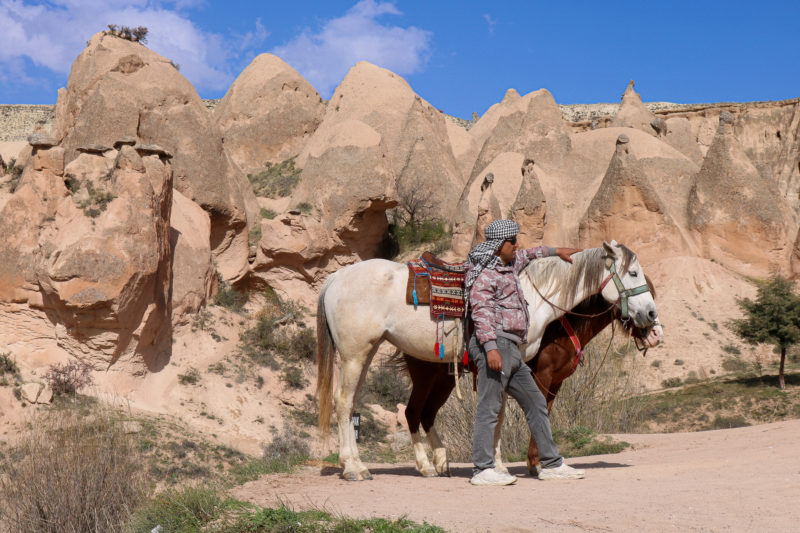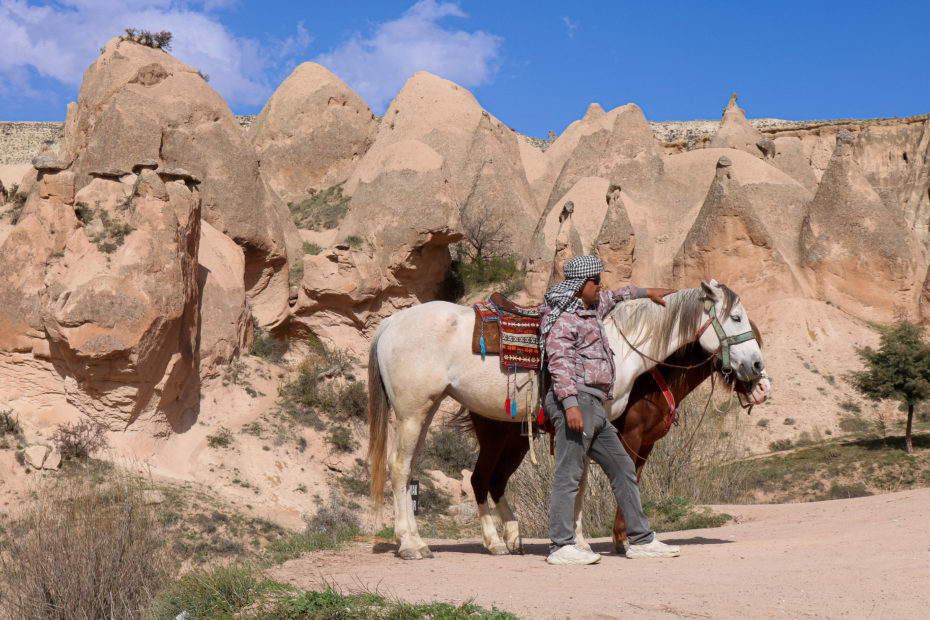 The Transport
We travelled in the same coach throughout the trip – and after 1700km of driving it had started to feel a little like home! Luckily, it was a comfy bus which our AMAZING driver kept meticulously clean (doing a sweep for rubbish at every single rest stop!). Most of the roads we travelled on were in great condition – even the winding mountain ones – so we were never uncomfortable.
It was a full-size coach (rather than a minibus) for our group of about a dozen travellers – so we all had a row of two seats to ourselves. I'm not sure what the maximum group size per tour will be, but even with a full coach, you should still be nice and comfy on board.
The Accommodation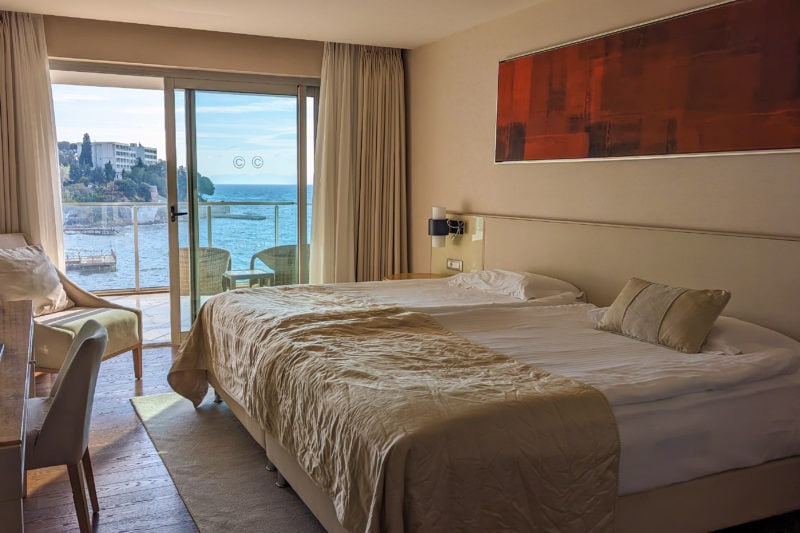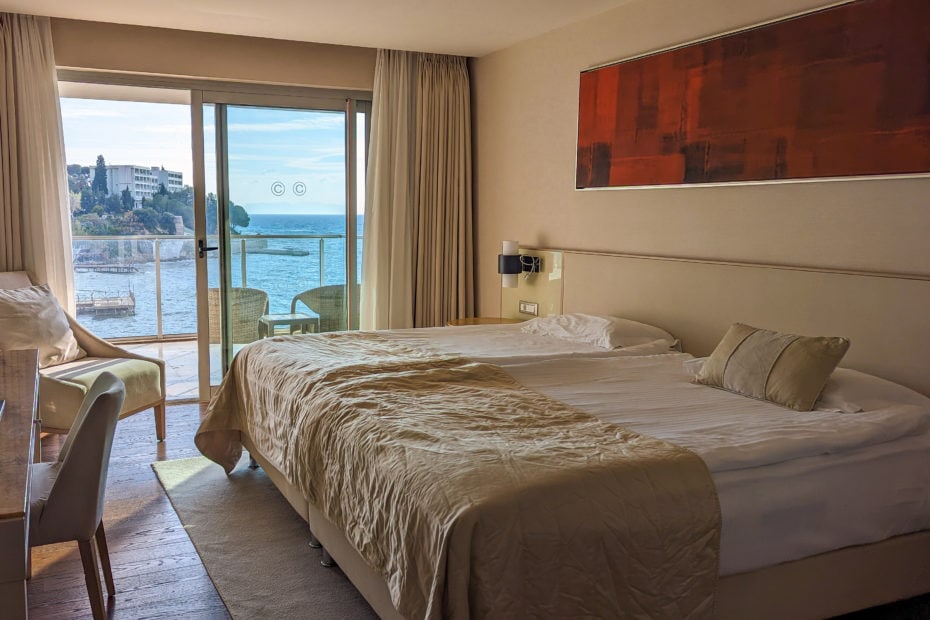 We stayed in five different hotels across the seven days of this trip. Most were fantastic – especially the Charisma Deluxe Hotel in Kusadasi. The sea views were absolutely gorgeous!
In Konya, which doesn't get as many tourists as some of the other destinations, the hotel felt quite old-fashioned and the rooms were a little dark. The same with the hotel in Pamukkale – it was a lovely, big hotel, but felt a little tired and old-fashioned. But both properties were still clean, and the service was great – and what else do you really need?
The hotels won't necessarily be the same on every tour, depending on availability. But they are always 4-star hotels, and should all be of a similar standard.
Things to be Aware of
Long Drives
It's worth being aware that the Treasures of Turkey tour involves some fairly long drives. This is a big country, and there's a LOT to see on this seven-day tour!
Drives are always broken up with "comfort stops" (or lunch) every one or two hours. But be sure to pack comfy clothes for the bus, and maybe download some podcasts for the longer journeys!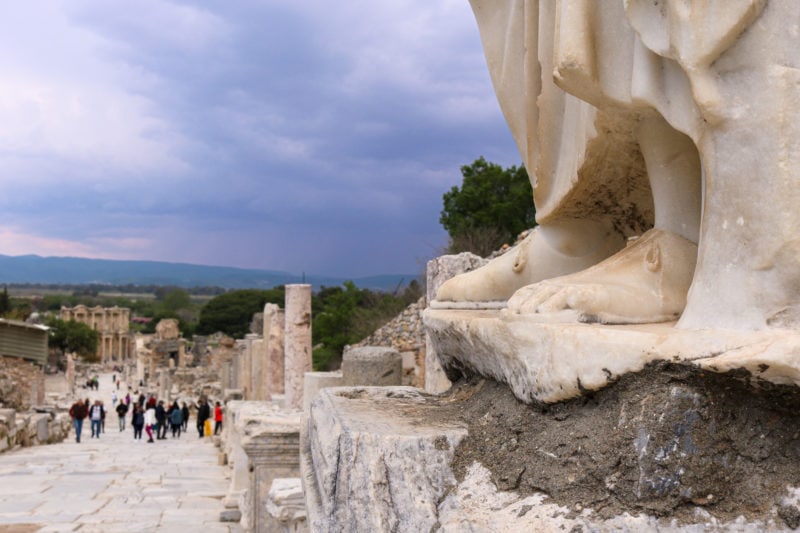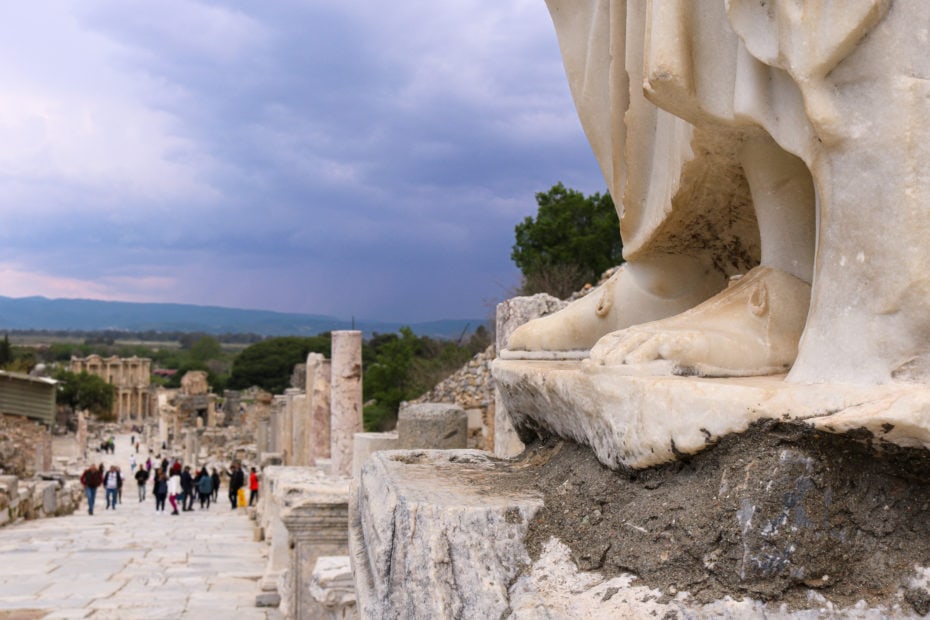 The Packages aren't Flexible (yet)
Currently, the tour packages are fixed, so you can only select flights on the start/end days of the tour. This is a shame, as I think it would be much better to book earlier or later flights in order to spend a few days at the beach or relaxing in Antalya before or after the tour.
Jet2 have told me that several customers have been requesting this option, so hopefully, they'll take the feedback on board and make the packages a little more flexible in future.
The Stops
Antalya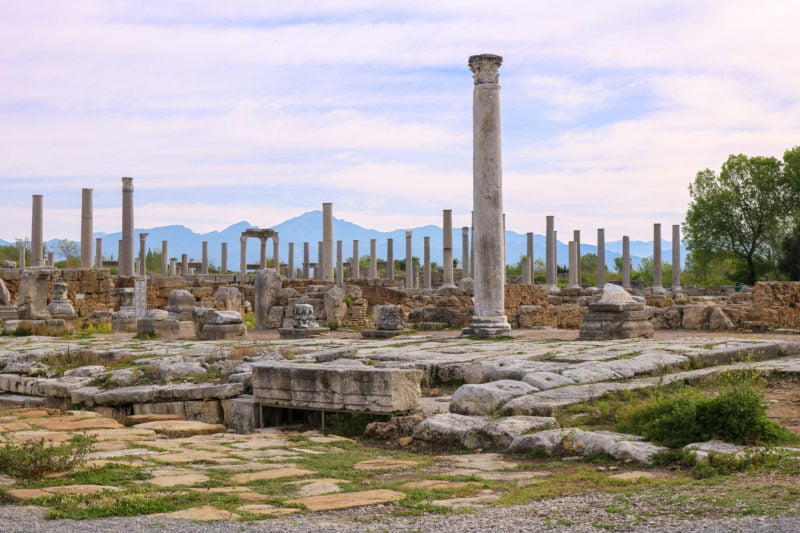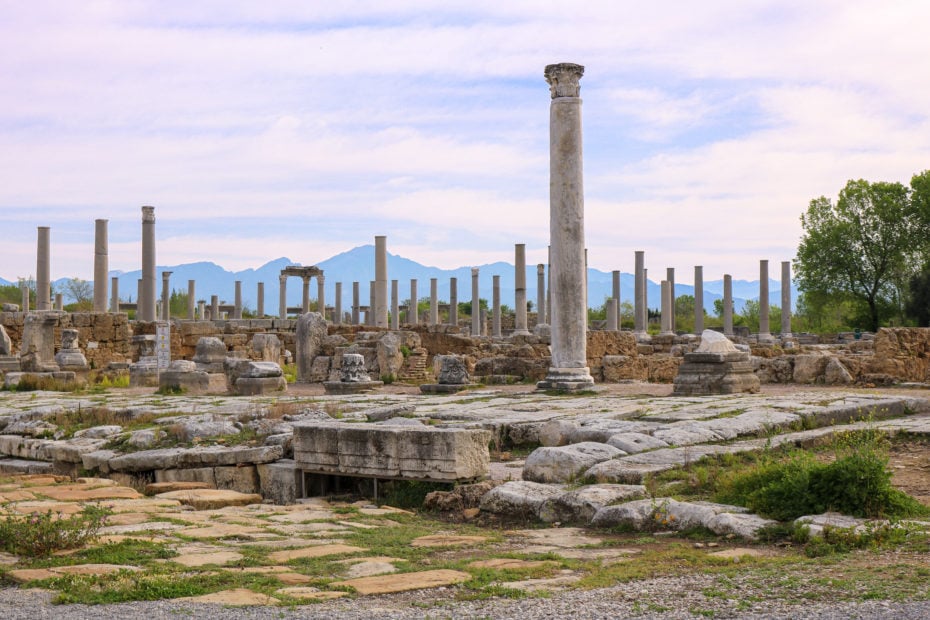 Although the tour departs from Antalya, we didn't really have time to explore the city until the final day of the trip.
On the first day of the tour, we headed immediately to the ancient city of Perge, about 15km away on the outskirts of Antalya. First founded in the early Bronze Age, there's a lot of history here – it was even ruled over by Alexander the Great in 334 BC. One of the most memorable sights is the Perge Mosaic. Discovered in 2017, this 1800-year-old mosaic depicts the sacrifice of İphigenia during the Trojan War.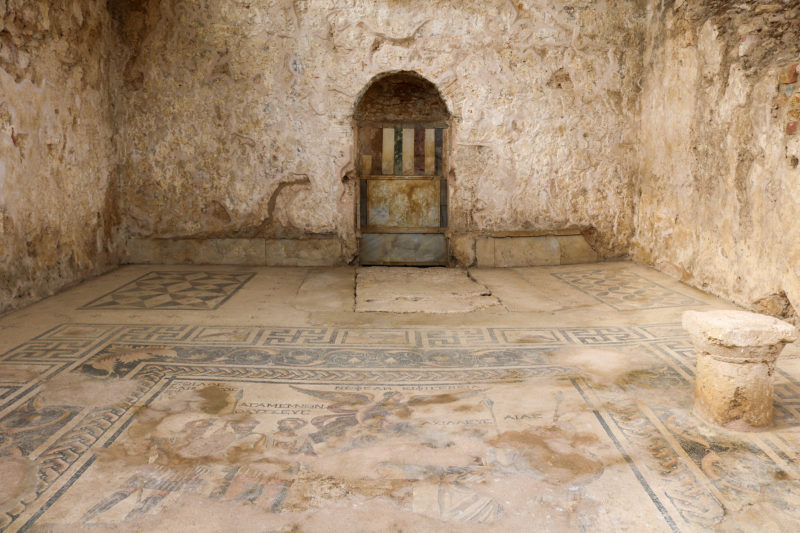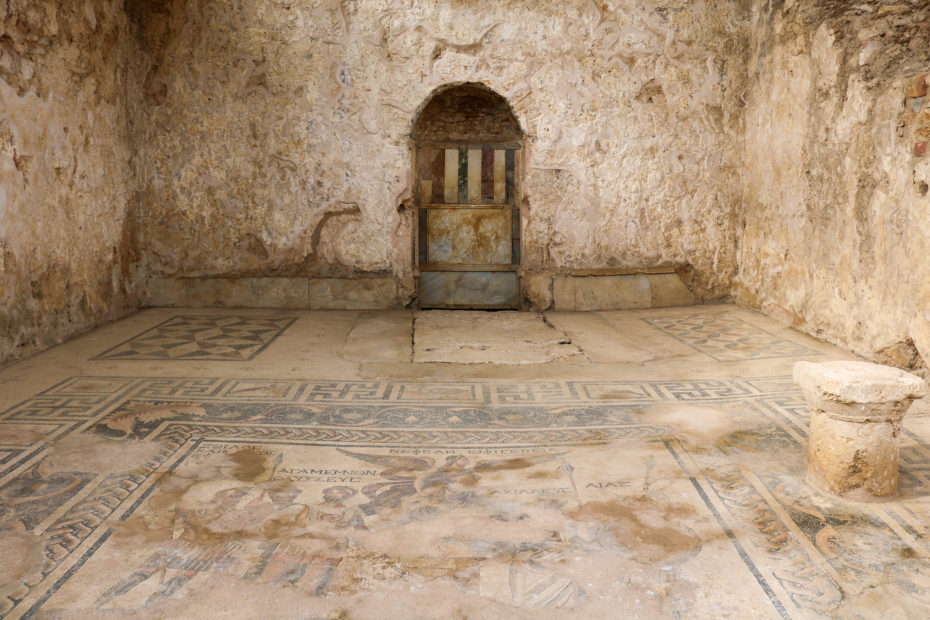 Next, we headed briefly to the Aspendos Theatre – a staggeringly well-preserved Roman theatre built in 155AD with seating for up to 7,000.
Finally, it was time for a long drive up into the monochrome snowscapes of the Taurus mountains to reach Konya.
Konya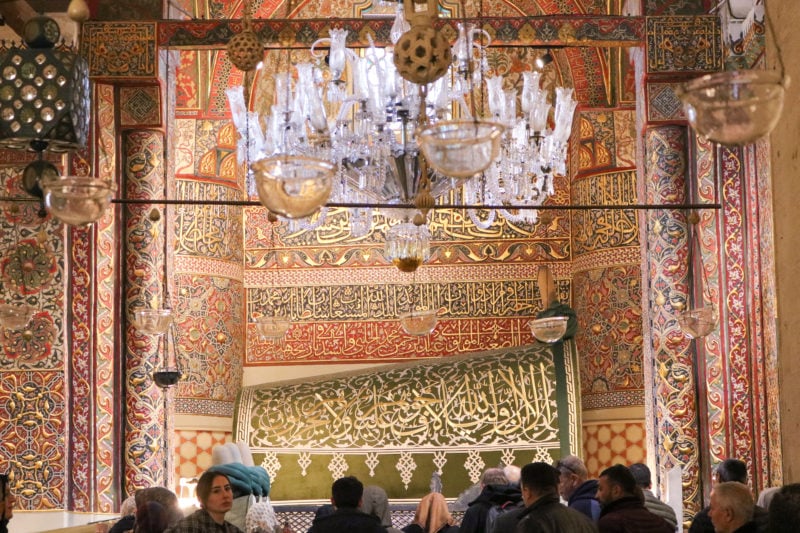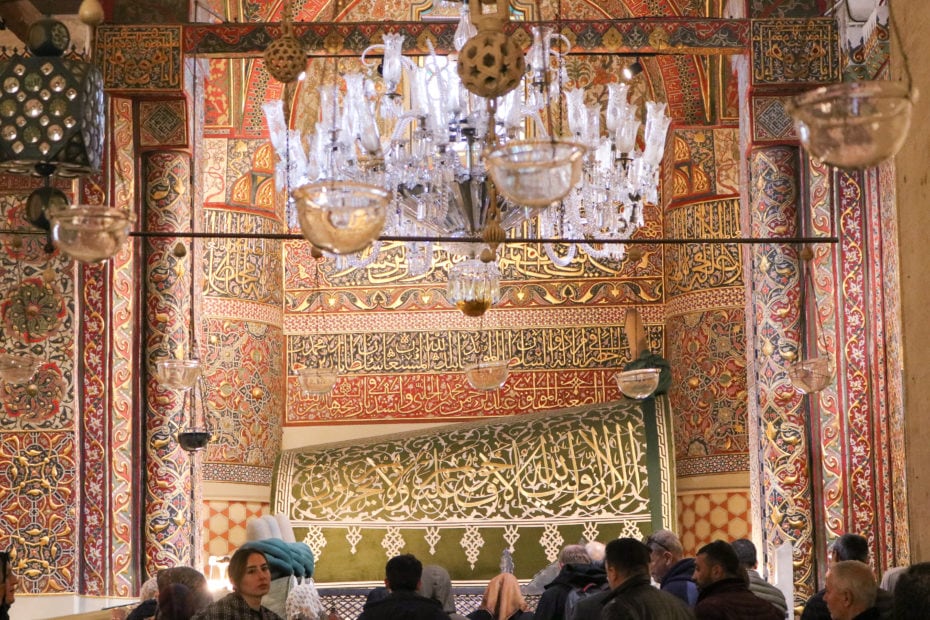 Konya is a sprawling city high in the mountain plains of the Central Anatolian Plateau. Our only port of call here was the Mevlana Museum – housed in a former Dervish lodge home to the mausoleum of Rumi.
Jalāl al-Dīn Muhammad Rūmī – also known as Mevlânâ ("Master") or simply Rumi – was a 13th-century poet, Islamic scholar, and Sufi mystic. His followers founded the Mevlevi order, better known as the whirling dervishes.
Exploring the Dervish Lodge, glitteringly decorated mausoleum, and the museum was a fascinating insight into a side of Turkey's religious culture I know nothing about.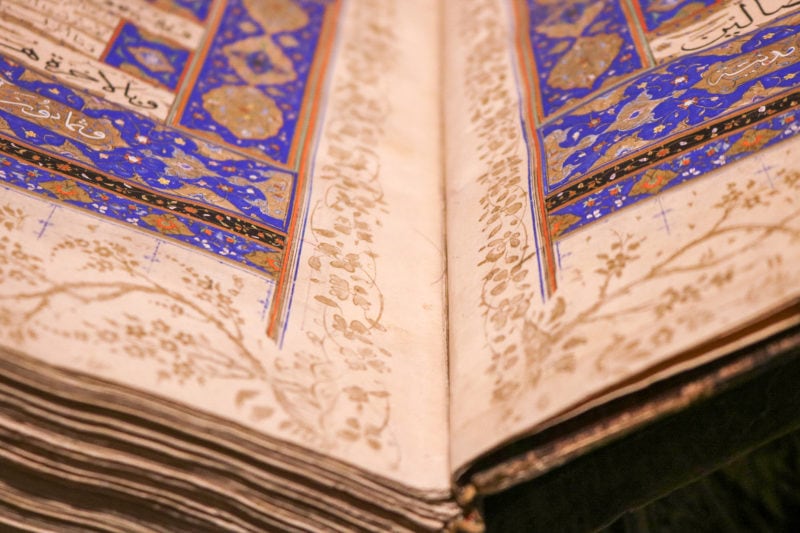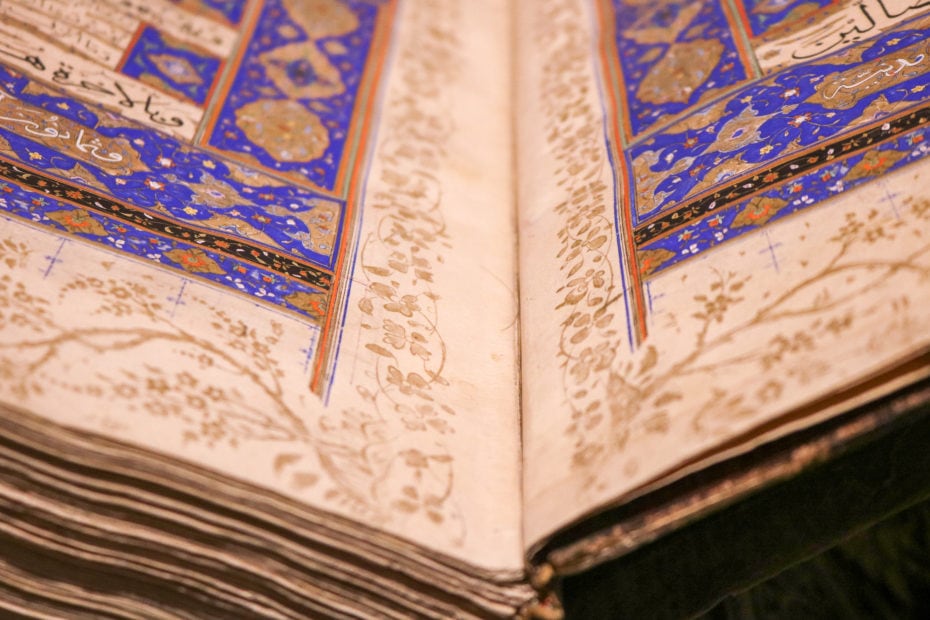 Day two saw us crossing the vast, flat Konya Plateau en route to Cappadocia. On the long drive across the endless plains, we caught glimpses of rural life and shepherds tending flocks of sheep – with the conical shape of the towering, snowcapped Hassan Mountain, a dormant volcano, always in the distance*.
About halfway through the drive to Capadoccia, we stopped for a comfort break in Sultanhani. Here, we had the chance for a quick visit to the Sultanhani Caravanserai.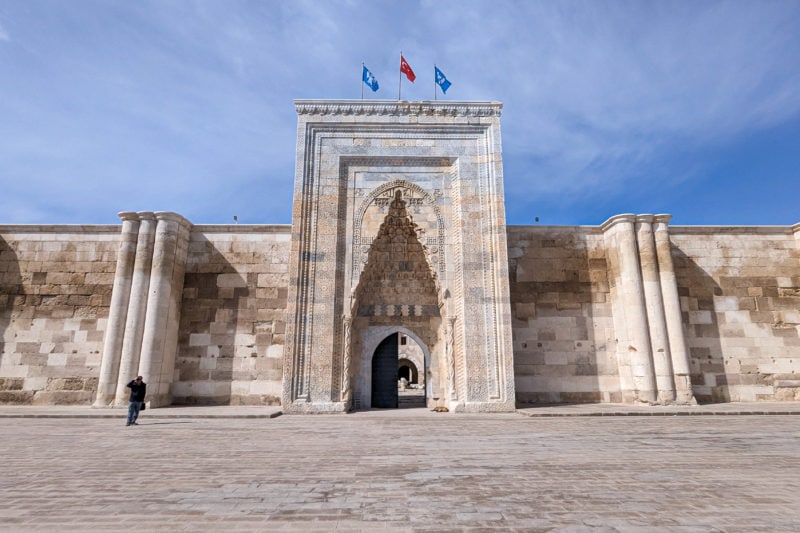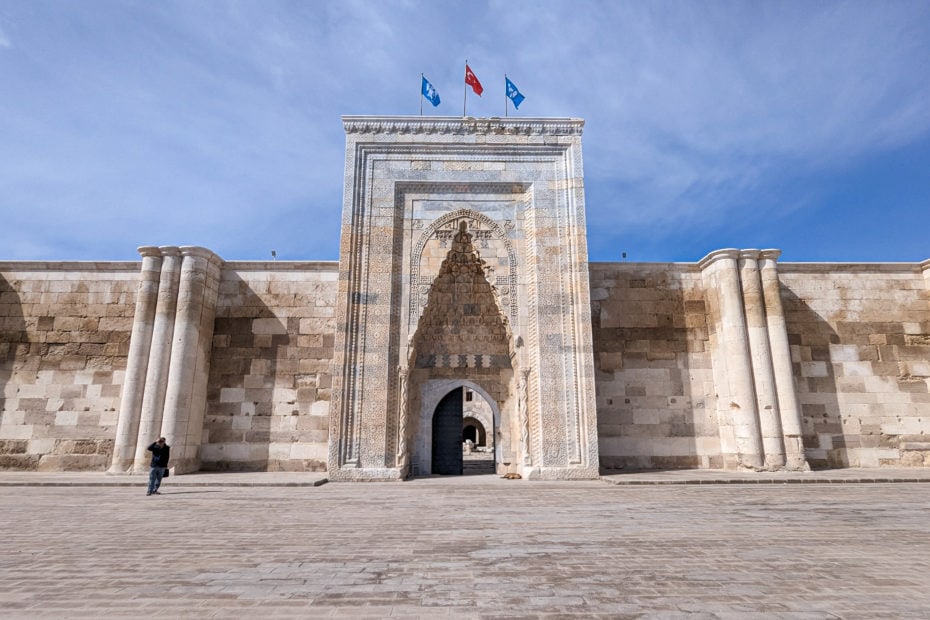 Caravanserais were fortified rest stops built along the famous Silk Road – and the Sultanhani Caravanserai is the largest and best preserved in Turkey. The architecture is stunning – so it's well worth exploring if you get the chance.
*Top tip: Try to sit on the right-hand side of the bus for the best views of the volcano.
Cappadocia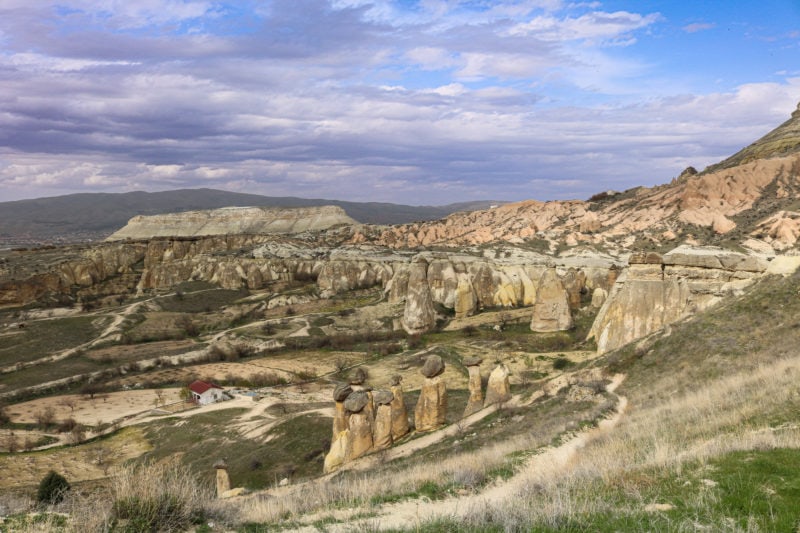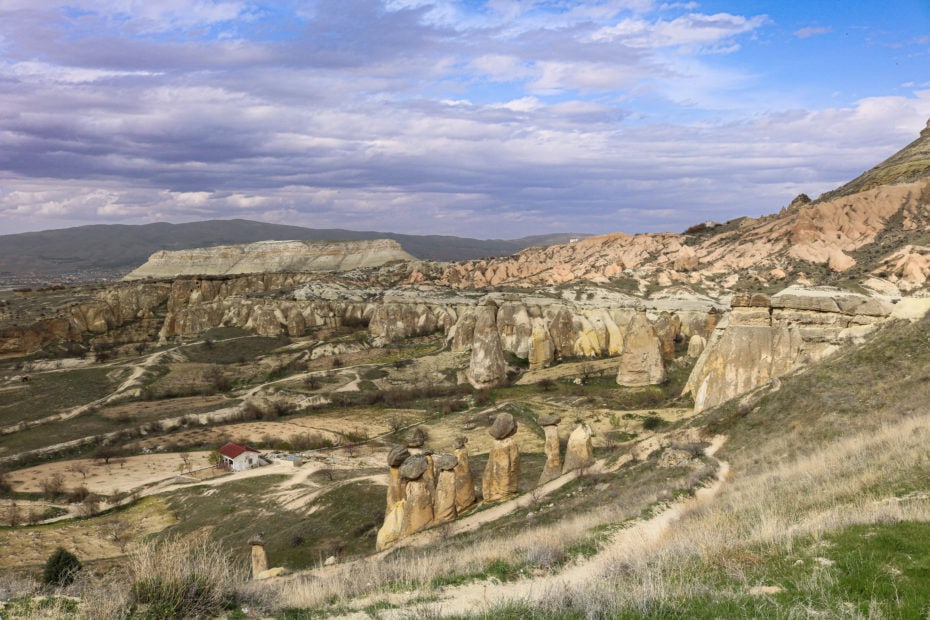 On the Jet2 Treasures of Turkey Tour, we spent two nights in Cappadocia, so there was time to see a LOT in this incredible area. This semi-arid region in central Turkey is known for its rolling beige valleys, filled with cone-shaped, erosion-carved rock formations known as "fairy chimneys".
First up was the Kaymakli Underground City: a maze-like town built completely underground. This warren of tunnels and rooms has been carved directly into the soft volcanic rock. It's thought to have been first built by the Phrygians in the 8th–7th centuries BC. Later, the city was used by Christians to hide from Muslim-Arab raids during the Arab–Byzantine wars.
Next, we headed to the village of Çavuşin: an ancient village carved directly into the rock face of a valley. We whiled away the afternoon exploring traditional cave houses and soaking up the otherworldly views of the bizarre landscapes.
Day four was also spent exploring Cappadocia's Göreme National Park. First up was Göreme Open Air Museum, a yellow-beige valley with cave churches carved directly into the rock stacks and cliff faces.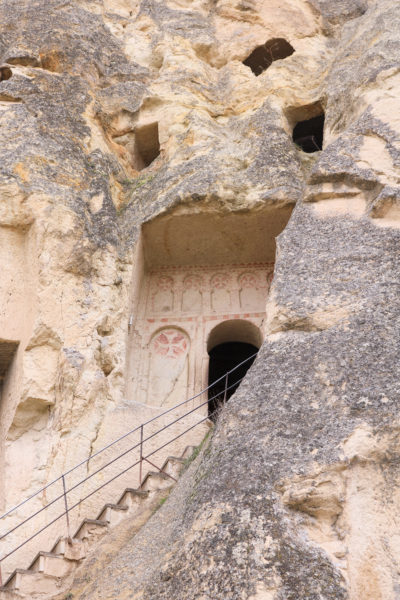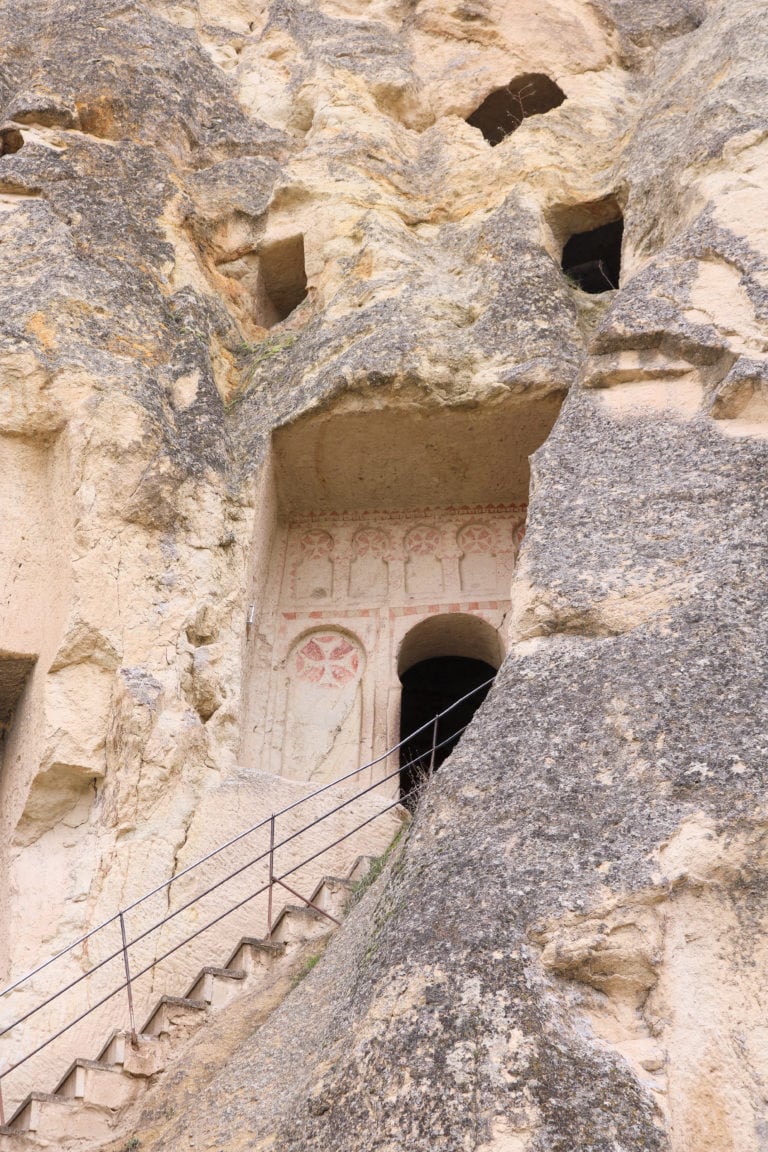 These rock-cut churches are decorated inside with incredible frescos and motifs. No matter your faith, there's something very moving about witnessing these centuries-old religious paintings.
Next, we headed to Pasabag Monks Valley, another dramatic, desert-like landscape dotted with narrow rock stacks known as fairy chimneys. Several of these contain hermitages carved directly inside the "chimneys".
Supposedly, the first of these was carved for St Simon, who came to live as a hermit. Other monks followed his example, living simply in the small, rock-hewn cave dwellings.
We also visited a carpet factory to see how traditional silk carpets are made. It felt particularly fitting after following the famed Silk Road to reach Cappadocia!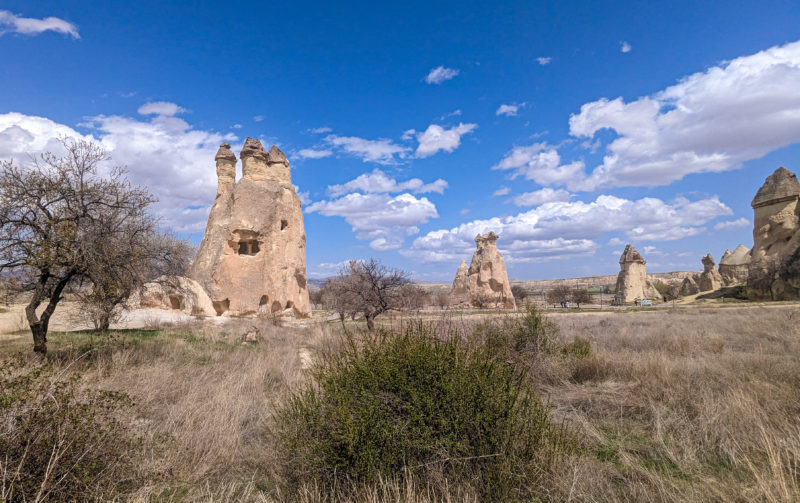 Pamukkale
Day five of the tour was mainly spent on the bus! The drive from Cappadocia to Pamukkale took most of the day (thankfully with plenty of rest stops). So when we arrived, a little stiff from sitting all day, the thermal baths at Pamukkale were a welcome sight.
The name Pamukkale means "cotton castle" in Turkish, because the mineral-rich thermal waters here have created layers of pure-white travertine terraces along the hillside, filled with pools of blue water. It's an impressive sight – especially in bright daylight when the pools look almost unnaturally blue.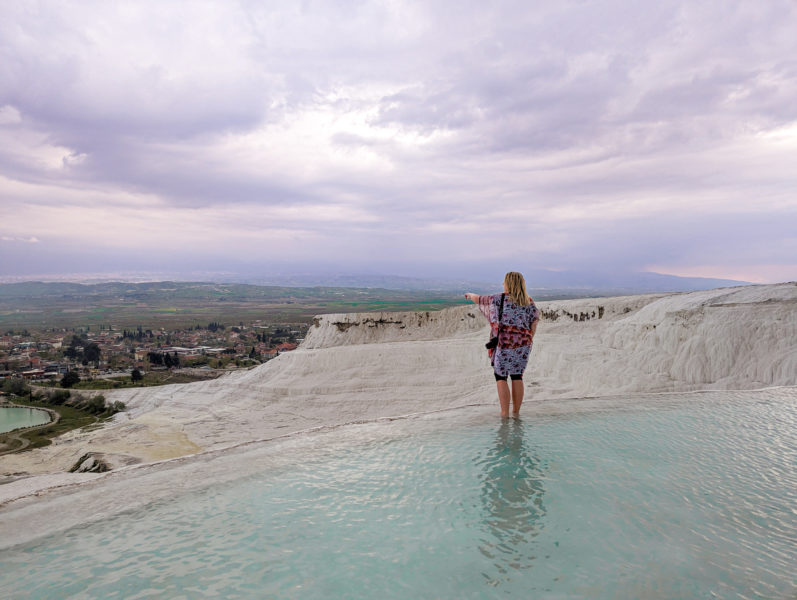 Today, the hot springs also feed a series of bathing pools. Supposedly these are the same waters Cleopatra herself once bathed in, although the baths themselves are modern.
These thermal springs are known for their healing and rejuvenating properties. I'm not sure I felt the promised ten years younger after bathing here – but I felt MUCH better after our long bus ride!
Those hot springs have been used as a spa for centuries – possibly right back to the Iron Age. Today's touristy bathing pools and sparkling white travertine terraces are surrounded by the remains of an ancient city. Hierpolis was founded as a spa in the early 2nd century BC. We spent a beautiful morning exploring the ruins, overlooked by distant, hazy mountains.
The most impressive structure at Hieropolis is the Theatre. It's thought to have been constructed under the reign of Emporer Hadrian after an earthquake in 60 AD. The theatre is huge: 50 rows of seats with capacity for 15,000!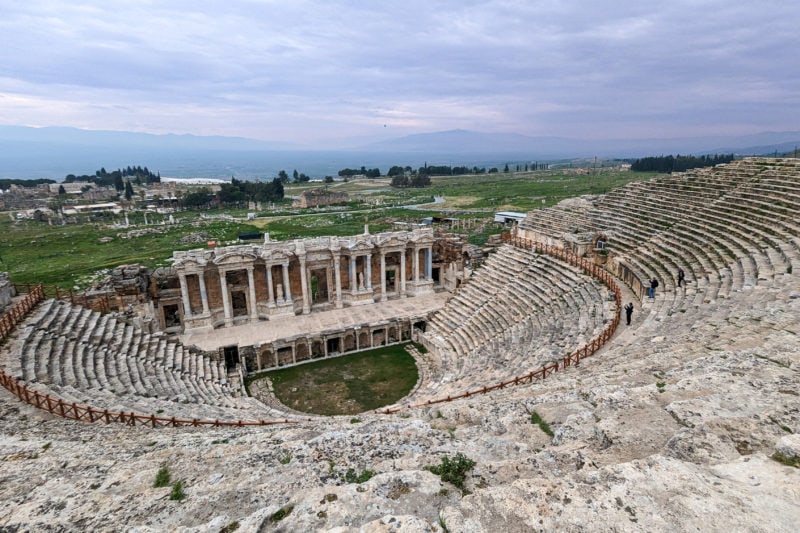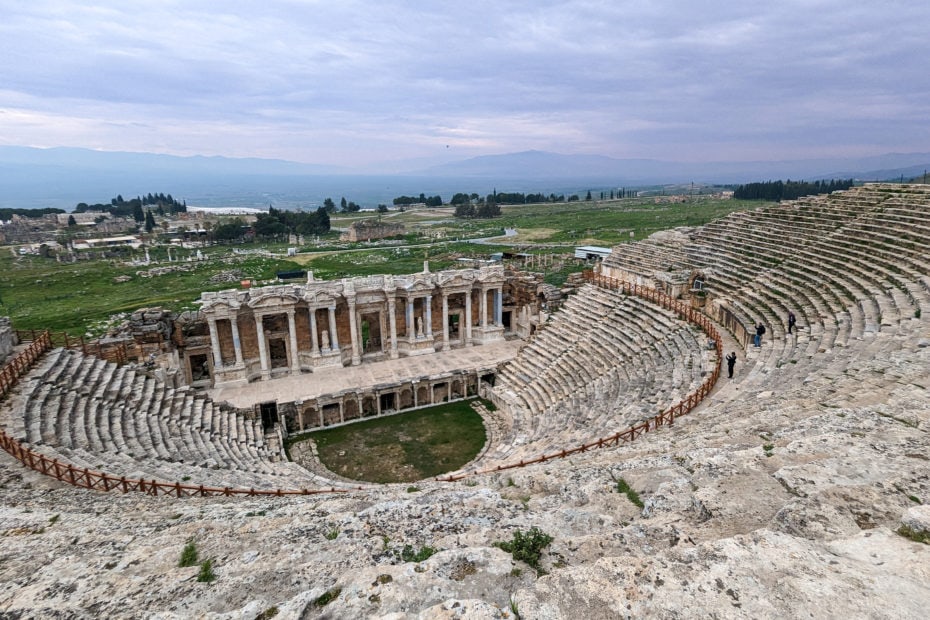 Ephesus and Kusadasi
The main stop on day six is the ancient city of Ephesus – about 18km from Kusadasi. By this point of the tour, we were feeling like we'd probably seen enough ancient cities to last a lifetime. Then Ephesus came along and knocked all the others out of the park. This was the best of the bunch!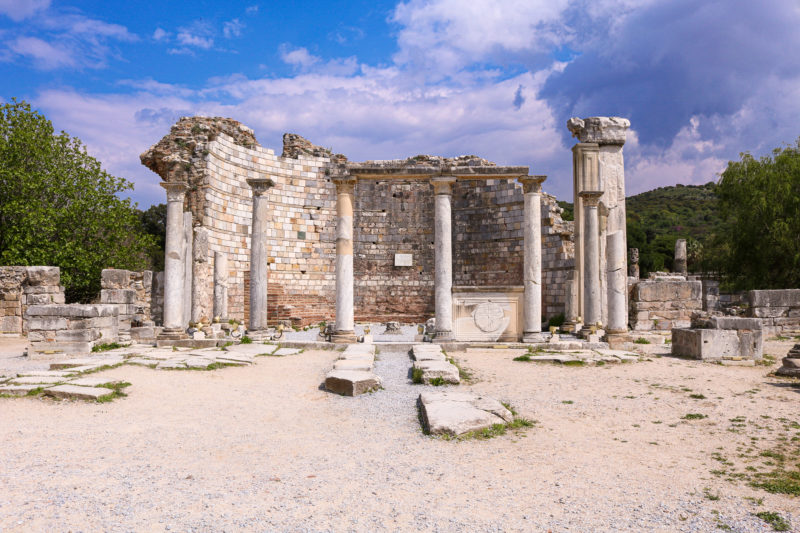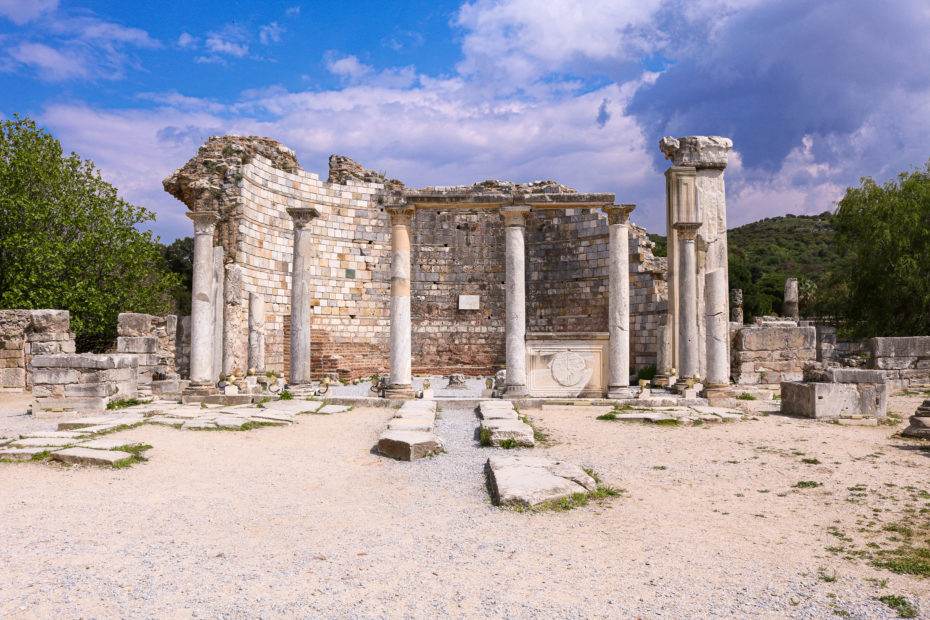 Founded in the 10th century BC, Ephesus was once an important centre for trade and commerce. Alexander the Great once walked these streets, Cleopatra spent a winter here with Mark Anthony, and St John preached in the theatre.
Ephesus is also home to the remains of one of the Seven Wonders of the Ancient World: the Temple of Artemis. But the most impressive structure in the city is the Library of Celsus, which was built around 110AD. Once the third-largest library in the Greco-Roman world, it's believed to have held around 12,000 scrolls.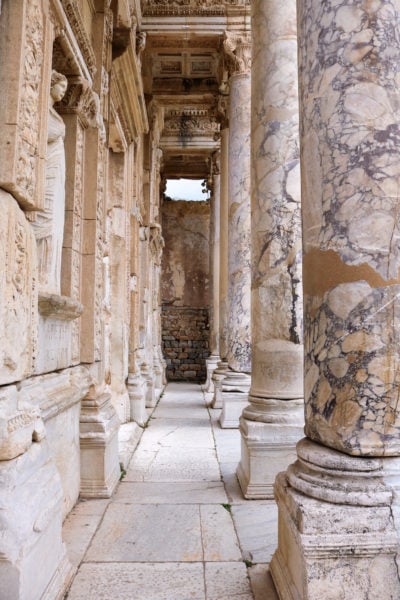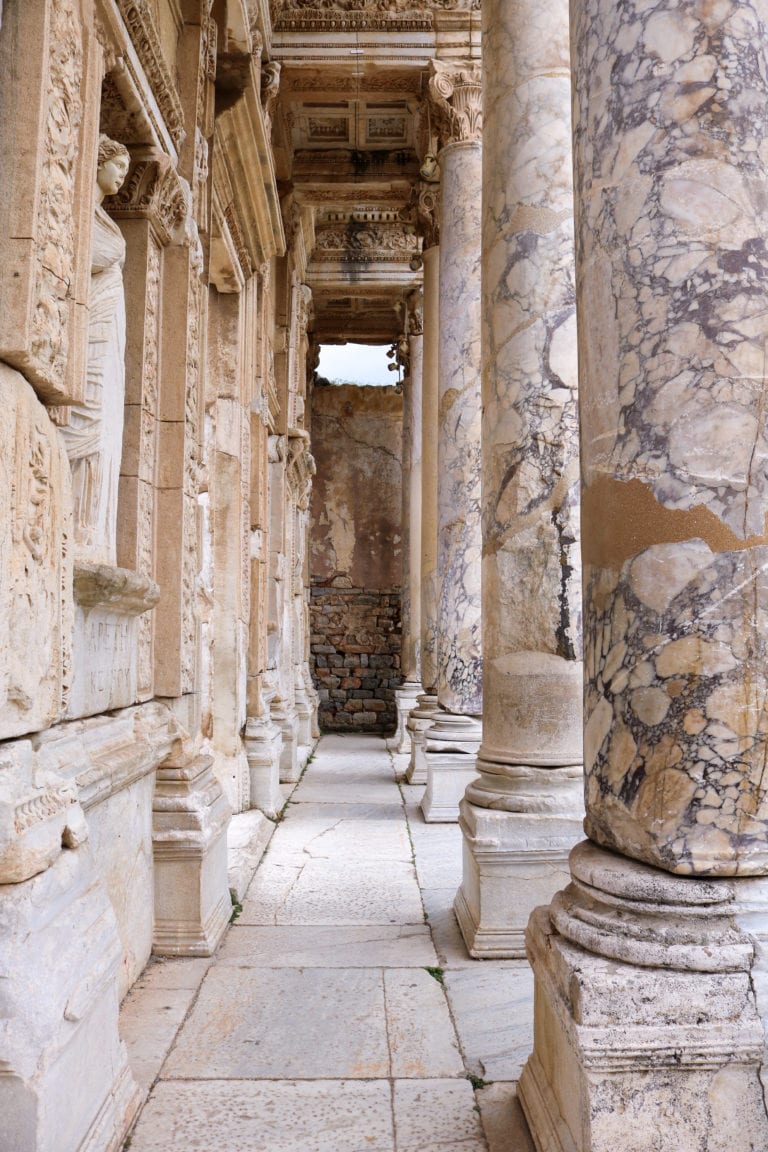 Leaving Kusadasi on day seven, we had two final ancient stops en route to Antalya. First, the ancient city of Miletus, a hidden gem with a stunning theatre nestled into the serene, Mediterranean countryside. We had the place completely to ourselves!
Next, Apollo's Temple in Didyma – where staggeringly tall, carved pillars stood in stark contrast to the blue sky.
This was once a famous prophecy centre, where the oracles were said to hear the whispers of the god Apollo. These oracles held a lot of sway. In 302AD, the advice of the oracle led to Emporer Diocletian beginning the "Great Persecution" of Christians.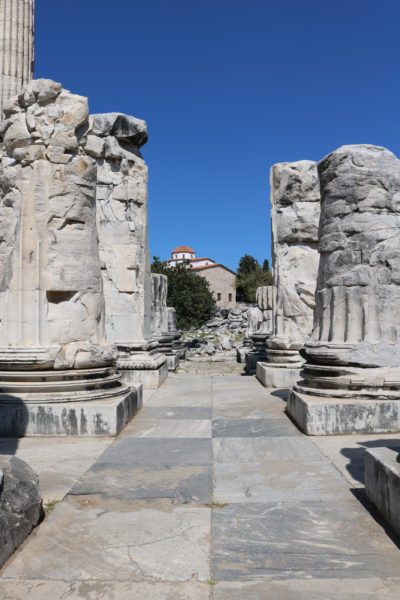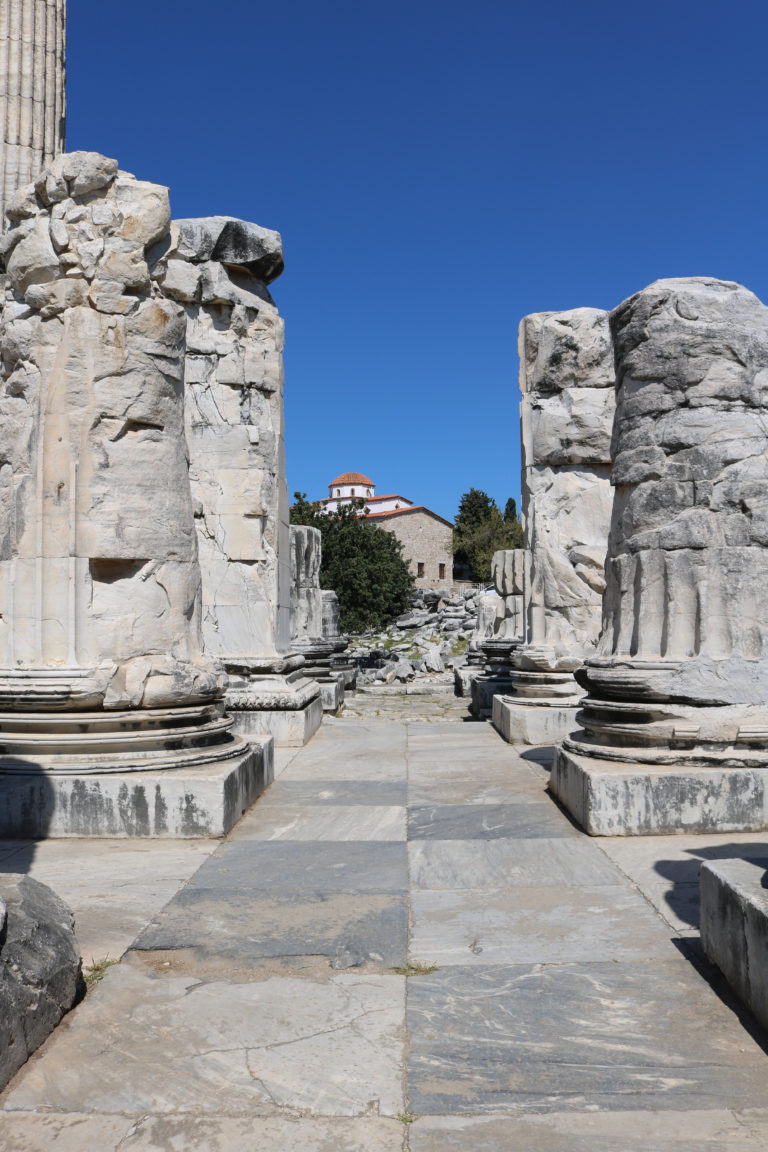 Antalya (again)
The last day of the tour is a free day in Antalya. Depending on what time your flight leaves, you should be able to head downtown to explore the Kaleici (Old City) and harbour area.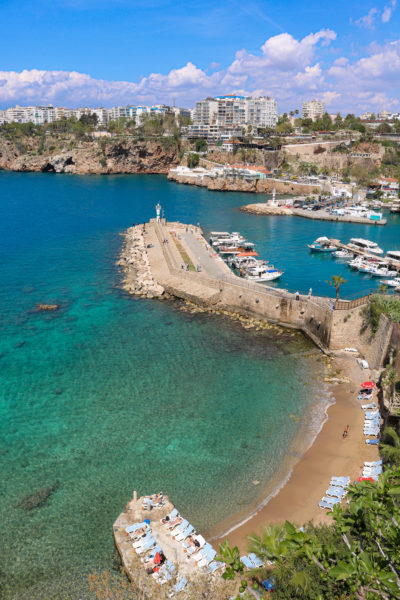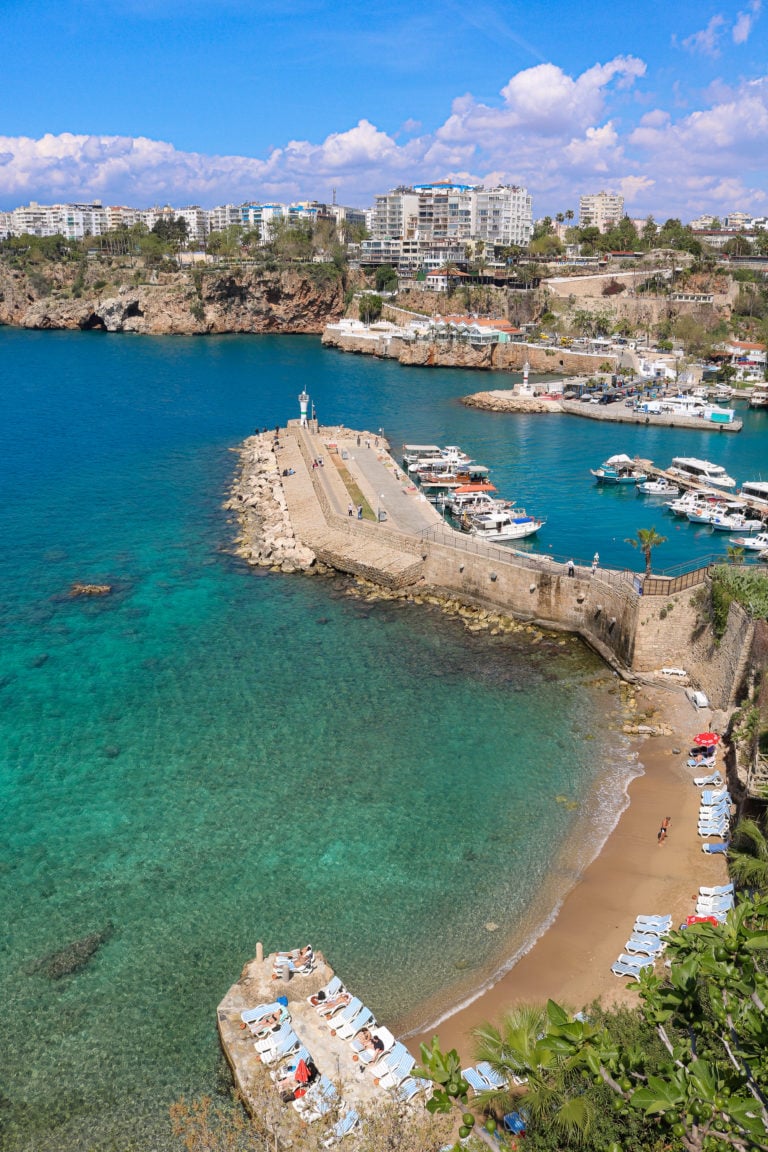 We took a walking tour of the old town area in the morning, followed by a fabulous final lunch as a tour group. I can't recommend Arma Restaurant enough; great food, good wines, and incredible views of the harbour from the terrace. I hear it can be quite popular, so book in advance if possible.
We also found time for one of the most popular activities in Antalya: a one-hour boat tour of the coastline. It's a short, fun jaunt up the coast to view the Lower Düden Waterfall thundering down the cliffs into the sea. Again, I highly recommend this if you have time!
RECOMMENDED TOUR: Antalya Old Town Guided Walking Tour, 2 hours – from £21.96pp
Jet2's Treasures of Turkey Tour: Final Thoughts
With a trip like this, you really get a sense of the huge variety that Turkey has to offer. In just one week, we saw so many landscapes, cultures, cities, and foods that it felt like I'd been away for a month!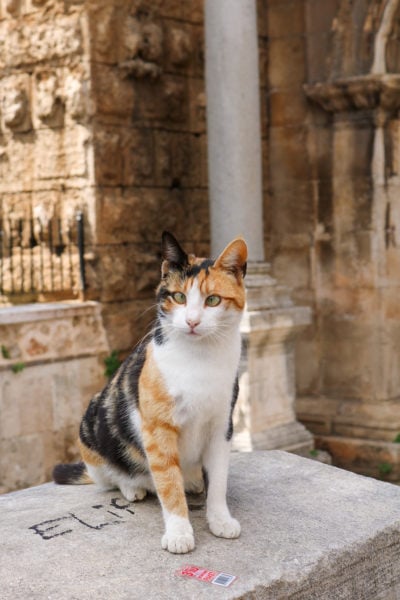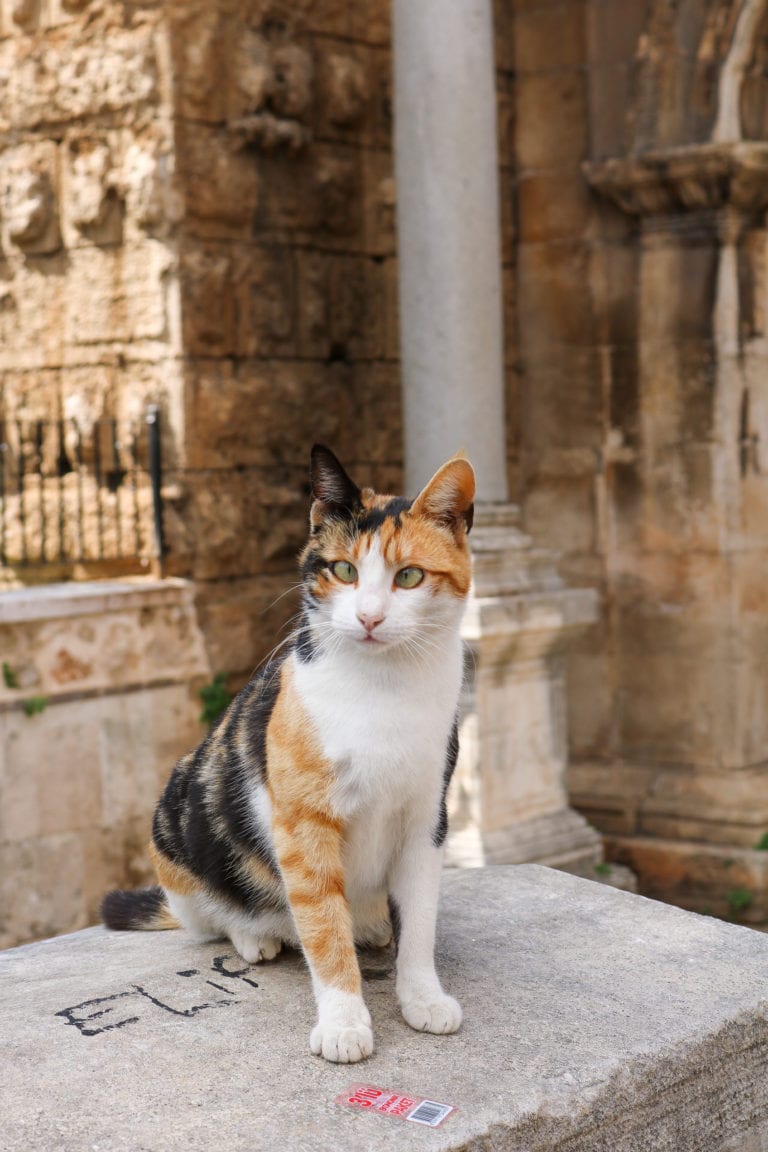 We went from the Aegean Coast, with its cypress trees and olive groves, to the vast, grassy plateau beyond the Taurus mountains. Here the stern city of Konya and the snowcapped mountains had a more Central Asian feel. Then there were the dry, rust-coloured valleys of Cappadocia and the icing-sugar tiers of Pamukkale's travertines.
I ended the tour feeling a little overwhelmed and exhausted – but in a good way! The Treasures of Turkey tour had been a proper adventure, and I loved it.
I hope you found my review of the Jet2 Treasures of Turkey tour helpful. Got a question? Scroll down to leave a comment!