Some posts on this site contain affiliate links. If you book or buy something through these links, I earn a small commission (at no extra cost to you). Take a look at my privacy policy for more information.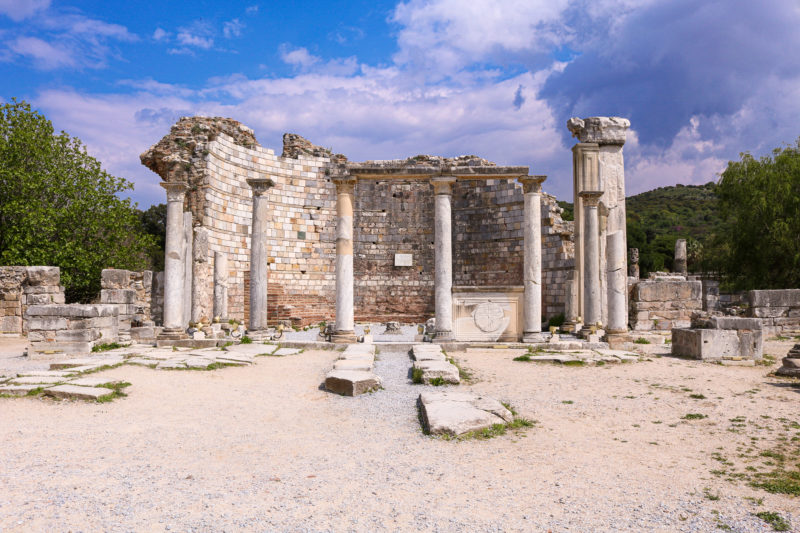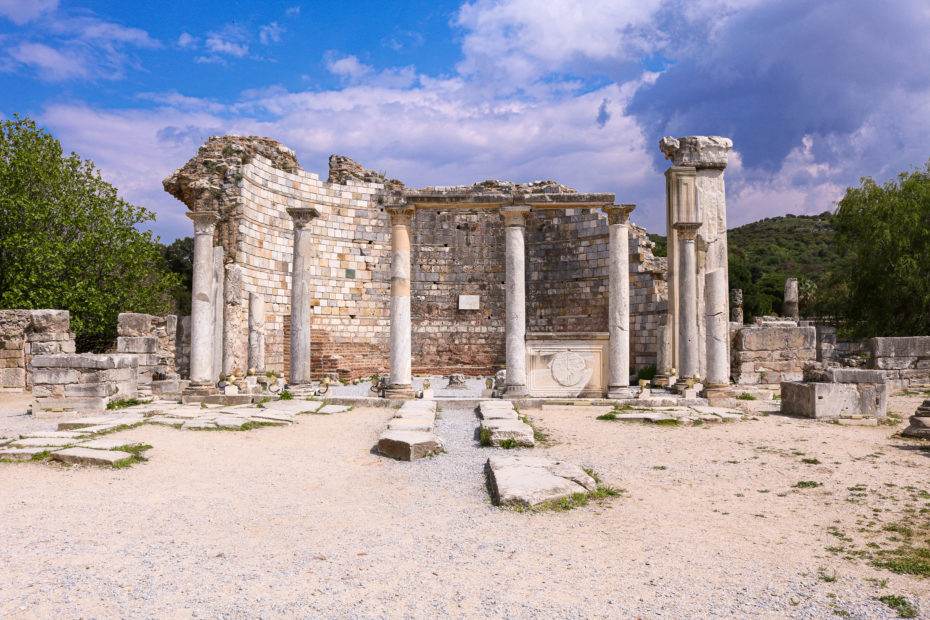 Some of the best historic places to visit in Turkey – from well-known sites to hidden gems!
The gateway where East meets West – and a crucial point on the famed Silk Road – Türkiye feels like many countries in one.
And historically, it has been. There were the ancient Roman, Greek and Persian empires, the Byzantine period, the Ottoman Empire, and others, before the current Republic of Turkey was formed after WW1.
Different cultures, religions, and peoples have all left their mark on this richly varied country. And that means a lot of fascinating historic sites to visit all around Türkiye. Ancient cities, crumbling temple ruins, glitteringly tiled mosques, centuries-old Christian churches… the list goes on.
Below, I've rounded up some of the most incredible historic places to add to your Turkey itinerary. These were all stops on my week-long Treasures of Turkey tour with Jet2holidays. If you want to see a lot of historic sights in Turkey without organising everything yourself, this package tour is a great option! Click here to read my in-depth review of the tour to find out more.
In the meantime, read on for the most impressive historic sights in Türkiye. Happy travels…
Historic Places to Visit in Turkey
1. Ephesus, nr Kusadasi
Walking through the streets of Ephesus feels like stepping back in time. The ruins are remarkably well-preserved, and you can see everything from intricate mosaics to ancient public toilets!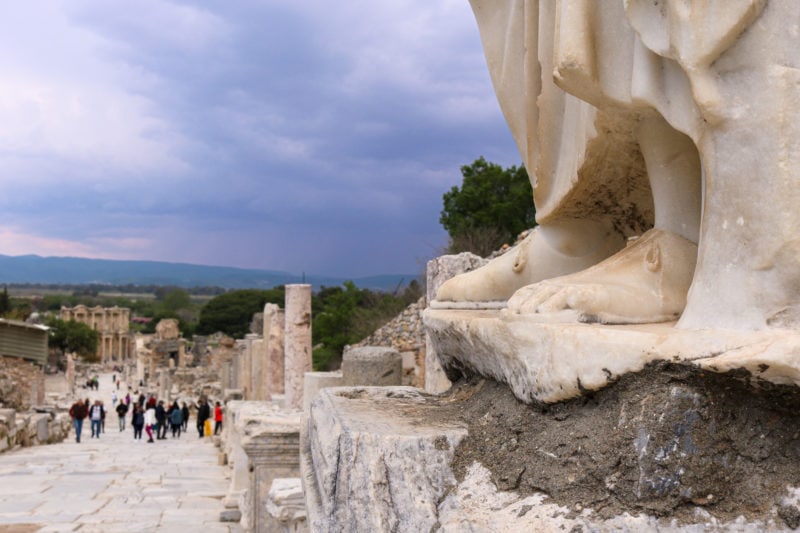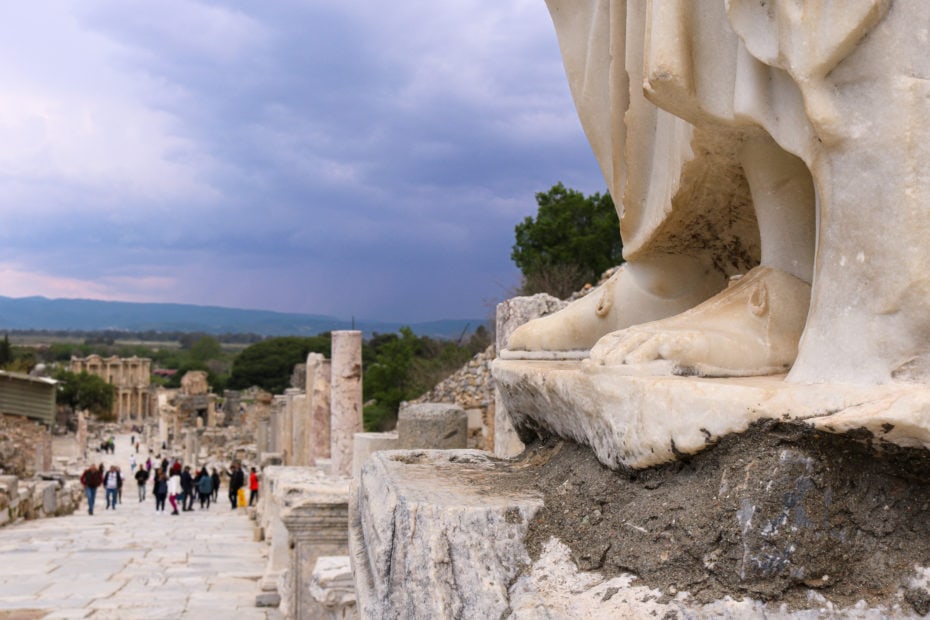 Founded in the 10th century BC, Ephesus was once an important centre for trade and commerce – and has a long and fascinating history. Alexander the Great once walked these streets, Cleopatra spent a winter here with Mark Anthony, and St John preached in the theatre.
It's even believed by some that St Mary, the mother of Christ, lived out her days here and was buried at the 5th-century Church of Mary (the photo at the top of this page) – which is still standing today! This is one of the seven Churches of Revelation in Turkey – ancient churches that St John wrote about in the Bible.
Ephesus is also home to the remains of one of the Seven Wonders of the Ancient World: the Temple of Artemis. Sadly, all that remains of the once vast temple are a few columns.
Today, the most impressive structure in the city is the Library of Celsus, which was built around 110AD. Once the third-largest library in the Greco-Roman world, it's believed to have held around 12,000 scrolls. The facade is covered with intricate carvings and marble statues – a must-see when you visit Ephesus.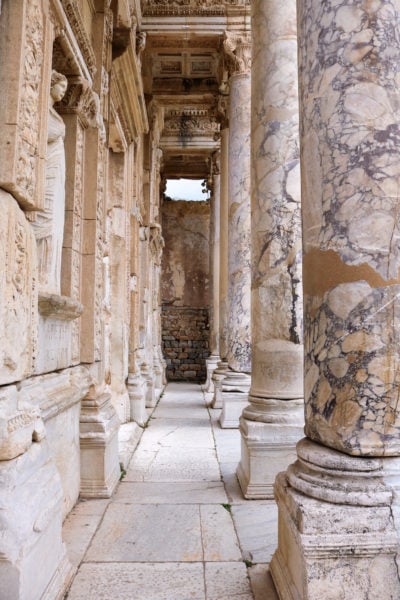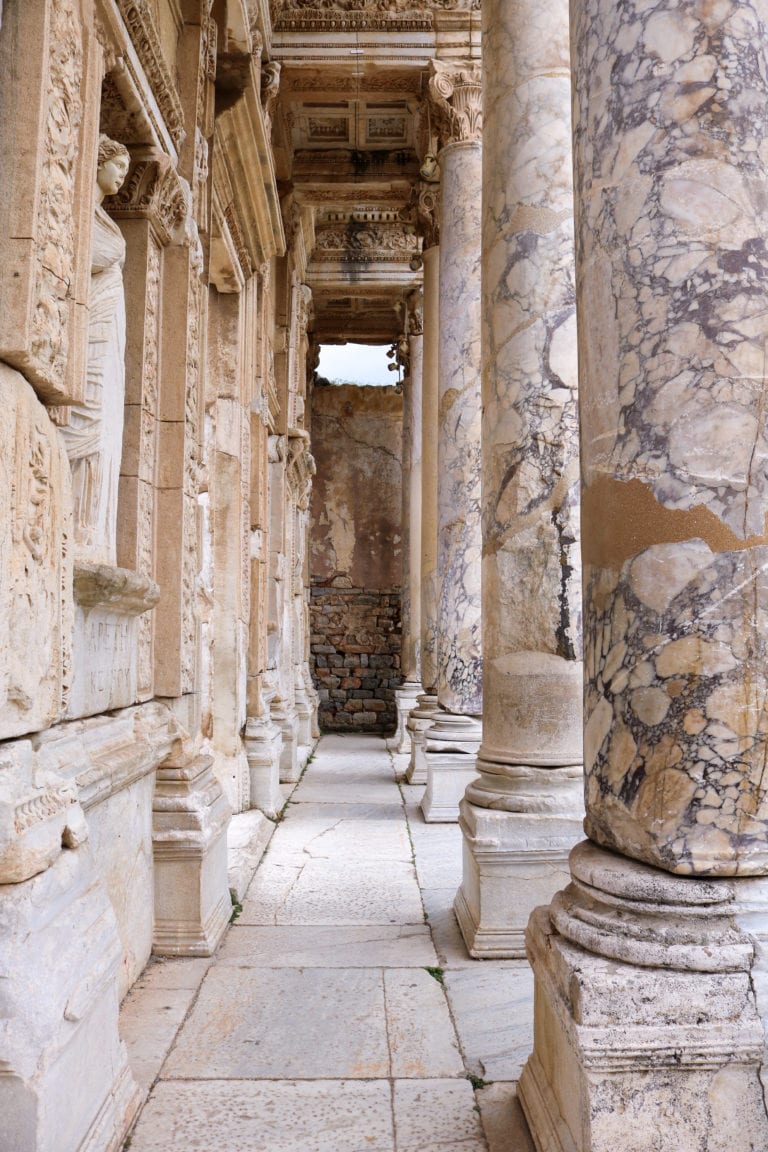 Another must-see is the Great Theater, which could seat up to 25,000 people. It was built around 250BC and was used for gladiator fights, dramas, and other public events.
RECOMMENDED TOUR: Ephesus, Virgin Mary House, & Artemis Temple Tour (from £31.04pp)
2. Göreme National Park, Cappadocia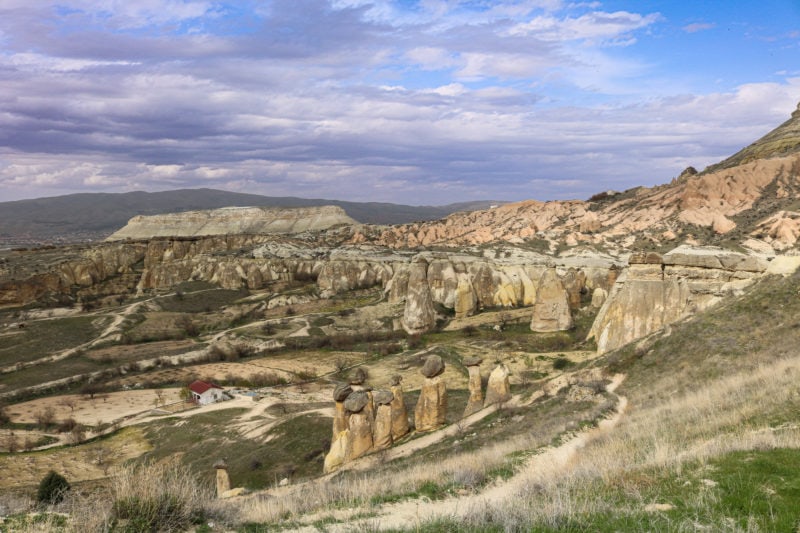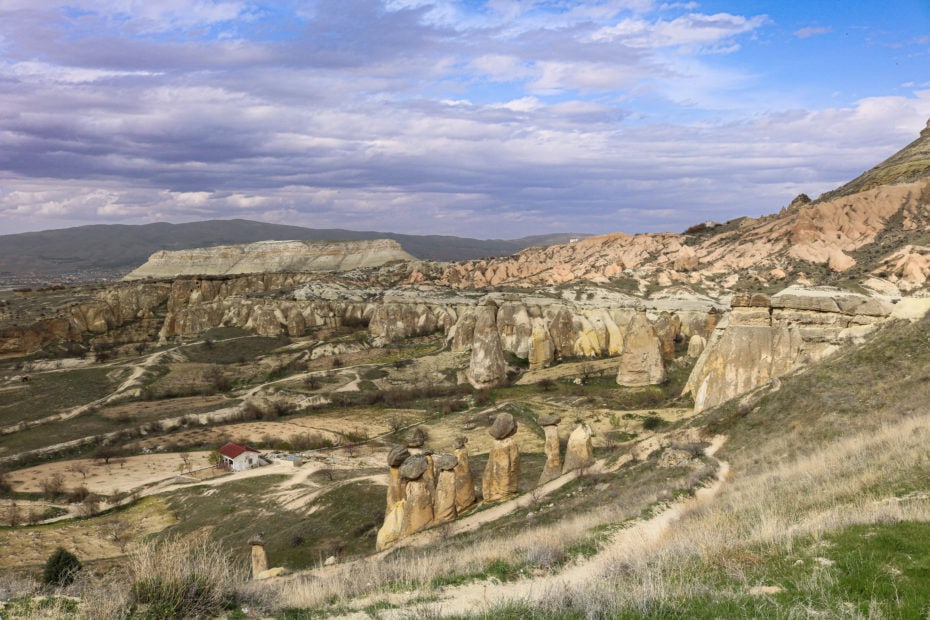 Göreme National Park in Cappadocia is one of the most fascinating destinations in Turkey. Known for its unique rock formations, arid valleys, and unique, other-worldly landscapes, the park is also one of the most historic places in Turkey. Don't miss these three highlights:
Göreme Open Air Museum: A beige, rocky valley with cave churches carved directly into the rock stacks and cliff faces. These churches date back to the 10th and 11th centuries and are decorated with amazingly well-preserved frescoes depicting scenes from the Bible. No matter your faith, there's something very moving about witnessing these centuries-old religious paintings.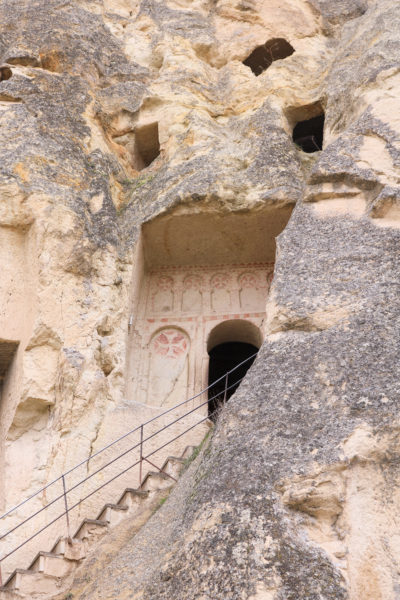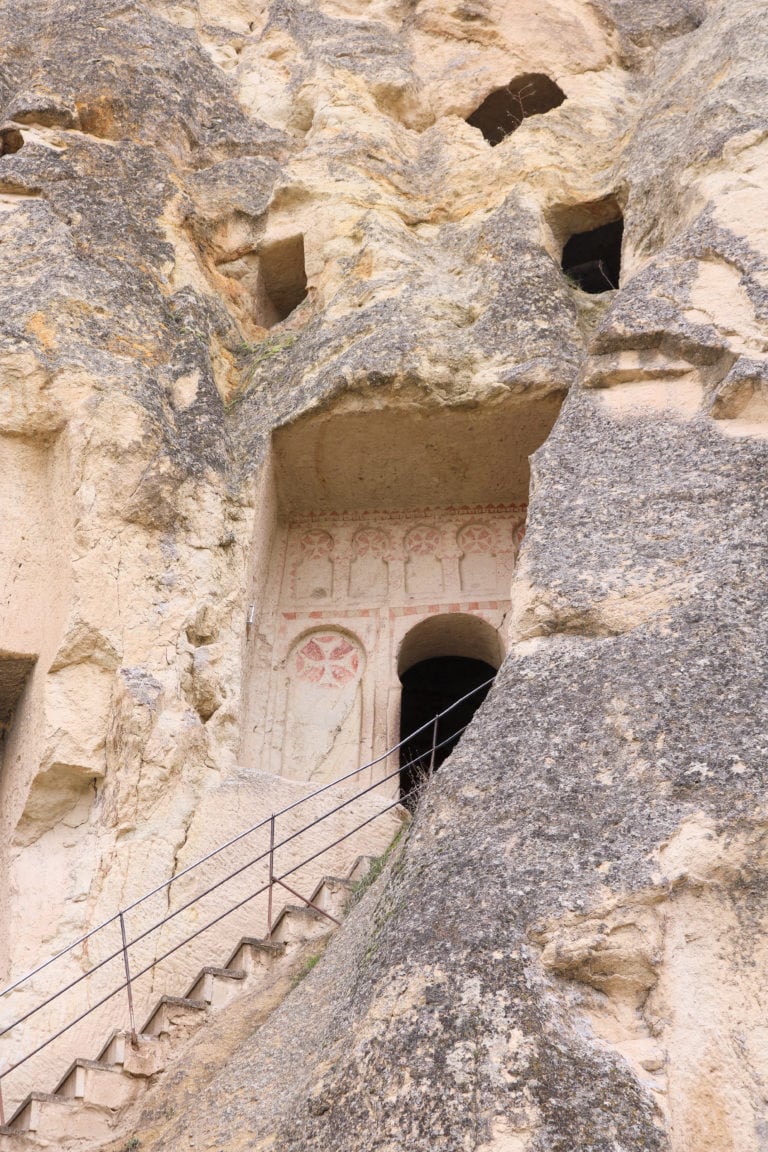 Pasabag Monks Valley: Another dramatic, desert-like landscape dotted with narrow rock stacks known as fairy chimneys. Several of these contain hermitages carved directly inside the "chimneys". Supposedly, the first of these was carved for St Simon, who came to live as a hermit. Other monks followed his example, coming to the valley to live simply in small, rock-hewn cave dwellings.
Çavuşin village: A small village dating back to the Roman period which is home to a collection of fascinating rock-cut churches and homes. You can even stay in a cave dwelling in Cavusin for a taste of history.
RECOMMENDED TOUR: North Cappadocia with Göreme Open-Air Museum (from £51.95pp)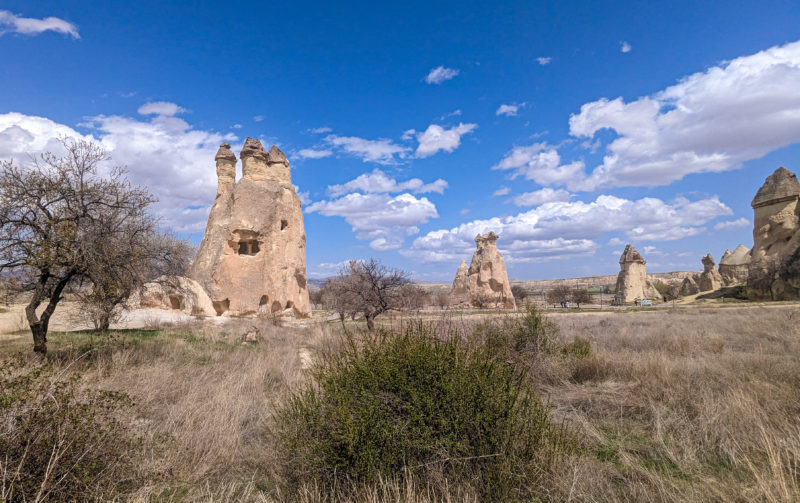 3. Hierapolis, Pamukkale
On a hillside above Pamukkale, Hierapolis was first founded as a spa in the early 2nd century BC – and later expanded into a large city.
The city was built around the natural thermal springs at Pamukkale, which have been used for bathing for centuries. It's said that Cleopatra herself bathed here. Today, there are modern-day bathing pools next to Hierapolis – so you can follow in Cleopatra's footsteps when you visit.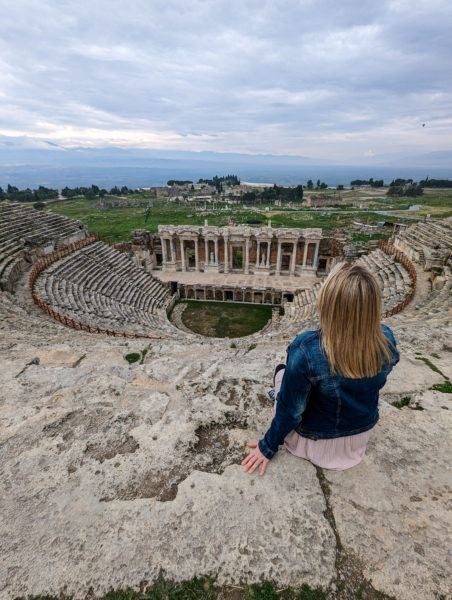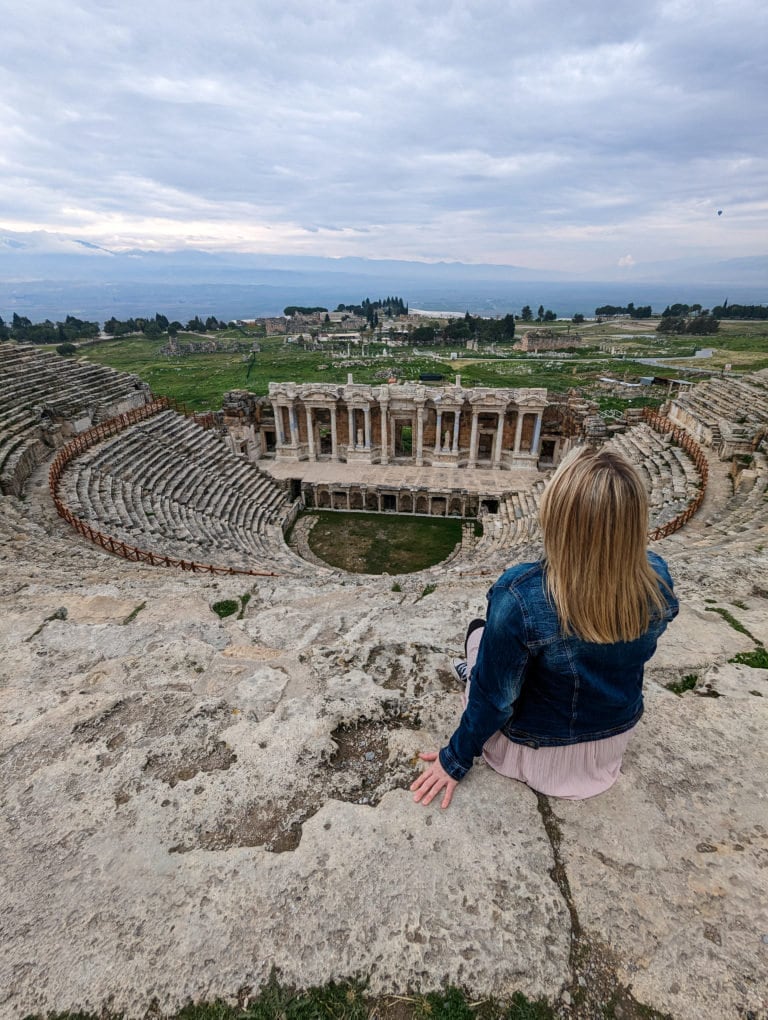 The name Pamukkale means "cotton castle" in Turkish, because the mineral-rich thermal waters here have created layers of pure-white travertine terraces along the hillside, filled with pools of blue water. These are an impressive sight – especially in bright daylight when the pools look almost unnaturally blue.
The most impressive structure at Hierapolis is the Theatre. It's thought to have been constructed under the reign of Emporer Hadrian after an earthquake in 60 AD. The theatre is huge: there are 50 curved rows of stone seats, providing seating for 15,000 people!
4. Kaleici – Antalya's Old Town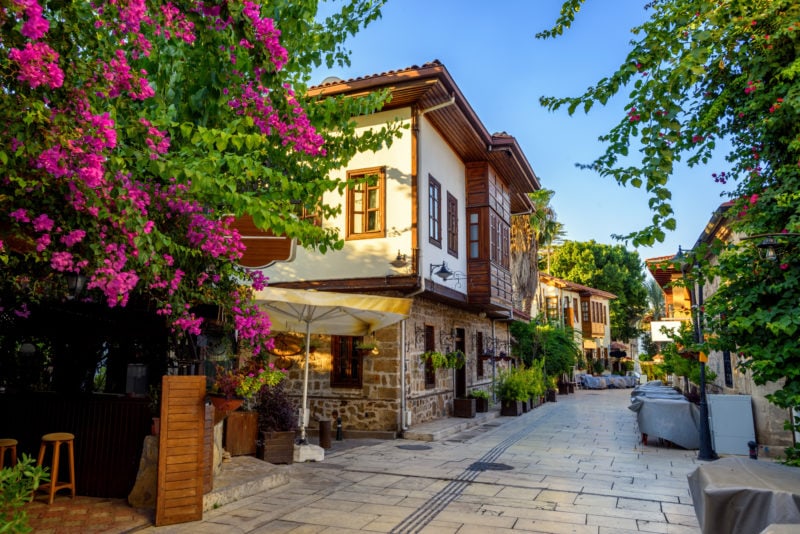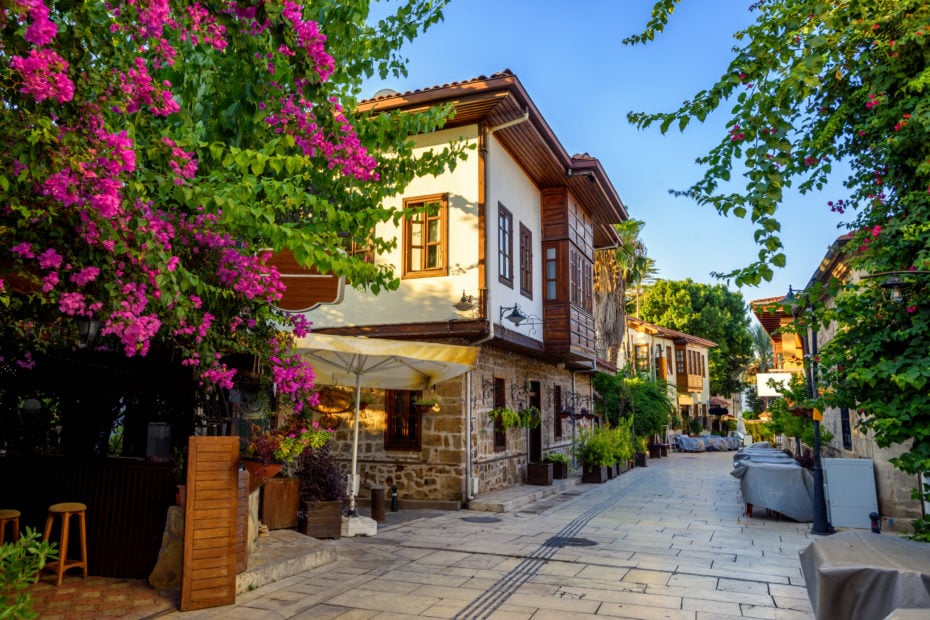 Kaleici is the historic heart of Antalya; a stunning old town that's brimming with culture, history, and charm. Wandering through the winding streets of Kaleici takes you past buildings that date back to Ottoman and Roman times. Explore narrow alleys lined with boutique shops and picturesque cafes as you seek out pockets of history.
There are plenty of fascinating historic attractions to discover in Kaleici. Don't miss the remarkably well-preserved Hadrian's Gate – built in 130AD – the ancient harbour (still in use today), and the circular Hidirlik Tower on the city walls. The nearby Antalya Museum is also worth a visit to learn more about the region's history.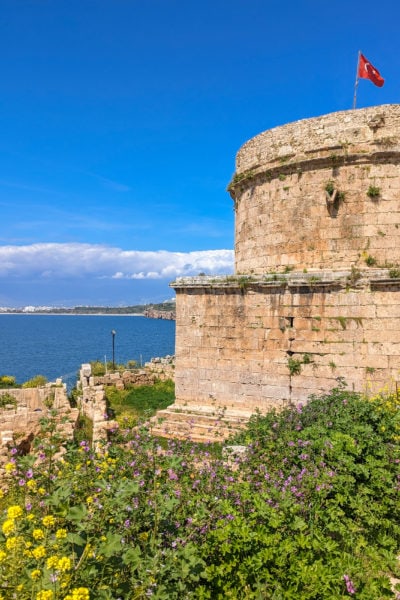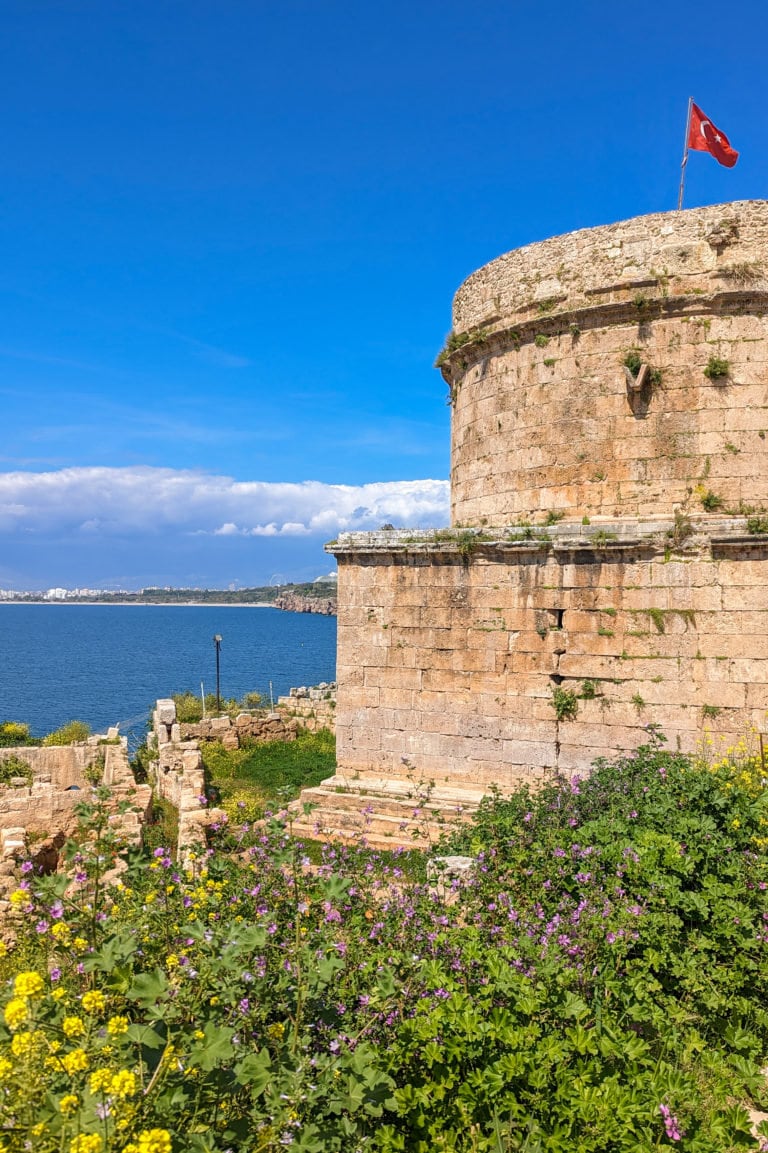 In addition to its rich history, Kaleici also boasts a picturesque harbour lined with restaurants and cafes. This is the perfect spot to relax, enjoy a traditional Turkish meal, and watch the boats come and go. You could even take a boat tour along the coast to escape the city for a while.
RECOMMENDED TOUR: Antalya Old Town Guided Walking Tour, 2 hours – from £21.96pp
5. Perge Ancient City, Antalya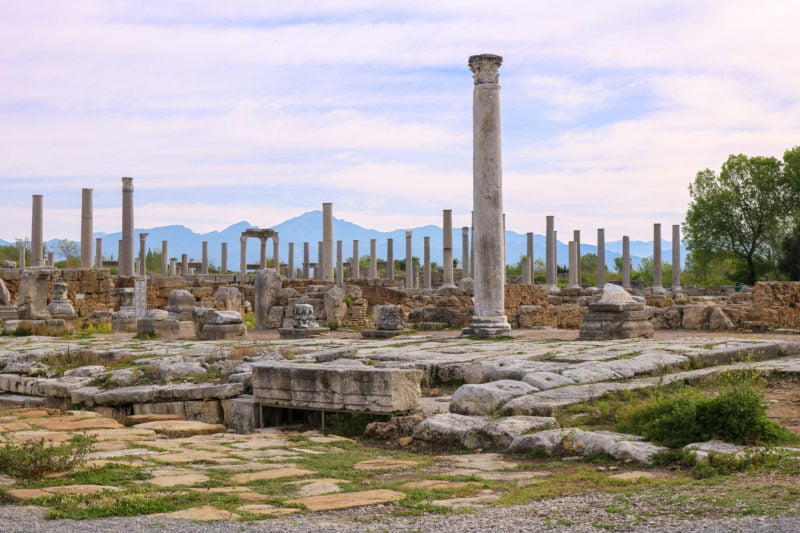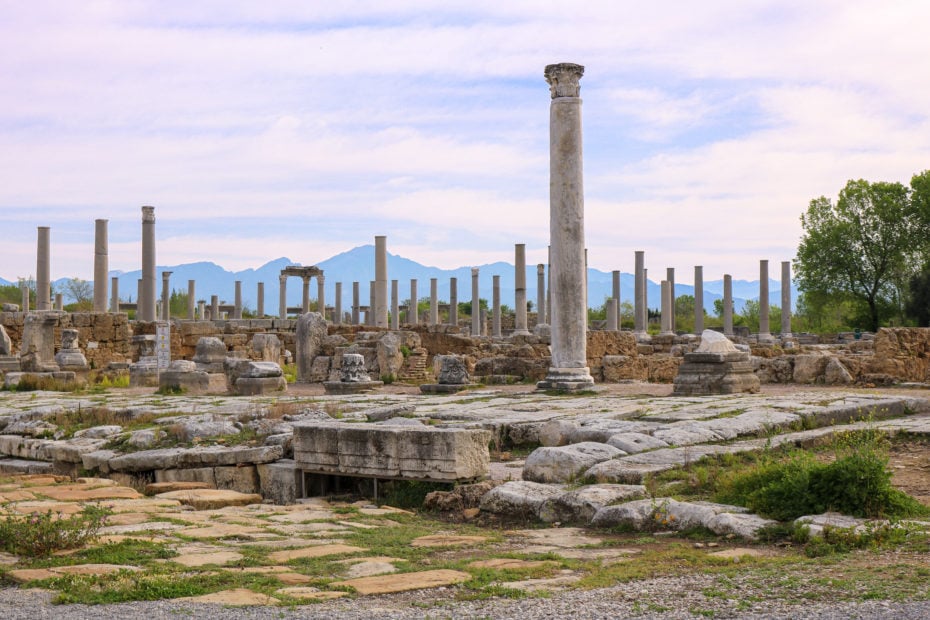 Just outside of Antalya, Perge Ancient City is a sprawling archaeological site and a popular tourist attraction. It was once a prosperous and bustling city
First founded in the early Bronze Age, there's a lot of history here. Perge was even ruled over by Alexander the Great in 334 BC.
There are many must-see attractions within Perge Ancient City, including the 2nd century Roman Theatre, the Agora (a large marketplace surrounded by the ruins of shops), and the Stadium. This last is a large oval structure which was used for athletic competitions such as running and wrestling.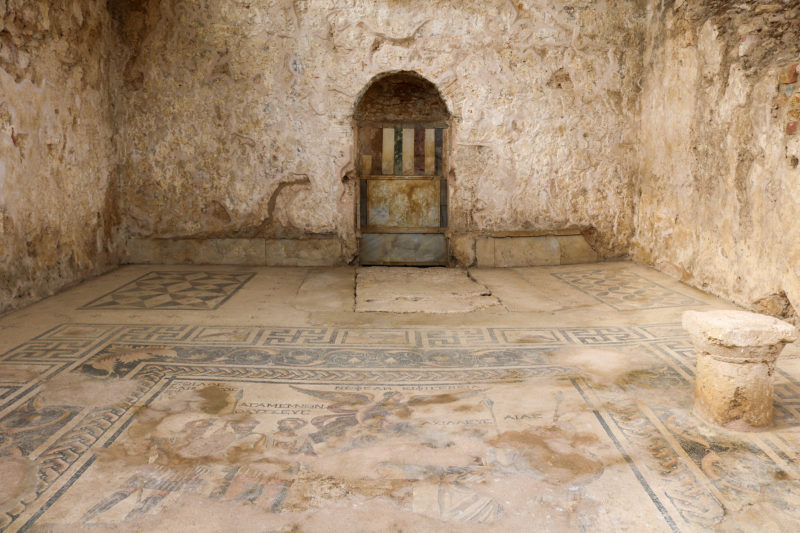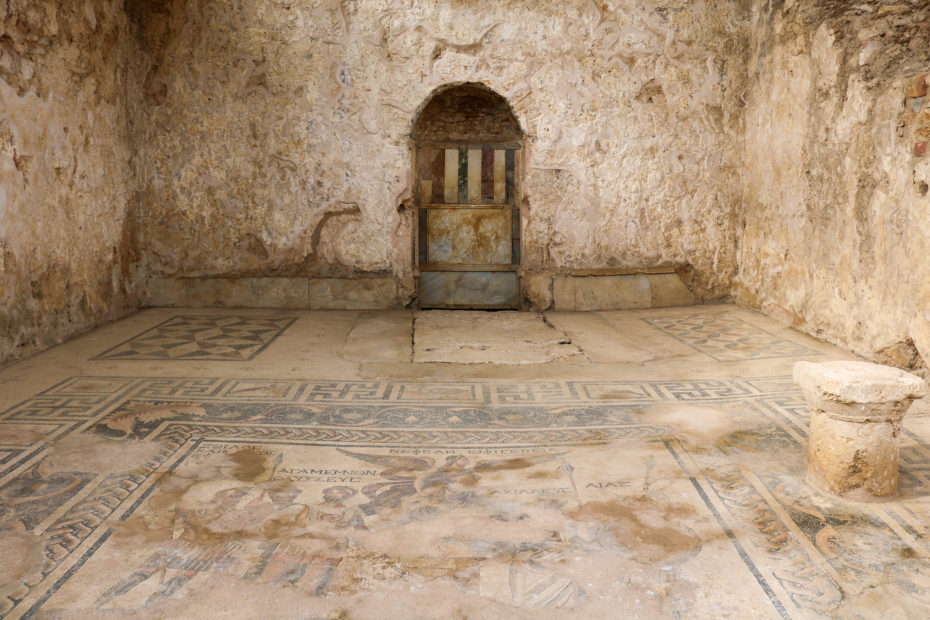 One of the most memorable sights is the Perge Mosaic. Discovered in 2017, this 1800-year-old mosaic depicts the sacrifice of İphigenia during the Trojan War.
Top Tip: I recommend arriving as early as possible to beat the crowds (and the heat in summer).
6. Aspendos Ancient Theatre, nr Antalya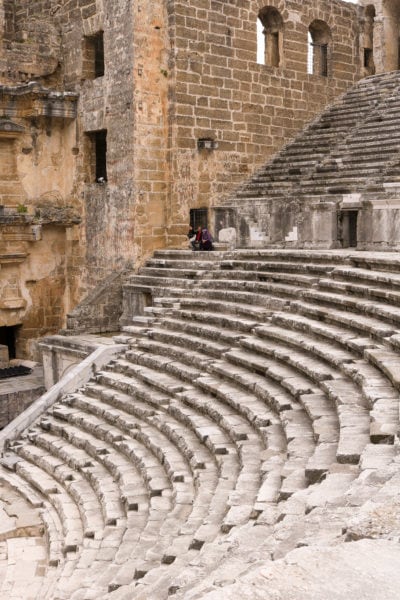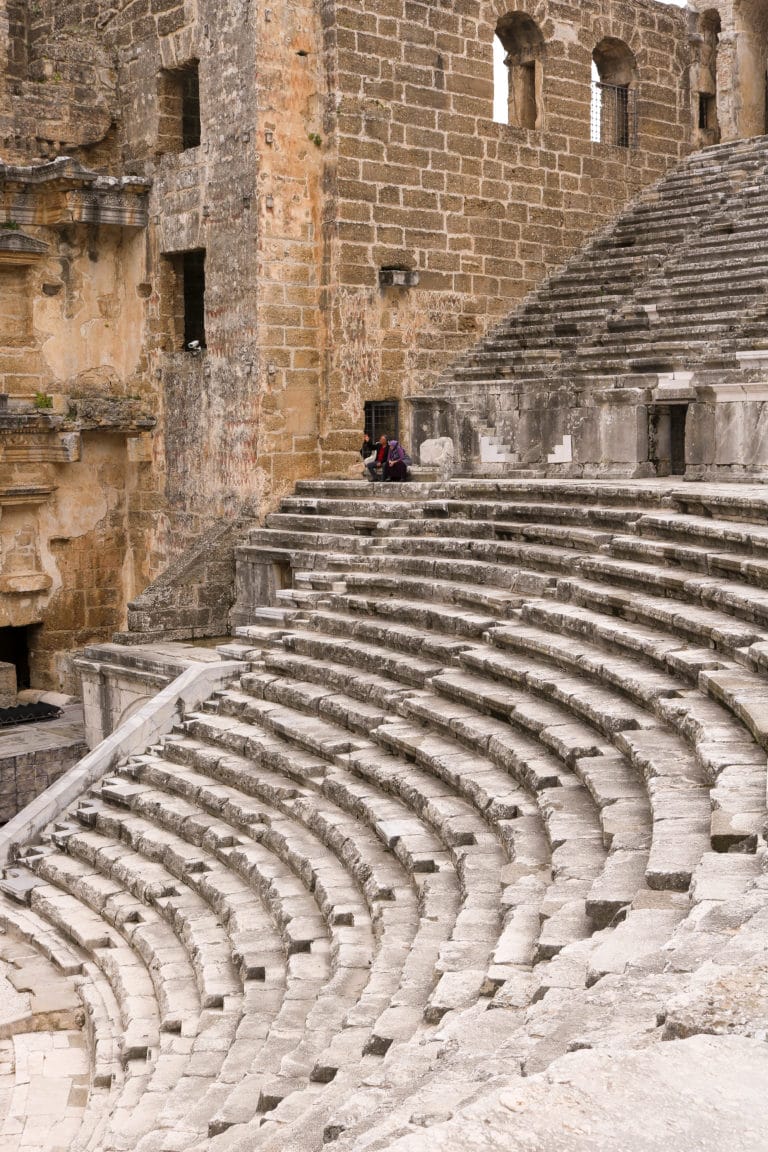 Aspendos Ancient Theatre is a remarkably well-preserved Roman theatre located in the city of Side, in the Antalya province. It was built in 155AD by an architect named Zenon, and is still used today for concerts and other cultural events.
You can also visit a stunning aqueduct while in Side. According to legend, these marvels were built by two architects competing for the same girl.
The King of Aspendos had offered his daughter's hand in marriage to whoever built the best work for the city. The architect of the aqueduct almost won – until the King, whilst touring the theatre, heard Zenon whisper "you should let your daughter marry me" from down on the stage. He was so impressed by the theatre's amazing acoustics that he betrothed his daughter to the architect!
RECOMMENDED TOUR: Perge, Aspendos & Side Full-Day Tour from Antalya (from £52.83pp)
7. Kaymakli Underground City, Cappadocia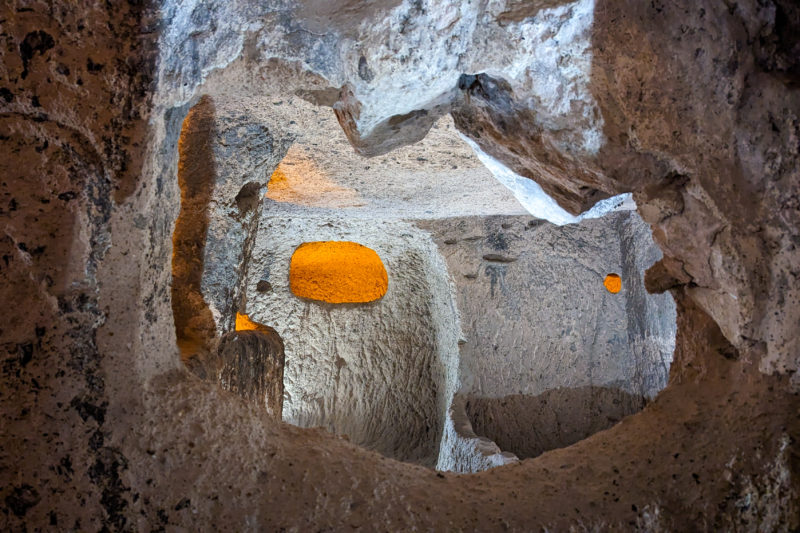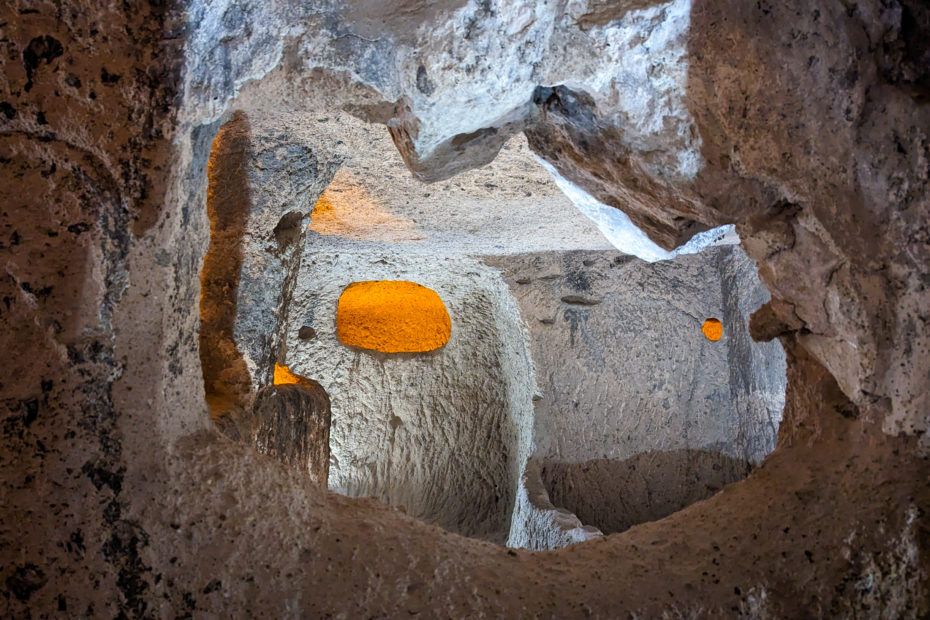 As well as Goreme, there's another fascinating historic destination in Cappadocia. Kaymakli Underground City is one of the best-preserved settlements of its kind in the region: a maze-like warren of tunnels and rooms that go down eight levels underground.
It's thought to have been first built by the Phrygians in the 8th–7th centuries BC and expanded over time. Like other underground cities in Cappadocia, Kaymakli was used as a hiding place during times of war and persecution – including by Christians during the Muslim-Arab raids of the Arab-Byzantine wars.
Some of the passageways are very low and narrow, so visiting Kaymakli Underground City felt like a bit of an adventure. You can see scorch marks on walls where kitchen fires once burned, as well as sleeping quarters, stables, and even wineries! This is one of the most unique historic places in Turkey: an exciting glimpse into the underground world of ancient civilizations.
RECOMMENDED TOUR: Cappadocia and Kaymakli Underground City Small Group Day Tour (from £52.83pp)
8. Mevlana Museum, Konya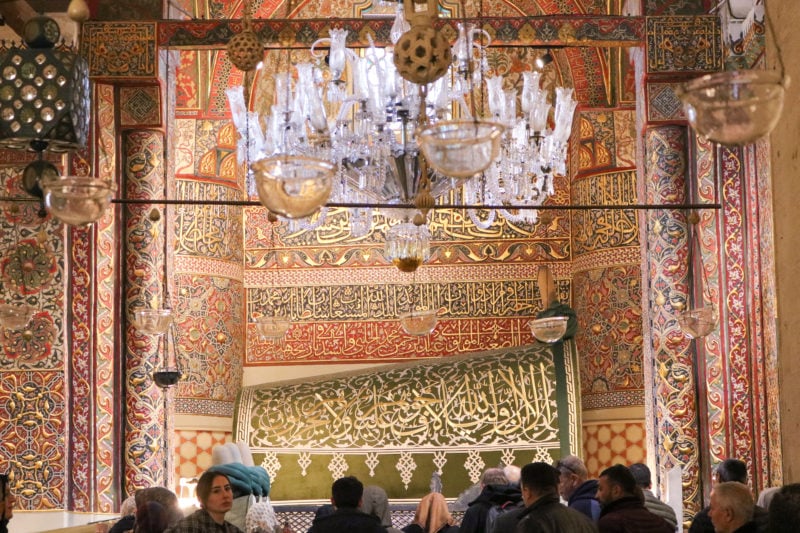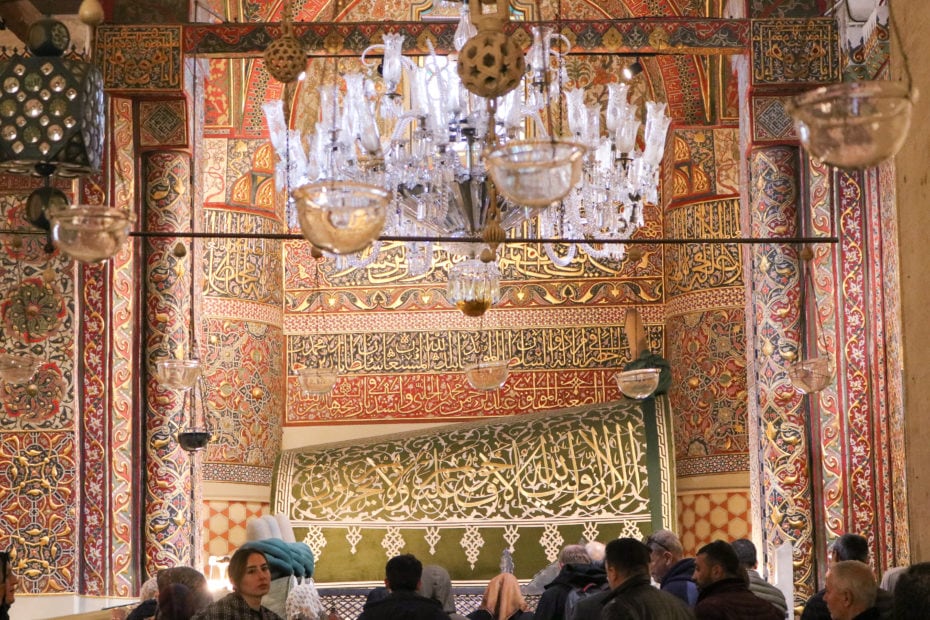 Lying high on the mountain plains of the Central Anatolian Plateau, Konya isn't always high on many Turkey itineraries. But this sprawling, stern-looking city is considered by many to be the religious centre of the country.
Konya is where the Mevlevi order of Sufism was founded – also known as the Whirling Dervishes. This is a Sufi order based on the teachings of Jalāl al-Dīn Muhammad Rūmī: a 13th-century poet, Islamic scholar, and Sufi mystic, better known as Mevlânâ (Master) or simply Rumi.
Rumi's tomb is located within a former Dervish Lodge in the centre of Konya. Decadently decorated with glittering tiles, the tomb still attracts many followers of Sufism, who come to pay their respects and reflect on the poet's teachings.
The surrounding museum houses a collection of Rumi's personal belongings, including his clothing and writing instruments, as well as manuscripts of his works. Also within the beautiful grounds are a mosque, a library, and several gardens.
9. Sultanhani Caravanserai, Aksaray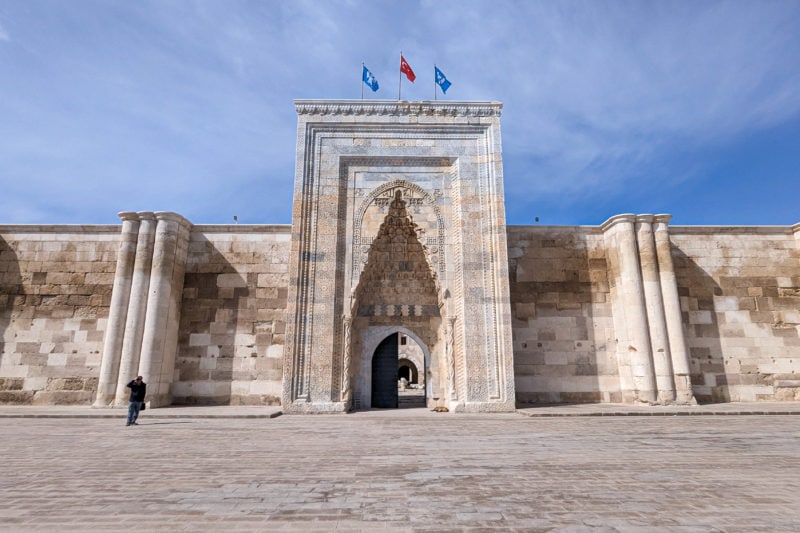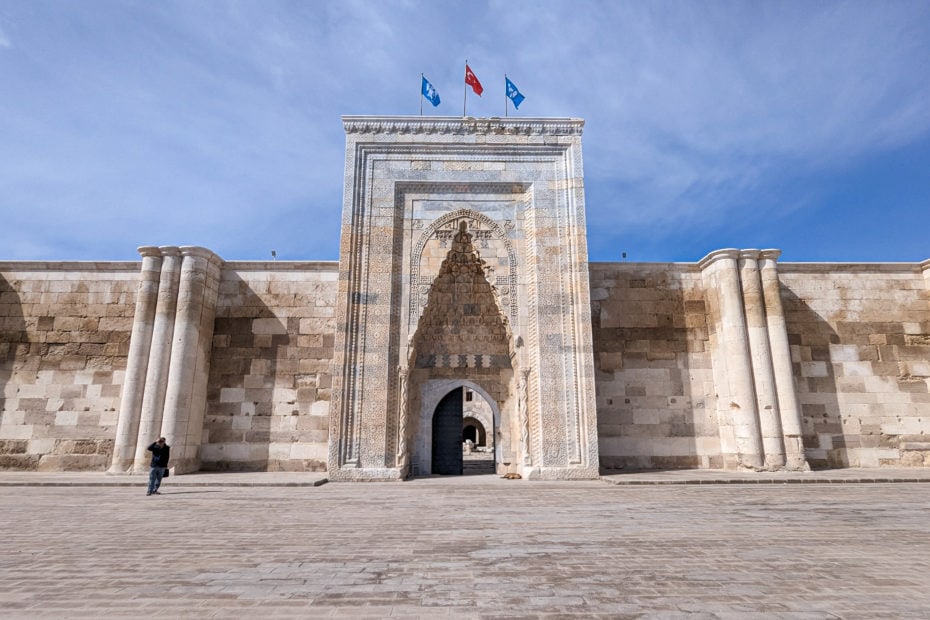 Caravanserais were fortified roadside stops and inns located along the famous Silk Road which once linked China and Rome. These were used as resting places for merchants and their animals travelling between the East and the West.
The Sultanhani Caravanserai (or Sultan Han) was built in 1229 and is one of the best preserved in Turkey. Today, it still makes an ideal rest stop – for anyone driving from Konya to Cappadocia.
Sultanhani Caravanserai features a large courtyard surrounded by a covered passageway, as well as a cavernous stone hall with a barrel-vaulted ceiling. When I visited in spring, this contained an exhibition of traditional Turkish rugs – one of the many goods that were once transported along the Silk Road.
10. Miletus Ancient City, nr Kusadasi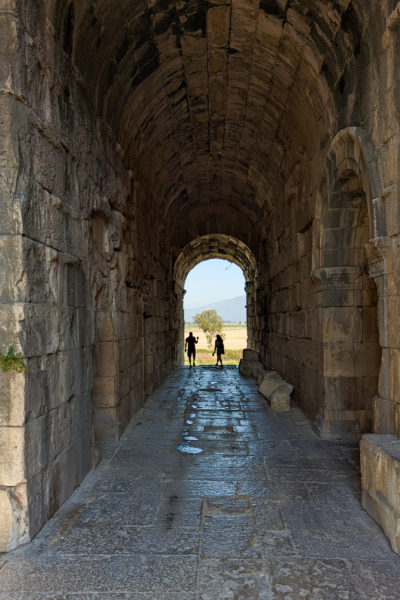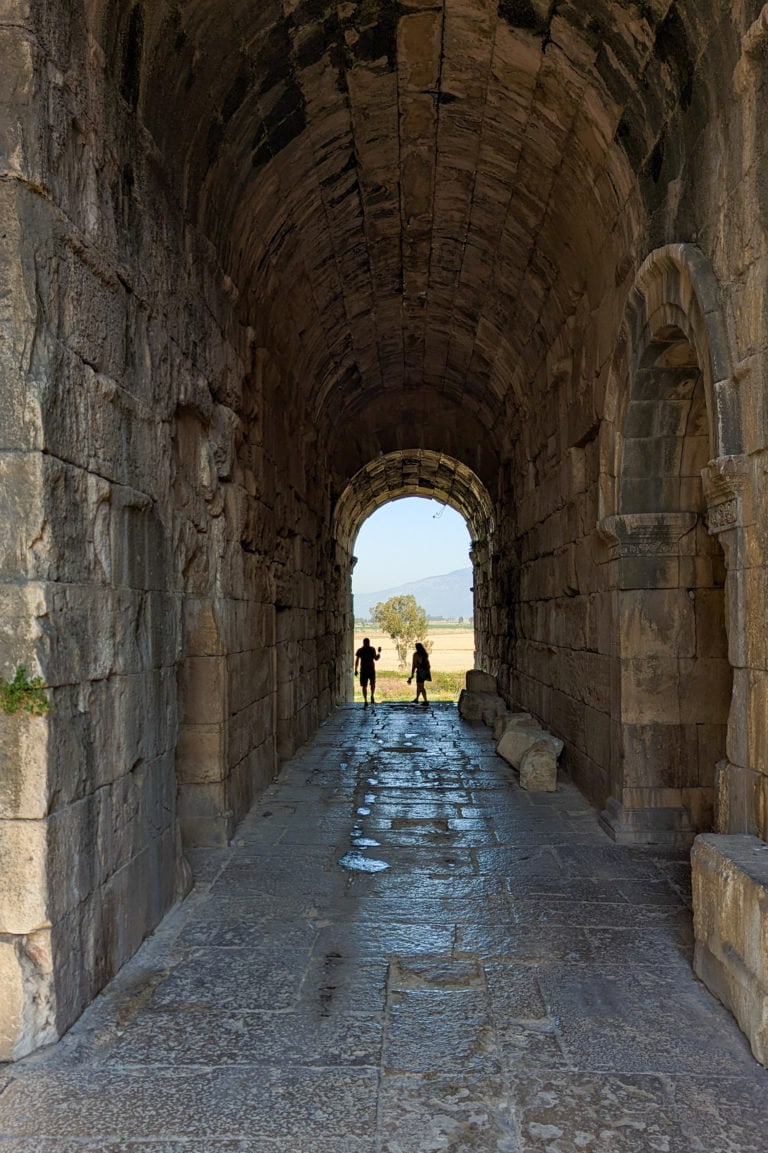 Located in the Aegean region of Turkey, a short drive south of Kusadasi, Miletus Ancient City is often overlooked by visitors to Turkey and feels like a bit of a hidden gem. When I visited this spring, our group were the only ones there!
Surrounded by rolling countryside and olive groves, Miletus is seriously picturesque. Don't miss it!
The most impressive feature is the horseshoe-shaped Roman theatre, which is built into a small hillside. You can walk through a tunnel at the back of the theatre to explore the rest of the city – so it really feels like walking back in time!
11. Apollo Temple, Didyma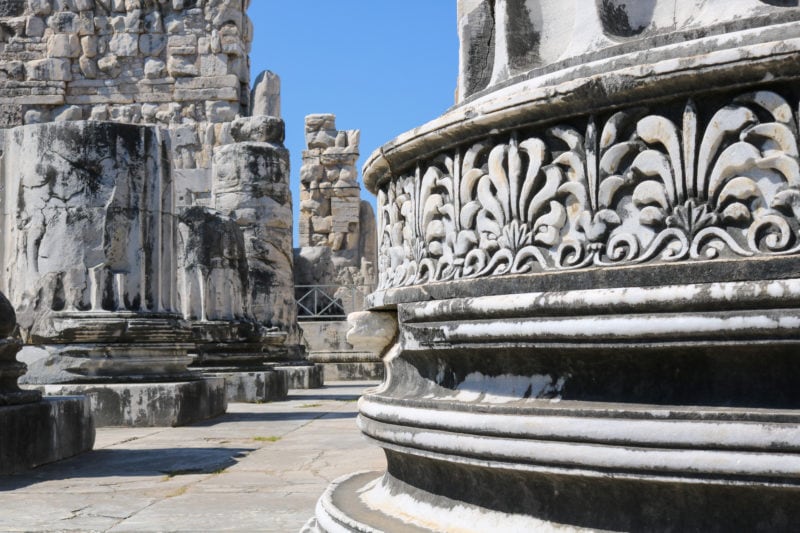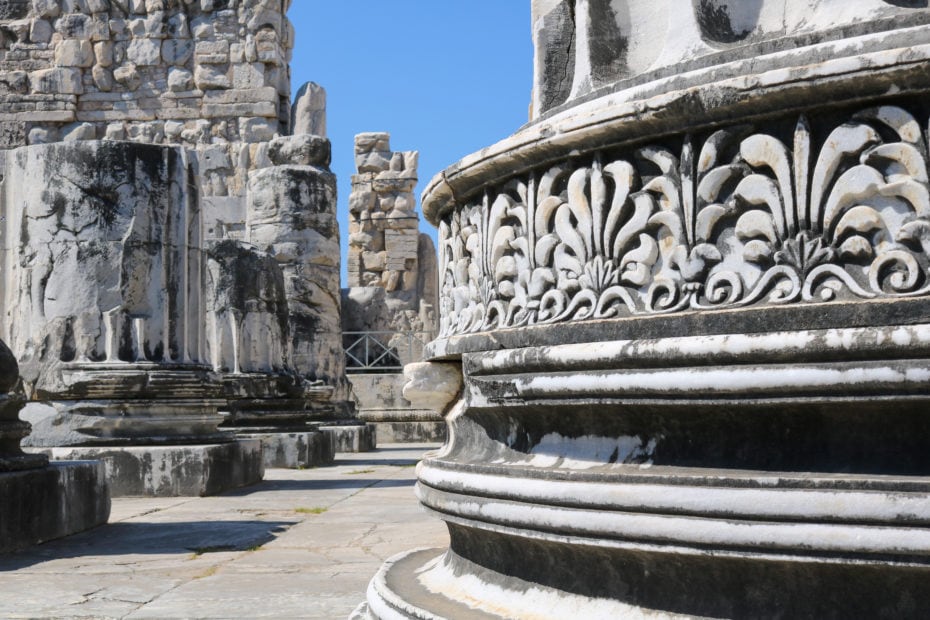 Last – but absolutely not least – the Temple of Apollo in Didyma is one of the most impressive ancient structures in Turkey. It's only a short drive from Miletus, so you could easily combine both into one day trip.
RECOMMENDED TOUR: Ephesus, Priene, Miletos and Didyma Tour (from £139.28pp)
This temple was once the centre for one of the ancient world's most important oracles, second only in importance to the one at Delphi.
People would travel from far and wide to seek guidance from Apollo via the oracle – including many rulers. In fact, a prophecy from the oracle in 302AD Didyma led to Emporer Diocletian beginning the "Great Persecution" of Christians.
Even in ruins, the temple's size and beauty are awe-inspiring, with its towering white columns and intricate carvings. The temple is thought to have been built in the 8th century BC around the site of a sacred spring, but was destroyed and rebuilt several times over the centuries. The third and final version was built in the late 4th century BC, after the site was re-consecrated by Alexander the Great in 331 BC.
Map of these Historic Places to Visit in Turkey
Use this map to figure out where these historic places are – and which ones you can feasibly add to your Turkey itinerary:
How many of these historic places in Turkey have you visited? Scroll down to leave a comment and share your favourites!