Some posts on this site contain affiliate links. If you book or buy something through these links, I earn a small commission (at no extra cost to you). Take a look at my privacy policy for more information.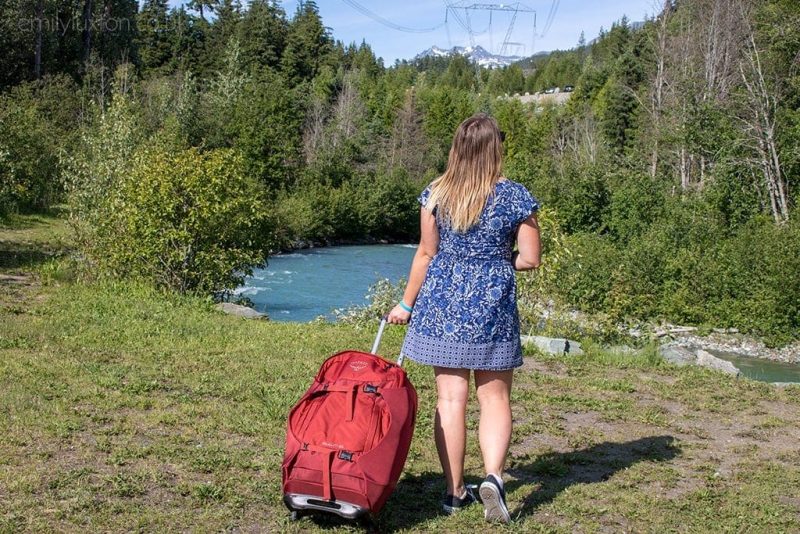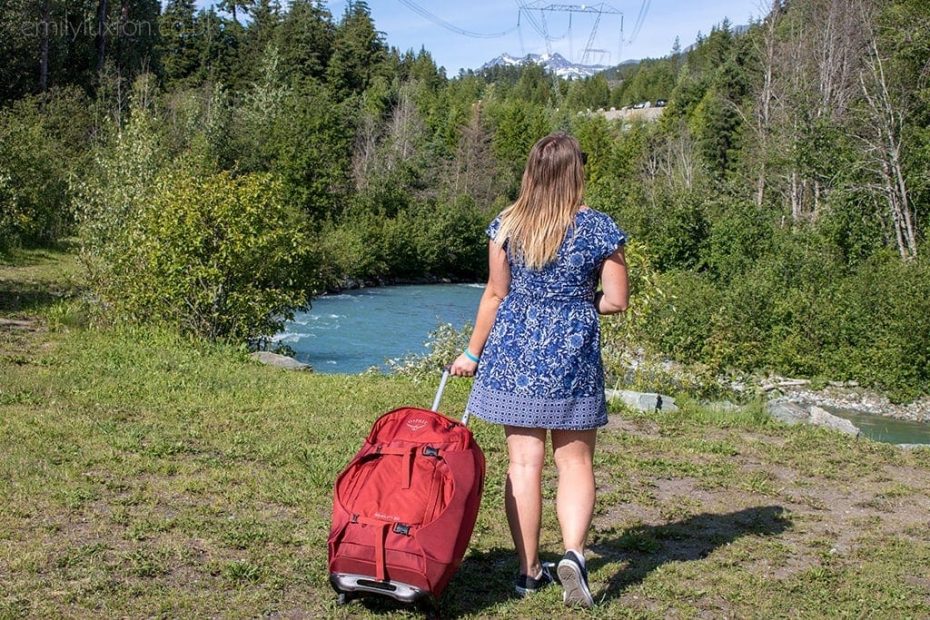 Stop everything guys – I've found the one! The best wheeled backpack for travel, that is. After years of travelling with my trusty 60L strapped to my back, I decided it was time to make life easier with a wheeled backpack. And that was when I discovered the Osprey Sojourn 60… a dream of a backpack that's perfectly sized, crazy durable, and absolutely amazing for big trips.
Before we get started: yes, Osprey sent me the Sojourn 60 for free to review. But all the following opinions are my own. After extensive testing around the world, I really do love this wheeled backpack!
READ MORE: Check out my top 11 backpacks for female travellers – as recommended by travel bloggers.
Why Buy a Wheeled Backpack?
First things first: do you really need a wheeled backpack? For years I kind of felt like they were pointless. If you're going for wheels, you might as well get a wheeled suitcase, right?
Wrong! A wheeled backpack gives you ultimate flexibility. You can wear it on your back when you need to, or drag it behind you when you don't – the best of both worlds. You still have the backpack as a status symbol, marking you out as a "proper traveller" (not a phrase I'm a fan of, but travel snobs love to judge), but you also have the convenience of dragging your luggage on wheels behind you.
If you're a fan of ease and comfort, or you think you're more of a flashpacker than a backpacker, wheels are for you. Convinced? Then you'll be needing the world's best wheeled backpack won't you? Meet the Osprey Sojourn…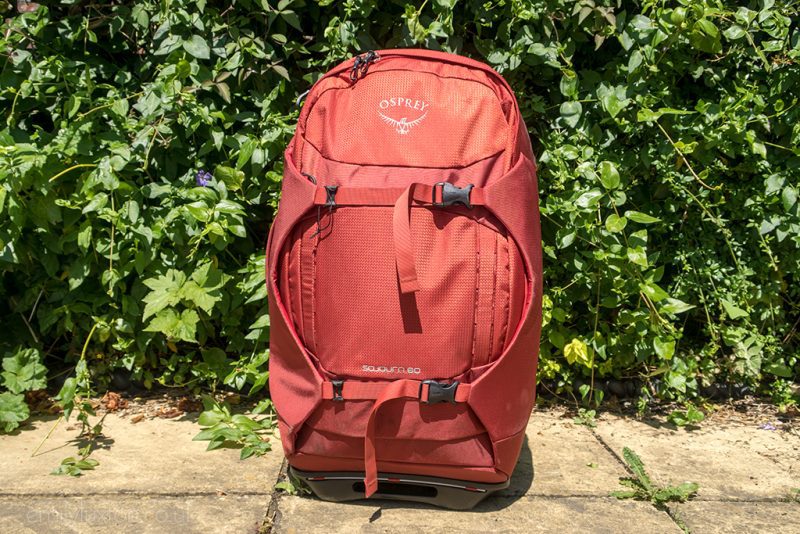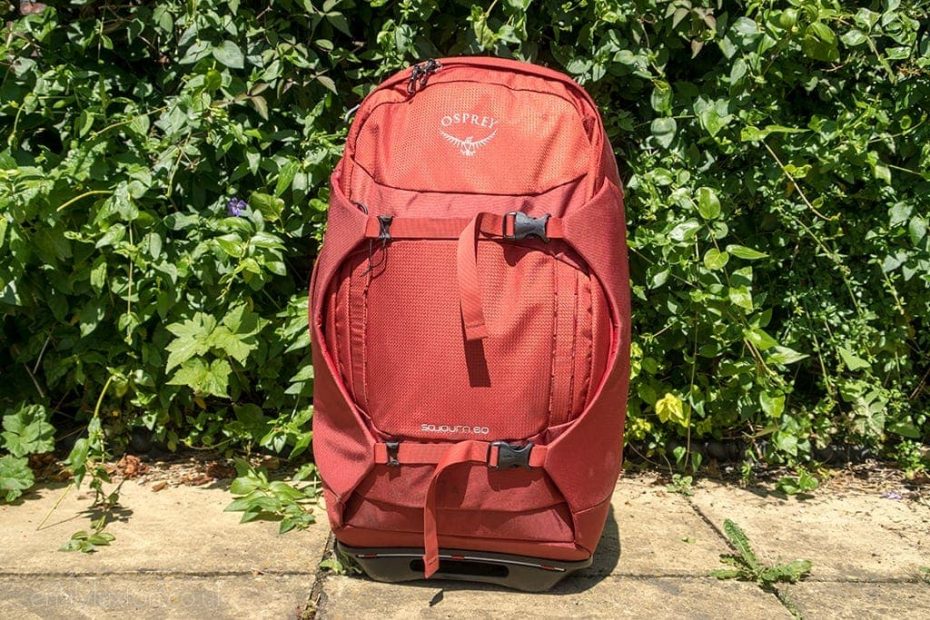 My Osprey Sojourn 60 Review
Quick Facts!
Two wheels
Unzips all the way around in front
Weighs 3.87 kg
1680D Ballistic Nylon
Maximum capacity 60L
Maximum dimensions 64L x 36W x 35D
Osprey Sojourn 60 or 80?
The Osprey Sojourn series comes in two size options – 60L and 80L. Honestly – I think the 80 would be too big for most travellers. The 60 is borderline too big for me (a 5'4″ lady in medium shape) and when it's full I struggle with it on my back. If you're buying this as a backpack for travel and plan to carry it on your back (even just occasionally) I think the 60 will be more than enough, unless you're a Marine or something. It's a great size and fits MORE than enough. As I will now demonstrate…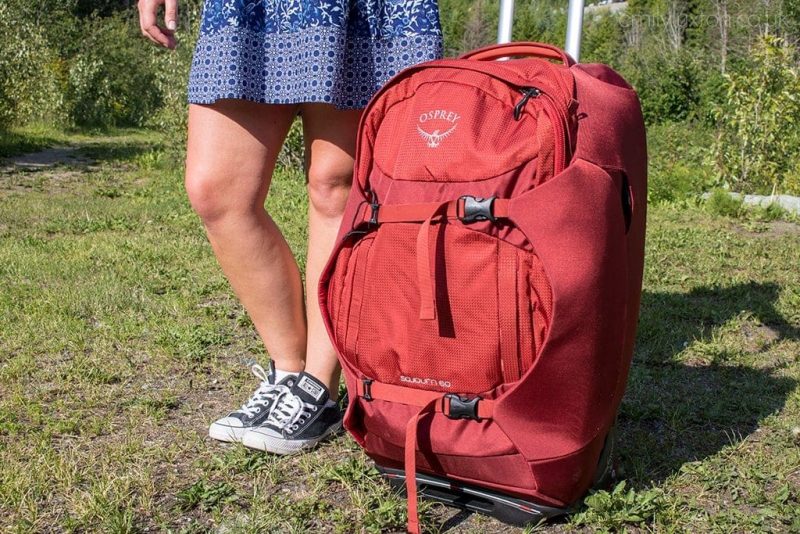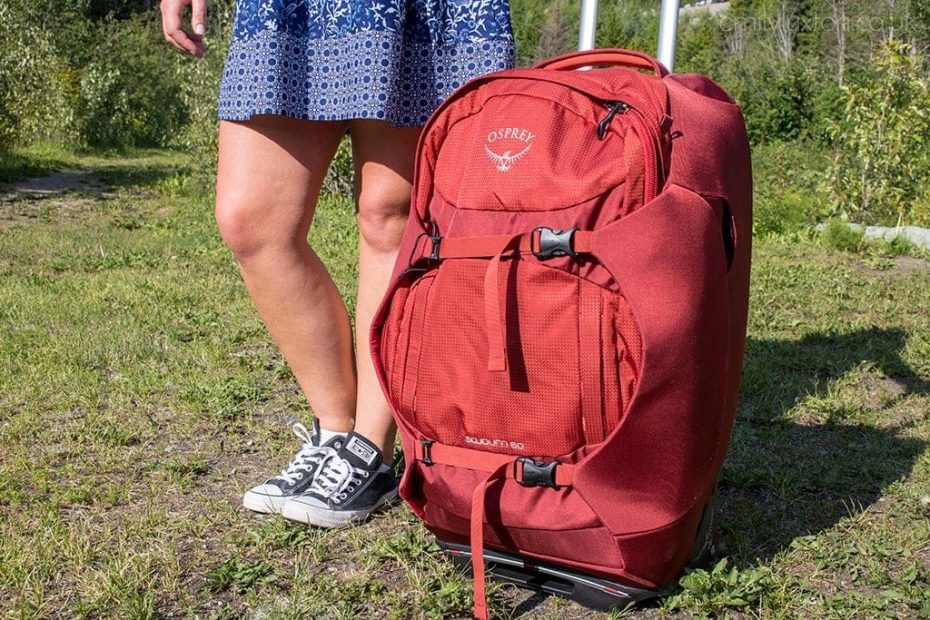 How much does the Osprey Sojourn 60 fit?
Loads! The 60L capacity of the Osprey Sojourn is MORE than enough to hold everything for a RTW backpacking trip.
I took it on my India trip with me and packed 2 medium packing cubes, one small packing cube, my toiletries, several pairs of shoes, plus all the other backpacking essentials I need on a trip. And there was still enough room for all the souvenirs I bought myself in India's markets (8 scarves… why?!).
On my recent trip to Canada, I packed a sleeping bag, 2 packing cubes, a couple of bulky jumpers, hiking boots, and all my tech. It was the most I've ever crammed into the Osprey Sojourn 60 and I'm happy to report that it all fit perfectly.
READ MORE: Check my eBags packing cubes review to see why you need a set of these bad boys!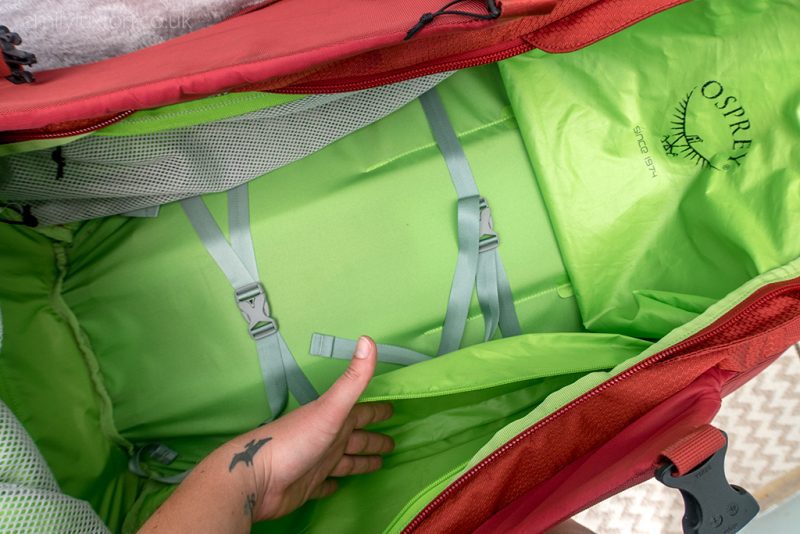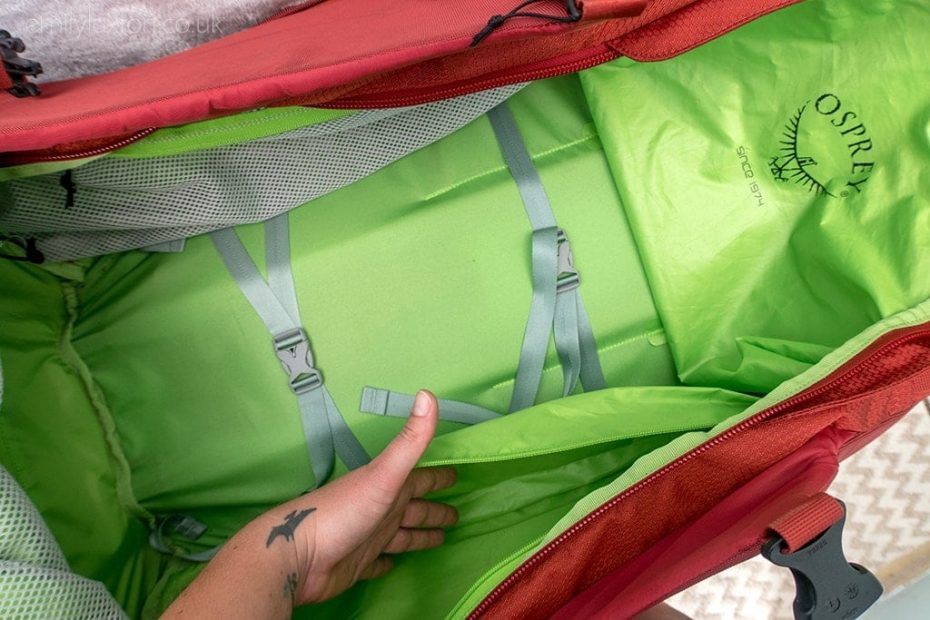 Pockets and Practicality
After the wheels, my second favourite thing about the Osprey Sojourn is that it opens all the way around. I've mentioned this before as a must-have feature for a travel backpack, because it's super important. Most backpacks open up at the top, and you have to unpack everything to get to the bottom. That's great for short hiking trips but impractical for long-term backpacking trips. Lie the sojourn on it's back and you can unzip the entire front all the way around and fold it right back, for super easy access to your whole bag at once.
There are also LOADS of pockets and the backpack is super practical. There's a huge top pocket for quick access to small essentials – I like to use it to store all my charging cables and plug adapters etc. But it's made of waterproof, wipe-clean fabric so you could use it for liquids too.
Then there are two internal side pockets down the length of the bag, one mesh one and one zip-away pocket made, again, from a sturdy waterproof fabric. And on the bag's fold-old front there are two more mesh pockets – again perfect for cables or small bits that you don't want to get lost in the main part of the bag.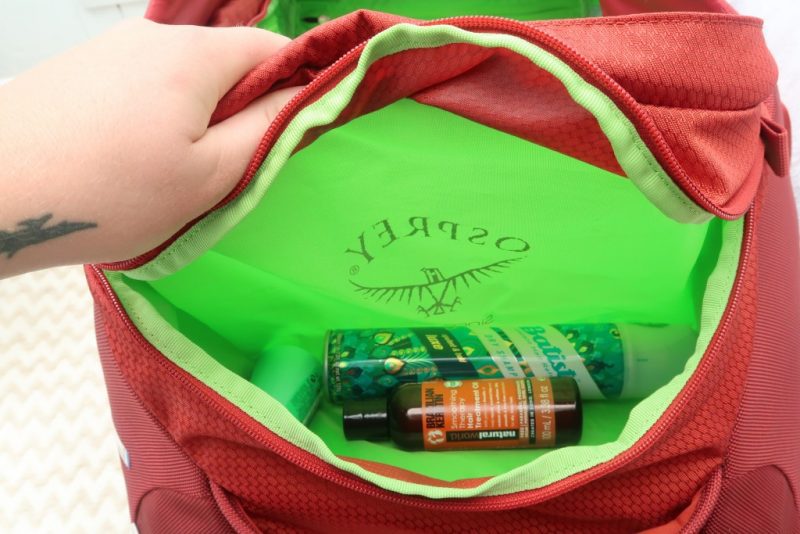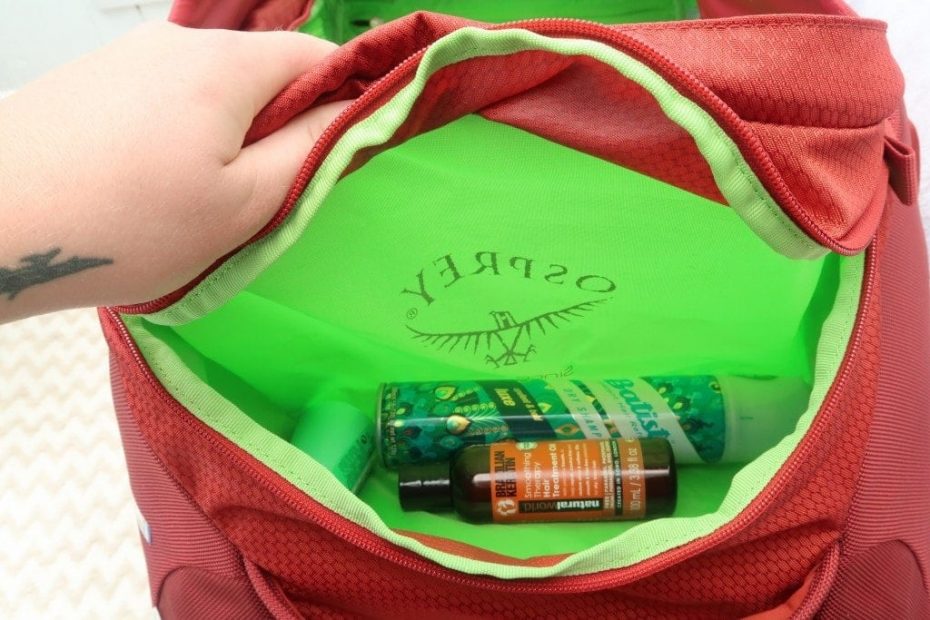 Will it Last?
Over the past six months or so I've really put this backpack to the test, dragging it around a fair few countries in my quest to spend as little time as possible in the UK*. And in my experience, this is a seriously tough wheeled backpack. The wheels are big and chunky, and feel a lot more sturdy than the spinny plastic wheels that normally come on wheely suitcases. Other than to test-drive it, I've honestly never had to put it on my back. The wheels were more than a match for even the most potholed and dusty roads in India!
The bag itself is made from ballistic nylon, and the chassis from ABS polymer plastic. I don't know what those words mean either. But Osprey promise lightweight durability and that's what they've delivered. It's such a solid, chunky feeling backpack and it feels almost indestructible. Everything from the sturdy wheels to the fabric feels strong and capable.
*joking, obviously. That's the opposite of my current life goal.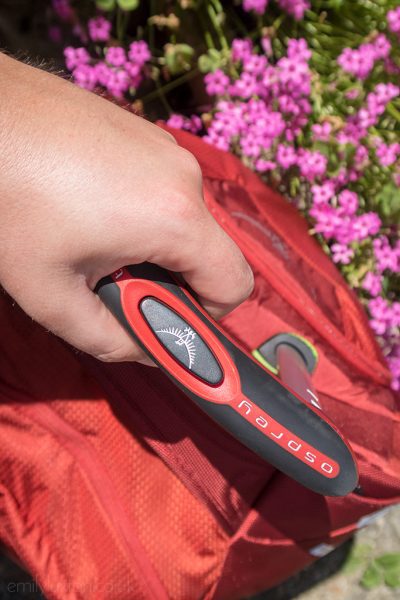 Road test – Using the Osprey Sojourn 60
As I mentioned above, I've never actually had to use the backpack system on the Osprey Sojourn during my travels. But I have tested it out, and I'm really impressed by how it works. When you're not using it, the backpack system zips away behind some fabric to keep all the straps safe – great for taking flights or bus journeys.
If you need to use the backpack you can unzip that and pop out the back and hip straps. You can easily adjust the height of the back straps for the perfect fit and comfort, and the breathable mesh back means you won't get too sweaty back there!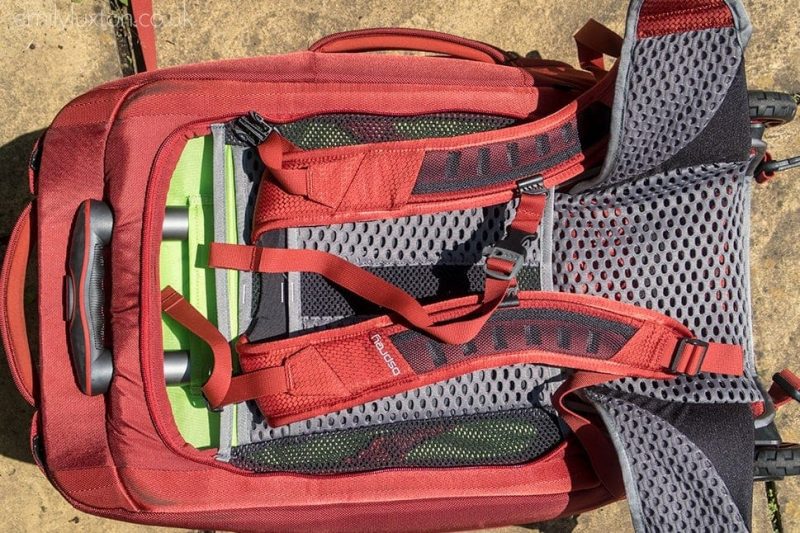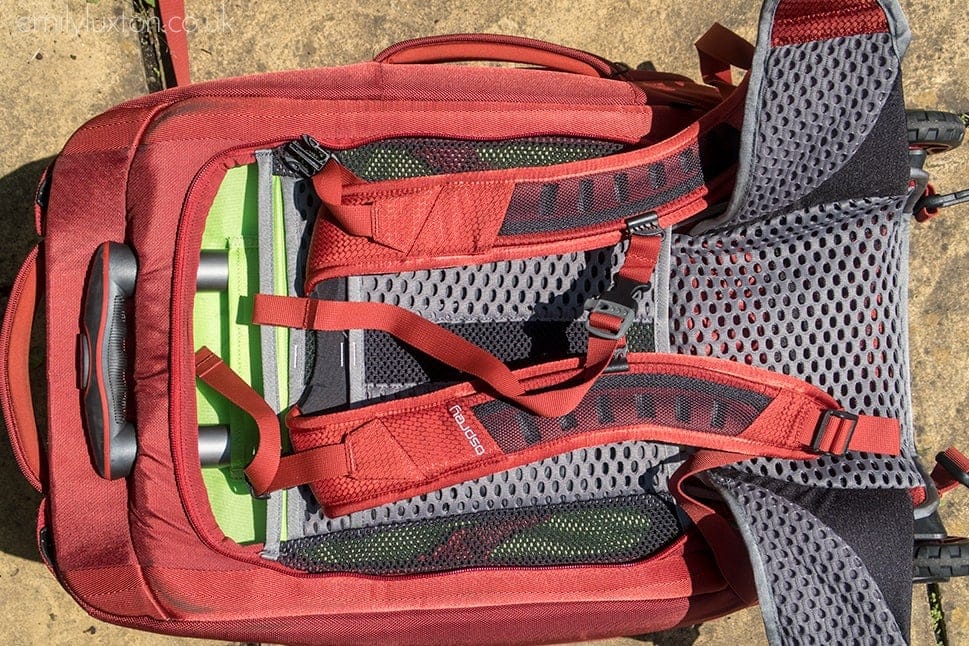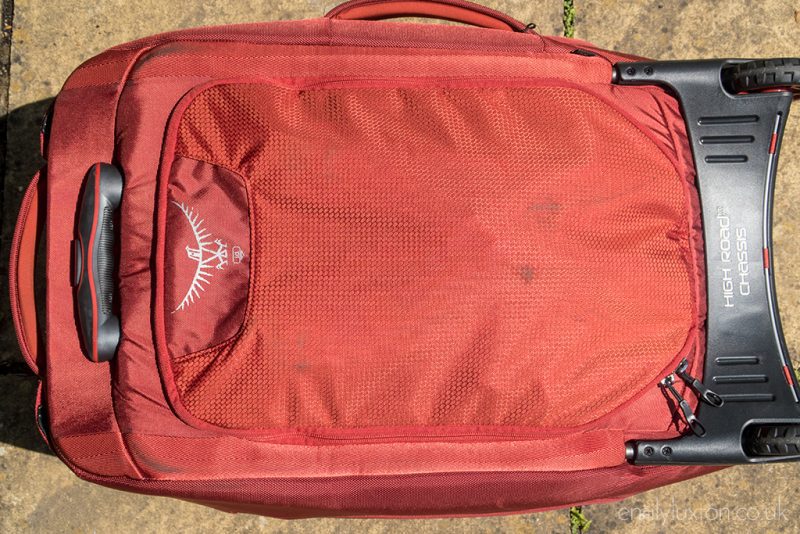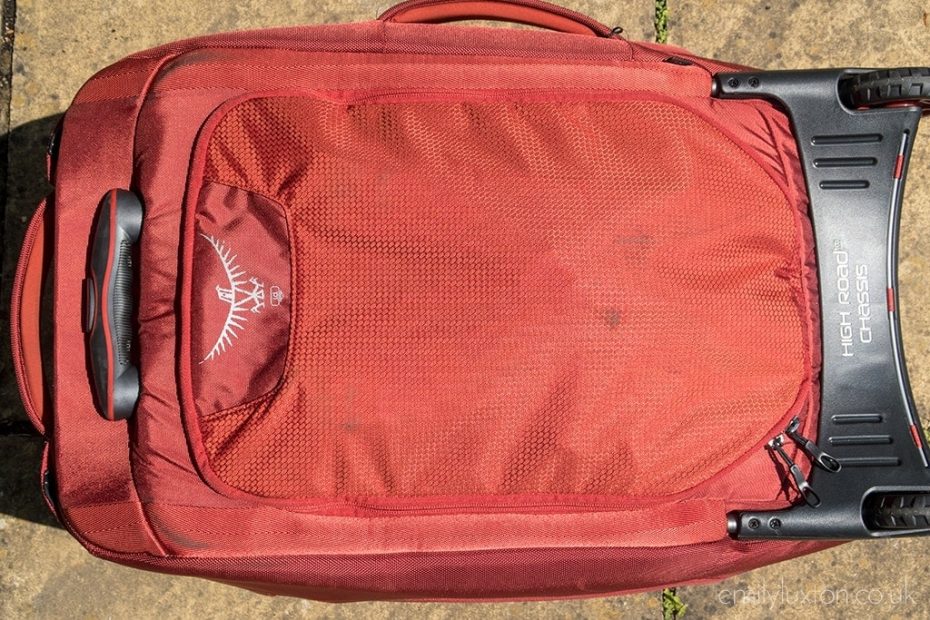 Zip the straps away again, and you have a nice, sleek, rolling piece of luggage. I love the super sturdy, retractable handle, which glides in and out easily when you press the button. No jerkyness or weak plastic parts here!
In short, I cannot recommend the Osprey Sojourn 60 enough. Everything about this backpack impressed me. It works so well, it glides along over almost any surface, and it feels like it's built to last forever. If you need a wheeled backpack for your travels, you really need to take a look at the Sojourn!
Do you favour a traditional backpack or have you converted to wheels? Share your thoughts and recommendations in the comments below!