Some posts on this site contain affiliate links. If you book or buy something through these links, I earn a small commission (at no extra cost to you). Take a look at my privacy policy for more information.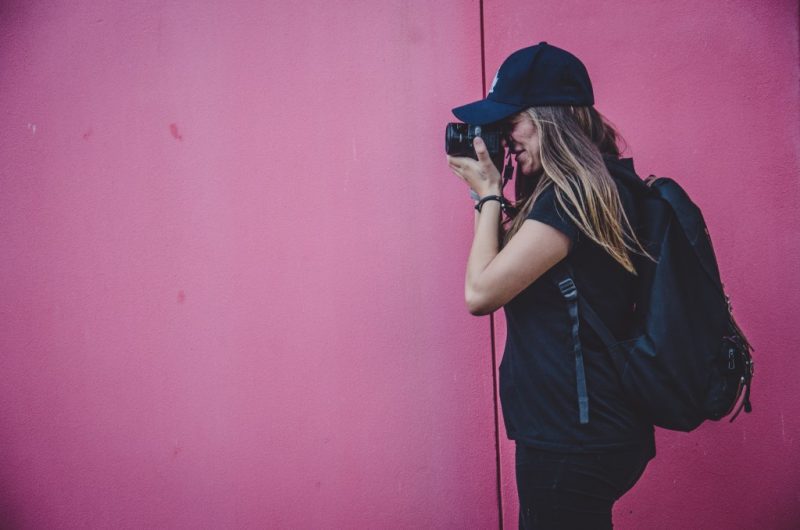 If you're going travelling for a long period of time, you need a decent backpack. So I've collected top tips from some of my favourite travel bloggers to bring you this round-up of the best travel backpacks for women. This post is specifically for female travellers, because we're often a different size and shape to men.
Also included is my guide to choosing the right backpack for you, and plenty of tips for what to look out for. Use the contents below to skip ahead to the section you need, or just read through the whole post for inspiration. and feel free to reach out in the comments if you want more tips about women's travel backpacks (or anything else for that matter!).
READ MORE: 20 Insanely Useful Backpacking Essentials
Best Travel Backpacks For Women
This post contains affiliate links – more info here. Some of the backpacks included below were gifted to me or to the bloggers who recommended them. But all opinions are 100% honest and no one was asked to write these recommendations.
This post was last updated in November 2020. 
How to Choose the Right Backpack for Travel
When it comes to choosing the best backpack for you, it all depends on a few factors. First of all – YOU. The best backpack for you depends on your size, shape, height, strength… all kinds of things. So the BEST way to choose the perfect backpack is to try a few on, preferably in-store with an expert to help you.
Since the prices online are often cheaper, though, you could always order several backpacks and try them all, decide which is best, then send the others back. That way you can fill them up with a bunch of clothes and try them on to see how they'll actually feel on the road. Make sure you check the returns policy before you buy, though!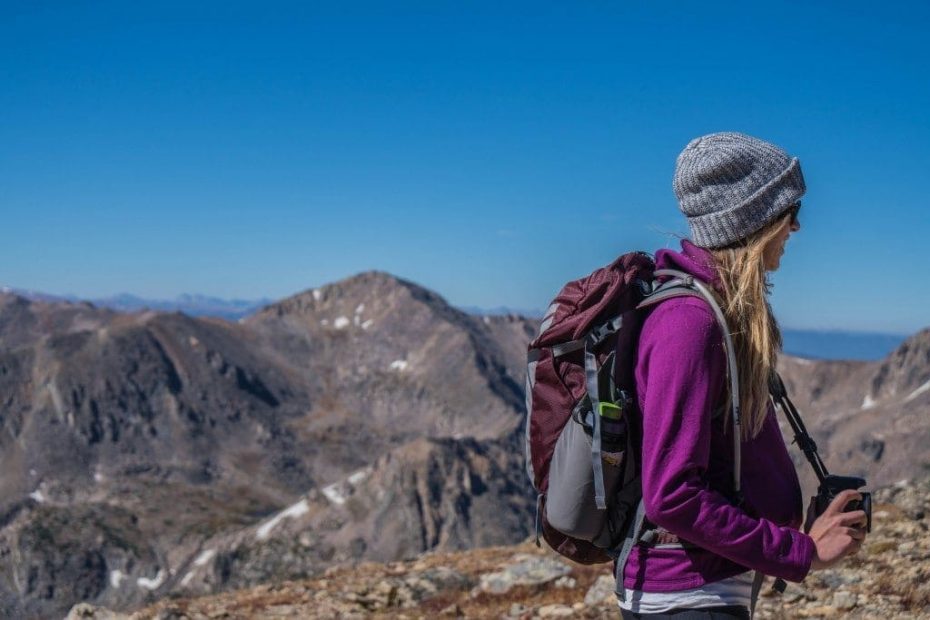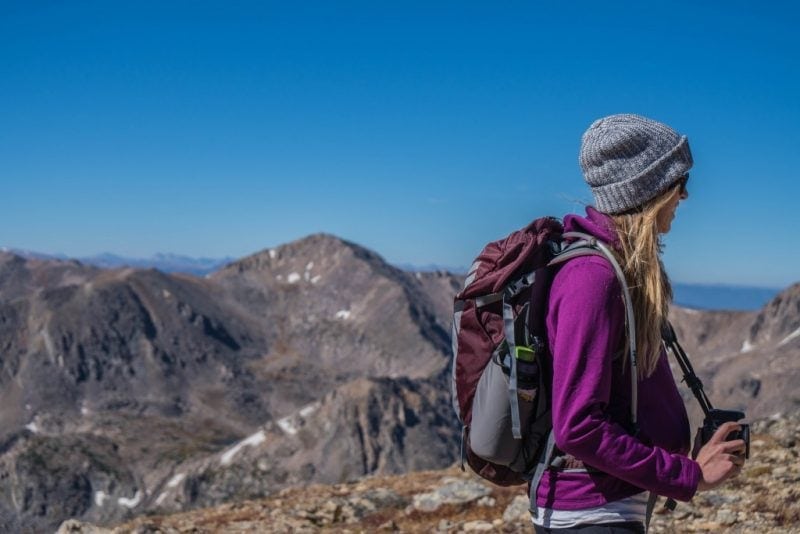 Here's what to look for when trying on a backpack…
Big thanks to the experts at Mountain Warehouse for these top tips for choosing a backpack that's right for you…
Size – The first step when choosing a backpack is to decide on the size. Smaller capacity backpacks (40-55L) are perfect for shorter trips, travelling in warm/hot climate as you won't need to pack bulky clothes, or just someone who prefers travelling light. Also, most airlines will allow this size bag on the plane free of charge. However, if you are visiting somewhere more chilly or need to pack more belongings, you might want to consider a large backpack.
RELATED POST: Craghoppers Kiwi Classic Bags Review
Fit – Next thing is to ensure the backpack will sit comfortably on the hips. Look for the one with a soft but rigid hip belt which is at least 10cm wide. Also look for an adjustable back system which will allow you to fix the backpack frame to fit your torso and help to divide the weight between your shoulders, back and waist.
Read more in this super handy blog post from Mountain Warehouse on choosing the right backpack. Plus, at the end of this post, you'll find a handy video all about how to fit your rucksack…
Features you need!
Although everyone's needs are different when it comes to choosing the perfect backpack for travel, there are a few key features which can make life easier. My list of awesome backpacks below feature products that nail most, if not all, my favourite features.
A pack that opens all the way around. Traditional backpacks like the ones designed for hiking tend to open at the top only, which means you have to unpack everything to reach stuff at the bottom. That's fine on short trips or if you're mostly staying in one place, but if you're going to be packing and unpacking every few days on a long term backpacking trip it'll drive you crazy. Look for a backpack that unzips all the way around at the front – it'll make life so much easier.
Great organisation.
Plenty of space.
Durability. You want a backpack that will go as far as you do, and not suddenly break halfway around the world. I've seen it happen and it's a massive pain! Durability is key in a backpack for long term travel.
A great fit. The only way to find the right fit for you is to try your backpack on (and look for the features mentioned in the section above.). Make sure the hip belt is comfy and the back system can be adjusted to suit your frame.
Female-specific straps. Since men and women tend to have slightly different body shapes, it's worth looking for a backpack that was designed with the female frame in mind. The best ones have put a lot of thought and research into creating a fit that works best with the female body.
Best Big Women's Travel Backpacks
Larger backpacks are perfect for longer trips, especially if you're headed to multiple countries and need to pack for more than one climate. My tip, though, is never to fill them completely – too full and your pack will be annoyingly heavy, which is not fun for a long trip! These travel backpacks are perfect for female travellers hearing RTW…
Mountain Warehouse Traveller – 60L (+20L)
Pros: Long-lasting and super durable. Unzips at the front. Great value. Huge!
Cons: Can be a bit too tall for some. Heavy when over-packed. Not specifically for women.
Price: From £59.99 / $69.99 – check the latest prices here (or HERE if you're in the USA).
For the past 3.5 years, the Mountain Warehouse Traveller Rucksack has followed me around the world. It's survived multiple months-long trips, dozens of flights, and hundreds of bus rides. I drop it all the time, drag it along airport floors when I'm being too lazy to lift it, sit on it while I'm waiting for trains to show up, and generally put it through hell every time we go out together. And it's still going strong!
I'd be happy to whole-heartedly recommend this pack just for it's supreme durability. But more than that, it's a lovely big backpack that's perfect for long-term travel. Especially if you're heading to multiple climates or timezones and need to pack quite a lot. The downside is that it's quite bulky, and when it's stuffed it can be on the too-heavy size. So don't overpack it! It also comes with an extra 20L daypack that can be zipped to the main bag to create an 80L monster (I don't recommend it). Great space, really easy to pack/unpack and organise, and seriously hard-core. I love this backpack.
Berghaus Motive – 60L (+10L)
Pros: Female-specific frame. Unzips at the front. Super durable.
Cons: Bulky / possibly too big for some. Not very rigid which makes packing trickier.
Price: From £87 / $114. Click here to check the latest prices.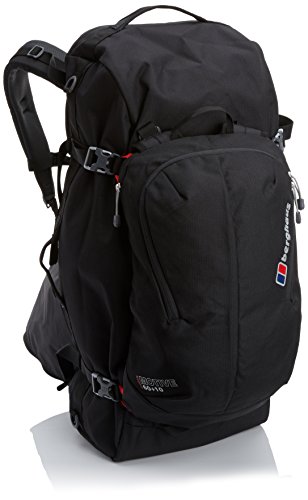 This 60L backpack from Berghaus is pretty big, so it looks a little daunting. But the super adjustable female-specific straps mean that you can make it really comfortable, and if you pack right and don't overfill it the bag is ideal. It's made from a thick, durable feeling material, but I've only had it for a couple of months so I can't speak for how long lasting it is.
The size of the Berghaus Motive is great, you can fit tons in, and it's front opening so everything is easily accessed. Weirdly, the zip opens around the strap side which means you have to pack the bag "upside down" so to speak. It's not an issue, but feels strange! And the sides aren't rigid, so the bag feels kind of like a sack – it makes packing difficult but if you use packing cubes it should be easy to keep everything in place.
Osprey Ariel – 65L
Pros: Fits very comfortably. Lots of pockets. Very colourful!
Cons: None!
Price: From £186 / $269.95. Check the latest prices here.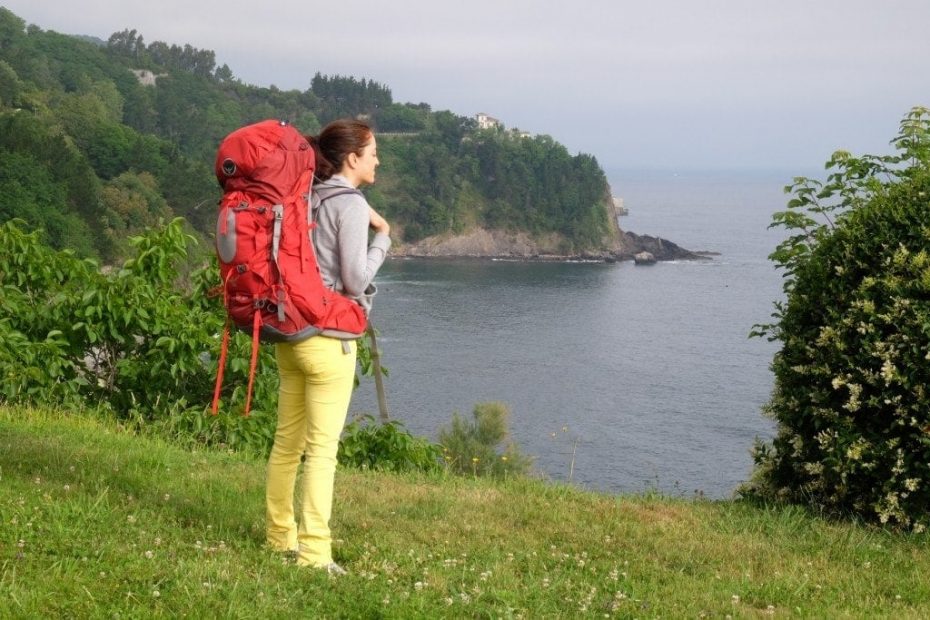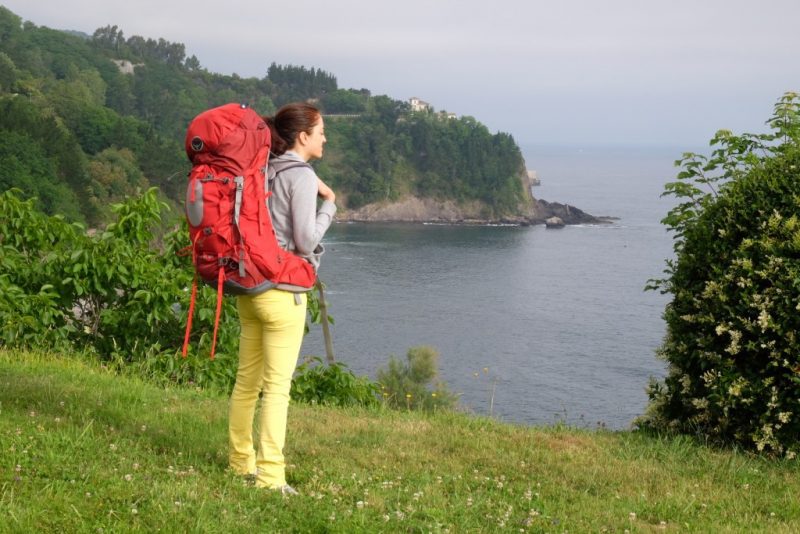 Recommended by Claudia from My Adventures Across the World: Osprey Ariel 65 is a great backpack for long term travellers. It has plenty of pockets where to fit everything that is needed for a backpacking trip. The main body of the backpack completely opens, allowing access to what's inside from the top of the back, the bottom, and from the front of it, thanks to a zip that goes almost completely around it.
The two side pockets are perfect to carry shoes or flip flops. However, the best thing about Ariel 65 is the way it perfectly fits to the body, so that regardless of its weight, it is easy and comfortable to wear and to carry, even on the messy streets of India.
Best Carry-On Travel Backpacks for Women
There are a lot of benefits to taking a hand-luggage sized backpack. If you never have to check it in, then you cut out the wait times at airports – and you lose the risk of an airline losing your bag. Plus a smaller, lighter backpack is easier to manage.
Personally, though, I can't pack that light – and I like taking full-sized bottles of shampoo etc. Carry on sized backpacks aren't for everyone, but if you're a pro at minimalist packing this could be for you. Check out these top-rated carry-on sized travel backpacks for women…
CabinZero Military – 44L
Pros: Very comfortable. Perfect size even for lowcost airlines. Great looks
Cons: Not fully waterproof.
Price: From £86 / $120 (or the classic CabinZero 44L from £64 / $88). Click here to check the latest prices.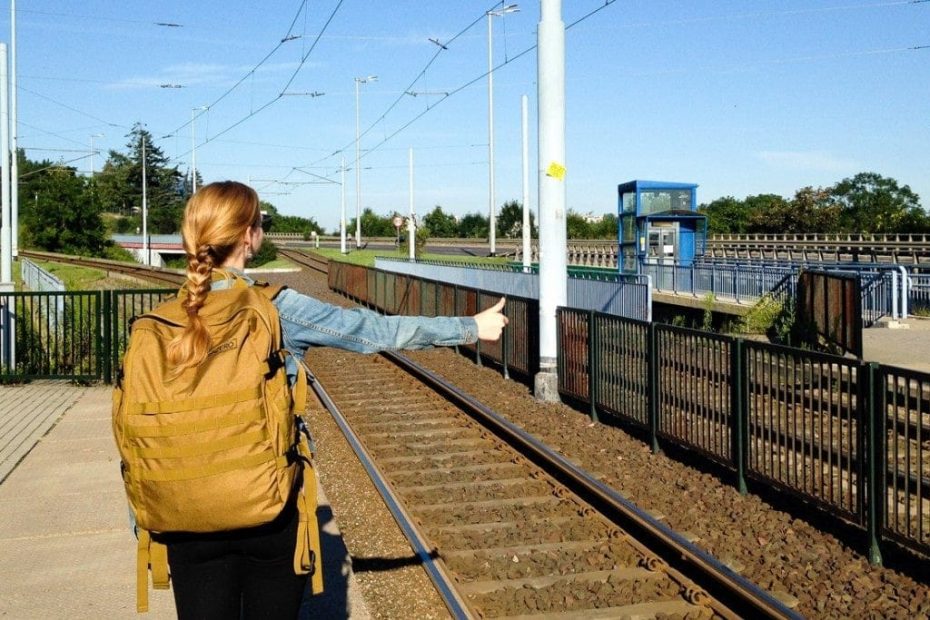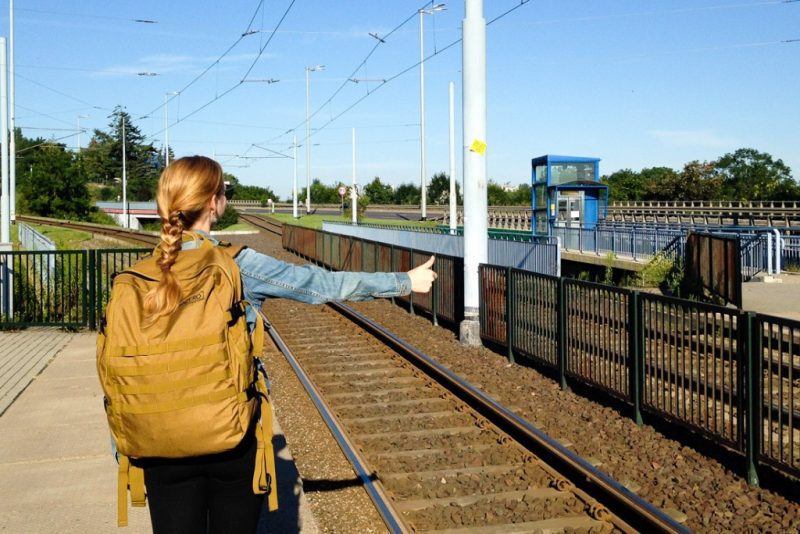 Recommended by Veronika from Travel Geekery: "This backpack has been a game changer for me. I've had packing issues for ages and have always overpacked. Carrying a weekend load on my back seemed impossible to do and I usually ended up dragging a wheeled suitcase everywhere. But with the CabinZero bag, I finally made it. It helped the bag packs in more than it appears to – the shape exactly copies the carryon limits of all airlines, including lowcost carriers.
"The back is padded and yet it's very lightweight. My laptop fits well into a separate pocket inside. I can easily pack a 5-day load in it, but I imagine packing pros can travel long term with it.
Read Veronika's full review of the CabinZero Military here.
"The bag's comfortable to carry around for several hours. And I shouldn't forget the looks – I think it looks great to any outfit. I wear it with skirts and dresses too and my boyfriend still finds it manly enough as well.
"There's a tracking tag sewn in and if the bag gets checked in and lost, you can track its position online. All in all, CabinZero is now my loyal companion on all short trips around Europe!"
Osprey Tempest 30
Pros: Super comfortable for long wear. Plenty of pockets and on the go loops to attach things to. Space for a hydration water pack. Great value
Cons: Can only access the contents of the bag from the top (no bottom zip). It has so many pockets you forget where you put things!
Price: From £79.99 / $139.95.
Check the latest prices here
.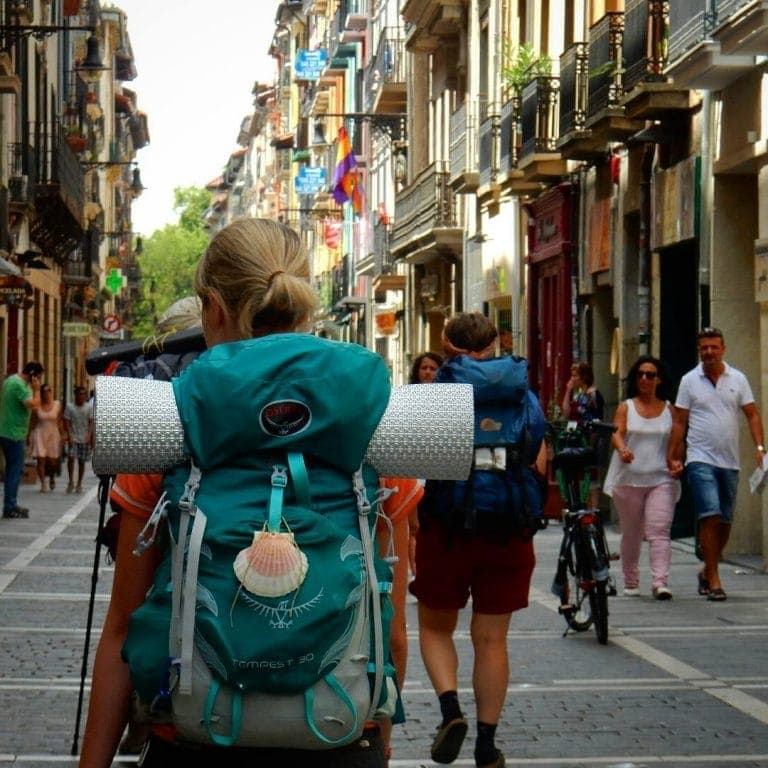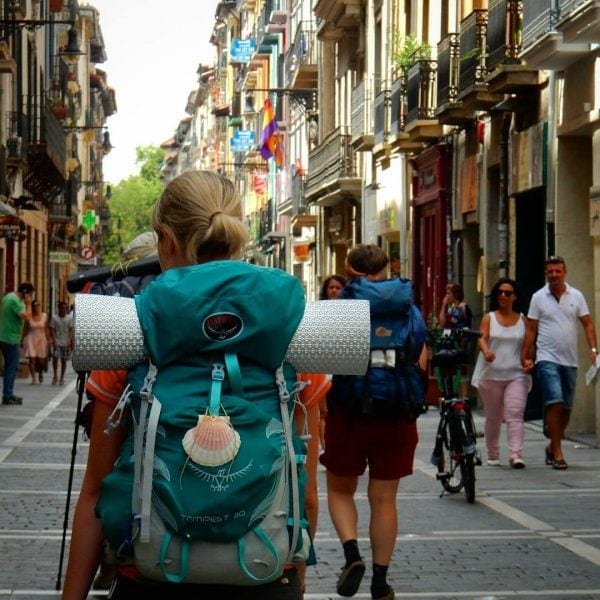 Recommended by Samantha from The Wandering Wanderluster: "I purchased the Osprey Tempest 30 for my month-long walk on the Camino de Santiago. For long hikes such as these, it is better to have a backpack that is not too big and not too heavy.
"The Osprey Tempest 30 is lightweight, had plenty of pockets that you can easily reach while on the go and its adjustable straps and backrest was great to modify the bag to suit your height and body shape. Also, one of the biggest worries of hikers is that your backpack doesn't arrive at your destination – with the Osprey Tempest 30, you can take it on board since its small size means you don't have to check it in!"
Osprey Farpoint / Fairview – 40L
Pros: Opens out like a suitcase. Supportive straps. Straps foldaway. Laptop pocket. European hand-luggage size.
Cons: A bit pricey. Can exceed hand-luggage size if overfilled!
Price: From £90 / $159.95. Click here to check the latest prices.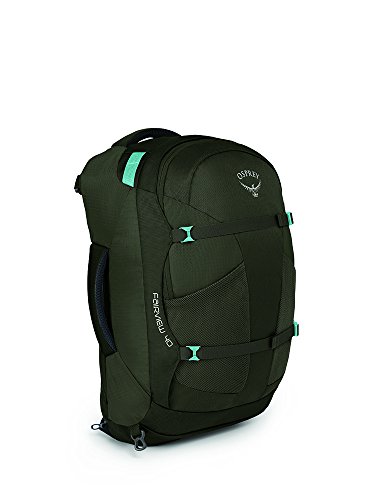 Recommended by Rohan from Travels of a Bookpacker: The Osprey Farpoint 40 is the perfect backpack for a range of trips. The padded straps and waist belt make is super comfortable to wear for longer periods and give good support. The straps also fold away for checked in luggage or if you prefer to use the over the shoulder strap.
Read Rohan's review of the Osprey Farpoint here!
There is a good range of pockets from the small outer pocket to the padded laptop pocket and a netted internal pocket. There are also compression straps inside and out to keep everything safe and as small as possible. The zips are all lockable and it comes in a variety of colours. This hand-luggage sized backpack is all you need for long or short trips!
FYI – A newer addition from Osprey is the Fairview, which is a women's-specific version of the Farpoint. More or less the same backpack, but designed with a woman's shape in mind.
Pacsafe Venturesafe Exp45 Anti-Theft Backpack – 45L
Pros: Anti-theft features. Smart design (good for business travel). Opens like a suitcase.
Cons: Less comfy to wear than a trekking backpack.
Price: From £128.90 / $179.95. Check out the latest prices here.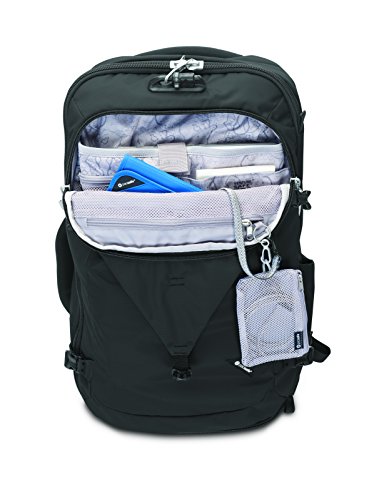 Recommended by Kathi from Watch Me See: I travel a lot for uni and usually only take a carry-on with the essentials. I use a 45L Pacsafe backpack rather than a small suitcase, because I love having my hands free! The bag easily fits all my stuff, has a padded laptop sleeve and is compatible with the size of my packing cubes. It looks much more sophisticated than a regular backpack, which is great if I have to bring it to a conference venue or business hotel. But even as a backpacker is super handy, because it has several anti-theft features and all the right pockets for my valuables. I like that it's such an all-rounder bag that works for quick getaways as well as longer journeys!
Kelty Women's Redwing – 40L
Pros: Holds a surprising amount of stuff! Plenty of external pockets. Super comfy. Designed with a woman's shape in mind.
Cons: Not small enough to count as a carry-on for many of the budget airlines in Europe. No place to tuck away the straps when checking bag.
Price: From £91.27 / $93.71. Click here to check the latest price.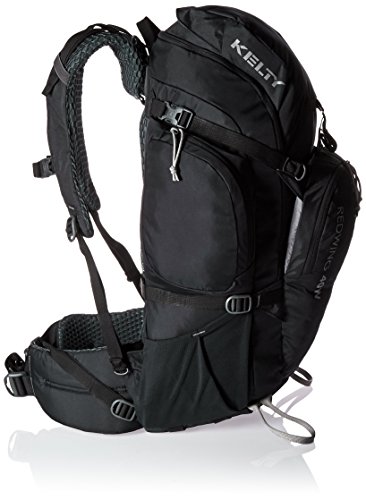 Recommended by Toccar from Forget Someday: After doing a lot of research on women's backpacks, I came to the conclusion that the Kelty Women's Redwing 40-Liter Backpack* was the right pack for me! And after traveling the round-the-world for 20 months, turns out I made the right choice! This is definitely one of the best travel backpacks for women.
This pack holds a surprisingly large amount of items. My e-bags packing cubes fit perfectly, allowing me to keep my backpacking essentials nice and organized throughout our travels. The pack has padded back shoulder and waist straps, comfortably designed with a woman's shape in mind. I really appreciated the non-obtrusive metal spine and padded laptop sleeve that kept my valuables protected during travel. I like that it is a (mostly) front loading backpack, as opposed to top loading, which makes packing and unpacking the contents a breeze!
Tortuga Travel Backpack – 44L
Pros: Easy-to-use design and functionality.
Cons: A little boxy.
Price: From $149 – can be shipped from the US at additional costs. UPDATE 2020: the "Travel" backpack is no longer for sale, but the new Tortuga Outbreaker ($299) looks like the most similar option.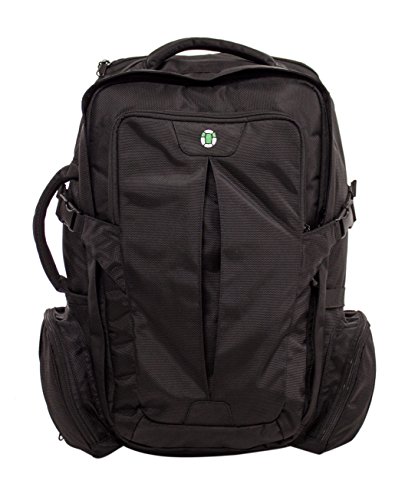 Recommended by Katie from Study Hard Travel Smart: I have been using my Tortuga Travel Backpack for several years, and it has served me well on short weekend trips as well as multi-week backpacking excursions. It's carry-on sized, and I've never had trouble getting it through an airport and onto the plane. The best thing about this backpack is that it opens like a suitcase, where the zipper encompasses 3 sides, so that you can open it all the way to see what's inside.
It's perfect for use with standard fold or roll packing, but it's also ideal for packing cubes. It has a zipper compartment on the top which provides easy access to the laptop storage compartment, but I've found this also makes it easy to access items quickly without have to unzip the whole thing. The shoulder straps can be stored into a zippered compartment if you want or need to check the bag, which prevents any damage to the loose parts. I'm also a fairly short female traveler (about 5'4"), and it's the perfect height for me! I have yet to find a better, more intuitive, or more conveniently designed backpack; this one has been the perfect one for me.
Best Backpacks with Wheels
Perhaps you're not quite the "carry all my stuff on my own back" type, or you fancy yourself more of a flashpacker. Why not consider a backpack with wheels? They tend to be a little heavier, which makes them annoying if you do ever have to carry them on your back. But I have one which I've taken on several trips and have never had to pick it up!
If you're not going to be hiking with all your gear, chances are you'll only need to get your backpack from airport carousels to a taxi, or from a bus to a hostel – which means you probably won't have to pick it up. Here are some top tips for wheeled travel backpacks for women to help you choose…
Caribee Fast Track Wheeled Backpack – 75L
Pros: It has wheels and backpack straps so it's perfect for people who prefer a wheeled case but might need to carry it occasionally.
Cons: It isn't the lightest or comfiest to carry due to the wheels but it's fine for carrying it short distances.
Price: From £168.19 / $185.22. Check the latest prices here.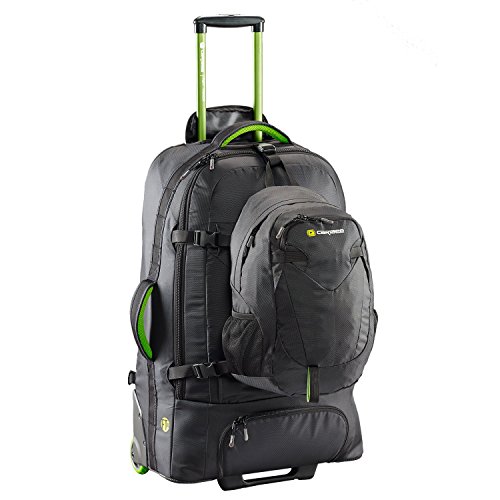 Recommended by Monica from The Travel Hack: The Caribee Fast Track Wheeled Backpack is a great option for anyone who isn't sure if they'll need a backpack or a suitcase because this bag is both. I'm not a fan of backpacks and would always rather wheel my case but there are times when I need to carry it so this is great. Handy compartments and a detachable daypack mean your stuff is always organised and it's great quality so it'll see you through a lot of adventures!
Read Monica's full review of the Caribee Fast Track here!
Eagle Creek Doubleback 22 – 39.5L
Pros: Light-weight. Durable. Removable backpack straps.
Cons: Comes with a lame daypack which shares the same backpack straps. Only one outside pocket on main pack.
UPDATE 2020: The DoubleBack is now the Gear Warrior Convertible Carry On (£227 / $299), which is not on Amazon yet but can be bought directly from Eagle Creek.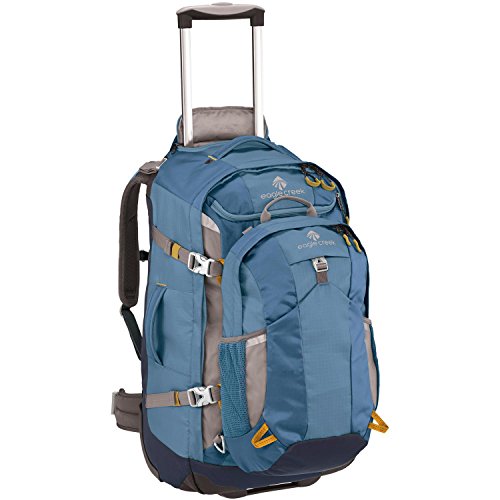 Recommended by Christine from Grrrl Traveler: The Eagle Creek Doubleback 22 is a killer convertible backpack carryon with wheels. Being a female solo travel blogger and YouTuber, I juggle a lot of gear in my day pack, so I like to stay light and mobile with my luggage. I love that this is aircraft carryon compliant, allows me to fit into tight spaces and it forces me to pack smart. It's rugged, durable and takes a beating, but it's stylish enough to "fit in at hotels".
Mostly, I love that I have the option to add on removable straps to transform it into a backpack if I'm running for a train, collapse it to wheels if I'm tired or carry it by a strap. It's a speedy process. The only con is it comes with a bit of a flimsy zip on day pack (which I don't use) as it also shares the same straps. Once you have it, you won't go back to a backpacker's backpack.
Click here to read Christine's review of the Eagle Creek Doubleback 22 and watch her video to get a better view of the backpack. 
How to Fit Your Backpack
This useful video from Mountain Warehouse should help you work out if your backpack is fitting right. Be sure to get everything set up, and trial it around the house, before you set off!
So that's my guide to the best travel backpacks for women – all recommended by real travellers! Have you got a tried and tested backpack that you'd love to recommend? Scroll down to leave a comment!
Pin This Post!