Some posts on this site contain affiliate links. If you book or buy something through these links, I earn a small commission (at no extra cost to you). Take a look at my privacy policy for more information.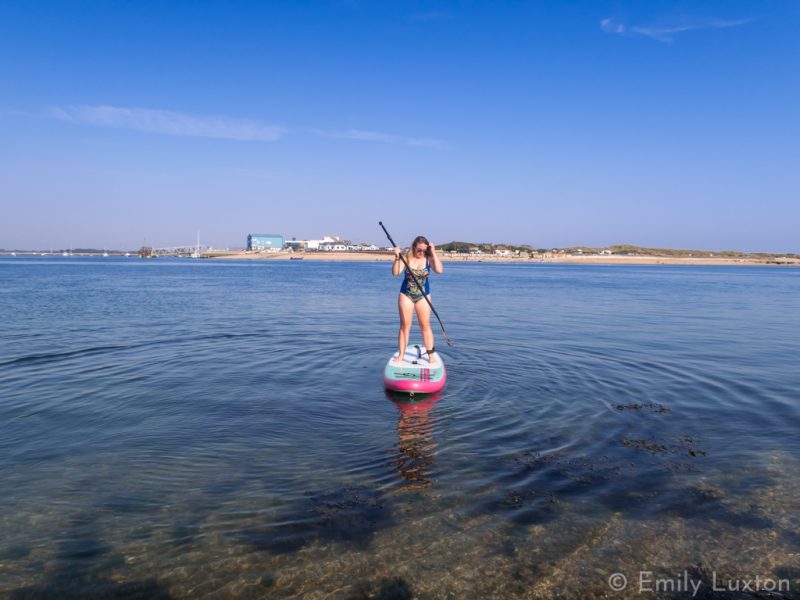 "This is the best idea you've ever had"
Almost as soon as the words tumble out of my mouth, laden with the threat of jinx, the paddleboard beneath us lurches violently. And of course, we fall off. I was asking for it.
It's a warm evening in Portsmouth. After a day of work, Vicky and I decided to take my new SUP on the first of what I hope will be many adventures. The idea was an excellent one, I stand by that. We would ride the paddleboard across the sea from Milton (a short drive from where we live in Southsea) over to the pub on Hayling Island for a pint. Genius!
Across the water, the pub sits basking in the last hours of golden sunlight. We've left all our valuables in the car, bar my (thankfully waterproof) phone, Vicky's debit card, and my car keys. Buoyant with the novel genius of our plan, we hop onto the SUP. And we fall off. And then we fall off again, and again.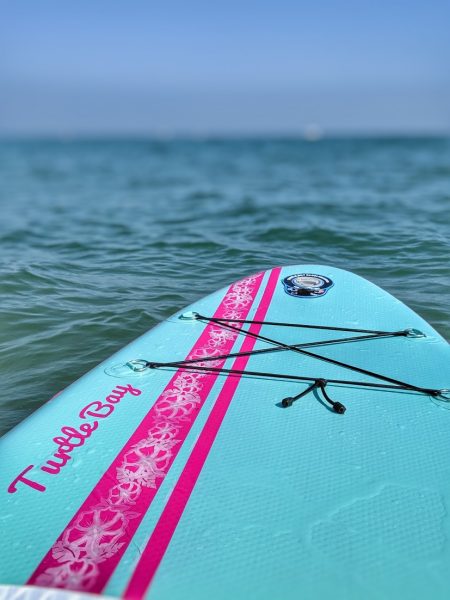 Our Ill-Fated SUP Adventure
Eventually, we manage to reach something of a shaky stability with both of us onboard the SUP, and set off on a voyage which seems less and less like a great idea by the second. Behind us, Vicky's trousers – which she'd slung around her neck to keep them from getting wet – sit soaking on the ocean floor, never to be seen again. With them are my sunglasses, and huge portions of our pride.
But we make it to the pub, which we enter in a far less cocky, celebratory manner than I'd envisioned. I'm wearing soaked denim shorts, and Vicky only has a t-shirt on over her swimsuit, and both of us are sopping wet. My shorts drip onto the carpet as I pad to the bathroom, leaving Vicky standing in a puddle at the bar.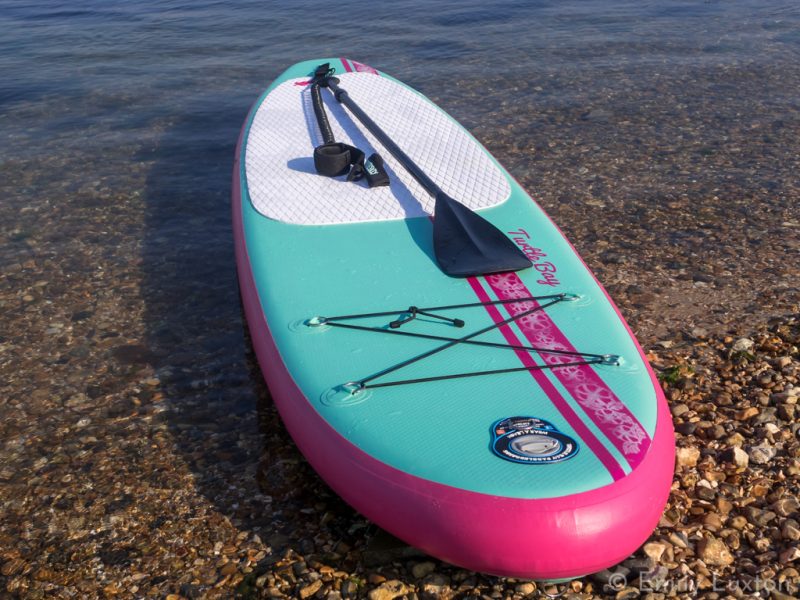 What I love about this story – beyond the sheer ridiculousness of it all, and the image of us wandering into a pub, bedraggled and wild-haired like two things that crawled out of the sea – is our unbending persistence. We could, and perhaps should, have given up when we fell off the first time. But we had a genius plan, and what great story ever ended in giving up? Both of us were so determined to see it through to it's brilliant, triumphant end. Which, eventually, and incredibly uncomfortably, we did.
No Corona has ever tasted quite as well-earned!
Turtle Bay Inflatable Paddleboard UK
My new SUP comes from Turtle Bay Paddleboards in Hastings, UK. They sent me the board in exchange for an honest review, and I can honestly say that I am already in love.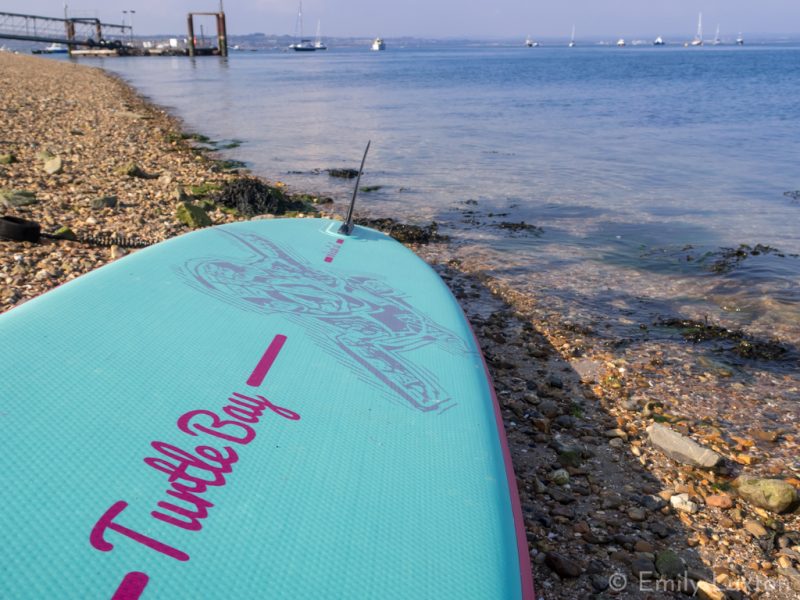 If my opening story wasn't enough to show you, I'm no expert when it comes to Standup Paddleboarding. I've done it a few times – recently in Antigua, and Trentino's Valle del Chiese – and I love it, but I don't know much about it. So when it came to finding the best inflatable paddleboard in the UK, I was a bit lost.
Luckily, Turtle Bay make some brilliant paddleboards that are perfect for beginners. So once I'd found them, it was just a case of choosing the best board for me.
Turtle Bay Halulu 10'6 x 30″
Turtle Bay Paddleboards UK is a lovely small, family-run company so I was able to have a chat with Graeme, the brand owner, and get his advice. For my height and weight, he suggested the 10'6 board – and since he clearly knows a thing or two about paddleboards I was happy to follow his suggestion.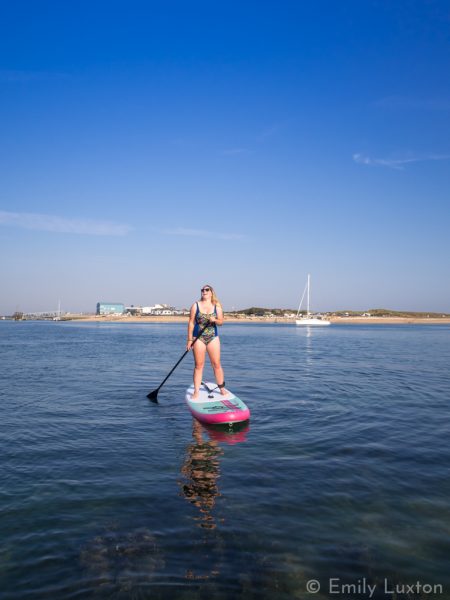 I picked out the Turtle Bay Halulu 10'6 x 30″ in cyan and hot pink. There are other colours but, let's face it, I was never not going to choose turquoise! Take a look around this site – it's my favourite colour!
According to the Turtle Bay website, this is a strong, stable board for all occasions. It's a teensy bit narrower than the ones I've been on before, so at first, I felt like it was WAY harder to balance. But I actually got the hang of it really quickly. Even on my first try, I was standing up with no problems on quite a choppy day.
Inflating the Paddleboard
If you're thinking of buying an inflatable paddleboard in the UK, this is the most important thing to consider. Is it easy to inflate?
I originally thought an iSUP wasn't for me, because the idea of inflating and deflating it sounded like a faff. But I don't have space to store a regular board, or even to transport it. There are a LOT of perks to buying an inflatable paddleboard instead.
As it turns out, it's also not that much of a faff to inflate. I LOVE that my board, when deflated, fits into a wheeled-bag about the same size as my Osprey wheeled backpack. I can whack it in the boot of my car and have it down at the beach in no time. Or take it to Dorset when I visit home!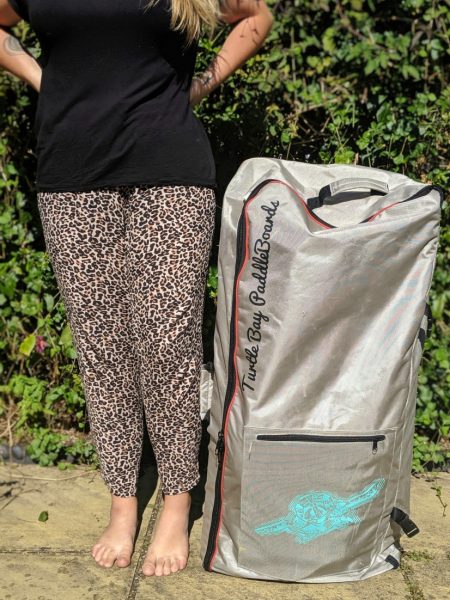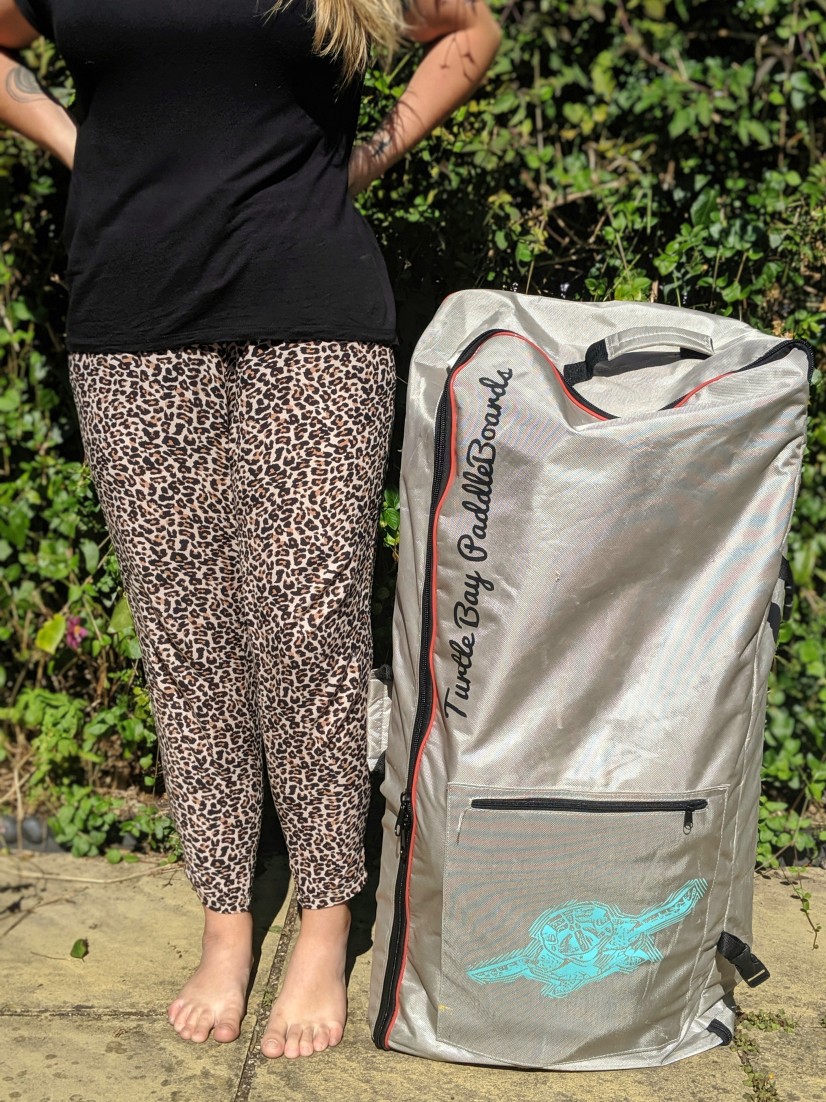 My Turtle Bay iSUP came with a two-stage hand pump. It works really well, and inflates the board in maybe ten minutes or less. But I've found that I'm just not strong enough to inflate the board by hand! I can do it, but by the time I'm done I'm so tired, I almost don't fancy paddling. My housemate Ben, my brother in law, and my dad have all had a lot more success – so clearly it's more a case of me being weak and unfit than the board being hard to inflate!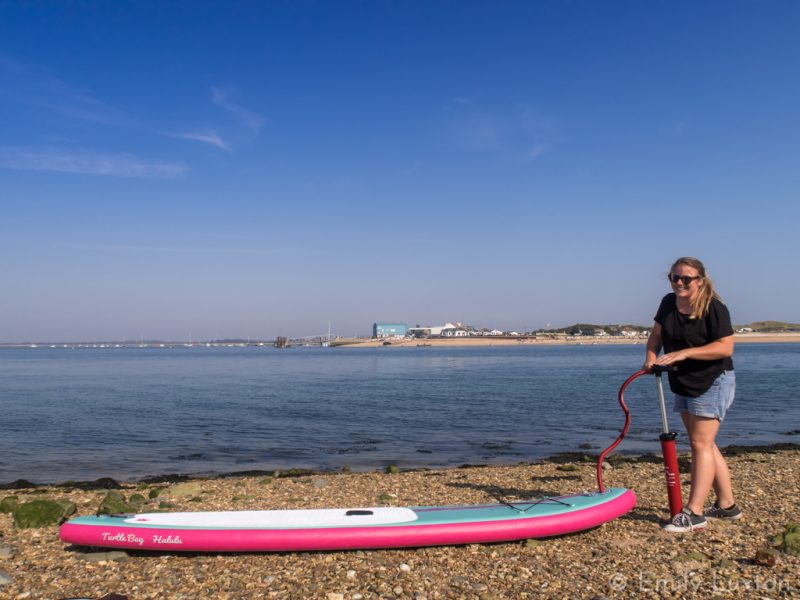 Electric Pump
Since I got this board to ENJOY it more than to work out, I decided to buy an electric pump to use with it. I went for the Outdoor Master SHARK Pump because it goes up to 20PSI, which is what my board needs.
I've been using it for a couple of years now and am still a fan. It's pretty loud, which is annoying, and it takes about 15 minutes to fully pump the board, but it's still better than pumping by hand!
Best Inflatable Paddleboard in the UK
If you're in the market for an inflatable paddleboard in the UK, a small, specialist team like Turtle Bay are perfect. You can chat to them about your needs to find the perfect board for you.
I love, love, LOVE my new iSUP. It's really pretty, which obviously isn't that important. But it is to me! I wanted a paddleboard I could be proud of, and this absolutely ticks that box. I also found it super easy to get the hang of, and it's faster and has more manoeuvrability than my dad's much wider SUP.
Despite the general disaster of our attempt to get to the pub, I've had loads of fun every time I've taken the board out. I moved to Southsea to be close to the sea, so it's great to have a new way to make the most of that proximity.
Read More
Aquaplanet PACE 10'6″ Paddleboard Review
Best Places to Visit on the South Coast of England
Pin This Post