Some posts on this site contain affiliate links. If you book or buy something through these links, I earn a small commission (at no extra cost to you). Take a look at my privacy policy for more information.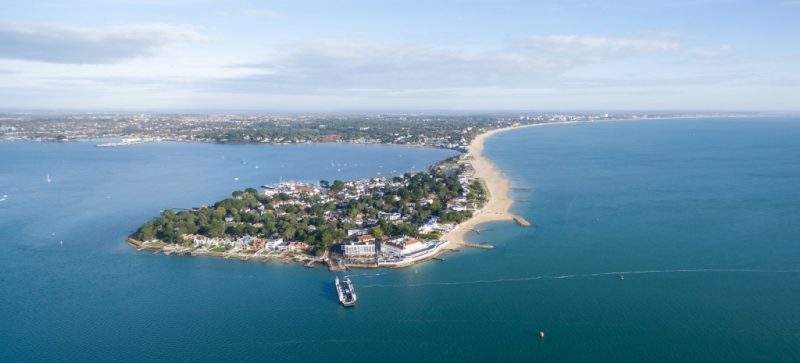 This post showcases some of the very best places to visit on the south coast of England – from Cornwall to Kent, and everywhere in between.
Stretching some 300 miles, the south coast of England is officially the sunniest part of the UK. This means it's the ideal place for a summer holiday!
Lined with dramatic cliffs, stunning beaches and hidden coves, and plenty of picture-perfect seaside towns… there's a lot to discover!
I grew up in Weymouth, a seaside town on Dorset's stunning Jurassic Coast, and have since lived in multiple spots around the south of England. So I've spent most of my life exploring the English coast!
In this post, I've rounded up a few of my favourite discoveries, including seaside towns and stunning stretches of coastline. I also asked a bunch of awesome local bloggers to share their own top recommendations from along the south coast of England. Enjoy…
Best Places to Visit on South Coast of England: Map
Best Places to Visit on the South West Coast of England
PLACES IN CORNWALL
1. Scilly Isles
One of my favourite discoveries on the south coast of England has to be the Scilly Isles. This is a small cluster of islands just off the coast of Cornwall, in the far southwest of the country.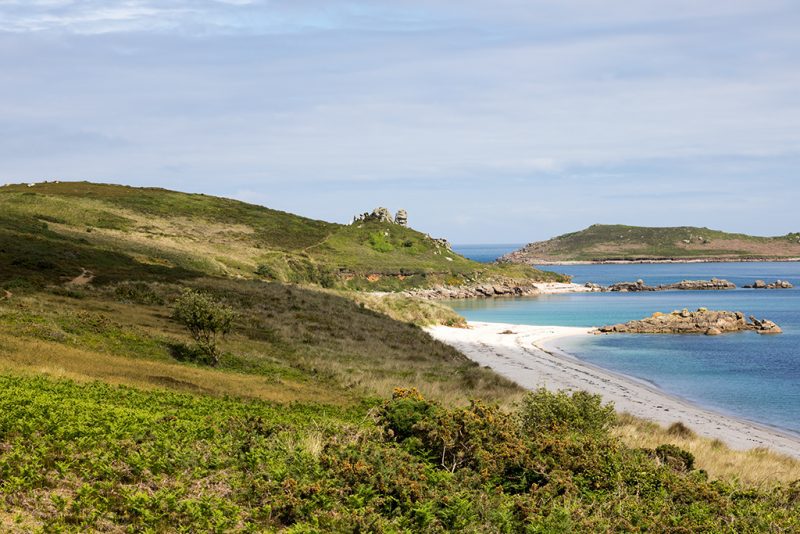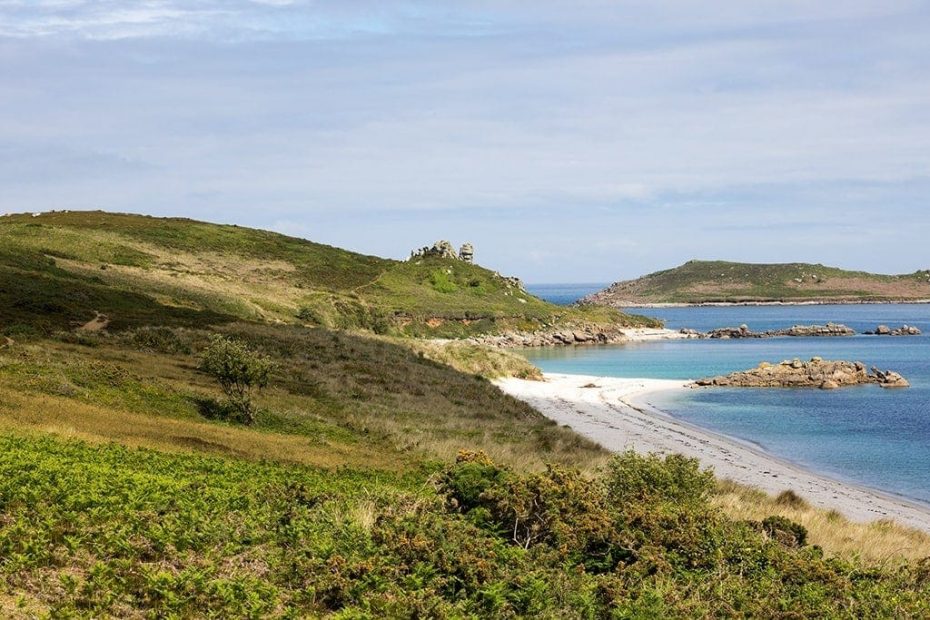 Think empty beaches where long grasses wave from the tufts of white sand dunes and rugged cliffs topped with colourful wildflowers. The rocky coves are home to an abundance of sea life, including seals!
I spent a week exploring the islands of Tresco, Bryher, and St Martins and was absolutely spellbound. The islands can only be reached by ferry or in a tiny plane from Newquay airport.
There's no way to take a vehicle with you, and cars are few and far between, so pollution is incredibly low. Which means the wildlife of these quiet little islands is stunning!
READ MORE: 33 of the Best Places to Visit in the South of England
2. Minnack Theatre
Recommended by: Kat, Wandering Bird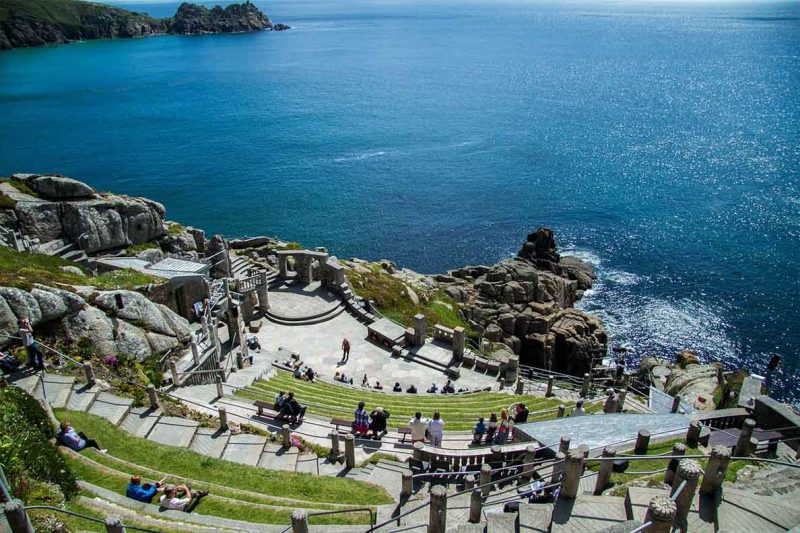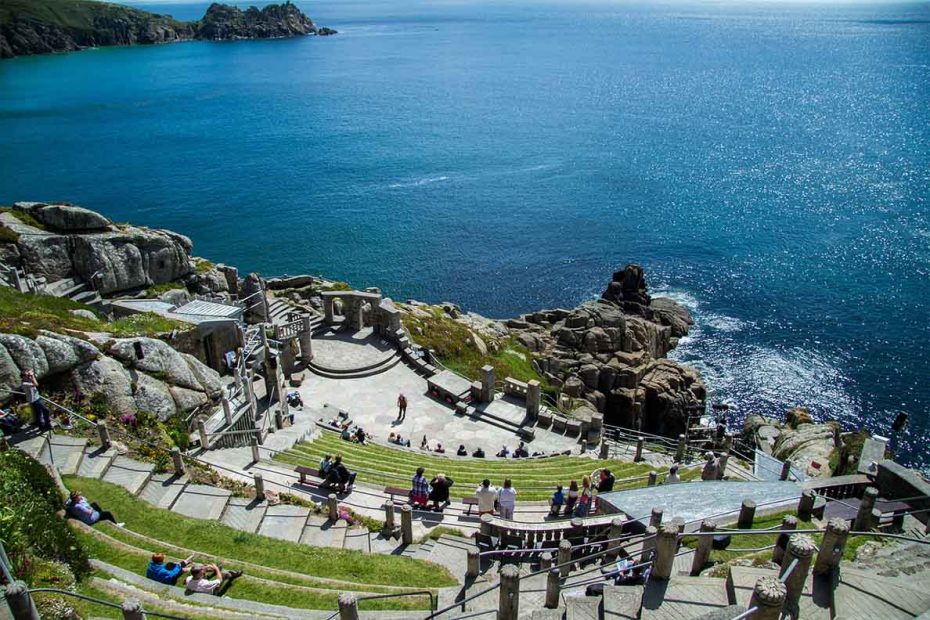 If you're looking for somewhere unique to visit by the coast, you need to add the Minack Theatre to your Cornwall itinerary. This incredible place is unlike anywhere else we've ever been: an open-air theatre carved into the cliff.
Created on private land by a wealthy family, this theatre regularly puts on shows and plays, which are incredible to watch against the backdrop of the Cornish cliffs. When shows aren't scheduled, you can walk around the theatre and seating, have a picnic, take advantage of the cafe and enjoy the views.
Word of warning – there is parking next to the theatre but it's not large. Get there early unless you want a long walk up a very steep hill!
RECOMMENDED TOUR: Devon and Cornwall 5 Day Small Group Tour
3. St Ives
Recommended by: Sylvie, Travels with Eden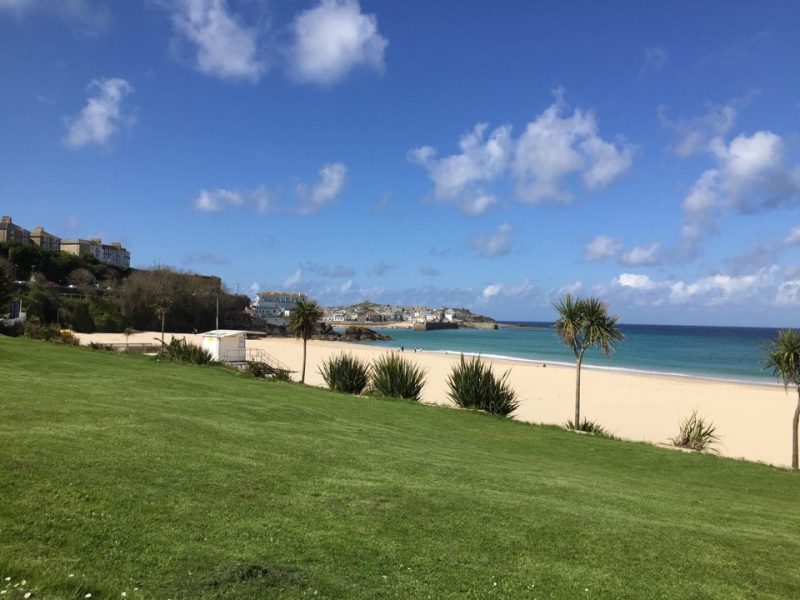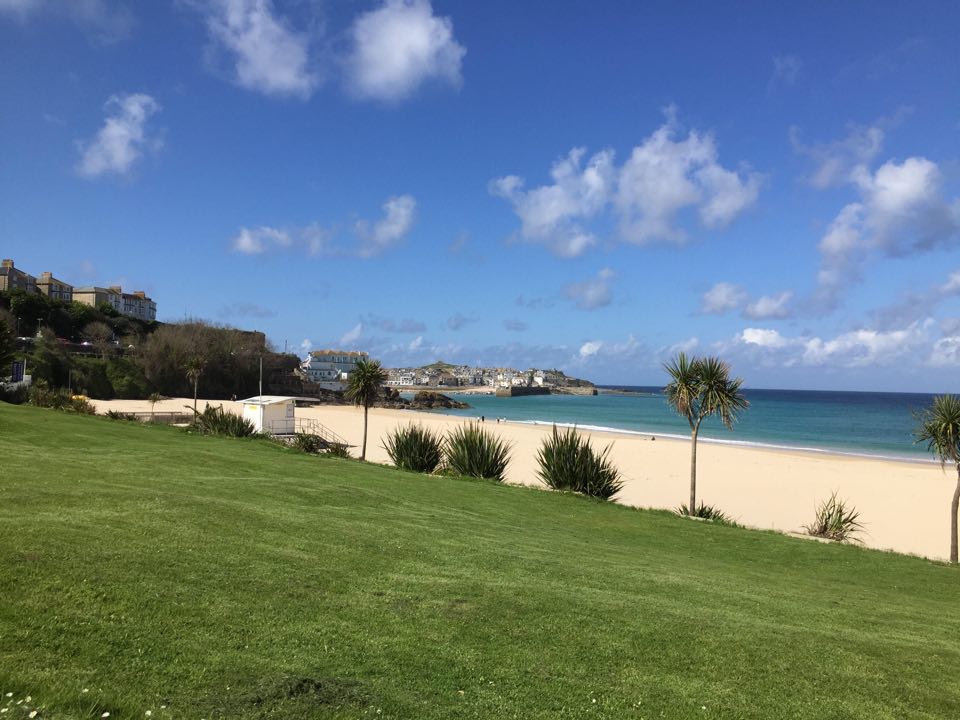 St Ives is the jewel in the crown of Cornwall and one of the best places to visit on the whole south coast of England. The coastal town is a popular holiday destination famous for its beautiful beaches, awe-inspiring landscapes, delicious food and booming art scene. Make sure you try the local delicacies.
A day at the beach is a must-do. I recommend Porthminster Beach. With calm seas, white sand and a backdrop of palm trees, what more can you want?
If you're feeling adventurous, Porthminster beach is the gateway to the South West Coast path, so you can walk to the neighbouring town of Carbis Bay for another beach day.
READ MORE: See my guide to what to do in St Ives to get planning! You should also check out my post about nearby St Agnes to see more of the north Cornish coast.
4. Lizard Peninsula
Recommended by: Annabel, Smudged Postcard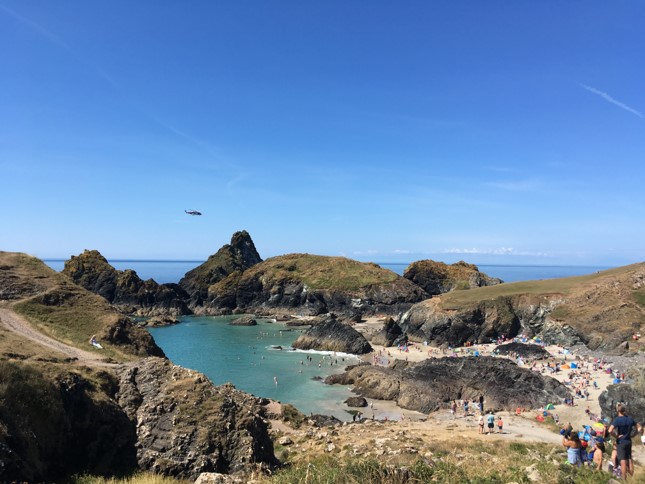 The Lizard Peninsula is a peaceful area of dramatic coastline and pretty fishing villages in the southwest of Cornwall. Highlights include Lizard Point, the most southerly part of England where visitors can enjoy Cornish cream teas whilst admiring the rocky coastline.
Popular Kynance Cove, a beautiful beach of sand, rocks and caves, is located on the western side of the Lizard.
The Lizard is bordered in the north by the Helford River, a perfect spot for kayaking and stand-up paddleboarding. There are some excellent pubs in this part of Cornwall including the waterfront Shipwright's Arms.
The Lizard is also perfect for hiking with the South West Coastal path running along its ever-changing coastline.
5. Charlestown
Recommended by: Heather, Conversant Traveller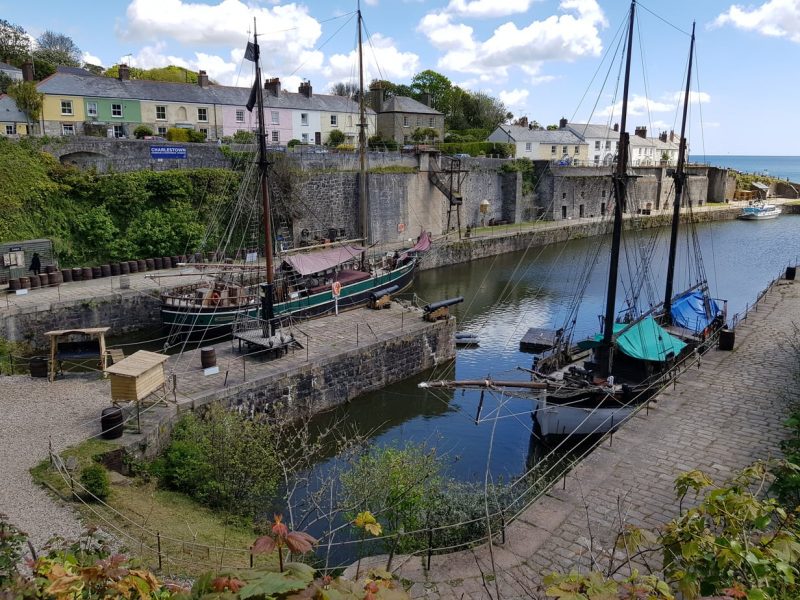 For a dose of pirates, seafood and some of the clearest ocean in the UK, head to the 18th-century port village of Charlestown and see a different side of Cornwall.
Tucked away on the south coast just a mile from St Austell, this charming spot was once a thriving harbour for importing coal and exporting china clay.
Today it retains much of its Georgian character and is the perfect destination for filming locations – you may recognise it from Poldark and Hornblower!
Keep an eye out for the small fleet of square-rigger ships and don't miss the Shipwreck, Rescue and Heritage Centre. There are also several exceptional restaurants serving some of the freshest seafood in the country.
6. Fowey
Recommended by: Nicola, Global Mouse Travels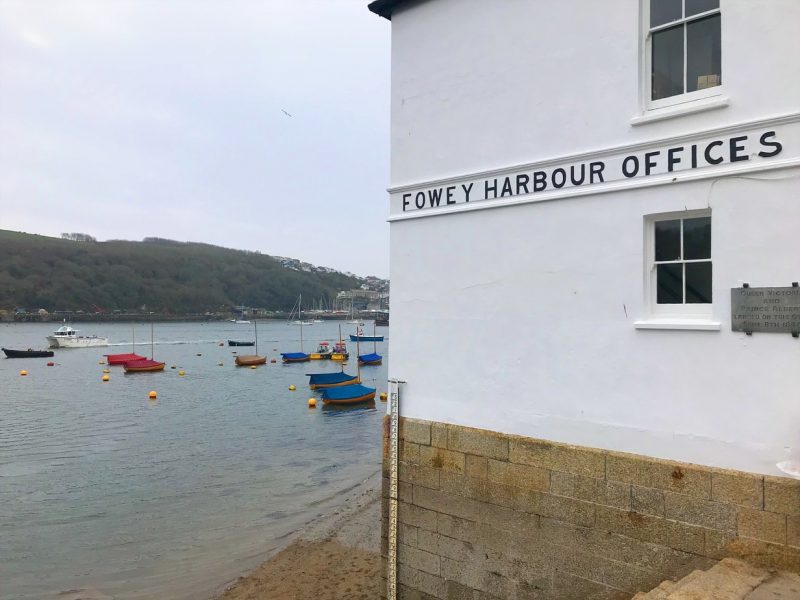 Fowey is the perfect seaside stop off and one of our favourite places in Cornwall. There's something almost film-set-like about it, with fisherman's cottages lining the narrow streets down to the harbour. At the quayside, where lobster posts jostle for position, it looks timeless.
There are plenty of places to pick up Cornish classics like fish and chips, pasties and fudge, but just taking a wander and breathing in that delicious salty sea air is invigorating. We have had so many trips to beautiful Cornwall, it is our happy place and Fowey typifies this picturesque part of the country.
7. Polperro
Recommended by: Sabrina, Moon & Honey Travel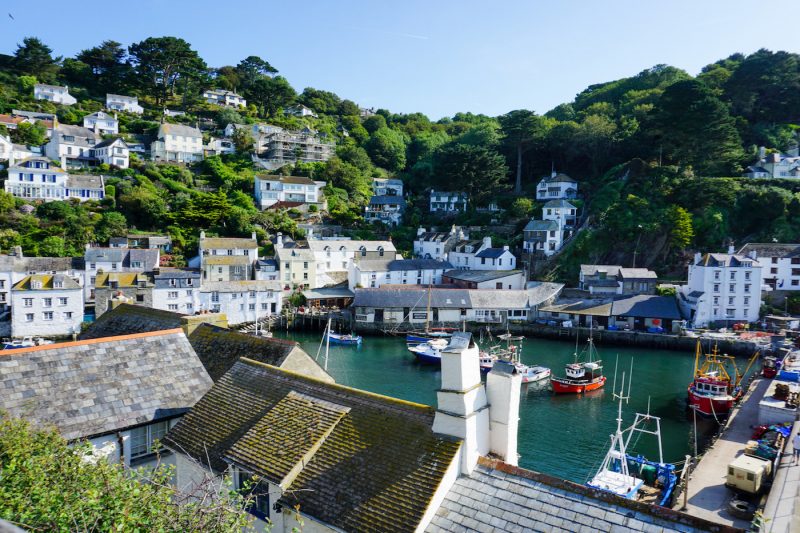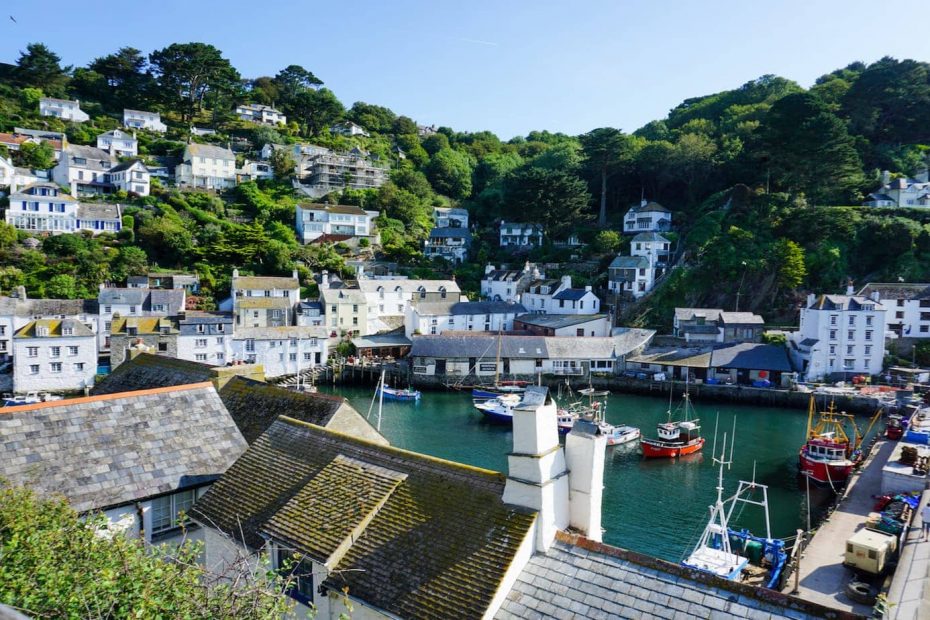 Polperro is an idyllic fishing village located along the South Cornwall Coast in England. Brimming with charming cottages and the most picture-perfect harbour in Cornwall, Polperro is a destination for romantics and history buffs. You can learn about the village's smuggling history in the Polperro Smugglers Museum. After, you can follow the South West Coast Trail east in the direction of Looe or west in the direction of Polruan.
While Polperro can be visited in a day, I recommend spending at least one night here. Unless your accommodation offers on-site parking (rare), you'll have to park in the large Polperro Car Park, located just off A387, and walk into the village. Read this Cornwall Road Trip Itinerary for trip planning help.
PLACES IN DEVON
8. Torquay
Recommended by: Chris and Heather, A Brit & A Southerner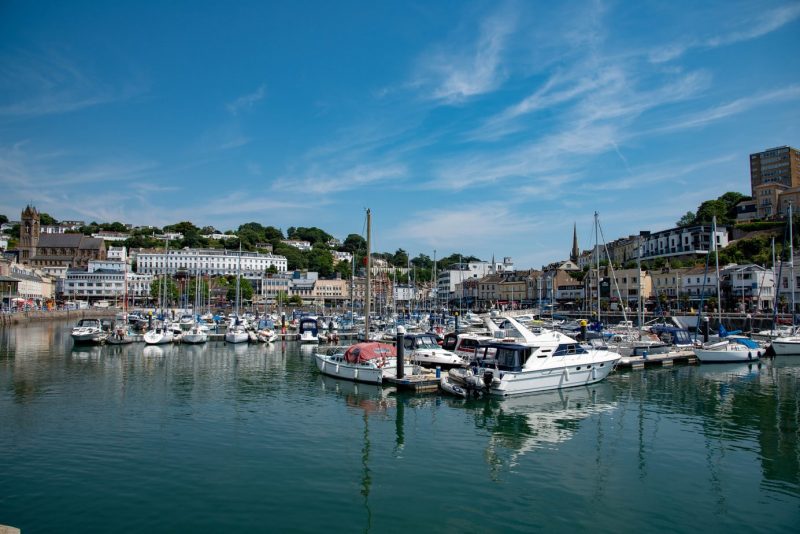 If you are looking for one of the best days out in Devon, head over to the area recognized as the "English Riviera" by visiting the beautiful coastal town of Torquay. Renowned as one of the UK's most popular tourist destinations, Torquay offers a plethora of attractions, local restaurants and much more for all the family to enjoy.

Spend an afternoon walking along the seafront, before heading to the heartbeat of Torquay at the Harbour and Marina. Here, you will find a myriad of restaurants and cafes serving the fresh catch of the day.
With plenty of shops to satisfy those looking for a little retail therapy, Torquay is the perfect family holiday destination given its proximity to a variety of other local seaside towns such as Brixham, Paignton, Babbacombe and others.
Torquay is also famous as the birthplace of Agatha Christie – one of the world's best-loved crime fiction writers! Take a guided tour like this one to discover the many locations that are featured in her novels and learn more about her life.
9. Exmouth
Recommended by: Claire, Go South West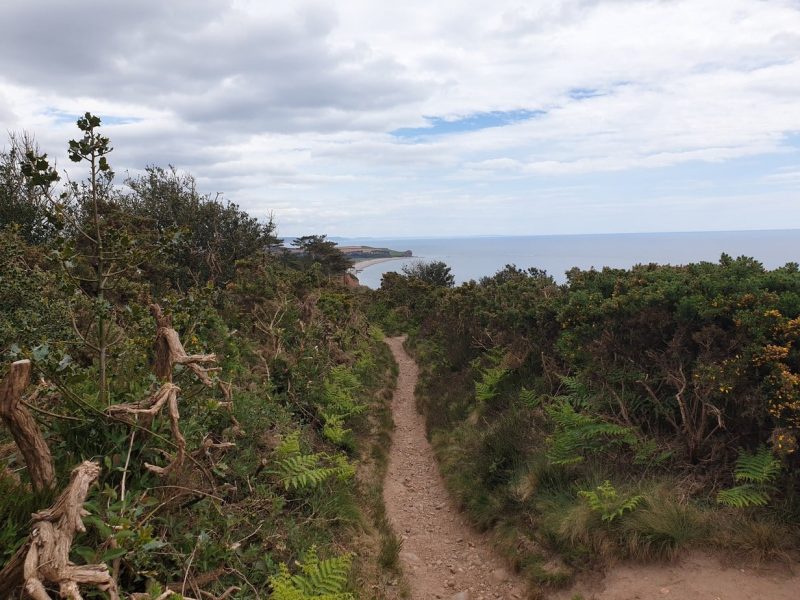 Just half an hour away from the city of Exeter, Exmouth is a quaint seaside town, sitting at the meeting point of the River Ex's estuary and the beginning of the Jurassic Coast, which stretches down into Dorset. From Exmouth, it is possible to hike along this coast, taking in some spectacular clifftop views on the way to neighbouring town Budleigh Salterton.
There are also nearby moors and quaint surrounding countryside. Visit villages near Exmouth such as the medieval dwelling of East Budleigh with many historic thatched-roof buildings, and Otterton, a small village of 700 people which focuses around a mill. However, Exmouth is also perfect for a beach-focused holiday, with amusements, a sandy beach, and plenty of accommodation facilities!
10. Burgh Island
Recommended by: Fiona at London-Unattached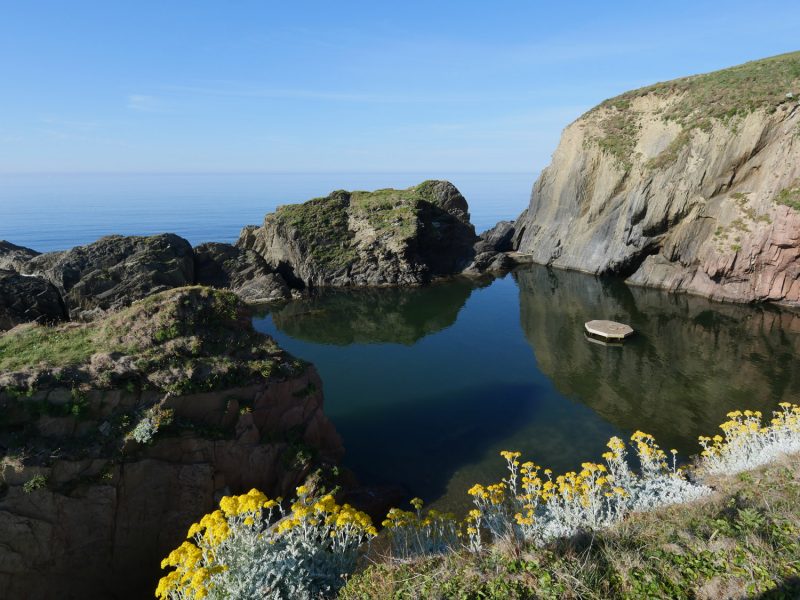 Bigbury on Sea in Devon is a lovely, traditional seaside town with a fabulous child-friendly sandy beach. Walk across the sand or get the curious sea tractor to Burgh Island. The island is cut off at high tide and guests rely on the tractor. Burgh Island Hotel was the height of fashion in the 1930s and 40s, with many famous guests including Noel Coward, Agatha Christie and even Winston Churchill.
Whether or not you are staying at the hotel, is it worth a visit. Walk around the island or swim in the stunning mermaid pool – filled with seawater and surrounded by craggy rocks. It's a great place to windsurf, kitesurf or to kayak around the island too.
READ MORE: Best Places to Visit in South Devon
PLACES IN DORSET
11. Lyme Regis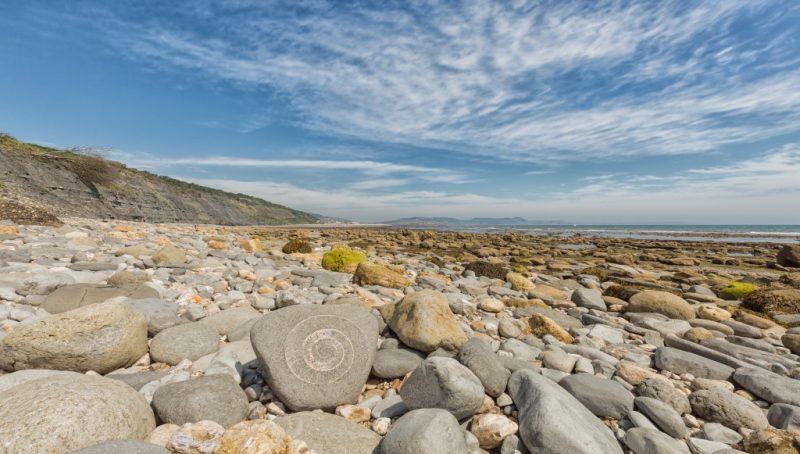 Lyme Regis is easily one of the best places to visit on the south coast of England. It's also one of the most popular. This colourful seaside town lies perched on the Dorset coast between golden cliffs famed for their abundance of prehistoric fossils!
Although it's always been a popular holiday spot, Lyme has had a resurgence in recent years. Especially as more and more trendy boutique hotels and hot new restaurants open their doors. Among them is the HIX Oyster & Fish House, run by celebrity chef Mark Hix.
12. Durdle Door and the Jurassic Coast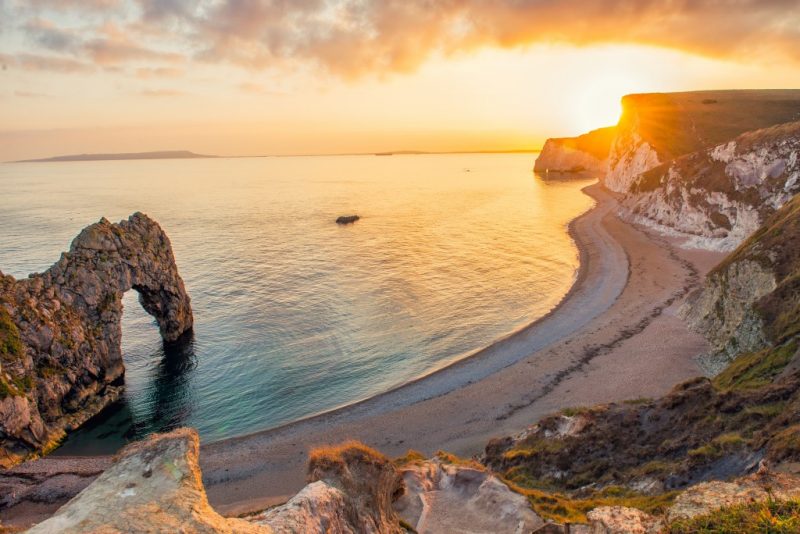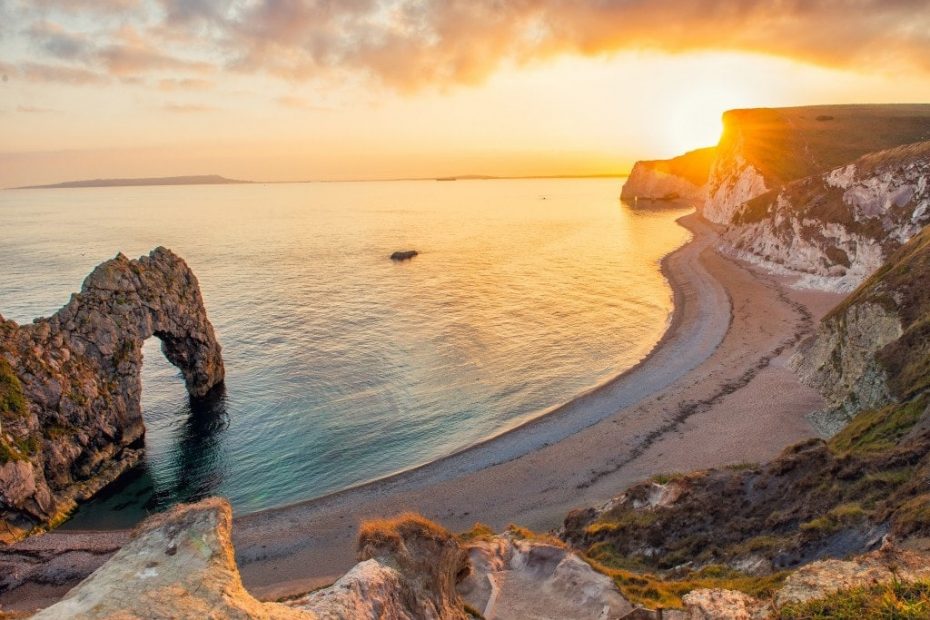 The Jurassic Coast is a 96-mile stretch of dramatic coastline running from East Devon and along almost all of the Dorset coast. It was the first-ever 'natural' World Heritage Site, because of its huge geological importance.
Rich in prehistoric fossils, with rugged cliffs and coastal structures shaped by millennia of sea movement, the coastline is said to offer an almost continuous "walk through time" spanning 185 million years of the Earth's history!
RECOMMENDED TOUR: Lulworth Cove and Durdle Door Bus Tour (from £35pp)
One of the star attractions on the section of the south coast of England is Durdle Door. A rocky limestone archway over the sea, the "door" juts out into the English Channel between two stunning bays. It's an absolute must-visit in Dorset, and one of the most photographed sights in the area.
13. Sandbanks Beach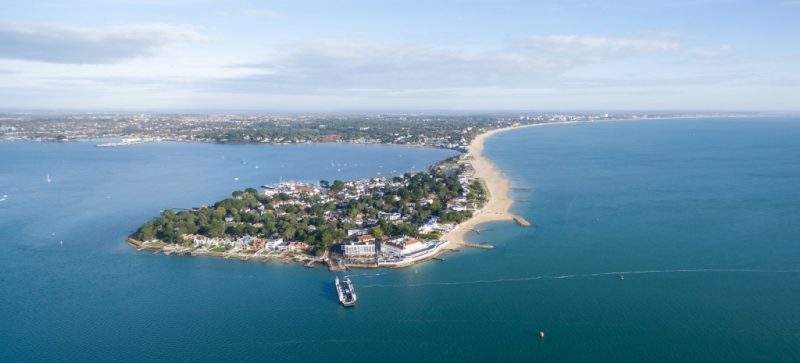 Sandbanks is one of the best beaches in Dorset, if not along the whole of the south coast of England! Running along a small peninsula between Poole and Bournemouth, Sandbanks is also home to the most expensive seaside properties in the world! On the other side of the peninsula lies Poole Harbour, the largest natural harbour in the world. Here you'll find over a dozen yacht clubs and marinas, as well as some amazing seafood restaurants such as Rick Stein's.
The beach itself is incredible and has been awarded a Blue Flag 32 years in a row! With calm, safe waters and clean golden sands, it's easy to see why this is one of the most popular beaches in the area. It can get busy on sunny days, but the beach is huge so there's always plenty of room!
14. Isle of Purbeck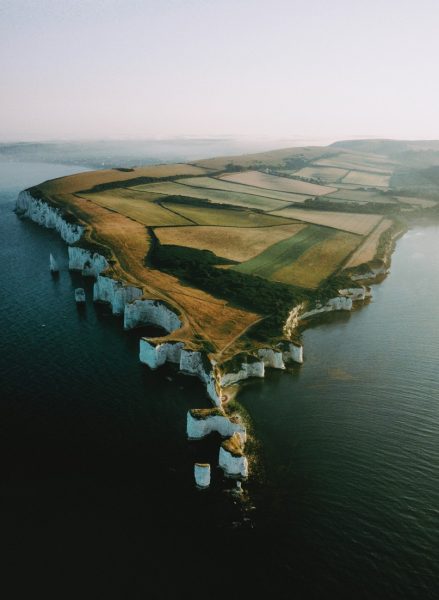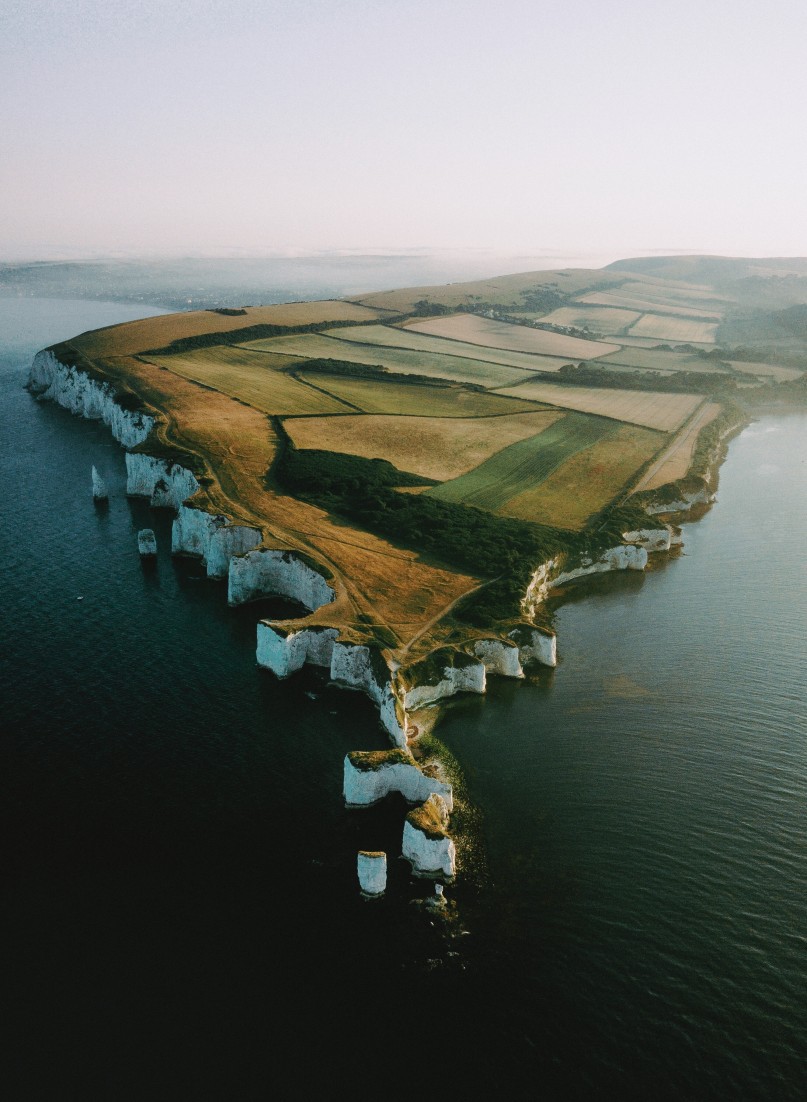 Although not quite an island, the Isle of Purbeck is a peninsula in Dorset bordered by water on three sides. It's also one of the prettiest places in the whole county!
This stunning peninsula is covered with wildflower-filled chalk grasslands, dramatic cliffs, secluded beaches, and charming villages. The southernmost tip ends in a series of white chalk stacks known as Old Harry Rocks, another must-see along the south coast of England.
Don't miss a trip to the seaside village of Swanage, or the stunning hilltop ruin of Corfe Castle. You can even take a ride on a beautiful vintage steamtrain between the two!
RECOMMENDED TOUR: Isle of Purbeck Full Day Tour (from £60pp)
Best Places to Visit on the South East Coast of England
PLACES IN HAMPSHIRE
15. Lymington
Recommended by: Eniko, Travel Hacker Girl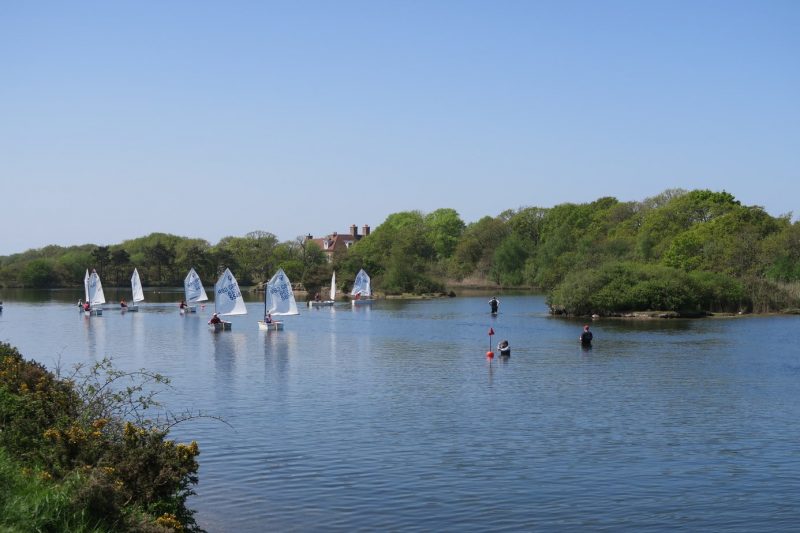 Lymington is a pretty coastal town on the Solent. Sailing is very popular in the area, so there are many beautiful marinas in the town. Some of them also offer kayak rentals. Children love The Lymington Sea Water Swimming Baths in the town. The inflatable playground provides hours of entertainment for the whole family.
An easy walk from the town centre is the Lymington Nature Reserve. The old salt flats with tidal pools are a great environment for many birds. It is a real paradise for bird watchers. Lymington can be easily reached by train from London. The nearby New Forest, it is a popular place to go cycling, horse riding or hiking near London.
16. Isle of Wight
Recommended by: Darek, Darek and Gosia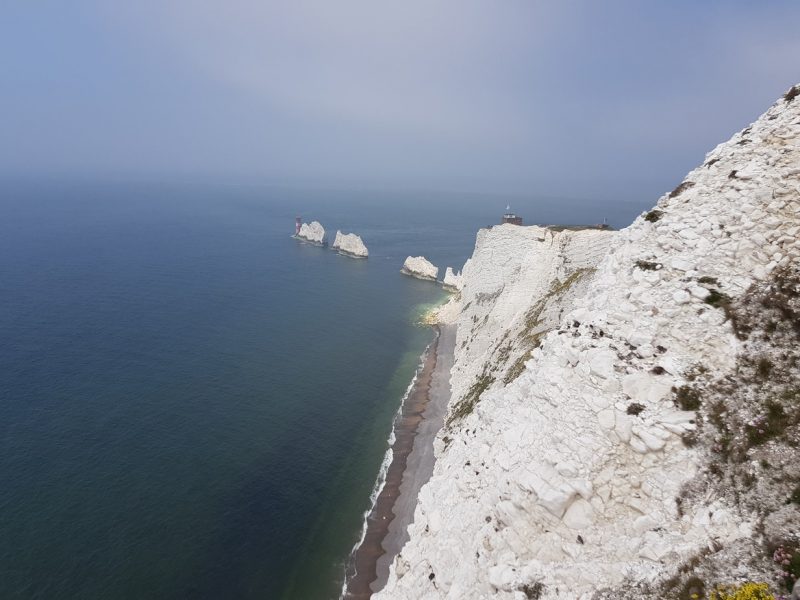 Great Britain is full of stunning places and one of them is the Isle of Wight. Located just a stone's throw away from the southern coast, it is a perfect place to spend a weekend break with your family or friends.
There are a few ferry crossings offering access to the island, with Lymington to Yarmouth being the quickest. It only takes around 40 minutes to get there for passengers travelling in a car.
With amazing beaches, stunning landscapes like the Needles, and unique places like the Garlic Farm, the Isle of Wight has to be top of any list of the best places to visit on the south coast of England! You can take a guided day trip from London – or head there for a minibreak.
PLACES IN SUSSEX
17. Thorney Island
Recommended by: Vicky, Day Out in England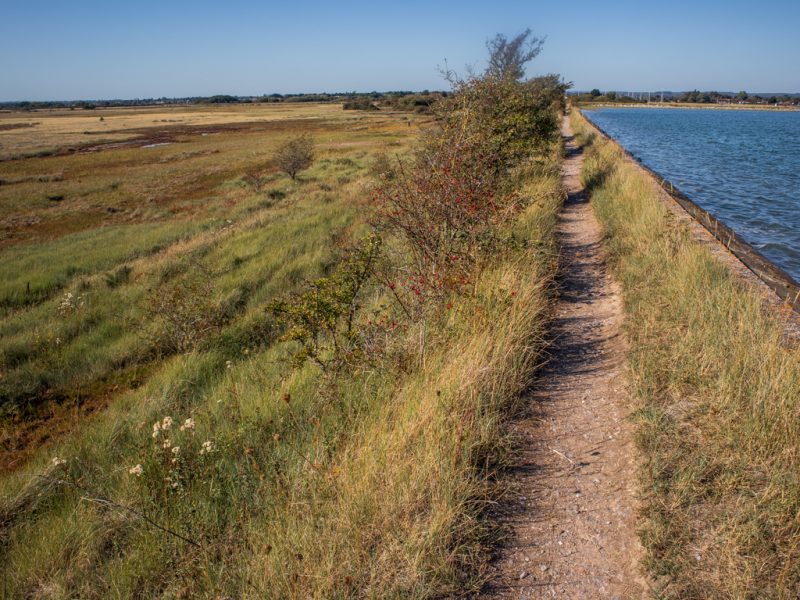 Thorney Island is a small island off the south coast, in Chichester. It's totally underrated but makes for a lovely 9-mile walk around the coast. Walkers might be put off by the barbed wire gates to enter – Thorney Island is MOD property – but once you're through, you'll love the easy walk.
The path round is pretty straightforward, but the centre of the island is out of bounds so you can't cut across. There are no facilities on the island for public use, which makes it all the more peaceful but you'll have to take what you think you'll need with you.
The high point is the beautiful white sand beach, about three-quarters of the way around. Enjoy!
18. Brighton and Hove
Recommended by: Skye, Skye Travels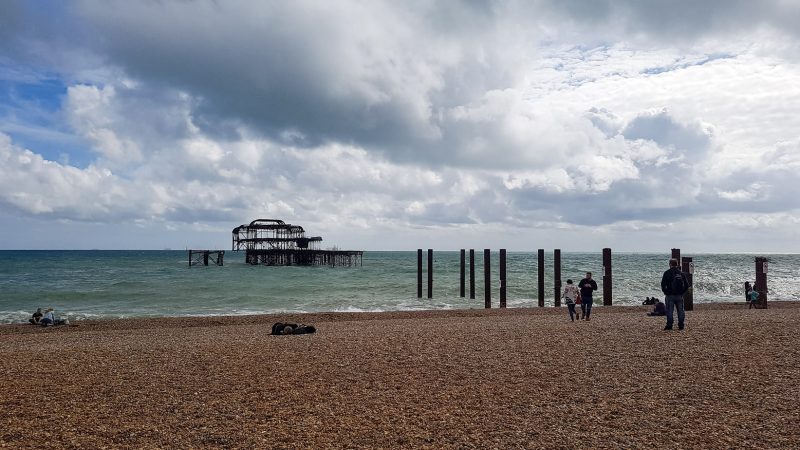 My favourite cities in England are Brighton and Hove. I love running along the beach, although the shore is covered in small pebbles instead of sand (except at low tide).
Brighton has two great shopping areas – The Lanes and North Laine. The former is the fancy shop district with high-end restaurants, jewellery shops and unique boutiques, the latter is a bohemian collection of hip cafes, independent shops and vintage stores.
Visiting the Royal Pavilion Museum is also a must, both inside and out. Finally, make sure to visit the pier, once the largest in the world, complete with arcades and carnival rides at the end. Short on time? Check out this guided day trip to Brighton and the Seven Sisters from London (from £89pp).
19. Eastbourne
Recommended by: Shobha, Just Go Places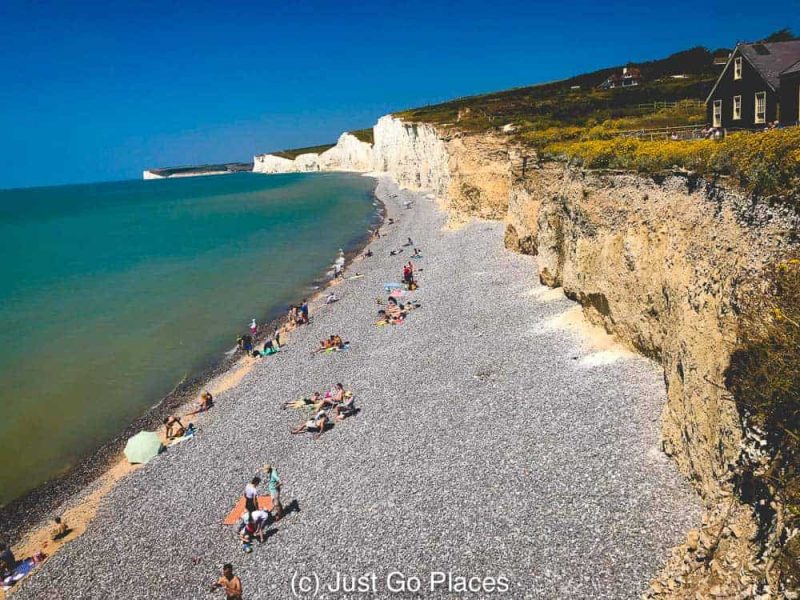 Eastbourne is a charming Victorian seaside town which is the gateway to the South Downs National Park. This national park is the youngest of the UK national parks and covers three counties in the south of England. The South Downs National Park extends from Eastbourne to Winchester.
One of the most beautiful parts of the South Downs National Park is the Seven Sisters chalk cliffs. Thanks to erosion, the Seven Sisters are now technically 8 cliffs with one having been split in two. They are called the Seven Sisters because seafarers on the English Channel returning home to England thought the cliffs resembled nuns when the white of the cliffs contrasted with the dark green landscape.
20. Rye and Camber Sands
Recommended by: Ann, The Road Is Life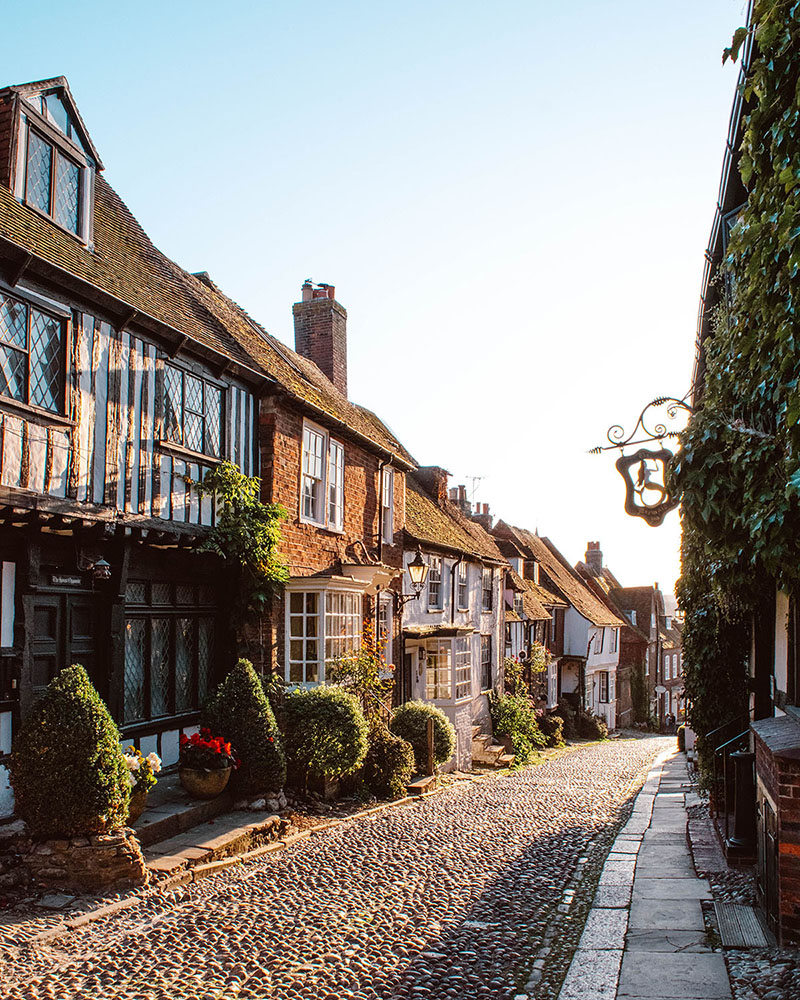 The charming little town of Rye near the coast of East Sussex is known for its beautiful medieval buildings. It's easily one of the highlights of the historic region known as 1066 Country.
The cobbled streets of Rye are full of history and character, especially the famous Mermaid Street which is home to one of England's oldest pubs. A trip to Rye simply isn't complete without stopping at the iconic Mermaid Inn! 
A 10-minute drive from Rye will take you to a lovely golden beach that stretches out for 3 miles along the southern coast of England. Camber Sands is a popular spot for kite surfing, picnics and scenic coastal strolls. It's also said to be one of England's most beautiful beaches. Combining a visit to Rye and Camber Sands makes an excellent day trip from London.
GLAMPING NEARBY: Check out my review of Swallowtail Hill glamping for the most gorgeous place to stay near Rye.
PLACES IN KENT
21. Folkestone
Recommended by: Caitlin, The Vegan Word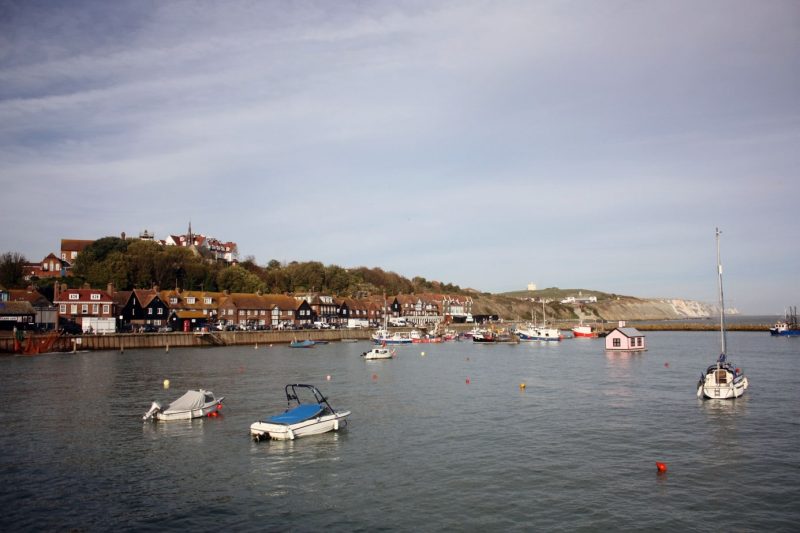 Folkestone may be best known as the Eurotunnel's location, but there's plenty to explore! If you enjoy nature walks, East Cliff and Warren Country Park has beautiful views of the white cliffs and the English Channel. You'll find an easy (though steep!) access point from Sunny Sands beach.
Folkestone is also home to a sandy beach (Sunny Sands) located conveniently close to the town centre and the harbour. Speaking of the harbour, I had one of my favourite meals of the year at Dr. Legume's, which is located in a former shipping container in the Harbour Arms. Their plant-based meals are innovative (and delicious!), as is what's been done here to transform disused railroad tracks into a restaurant area.
22. White Cliffs of Dover
Recommended by: Nicole from Nicole LaBarge Travel Blog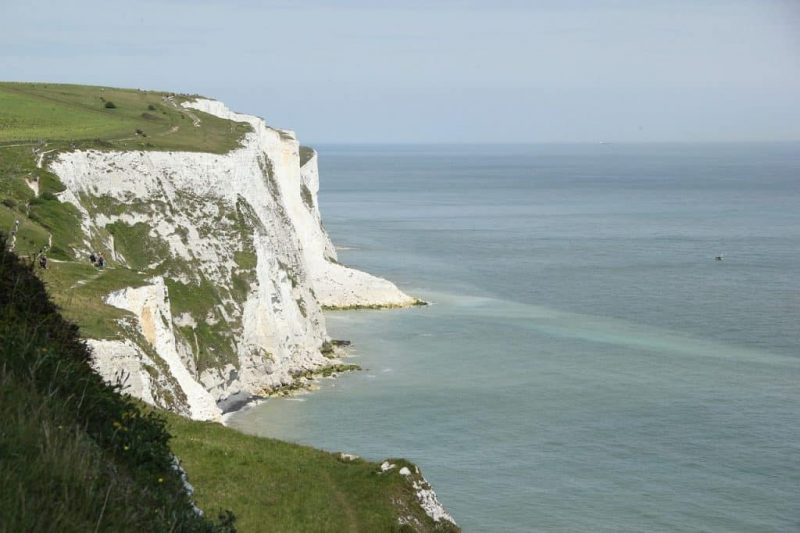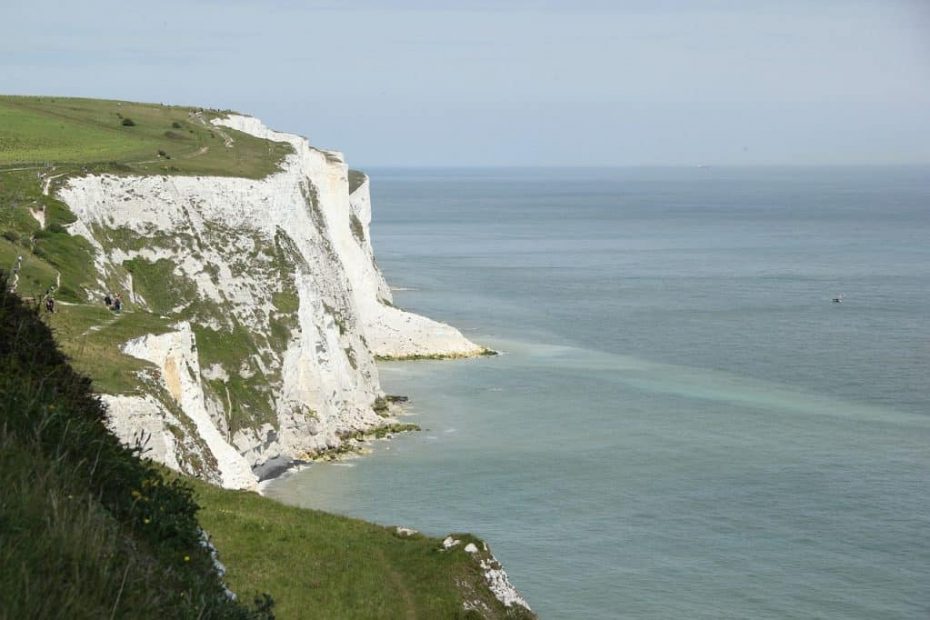 The White Cliffs of Dover are an iconic landmark in the south of England. You can walk along the sixteen-mile trail which runs eight miles either side of Dover and take in the stunning views and wildlife along the way.
You can also visit two historical places along the walk. The first is the Fan Bay Deep Shelter which is a tunnel system that was commissioned by Winston Churchill in 1940 and used during World War 2. The second is South Foreland Lighthouse which is a Victorian Lighthouse.
You can take in the chalky white cliffs along the coastline. This trail has been named one of Britain's Best Coastal Walks and you will find some of the best beaches in Kent here. If you're short on time you can take this guided day trip to Dover and Canterbury from London (from £79pp).
23. Kingsgate Bay
Recommended by: Hannah, Hannah's Happy Adventures
Kingsgate Bay is a perfect hidden beach in Kent. Due to its location, the bay remains empty on a summer's day and is a great place for some relaxation. Head down with a picnic and swimming gear for a day chilling in the sun.
On one side of the bay, you'll see Kingsgate Bay Sea Arch, offering a superb photo opportunity. On the other side, you'll see an old manor house, now used for functions and weddings. If you tire of Kingsgate Bay, at low tide, you can walk around to the bays on either side – Botany Bay and Joss Bay. However, they tend to be significantly busier. Kingsgate Bay is best visited by car and parking is available.
24. Margate
Recommended by: Angela, Where Angie Wanders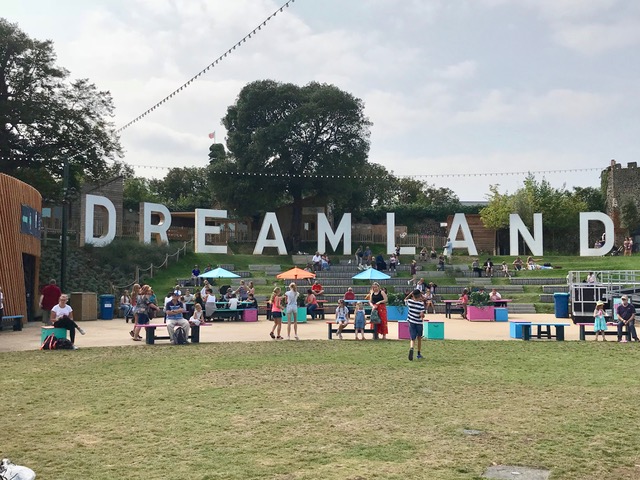 Margate on the South Coast has always been the epitome of an iconic English seaside town and its once-abandoned theme park, aptly known as Dreamland, has now been given a retro theme makeover with rides, shows, and even a roller rink.
Of course, it's Margate's sandy beach that pulls in the crowds. But head into town and discover the eclectic vintage shops, tea rooms and antique stores – a nod to a generation that is looking for something other than fish and chips.
A day in Margate is like a throwback to childhood when a trip to the beach was a grand occasion. The difference now is that you can finish your day at one of the chill-out bars that line the promenade and enjoy a cocktail or two!
RELATED POST: Things to do in Ramsgate (just up the road from Margate)
25. Whitstable
Recommended by: Laura of What's Hot?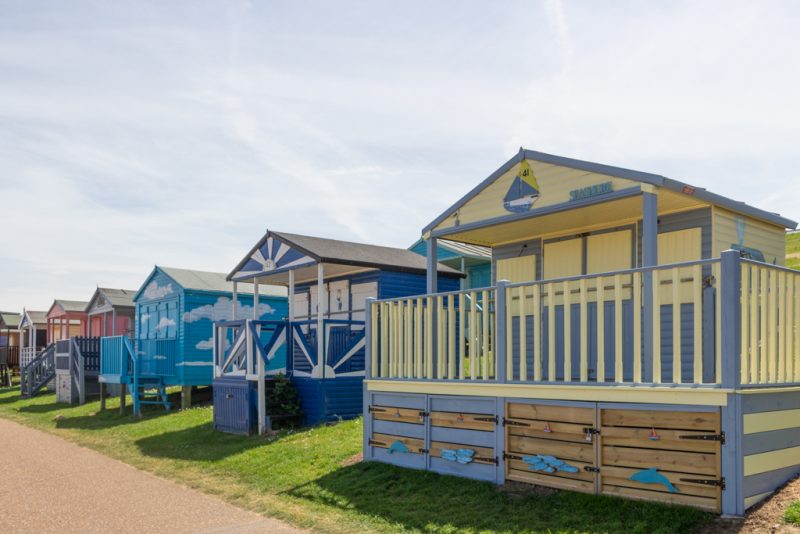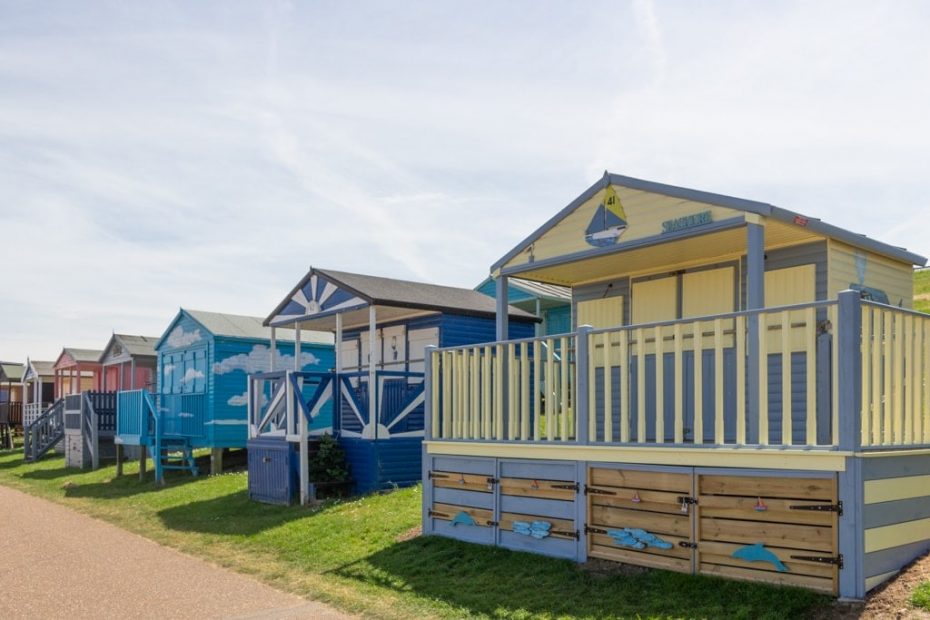 Whitstable is a beautiful seaside town that's less than an hour away from London by train. With rows of quaint shops leading all the way down to the beach, it's hard to believe that this town is so close to busy London.
With a choice of excellent fish and chip shops, ice cream shops and more, a day trip to Whitstable is the perfect option on a sunny day. What's more, the beach is lined with colourful beach huts making it look like something straight off a postcard. Make sure to try some fresh oysters straight from Whitstable Bay too!
Find Places to Stay on the South Coast of England
Where would you add to this list of the best places to visit on the South Coast of England? Scroll down to leave a comment and share your favourite spots!
Pin this for later: