Some posts on this site contain affiliate links. If you book or buy something through these links, I earn a small commission (at no extra cost to you). Take a look at my privacy policy for more information.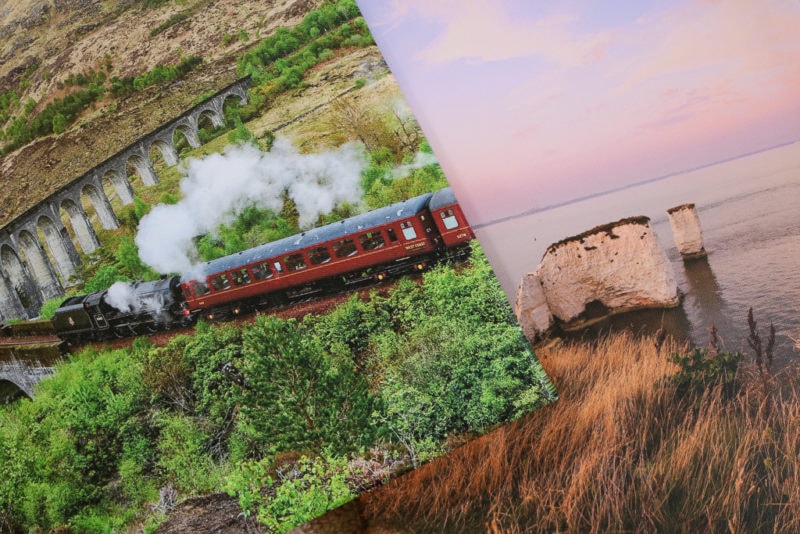 An in-depth review of the service from MYPICTURE – the easy way to turn your travel photos into souvenirs!
Over the past decade or so since I became a blogger, I've taken tens of thousands of travel photos. And one of my FAVOURITE things to do is to print them to create wall art, fun souvenirs, and colourful albums showcasing my trips.
So when MYPICTURE got in touch to ask if I wanted to review their fab photo products, I was excited to give it a try!
Printing your own photos to create your own wall art is such a lovely way to turn your travel memories into decorations. And MYPICTURE have so many fun options for you to choose from. Here's how I got on with using them…
This is a sponsored review in collaboration with MYPICTURE As always, all words and opinions are my own and totally honest.
MYPICTURE Review
DISCOUNT CODE: Readers of this blog can get a 15% discount at MYPICTURE.co.uk – just enter the discount code EMILYLUXTON15 when you checkout.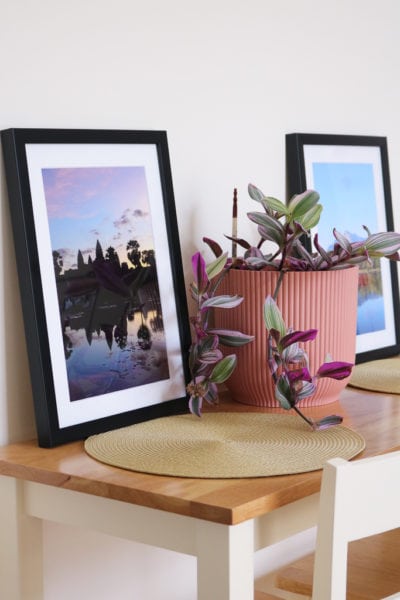 The Ordering Process
The MYPICTURE online store is really simple and easy to use, and it's full of fun products to help turn your travel photos into lasting memories.
The whole site is very user-friendly: you simply choose the product you want, upload your photos, and crop the image (if necessary).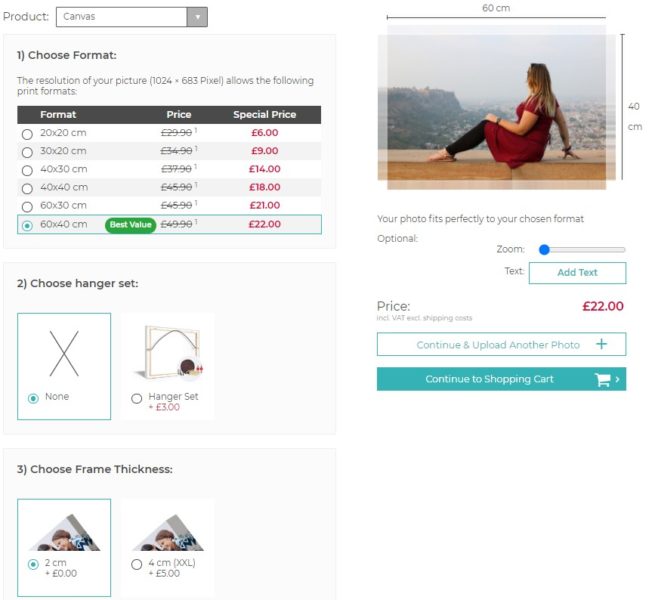 MY PICTURE will tell you what sizes you can print based on the resolution of your photo.
Then, depending on which product you're buying, there might be some extra options to choose from, for example, the frame colour or the edge design for a canvas print. Once you've made all your choices, you simply add the design to your basket, et voila – you're ready to order!
The whole process is super quick and easy – and orders are fully customisable (you can even add text if you like). The only tricky bit was choosing which photos to print!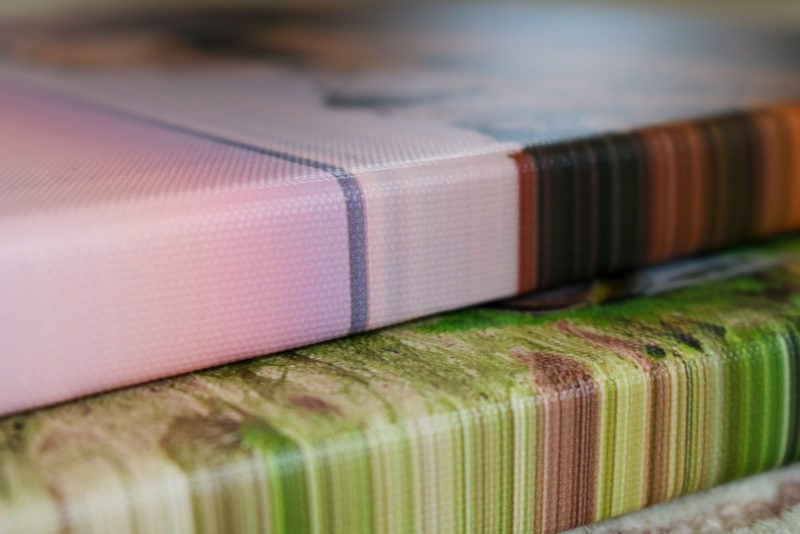 Some Tips for Ordering
If you're using a desktop computer or laptop, I recommend adding all the photos you want to use to a separate folder first. That way, you can find them all easily when you want to upload them.
You can also upload all the images to the "My Gallery" section on the site first, then decide what to do with each one individually.
My advice would be to use very high-resolution images if you want to order bigger prints. Also – pay careful attention to how you're cropping the images. Some details at the edges might get cut off, especially with canvas prints which wrap some of the image around the edge of the canvas.
MYPICTURE Canvas Prints Review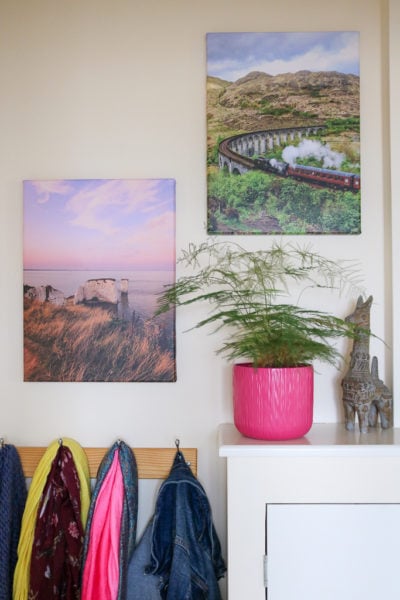 First up, I ordered canvas prints of two of my favourite UK travel photos: one of the Jacobite Express steam train crossing the famous Harry Potter viaduct in Scotland, and one of the chalk rock stacks at Old Harry Rocks in Dorset at sunset.
I ordered the two canvas prints in 40x30cm as they were high-res images – and they've come out brilliantly.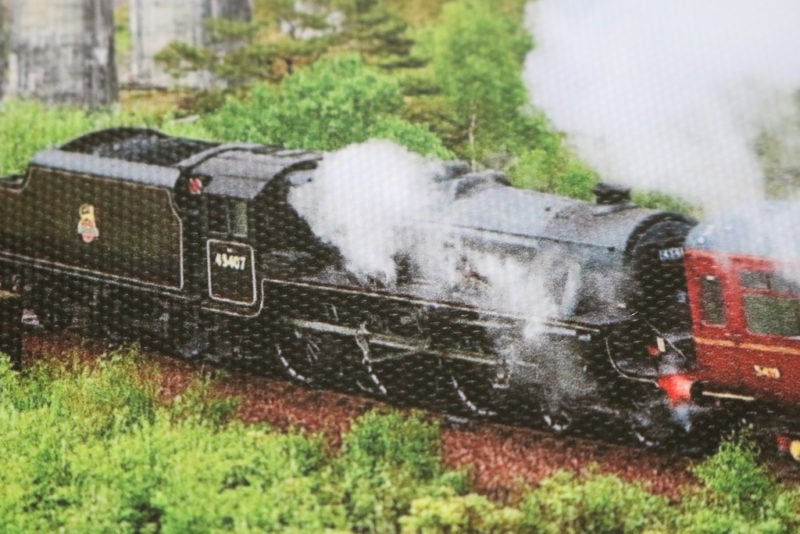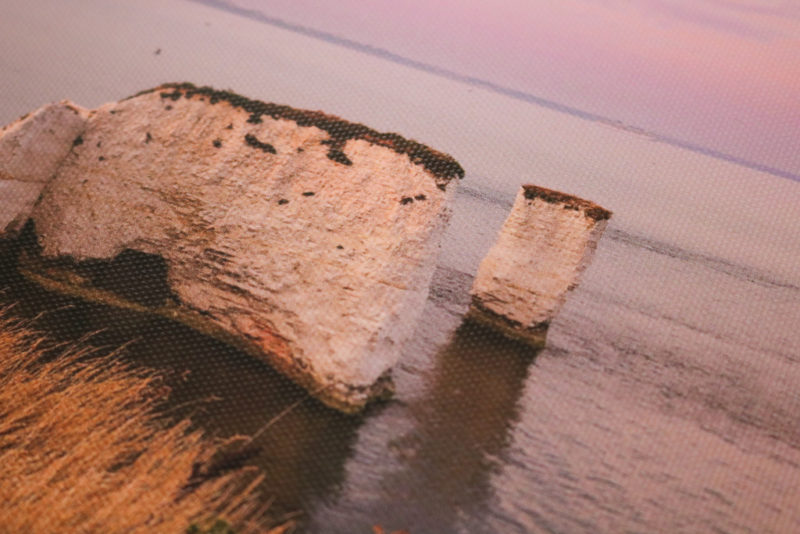 Canvas prints generally look a bit muted compared with photo prints or the on-screen version. This is the case with these prints from MYPICTURE, too, but the colours are still really vibrant and have come out really well – especially the pink sunset sky of the Old Harry Rocks print.
The overall finish is surprisingly crisp and doesn't lose too much detail. Printing on canvas is always going to come out a little softer than a printed photo because of the texture. Up close, you can see the grain of the canvas, but once they're on the wall, the prints look really sharp and detailed.
MYPICTURE Framed Photo Review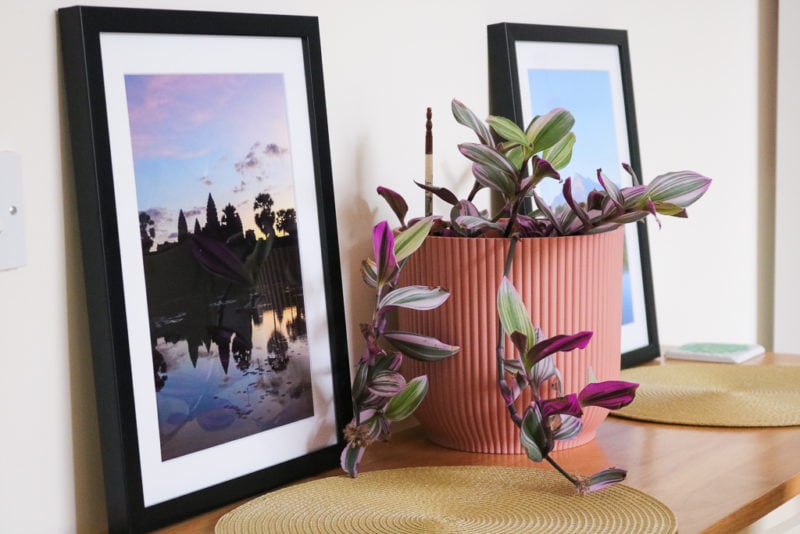 I also ordered two framed photo prints in 40x30cm with matte black frames. One of Angkor Wat at sunrise – snapped on my trip to Siem Reap a couple of years ago – and one of a mountain and a lake near Salzburg in Austria.
These come with a traditional white mount behind acrylic glass with a choice of five frame colours: black, white, silver, walnut, and oak.
The print quality is really high – clear, sharp, and detail-rich. I was particularly pleased with the colour reproduction. All the colours came out very vibrant, and true-to-life – almost exactly as they appeared on my screen.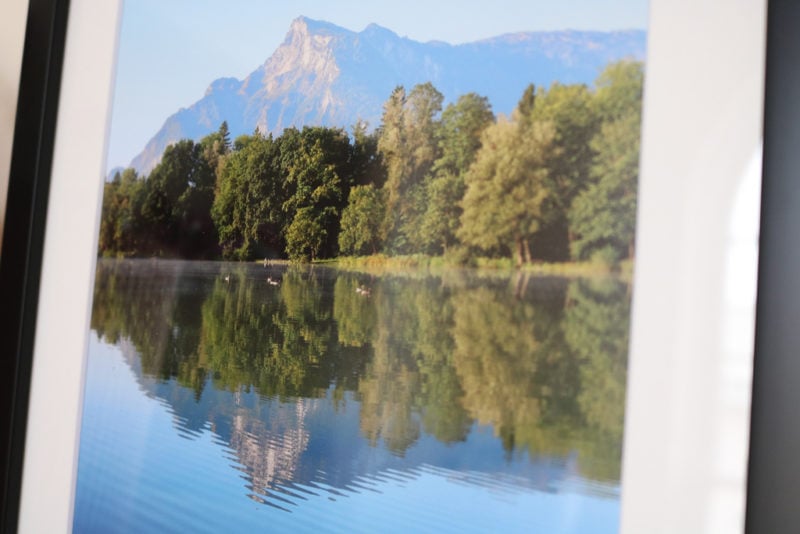 This was particularly important for the print of my Angkor Wat sunrise pic. The pink and gold sunrise sky has come out really well, and the silhouetted temples are a deep, inky black against the bright colours. It looks PERFECT!
The frames are a nice thick, matte plastic. I'd prefer glass instead of acrylic, but it's still lovely and clear – and is part of what keeps the prices so affordable.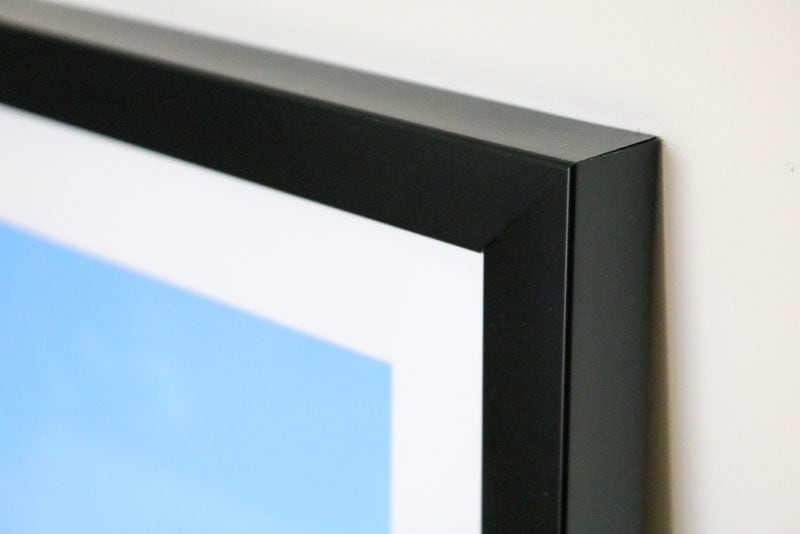 Everything about these framed photos looks so professional I can hardly believe it was me who took them! They're going to look great on my wall.
The only thing I would say is that you'll probably need pretty high-quality photos for prints of this size. I shoot in RAW in a high resolution, so mine came out nicely – but if you're working with a smaller camera or a phone camera you might have to limit what size poster you order.
Luckily, the MYPICTURE online tool tells you exactly what sizes you can print based on your photo's resolution.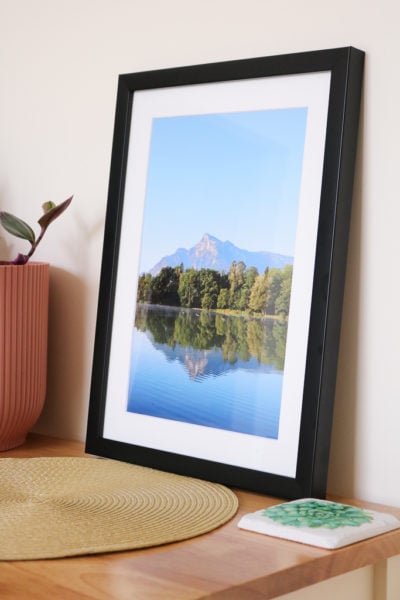 Other Products from MYPICTURE
As I mentioned before, MYPICTURE have loads of fun products to help you create fab souvenirs from your travel photos. You could get a photo book printed of your special trip – or order lots of individual prints to add to your own scrapbook at home.
There are also some more quirky options such as photo cushions, towels, tote bags, mugs, and mousemats! You can even get your photos printed as fridge magnets and doormats. These would make brilliant gifts – or fun decorations for your home.
MYPICTURE Review: The Short Version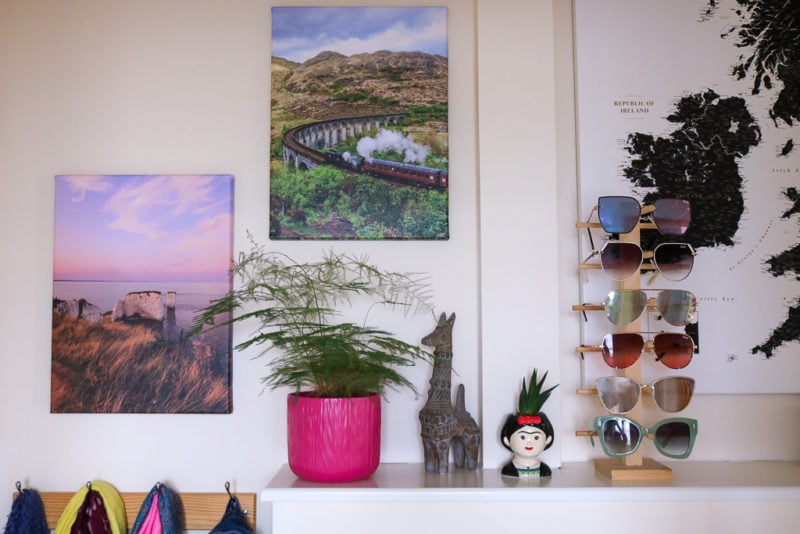 I'm genuinely really impressed by the service from MYPICTURE. The ordering process is super easy, the quality is fantastic, and the prices are great.
Things I loved:
Easy-to-use website and ordering service
Quick delivery
GREAT prices (plus some amazing special offers)

In fact, they guarantee to have the lowest prices in the UK.

High-quality prints
Vibrant colours
How professional the framed photos look
Things I didn't love:
You can't create a bulk order of several different photos as canvas prints – you have to customise and add each one to your basket separately.
Can't preview your images on the products like mugs.
Excessive marketing emails after ordering.

Fortunately, you can tweak the frequency to receive the best deal of the week or month, which I highly recommend if you don't want an email every day.
MYPICTURE Discount Code – 15% Off
As if the prices weren't already FANTASTIC, readers of this blog can also get an extra 15% off any order from MYPICTURE. You just need to enter my discount code when you check out.
The code is EMILYLUXTON15 and it will give my followers a 15% discount on all products at https://www.my-picture.co.uk/. This code is valid until 31/12/2023 and can be used multiple times.
If you found this MYPICTURE review helpful, don't forget to leave a comment! I'd love to hear what you bought!