Some posts on this site contain affiliate links. If you book or buy something through these links, I earn a small commission (at no extra cost to you). Take a look at my privacy policy for more information.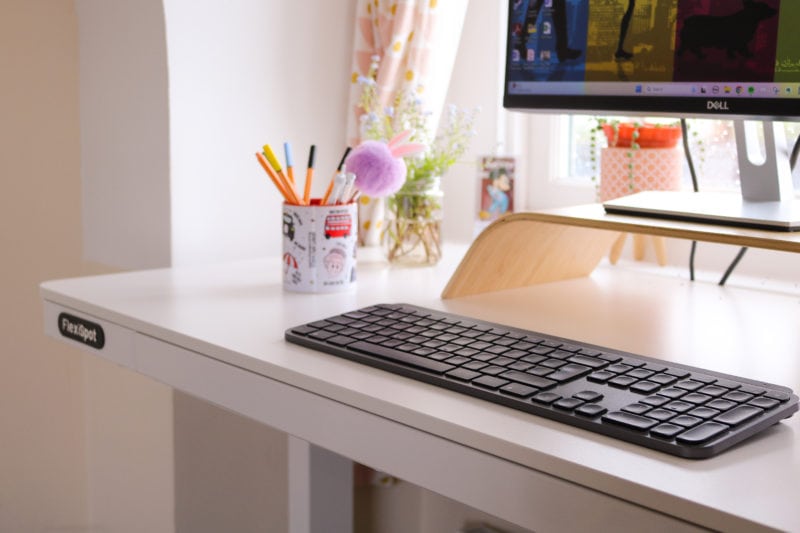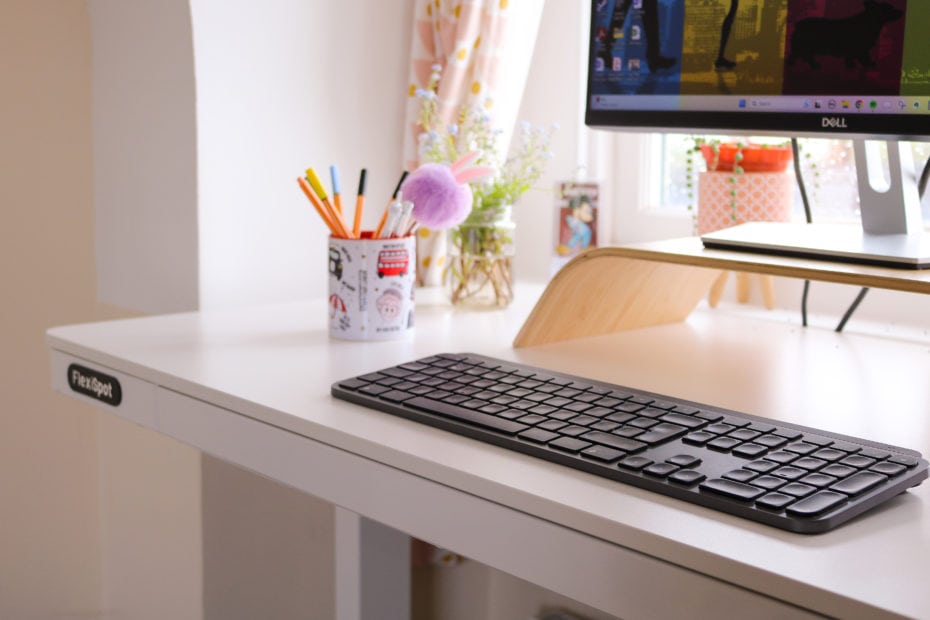 An in-depth review of the FlexiSpot Comhar EW8 standing desk and the FlexiSpot Wobble Stool.
Many adults in the UK spend around 9 hours a day sitting. Working at a desk, commuting to work, driving to the shops, watching TV… most of us spend a lot more time sitting than we realise!
Working from home as a travel blogger, I spend several hours a day at my PC (in between trips). I try to take regular breaks, go for walks, and get plenty of exercise throughout the week. But I'm still spending a good chunk of my working day sat down.
Studies keep confirming that too much sitting is bad for us – yet those of us who work with a computer have very little choice.
But if, like me, you work from home, you can make the switch to a height-adjustable standing desk. You probably don't want to be standing all day, so a sit-stand desk is a perfect solution: allowing you to alternate between sitting and standing a few times a day.
FlexiSpot specialises in kinetic office furniture like height-adjustable desks. In this post, I'll be reviewing FlexiSpot – in particular the Comhar EW8 All-In-One Standing Desk. I'll also review the fab FlexiSpot Wobble Stool, which allows active sitting by keeping your muscles engaged.
FlexiSpot sent me both the Comhar EW8 desk and the Wobble Stool in exchange for this review. As always, all words and opinions are my own.
Benefits of a Standing Desk
Standing desks have increased in popularity in recent years – but do you really need one?
According to the NHS, increasing evidence shows that too much sitting can be a risk to your health:
"It is thought excessive sitting slows the metabolism – which affects our ability to regulate blood sugar and blood pressure, and metabolise fat – and may cause weaker muscles and bones."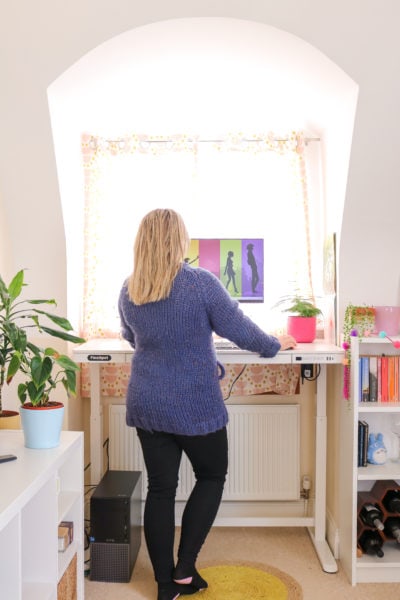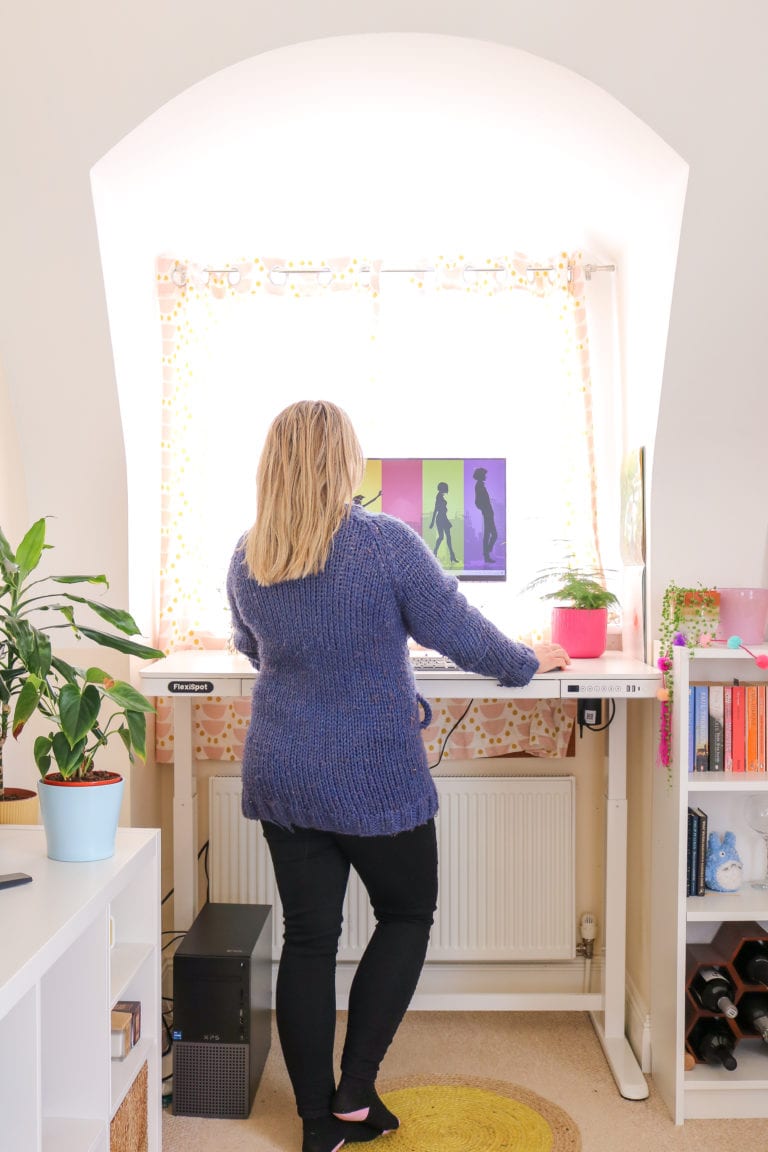 Healthline says that using a height-adjustable standing desk to alternate between sitting and standing can help burn more calories, lower blood sugar levels, and potentially lower your risk of heart disease.
Several studies have also found that using standing desks can dramatically decrease chronic back pain caused by prolonged sitting.
Other studies have found that standing desks also lower feelings of stress and fatigue, can improve focus levels, and may even boost productivity. So there are a LOT of great reasons to make the switch.
Sit-Stand, not Standing
Standing all day can come with its own issues, though. The perfect solution is a height-adjustable desk, sometimes called a sit-stand desk, which allows you to alternate between sitting and standing.
And if you opt for a motorised sit-stand desk – like FlexiSpot's Comhar EW8 – you can easily switch the height several times throughout the day.
Why Choose FlexiSpot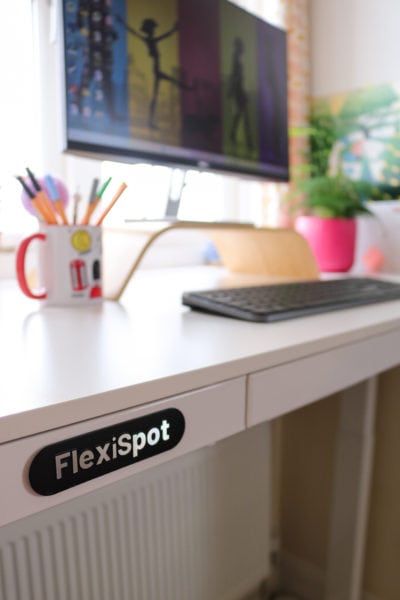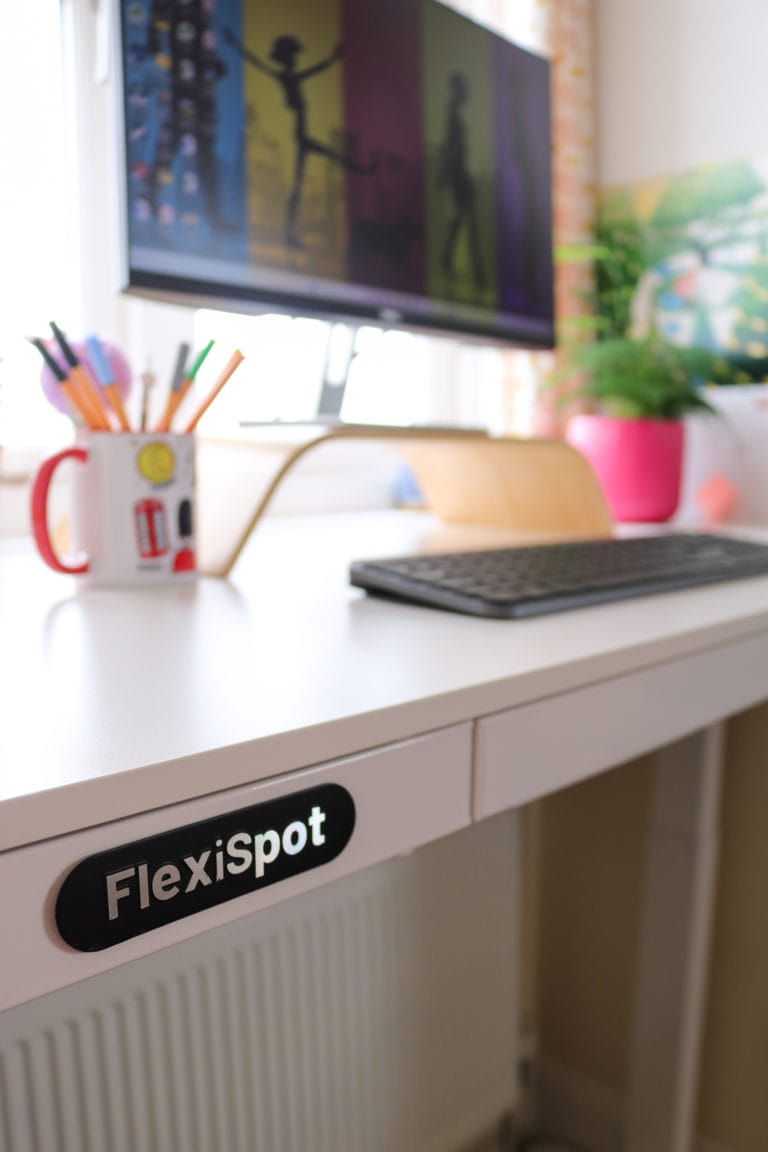 FlexiSpot is one of the leaders in kinetic furniture technology – with a huge range of height-adjustable sit-stand desks, active seating options, and ergonomic office chairs.
Made of 100% recyclable materials.
Wood comes from sustainably-managed forests.
Carbon Neutral (confirmed by ClimatePartner)
Number 1 Top-rated standing desk by TechRadar (2021, 2022).
Warranties up to 10 years.
Flexispot Comhar EW8 Standing Desk Review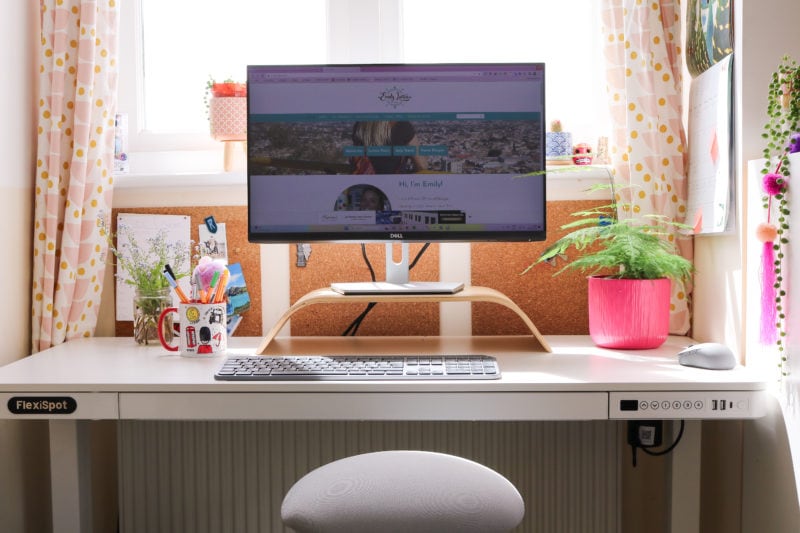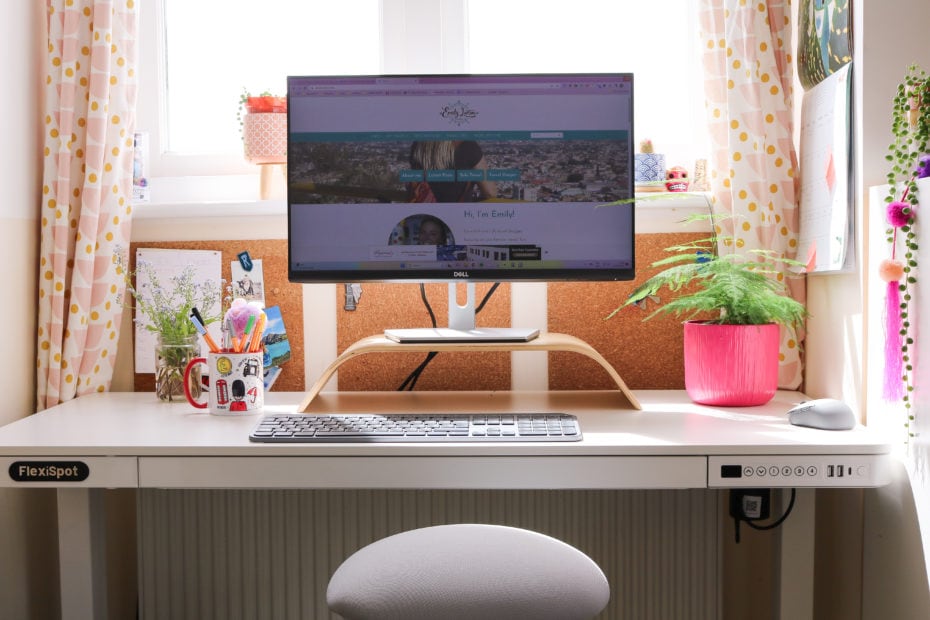 The FlexiSpot Comhar EW8 All-in-One Standing Desk has an electric motor to power a smooth, steady lifting mechanism. So you can simply push a button to adjust the height of your desk from anywhere between 72cm and 121cm.
Unlike many standing desks, the Comhar features a slim drawer embedded into the desktop. It's only 4cm or so deep, but about 66cm wide by 30cm long – so there's plenty of room to store office supplies.
At 120x60cm, the desktop is very spacious – with room for up to two monitors, as well as a keyboard, mouse, paperwork, etc.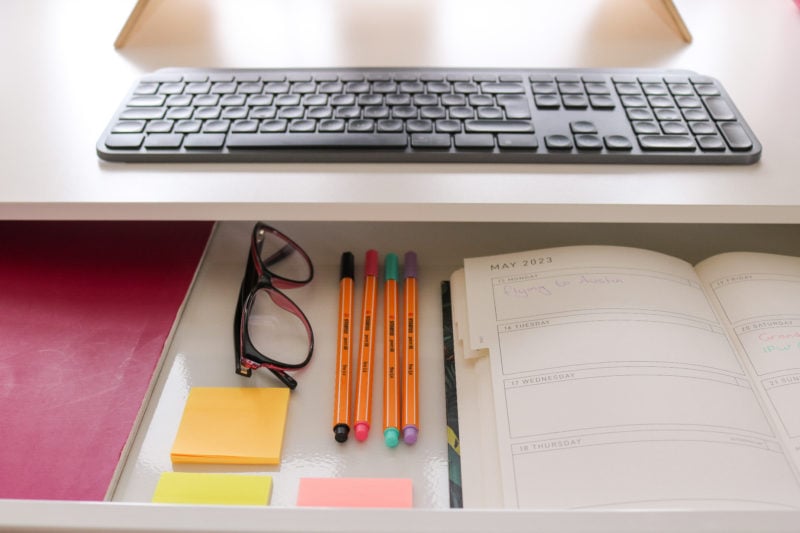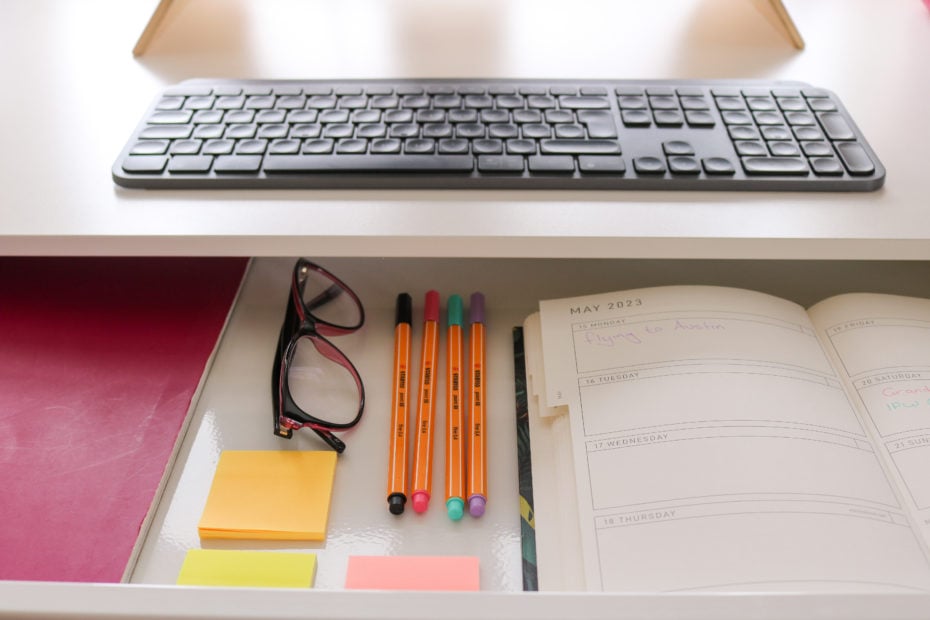 The design is sleek and classic, with a sturdy white frame constructed from powder-coated steel tubing, which resists scratches and stains and ensures stability.
The frame is quite compact, with the legs sitting within the desktop – so the Comhar EW8 easily fits into any gap measuring over 120cm. Mine looks like it was built for the window alcove in my living room!
Quick Stats
Desktop: 120x60cm
Desktop thickness: 5cm with drawer
Single-Motor lifting mechanism
Load capacity: 50kg
Height Adjustments: 72-121cm
Lifting speed: 25mm / s
2x USB Type-A and 1x Type-C ports built into the desk
Embedded drawer
Assembling the EW8 Desk
When I saw the FlexiSpot EW8's 3-step instructions I thought there was no way it could be that quick to assemble! But it really was that quick and easy!
The desk comes in pre-assembled parts. So you just need to screw the legs to the table, and then screw the feet to the legs. Then, you plug in the motor – and that's it. The whole process took me less than 15 minutes!
Using the FlexiSpot Comhar EW8 Desk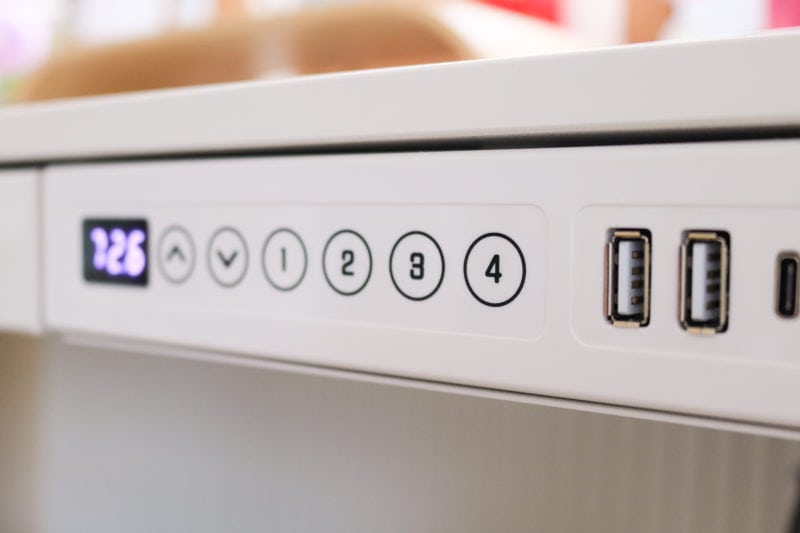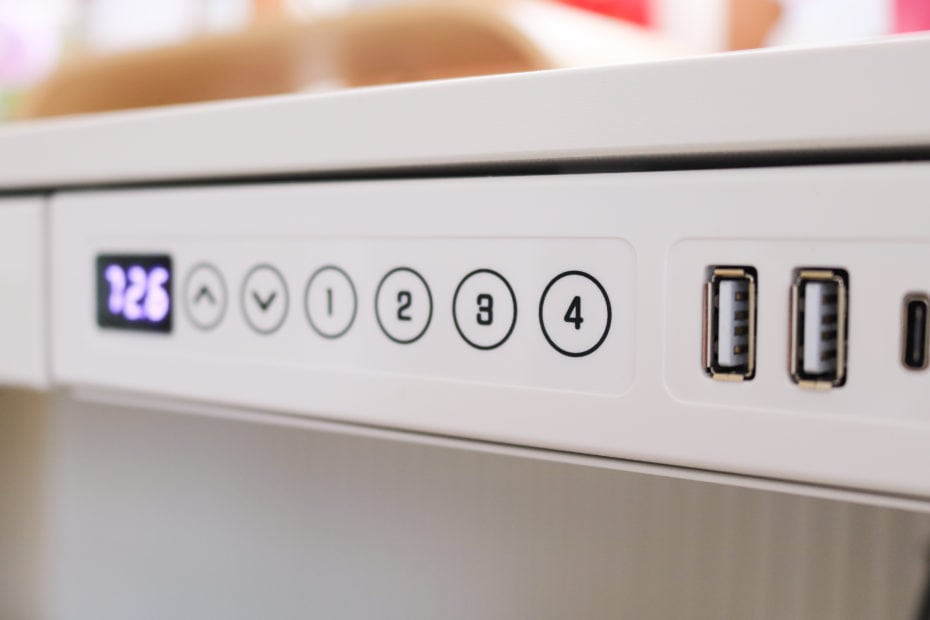 I've been testing out the FlexiSpot EW8 standing desk for a couple of weeks now and I LOVE IT!
It's so easy to use: you just press a button and up (or down) it goes. I had a manual standing desk before this one – which had a handle you turned to crank the desk up or down – and I almost never bothered to switch it from sitting to standing, because it was such a faff to do.
Since getting the FlexiSpot EW8 I've been switching between sitting and standing several times a day. I find there are some tasks I can't do well whilst standing (like writing), so I do these whilst sitting on a chair – or on my new Wobble Stool (more on that later in this post). For the more basic tasks, like admin or answering emails, I prefer standing.
I've also found this helps me separate different jobs in my head and keeps me focused on one task at a time.
What really sets the Comhar EW8 apart from most other standing desks I've seen is the embedded drawer. I hate being surrounded by clutter when I'm working – so even a thin drawer like this one makes a big difference.
It's a very slim drawer (about 4cm deep), but it's long enough to fit three A4 notepads side by side – so it's super handy. It fits quite firmly in place when you close it and stays closed when you adjust the height of the desk.
Pros of the FlexiSpot EW8
I love the flexibility of being able to switch quickly between sitting and standing.
It's super easy to use: literally just pushing a button!
The slim desk drawer is perfect for storing your notes and pens etc – or tidying away your keyboard when you need more space.
The desk's motion up and down is super smooth, so there's no risk of everything falling over on your desk. It's also very quiet – just a gentle whir from the motor.
It's a great size! The frame doesn't take up too much room and fits nicely into small spaces (like corners and window alcoves), but the desktop is still super spacious.
There are also two USB ports and a USB-C port for charging at your desk.
There are 4 programmable height presets, so you can save your ideal heights for quick access.
The anti-collision function means the desk will automatically stop lowering before it crashes into anything.
Cons of the FlexiSpot EW8
There's only one frame colour (white) and two desktop options (white or maple). Some of the other desks in the FlexiSpot range have a lot more colour options to choose from.
The embedded drawer doesn't offer heaps of storage space, so you may need to purchase a separate drawer unit.
It has to be plugged in – which takes up another socket and adds to the tangle of wires behind my workstation! I recommend getting a cable sleeve and a multi-plug extension socket if you don't already have one.
Active Sitting with the FlexiSpot Wobble Stool
I already had an office chair, but I find that I often end up sitting on it quite poorly. When I'm concentrating hard on a task (especially writing) I tend to lean forwards and hunch over my keyboard – and often kneel up on my chair without realising. It KILLS my knees, but it's usually too late by the time I've realised I'm doing it.
That's where active sitting comes in! Essentially, this means keeping your body active and slightly in motion while sitting – by using a balance ball or a special stool or chair.
Instead of relaxing into a chair and not moving, you're engaging some of your muscles – keeping your body active on a very minor level while you work. This can improve posture (avoiding the back pain that often comes with desk work), stabilize blood flow, and help keep your mind alert.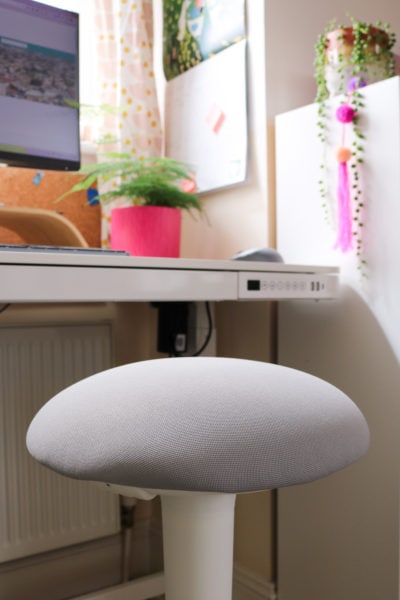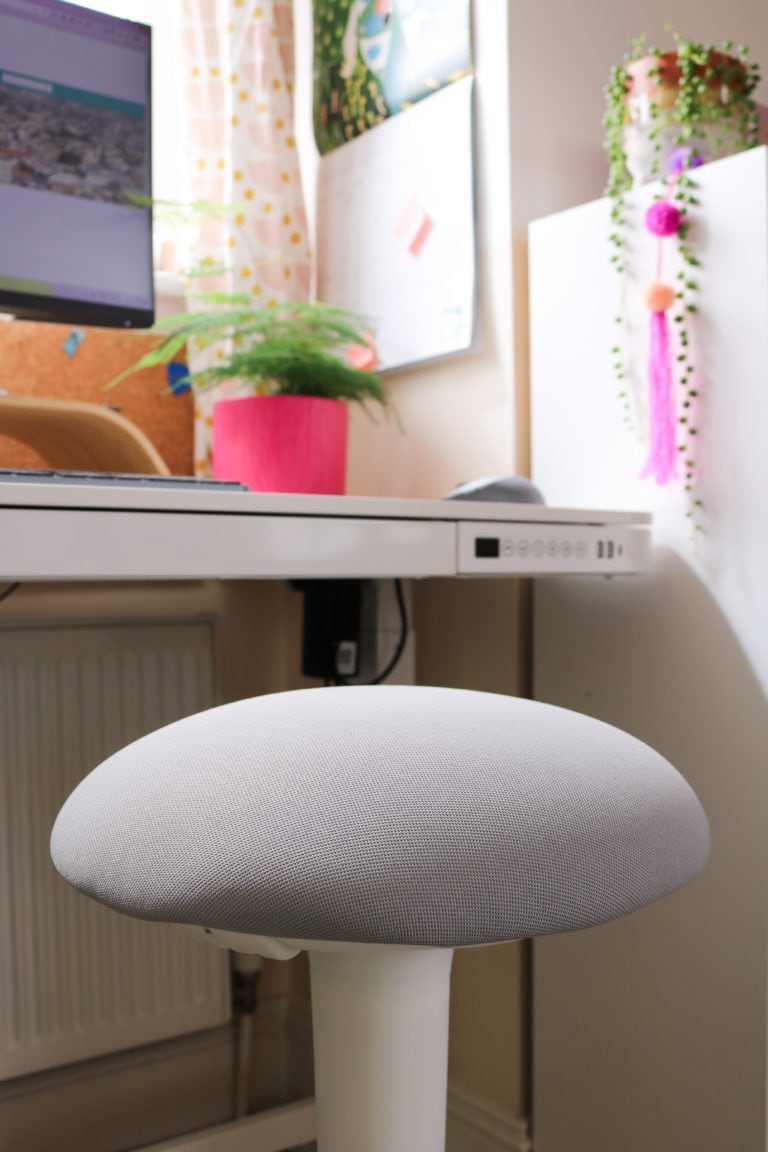 FlexiSpot Wobble Stool Review
FlexiSpot's brilliant Wobble Stool is PERFECT for this. It's a sturdy, height-adjustable stool that basically forces you to sit up properly. As well as a 306° swivel, the stool tilts about 15° left and right – so if you slouch too much, you could fall off!
The seat is an 8cm thick padded sponge cushion so it's quite comfy, and gives decent lumbar support. You might think having no back support would be bad for your back, but because you have to sit properly and actively engage, it does help you keep a good posture.
The stool also stops me from unconsciously kneeling up all the time – because I literally can't without falling off! It's taking a lot of pressure off my knees and shoulders from former poor sitting habits.
I also sometimes use the stool's wobble base to do hip rotations while I'm working. Burning a few extra calories while I sit makes me feel like I've really EARNED that next biscuit, ya know?!
Personally, I can't use the stool all day as it gets a little uncomfy after a while. I think I'm just way too used to slouching in my chair and need to train myself to use the stool properly. But what's great about teaming the Wobble Stool with a standing desk is that I can use the stool for an hour, then stand for an hour, then sit for an hour, then go back to the stool… which also helps keep me a bit more active throughout the day.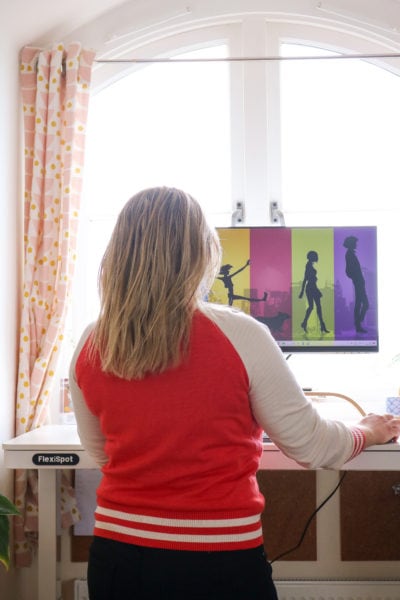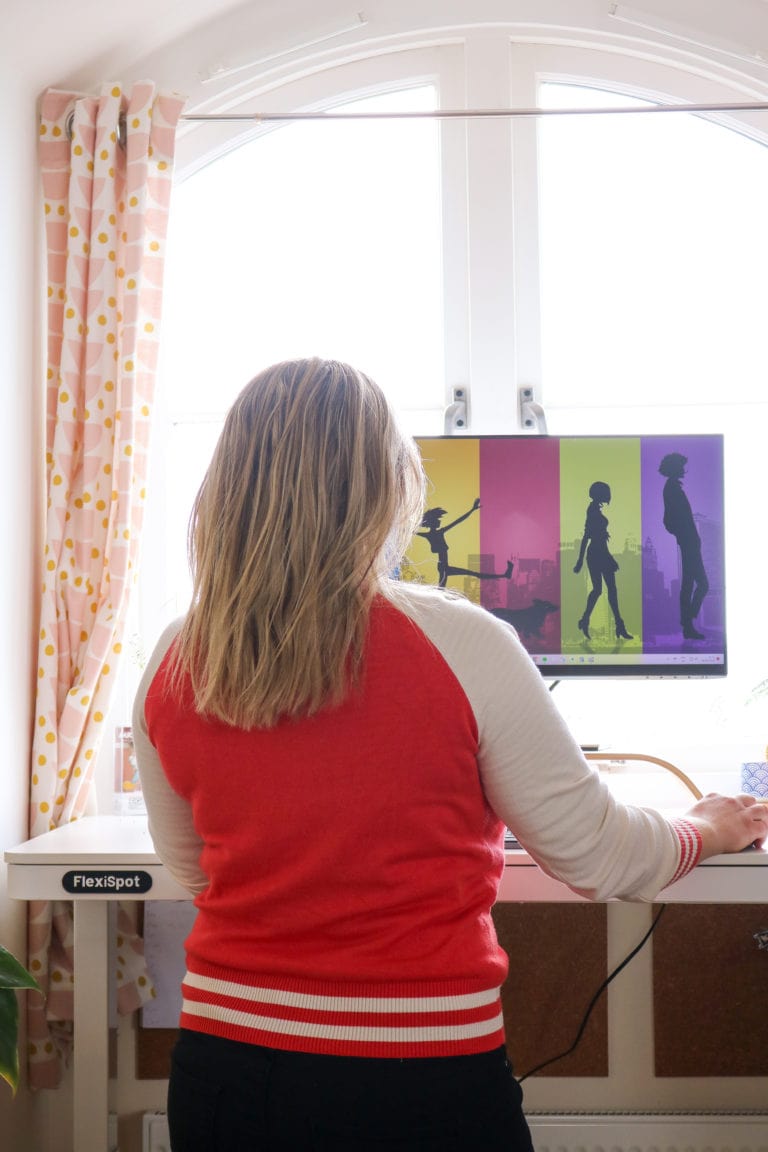 FlexiSpot Review: Final Thoughts
I'm not going to say that switching to a sit-stand desk has changed my life, or even that I'm feeling loads healthier. For one thing, I still have a lot of bad habits to train myself out of. And it's going to take some training to get used to standing for longer periods of time.
But I definitely notice an energy and mood boost every time I switch to standing. I also find I focus better on tasks that I'd usually get distracted from – perhaps because I'm keen to get them finished so I can sit down again!
I've also noticed that on days where I spend as much time standing as I do sitting, I have less lower back pain.
Even if the differences are only small for now, I genuinely LOVE my new FlexiSpot Comhar EW8 Standing Desk and the Wobble Stool. They make a great pair and I can honestly feel the benefits of having a more active, engaged day at my home office versus simply sitting (usually badly) all day.
I hope you found this review of the FlexiSpot Comhar EW8 Standing Desk and Wobble Stool helpful. If you have a question, feel free to leave a comment at the bottom of this page!