Some posts on this site contain affiliate links. If you book or buy something through these links, I earn a small commission (at no extra cost to you). Take a look at my privacy policy for more information.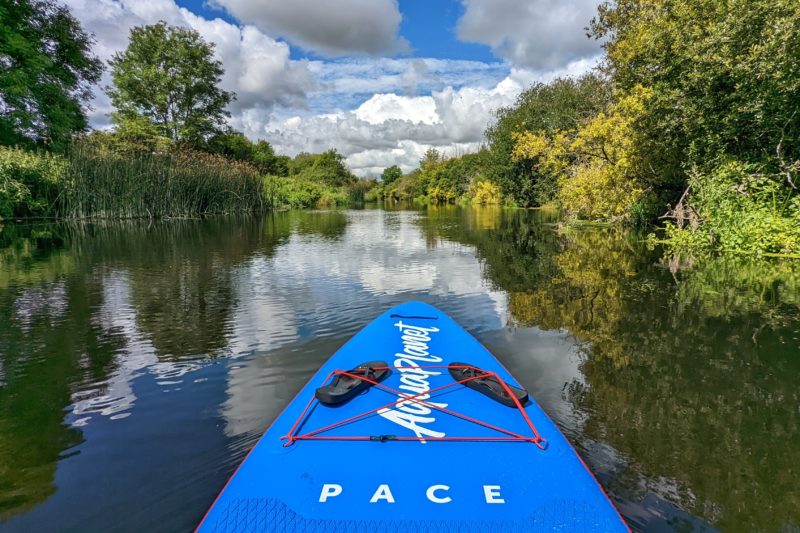 This is a review of the Aquaplanet PACE 10'6″ inflatable stand-up paddleboard, an allround SUP designed for speed and balance…
If you follow me on social media, you'll know I'm a BIG fan of standup paddleboarding! There's just no better way to clear your head than to get out on the water for an hour or two.
Since getting my first inflatable SUP a few years ago, I've developed a real passion for the sport. I've even started to get a little bit better at it – I can even crack out a couple of yoga poses on my board when the water's calm!
Even though I'm not a total newbie anymore, I still wanted a board aimed at beginners, because I'm FAR from feeling like I've mastered paddleboarding. So when Aquaplanet offered to send me their PACE to try out, it seemed like the perfect fit.
The Aquaplanet PACE is a sturdy board built for speed and balance and aimed at both beginners and intermediate paddleboarders.
It's an allrounder, which means you can use it for a variety of paddle styles. Perfect if you're just getting into the sport, or you like to try a lot of different things!
Aquaplanet provided me with the PACE in exchange for this review – but all words and opinions are my own (except specs, which have been taken from Aquaplanet's website).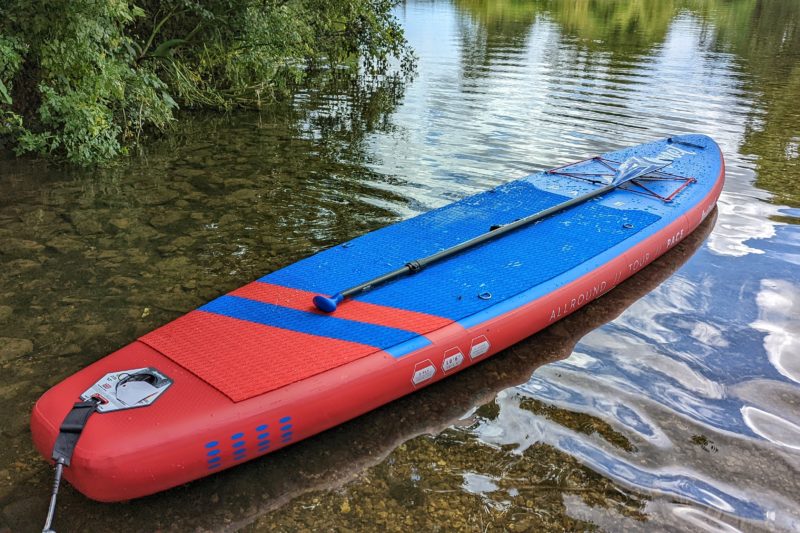 Quick Overview & Specs of the Aquaplanet PACE
Aquaplanet describe the PACE as a "sturdy board for beginners, intermediates & heavier paddleboarders up to 120kg".
It's a wider board (31″), which means better balance, as does the 6″ thickness. The thicker the board, the less likely it is to capsize.
So it's an ideal board for beginners, but that doesn't mean it's super basic. The pointed shape offers better speed, so you can start going faster once you're a bit more confident – or take advantage of the great balance to practice some SUP yoga!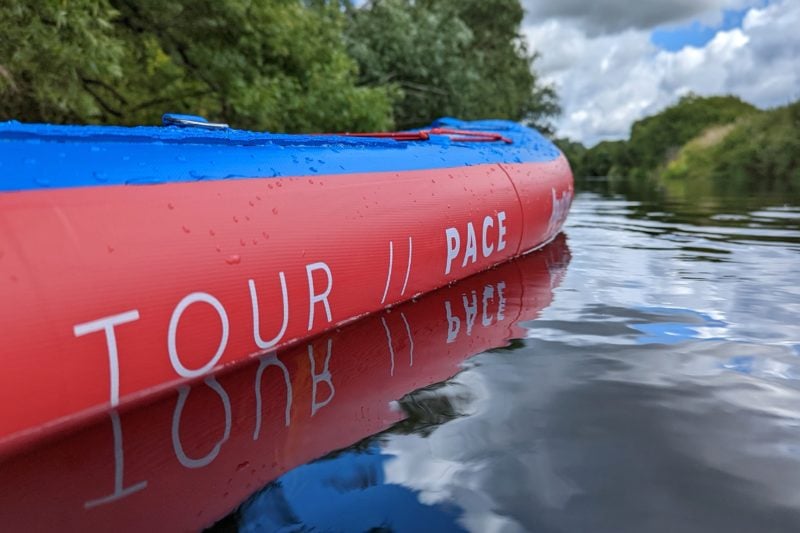 Great for: casual paddling, long-distance paddles, and speed.
Suitable for use on: lakes, rivers, canals and seas.
Pointed shape to cut through the water.
Comes with all the kit (including rucksack, hand pump, paddle, and dry bag.
Compact & lightweight – just 13kg.
Inflates in 10-15 minutes.
D-Rings on deckpad for attaching a kayak seat.
Specs
| | |
| --- | --- |
| Dimensions | 10'6″ x 31″ x 6″ (3.25m x 79cm x 15cm) |
| Weight | 13kg |
| Colour Options | Red & Blue, Teal & Midnight |
| Fins | Tri-fin setup: Two fixed and one removable slide-in fin |
| Material | High-density PVC fused drop-stitch construction |
| Max Rider Weight | 120kg |
| Recommended PSI | 15-17 |
| Deckpad | Diamond cut crocodile EVA deckpad for grip & comfort |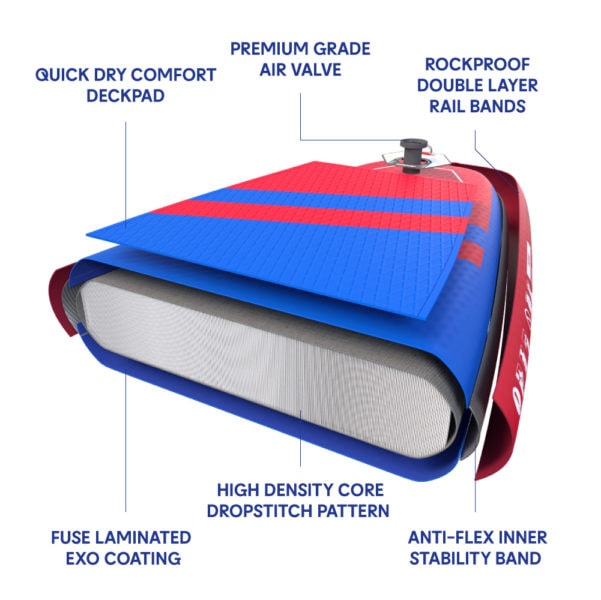 Aquaplanet PACE – My Honest Review
Straight out of the box, I liked the Aquaplanet PACE! The bright colours are really fun and the design is great. Plus, it's lighter than my old board and feels more compact and transportable.
Deflated, the board and all the kit fits perfectly into the Aquaplanet Rucksack. At 40× 28×13 cm, the rucksack is bulky – but it's not unmanageable.
It's also surprisingly comfortable and not too heavy. I live in a 3rd-floor flat with no lift (the bane of my life!) and had no dramas carrying the bag on my back up and down the stairs.
Hitting the Water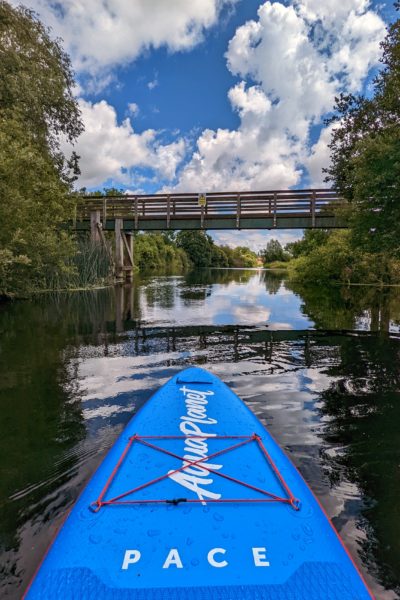 First chance I got, I loaded my new Aquaplanet PACE SUP into my car and drove up to my favourite paddleboarding spot: the River Stour in Dorset.
TOP TIP: If you're looking for a great place to SUP in Dorset, park at the small carpark at Eye Bridge, near Wimborne, and you can paddle upriver at least as far as the Coventry Arms pub (great place to stop) – then come back with the current. Keep an eye out for otters, kingfishers, and egrets!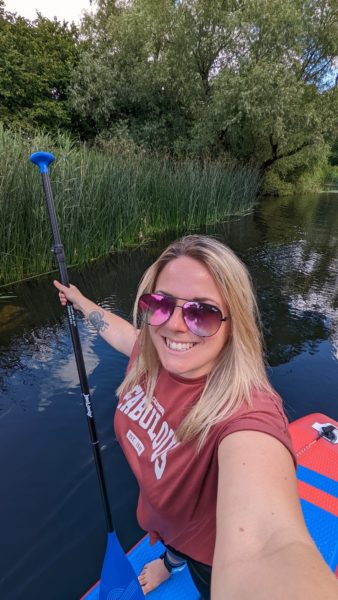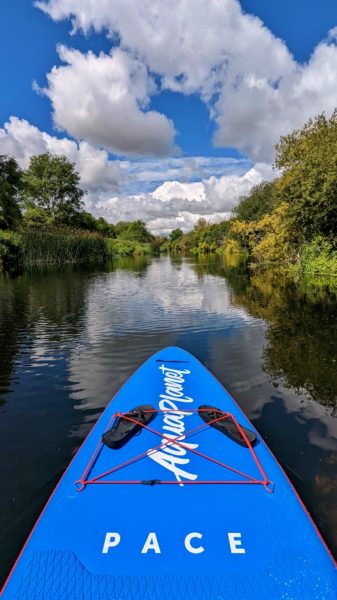 The PACE handles brilliantly. It felt very lightweight and manoeuvrable, and I definitely noticed a difference with the speed. Normally I have to work fairly hard going upriver, but I felt like I was moving much quicker than I usually do. Not bad considering it's my first time out on a board this year!
In terms of balance – the board is PERFECT! Really solid, even on the choppier bits of the river. I felt like the three-fin setup helped, and the board also turns really well. Great on the bendy bits – and when I needed to zig-zag my way through the stronger currents!
The PACE is a little slimmer than some boards designed for balance, so beginners might find it daunting, but once you find your SUP-legs you'll find it was worth sacrificing the extra width for the difference it makes to your speed.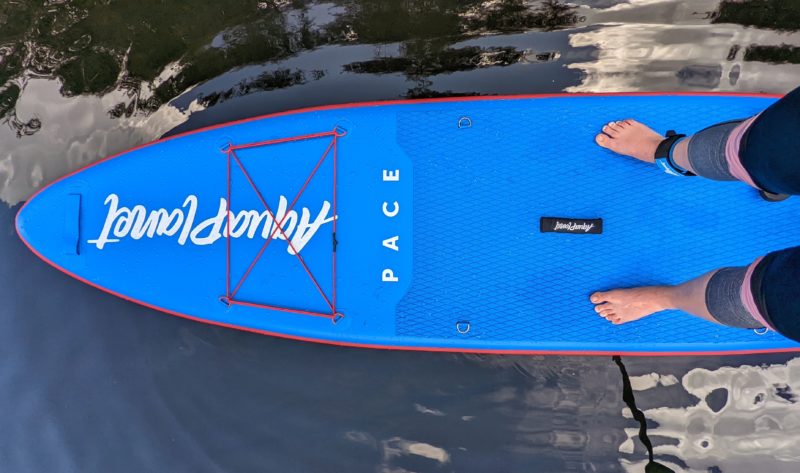 It's a really sturdy board that handles well in waves, and lends itself nicely to trying out a few tricks. I also love the fact that you can attach a kayak seat (sold separately) using the D-rings, and turn it into a kayak for longer tours.
Alternatively, you could use those D-rings with some bungee cords to create extra storage – perfect if you want to take your board touring.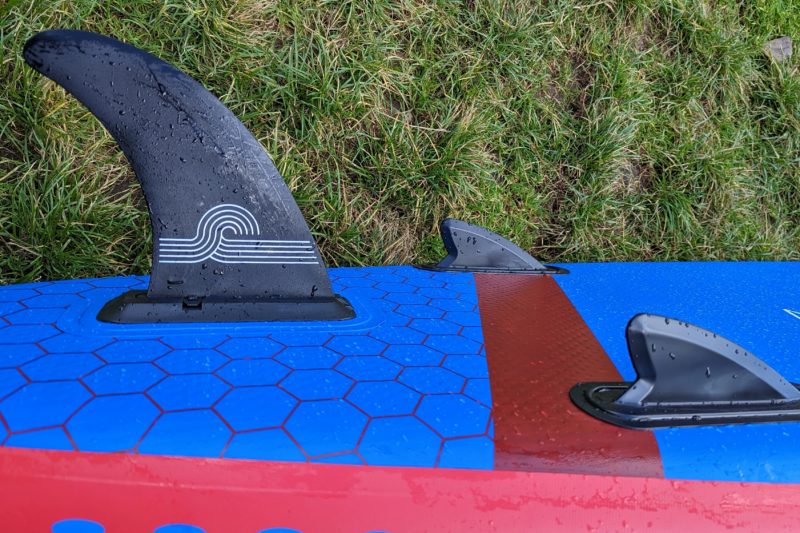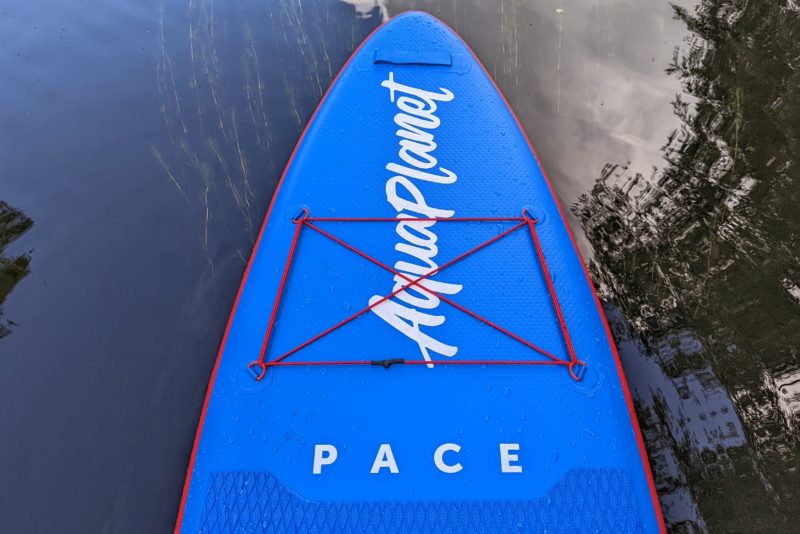 The Other Kit
The Aquaplanet PACE comes with: a rucksack, hand pump, paddle, dry bag, shoulder strap, and leash.
The leash feels really sturdy – I've given it a few yanks to test it, but didn't want to damage it as obviously that's the most important part. You gotta wear your leash!
I LOVE that the kit includes a dry bag; the Aquaplanet Surf Sack. I already have a dry bag and use it on every paddle to stash my phone, car keys, and water bottle etc. You can clip it closed to keep everything inside it dry, and attach it to the storage bungee cords on the front of the board. However, if you're planning a longer paddle, a waterproof backpack might be even better.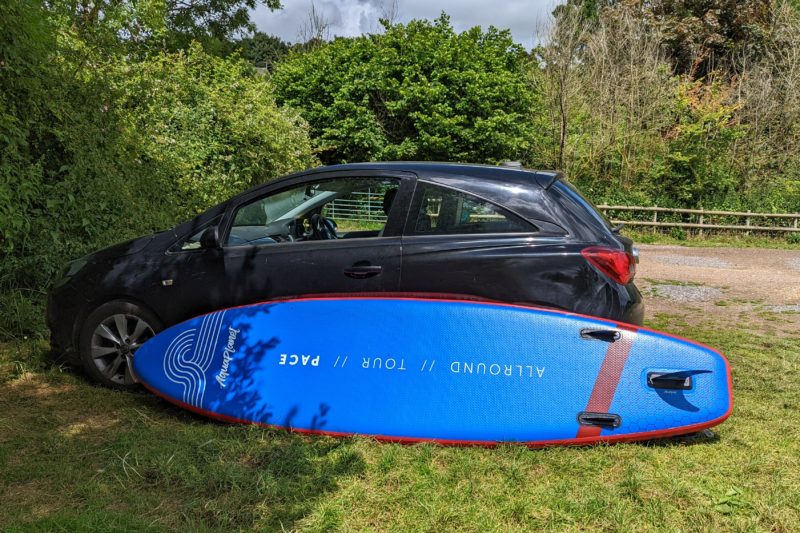 The hand pump seems pretty basic but does the job… although I actually use an electric car pump to inflate my board because getting it to 15 PSI by hand is really tough (I'm very weak!!). I highly recommend an electric pump so you can save your energy for the actual paddle.
The rucksack, as I mentioned above, is comfy and feels built to last. One issue, though; I noticed the zip stuck a few times on first use, so it feels like it may not last forever. I'll keep an eye!
Finally – onto the paddle that comes with the Aquaplanet PACE. It's lightweight, comfy, and has a funky blue and black design. Plus the grip is very comfortable. Like the pump, it's a fairly basic paddle, but an ideal first option. I actually got a swanky new carbon fibre paddle for my birthday last year which I definitely prefer to the basic Aquaplanet Paddle, but you can always upgrade later on down the line.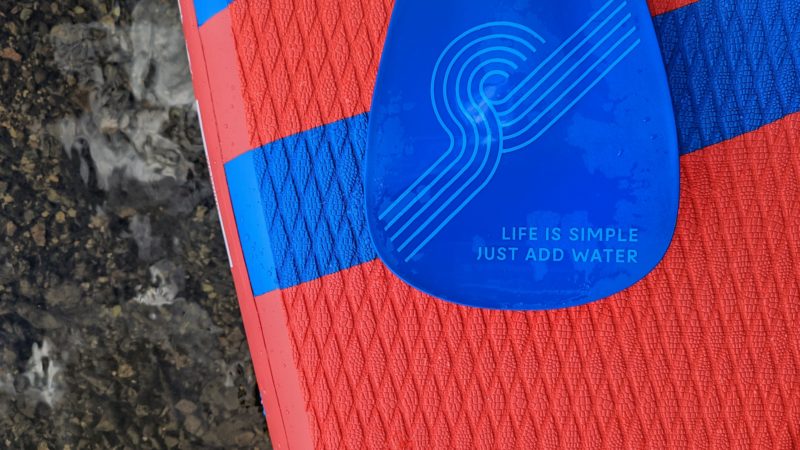 Is the Aquaplanet PACE Right for You?
Whether you're a complete beginner, or an enthusiastic paddleboarder looking for a solid new board, the Aquaplanet PACE is an ideal choice.
Because it's a great allrounder board, the PACE can suit a range of uses. If you're like me, and like to use your board in a variety of ways and settings, this is great. I like to SUP both on the sea and on rivers, I like to try yoga sometimes, tricks sometimes, play in waves sometimes, and take the occasional long-distance paddle.
If you have a specific interest – like racing, SUP surfing, or SUP yoga – you might want a board specifically designed for that activity. Aquaplanet have lots of other paddleboards, so you're sure to find one that suits.
But if you're more of a casual user and want to try a variety of activities, an allrounder like the Aquaplanet PACE is a much better option. And with such an affordable price point for the kit, it's an ideal first inflatable SUP.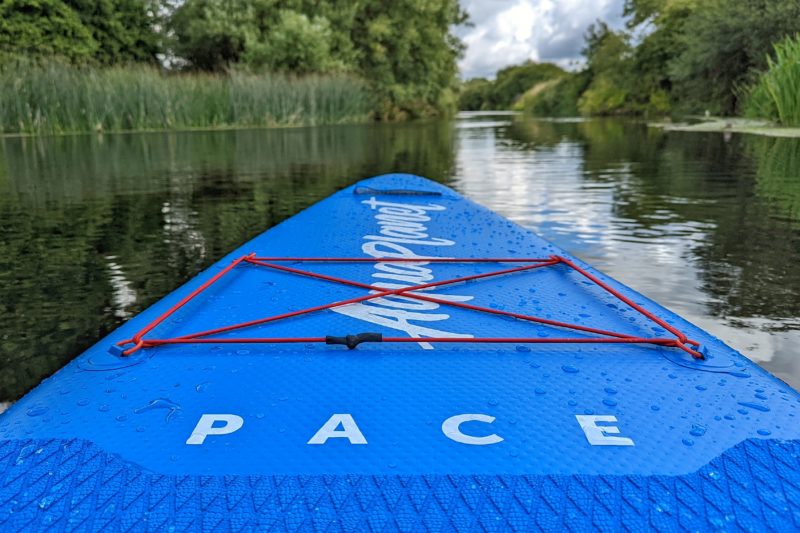 Got a question about this Aquaplanet PACE review? Feel free to leave a comment below!