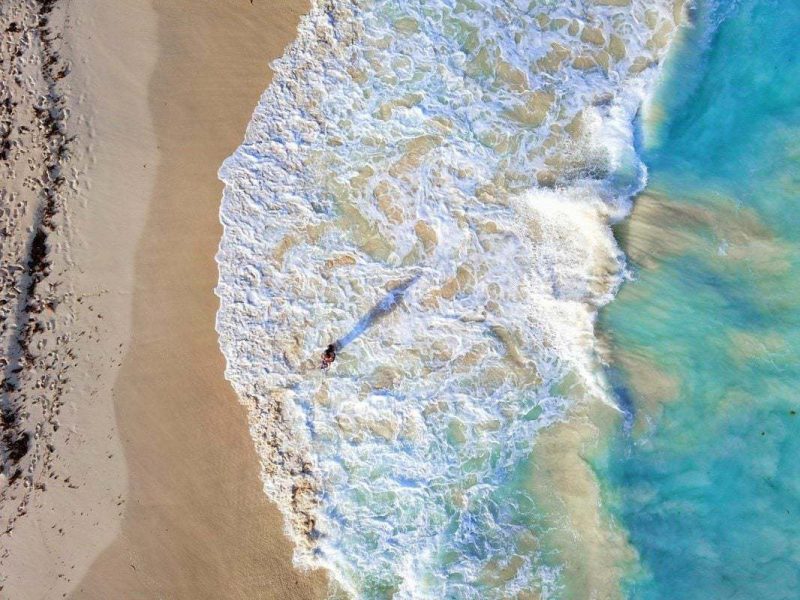 Happy 2018 everyone! I almost missed my December round up because I've been in that lovely Chritsmassy haze of cheese and chocolate and not knowing what day it is… but as of today I'm back to work and I have a LOT to catch up on. About 30 blog posts to be exact!
Let's start with the easy one, though, and talk about what I did in December. The last month of the year was a particularly busy one – especially compared with the fairly "take it easy" approach I normally have to travel. From Mexico, to the USA, back to Mexico, and finally to Cuba for three days before my flight home to the UK – to spend the final days of 2017 with family over Christmas. It was BUSY… but it was also loads of fun. Check out the highlights below.
PSST! Don't miss my 2017 travel round up to see the year in stats and highlights. Because who doesn't want to know how many beds I slept in last year?!
Mexico
My last week in Mexico was more of the same – living in Merida, hanging out with my amazing blogger family (Nathan of Foodie Flashpacker, Tom and Meg from Food Fun Travel, Nate from Travel Lemming and the lovely Every Steph) and working/eating/drinking my days away. We also found time to squeeze in one last little blogger road trip to the ruins at Uxmal. So much cooler than Chitchen Itza and with way less tourists – I highly recommend them if you get the chance!
New York
The penultimate week of my Americas adventure involved a very spontaneous last minute trip to the USA! I was feeling a bit Mexico'd-out, and wanted to try something different. And a few weeks before, I met someone who lives in New York, so feeling adventurous (and tipsy) I decided to book a flight and visit.
New York was freezing, snowy, and the perfect hit of Christmas after I'd been feeling a bit homesick in Mexico. I was lucky enough to be exploring with a City Pass, which meant I could visit some of the top attractions like the Rockerfeller Centre and the Empire State Building.
USA Rail Adventure
2017 was the year of trains for me – I took over 100 of them! So, wanting to see more of the USA and enjoy one last amazing train journey, I got in touch with Amtrak and they hooked me up with a ticket for the epic, 1377 mile long train ride from New York to New Orleans.
The 30-hour train ride actually lasted 34 hours thanks to some slight delays, but I wasn't in any hurry and I genuinely loved the experience. I'm going to write up a full blog post about it very soon, but in brief… it was awesome! We passed through 14 states, going from snow to sunshine as we chugged our way south. I was in a viewliner roomette, a private sleeper car, so I could just sit by myself working, reading, and just watching America go by out the window. Overnight the chairs turned into a bed, and I got a fantastic night's sleep rocked by the rhythm of the train. Genuinely one of my best experiences of the whole three month trip!
New Orleans
So why did I hop on a 30+ hour train ride to get myself to new Orleans?! To meet up with one of my favourite travel friends, Pam, in country number five for us. We met in Indonesia, hung out in Japan, got drunk in London, and spent Dia de Muertos together in Mexico… so when I knew I'd be in the states I had to find a way to hang out with her.
We spent a very short couple of days in New Orleans ticking off all the major experiences. By which I mean, eating everything from Po-boys to gumbo to beignets, then drinking way too many cocktails and racing from bar to bar to listen to live music. New Orleans is quite possibly my new favourite city in America – colourful, excessive, and totally unique. I loved it, and definitely want to go back soon!
Havana (na-na-na)
After a very short final weekend in Mexico, hanging out in Tulum with my blogger family, I flew to Havana – the very final stop on my Americas adventure. I have pretty mixed feelings about Havana. It's a place I've wanted to visit for ages, but I didn't love it as much as I thought I would.
Part of that was down to lack of research. I was lazy after months on the road and didn't bother to look into anything before I arrived. Which meant I got completely ripped off multiple times during my first 24 hours, until I got a bit more savvy. The city is really pretty in places, especially in the touristy historic centre, and I loved the colour, the art deco buildings, and the vintage cars. But I hated the smells, the dirty streets between the tourist areas, and the cat-calling which felt way more excessive (and aggressive) than anywhere else I've been in Latin America.
By the end of my first day I was ready to say that I hated Havana. But while I was sat in a park checking my map, I got chatting to a local lady named Lourdes and ended up spending about two hours with her. Not only did she explain the confusing dual currency to me (which is how I accidentally spent $30 on a $2 cab ride) but she took me to an exchange place and helped me swap some of my CUP for the local currency. She also bought me a juice and invited me for dinner at her house! Lourdes totally changed my perception and experience of Havana and I was really grateful to have met her.
And when Steph arrived on my last day we had a really fun few hours exploring the city. We even took a tour in an open-topped vintage car – which was the perfect way to see Havana!
The End!
I spent most of the last days of 2017 cocooned in blankets, eating chocolate, and complaining about how cold England is. And hanging out with my family! MASSIVE thank you to my dad for letting me stay in his house and eat his food. And for picking me up from the airport. And helping me move house twice this year… and basically for everything!
Oh – last big thing of the year. Just after Christmas I got myself a brand new tattoo. It's the rebel symbol from Star Wars and I flipping love it!
And that's it! December was busy busy busy but I loved it. And I cannot wait to start the new year now and see what I get up to!
How was your Christmas and New Year? What did you get up to this month? Leave me a comment and let me know!