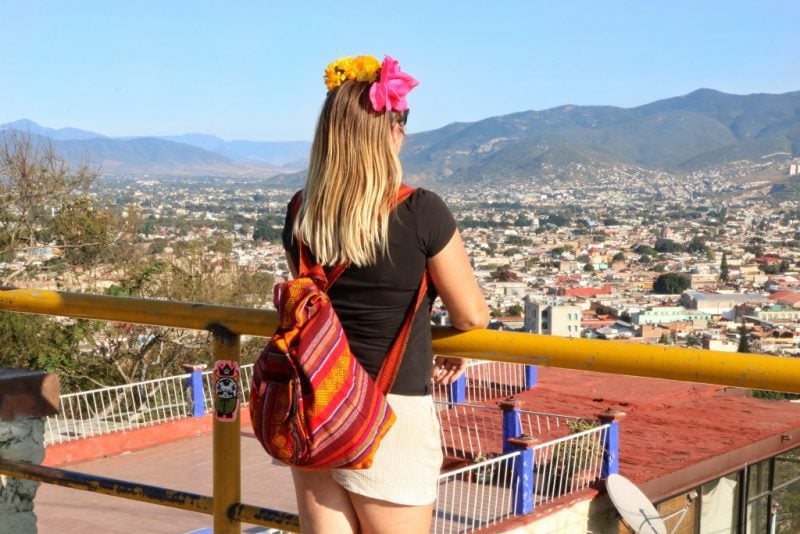 Buenos dias from Mexico, and welcome to yet another monthly round up.
It's been a very long month! Looking back it's hard to believe I fit everything into just November – pretty sure there was a whole extra month hiding sneakily in the middle of it. I started in Oaxaca, where I spent an amazing few days witnessing the Dia de los Muertos festivities, before high-tailing it to the coast in search of some much needed sun and sea time with a couple of friends. Then it was off to Miami for a week with one of my all time blogger besties, Wanderlust Chloe, and then I flew back to Mexico to come to Merida, where I've been living for about the last two weeks.
Oaxaca
Witnessing Dia de los Muertos in Mexico has been on my travel wish list for years, and I planned my whole trip around the fiesta. It was an amazing experience. We visited a cemetery after dark to see the beautiful alters lit with flickering candles. We had our faces painted with the La Catrina skull makeup and watched the parades and got stuck in partying with the locals. The whole week was a whirlwind of colour and craziness and I loved every second.
Puerto Escondido and Mazunte
With it's touristy bar strips and rocky coast, Puerto Escondido has a bit of a Mediterranean resort vibe, and it was the perfect place to spend a few days chilling out. The seafood was good, I was with some great friends, and the beaches were amazing. That is, I thought they were… until I got to Mazunte.
That place is unreal! I stayed in one of the coolest hostels I've ever been to, Cabanas Balamjuyuc. It's up on a cliff above the beach, where the dorm rooms were upstairs in wooden huts which were completely open at the front, with a small wooden deck jutting out over the cliff. From the ancient, weather-beaten car seats on the deck I could sit and watch the sunrise over the sea in the morning, and two nights in a row I watched an enormous orange moon rise after night fell. I could have sat up on that deck all night listening to the sea and staring at the stars.
Miami
Miami was a bit of a mini break from my backpacking trip. Chloe was heading over for a press trip, and since the flights are pretty short and cheap, I popped up there to hang out with her for a week of food, fun, and me endlessly singing the classic Will Smith song. Sorry Chloe.
(I'm not sorry).
I have loads of great pictures and more to share from that trip so I'll save all that for another post. But you should definitely check out Chloe's Miami video in the meantime to see just how fun and colourful that city is.
Merida
This is my second time in Merida (remember when I made that horrendously cheesy video?) and my time here has mostly been spent living in an Airbnb, catching up on work, and hanging out with a bunch of friends old and new. Tom and Meg of Food Fun Travel live here, and also in town is one of my favourite people to eat accidental feasts with, Foodie Flashpacker Nathan. Since getting here, I've been working pretty hard (for the first time in a while if I'm honest) but we've still had a ton of fun…
There was a blogger road trip to Valladolid and Chitchen Itza, with lots of cenote swimming and some dream  car DJ-ing from yours truly. I mean if you didn't spend the whole time singing along to No Scrubs and Independant Women have you even really been on a road trip? I also went to my first ever Thanksgiving party last week with some lovely people – big thanks to the lovely Kim and Tyler for hosting me. Last night we went to the Yucatan State Fair which was unexpectedly awesome – rides, an entire farm for some reason, lots of food, and some epic fairground games. Oh, and in the past couple of weeks we've also eaten so much that I'm not sure I'll ever be hungry again* (mostly thanks to Meg and Tom and their amazing knowledge of the best local food).
*obviously utter nonsense, I'm hungry right now.
Where Next?
This is the exciting bit! I have a couple of weeks left here in Mexico (and I'm REALLY struggling to decide where to go). Then I'm heading to Havana in Cuba for three days before my flight back to the UK (just in time for Christmas). I've never been and I'm very excited to get a glimpse of such an intriguing country.
Fun fact about me – I suck at making decisions! And I'm not quite sure where to spend the two weeks or so before my flight to Havana. So if you have any suggestions for where I should spend my time until the 18th December I'd love to hear them. 
How was November for you? Scroll down to leave a comment and let me know!