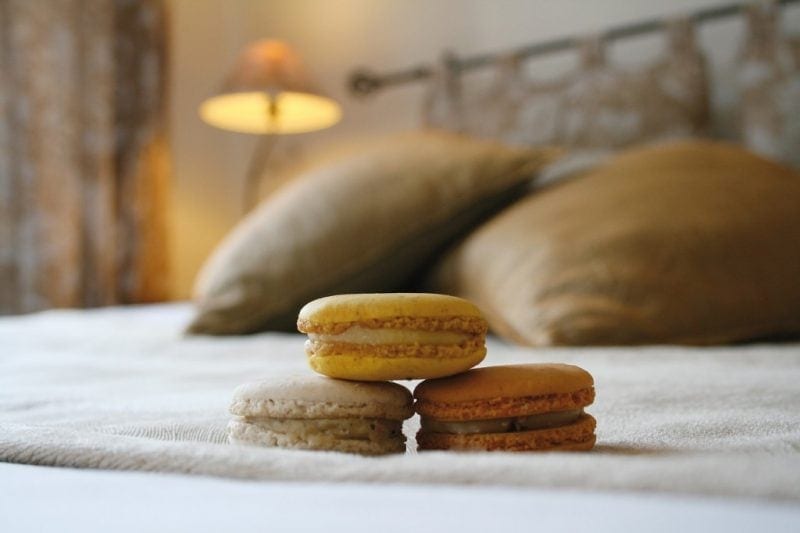 This year, I've stayed in over 100 different beds. That's counting every place I've slept – from beautiful boutique hotels and swanky all-inclusives, to friends' sofas, plane seats, and at least one floor! It's been a very well-travelled year and there have been some truly amazing hotels as part of that.
To celebrate their new refer-a-friend scheme, Booking.com asked me to write a blog post about my favourite hotels of the year. And given that it's nearly the end of December this seemed like the perfect time to reflect.
As for the refer a friend scheme with Booking.com – you can get £20 off your next booking just by clicking on Booking.com. You don't even have to be a new customer; the reward still applies even if you already have an account.
Spitbank Fort – Portsmouth, UK
Without a doubt the most unique place I stayed this year – in fact maybe ever – was Spitbank Fort. A circular, Victorian fort in the sea off the coast of Portsmouth, Spitbank can only be reached by boat and there are just 8 rooms, so it feels pretty exclusive. It's also dripping with history, inhabited by at least one ghost, and filled with so many antiques and quirky furnishings that I felt like I was living inside a museum. Throw in a great champagne bar, one incredible restaurant, and some gorgeously decorated suites – all with ocean views, of course – and you have one incredible hotel experience.
Check out my Spitbank Fort review to read the all about the whole experience.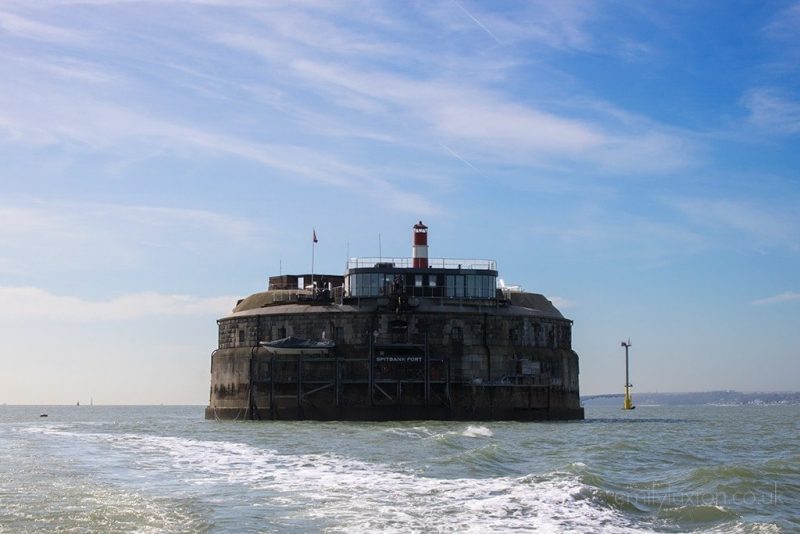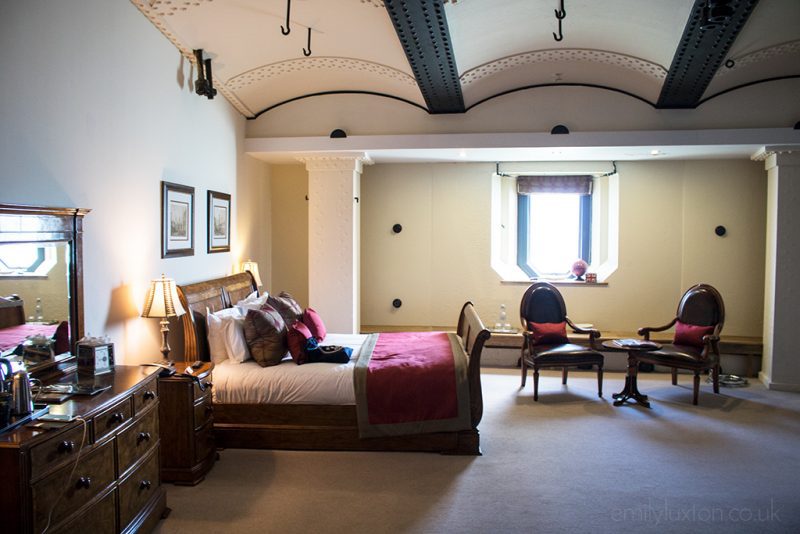 El Zopilote – Ometepe, Nicaragua
It's not just the insanely luxurious hotels that have stood out for me. My time at El Zopilote in Nicaragua is one of the absolute highlights of the year for me and definitely one of the best hostels I've ever stayed in.
A working eco-farm in the jungles of Isla Ometepe, the hostel has private rooms and dorms, both of which are found inside basic wooden huts dotted around the farm and forest. I spent a week here, taking outdoor showers beneath the gaze of colourful parrots, doing yoga, and eating some seriously tasty, home-grown organic food. The sense of community is amazing and the twice-weekly outdoor pizza nights are a must.
Read more in my post on the top 8 things to do on Isla Ometepe and in my more personal post about my week there.
Hotel Maria del Mar – Tulum, Mexico
One of the prettiest hotels I stayed at this year was the gorgeous Maria del Mar, an adults-only boutique hotel in oh-so-trendy Tulum. I've been to Mexico twice this year and spent a lot of time exploring the country, and Tulum was one of my favourite stops. And Hotel Maria del Mar is the epitome of Tulum… trendy, minimalist, and all kinds of pretty. I loved the multi-layered terrace area overlooking the sea, which was perfect for relaxing, and the interiors are the perfect blend of chic modernity and local tradition.
Check out my review of Hotel Maria del Mar for more information and pictures.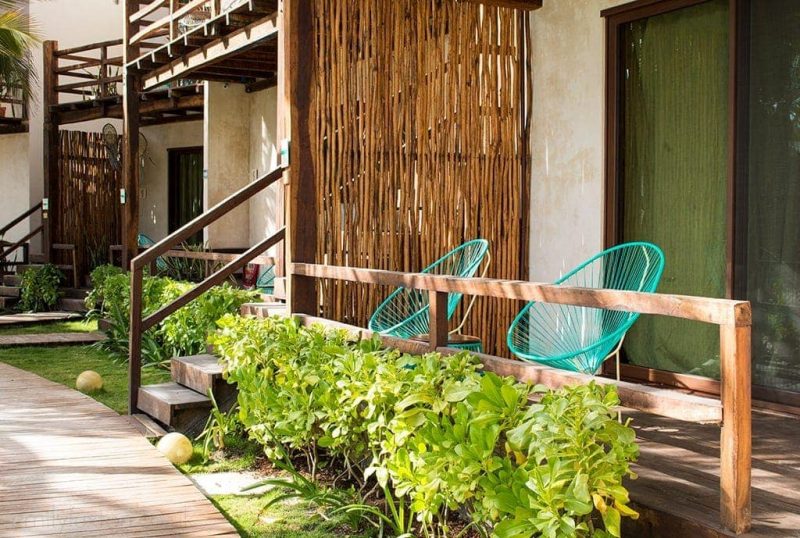 La Ceiba – Puerto Viejo, Costa Rica
A beautiful, tree-house style villa in the middle of the rainforest… could there be a more perfect way to experience Costa Rica's incredible nature? La Ceiba is one of two villas situated at the Jaguar Rescue Center's release station in the forest. The centre are well known for their amazing work rescuing and rehabilitating wildlife, especially baby sloths, and La Ceiba is the perfect way to get as close to the action as possible. Take a tour to see the local wildlife and find out more about how the Rescue Center release animals when they're ready – then spend the night in total seclusion, listening to the sounds of the jungle!
Read the full post about my La Ceiba experience here!
Meghauli Serai Taj Safari – Chitwan, Nepal
Speaking of the jungle, the stunning Meghauli Serai safari lodge in Chitwan National Park is the perfect way to experience Nepal's jungle. Definitely one of the most impressive hotels I stayed at this year, Meghauli Serai is part of the famous Taj Safaris group and is every bit as special as you'd expect. My villa was so stunning I almost cried, particularly at the private pool overlooking the river. Plus, the safari experience here was incredible – thanks to our great guides we saw loads of wildlife and got amazingly close to several white rhino.
Check my Meghauli Serai review to find out more!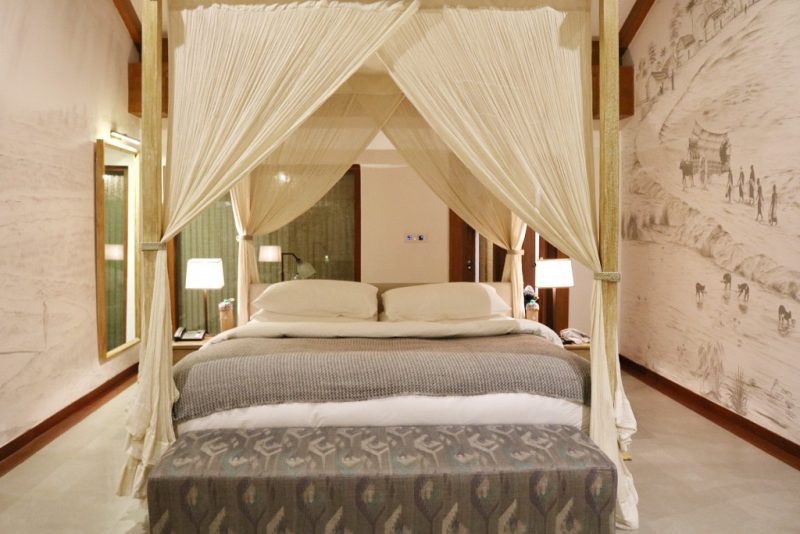 Elk Island Otentik – Edmonton, Canada
One of the most unexpected highlights of the year was glamping in Edmonton's Elk Island National Park. Along with my favourite travel blogging buddy, Wanderlust Chloe, I spent a night in a beautiful Otentik, a huge canvas tent with wooden floors, proper beds, and a table and chairs. We also had our own gas barbecue and fire-pit outside which we used to prepare a feast of hot dogs, prosecco, and smores. The national park itself is beautiful too – well worth exploring.
Read all about Elk Island National Park and our camping experience in my post!
What were your favourite hotel stays of the past year? Let me know in the comments so I can add to my 2018 travel wish list!
And don't forget to click my Booking.com link to get £20 off your next booking! Happy travels everyone.