Some posts on this site contain affiliate links. If you book or buy something through these links, I earn a small commission (at no extra cost to you). Take a look at my privacy policy for more information.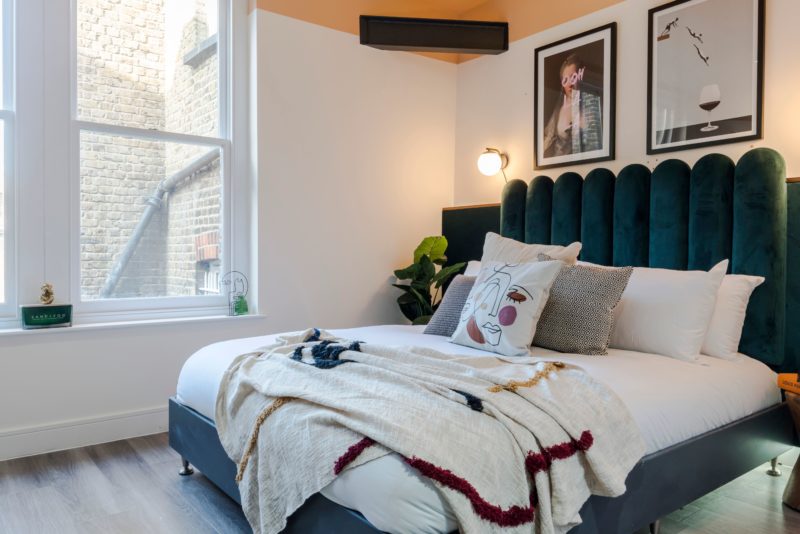 Looking for affordable – but good quality – serviced apartments in south London? Boasting an amazing central location and seriously cool decor, Your Apartment Brixton is IDEAL!
Your Apartment's collection of 10 boutique serviced studio apartments in Brixton are comfy, cosy little homes-away-from-home with quirky, colourful decor and all the amenities you could need for a short break in London.
Expect fun design touches, industrial-chic vibes, and some bright splashes of colour reflecting the colourful neighbourhood outside.
I stayed in Your Apartment Brixton for three nights on my recent trip to London and absolutely loved my time there. So nice to be right in the thick of such a vibrant, lively neighbourhood – but still have a tranquil space to retreat to at the end of a long day exploring.
My stay was complimentary, but the following Your Apartment Brixton review is totally honest. I'd happily recommend these fab serviced apartments in south London.
WIN!!!! I'm giving away a FREE stay for two at Your Apartment Brixton over on my Instagram page! More details at the end of this post.
Your Apartment Brixton – A Review
Location: Serviced apartments in the heart of South London
Right in the heart of Brixton, these serviced apartments are in an ideal location for exploring south London.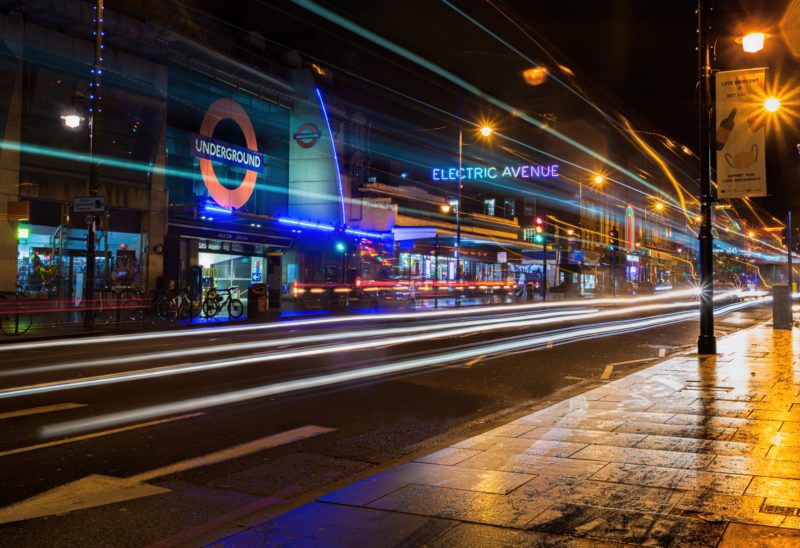 The block of 10 apartments is right on the main street, no more than 2 minutes from Brixton tube station and right opposite the iconic Ritzy cinema.
So you're super well connected with the rest of London, and can get into the city centre easily. Oxford Street is 15 minutes away on the Victoria Line, Westminster is 20 minutes, and the museums around Kensington are about 30 minutes, to give you an idea.
Brixton itself is one of my favourite neighbourhoods in London. I used to live here in my mid-20s, before I quit my job to go travelling! This vibrant, ethnically-diverse neighbourhood is known for its markets, live music venues, and incredible food scene. Check out this guide to the best things to do in Brixton to see what's in store!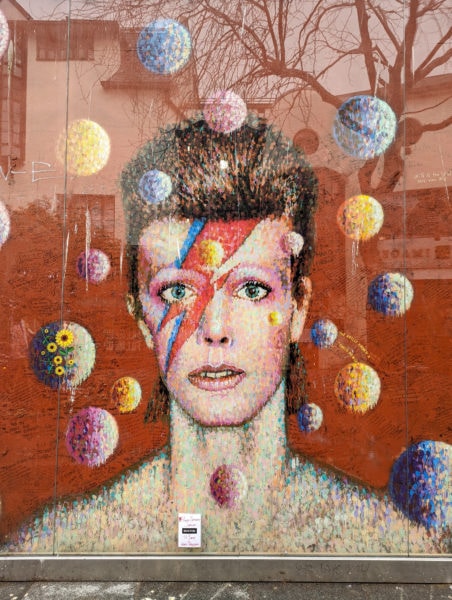 Character: Industrial-chic vibes
The look of the Your Apartment property is simple and stylish, with a grey colour scheme in the corridors and lots of funky artwork lining the walls.
It's an old building that's been converted, so feels very characterful. That also means a few downsides, like a pretty narrow entry-way, and no lift. But overall it's got a really cool vibe, and feel very much a part of the funky Brixton neighbourhood.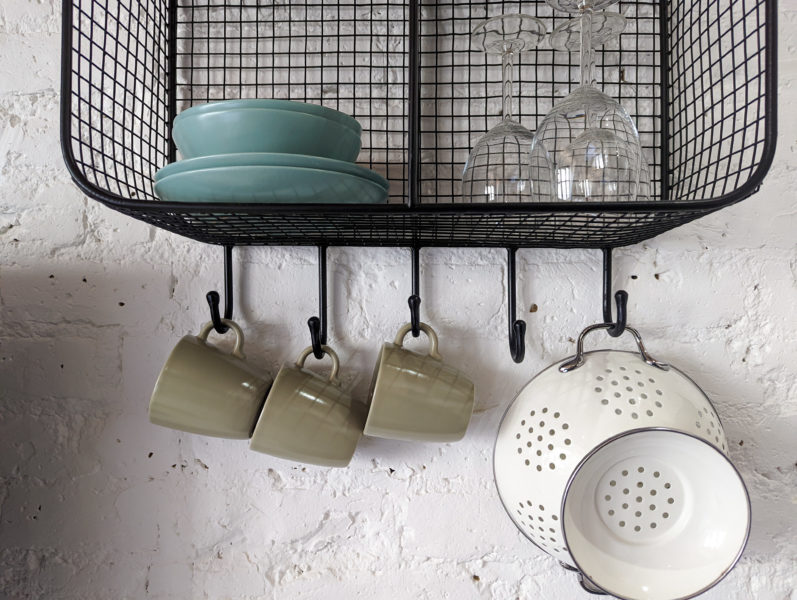 Everything at Your Apartment is designed for convenience and ease. There's no check-in at the property as everything is beyond contactless! Instead, you check in online before arriving, and they'll send you the entry codes. There's one to enter the building, and another to access your room. No room keys, no check-in queues, no paperwork… easy!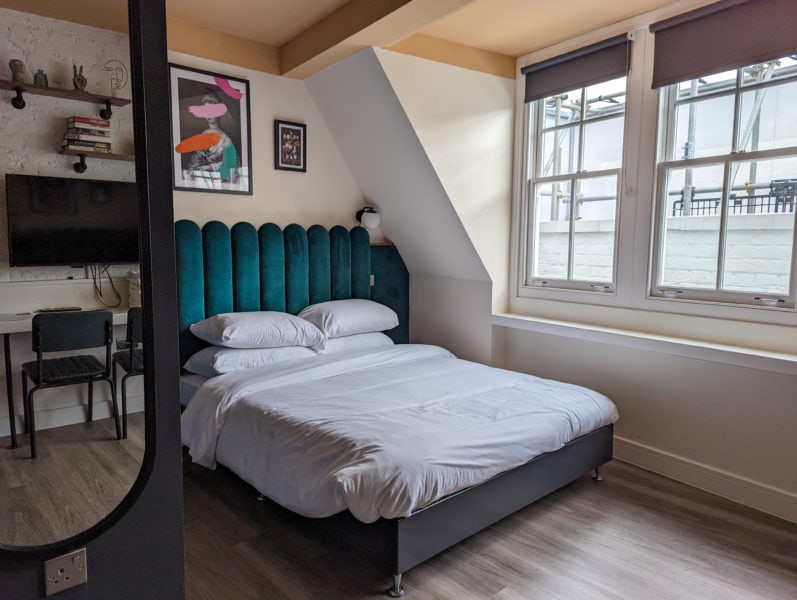 Rooms: Comfy, home-from-home studios
I stayed in one of the Pinky King Studios at Your Apartment Brixton. All the studios are the same price and size, and there are two colour schemes to choose from.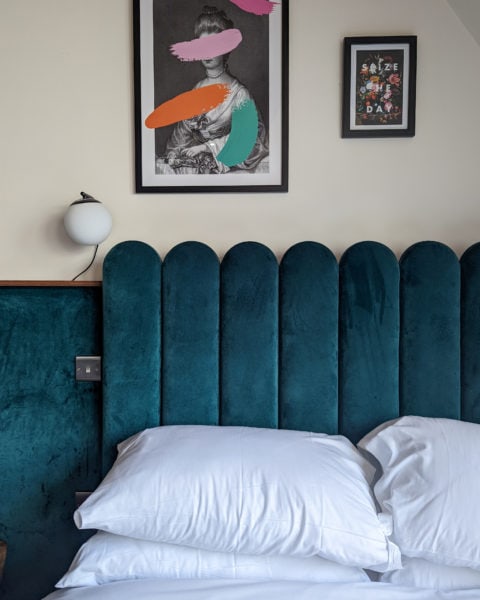 The room came with a super-comfy king-sized bed, a compact (but very nice) bathroom, a large storage cupboard, a flat-screen TV, and a small kitchenette.
At 25sqm the studios are actually pretty roomy, bigger than quite a few of the budget hotel rooms I've stayed in in London.
One thing I didn't like was not being able to pack the ironing board away – the awkward shape of the cupboard meant it didn't fit! But that was a very minor design flaw in an otherwise well-thought-out room with lots of space and storage.
Soundproofing from the corridor wasn't great, but with only four other rooms on my floor, it was quite rare to be disturbed. And up on the 3rd floor, there wasn't too much street noise, so in general, my room felt pretty peaceful.
I loved all the little touches! Like the shelves lined with cute knickknacks, the funky posters on the walls, and the emerald green velvet headboard. And there were lots of handy amenities, too: a hairdryer, light-up bathroom mirror, and a smart TV with Netflix already signed in, just to name a few. It all felt so much more homely than a budget hotel room!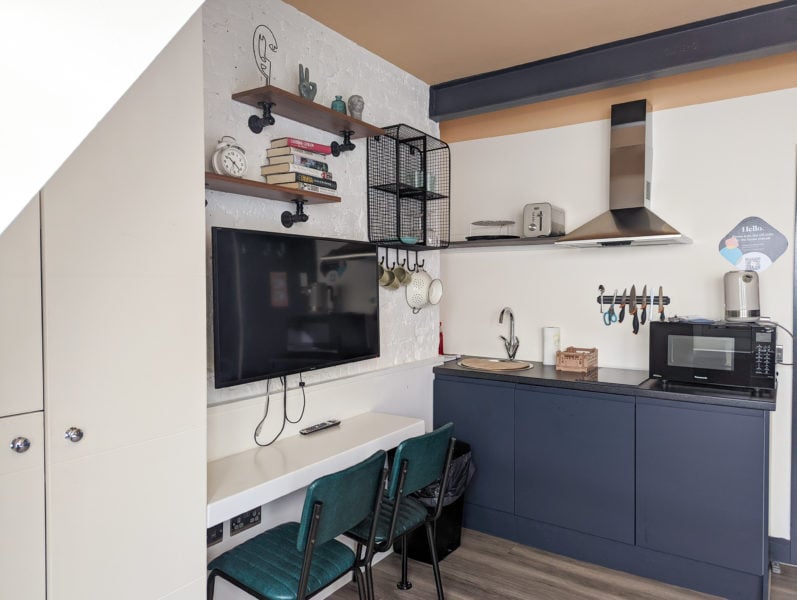 Kitchenette
The little kitchen area in my studio had a decent-sized fridge with a small freezer section, a microwave, a two-burner electric hob, a kettle, a toaster, and all the plates, cutlery and cooking utensils you'd need for a short stay.
They also provide salt and pepper shakers, but nothing else in terms of food prep. I think it would be nice to include a few more basics like coffee, sugar, cooking oil, etc. Would just make life easier, especially for people staying a couple of nights.
Of course, you could just do what I did and use it as an excuse to explore Brixton's awesome and diverse food scene instead of cooking!
Facilities: Got the basics covered!
In terms of facilities, there's not too much beyond the apartments at Your Apartment Brixton. But I see this more as a very cool and comfy place to spend the night – which is perfect because in London you're generally way too busy to spend much time in your accommodation.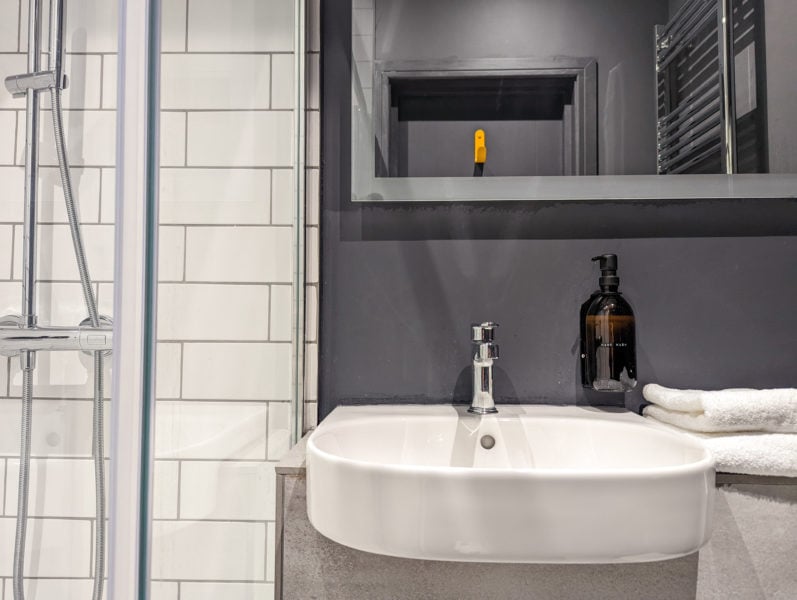 What they do have is a small communal kitchen area with an oven (in case you need more than the hob and microwave) and laundry facilities. Ideal if you're staying a little longer and want to do some washing!
It's worth noting that there's no lift, and all the apartments are on the 2nd or 3rd floors.
As mentioned before, it's a contactless check-in, and there are no staff on site. But you can reach them really easily via email, phone, and WhatsApp. They send all the contact info in an email when you check-in online.
Rooms aren't cleaned every day, but you can request a clean – and if there's anything you need you can easily reach out to the customer service team at Your Apartment.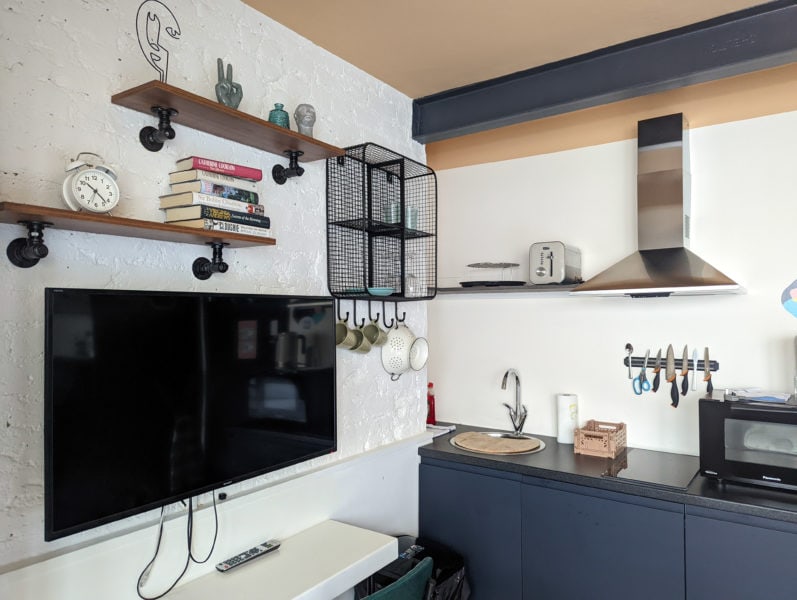 Final Thoughts
These are comfy, cosy little studios that combine the cute decor of a boutique hotel with the practicalities and convenience of a serviced apartment.
I'm also really impressed by the price point. When I've stayed in London hotels for a similar price, it's usually been very small and very bland rooms. The kind where you pay extra for a window!
With Your Apartment, it felt like I was getting a lot more for my money – along with the added benefit of being able to cook my own food (or order takeaway and eat it in my PJ's).
This is a really affordable place to stay in south London, but one that doesn't compromise on style or personality. I'll definitely be back!
Your Apartment Brixton: The Details
Your Apartment – Brixton
Brixton Road
London, SW9
Phone: 0117 3018 444
If you book direct, you can access discounts for stays of 7 nights or longer, and you can also request early check-in and late check out with no extra charge!
Your Apartment also have serviced apartments in Bristol, with new locations coming soon including Cardiff and Liverpool.
Giveaway
Right now, I'm running a giveaway on my Instagram page to WIN a free stay for two at Your Apartment Brixton. All you have to do is follow both our accounts on Instagram and leave a comment on the photo below.