Some posts on this site contain affiliate links. If you book or buy something through these links, I earn a small commission (at no extra cost to you). Take a look at my privacy policy for more information.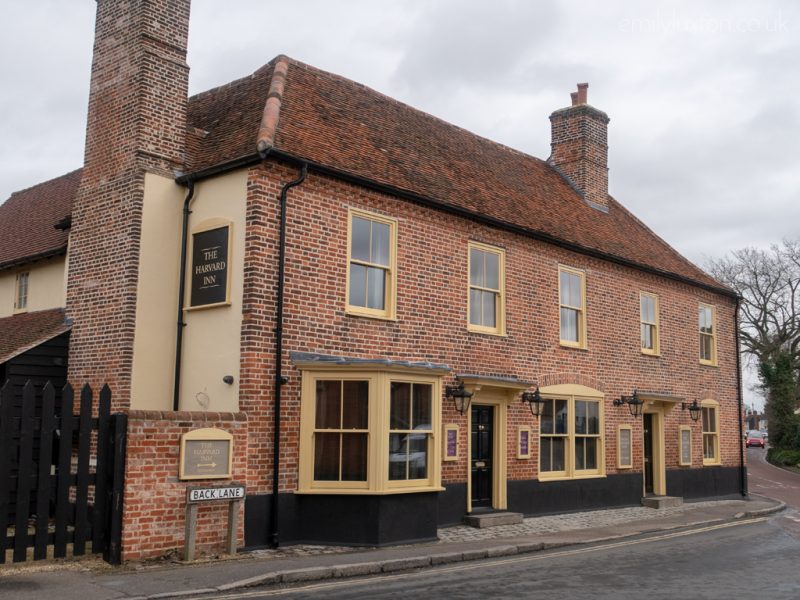 This month, I had the pleasure of visiting The Harvard Inn, Stock – a historic hotel and pub at the heart of a pretty little village in Essex. The hotel has recently taken on an exciting new head chef for their cosy restaurant, and he just so happens to be my little brother! So my stay was partly a review, partly a personal visit – and completely lovely.
I spent one night at the inn, and enjoyed an amazing meal in the restaurant. It was the perfect little getaway; a relaxing hotel in a quiet village, close to some picturesque green spaces for walking. If you're looking for an escape from London that isn't as busy as popular spots like the New Forest or the Cotswolds, Stock is the ideal option. And The Harvard Inn is the perfect place to stay when you get there!
The Harvard Inn Stock – My Review
My visit to The Harvard Inn Stock was complimentary, in exchange for an honest review. Also, as mentioned, my brother is the head chef in the restaurant. However, all words and opinions are my own and without bias (I promise!).
Location: Unwind in the Essex Countryside
I'll be honest, the village of Stock is not what I picture when I think of Essex. I don't really think of the county as a countryside destination, but there are some beautiful spots in the area and Stock is one of them. The little village is really pretty; filled with historic stone cottages, several lovely churches, and a 19th century windmill. It's the qunitessential idyllic English village, and perfect for a countryside escape. There are several woodlands and nature reserves nearby, like Norsey Wood, Hanningfield Reservoir, and Mill Meadows. So you can get out and explore the natural beauty of the area, before returning for a slap-up pub dinner!
From central London, it's just over an hour's drive to Stock. Or, you can hop on a train to Billericay at Liverpool Street Station, then take a bus or taxi the ten minute drive to Stock. So it's within really easy reach, making this the perfect weekend escape from London.
Character: Good Old British Charm
If you're spending a weekend enjoying the Great British countryside, you want a hotel that oozes British charm to match. The Harvard Inn definitely delivers on that front!
The inn dates back to the 15th century, and although it had a complete refurb when it was reopened four years ago, many of the original features still remain. Exposed wooden beams and heavy wood flooring are paired with cream walls and bright, purple trim for a lovely mixture of contemporary and historic – without looking too heavy. The pub looks like a "proper" British pub – lots of dark wood furnishings and sconced lighting – and there was a lovely atmosphere on the night I was in. The staff were also really friendly; and not just because I was Aidan's sister! I noticed them chatting to all the other guests, and the vibe felt really welcoming. Just what you need from a country pub!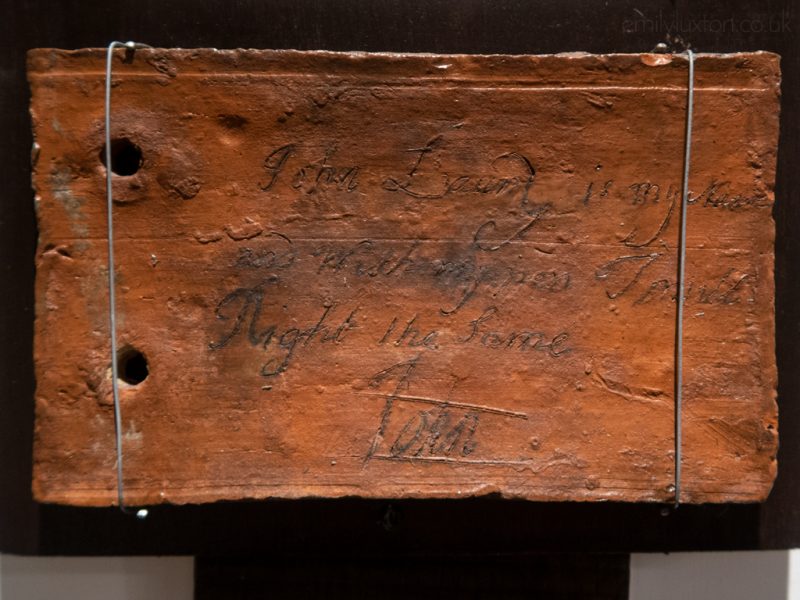 Speaking of the history of the inn, one thing I thought was really cool were the little nods to the building's origins. Over reception there's a board signed by one of the original builders, which was uncovered when the refurbishment was being done. They also have the tile pictured above, which was inscribed by another of the builders or tile makers. There's a lot of history within the inn's walls – as well as the inevitable ghost stories that seem to cling to every old pub in Britain – and I think The Harvard Inn have done a great job of creating a really modern feel with their decor, whilst still retaining some of that historic character.
Rooms: Spacious and Tranquil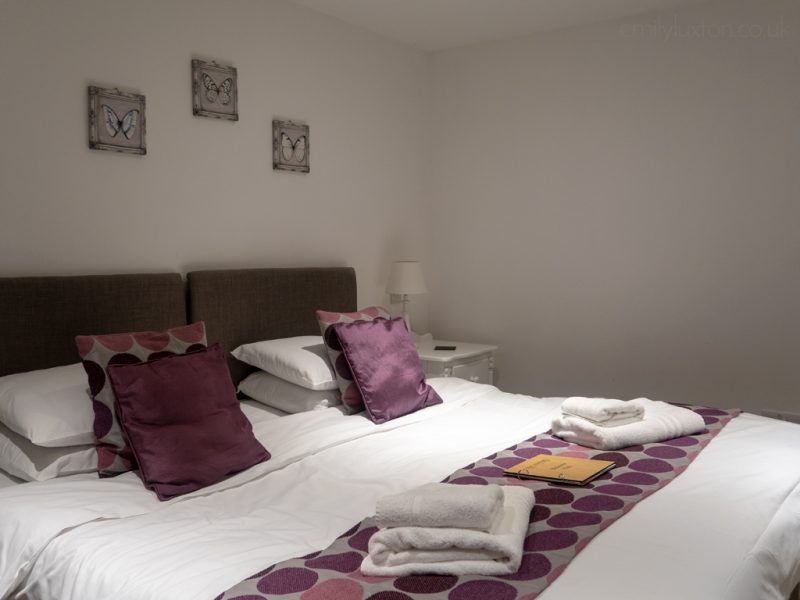 I stayed in one of the standard rooms, in the converted stable building behind the inn itself. Although smaller than the deluxe rooms, it was still pretty spacious, and I loved the light, airy design. The one downside is that these rooms don't really reflect the historic character of the inn. But with cream walls and a light feel throughout, relaxation was definitely front and centre, and everything felt really tranquil.
If you want an extra special experience, the deluxe rooms are absolutely beautiful. I had a sneak peek into one of them and it was stunning; with wooden beams and cream walls, an exposed brick fireplace, and tons of space. The bathroom was gorgeous, too, with an old-fashioned, high-level loo to complete the picture!
All the rooms had light, bright decor and were really clean and well presented. And the beds were enormous – definitely a highlight for me.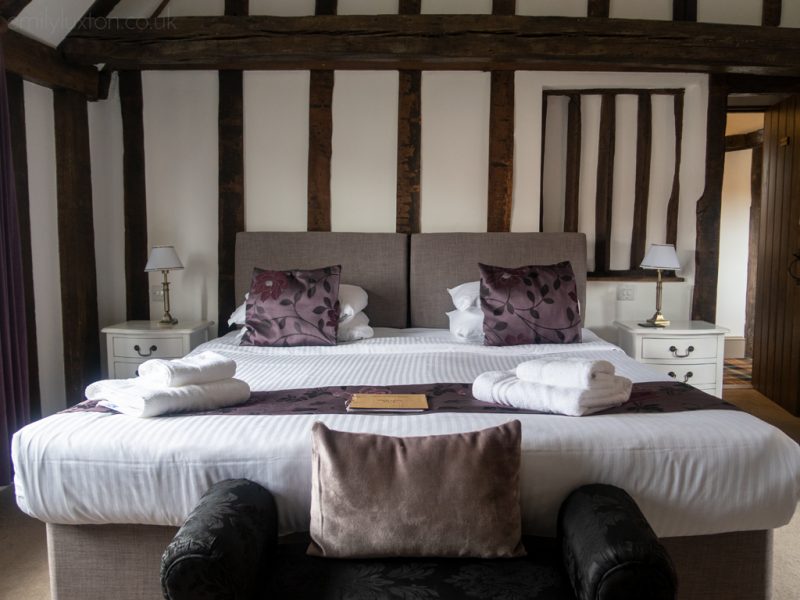 Food and Drink: Elevated British Classics (from an amazing head chef!)
My brother has been working as a chef for years now, but it wasn't until this Christmas that I discovered what a brilliant chef he actually is. Younger siblings can really catch you by surprise when they grow up and get good at things!
The week I visited, head chef Aidan had just launched a new, pared-down menu focusing on the things The Harvard Inn does really well. That's mostly British pub classics, but with an elevated twist – and the result was a great list of tasty dishes.
Aidan says he's made the menu smaller, so they can focus more on the specials board – which changes daily. There's a great focus on local produce and seasonality, and the specials are often more creative and quirky. The inn also sources game meat from local hunters, depending on the season: when I visited there was a pheasant sausage roll on the specials board. I had the braised ox cheek – on a bed of red cabbage and horseradish mash – it was absolutely amazing (although hard to photograph!).
Food is definitely at the heart of what makes a stay at The Harvard Inn great. If you're in the area be sure to swing by the restaurant for a meal – I'm sure you won't be disappointed. And send my compliments to the chef!
Details
The Harvard Inn
High Street
Stock, Essex
CM4 9BJ
Phone: 01277 840008
Email: [email protected]