Some posts on this site contain affiliate links. If you book or buy something through these links, I earn a small commission (at no extra cost to you). Take a look at my privacy policy for more information.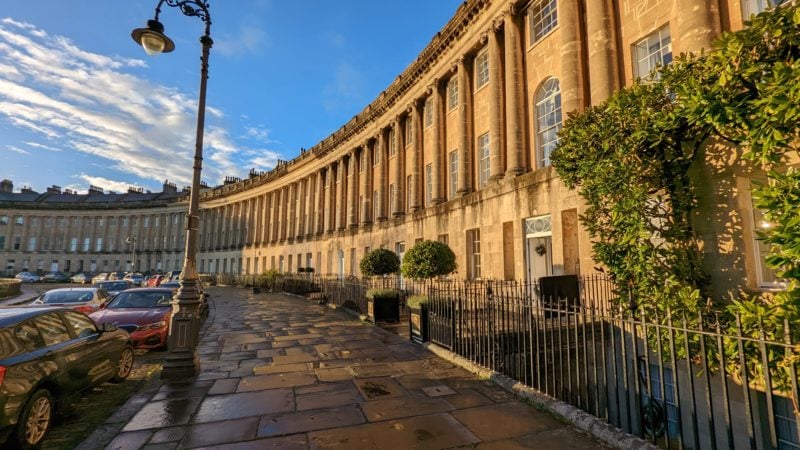 Fancy a glamorous getaway in Bath with regal, Regency vibes and lots of history? The Royal Crescent Hotel and Spa is perfect.
Housed within the iconic Royal Crescent with gorgeous views across the city centre, this gorgeous hotel beautifully embraces the spirit of Bath; a city of stunning Georgian architecture, classic English charm, and relaxing spas.
I was lucky enough to stay at the Royal Crescent Hotel recently in order to research this review. And let me tell you – this is easily one of the best places to stay in Bath. I really did feel like royalty from the moment I arrived at this beautifully grand, Georgian property.
My stay at the Royal Crescent Hotel coincided with their Taittinger Dinner – a special, multi-course meal with champagne pairings. I'll share more details about that fantastic event towards the end of this post.
First, though, here's my review of this incredible hotel in Bath – ideal for a very special city break…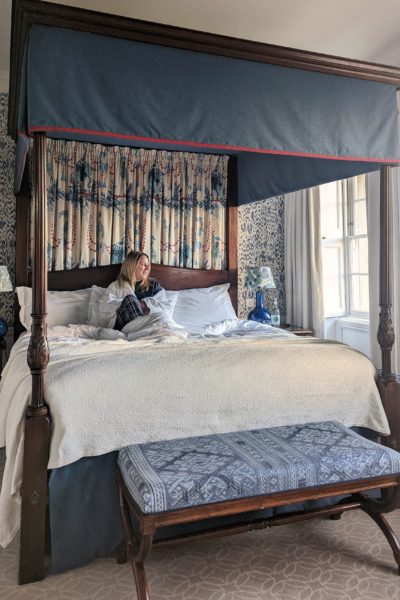 Review of the Royal Crescent Hotel & Spa Bath
My stay was complimentary, but the following Royal Crescent Hotel & Spa review is totally honest. I'd happily recommend this as one of the best places to stay in Bath.
Location: The Most Iconic Address in Bath
One of the best things about the Royal Crescent Hotel & Spa is its incredible location. This stunning hotel sits right at the heart of the iconic Royal Crescent – one of the most famous architectural spots in Bath's city centre.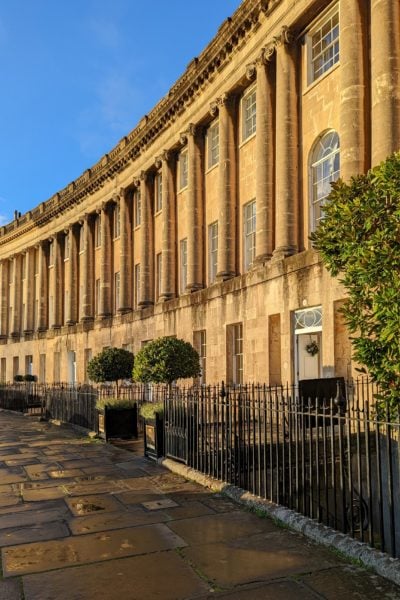 You may recognise this crescent-shaped sweep of identical honey-coloured townhouses. It's had a background role in a number of film and TV pieces, especially period dramas like The Duchess (2008) and Vanity Fair (1967). More recently, the Royal Crescent starred as the home of the Featherington family in the hit Netflix series Bridgerton!
As well as being a stunning example of Bath's Regency-era architecture, the Royal Crescent is also ideally situated right in the city centre. Here, you're just a five minute walk from the top of the high street and less than 15 minutes walk to attractions like Thermae Bath Spa and the ancient Roman Baths.
Character: Grand, Period-Drama Vibes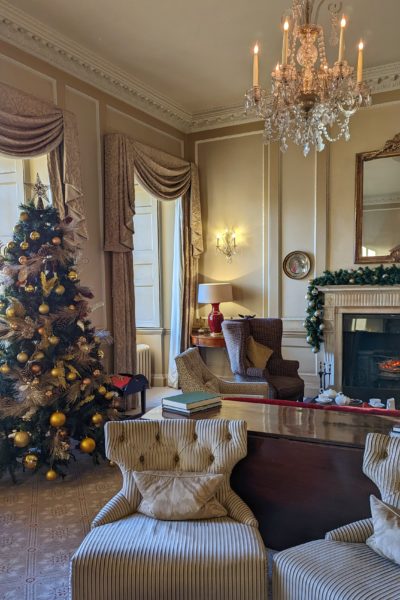 The Royal Crescent is one of Bath's most famous attractions: 30 terraced houses built between 1767 and 1775 by one of the city's most famous architects, John Wood the Younger.
Staying at the Royal Crescent Hotel means staying right at the heart of this piece of history. And the hotel's interior fully embraces that regency-era charm with luxurious antique furnishings, original fixtures and grand vibes. This isn't just a place to stay, but a destination in it's own right – one that feels like stepping back in time to live out your favourite period drama!
There's heritage everywhere, but it doesn't feel stuffy. This hotel strikes exactly the right balance between luxurious and welcoming. The same can be said of the service: polite, attentive, and incredibly friendly. You can expect a warm, West-Country-welcome here while still feeling like royalty!
Rooms: Luxurious City Break Escapes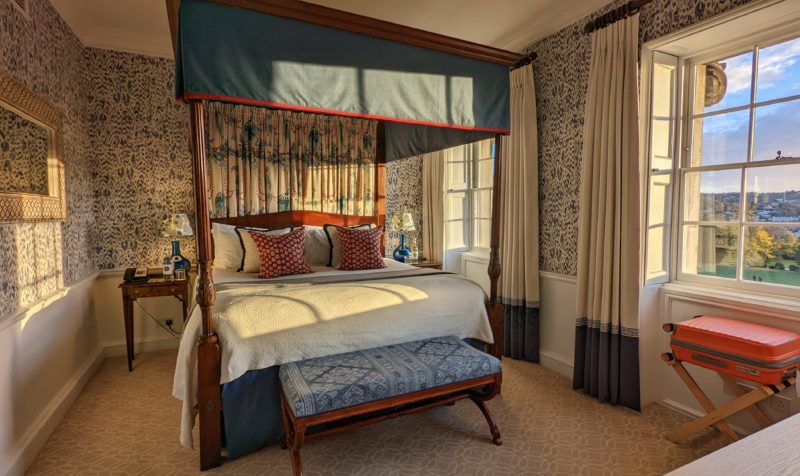 There are 45 bedrooms and suites at the Royal Crescent Hotel in Bath. All of them were individually designed by interior designer Jane Clayton, so every room has its own personality.
Again, the decor strikes just the right balance; capturing the hotel's incredible heritage while also feeling fresh and modern.
I stayed in one of the Deluxe Suites: perfect for the ultimate royal experience! This was a large room with a spacious lounge for relaxing, a beautiful bedroom in calming blue tones, and a modern bathroom complete with double sinks. Waking up in my four poster bed to views of the historic Royal Crescent lawns out the window was a very special experience.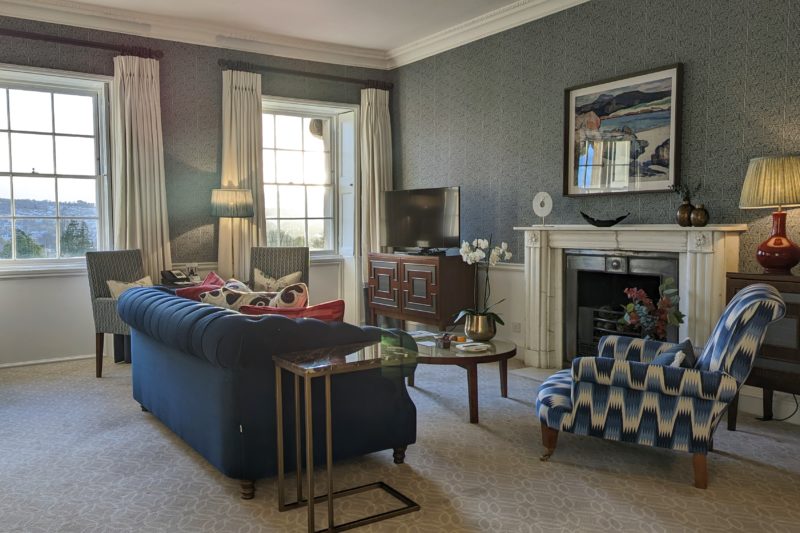 There are also elegant Master Suites (the next level up) and the incredible Garden Villa (a private residence). Then there are the bedrooms: stating from the cosy, characterful Deluxe Bedrooms and going up to the grand and spacious Master Bedrooms.
Food & Drink: West Country Flavours
The Dower House Restaurant sits within the Royal Crescent Hotel's gardens, so there are lovely views – and you can dine outdoors when the weather is good. The restaurant will soon be having a makeover, so I won't dwell to much on what it looked like while I was there, but it's a gorgeous setting for a special dining experience.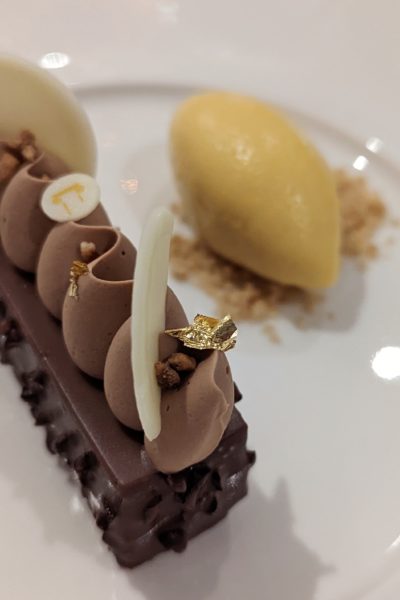 Head chef Martin Blake and his team craft incredible "farm to fork" style fine-dining menus focusing on locally and sustainably sourced ingredients. They also offer a six-course tasting menu to showcase the very best of everything. Everything was both beautiful and delicious: a Michelin Star can't be far away!
Even breakfast was fantastic; with a great menu to suit all tastes, and those gorgeous garden views creating a lovely tranquil setting to start the day.
Facilities: Relax at the Royal Crescent's Gorgeous Spa
Bath has been a spa city since the Ancient Romans first discovered the hot springs there! This is the place to come to relax, indulge, and rejuvenate. And the Royal Crescent Hotel is the perfect setting for that.
The Spa & Bath House here is exquisite. It's quite a small space, but perfectly formed and beautifully designed, with a small relaxation pool, a large hot tub, a steam room and a sauna to enjoy in the wet spa.
I had a massage treatment during my stay at the Royal Crescent Hotel & Spa and it was truly fantastic. The service was perfect and it was the ideal way to round off a lovely city break – especially after rushing around Bath taking in all the sights!
The hotel's other notable facility is the garden. Surprisingly for a city centre hotel, there's one acre of gardens to explore behind the Royal Crescent. These are a beautiful space at any time of year, but I think they'd be particularly lovely during spring and summer for evening drinks at the Montagu Bar & Champagne Lounge.
Experience Royal Crescent Hotel's Taittinger Dinner in Bath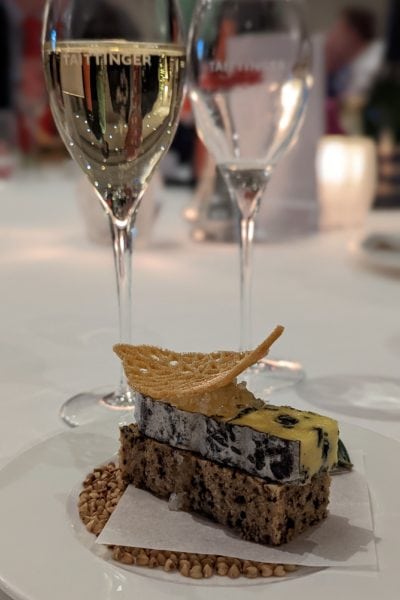 I stayed at the Royal Crescent Hotel in order to attend their incredibly special Taittinger Dinner. This exclusive, bespoke event was the perfect way to kick off the festive season.
The evening began with a champagne and canapé reception in the hotel's beautiful, cosy lounge, before moving into the restaurant for a carefully-crafted 5-course dinner in which every course was paired with a different Taittinger champagne. The dishes included chalk-steamed trout and Exmoor venison, perhaps not things you'd expect to pair with champagne – but everything worked perfectly. The evening taught me to rethink champagne completely!
At the same time as dining, we had a very interesting commentary by a guest speaker from Taittinger House to introduce each of the different champagnes and share insights into the world of champagne.
If you love champagne and fine dining, add the Taittinger Dinner to your calendar for next winter!
Other Special Events
The Taittinger Dinner is just one of the special events that Royal Crescent Hotel and Spa hold throughout the year. A couple of weeks before my Taittinger Dinner, they'd hosted a special Penhaligon's Festive Afternoon Tea in partnership with the historic perfume company.
Keep an eye out for any other special events and try to time your stay at the Royal Crescent Hotel with one of them for the ultimate treat.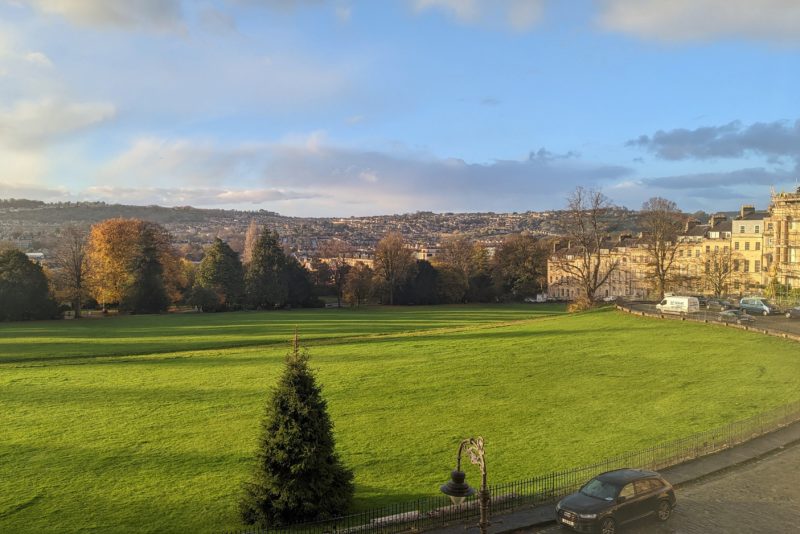 Royal Crescent Hotel and Spa: Quick Review Summary
If you're looking for the best place to embrace Bath's relaxing, Regency vibes, the Royal Crescent Hotel and Spa is it! This is a seriously grand, luxurious hotel – so the pricing reflects that. But for a special treat and the chance to feel like royalty for a couple of nights, it's well worth the splurge.
The Details
Royal Crescent Hotel and Spa
16 Royal Crescent,
Bath, BA1 2LS
CHECK PRICES: Direct | Booking.com | Hotels.com
Phone: (+44) 01225 823333
Email: [email protected]
I hope you found this review of the Royal Crescent Hotel & Spa in Bath helpful! Let me know if you book a stay – scroll down to leave a comment!