Some posts on this site contain affiliate links. If you book or buy something through these links, I earn a small commission (at no extra cost to you). Take a look at my privacy policy for more information.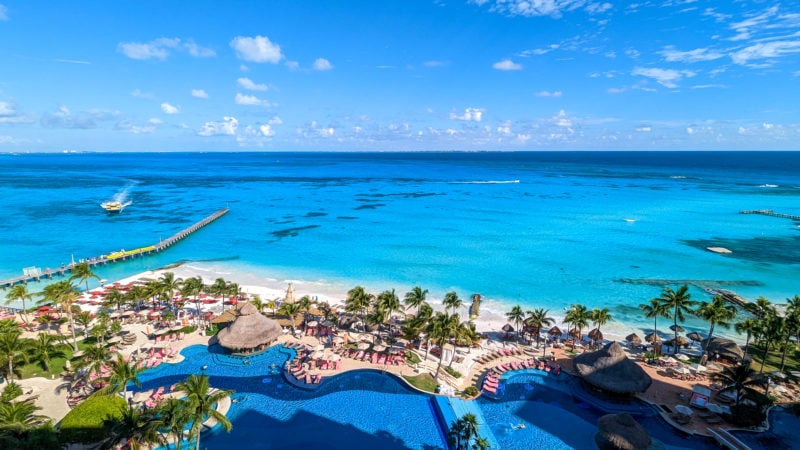 Fancy a dreamy, all-inclusive getaway in Cancun with great food, icing-powder-beaches and seriously relaxing vibes? The Grand Fiesta Americana Coral Beach Cancun is PERFECT!
Found at the heart of Cancun's Zona Hotelera (Hotel Zone), this is one of the higher-end, more luxurious resorts in the area. Expect no-filter-needed sea views, impeccable service, and everything you could possibly want from an all-inclusive resort in Cancun.
With dreamy ocean views from every single one of the 602 guestrooms and suites, an expansive outdoor pool (complete with swim-up bar), a tranquil guests-only spa, and a dazzling array of dining and drinking options… this luxurious all-inclusive resort is the ultimate holiday destination.
And it's part of the Preferred Hotels & Resorts collection – so you can expect the highest standards possible.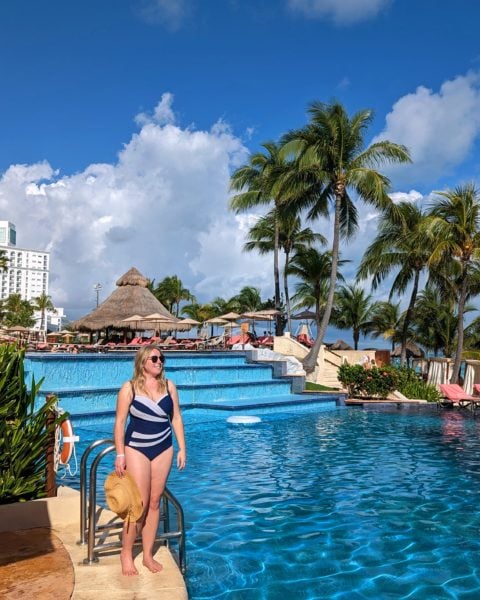 The Grand Fiesta Americana Coral Beach Cancun wasn't always an all-inclusive resort. While dining is now included in the all-inclusive room rate, the standard of both the food and service remains as high as when guests had to pay for them.
As a result, this is quite possibly the best all-inclusive resort in the Hotel Zone. Especially for those travellers who like to enjoy quality dining experiences.
My review of the Grand Fiesta Americana Coral Beach Cancun All-Inclusive Spa Resort is broken down into several different sections. If you're looking for something specific, use the contents tool below to skip ahead. Otherwise, read on to find out if this luxurious resort and spa is for you!
My Review of the Grand Fiesta Americana Coral Beach Cancun
My stay was complimentary, but the following Grand Fiesta Americana Coral Beach Cancun review is totally honest. I'd happily recommend this as one of the best places to stay in Cancun.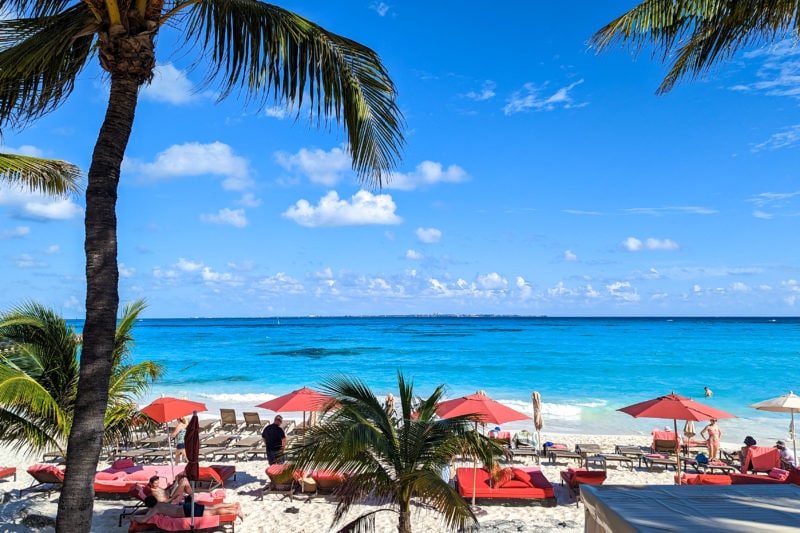 Location: At the Heart of Cancun's Hotel Zone
Like most all-inclusive resorts in Cancun, the Grand Fiesta Americana Coral Beach is situated in the Zona Hotelera (Hotel Zone). Also known as the tourist zone, this is a narrow island with the sea on one side and a lagoon on the other, connected to the mainland at either end.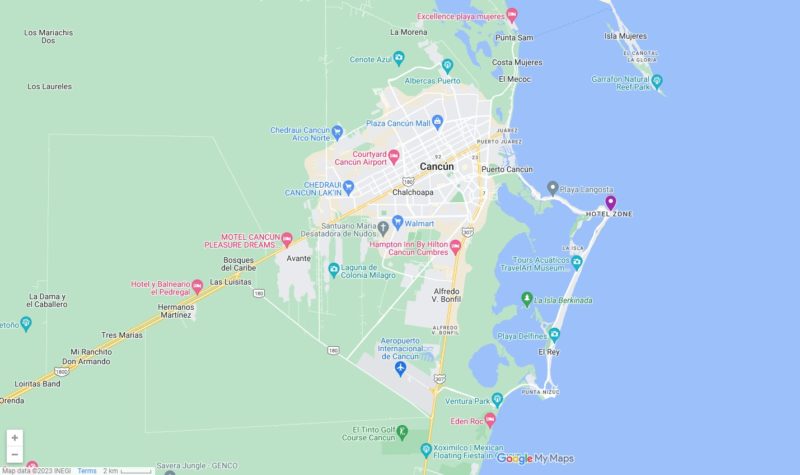 This is the main tourist area in Cancun. The narrow strip of land is lined with hotels, resorts, restaurants, shopping malls, bars, and nightclubs. In short, everything you could want for a vacation.
And Grand Fiesta Americana Coral Beach is right in the middle of it all – so it's the perfect location for making the most of Cancun's holiday vibes.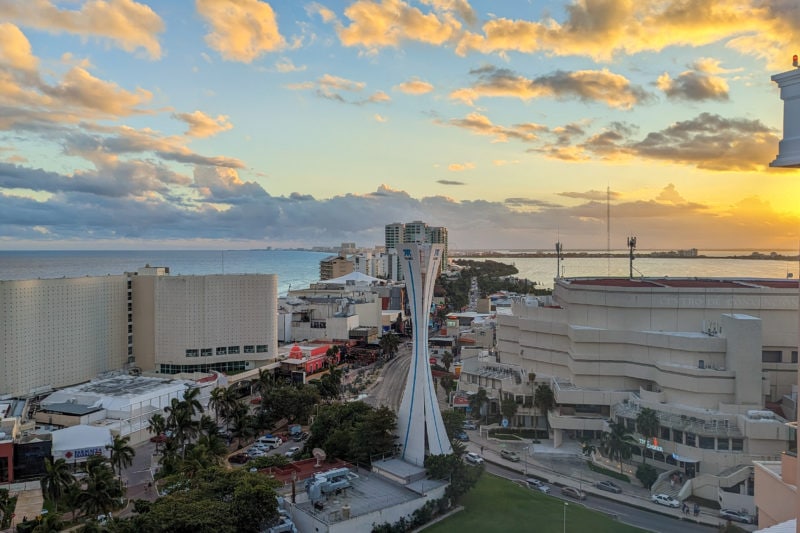 More importantly, the hotel is situated on the north-facing side of the island – directly opposite Isla Mujeres. The beaches in this small bay enjoy calmer waters and smaller waves than the east-facing beaches on the rest of the strip.
These are also the only beaches that still have the original, baby-powder-soft sand Cancun is so famous for. In 2005, Hurricane Wilma washed away many of Cancun's beaches and millions of dollars were spent shipping in new sand. But the beaches in the bay facing Isla Mujeres were sheltered by the island, so retained their original sand.
Of course, there's so much to do in the resort itself – and the surrounding area – that you never leave the Hotel Zone during your visit. But I urge you to explore downtown Cancun as well, and take some of these fab day trips from Cancun if you have time. The Yucatan Peninsula is full of history, culture, wildlife, and stunning landscapes – not to mention some amazing cuisine to discover!
Rooms and Suites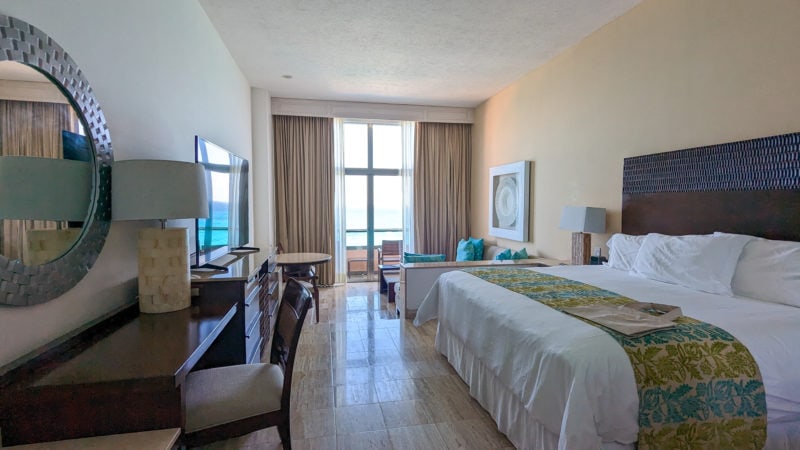 If you're reading a review of the Grand Fiesta Americana Coral Beach Cancun, chances are the main thing you're interested in is what the rooms are like.
There are four "levels" of room at the Grand Fiesta Americana Coral Beach Cancun. Ocean View Suites and Ocean Front Suites are the same size, with Ocean View Suites found on the first three floors and the slightly more expensive Ocean Front Suites on floors 4 to 11 with 100% sea views.
Then there are the "Infinite" options: Ocean Front Master Suites and Penthouse Suites, which include the exclusive Infinite Club for an extra-special experience (more on that later).
The Master and Penthouse Suites are larger rooms, and have spacious outdoor terraces for unwinding with those dreamy seaviews. But the gorgeous decor and attention to detail are the same across all the suites at the Grand Fiesta Americana Coral Beach Cancun.
Ocean Front Suite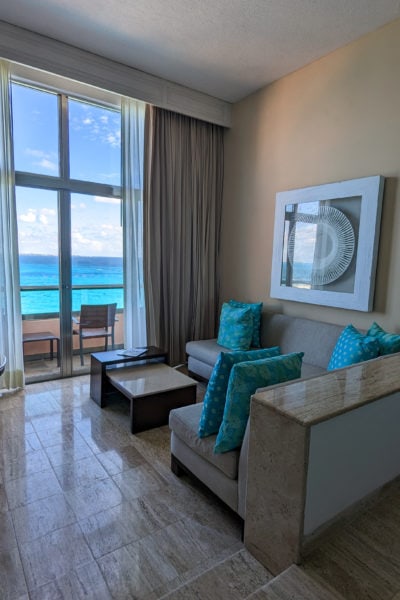 I stayed in one of the Ocean Front Suite King rooms – and got a glimpse of a few different rooms during my stay. Other than the views, these rooms are fairly similar to the Ocean View Suites, so this review applies to both.
Marble floors and light colours create a gorgeously zen space to unwind in, with a few splashes of vibrant colour here and there to bring the tropical Cancun vibes inside.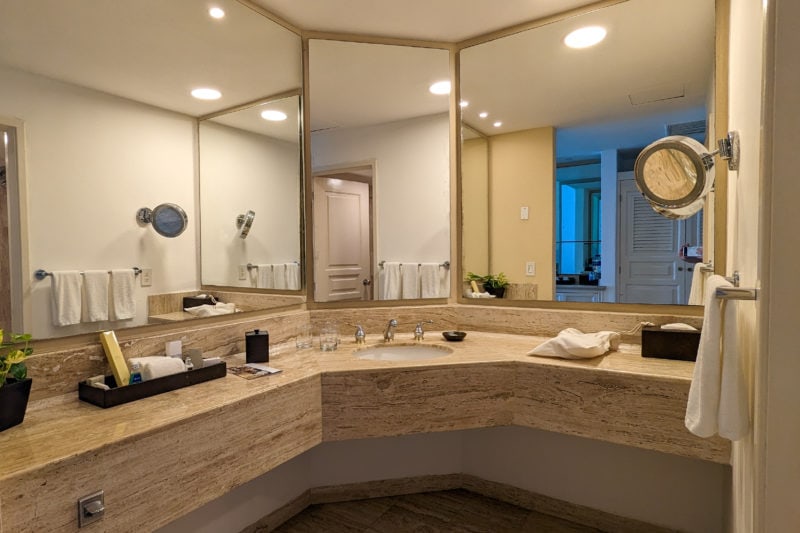 My Ocean Front Suite was huge. At 560sqf, these suites are super spacious and open-plan. The cosy living area is slightly sectioned off, and down a couple of steps from the bedroom area, so it felt nice and separate from the bedroom.
And the bathroom was enormous, with a wrap-around marble counter and more space than anyone could possibly need!
These light, spacious and super-tranquil suites are the perfect home away from home. They're full of luxurious little touches, like the well-stocked minibar, L'Occitane toiletries, and Nespresso machine.
Best of all was the private balcony with epic, uninterrupted views of the startlingly cyan sea and the Grand Fiesta's gorgeous pool complex. This is where the Ocean Front Suites have the edge, as the higher you go the better the views.
Pools and Beach at Grand Fiesta Americana Coral Beach Cancun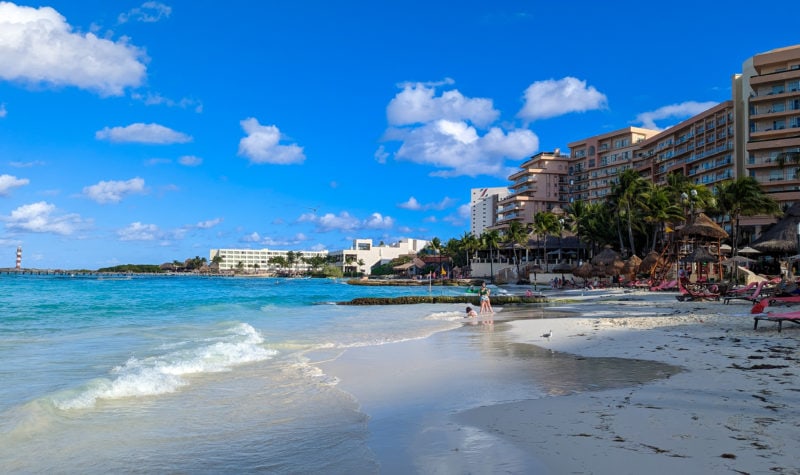 The beach in front of the Grand Fiesta Americana Coral Beach is probably exactly what you have in mind when you picture a holiday in Cancun.
Think super-soft white sand, vivid turquoise waters, and swaying palm trees. As mentioned above, the waves here tend to be a little calmer than elsewhere in the Hotel Zone, so the Grand Fiesta is a great choice for families.
The beach is lined with cosy sunloungers and shady umbrellas – so if you want to while away a day or two lazing by the sea, you can.
Fancy being a little more active? There are also some fun watersports activities available! Guests can rent SUPs and kayaks free of charge – and jet skis for an additional fee. Swing by the beach team's hut at the entrance to the beach to see what activities are available.
As well as the private beach, the Grand Fiesta also boasts a huge, lagoon-style complex of outdoor pools. These are gently heated, so you can enjoy them year-round.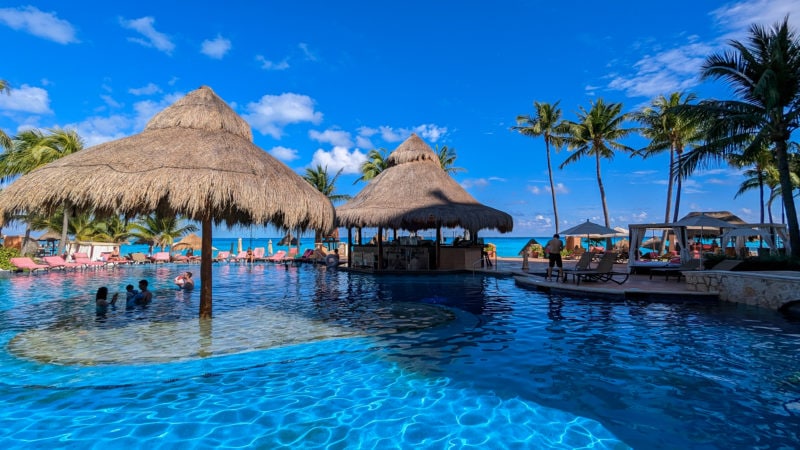 There's a series of interconnected pools, dotted with waterfalls, fountains, and small islands you can swim to. Palm trees and grass-roofed palapas give the area lush tropical vibes. And all the sun loungers are tucked into small patches around the pool – so it never feels too crowded.
There are a couple of poolside bars for drinks and snacks, including a swim-up bar with seats in the pool! And the poolside Isla Contoy restaurant – with views of the impossibly-blue Caribbean Sea – is the PERFECT place for lunch after a morning swim.
Other Facilities: Total Holiday Bliss!
Gem Spa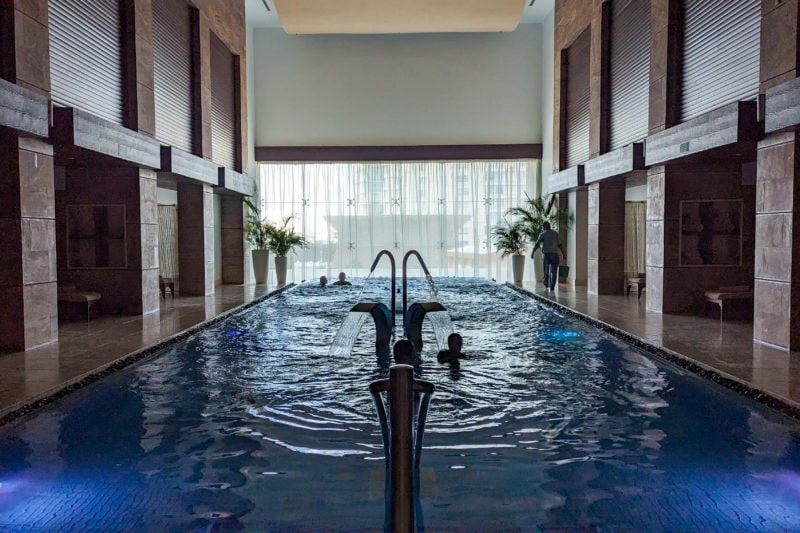 I LOVED the spa at the Grand Fiesta Americana Coral Beach Cancun. Normally, with such gorgeous weather outside, I wouldn't even think of tearing myself away from the beach. But the stunning, guests-only spa is worth it.
There's a ten-step hydrotherapy ritual involving steam rooms, cold plunges, jacuzzis, and more. Going from hot to cold over and over helps detoxify the skin and relax the body.
It was similar to the experience I tried at Sky Lagoon in Reykjavik – and I absolutely loved it. At the end, you can linger in the indoor pool before indulging in a treatment from the extensive menu for the ultimate relaxing treat.
Infinite Club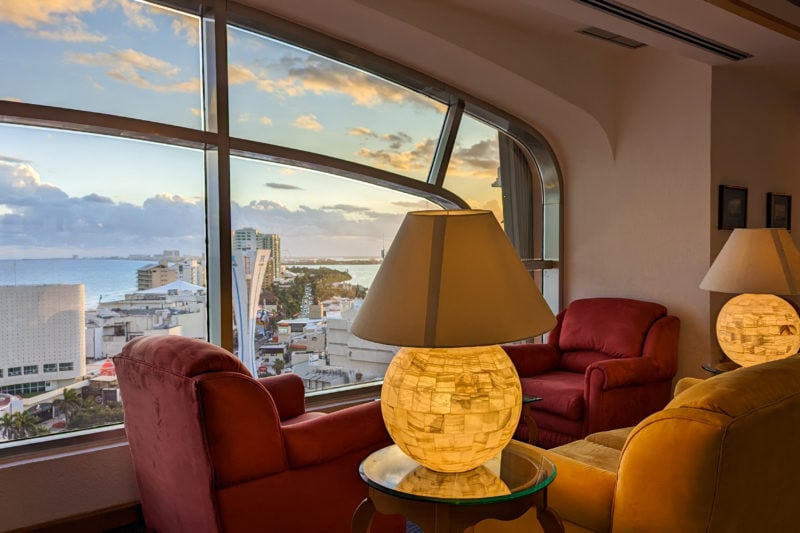 If you're staying in one of the Master Suites at the Grand Fiesta Americana Coral Beach Cancun, you'll also gain access to the Infinite Club.
This is the resort's premium service option, with access to exclusive resort services. There's the 12th-floor penthouse Infinite Club Lounge – a tranquil, private bar with a small buffet and incredible views of the Hotel Zone strip.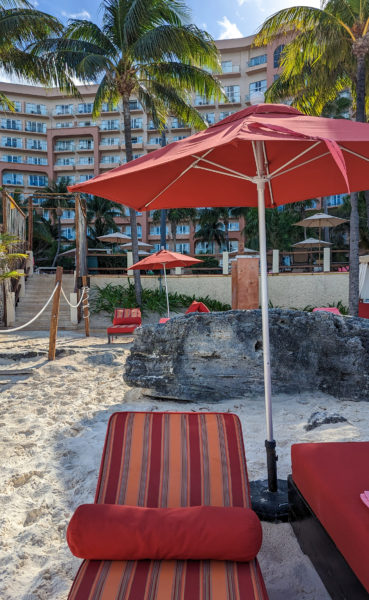 Then there's the private beach club (one for families and one adults only). This features upgraded sun loungers and attentive service from the Club staff.
There are lots more benefits, too, including two hydrotherapy treatments per stay, VIP check-in, and your own Infinite Club concierge. Find out more here.
Kid's Club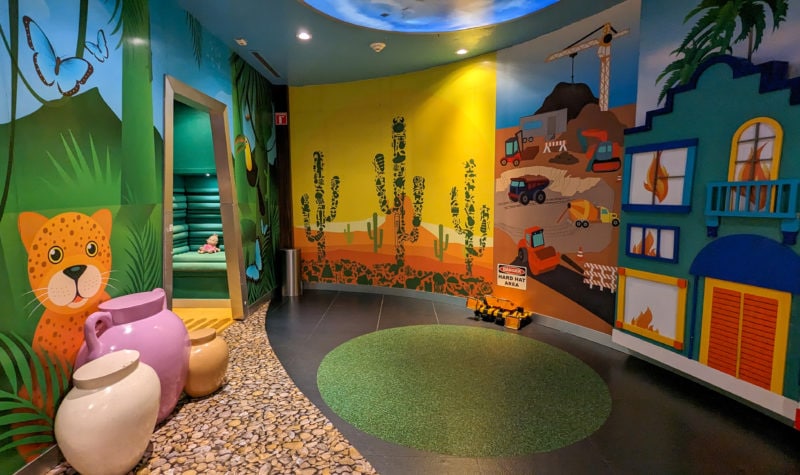 Not going to lie – I was genuinely jealous of the kids club at Grand Fiesta Americana Coral Beach Cancun!
It's a huge space with really fun designs throughout. I loved the futuristic gaming area with arcade games! The kids even have their own private pool with slides and a climbing frame. There's even a stage – complete with a dressing room and tons of dressing up clothes.
Everything Else:
Barber Shop
Beauty salon
Boutique
Concierge
Convenience store
Event rooms
Flower shop
Game room
Gym
Laundry and dry cleaner
Travel agency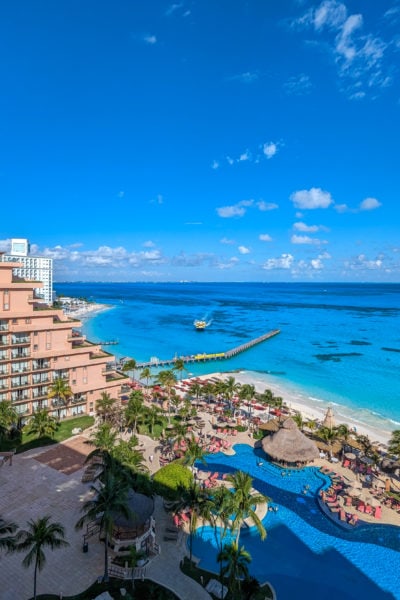 Grand Fiesta Americana Coral Beach Cancun All Inclusive: Food & Drink Options
One of the best things about staying at Grand Fiesta Americana Coral Beach Cancun is the food and drink. As mentioned above, this luxurious resort only became all-inclusive fairly recently. Before that, guests had to pay to dine at the resort's many restaurants – which meant that the food, drinks, and service all had to be top-notch.
Now that the Grand Fiesta Americana Coral Beach is an all-inclusive resort, the restaurants and bars all maintain that same level of quality. So you can expect seriously good, well-presented food – even at the most casual restaurants on the site.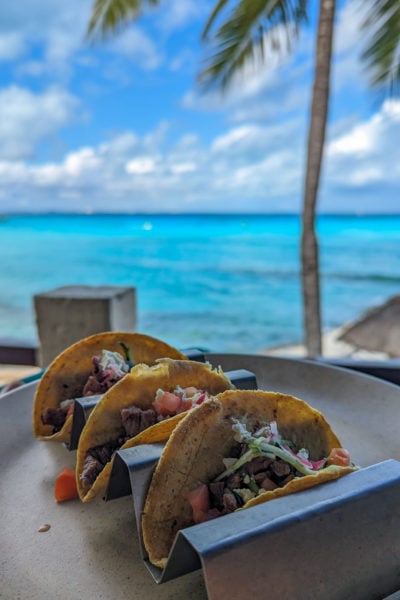 Restaurants at Grand Fiesta Americana Coral Beach
Here's a quick overview of all the restaurants currently on offer. I'm told that they'll a few new restaurants will open later this year (2023), including an Asian place and an Argentinian steakhouse.
Viña del Mar – casual buffet restaurant with glamorous decor and views of the sea. Particularly good for breakfast!
Le Basilic – formal fine dining in a beautiful setting. French and Mediterranean dishes.
La Joya – authentic Mexican and Yucatecan dishes in a charming restaurant filled with fairy lights and decorative trees. There's a house mariachi band to serenade you as you dine.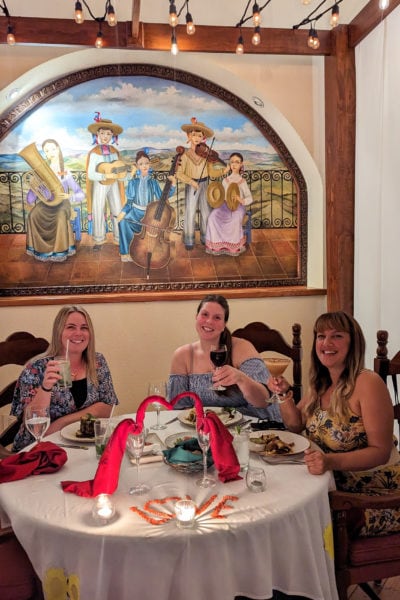 Isla Contoy – a more casual restaurant offering covered outdoor dining with gorgeous sea views. Mainly seafood. Don't miss the tamarind margaritas!
The Table – a unique interactive dining experience that takes you on a journey through Mayan culture – while you enjoy a 9-course tasting menu.
Coral Cafe – coffee, light lunches, desserts, and ice cream at a small cafe with takeaway options.
Tuscany Trattoria – elegant Italian restaurant decorated with art and antiques. The Trattoria Terrace outside in the Grand Fiesta's main lobby is a more casual option with pizzas and pasta dishes.
Nah K'aax – on-sand dining at this casual beach restaurant with cute boho vibes.
Pool Bars – casual light dishes served next to the pool.
Room Service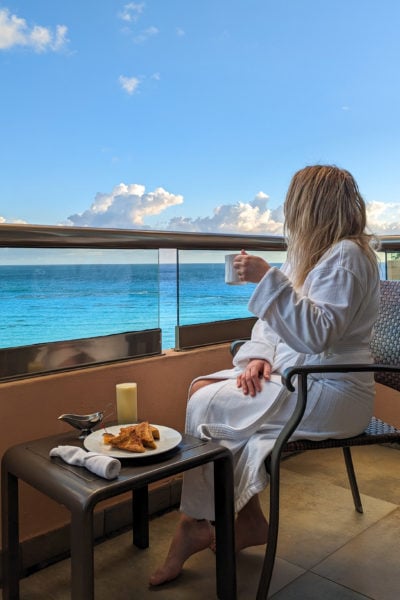 The Grand Fiesta Americana Coral Beach's all-inclusive offerings also extend to both the in-room mini-bar and 24-hour room service.
There's a small room service menu with drinks, snacks, and light meals. I highly recommend ordering a room service breakfast on at least one day of your stay!
There's something incredibly special about dining from the comfort of your own room with a view of the ocean. All the better if you have a balcony and can enjoy your morning eggs outdoors!
Grand Fiesta Americana Coral Beach Cancun – Quick Review Summary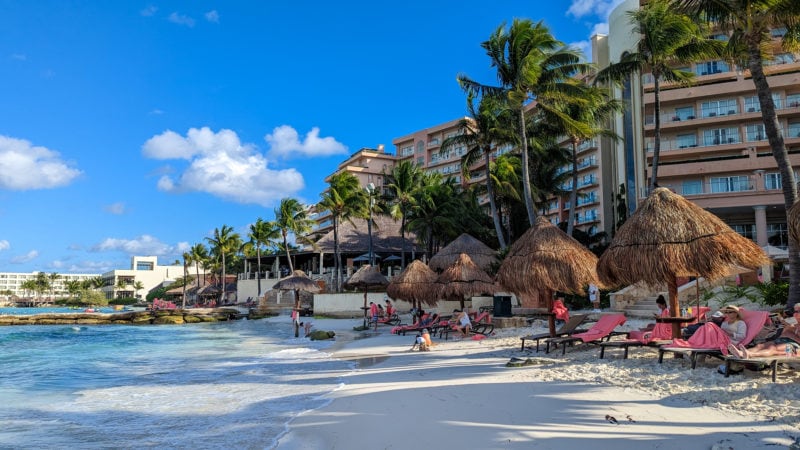 As you can probably tell from the above review – I LOVED the Grand Fiesta Americana Coral Beach Cancun!
Luxurious without being too fussy, serene without being too quiet, and some of the best food I've ever had at an all-inclusive resort.
It was the perfect way to kick off my Mexican adventure – a nice, relaxing way to unwind after the cold British winter. After spending three incredible days at this gorgeous beachside resort I'm more than happy to recommend it to anyone looking for a luxurious all-inclusive in Cancun.
The Details
Grand Fiesta Americana Coral Beach Cancun
Blvd. Kukulcan km. 9.5,
Zona Hotelera,
Cancun, 77500
CHECK PRICES: Preferred Hotels | Direct | Booking.com | Hotels.com
Phone: +52(443)3108137
Email: [email protected]
I hope you found this review of the Grand Fiesta Americana Coral Beach in Cancun helpful! Let me know if you book a stay – scroll down to leave a comment!