Some posts on this site contain affiliate links. If you book or buy something through these links, I earn a small commission (at no extra cost to you). Take a look at my privacy policy for more information.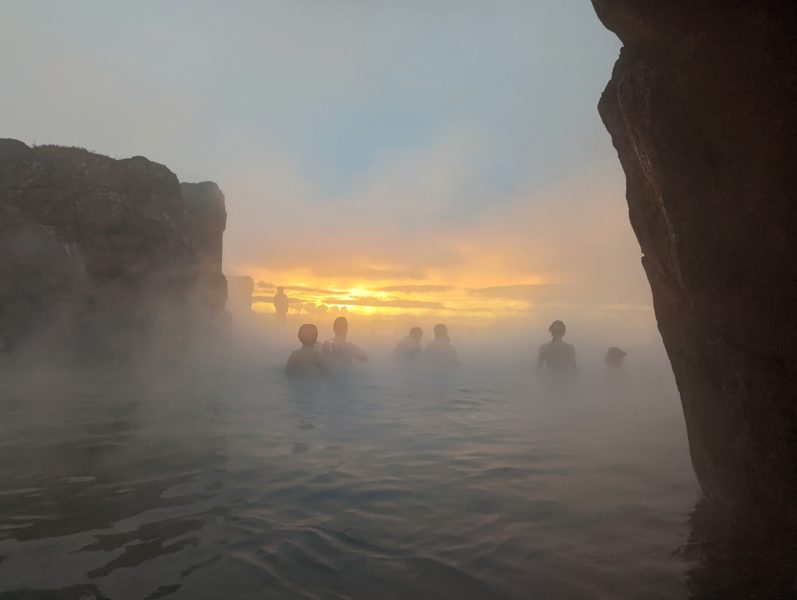 The sun was setting at the end of the world. Golden light diffused through the steam rising off the thermal spa at Sky Lagoon Iceland, as I gazed out at the blanket white of the snowy Reykjavik shoreline.
It was hard to tell where lagoon met sea met sky. The steam was so thick in the bitter winter air, and so full of golden light, that all the edges became blurred by that magical, drawn-out winter sunset.
On my recent winter trip to Reyjavik, I spent a full day at Sky Lagoon – arriving before sunrise, and lingering until well after sunset.
It was a day of pure bliss. Unwinding in the lagoon, with its infinity-pool-style edge melting into the Atlantic Ocean. And indulging in The Ritual; a sumptuous, Icelandic-inspired seven-step routine with cold plunge, steam room, salt scrub, and the most beautiful sauna I've ever seen.
Read on to find out exactly what to expect from a day at Sky Lagoon in Reykjavik…
My trip to Sky Lagoon Iceland was part of a press trip with Pursuit. As always, all words and opinions are my own.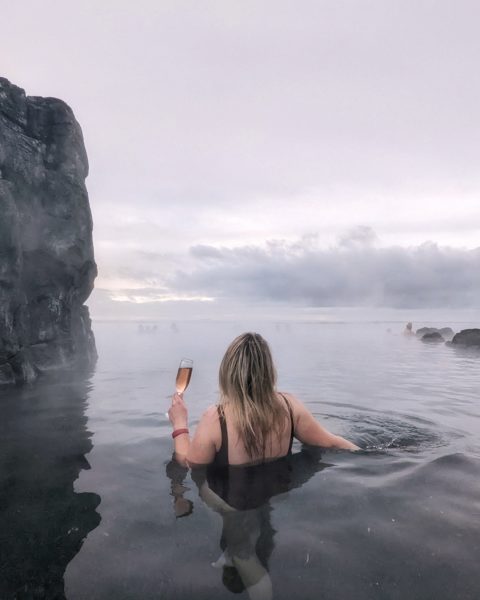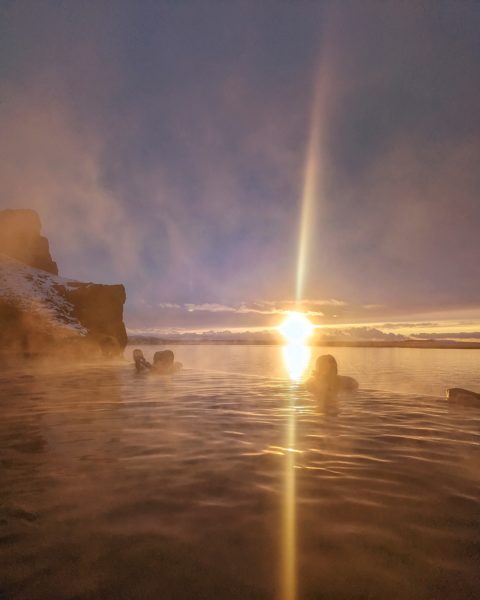 What is Sky Lagoon Iceland?
Sky Lagoon Iceland is the newest thermal spa in Reykjavik. Just 15 minutes from the city centre, the spa sits tucked onto a cliff edge overlooking the Atlantic Ocean.
The star of the show is the lagoon itself: a geothermal infinity pool that seems to merge into the ocean, with views along the coast towards Reykjavik's Harbour.
But there's also The Ritual, a seven-step bathing routine in a breathtaking thermal suite, as well as several eating and drinking options to round off the indulgent experience.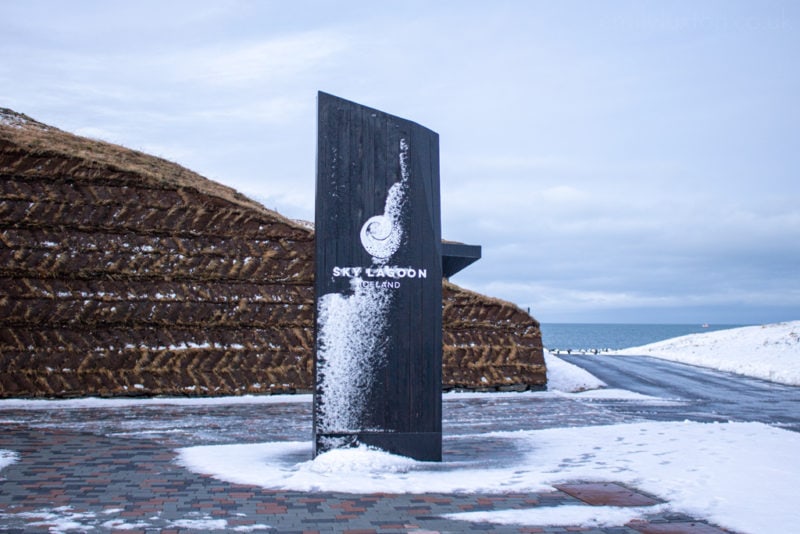 My Visit to Sky Lagoon Thermal Spa
From the outside, you can barely tell Sky Lagoon is even there. Unassuming and unobtrusive, the spa complex was built in rhythm with its surroundings, using traditional Icelandic methods inspired by historic turf houses.
Emerging from the snow, the turf-layered feature wall of the spa's entrance looks like it might always have been there, a natural feature on the outskirts of the industrial area around Kársnes Harbour – a perfect, remote setting for a spa that feels totally cut off from the "real world".
Into the Lagoon…
With the sun just barely up on another insanely short Icelandic winter day, I took my first steps into the deliciously warm, mineral-rich waters of the Sky Lagoon.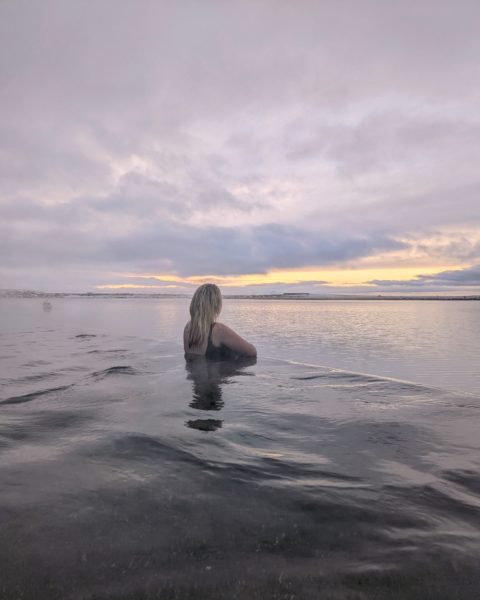 The steps descend through a cave-like entrance to emerge into a sort of passageway between low cliffs.
Despite having already seen it from the other side, I still caught my breath as I rounded the corner and came face to face with that view; the steely grey Atlantic Ocean blending almost imperceptibly with the edge of the lagoon.
At one end, a waterfall cascaded over the dramatic black-grey rocks, creating a natural shower. Tucked around another corner was a swim-up bar, built into a cave at the base of a cliff. I ordered a sparkling wine and settled in to enjoy the lagoon.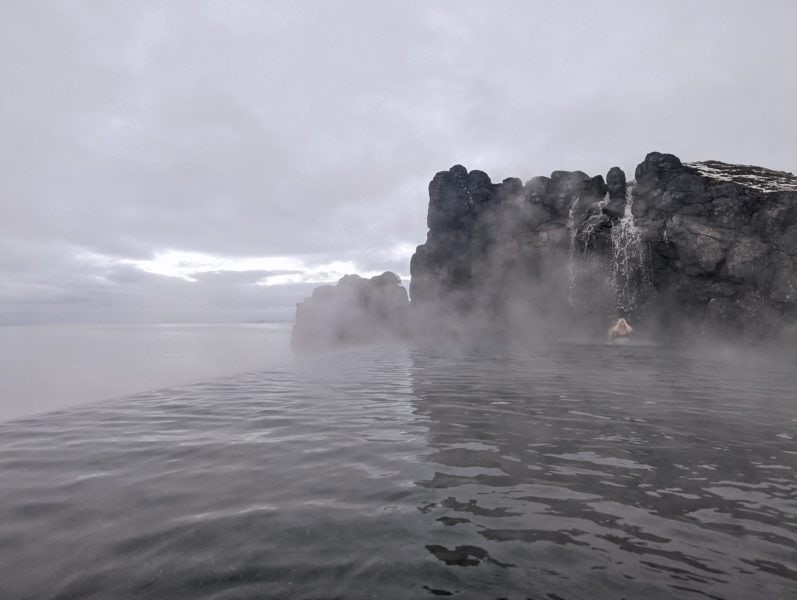 Views of a dazzling white snowy coastline and that silvery ocean, endless and empty except for the occasional fishing boat and soaring seabirds. Swirls of steam rising from the bath-like waters. And total, blissful peace.
This might be a popular new tourist attraction, but Sky Lagoon manages to retain the tranquillity you'd want from a spa experience.
When I was finally ready to tear myself away from those views – and out of the comforting warm waters into the bitterly cold air – I headed out of the lagoon for the experience that make a trip to Sky Lagoon so unique; The Ritual. Starting with a plunge into ice-cold waters, blasting my sleepy body with adrenaline…
SEE MORE: Watch this video I made of my day at Sky Lagoon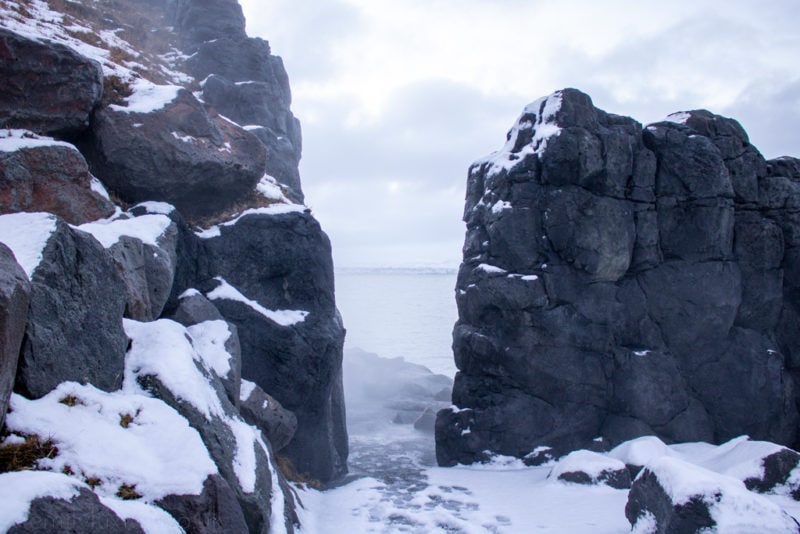 The 7 Step Ritual at Sky Lagoon Iceland
Step One – Relax in the Lagoon
Two – Cold Plunge
Three – Sauna with a View
Four – Cool Mist
Five – Sky Body Scrub
Six – Steam Room
Seven – Shower and Return to the Lagoon
(aaaand relax)
Inspired by Icelandic bathing traditions, The Ritual at Sky Lagoon is a 7 step journey to pure bliss.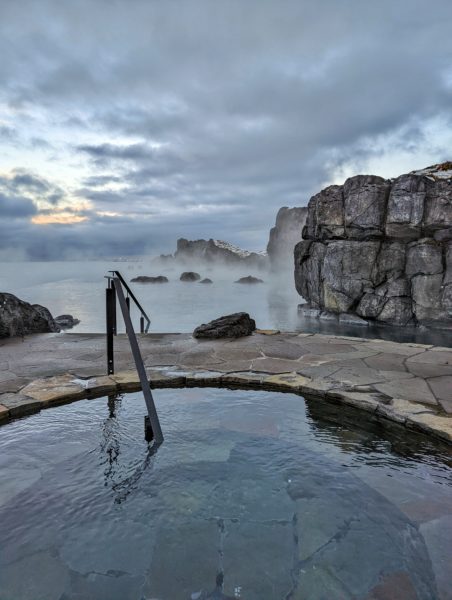 The rush from the cold plunge is a natural high – and a deeply Icelandic/Skandi tradition. Sky Lagoon recommend 10-30 seconds. I was definitely at the lower end of that scale – we're talking heart-racing, take-your-breath-away cold! A challenge, but worth it.
And you can warm straight back up again in the sauna… whilst losing yourself in the view.
The exterior wall is one huge window, offering incredible ocean views. Hands down the best sauna I've ever been in!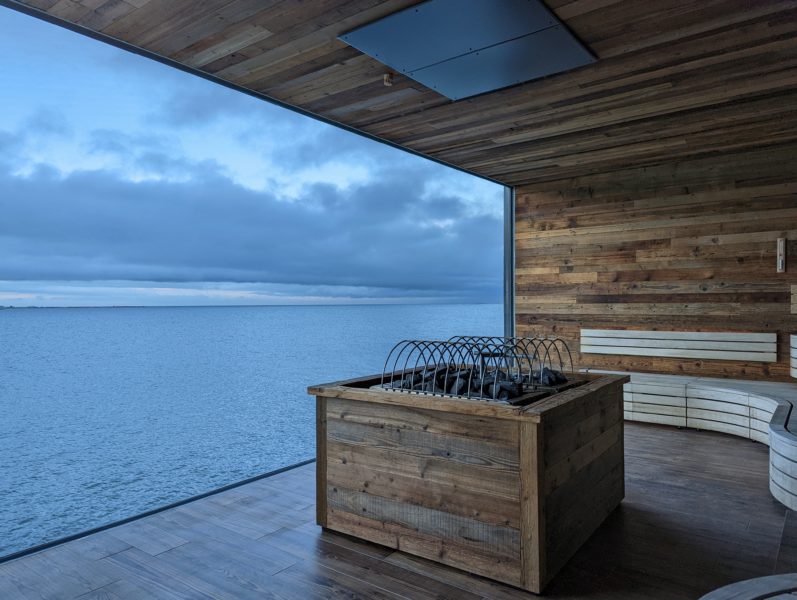 Step four was a surprise favourite of mine. Stepping outside into a rocky area filled with cooling mist spray felt like bliss after the heat of the sauna. It's not shockingly cold, like the plunge pool, but a gentle, playful way to cool down.
Next up, the Sky Body Scrub, a special sea-salt scrub designed by Sky Lagoon with a lovely fresh scent. Scrub yourself off and head into the steam room with the salt scrub still on for an invigorating, skin-softening treatment. Bliss.
For the final step, shower off and head back to the thermal lagoon to relax and enjoy the swim-up bar. Or start the Ritual all over again!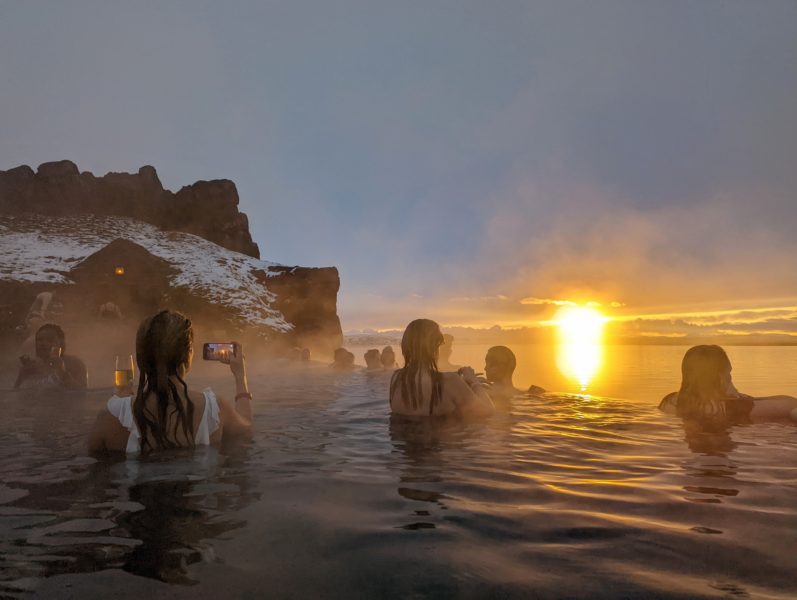 Is The Ritual Worth It?
To access The Ritual at Sky Lagoon, you have to purchase either the Pure Pass or the Sky Pass. Both are a little more expensive than the entry-level Pure Lite Pass, which is just for entry to the lagoon.
In my opinion, the upgrade to include The Ritual is more than worth it. This is what sets the Sky Lagoon apart from other thermal spas in Iceland, and for me it really made the whole experience. I loved the lagoon itself, but the seven steps of The Ritual were my favourite thing about my visit.
If I went back, I'd go for the Pure Pass, the middle price point, starting from ISK 9,990 (around £56). The Sky Pass includes private bathing facilities, which I loved using on my visit, but personally I'd rather save the extra money and put it behind that swim-up bar (priorities!).
Dining at Sky Lagoon in Reykjavik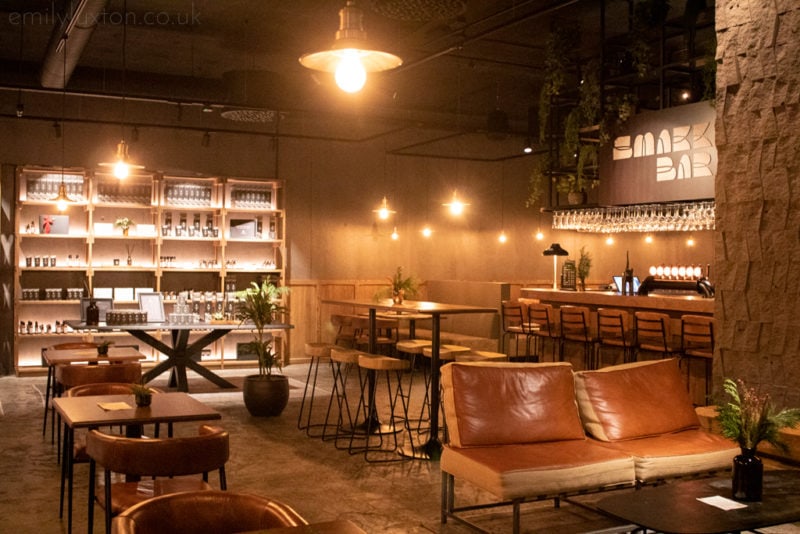 I tried both the dining options at Sky Lagoon (as well as the stunning Lagoon Bar). If you want to start or finish your spa experience in Reykjavik with a meal, these are your options…
Sky Cafe – a more casual cafe/coffee shop with light meals like sandwiches and soups. Ideal for a light lunch before entering the spa.
Smakk Bar – a cosy restaurant with a tasting menu focusing on traditional Icelandic cuisine. This was my favourite – the food was heaven, and a great way to delve a little deeper into the local culture.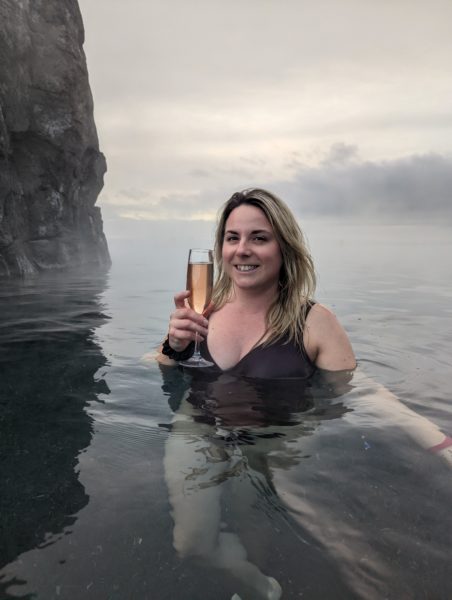 More Info
Guests are given a wristband that can be used to access the lockers. You can also charge any purchases to the wristband and pay for them all at the end. So there's no need to take cash in with you.
Sky Lagoon is an adults-only spa, with children under 12 not permitted. Children 12–14 must be accompanied by an adult. The idea is for this to be a tranquil, relaxing experience, so I'd recommend only taking 12-14-year-olds who would be into that!
What to Bring
All you really need to bring is a swimsuit (these are mandatory at Sky Lagoon), along with a change of clothes for afterwards, and any toiletries you might want to use when you change.
Towels are provided free of charge, and hairdryers are available in both changing rooms.
I recommend leaving your phone in your locker so you can concentrate on relaxing. That said, Sky Lagoon is full of great photo ops, so you might want to take your phone into the lagoon for a while (as long as it's waterproof).
If you do take your phone in, you can either run back to the changing room to pop it back in your locker, or you can ask the bar staff to put it behind the bar for you. Obviously, this is at your own risk, but this is what I did – and I was so glad to have my phone near me when that sunset got started!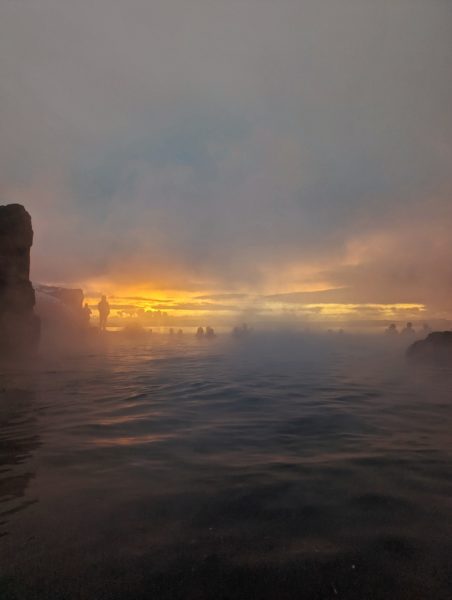 Read More
What a Day at Sky Lagoon Iceland Looks Like (Video)