Some posts on this site contain affiliate links. If you book or buy something through these links, I earn a small commission (at no extra cost to you). Take a look at my privacy policy for more information.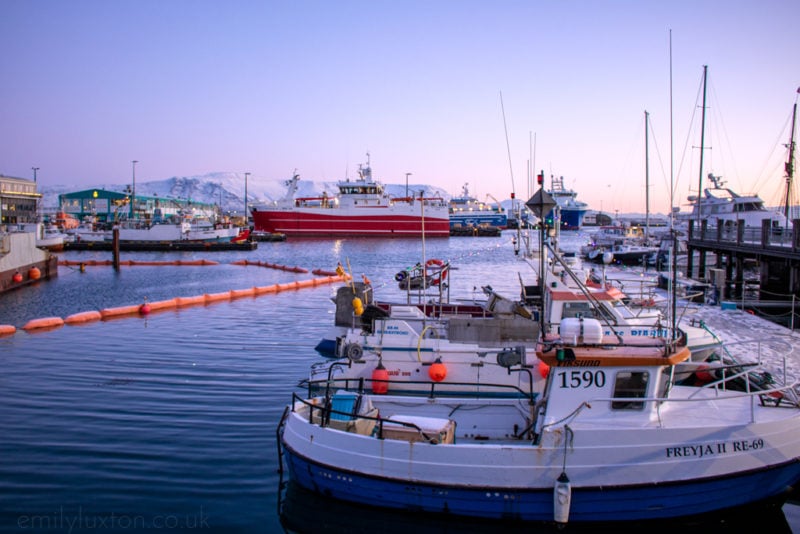 Thinking of visiting Reykjavik in winter? With magical golden hour light and lunchtime sunrises, plenty of quirky indoor attractions, and some gorgeous geothermal spas to warm up in… this time of year is ideal for a frosty getaway in Iceland's capital!
Reykjavik never really struck me as a city break destination – I've always thought of it more as a jumping-off point for Iceland's incredible outdoor attractions.
But my recent trip to the city in mid-December showed me just how much Reykjavik has to offer – even on the short, cold days of winter. It's an ideal place to visit for 2-3 days, either before a trip around the rest of Iceland, or simply as a city break in its own right.
Despite what you might expect, it's not actually too cold in winter, either. As long as you dress for the weather, you can spend a couple of fun, frosty days exploring Reykjavik and enjoying the snow.
I've written this to help you plan your own trip, so hopefully, this covers everything you need to know. If you have any questions, feel free to ask in the comments – or get in touch on social media.
Grab your winter coat and get ready to enjoy a city break in Reykjavik…
My trip to Iceland was organised by Pursuit Collection to visit their Reykjavik attractions, Sky Lagoon and FlyOverIceland. As always, all words and opinions are my own.
Weather in Reykjavik in Winter
Reykjavik is just south of the Arctic Circle, so it has cold, dark winters with short days, snow, and very changeable weather.
On my trip to Reykjavik this winter I got SO lucky with the weather. Clear skies, sunshine, a scattering of snow… absolute perfection.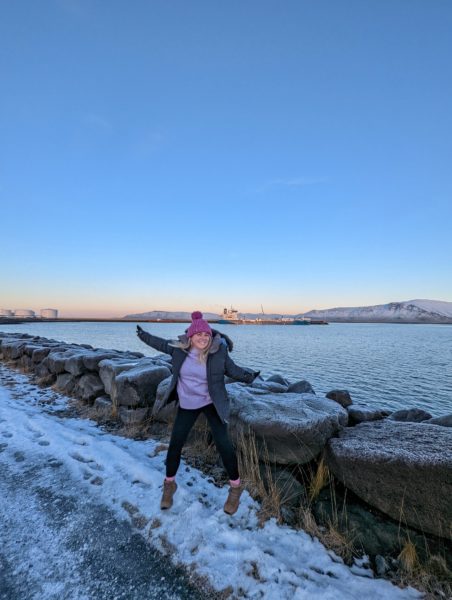 On paper, the winter months (November – March) have a bit more rainfall than the rest of the year. But according to the Met Office, that precipitation usually falls as snow due to the cold temperatures – which can add the perfect wintery aesthetic to your city break.
How cold does Reykjavík get in winter?
From November to March, the temperature in Reyjkavik averages around 0-3°C (32-37°F). January is the coldest month, with average lows of -3°C (27°F) and highs of 3°C ( 37°F).
So it's pretty cold, especially if you're used to the mild and drizzly British winters! But it wasn't as cold as I was expecting, and if you dress well and wrap up warmly you should be fine. I'll cover what to wear at the end of this post, so stay tuned for that!
Short Winter Days in Reykjavik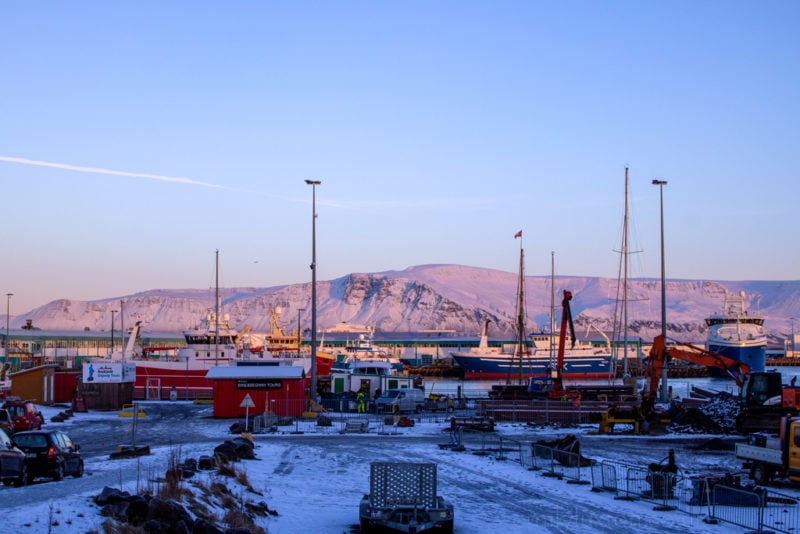 The other thing to know about visiting Reyjavik in winter is that the days are pretty short and the nights are long. December has the shortest days, with an average of just over 4 hours of daylight, and 5.5 hours of daylight in January.
When I visited Reykjavik in mid-December, the sun was rising after 11am, and setting at around 3:30pm. It was pretty weird going out for the day at 9am in the pitch dark!
But it meant that we had gorgeous, pink-hued dawn light for most of the day, followed by golden hour magic until sunset – great for taking photos. The longer nights also mean you have a greater chance of spotting the Northern Lights when the sky is clear.
Best Things to do in Reykjavik in Winter
Experience FlyOver Iceland
This was probably my favourite indoor activity in Reykjavik – in fact, one of my favourite things I did in the city! FlyOver Iceland is an immersive flight ride that genuinely feels like you're flying above Iceland's stunning scenery and natural landscapes.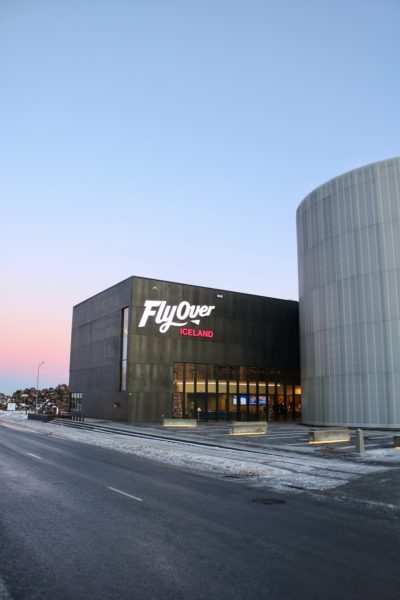 The video is played on a 20-metre wraparound screen, which you watch from a suspended seat with your feet dangling. The seat moves in time with the movement of the film to make it feel like you're flying, along with special effects like wind, mist and scents.
It's an absolutely stunning film, all shot by a local helicopter pilot, capturing some of the island's most incredible landscapes – including some that are almost totally inaccessible.
The idea is to showcase the lesser-known side of Iceland, places that even the locals haven't seen. This way, the experience doesn't replace a trip to the rest of the country: it's an add-on.
I genuinely can't recommend FlyOver Iceland enough. The film, the ride experience, the score… it was all beautiful and quite moving. I can see why many Icelanders are apparently moved to tears by the ride; I definitely had to blink a few back myself!
Visit a Geothermal Spa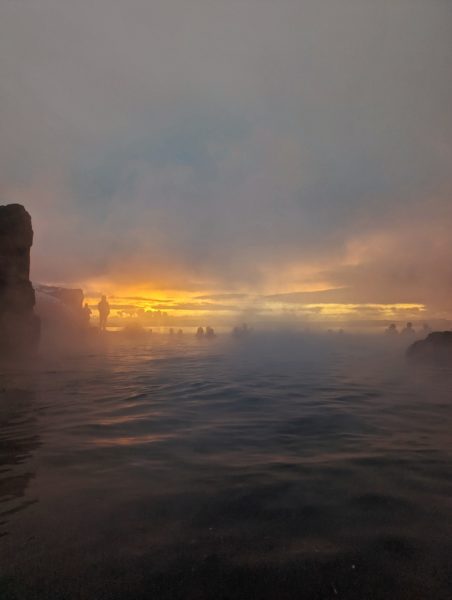 You really can't go to Reykjavik at any time of year without visiting one of the city's geothermal pools, or better yet, a geothermal spa. But especially during winter. There's nothing quite like watching the steam rise into the ice-cold air, surrounded by snowy cliffs.
I went to Sky Lagoon, Reykjavik's newest geothermal spa – which also happens to be the closest to the city centre. It's absolutely beautiful, with traditional Icelandic architecture and a gorgeous thermal lagoon with an infinity pool edge overlooking the ocean.
I've written about the Sky Lagoon in a lot more detail in this post. But honestly, if you only do one thing on Reykjavik city break, make it this!
Do a Food Tour
Reykjavik's food scene is something you can't miss. And the best way to discover it is with a food tour. I did the Reykjavik Food Tour with Wake-Up Reykjavik (3 hours, from 13,900 ISK) and it was absolutely fantastic.
Our guide, Elísabet, was so passionate and fun that she felt more like an old friend showing us around her city than a tour guide. We tried some amazing local food, from the traditional Icelandic fermented shark to more contemporary dishes. A must for any food lover!
Have a Drink at the Ice Bar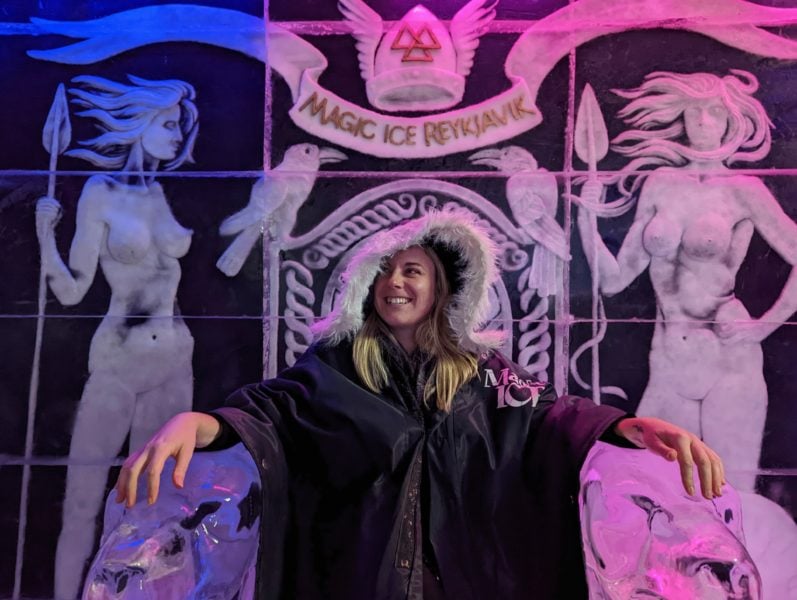 When you're visiting Reykjavik in winter, it might seem counterintuitive to visit a bar designed to make you cold… but the Magic Ice Bar was great fun so I really recommend you give it a go.
It's a bar where everything, even the glasses and tables, is made from ice. There are ice sculptures to pose with, and ice carvings decorating the walls. You're given a thick winter cape and gloves on entering, so you won't get too cold!
Click here to check the latest prices and get a free welcome drink with your ticket.
Visit Hallgrímskirkja Church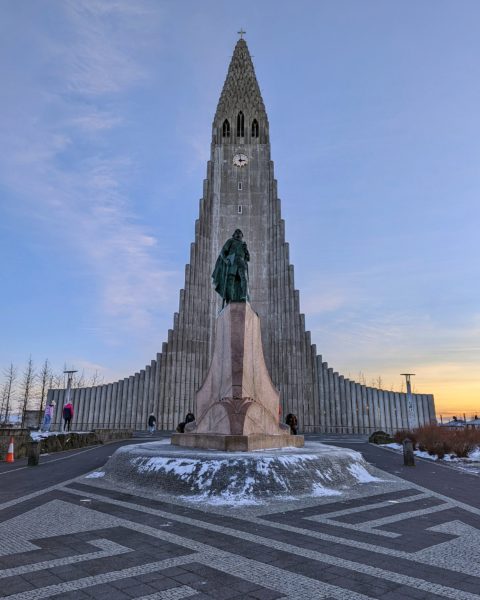 One of the top sights in Reykjavik at any time of year is Hallgrímskirkja Church. The unique design of the church is meant to mimic Icelandic trap-rocks, the columns of rock created by lava flows (like the famous ones at the Giant's Causeway in Northern Ireland).
You can see the church from almost everywhere in Reykjavik, because of a local law stating that no building can be taller than Hallgrímskirkja. If you have time, climb to the top of the 244ft high tower for some amazing views of the city.
Go Street Art Hunting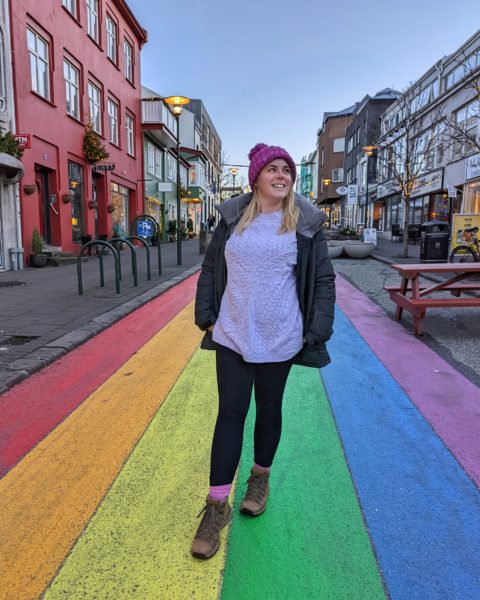 Reykjavik is FULL of awesome street art. In fact, it's actually encouraged, and many artists have been commissioned to paint murals and artworks around the city. A great way to brighten up those dark winter days!
From the famous Rainbow Street on Skólavörðustígur to towering murals on the sides of buildings, there's so much to spot.
Hit the Shops
Something I really enjoyed about Reykjavik was the abundance of unique shops and independent boutiques to explore. It's a great place to pick up high-quality Icelandic knitwear, outdoor gear, fun souvenirs, and locally-made goods and handicrafts.
The streets around Skólavörðustígur have some really cute shops, as did the hipster Grandi harbour district…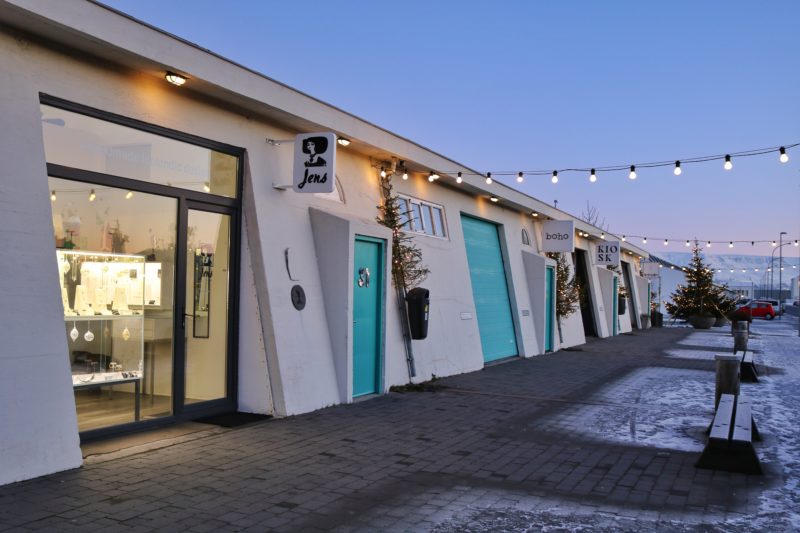 Don't Miss the Grandi District
Once a harbourside fishing district, the Grandi harbour neighbourhood has transformed into a culture-rich hipster area with a unique industrial-chic aesthetic.
You'll find boutique stores and an ice cream parlour tucked into former boat repair shops, a chocolate factory, a trendy food court (the Grandi Mathöll), and the aforementioned FlyOverIceland here.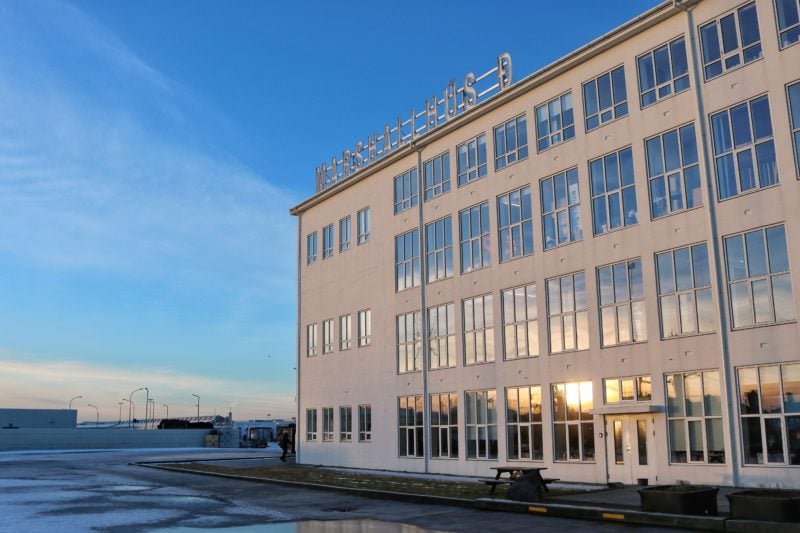 Don't miss the Marshallhusid, a contemporary art gallery housed in an old herring factory. nearby, you'll also find the Þúfa (pronounced thoo-fa), a man-made hill and art installation with excellent views of the harbour and the impressive Harpa music hall.
Visit Harpa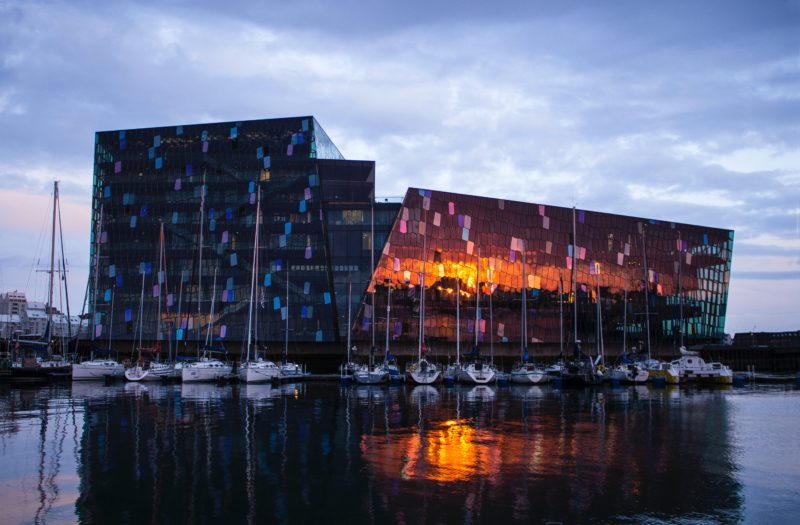 Speaking of Harpa, this striking glass concert hall is one of Reykjavik's most impressive architectural achievements, and well worth a visit. See what's on while you're visiting and catch a show if you can. And if not, pop in just for a look inside – or to visit one of the two restaurants.
Visit Some Quirky Museums
If the weather takes a turn for the worse and you want to venture indoors for a bit, Reykjavik has several museums which you could add to your winter city break itinerary.
Use the Reykjavik City Card for free entry to a great selection of museums and galleries, all swimming pools in Reykjavík, and free unlimited travel by bus within Reykjavik city centre – click here to check the price.
Enjoy Reykjavik's Christmas and NYE Festivities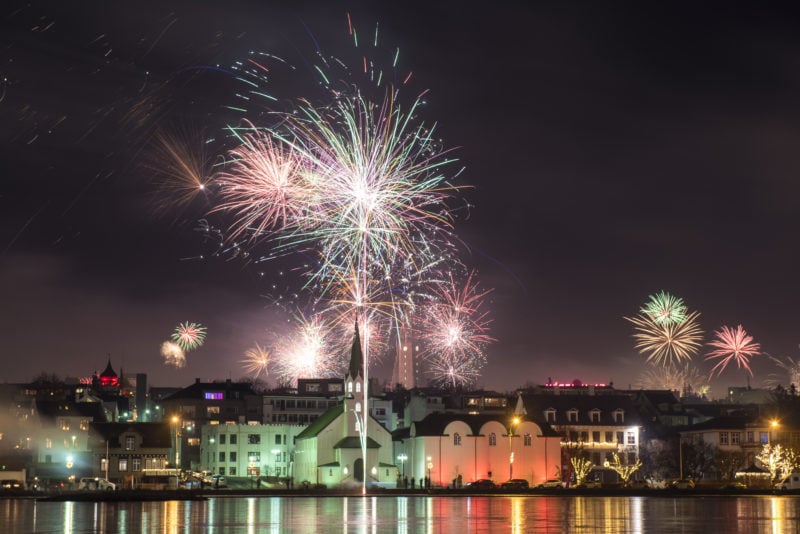 Perhaps it's a way to counteract the short winter days, but Reykjavik really goes all out for Christmas and New Year's Eve – with decorations and lights going up as early as November.
There's an ice rink at Ingolfstorg Square, as well as Christmas markets and villages throughout the city. Check with the tourist office to see what's on.
Keep an eye out for the iconic Christmas Cat at Lækjartorg, a huge sculpture of an animal from local folklore who, I'm told, eats children who don't get new socks for Christmas!
Reykjavik also has one of the biggest New Years' Eve celebrations in the world, with the local population letting loose a city-wide display of fireworks from about 11:30pm till midnight!
Day Trips from Reykjavik
If you have more than a couple of days in Reykjavik and want to see a bit more of Iceland, there are tons of fab day trips you can take from the city.
Below, I've rounded up a few of the best ones from my favourite tour operator Get Your Guide – but you can search for even more ideas here.
My Reykjavik Restaurant Recommendations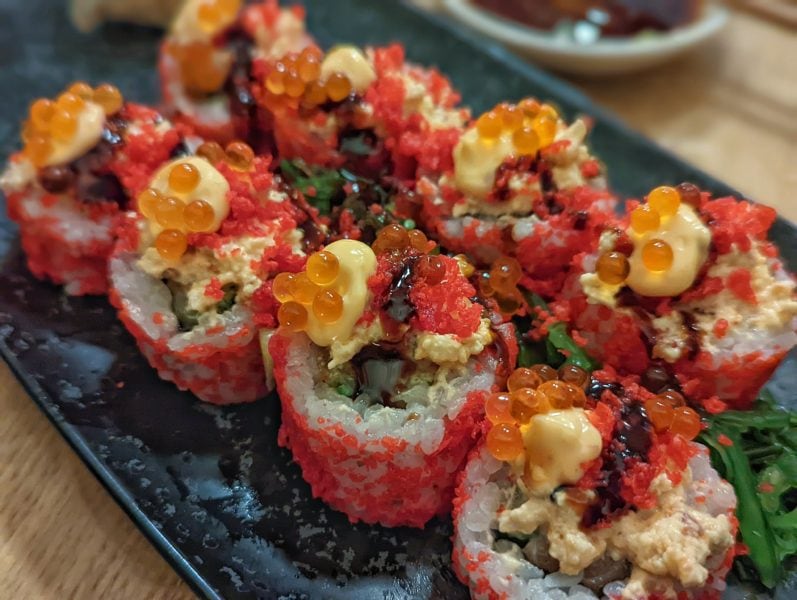 What to Pack for Reykjavik in Winter
The following tips only apply to packing for Reykjavik – if you're planning on exploring more of Iceland you'll probably need some sturdier outdoor gear.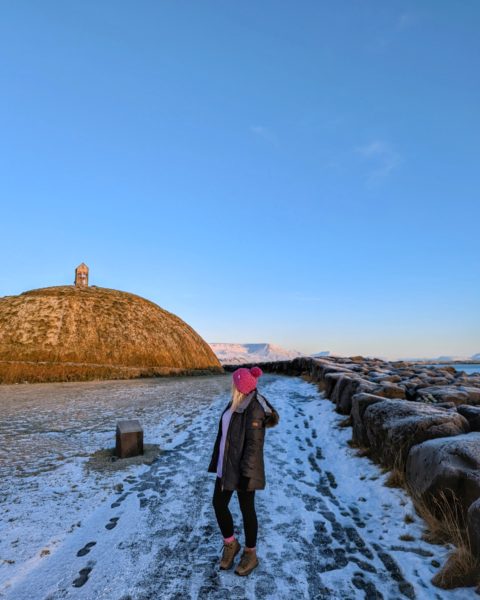 Packing for Reykjavik in winter is all about layers. Start off with a thermal base layer – especially long thermal leggings or longjohns – and wear those underneath the kind of clothes you'd normally wear in winter.
Then a nice cosy jumper or zip-up fleece over the top, followed by a really good outer layer. Most days, I wore skinny jeans (over thermal leggings), a long-sleeved top, a woolly jumper, and my big coat, and I was fine.
You don't need to be wearing ski trousers or hardcore winter gear to explore Reykjavik city in winter. As long as you have a good base layer and decent outwear, you can wear pretty much whatever you want to in between!
What Shoes for Reykjavik in Winter
Decent footwear is the other most important thing you can pack for visiting Reykjavik in winter. Trust me, you don't want to be slipping through the snowy streets in a pair of trainers or high heels!
Take a decent pair of comfortable, sturdy, and waterproof winter boots. Mountain-ready hiking boots or snow boots are important if you plan on doing outdoorsy activities like glacier hiking, but for exploring Reykjavik normal waterproof boots will be fine.
I wore my favourite Danner Mountain 600 hiking boots for our walking tours of the city – they're waterproof, really warm, and have great grip so they were perfect for Reykjavik's icy streets. Click here to check the latest price.
But most of the time, I wore my Rocket Dog Tayte ankle boots, which are a much cheaper option and were absolutely fine. As long as your boots are warm, waterproof, and have decent grip, they'll be great.
A couple of thick pairs of warm hiking socks or wool winter socks are also a MUST. I used thermal hiking socks like these ones, but proper ski socks would also be a good option.
Best Winter Coat and Outwear for Reykjavik
In my opinion, a decent coat is the most important thing you can pack for your winter trip to Reykavik.
A thin parka or lightweight raincoat just isn't going to cut it. I recommend an insulated waterproof and windproof winter jacket or down parka, preferably a specific snow jacket (the kind designed for ski trips).
I wore my Roxy Quinn Snow Jacket, an insulated waterproof snow jacket, and it was absolutely PERFECT for Reykjavik's low temperatures. Honestly, I could have been naked underneath and I'd still have been warm enough! It's a bit on the pricey side, but this Mountain Warehouse Isla II Down Jacket looks similar for a more reasonable price.
You'll also want a good hat, scarf, and gloves to keep all your extremities warm. I actually took two of everything, but definitely found that the hat and scarf from outdoor gear shops worked better, so here are my recommendations:
2-3 Day Winter Packing List for Reykjavik
Pack your normal winter city break clothes (things like jeans and long-sleeved tops or dresses and leggings/thick tights), underwear, and toiletries. Then throw in the following…
Read More
5 Day Southern Iceland Itinerary and Budget
The Travel Bloggers Guide to Iceland
Things to Know Before your First Ski Trip
I hope my guide to visiting Reykjavik in winter is helpful! If you've got any questions feel free to reach out in the comments below.