Some posts on this site contain affiliate links. If you book or buy something through these links, I earn a small commission (at no extra cost to you). Take a look at my privacy policy for more information.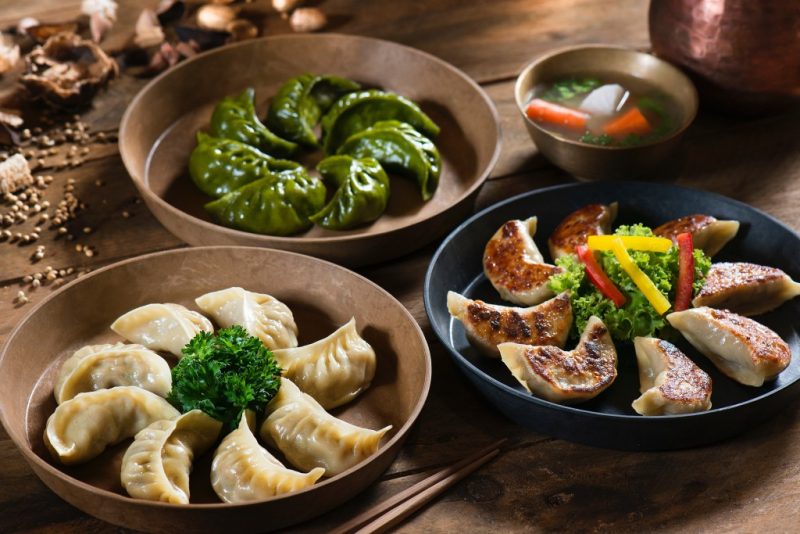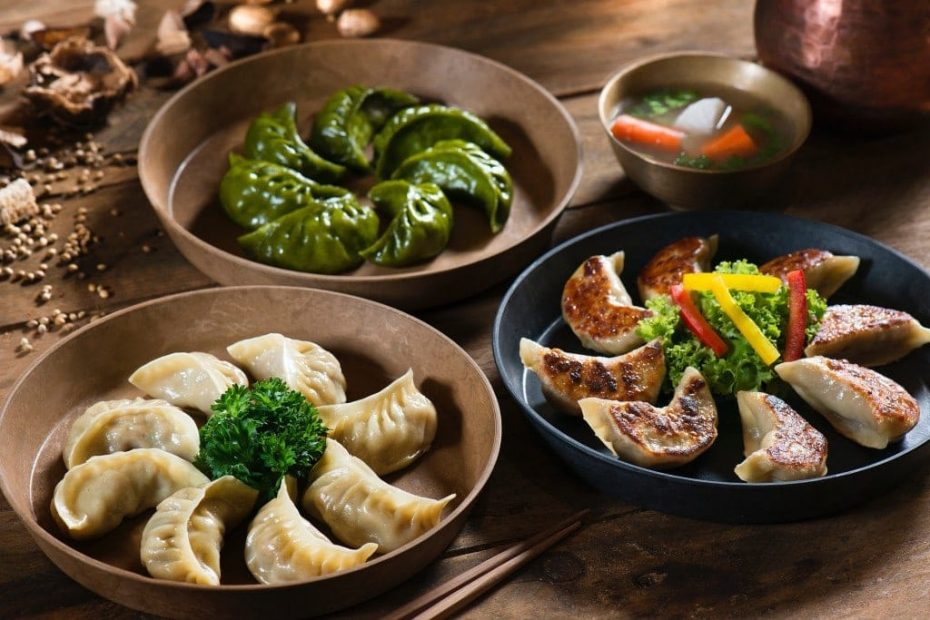 My guide to the best momos in Kathmandu – with input from fellow travellers!
If you were following my Instagram stories while I was in Nepal, you might have noticed a bit of a theme… momos! Sooooo many momos! ALL the best momos in Kathmandu!
I discovered momos when I was in Rishikesh in India last year, and totally fell in love. They're just little blobs of hot, tasty heaven! And they make a very welcome change from the endless dhal bhat which is the Nepali staple.
If you're heading to Kathmandu, you have to try them. To make that easy for you, I have a fab list of the best momos in Kathmandu, selected from an even longer list of all the places I tried. Enjoy…
READ MORE: 17 Nepali Dishes you Need to Try
What Are Momos?
Momos are a type of steamed dumpling which originated in South Asia and are widely eaten across the Himalayan countries. They are native to Tibet, Nepal, Bhutan, and India (particularly the Himalayan regions like Sikkim State).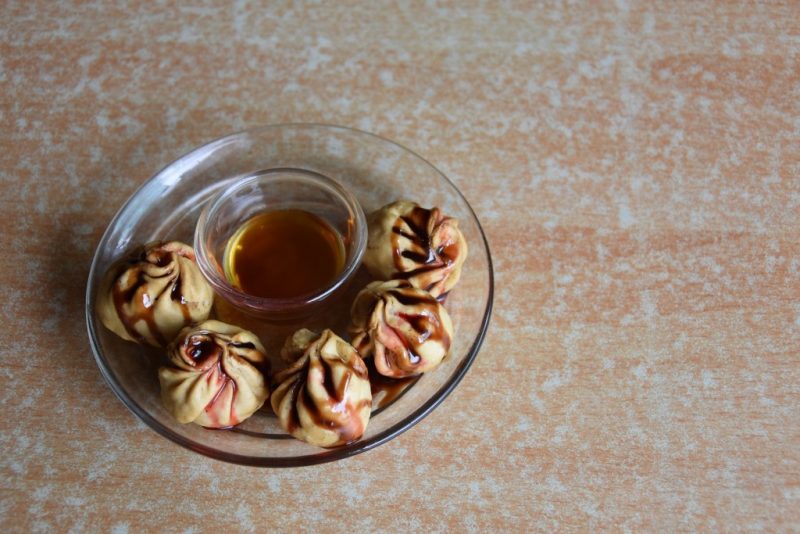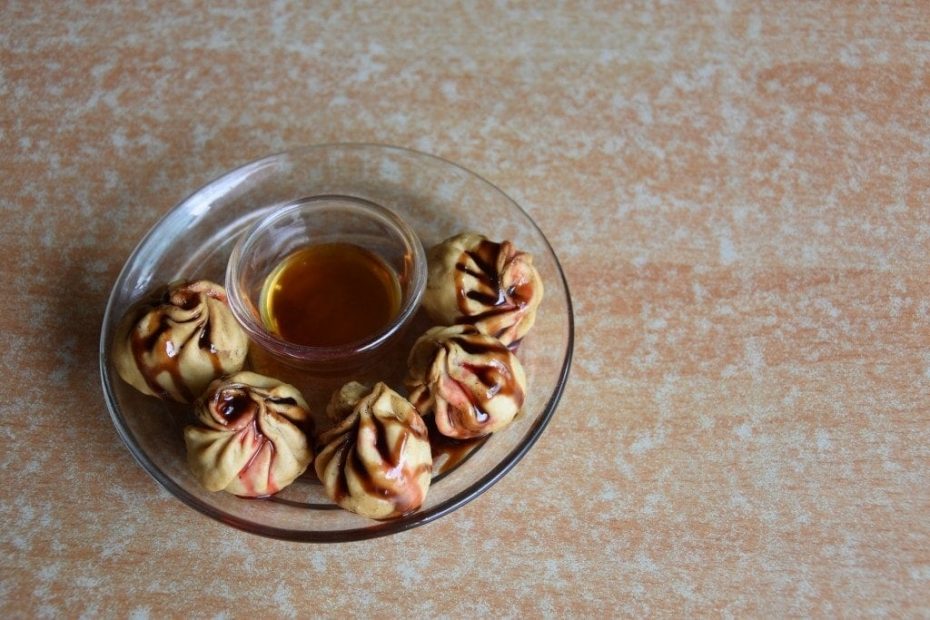 Image by Veronika's Adventure – read her top places to visit in Kathmandu here.
Very similar to Japanese gyoza and Chinese baozi, momos are usually filled with moist minced meat, paneer, or lightly spiced veggies. The filling is stuffed into a soft dough and shaped into a crescent or a ball with a crimped/wrapped edge, then steamed in something called a mucktoo. The small, tasty snacks are usually served on plates of ten – and they're the perfect comfort food!
Find out the full story behind momos and where they come from here.
Where to Find the Best Momos in Kathmandu
I looked all over the capital for the best momos in Kathmandu, so you don't have to! I'm fairly certain I gained about a stone in this endeavour, but it was worth it. You're so very welcome…
Newa Mo:Mo Restaurant
I was led to this tiny little momo restaurant in Kathmandu by Nathan of Foodie Flashpacker within about five minutes of first meeting him. He discovered it when he was in Nepal years ago, and was impressively able to sniff it out amongst the craziness of Thamel district on his return trip. And we are so glad he did, because the momos at Newa were incredible!
It's quite out of the way down a small alley, but there are signs, so get exploring! I recommend the buff (buffalo) and the potato cheese momos. They also had chocolate momos on offer, which I wish I'd tried because I bet they're amazing. Newa Mo:Mo Restaurant also run momo cooking classes which would be a fantastic way to learn more about my favourite Himalayan snack.
Cost – 90 to 250 NPR
Newa Mo:Mo Restaurant. 200/38- Thamel Marg, Kwabahl, Thahity. +977 9803925602
Cafe du Temple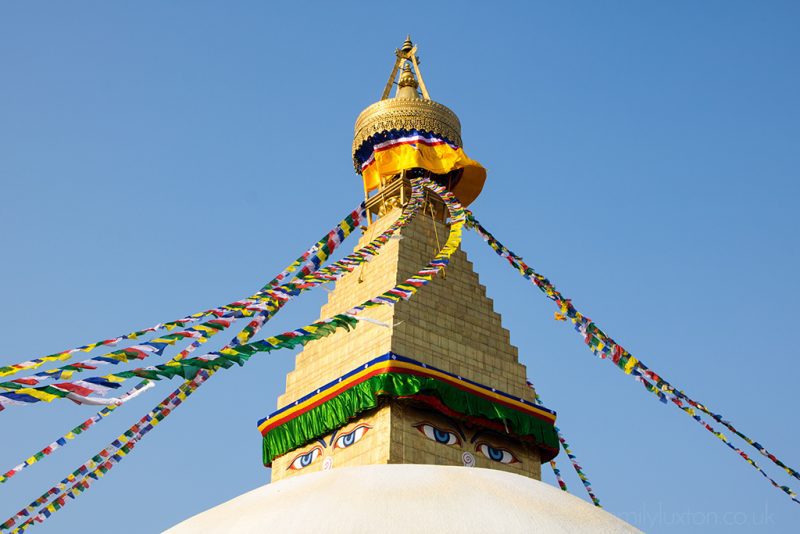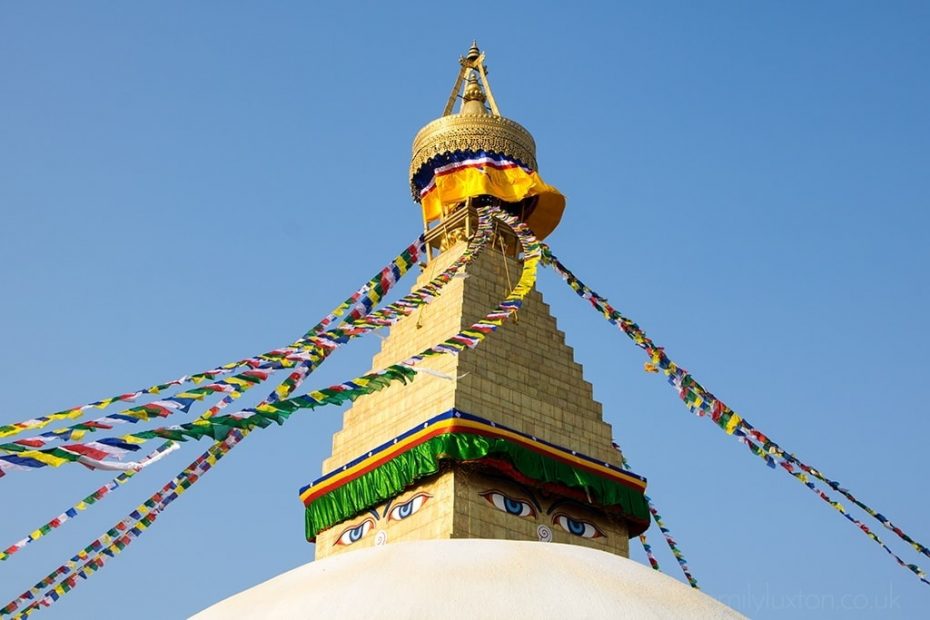 With a roof terrace overlooking the stunning white and gold stupa of Boudhanath temple, the momos at Cafe du Temple come with one of the best views in Kathmandu. The momos weren't the best on this list, but they were pretty good – and the view made it all worth it.
Cost – about 250 NPR
Cafe du Temple, Boudha Rd, Kathmandu 44600. +977 14489002
Utsav Authentic Nepali Restaurant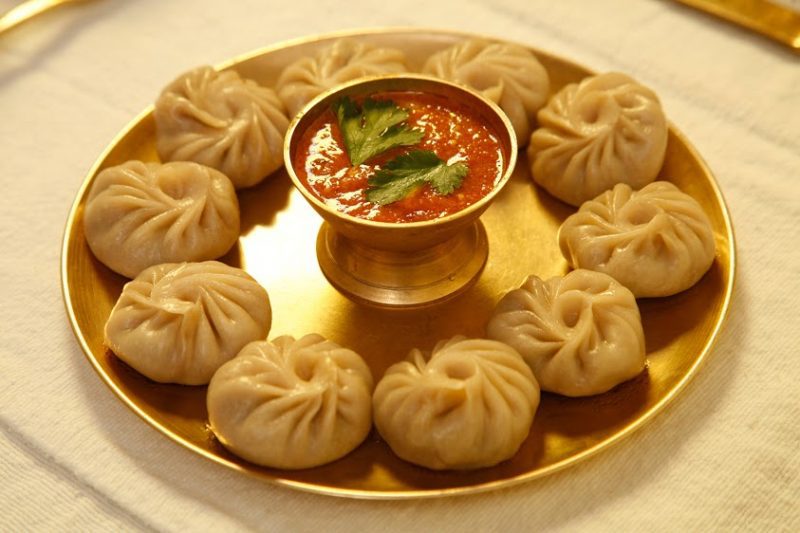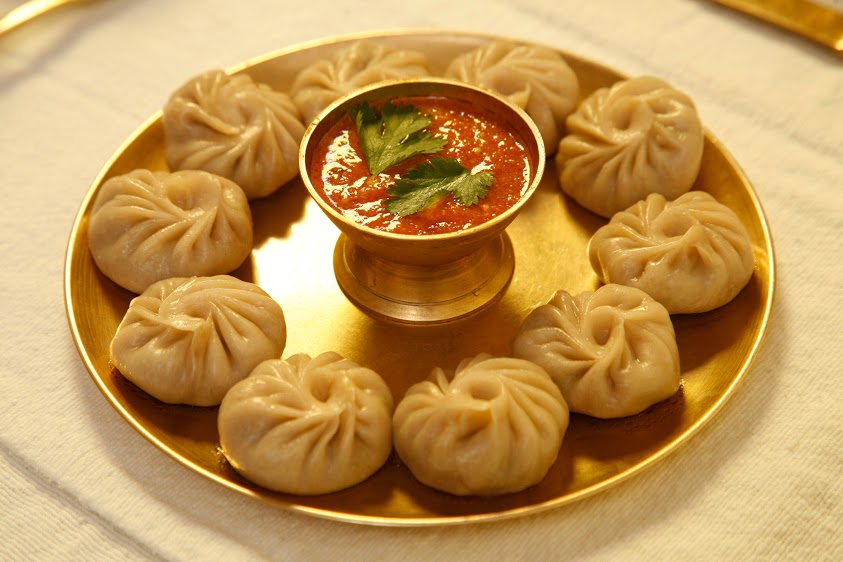 Image by Utsav Restaurant
Utsav is a little more high-end than the other places on this list, but the momos I was served here were seriously good. The restaurant serves up traditional Nepali food alongside an entertainment programme of classical dance and music. It was a fun evening and the food was great, but it's a bit of a tourist trap! Food is normally a set menu, which is what I had (and which was fantastic), but you can also order a la carte.
Cost – Five-course set meal 1400 NPR plus tax (you get a lot of food for this).
Utsav Authentic Nepali Restaurant, Lal Durbar, Durbar Marg, Kathmandu. +977 14430170.
Yangling Tibetan Restaurant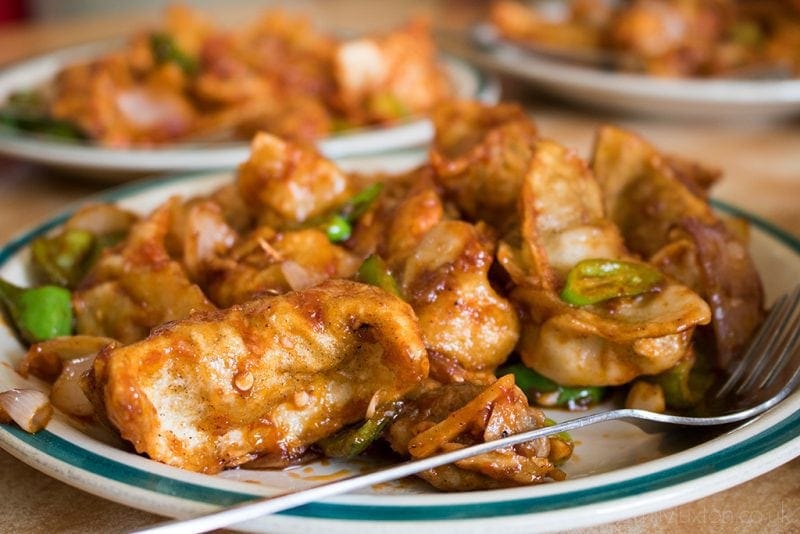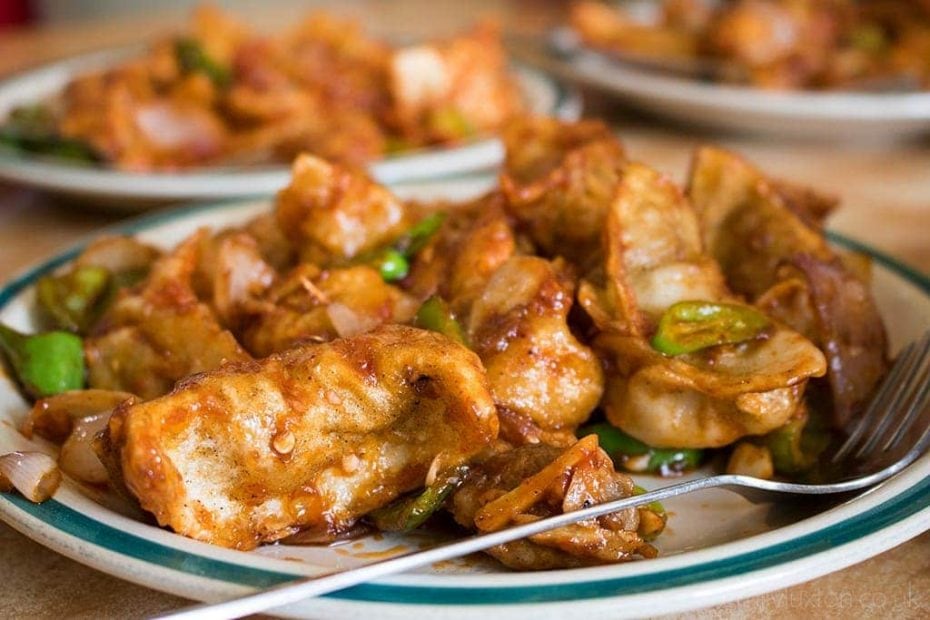 The lovely bloggers from Common Wanderer recommended this little Tibetan restaurant to me for the best momos in Kathmandu, and I think they might well be right. These were possibly the best I had (but it's a very close call)! They were definitely the biggest I had though so if size matters to you, choose Yangling. Go for the fried chilly momos which come slathered in a sticky, not-too-spicy sauce and are total heaven.
Worth noting that the restaurant has moved and is no longer where Google maps says it is, but a few streets further on. It's easy enough to find though, just ask around.
Cost – 150 to 250 NPR (Pork chilli momos 250 NPR)
Yangling Tibetan Restaurant, Satghumtee, Kathmandu. +977 014257408.
Yak Restaurant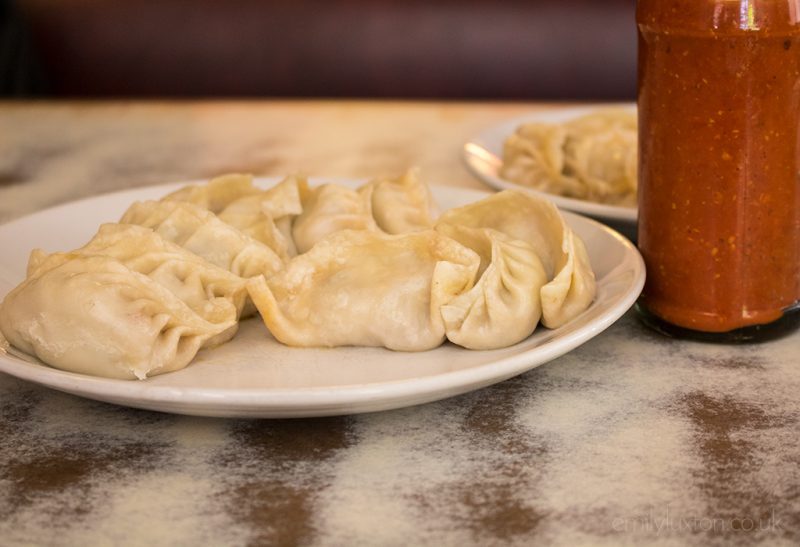 I headed to Yak Restaurant because Macca (A Brit and a Broad) told me they serve an amazing yak curry. He lied – there was no yak. But instead there were some of the best momos I tried, which I had as the first course of an epic last day feast I split with Nathan. That man is a bad influence on me!
The momos at Yak Restaurant were simple but really good. I definitely recommend the buff momos. I definitely don't recommend listening to Nathan when he suggests you order twenty momos, half a chicken, a curry, rice, and a naan to share…
Cost – 150 to 220 NPR
Yak Restaurant, Thamel Marg, Kathmandu 44600. +977 9813289894
Map of the Best Momos in Kathmandu
Can you recommend any more of the best momos in Kathmandu? Scroll down and share in the comments!
My time in Nepal was partly sponsored by PATA and the Himalayan Travel Mart (but most of these meals were self funded). All words and opinions are, always, my own!
Pin this post for later…