Some posts on this site contain affiliate links. If you book or buy something through these links, I earn a small commission (at no extra cost to you). Take a look at my privacy policy for more information.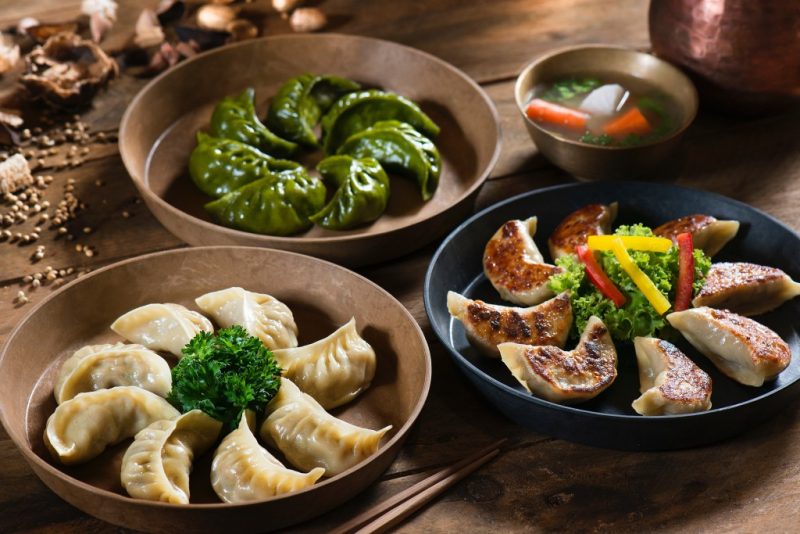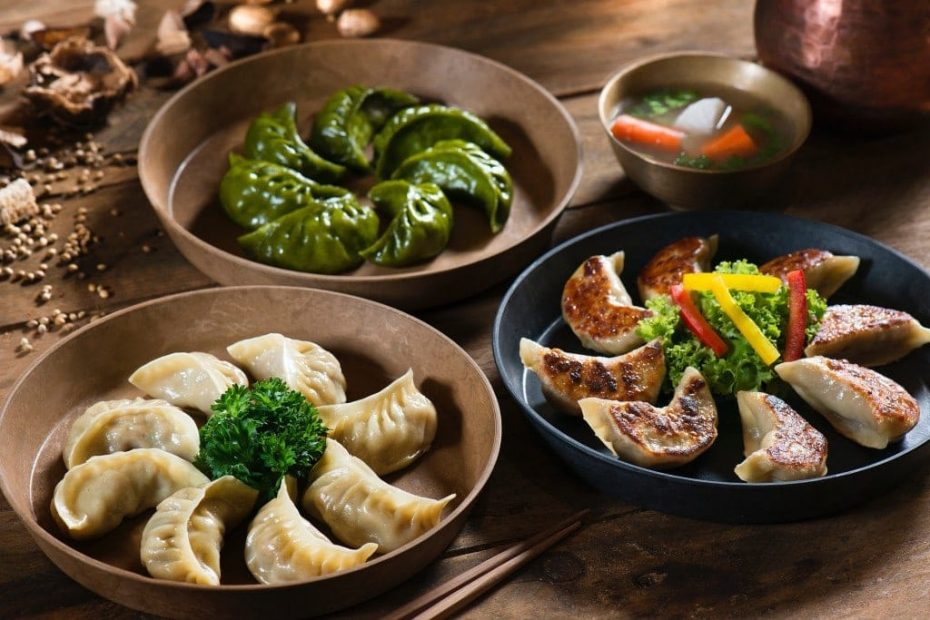 Welcome to my bumper Nepal food guide! These are some of the most famous Nepali dishes you have to try while you're there…
For me, food and travel go hand in hand. There's really no better way to discover a destination's culture than through its food.
If you feel the same, you'll want to make sure you eat as many of the top Nepali dishes as possible during your trip. Some, such as the iconic dal bhat, you simply won't be able to miss – it's everywhere! Others on this list may be a little less obvious, so be sure to look out for them.
Nepali cuisine is heavily influenced by its neighbours: northern India on one side, and Tibet on the other. These countries share many dishes, ingredients, and flavours – so you may recognise a few. But Nepal often puts its own unique spin on these dishes. So even if you've tried something before, make sure to check it out in Nepal, too!
Check out my overview on what to expect from food in Nepal at the start of this post, then keep reading for the top dishes you can't miss! I've also included desserts and drinks in a separate section at the end of this post.
So pack your bags, bring your appetite, and get ready to discover the culture of Nepal through its delicious cuisine. Bon appetite!
Food in Nepal: What to Expect
Nepali cuisine is a delightful mix of flavours, spices, and techniques influenced by its neighbouring countries, India and Tibet.
The most common ingredients in Nepali cuisine include rice, lentils, vegetables, and meat. Chicken and buffalo are the most common meats, but goat meat and mutton are also used. Spices such as cumin, coriander, turmeric, and chilli are staples in almost every dish.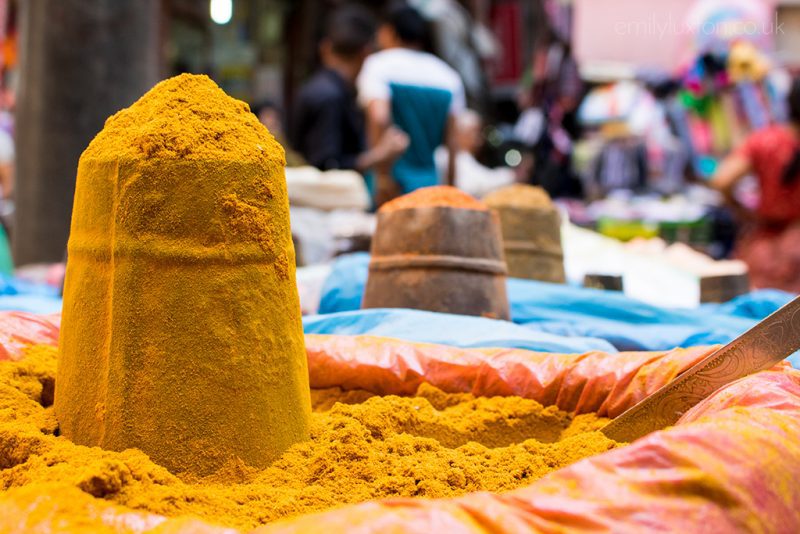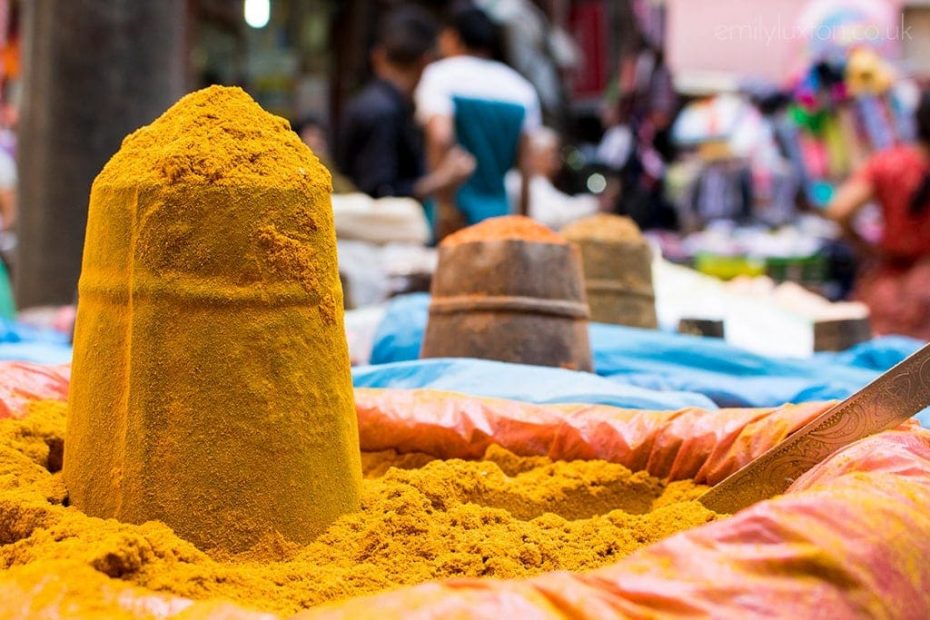 For example, dal bhat – the national dish of Nepal – is a simple yet hearty meal predominantly consisting of lentils. Momos, the beloved Nepali dumplings, come with a variety of fillings and are often served with spicy chutney.
Nepali cuisine is known for its bold flavours and warming spices, so be sure to explore as many of these dishes as you can during your trip.
READ MORE: 17 Things to do in Nepal
11 Iconic Nepali Dishes You Have to Try
Make sure to sample these must-try Nepali dishes during your trip…
1 – Dal Bhat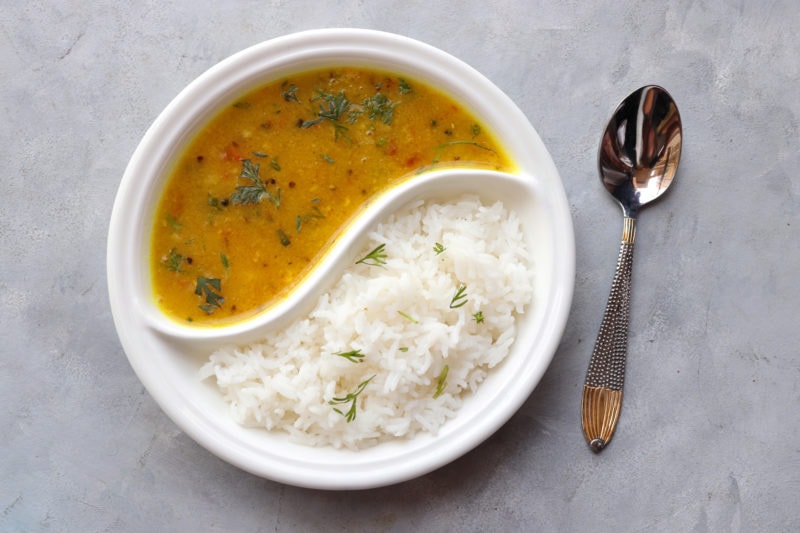 Dal bhat comes top of every list of Nepali dishes. The word dal applies to all kinds of lentils, pulses, and beans, while bhat is steamed rice. Dal bhat is a kind of lentil soup served with steamed rice.
This dish is the staple food of Nepal and is widely available throughout the country – so be sure to try it.
Dal bhat varies depending on the region and the season. A lot of travellers complain about getting bored of eating dal bhat with every meal, but you'll actually find a lot of variety.
The soup often comes served as a thali (a platter of small dishes), with a variety of sides such as meat curry, vegetable tarkari, pickle, and chutneys.
2 – Momos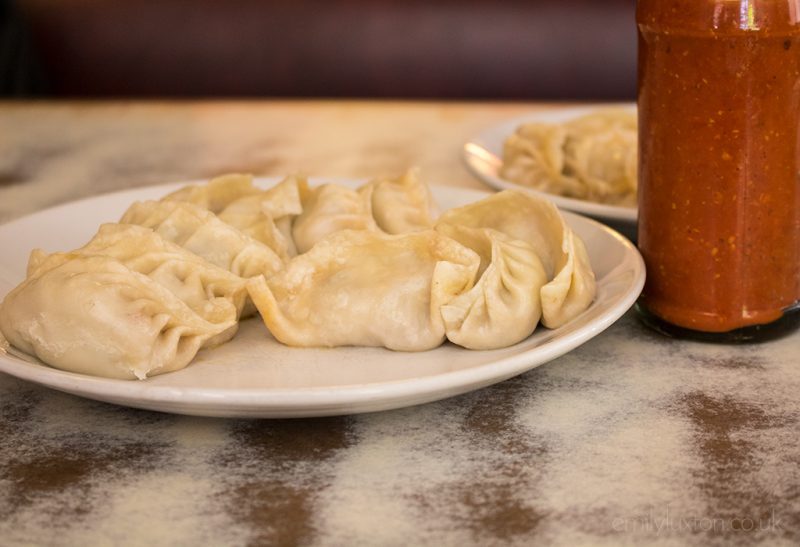 Momos are my absolute favourite food from Nepal! I ate them pretty much every day while I was there, and never got bored. They're a kind of dumpling, (similar to Chinese dim sum) which are native to Tibet, Nepal, and parts of Northern India such as Rishikesh.
You'll find all kinds of momo fillings, although minced meat is the most common. Especially buffalo – which just so happens to be one of the most commonly eaten meats in Nepal.
There are also lots of vegetarian options, including cheese, vegetables, and potatoes. Like dim sum and gyozas, momos come in several different styles: steamed, fried, or even served in a soup. The crispy-fried ones are my personal favourites – I could eat those every day!
RELATED POST: Best Momos in Kathmandu
3 – Pulao / Pilau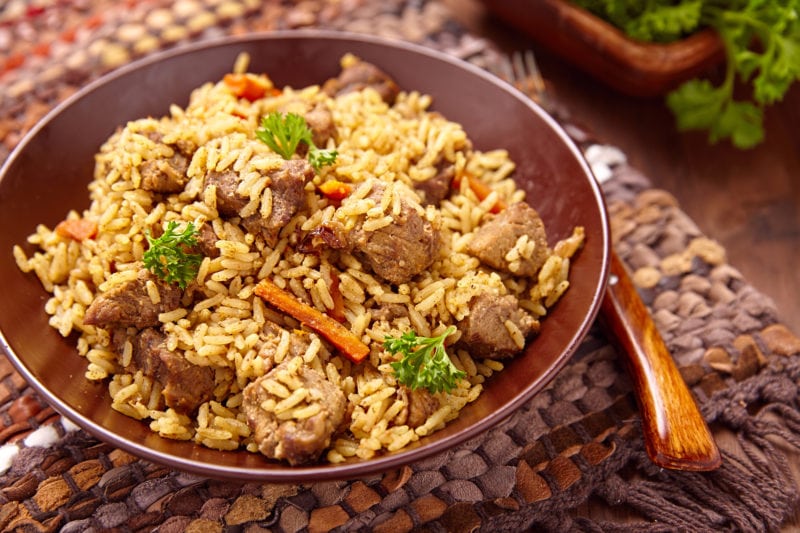 Pulao, also known as pilau, is a rice dish that's popular in Nepal, especially during festivals and celebrations. The rice is cooked with various spices, vegetables, and meat to create a flavorful dish. Pulao is commonly served with raita or yoghurt, which balances the flavours of the spices.
4 – Bara
Bara is a Nepali street food. It's essentially a deep-fried lentil pancake, usually eaten as a snack. The dish is made using black lentils, ginger, garlic, and spices, and is commonly served with a side of chutney.
5 – Aalu Achar / Aloo Achari
Aalu Achar is a spicy and tangy potato salad that's a popular side dish in Nepal. The dish is made using boiled potatoes, tomatoes, onions, chilli, and lemon juice. It's a great accompaniment to any meal and is often featured on a thali.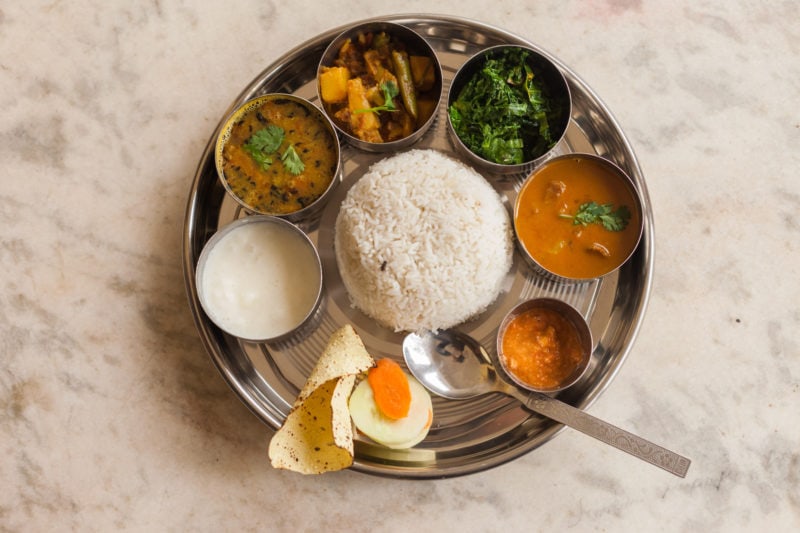 6 – Gorkhali Lamb
Gorkhali Lamb is a traditional Nepali dish that's made with tender lamb cooked in a thick gravy made from onions, tomatoes, and spices. The dish is often served with rice and is a great choice for meat lovers.
7 – Samosas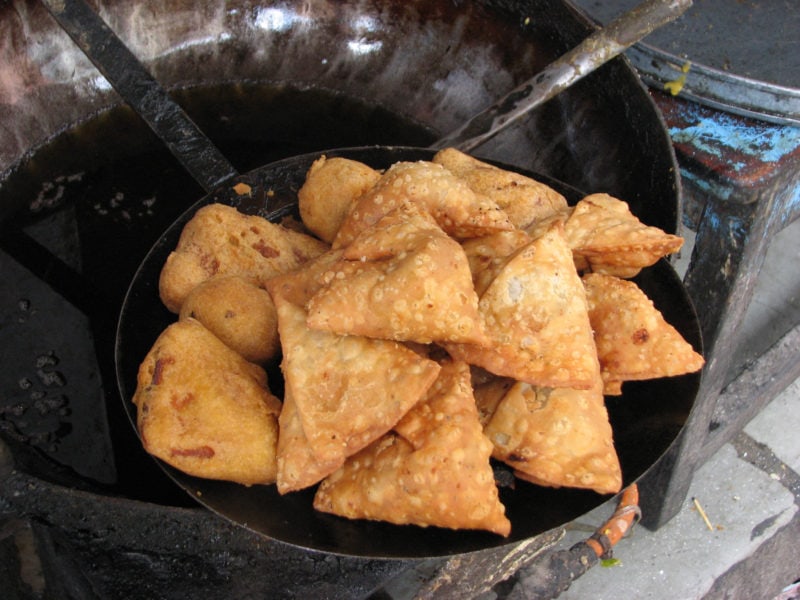 Samosas are a popular snack in Nepal, just like they are in many other countries. These triangular-shaped pastry snacks are usually filled with spiced vegetables or meat and are served with a side of chutney.
8 – Pani Puri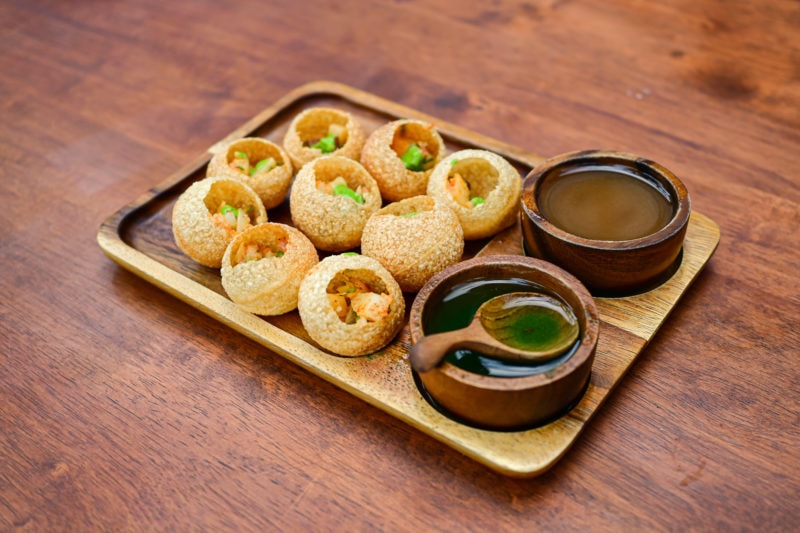 Pani Puri is a street food that's a favourite among Nepali locals. It's a crispy, hollow pastry shell that's filled with spiced water, tamarind, chilli, and chickpeas. The combination of sweet, sour, and spicy flavours makes this snack an explosion of taste in your mouth.
9 – Chatamari
Chatamari is a Nepali pizza made using rice flour, which acts as a base for the toppings. The toppings are usually a combination of minced meat, eggs, and vegetables, and the dish is often served with a side of chutney.
10 – Dhindo & Dhindo Thali
Dhindo is a sticky, grey, porridge-like Nepali dish made using millet or maize flour, which is boiled to create a dough-like consistency.
It's often served with soup or ghee to dip the dhindo into. It's also sometimes served as part of a thali (a platter of small dishes) with sides such as pickles, chutneys, and yoghurt.
11 -Thukpa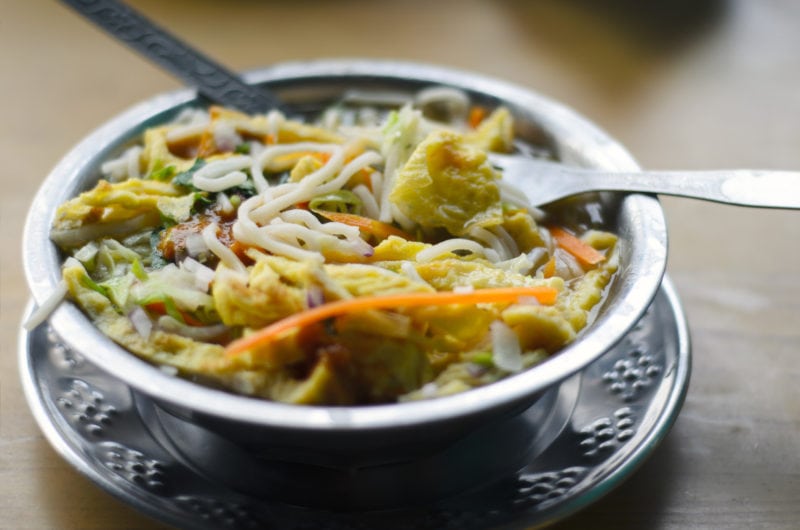 Thukpa, or thuppa, is a hearty noodle soup made using vegetables, meat, and noodles. It originated in eastern Tibet, but is also common in Nepal, especially among Sherpa communities.
This carb-heavy, warming dish is popular during the harsh, high-altitude winters. The Nepali version is often vegetarian, with chickpeas or beans added for protein, and tends to have a spicier flavour.
Nepali Dishes: 7 Desserts and Drinks
1 – Sel Roti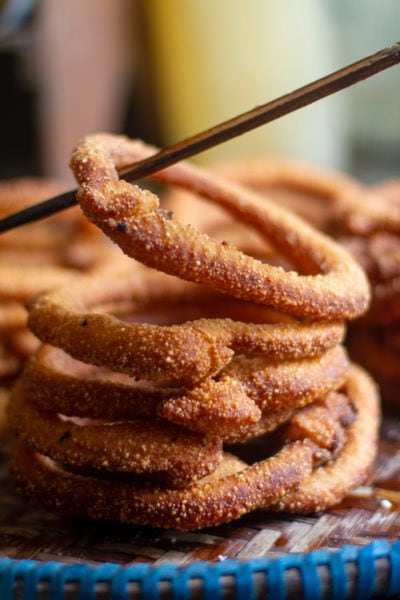 Sel roti is a popular Nepali snack similar to a doughnut. The dish is made using rice flour and is deep-fried to create a crispy exterior and soft interior. Sel roti is often eaten during festivals and celebrations and is a great way to indulge your sweet tooth.
2 – Yomari
Yomari is a very special food in Nepal. So much so that it has its own festival: Yomari Punhi.
The dessert is a steamed bun made from rice flour dough. These buns are stuffed with various sweet fillings, such as chaku – a Nepali sweet made from hardened molasses, ghee, and dates or nuts.
3 – Jeri / Jalebi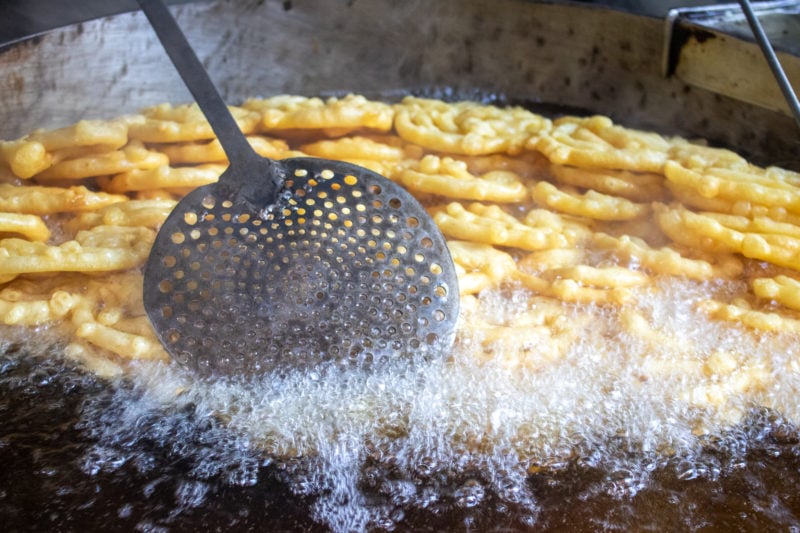 Jalebis might be more commonly associated with India, but they are popular all over South Asia and the Middle East. In Nepal, this sweet street food snack is called jeri, and is eaten all over the country.
It's a dessert made of batter, which is deep-fried in a pretzel or spiral shape and served covered in syrup. Hot, greasy, and very sweet… basically my ideal food!
4 – Juju Dhau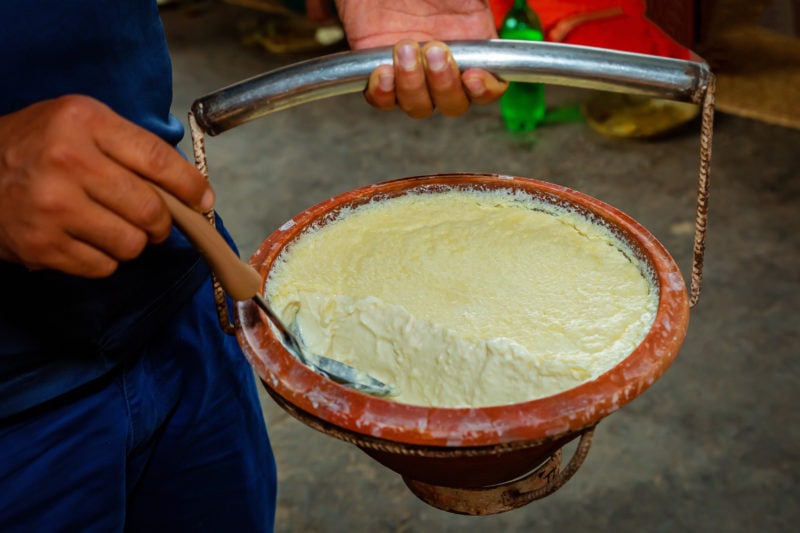 Roughly translated as "King Yoghurt" or "King Curd", juju dhau is a creamy, thick yoghurt made using buffalo milk.
5 – Chai tea
Nepali chai tea, also called chiya, is served all over the country. Chai literally just means "tea" in Hindi. But most often the beverage is made with milk, sugar, and spices including cardamom and cinnamon. Sweet, warming, and absolutely delicious!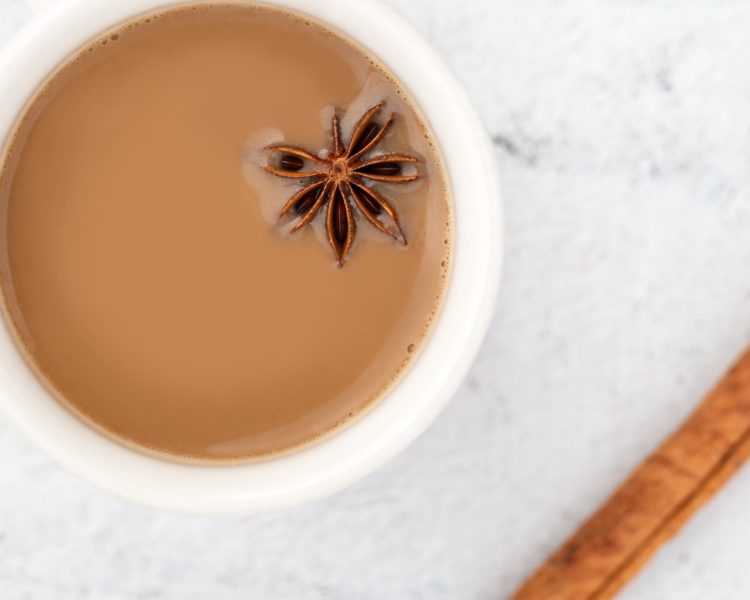 6 – Everest Beer
There are several native beer companies in Nepal. Everest is one of the most popular and iconic, originally made to commemorate the 50th anniversary of Tenzing Norgay Sherpa and Edmund Hilary's conquest of Mt. Everest.
You can also try Gorkha Beer and Nepal Ice while you're in Nepal!
7 – Raksi
Raksi is a traditional distilled alcoholic beverage in Nepal. It's super strong, clear, and a little bit like Japanese sake.
Raksi is often served at special occasions like parties, or at the end of big feasts. On these occasions, it's poured from as high as possible, from a special spouted pitcher. It's great fun to watch – but the hangovers the next day are less fun, so go slow!
Best Nepal Food Tours
If you want to learn more about Nepali cuisine, or just have some fun and meet new people, why not take a food tour or a cooking class? These are one of my favourite ways to travel a little deeper, and delve into the culture of a destination.
Some of the top-rated food tours in Kathmandu…
I hope you've found this guide to the best food to try in Nepal helpful! Try to try as many of these foods as possible on your trip.
Have I missed anything? Scroll down to leave a comment with your favourite Nepali dishes – or any tips you think would help fellow travellers!