Some posts on this site contain affiliate links. If you book or buy something through these links, I earn a small commission (at no extra cost to you). Take a look at my privacy policy for more information.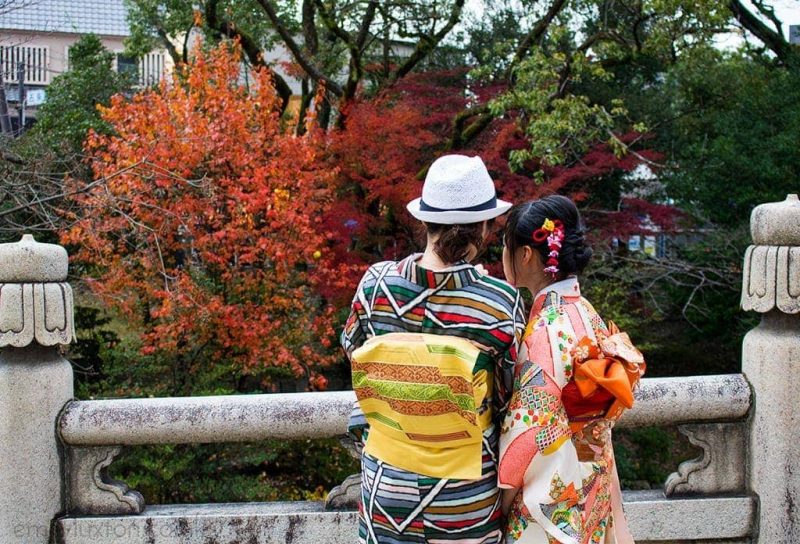 Japan has a reputation for being expensive. Before I went last month, that's all anybody said about it. "Oh, you're going to love it" was always quickly followed by "you're going to spend so much money". And I was planning to; with a niece that collects Tsum Tsums and a nephew addicted to Pokemon, how could I not splurge all my travel blogger earnings on Christmas presents for two of the geekiest kids in my family? Not to mention my own Ghibli obsession (I want a life-sized stuffed Totoro so bad). It was going to be an expensive nine days, and I was ready for that.
But actually, I was pretty surprised to discover that Japan wasn't as costly as I was expecting it to be. Accommodation certainly was, and brand name toys definitely don't come cheap*, but everyday travel costs like food, drink and public transport were on a par with England. Food in particular is incredibly reasonable, if you find the right places. So when the folks at travel money company WeSwap challenged me to take a day out in Kyoto on a budget of £50, I was well up for it. And I was really surprised how much I was able to get done in a day. Read on to see how I got on, and find my tips for saving money in Kyoto…
TOP TIP: If you're on a really tight budget, consider when you go. The shoulder and off seasons are often cheaper and winter in Japan can be a really beautiful experience.
*I have no regrets about how much I spent in the Osaka Disney store!
Who Are WeSwap?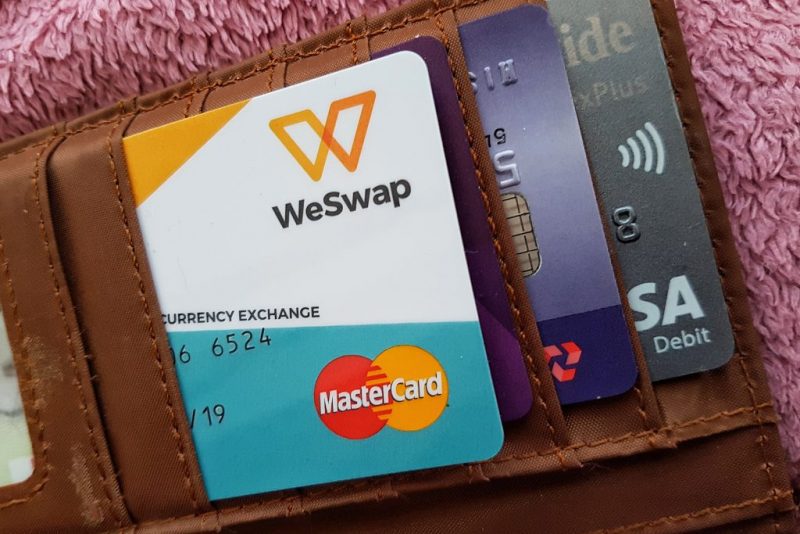 A new take on travel money, WeSwap are a great alternative to old fashioned currency exchange bureaus and the high costs of changing money at your bank. WeSwap let travellers around the world swap currency with each other with no hidden costs, so that everyone gets the fairest rate. You get a prepaid Mastercard which you can load with your money, then swap it directly with another traveller into the currency you need. No fake exchange rates or hidden fees – just a straight swap. Sounds good, right?
WeSwap loaded my card up with £50, which I swapped for ¥6687 at that day's conversion rate. And then I set about seeing how far it would go on a day out in Kyoto. Which is pretty far, as it turns out…
One Day in Kyoto on a Budget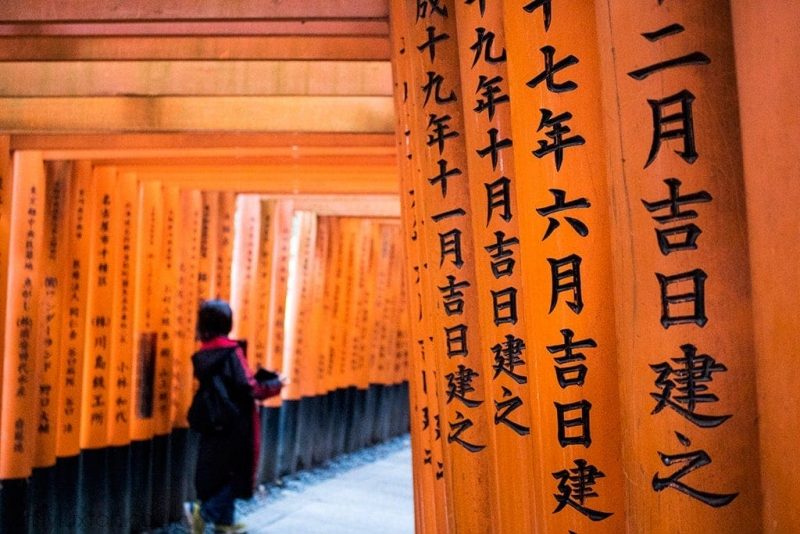 In Kyoto I was lucky enough to be travelling with Pamela, a friend I'd first met in Bali a few weeks before (travelling is full of awesome coincidences like this). We started our day at the Nishiki Market for some window shopping. Lots of the stalls and shops have samples and tasters to give out, and after reaching the end of the market we were both stuffed. I loved Ochanoko Sai Sai, where we tried soup, spices, chocolate, and more – and where I just had to buy some delicious rice seasoning! I also bought a couple of gifts, spending around ¥1500 yen in total at the market. Not a great start to a day on a budget, but with so many amazing handmade products on offer at Nishiki Market, it was easy to get carried away.
Next stop was Fushimi Inari Shrine, probably the most iconic of Kyoto's 2,000+ shrines and temples. The shrine itself is free to enter, like quite a few of the major tourist attractions. This is definitely one of the best things to do in Kyoto. The famed line of torii gates stretching up the sacred Mount Inari is seriously beautiful, but it's also very crowded – if you want a shot to yourself go early, or in the late afternoon. Most people don't keep going all the way to the top, which takes around an hour, so if you keep walking you might be able to get a photo without the crowds.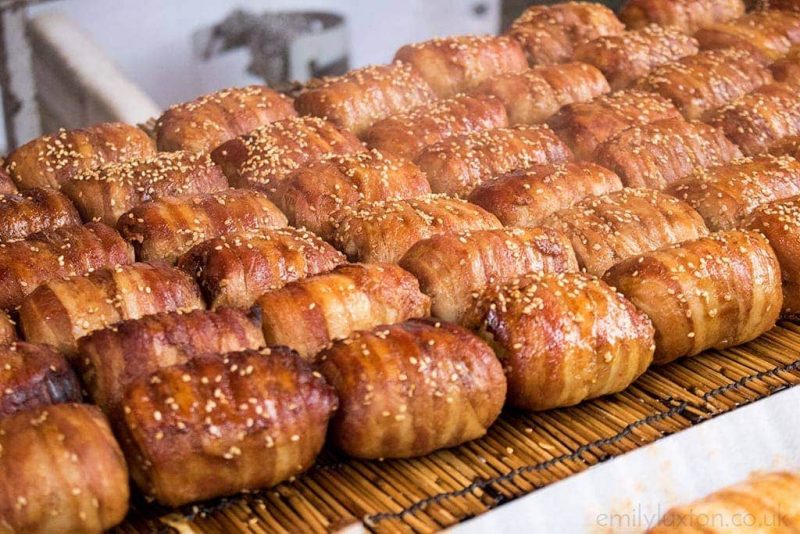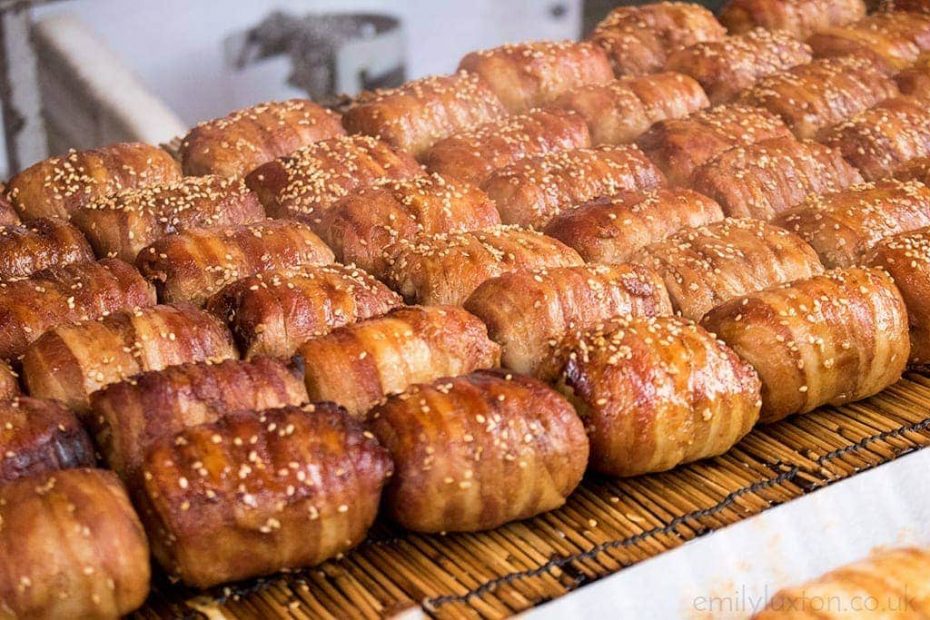 There's a market stretching down the street from the shrine, which is a great place to grab a fairly reasonably priced lunch. I got a bit carried away (again) because everything was delicious, but it was worth it. The bacon-wrapped rice ball coated in sticky soy sauce was probably the best 500 yen I've ever spent! Suitably stuffed, we rolled back onto the train and headed across town to Kiyomizu-dera Temple. Luckily, the walk from the station to the temple, plus getting seriously lost in the nearby graveyard (my fault – sorry Pam!), was probably enough to burn off most of the food we crammed into our greedy faces.
Kiyomizu-dera Temple is also seriously popular, and was so crowded at sunset time that it was almost unpleasant. But, it's also really beautiful, perched on the edge of a leafy mountain and surrounded by those gorgeous autumn colours that make Kyoto in November an absolute joy to explore. Although sunset was a bit of a no-show, the views of Kyoto at night were worth the 400 yen entrance fee.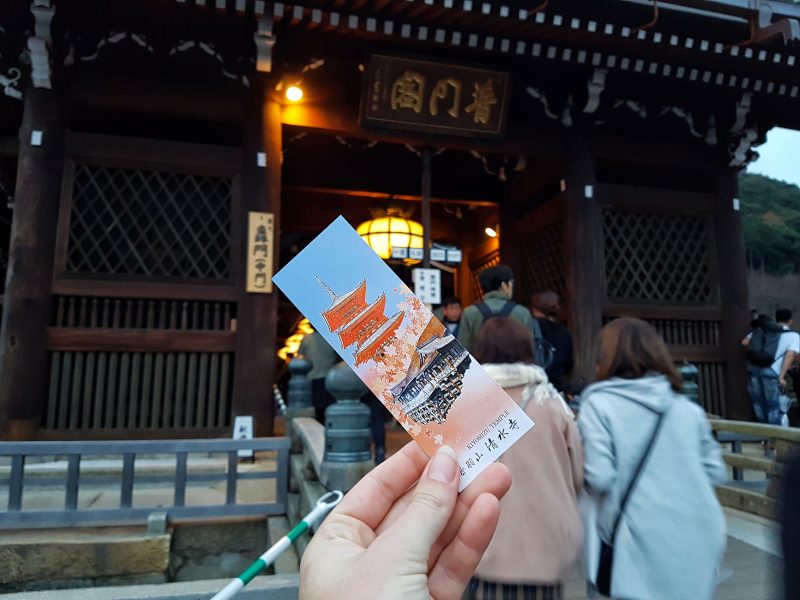 After dark, we wound our way back downhill, browsing the souvenir shops as we did. That's when I discovered Acorn Republic, a beautiful little shop crammed full of official Ghibli merchandise, and collapsed in geeky childish excitement! Although I wanted to buy every single item in that shop (no exaggeration), I managed to maintain some glimmer of control of myself and only bought two small presents. My very own miniature Calcifer, the cutest animated flame who ever existed, and a dust-spirit keychain. If you haven't seen any of the Ghibli movies, and you're heading to Japan (or even if you're not), I strongly recommend them. My Neighbour Totoro and Spirited Away in particular are full of Japanese folklore and traditions, giving fantastic cultural insight, and they're also just beautiful, adorable movies.
Last stop was dinner. Luckily, Pamela had already been in Kyoto a few days and had hunted out an amazing budget restaurant. Sukemasa Gyoza is popular with locals, and has a great set menu. A feast of gyoza, rice, and miso soup set us back just ¥780 – around £5. Perfect end to a day in Kyoto on a budget – and it was delicious!
What I Spent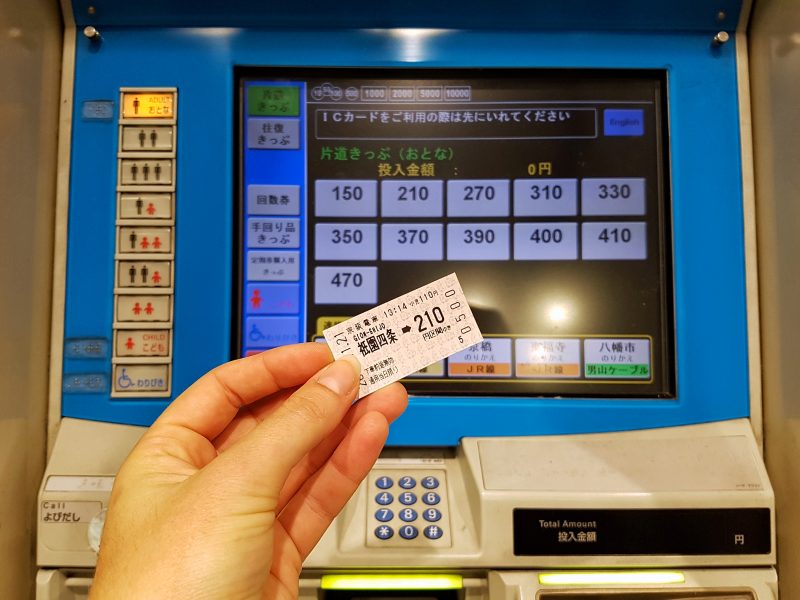 Breakfast: Free (made myself porridge at my hostel)
Nishiki Market: ¥1540 on gifts (sweets and spices)
Coffee: ¥450
Train Gion Shijo Station to Fushimi-Inari Station: ¥210
Lunch: ¥1150 – Street food snacks at the market by Fushimi-Inari. Bacon-wrapped rice ball ¥500, beef skewer ¥500, custard pie ¥150. Sake samples free!
Train Fushimi-Inari to Kiyomizu-Gojo Station: ¥210
Kiyomizu-dera Temple: ¥400
Ghibli Sovenirs: ¥885
Ice cream: ¥300
Dinner: ¥780 at Sukemasa Gyoza. Set meal with 12 gyoza, steamed rice, miso soup and Japanese pickles.
TOTAL: ¥5925
After adding it all up, I was surprised to see that my day of sightseeing, shopping, and stuffing my face came in at just around £41. By using public transport, walking as much as possible, and making savvy choices, we were able to have a great day out in Kyoto on a budget!
Tips for Saving Money in Kyoto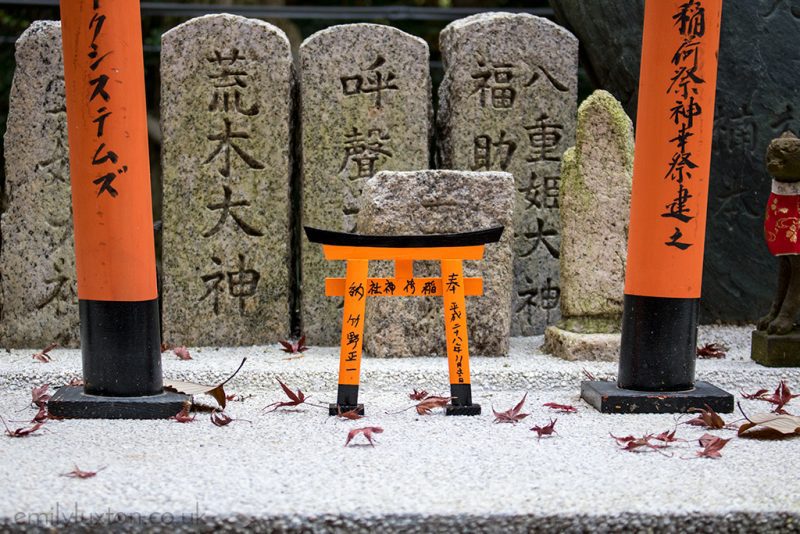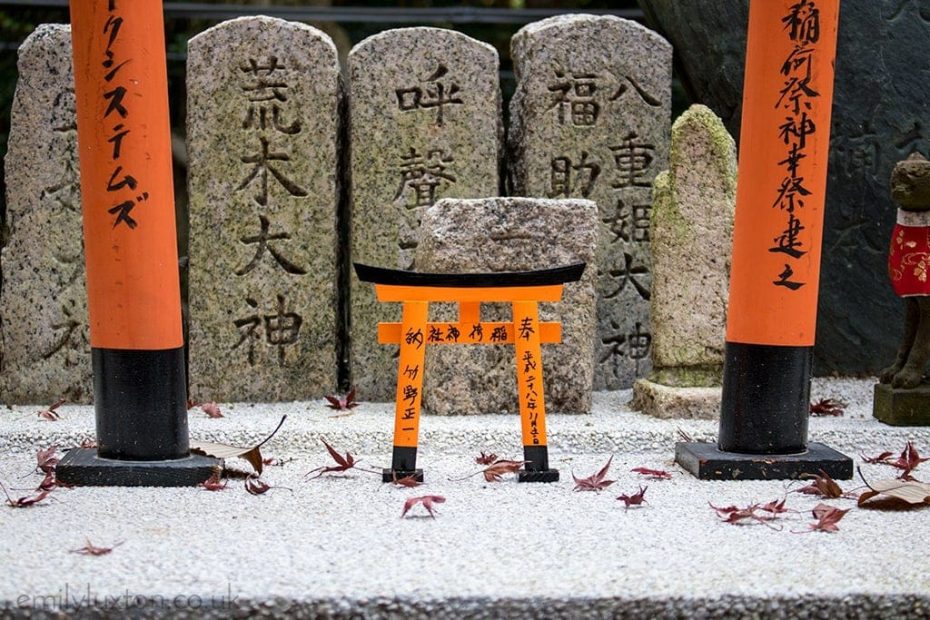 Do your research! Read blogs and ask questions on forums to plan your trip and get an idea of what things cost in advance. Check out this fab 6 day Kyoto itinerary from Pages of Travel for lots of awesome tips. If you don't have quite that long, here's a great 3 day itinerary for Kyoto that also has loads of great budget tips!
Look for hostels or capsule hotels to keep costs down if you're staying the night. If you're travelling with kids, there are some great family hotels in Kyoto where you can share a room – again helping reduce costs.
Stick to walking and public transport. Taxis in Japan are pricey and not worth the expense. Kyoto is pretty walkable and the public transport, especially the trains, are easy as pie. Google Maps is really accurate here and even tells you the prices of journeys, so there's no excuse for splurging on taxis.
Use the free WiFi. If you don't have a local sim, make the most of the city's free WiFi whenever you need to get on Google Maps. The network is Kyoto Wi-Fi and you can log in at hotspots along the Kyoto City Bus route.
Make the most of samples at markets and souvenir shops to get snacks and even sake for free. You can even get a free cup of green tea while you browse at some souvenir shops!
Heading to Tokyo?
Don't miss my post all about the best foodie adventures in Tokyo – perfect if you fancy trying something a bit different!
Heading to Osaka
Check out my round up of food you simply have to try in Osaka!
Got any more great tips for exploring Kyoto on a budget? Scroll down to share in the comments!
This post was brought to you in collaboration with WeSwap. As always, absolutely all words and opinions are my own.