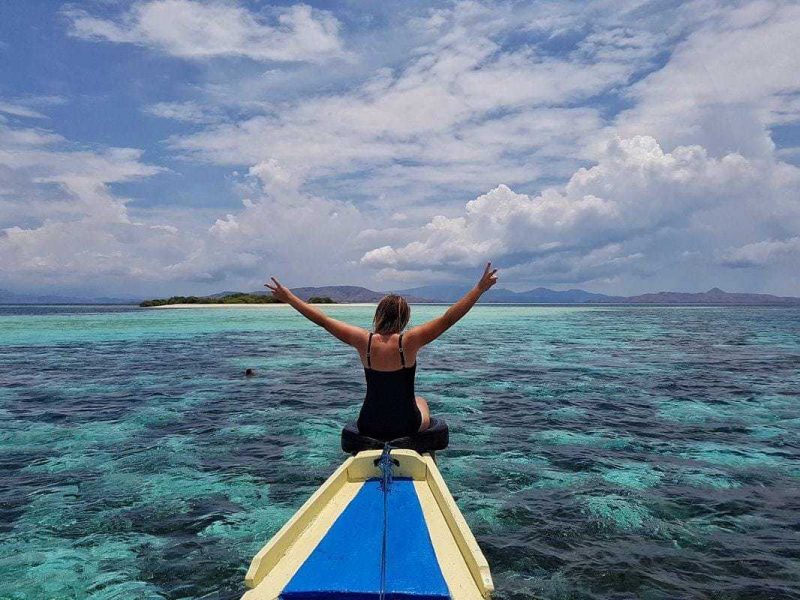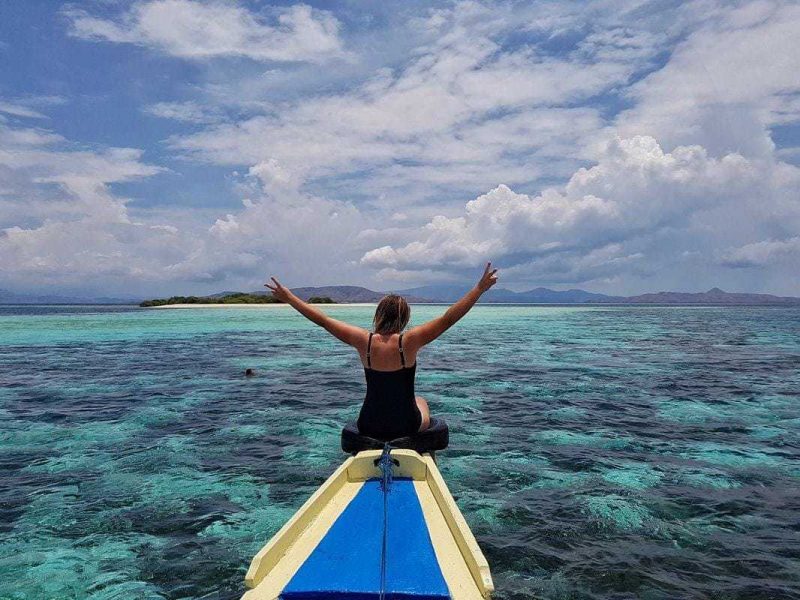 Well, that's going to be hard to top! October has been the best month of 2016 so far – in fact it's probably been one of the best months of my life so far. I was in Indonesia for the whole month – a country that's easily become one of my favourites. And yes, I say this every month about a new country, but I am in love! This time with Indonesia. It's just such a beautiful, varied, friendly, happy, wonderful country. The food, the landscapes, the people… I loved it all.
These monthly round ups have a tendency to get a bit long, so in an effort to keep things brief this month I'm going to stick to a list of the highlights. Here's everywhere I went this month…
Yogyakarta
Temples, culture, great food, and that incredible Borobudur sunrise… Yogyakarta was full of highlights. I loved exploring Prambanan temple, pictured above, the biggest Hindu temple in Indonesia. I also loved chilling by the pool in the stunning, colonial Phoenix Hotel and drinking a few cocktails with some of my favourite bloggers in the world.
Raja Ampat
After an almost hellish journey to reach it, in Raja Ampat we found the closest thing to paradise on Earth that I've ever seen. Snorkelling, relaxing, sunbathing, and swimming in the most beautiful landscapes I've found so far – it was bliss.
Lombok

A beautiful hotel on the beach, cocktails in the pool with my favourite people ("Team Fun"), watching a surfing lesson over cocktails with Wanderlust Chloe, partying it up on a boat in Gili T with around 30 amazing bloggers and photographers from around the world, and finally watching the sun rise from my beach tent on Gili Meno… Lombok was a bit of a whirlwind, but a fantastic one.
Ubud
After the Trip Of Wonders ended and (almost) everyone went home, I spent a week back in central Bali in my new favourite town of Ubud. It's quiet, small, chilled out, has some of the best restaurants in Bali, and is surrounded by beautiful green landscapes, what's not to love? Macca (A Brit and a Broad) and Chloe joined me there and we had a couple of days of serious fun – exploring rice terraces, waterfalls, and awesome burgers. And we climbed Mount Batur in time for sunrise. Which is genuinely the hardest thing I've ever done – and one of the most rewarding. Post coming very soon!
Nusa Lembongan
Finally travelling on my own again, I headed to Nusa Lembongan – a small island between Bali and Lombok. Without planning it, I discovered that a girl I met in Bali back at the start of my trip was also going to be there, so got to hang out with Pam for a couple of days. Snorkelling with manta rays was a huge highlight, as was spending the day exploring neighbouring Nusa Penida, which sees far fewer tourists than Lembongan and is one of the most rugged and beautiful places I've ever seen.
Don't miss my post about solo travel as a shy person, which I published yesterday, if you're thinking about travelling solo but feel nervous about taking the plunge.
Komodo National Park
Ah, the final highlight of Wonderful Indonesia – Komodo National Park. I flew to Labuan Bajo in Flores, met a girl at the airport who wanted to do the same tour as me, found a boat tour (thanks to the adorable Eman at Christopher's Tours) and headed out on a one night cruise in the gorgeous, paradisaical group of islands that is Komodo National Park. We did a one night cruise, but you can also do a liveaboard scuba cruise in Komodo if you want to dive!
On Rinca and Komodo, we got up close to the huge, dangerous, and fabulously lazy-looking komodo dragons in the only place in the world you can see them in the wild. I also had a second chance to swim with manta rays – so amazing – and got to stop on a teeny tiny little desert island in the middle of nowhere. Just a dot of white sand surrounded by swimming-pool clear blue water – it looked like a cartoon drawing of a desert island!
We got so lucky. Not only did we have a fab tour group (we all clicked straight away), but we had the best boat crew in the world! I loved our Captain, who was hysterical, and the three guys working on the boat were amazing. In the evening, they took us ashore in Komodo village to buy beers, and then cracked out a karaoke machine on the boat for us. Singing to a boat full of eight strangers I'd just met that day, surrounded by the silence and blackness of the ocean at night, knowing that there were other boats within hearing distance – that's definitely a highlight of my six weeks in Indonesia!
12 Fears 12 Months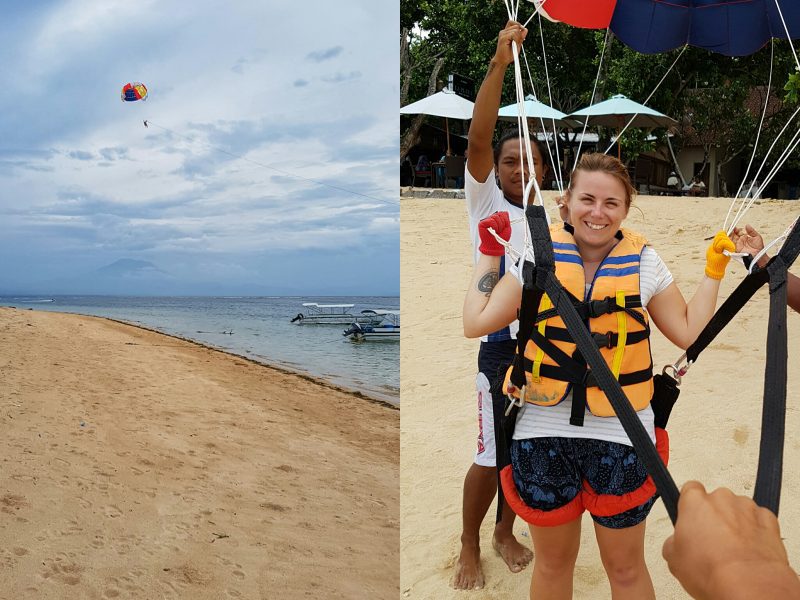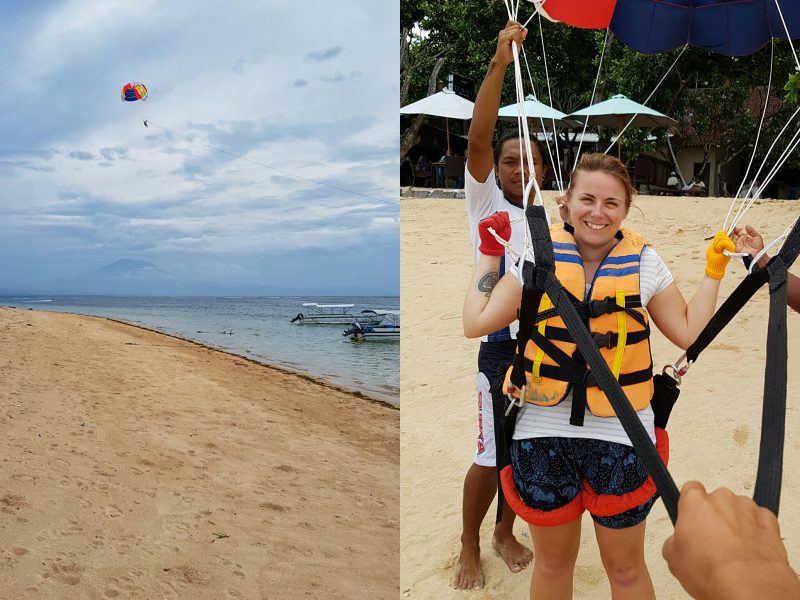 This month, I managed not one, but two things for my 2016 Challenge to do one thing a month that scares me. First up was parasailing on Sanur beach in Bali. One morning I just decided to give it a go. So, I headed to the beach, paid a few hundred rupiah, and within minutes I was attached to a huge parachute at the waters edge. A thirty second safety briefing later and I was in the air, trailing behind the speeding boat below and whooping! It was such a rush – not the scariest thing I've ever done by far, but a real thrill.
Next up came the komodo dragons in Flores. These big bad reptiles are reportedly pretty dangerous – they can run up to 20km an hour, single-handedly take down a fully grown buffalo for lunch, and their spit is so full of bacteria that if you don't reach a hospital soon after being bitten, the infection will kill you. And yet, when our guide suggested we hop on a log behind a sleeping dragon for a photo, I was the first one up there. It wasn't really until I was squatting inches from the beastie's head that I realised what I was doing and started bricking it. But the photo is a pretty cool one!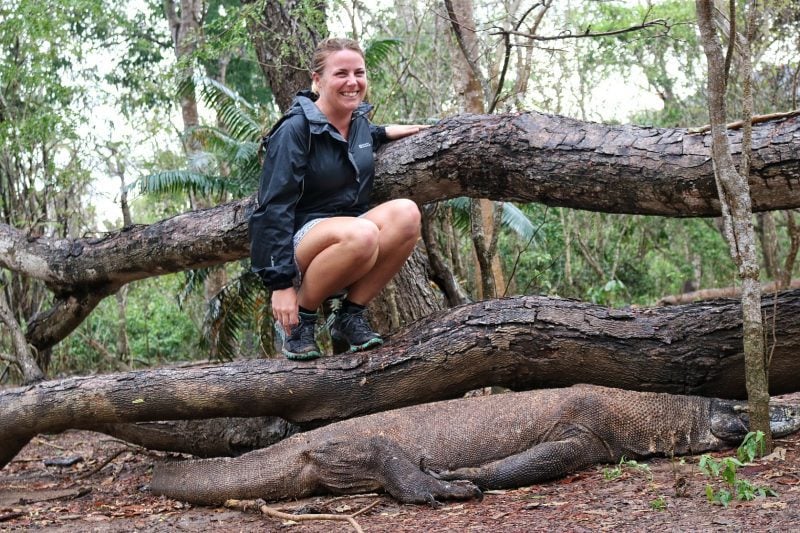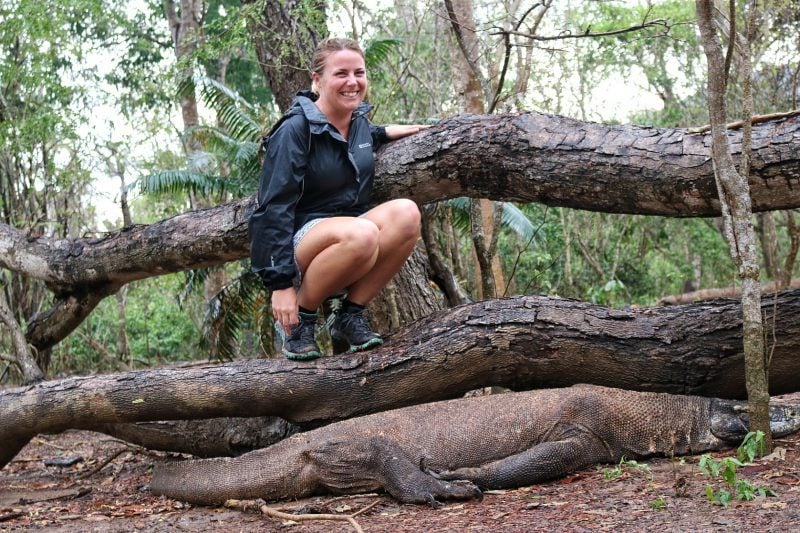 What's Next
November is set to be jam-packed with even more travel! Tomorrow, I head to London ready for WTM – a week of networking and catching up with some of my favourite bloggers and friends.
Then, I'm heading to Prague for two nights for The Money Shop's £200 Challenge (stay tuned for that), followed by Japan (a travel dream come true) and finally South Africa for safari and adventure. It's going to be tough, busy, tiring – and completely epic. Make sure you're following!
What did you get up to last month – and where are you going to be in November? Hope your days are as fun and travel filled as mine!