Some posts on this site contain affiliate links. If you book or buy something through these links, I earn a small commission (at no extra cost to you). Take a look at my privacy policy for more information.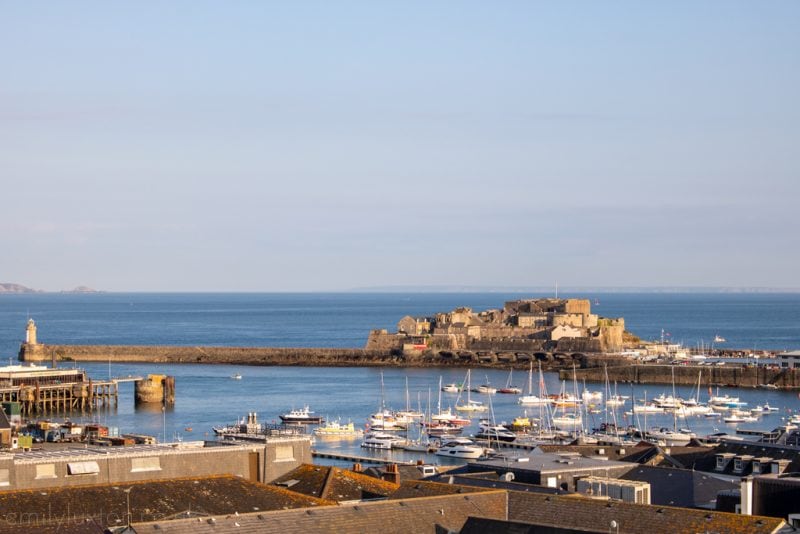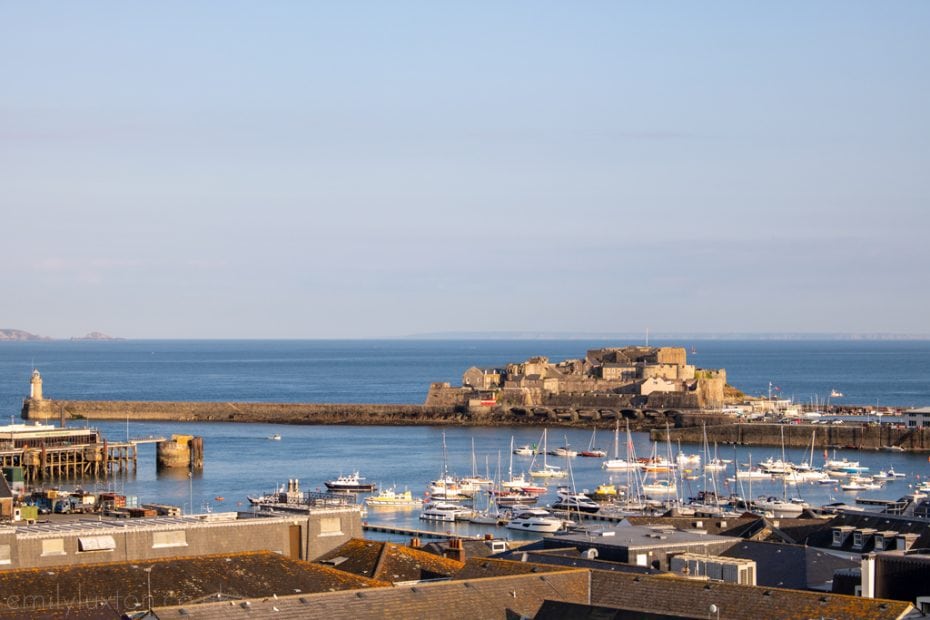 Planning a holiday in Guernsey? My Guernsey travel guide contains everything you need to know about visiting this stunning little island in the English Channel.
From how to get there, to where to stay – to everything you need to know about driving in Guernsey – this post is packed with tips to help you plan your getaway!
Although part of the British Isles and pretty similar to home, Guernsey isn't part of the UK and it does have quite a few differences. So if you're heading over for a visit from the mainland, there are some things it's helpful to know in advance!
Normally, I wouldn't write an in-depth travel guide after a two-night trip to a destination. BUT I've visited Guernsey numerous times before my most recent trip. In fact, I actually spent about 9 months living in Guernsey with an ex of mine back in 2015. So I know the island pretty well – and my recent trip refreshed my memory a lot.
This Guernsey travel guide really does cover everything you need to know! Any questions – or if you think I've missed anything – let me know in the comments at the end of the post.
My trip to Guernsey was supported by Visit Guernsey. As always, all words and opinions are my own and unbiased.
Where is Guernsey?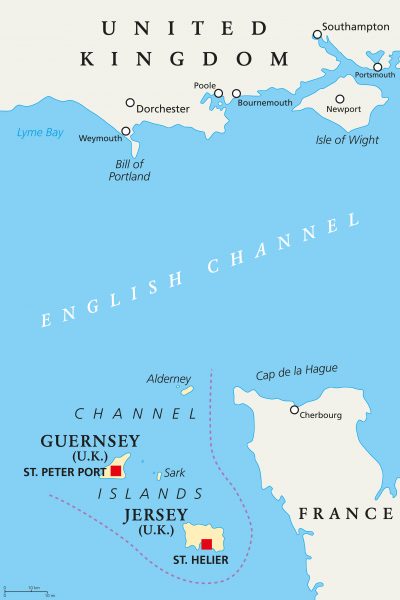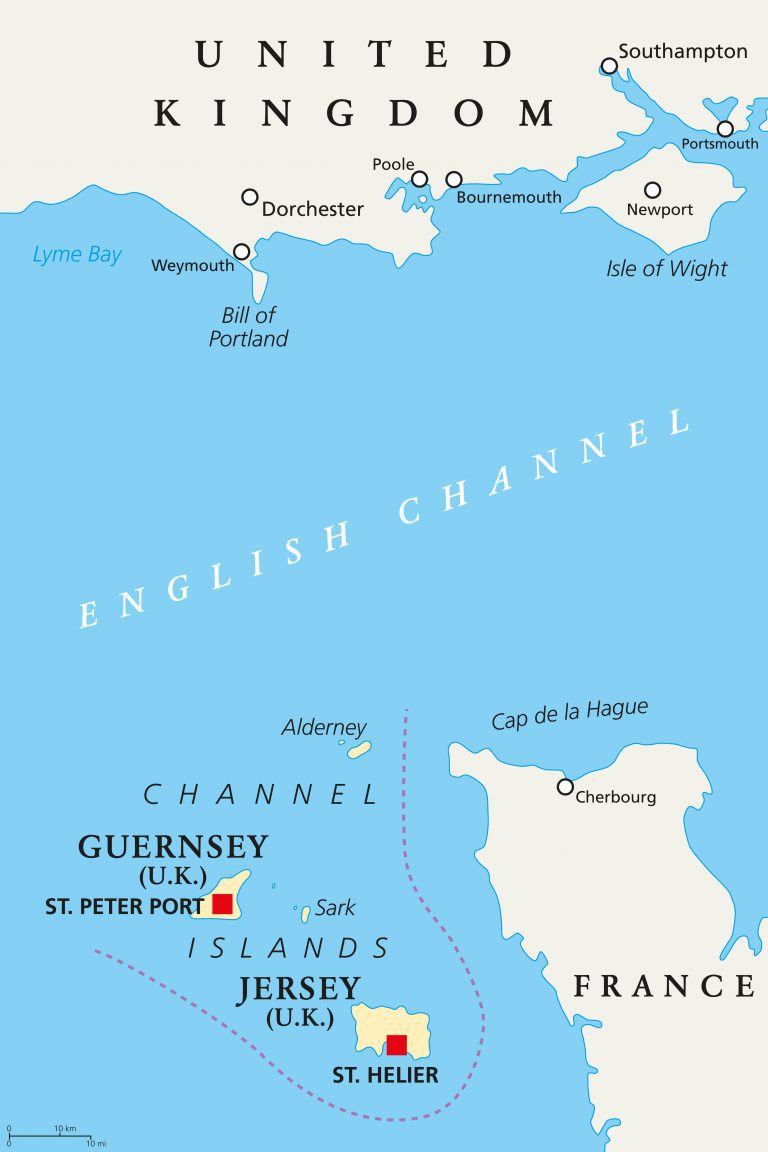 Guernsey is an island in the Channel Islands. This small archipelago is part of the British Isles, and Guernsey is the second-largest island after Jersey. Guernsey is located in the English Channel, 30 miles (48km) west of Normandy in France.
Guernsey, along with several smaller nearby islands, forms the Bailiwick of Guernsey, which is a British crown dependency. The capital is St Peter Port.
Is Guernsey Part of the UK?
Guernsey is part of the British Isles, but it is not part of the UK. The island is a British Crown dependency with its own government, called the States of Guernsey, and its own laws.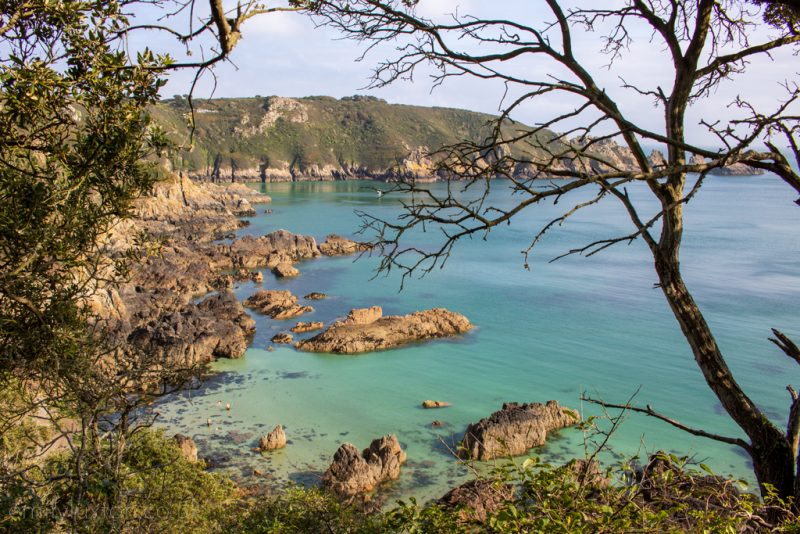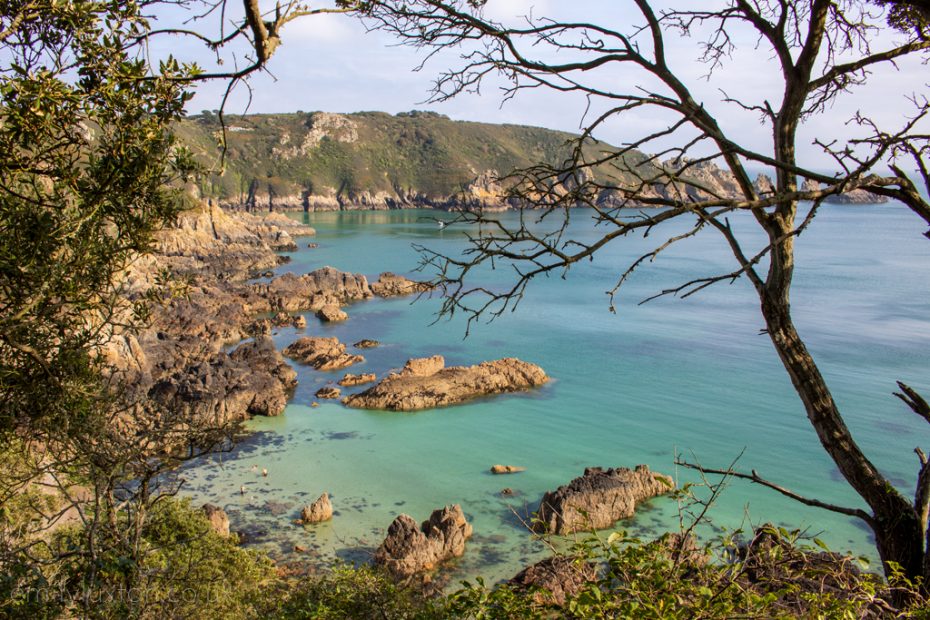 Guernsey has the same currency as the UK, but they print their own money – including £1 notes! These always look a bit bizarre the first time you see one. You won't be able to use these back home, but you can exchange them at a bank or bureau de change if you have any leftover.
The States of Guernsey also print their own stamps, and have blue postboxes instead of the red ones you see in mainland Britain! And there are some pretty different driving rules too – I'll break those down later in this post.
There's a distinctive French influence on Guernsey. You'll see a lot of French road names, and Guernsey even has its own unique language, called Guernsey Patois or Guernésiais, which is largely a blend of French and English. Don't worry, English is the first language on Guernsey so you're not going to need a phrasebook!
Do I Need a Passport to Travel to Guernsey?
As it's part of the British Isles, UK nationals can visit Guernsey without a passport – you just need a photo ID. This makes the island ideal for a staycation as it feels like going abroad, but without any faff!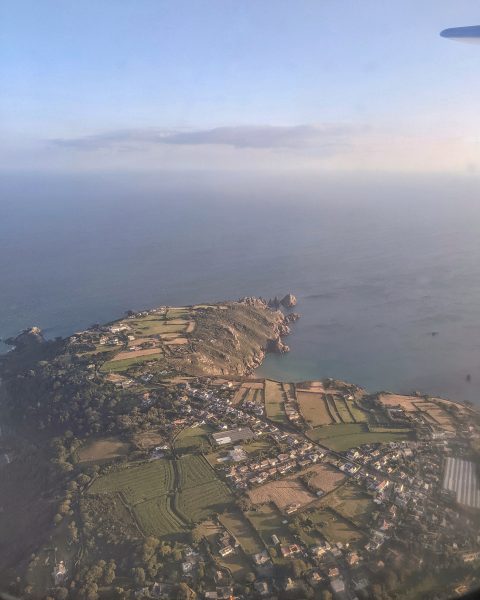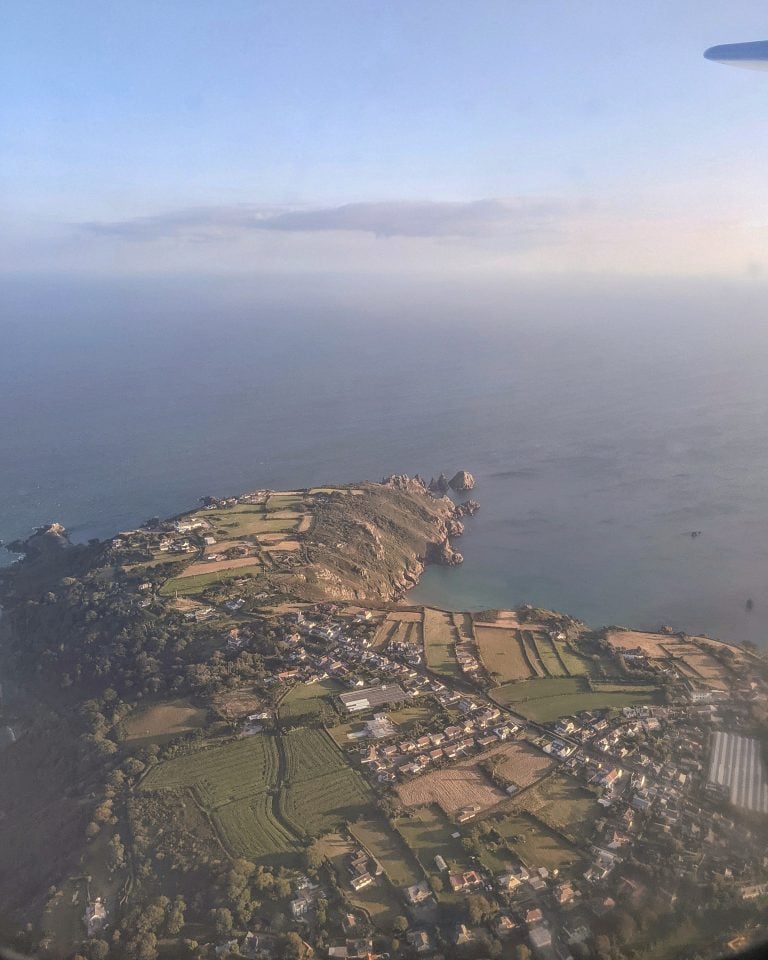 How to Travel to Guernsey
By Air
Generally, the fastest way to travel to Guernsey is to fly. The flight from London takes less than an hour, while from Southampton it's about 30 minutes!
There are several airlines running services between the UK and Guernsey. You can fly from London Gatwick and London City, Southampton, Edinburgh, Bristol, and several other airports in the UK. Guernsey's airline, Aurigny, will also be launching a new route from Dublin in 2022.
By Ferry
You can also reach Guernsey easily by ferry, which is a great option if you want to take your own car. Condor Ferries run a fast ferry from Poole to Guernsey (3 hours) or a slower service from Portsmouth (7 hours). There are also services from Jersey to Guernsey, and between the Channel Islands and France.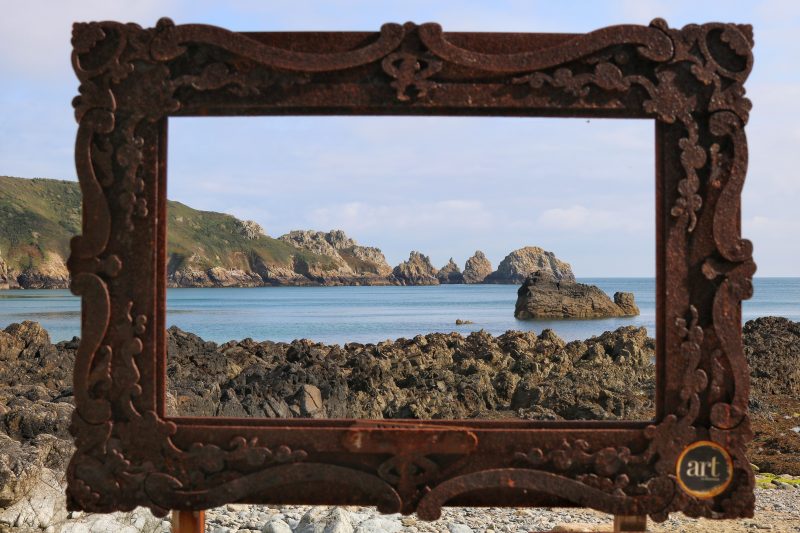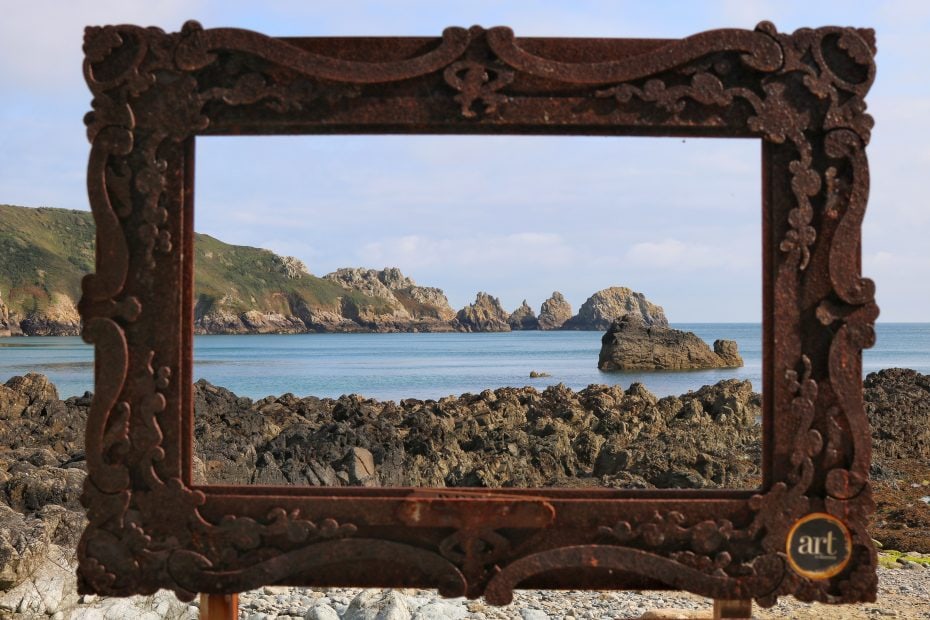 Travel to Guernsey in 2021
As of September 2021, these are the Covid-19 related travel requirements for Guernsey. Obviously, this is subject to change, so double-check the latest updates before your trip. This is the Guernsey Government's official web page which is the best one to check for any updates.
Visitors coming from the Common Travel Area (UK, the Isle of Man and the Republic of Ireland) who have had both doses of their vaccine at least 14 days prior to travelling to Guernsey do not need to isolate on arrival.
All arrivals have to fill out a Travel Tracker form online prior to their trip, and then complete it on a smartphone after landing. There are staff on hand in the arrivals hall to help – and they'll have a tablet if you don't have access to a smartphone.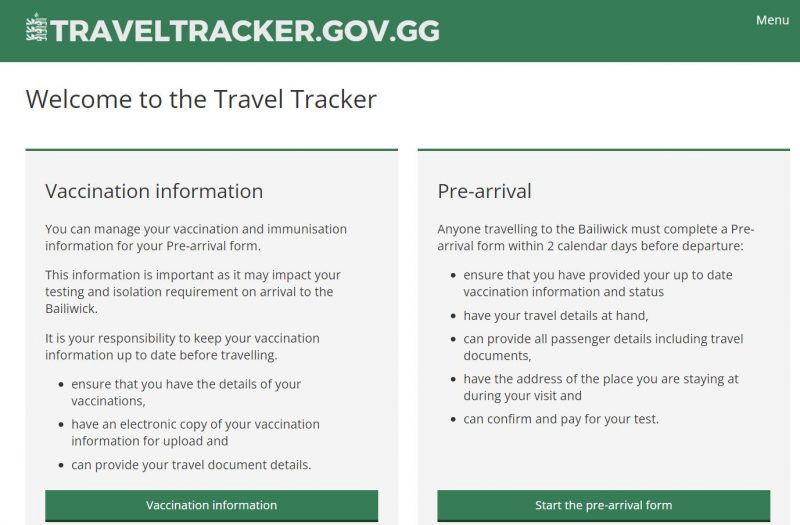 When completing the Travel Tracker form, you have to pay £25 to pre-book a set of 5 lateral flow tests which are handed over as you come through arrivals.
I completed the process recently and found the whole thing very straightforward and efficient. Someone processed my Travel Tracker form in the baggage hall, and then I was handed my lateral flow tests as I entered the arrivals hall. It was all very quick and easy!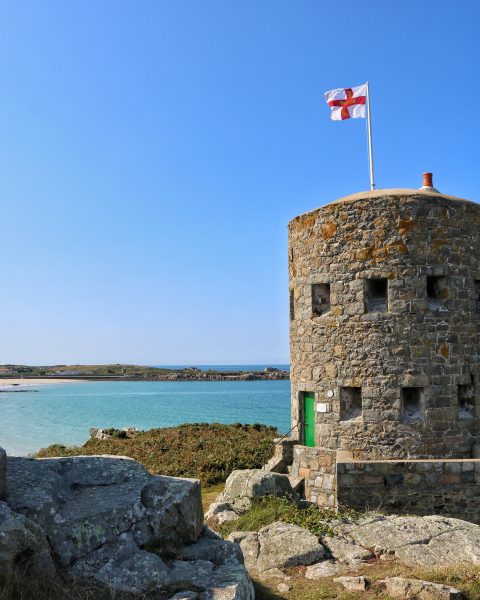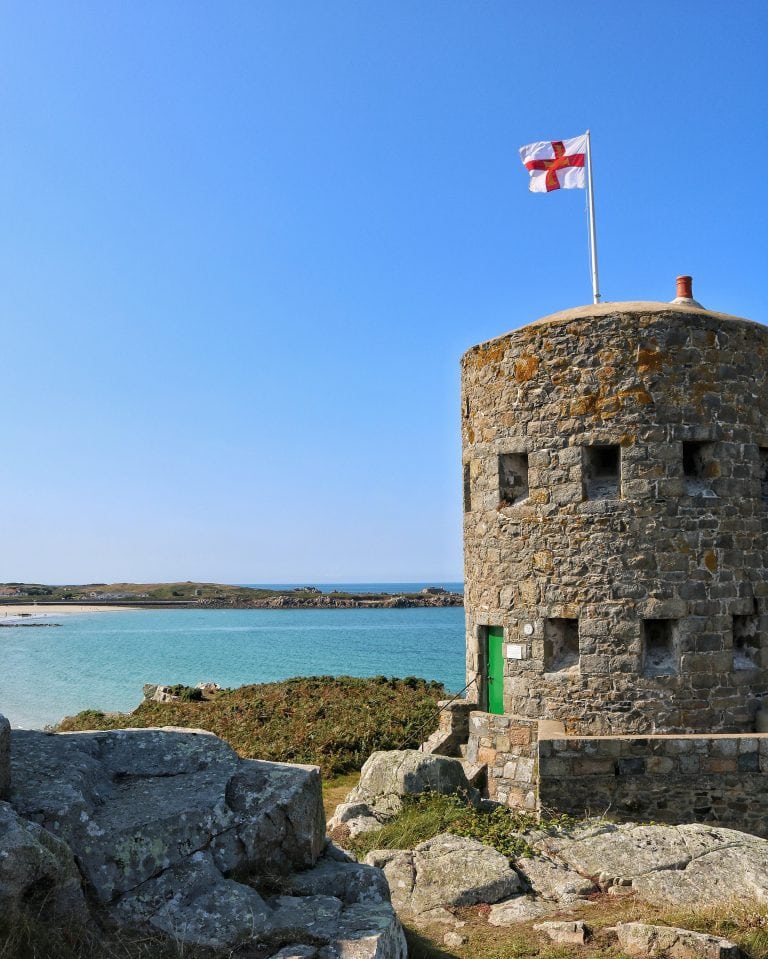 Getting Around Guernsey
Car
My advice would be to either bring your own car, or hire one. Car is definitely the easiest way to travel around Guernsey and gives you complete freedom to explore at your own leisure.
I hired a car from Hertz on my most recent trip to the islands. They met me outside the terminal when I landed at the airport to set me up with the car. When I left I simply had to park it in the airport terminal and leave the keys in a drop-box.
Bus, Coach, and Taxi
If you don't drive, there are several coach tours you can do which will take you around the main sights of the island. There is also a public bus network that connects most parts of the island, although this isn't the most convenient option.
Finally, while Uber hasn't yet made it to Guernsey there are plenty of local taxi services you can use to get around.
RECOMMENDED TOUR: Half-Day Small-Group Coastal Highlights Tour (from £98pp)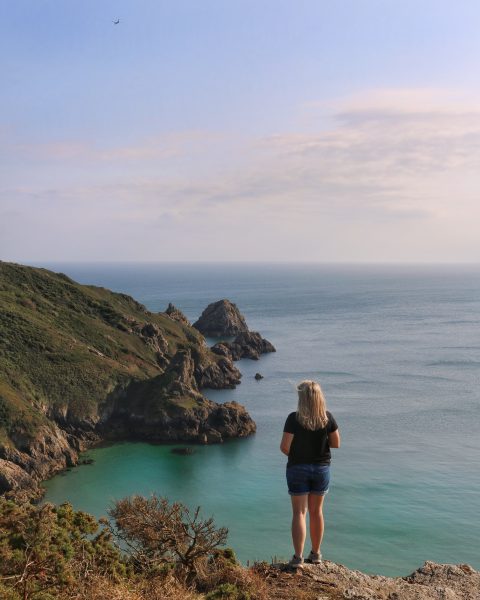 Bike or Walk
At around 12miles long, Guernsey is also small enough to explore by bike or on foot. There are quite a few hills, so you'll want to have a degree of fitness, but keen bikers and hikers may enjoy exploring the island under their own steam!
When I lived in Guernsey a few years ago, I was based near the centre of the island, and could walk to St Peter Port on the coast in about 50-60 minutes. The walk across the widest part of Guernsey would take around 2.5 hours.
Everything you Need to Know about Driving in Guernsey
One thing I learned on my recent trip to Guernsey is that driving there can be a challenge! Many of the roads are quite narrow and winding which can be tough, especially for a nervous driver like me! There are also some pretty big differences over there, including certain road laws.
There is some good news, though. First is that the traffic is rarely ever that bad so you're free to take things slow if you need to! The second is that all rental cars have a big yellow "H" sticker on them, letting everyone know you're a tourist who may not be used to Guernsey's differing road rules. I found most other drivers to be really friendly, forgiving, and helpful, which was a relief as I felt like I was constantly making mistakes and getting in the way!
Here are a few things you need to know about driving in Guernsey…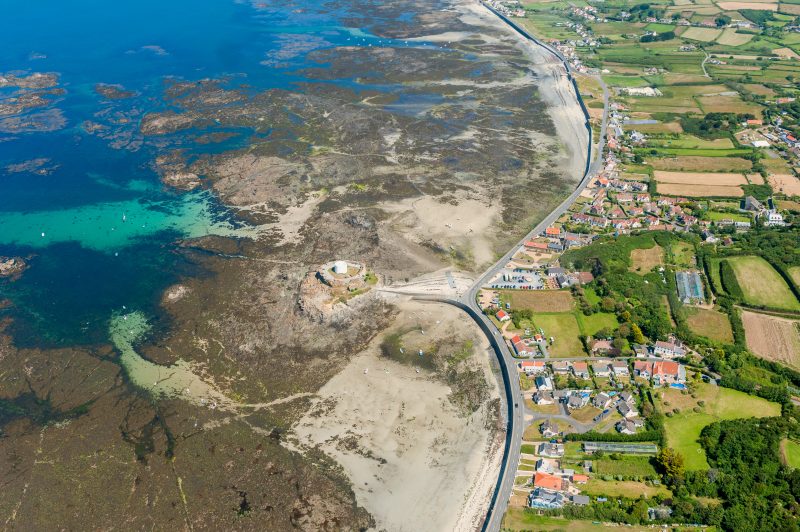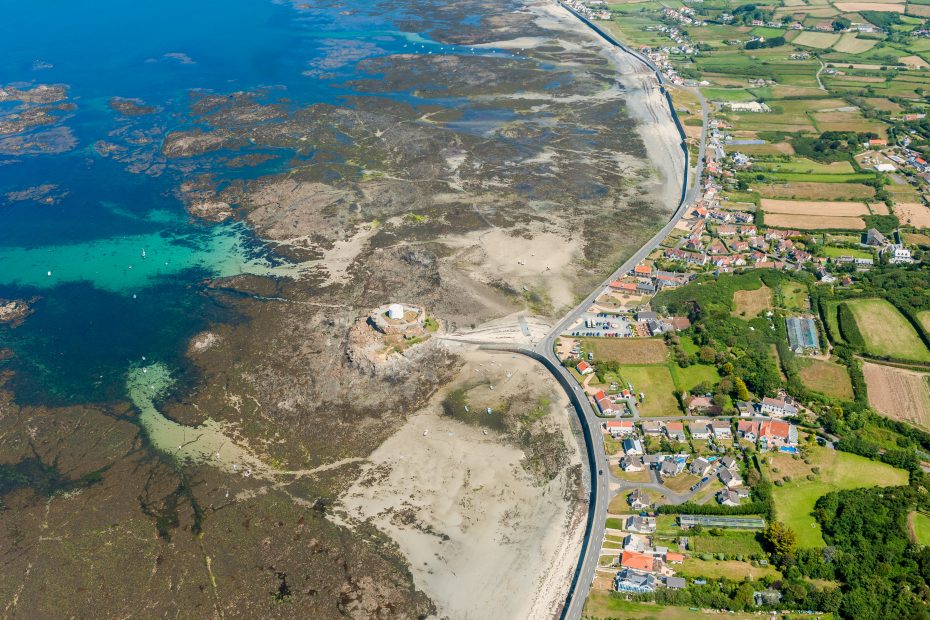 The Speed Limit is 35mph
Across Guernsey, the maximum speed limit is 35mph, while in the town this drops down to 25mph. The word limit is key: it's not a recommended speed, and a lot of the time you'll need to drive quite a bit slower. I rarely left second gear during my 3 days on the island!
Yellow Lines
On Guernsey, a single yellow line at the side of the road means no stopping at any time, except to avoid an accident.
If there's a yellow line across the exit of a minor road, it means stop and give way – like the thick white lines on junctions in the UK.
Filter in Turn
Ohhhh this confused me a LOT while I was in Guernsey. A lot of junctions have the word "FILTER" painted on the road in front of them and a yellow hashed box in the middle.
Essentially, drivers from all directions have equal priority and you're supposed to take turns to go depending on the order you arrived at the junction. I found it tough to work out when I was allowed to go, but thankfully the local drivers were quite forgiving and would wave me out when it was my turn!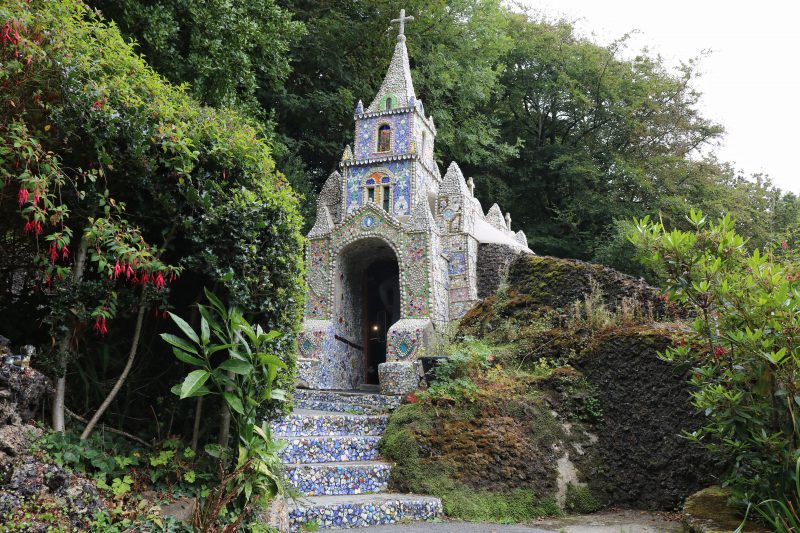 Be Ready for:
Narrow roads, often with high hedges or stone walls. The road to my hotel in St Peter Port was just wider than my car, with high stone walls on either side – initially I didn't even think it was a road!
Poor visibility at junctions
LOTS of cyclists
Horses, cattle, and other animals.
Few signposts
Steep hills
Sometimes you might need to drive on the pavement to get past cars parked on the other side of the street!
Tight parking bays and busy car parks. Watch out for low stone walls too – I scratched my hire car on one at the Petit Bot carpark!
Driving in Guernsey is mostly straightforward, but do take care. Drive safely, go slow, and pay attention!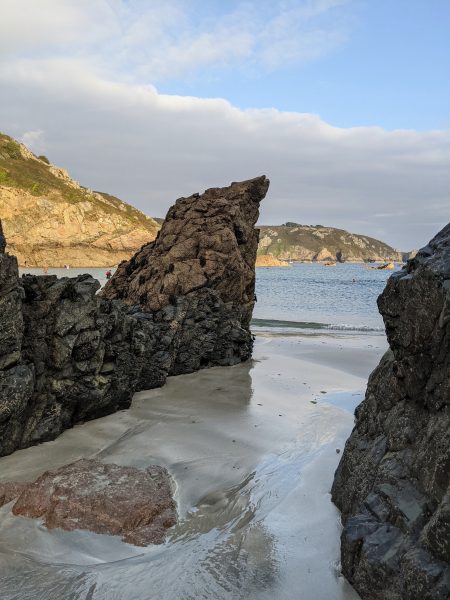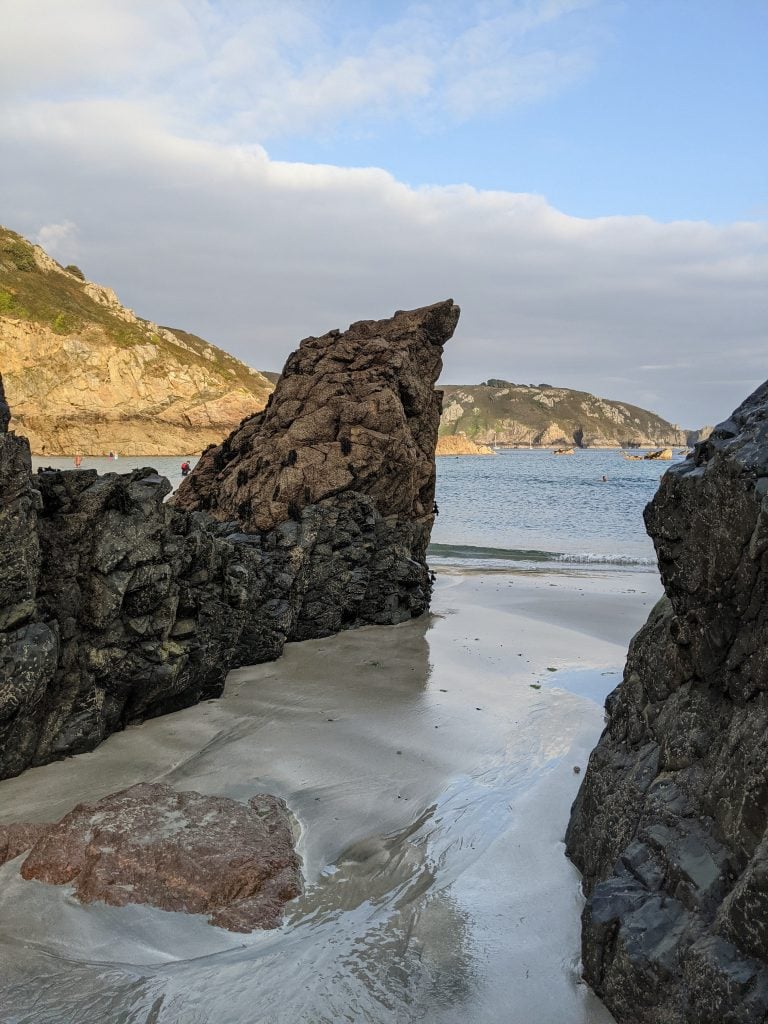 Beware the Sat-Nav
A couple of times, my satnav tried to send me the wrong way down one-way roads! The road down to Petit Bot, for example, is one-way during certain hours but not all the time. Remember that technology is fallible and the roads on Guernsey can be a bit quirky, so pay attention to road signs and don't blindly follow your satnav around the island.
You Need a Parking Clock!
Public parking all around Guernsey is completely free. But you need to use a "parking clock" – a paper clock with a disk that you can turn to set the time that you parked your car.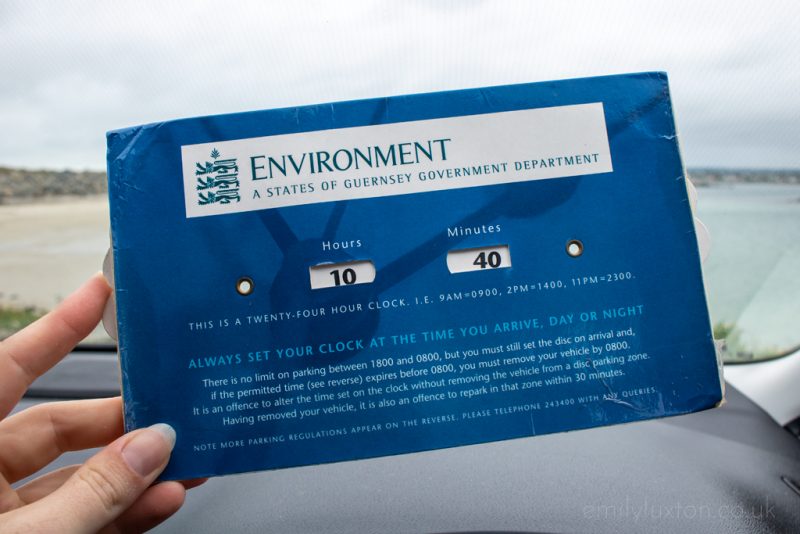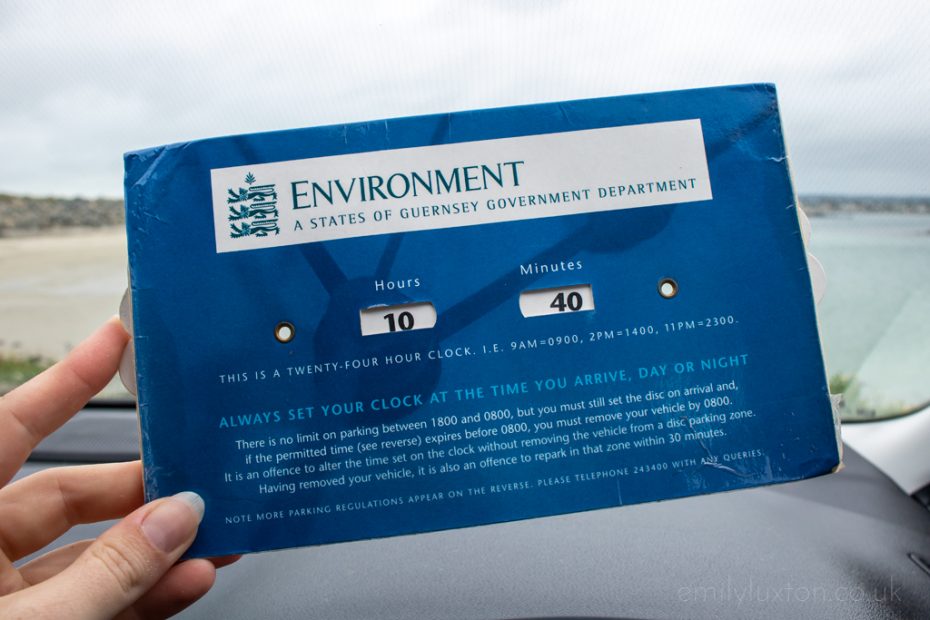 Some of the car parks, like the ones in St Peter Port, have a time limit so you can't park for longer than the specified period.
My hire car came with a parking clock, but if you need to get one you can buy them on the ferry, at the Tourist Information Centre, or from the police station.
Where to Stay in Guernsey
There are lots of lovely places to stay all across Guernsey, from campsites to luxurious hotels.
If you want a good base for exploring the island, the capital town of St Peter Port is ideal. It's on the coast, with a lovely harbour, and plenty of shops and amenities. The town is also within easy reach of all the main attractions on Guernsey – whether you're travelling by car, bus, or taxi.
Below are a few genuine recommendations for hotels in Guernsey…
La Fregate
La Fregate, a lovely boutique hotel in St Peter Port, is where I stayed on my trip. It's perched on a hilltop behind the town centre and has incredible views across the harbour to Castle Cornet and the sea behind.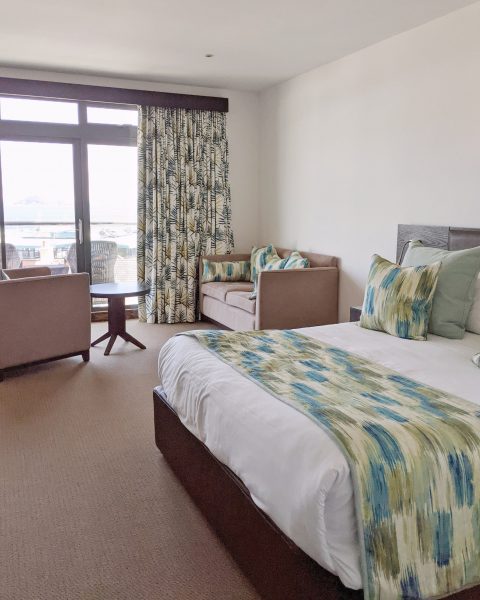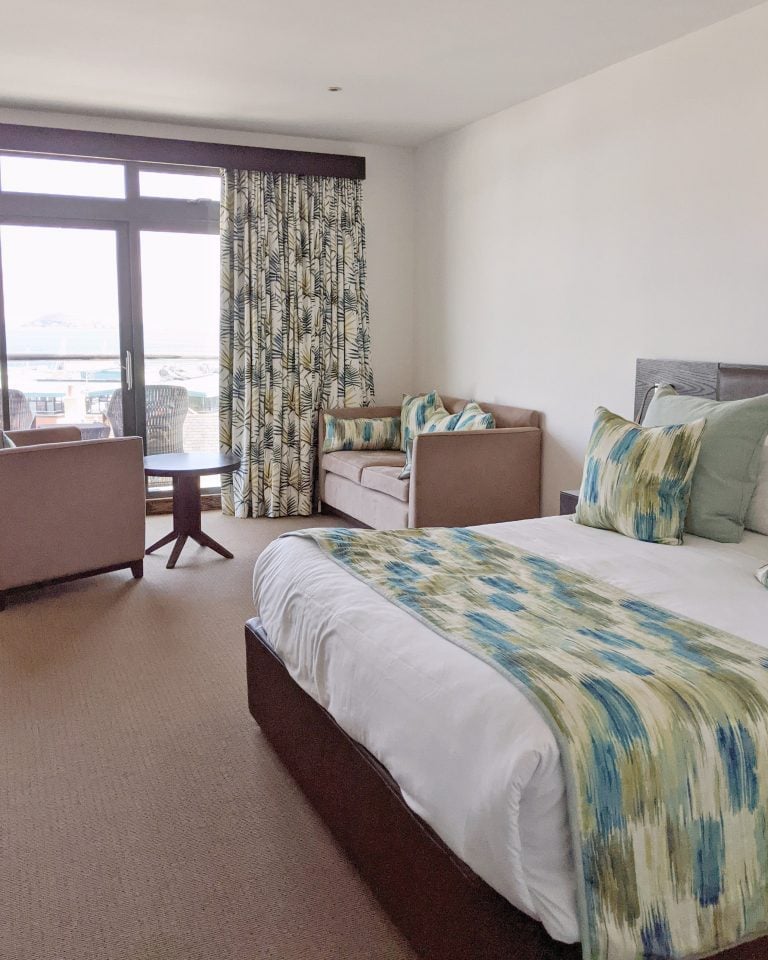 All rooms have sea views, which is a big plus in my book. My room was lovely and spacious, and had a nice big balcony with huge french windows. I also can't fault the service; so lovely and welcoming.
Oh, and the food is absolutely incredible, too! The dinner menu is packed with fresh local seafood options. Visit La Fregate for a meal with a view, even if you don't stay here!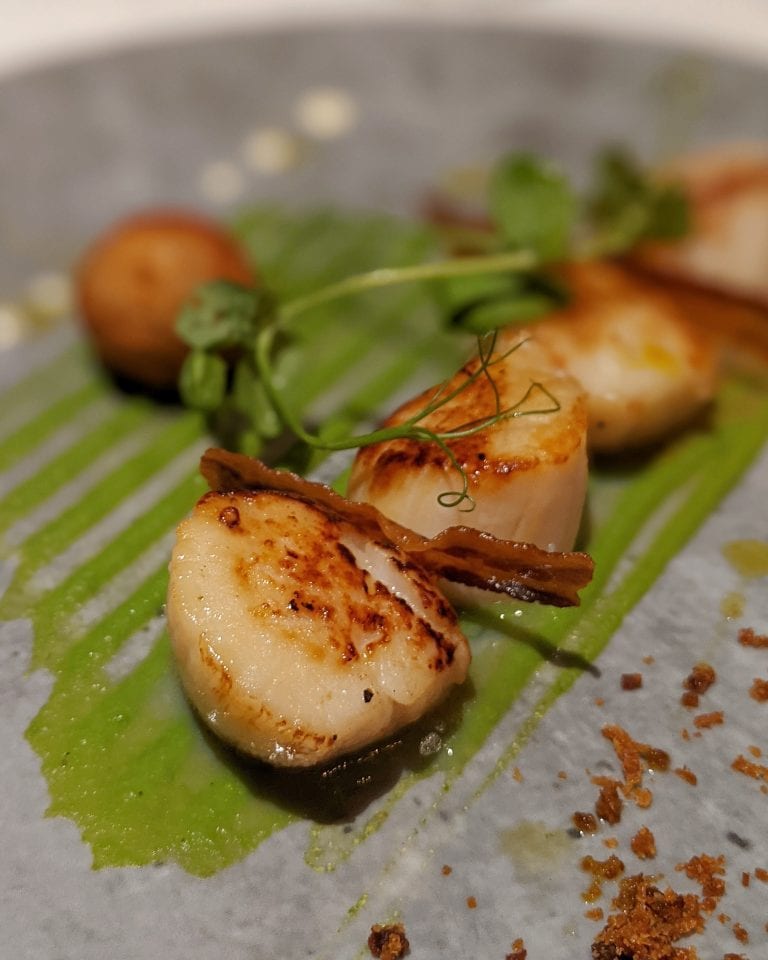 Fermain Valley Hotel
My blogger pals Chloe and Macca stayed at the Fermain Valley Hotel, which is just above the beach there. It's a luxurious boutique hotel with 45 rooms, as well as three of the most popular restaurants on the island. Their Mexican restaurant, Buho, came highly recommended to me by several locals and I was gutted I didn't get a chance to try it!
Chloe says their room, in the newer part of the hotel, was lovely. The location is ideal, right by the coast and just off the main road from the airport. And only about 5 minutes drive from the centre of St Peter Port.
La Barberie
Another of my blogging besties, Vicky Flip Flop, visited Guernsey just after I did. She stayed at La Barbarie, which looked lovely. She says it was a bit old fashioned, but she had a great room and there's a nice pool at the hotel, which is always a bonus!
It's on a little country lane not far from Saints Bay, ideally situated for exploring Guernsey's stunning south coast.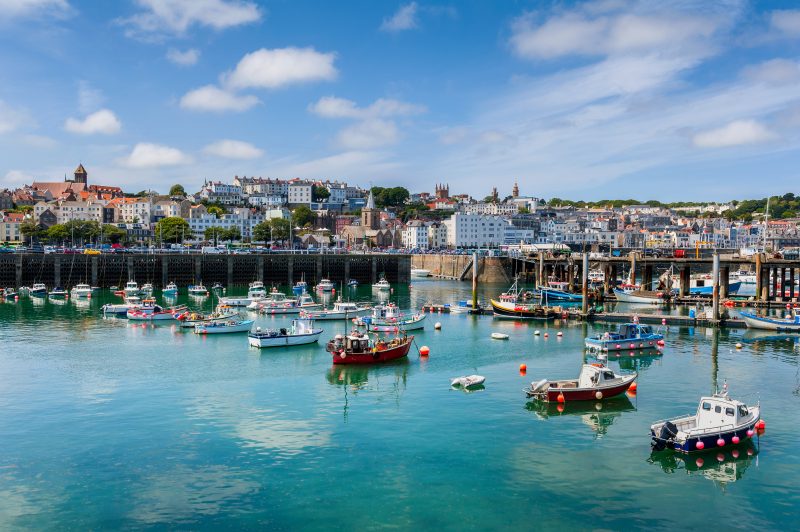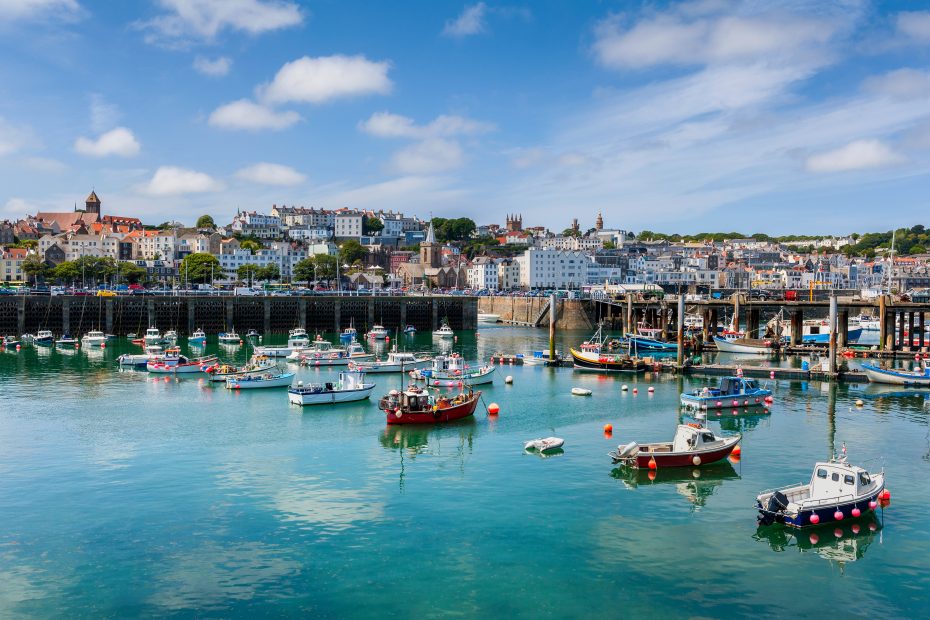 Is Guernsey Expensive?
Guernsey has the same currency as mainland UK, so you can't benefit from a nice exchange rate when you plan your holiday! Price-wise, I found most things were more or less similar to prices in the UK.
There's a great mix of restaurants and eateries. Someone warned me before going that restaurants were a little on the pricier side, but I think that has a lot to do with the style of restaurant you choose. There are plenty of casual eateries, fish and chip shops, and nice cafes, especially in the town centre. and at beach-side kiosks.
If you're travelling to Guernsey on a budget, you could opt for self-catering accommodation and cook for yourself.
Hire car prices are similar to those in the UK, and there is free parking across the island. Fuel also seemed to be similar prices to back home.
Accommodation prices seemed to be a little pricier in general, so that might drive the cost of a Guernsey holiday up. But there are guest houses, inns, campsites, and B&Bs, available across the island. There's also a Premier Inn due to open in February 2022, adding a new budget option for travellers to Guernsey.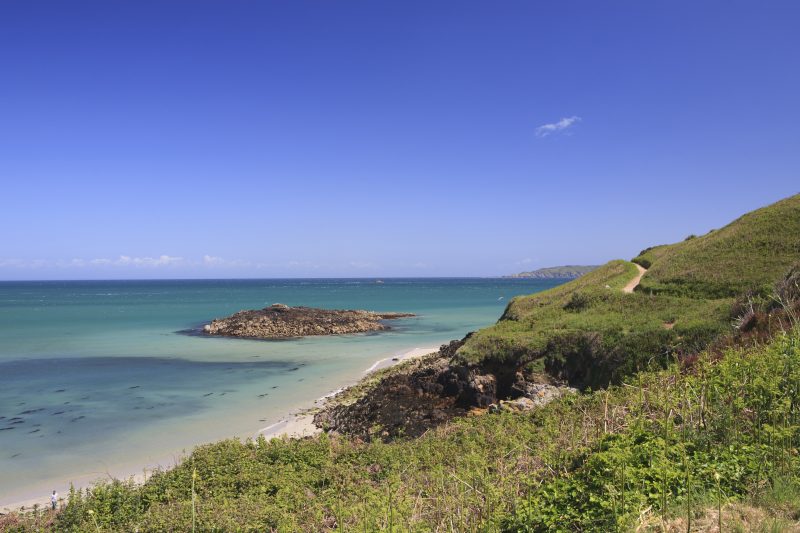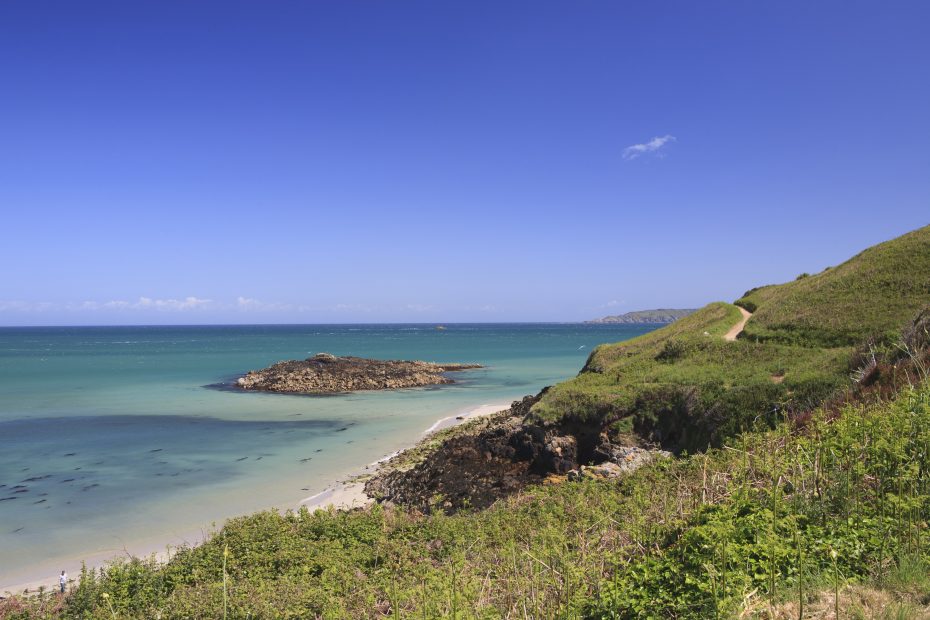 Other Guernsey Travel Tips
Don't Forget Medical Insurance
Guernsey's health service is not part of the NHS and patients have to pay for medical treatment there. So I strongly recommend taking out travel insurance with medical cover for your trip to Guernsey. Double-check that your policy includes the Channel Islands before purchasing.
Things Close on Public Holidays
Guernsey has the same public holidays as England, as well as Liberation Day on the 9th May. A lot of things close in Guernsey on Sundays and public holidays (something that used to drive me a bit crazy when I lived there!).
If you're travelling to Guernsey over a public holiday, it's a good idea to book meals in advance. Unfortunately for me, most restaurants were either fully booked or closed during my trip so I didn't get to visit many of the ones I wanted to.
Pay attention to what's on while you're visiting, too. During my trip, there was some kind of racing event across the island which meant several roads were closed. It made getting around a bit more of a challenge. It wasn't a problem, but a bit of pre-planning would have made life easier!
Read More
Below are some more great posts to help you plan your trip to Guernsey! If you have any questions at all, or think I've missed anything, please feel free to reach out in the comments below.
8 Ideas for an Adventurous Short Break in Guernsey
The Ultimate Weekend in Guernsey
Pin this Post