Some posts on this site contain affiliate links. If you book or buy something through these links, I earn a small commission (at no extra cost to you). Take a look at my privacy policy for more information.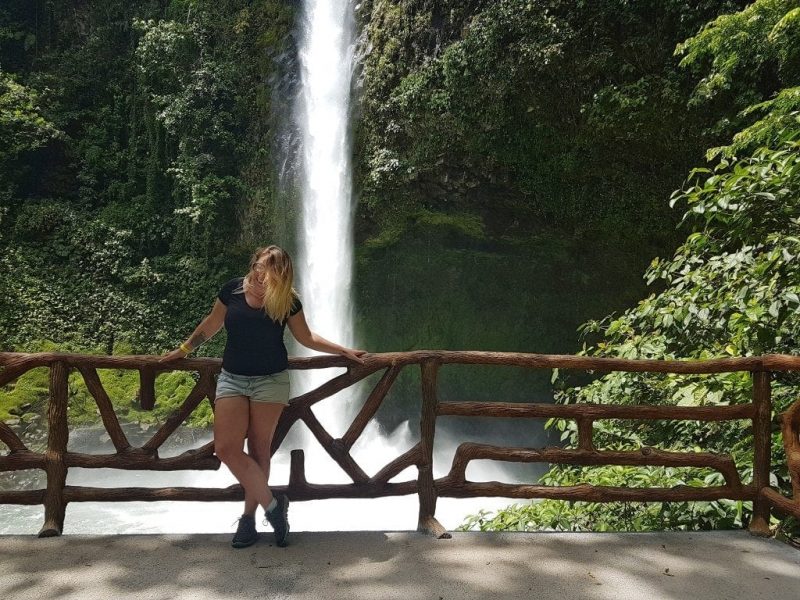 Got one week in Costa Rica and want to see as much as possible? This post is all about helping you do just that!
Green, naturally rich, and abundant with wildlife – Costa Rica is the land of "Pura Vida". You'll hear the expression everywhere, used as a greeting, a thank you, or simple sentence filler. And after a couple of days in the country, you'll realise that "pura vida" is more than just a phrase. It's a way of life!
I recently spent one week in Costa Rica with British Airways and the Costa Rican tourist board. Although the country is huge and full of unmissable destinations, it's possible to get a pretty good feel for the Pura Vida lifestyle, and for the country's top attractions, in just one week. In a whirlwind seven-day Costa Rica itinerary, we were able to combine culture, coastline, volcanoes, and cloud forest – a small sample of the country's biggest draws. Here's everything I got up to, as well as a few tips to help you plan your own trip…
(This post contains affiliate links – find out more).
One Week in Costa Rica – What I Did
1. San Jose
2. Tortuguero
3. Arenal and La Fortuna
4. San Ramon and the Cloud Forests
About Costa Rican Trails Tour Company
Costa Rica 7 Days Itinerary
San Jose: The Capital
The first two nights of my week in Costa Rica were spent in the city's sprawling capital. San Jose is a neatly gridded city tucked into a lush green valley, with the blue-tinged Talamanca mountains towering in the south.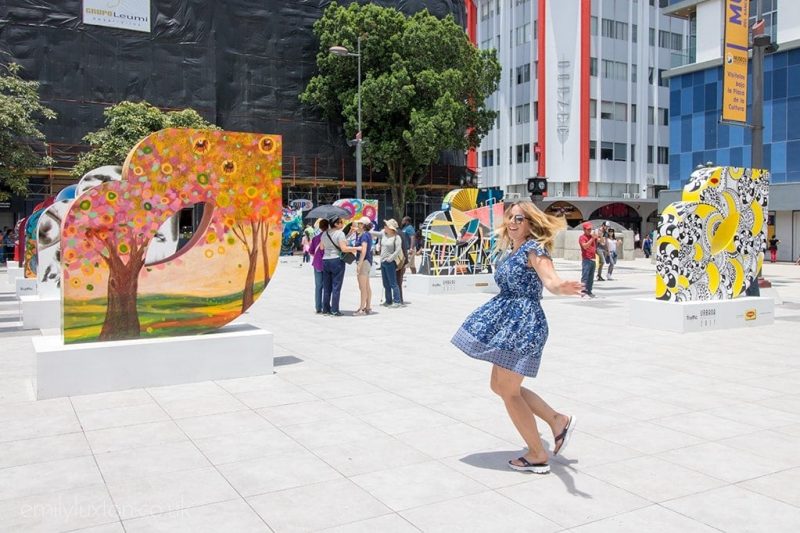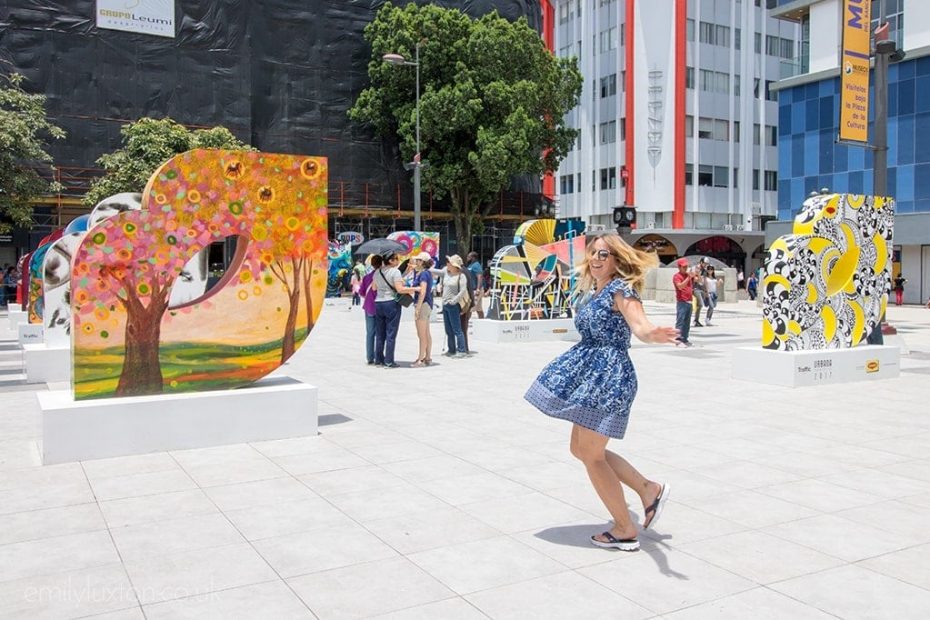 In the short time I was there with Costa Rican Trails – and again when I went back for four days later on during my travels – I discovered so much to do in San Jose.
We toured the Sunday farmer's market over in Zapote district, a riot of colourful fruits and vegetables packed with locals out to get a bargain. In the city centre, we explored the Precolumbian Gold Museum for a quick but fascinating overview of life in the indigenous tribes before the Spanish conquistadors arrived. And we had a short tour of the National Theatre, a glittering, palatial building which features an important mural by artist Aleardo Villa – don't miss it.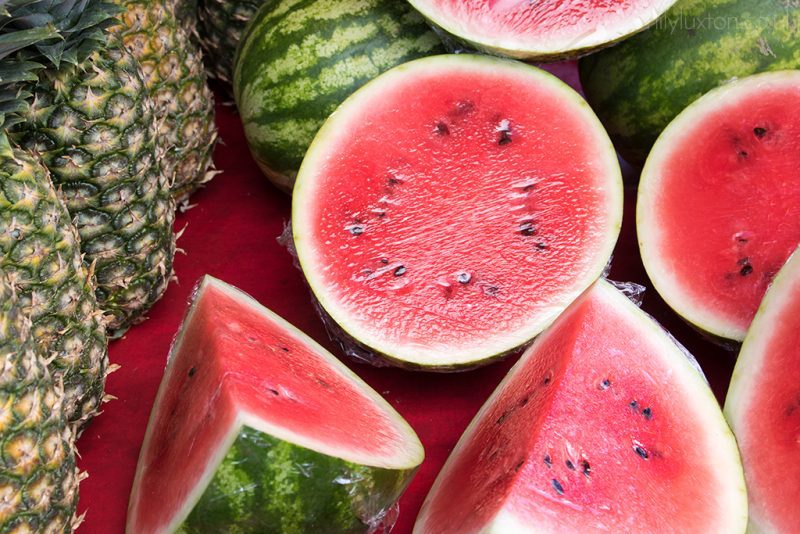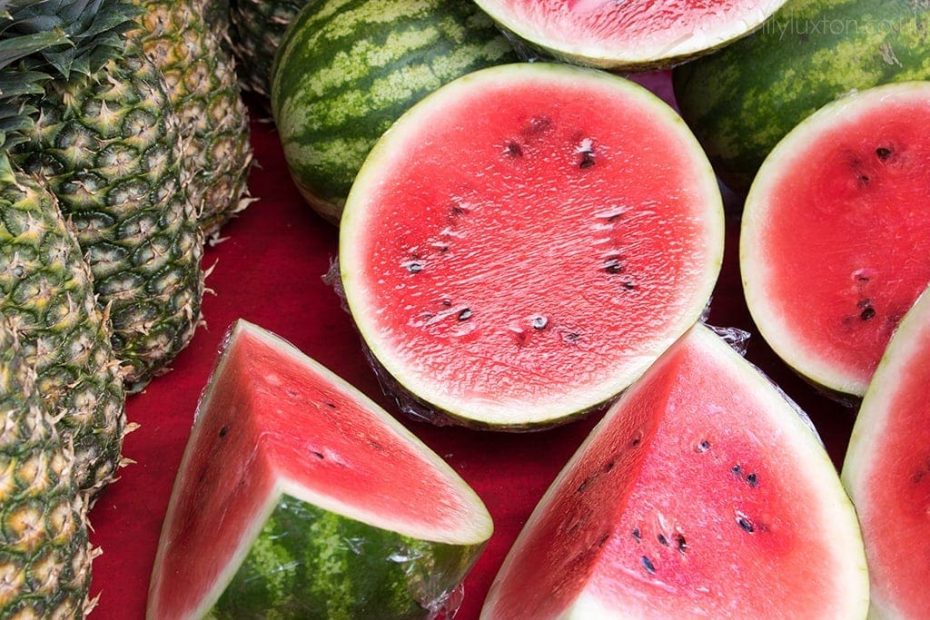 Recommended time to spend in San Jose
At least one full day and night – longer if your schedule allows.
Where to Stay in San Jose
We stayed at Hotel Grano de Oro, a luscious colonial-style mansion built at the turn of the 20th century. My room in the older part of the house was gorgeous; dark wood floors and a small private patio filled with leafy green plants. Throw in a rooftop hot tub and one of the best restaurants we experienced in Costa Rica and you have a really special hotel!
Read More
Check out these 7 things to do in San Jose for more inspiration and ideas.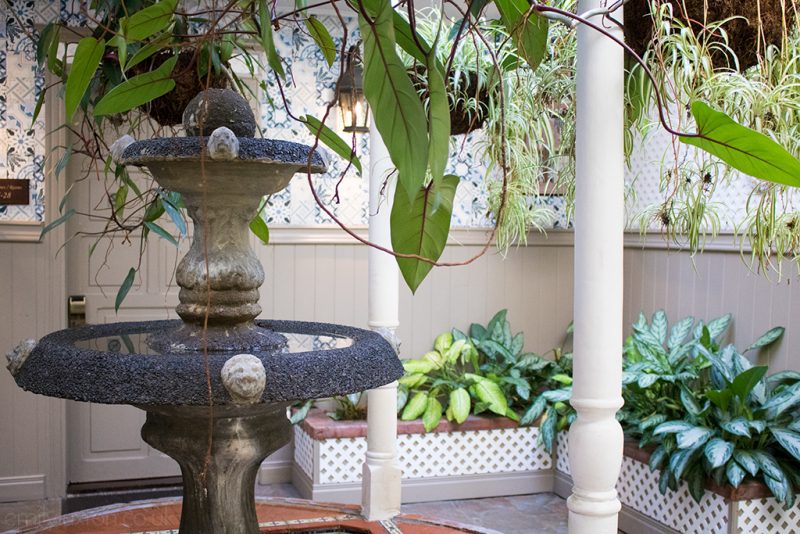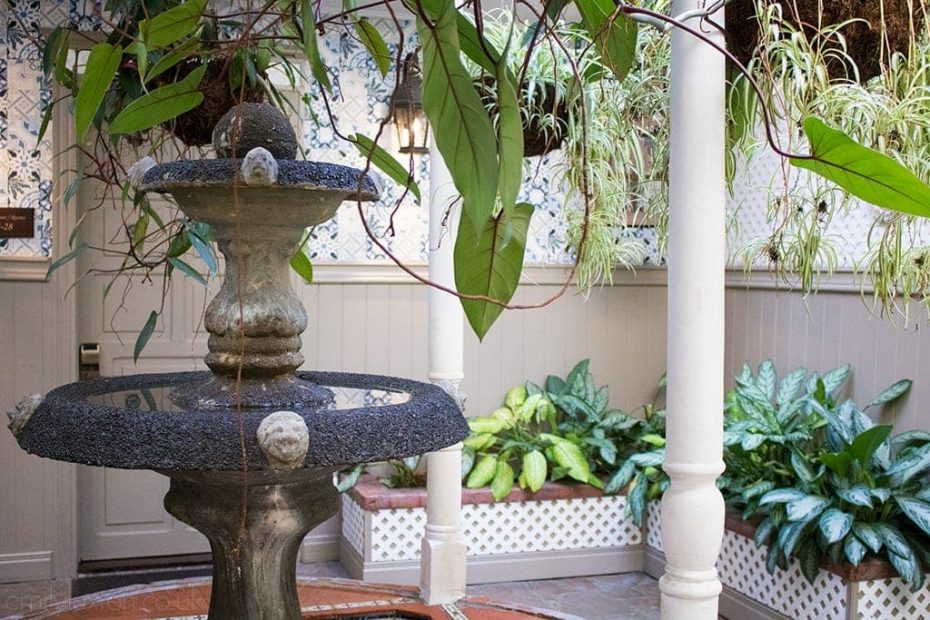 Tortuguero: Turtle-Watching in Costa Rica
Next stop was the Caribbean Coast, one of Costa Rica's biggest attractions. Tortuguero can be easily reached by a short 30-60 minute flight from San Jose – or you can drive to La Pavona and take a boat for around an hour and a half from there. Flying is better if you're short on time, as I was.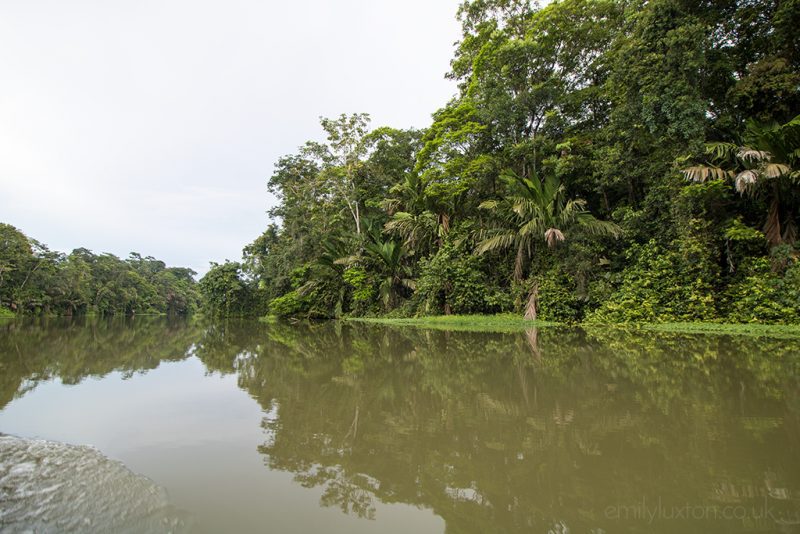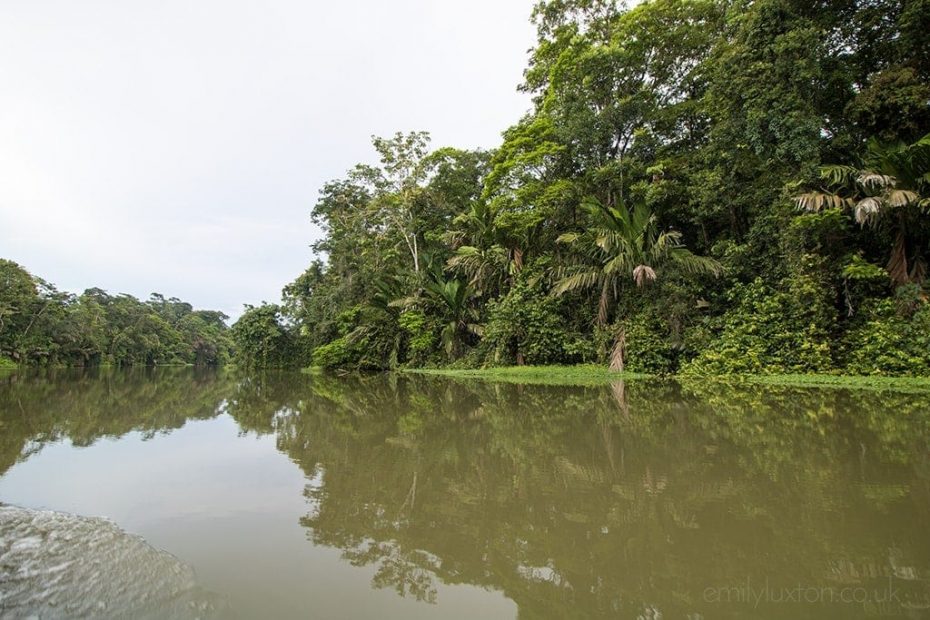 Unlike many countries with an abundance of nature, Costa Rica's biggest focus seems to be on protecting the wildlife for future generations rather than making a quick buck from it now.
The wildlife reserve and turtle protection programme at Tortuguero was a shining example of this – and it's one of the best things to do in Costa Rica. Up until fairly recently, locals here hunted the turtles who came to the beaches to nest. But thanks to an initiative from ecologist Dr Archie Carr and government support, the turtles are now protected and the same guys that used to hunt them are now guides who help tourists watch turtles during the nesting and hatching seasons.
Things were really well managed at Tortuguero. Tour groups were kept small and everyone was sent to different areas so we didn't crowd or startle the turtles. We weren't allowed torches or cameras for the same reason – so I have no pictures, only memories. But they are without doubt my favourite memories of the week.
Turtle Spotting in Tortuguero
Beneath an inky black sky lit by occasional flashes of purple-tinged sheet lightning, we trudged slowly along a silent, grey-sand beach. The only sounds were the crashing waves and the long growls of retreating thunder. Just when it seemed we weren't going to see a thing, our guide led us triumphantly to a huge mother turtle right in the middle of laying around seventy eggs – probably her second or third batch of the season.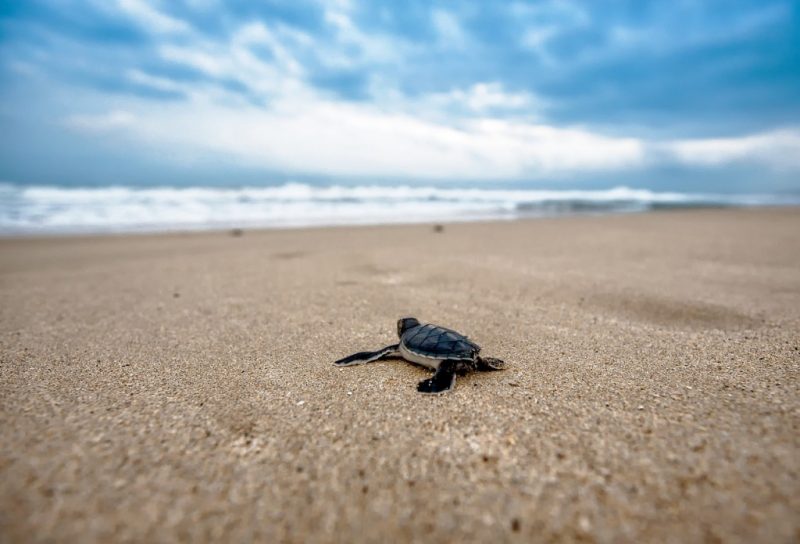 My heart was in my mouth as we huddled around the nest she'd dug, watching the golf-ball-sized eggs pile up beneath the turtle. She seemed so at peace – our guides told me the turtles enter a sort of trance while they're laying – and it really was a special moment.
But even more special was what happened next. A little further along we found a second turtle laying eggs. But this one had disturbed a nest which already had a batch of hatched eggs in it. I'm told it usually takes the little guys a few days to dig their way out of the sand, so it seems they had a helping hand. And we were able to watch them scuttle their clumsy way down to the ocean!
It was such a special night and one of the most amazing experiences of my travels so far. And there was still plenty more to do in Tortuguero. Kayaking through the trees in Tortuguero National Park we spotted monkeys, macaws, and a few adorable basilisks – aka "Jesus Christ" lizards because they run on water! On a boat tour going deeper into the National Park we were able to spot even more, including a little group of baby caiman basking in the shallows.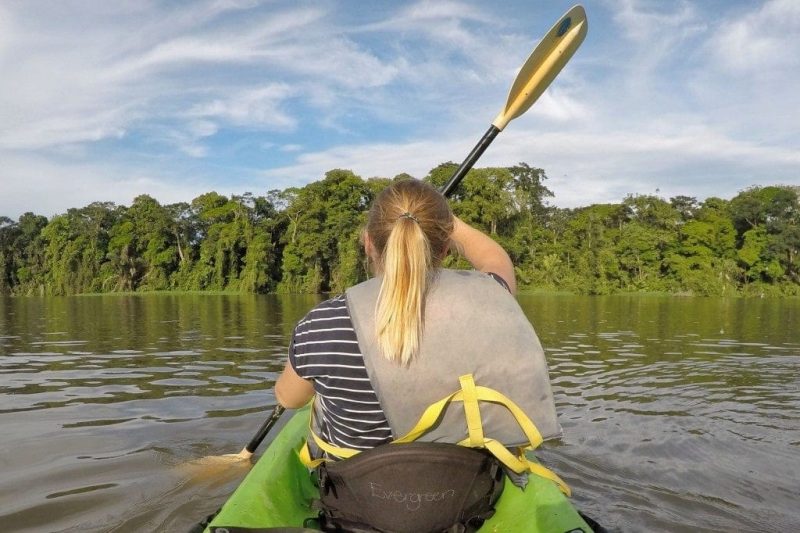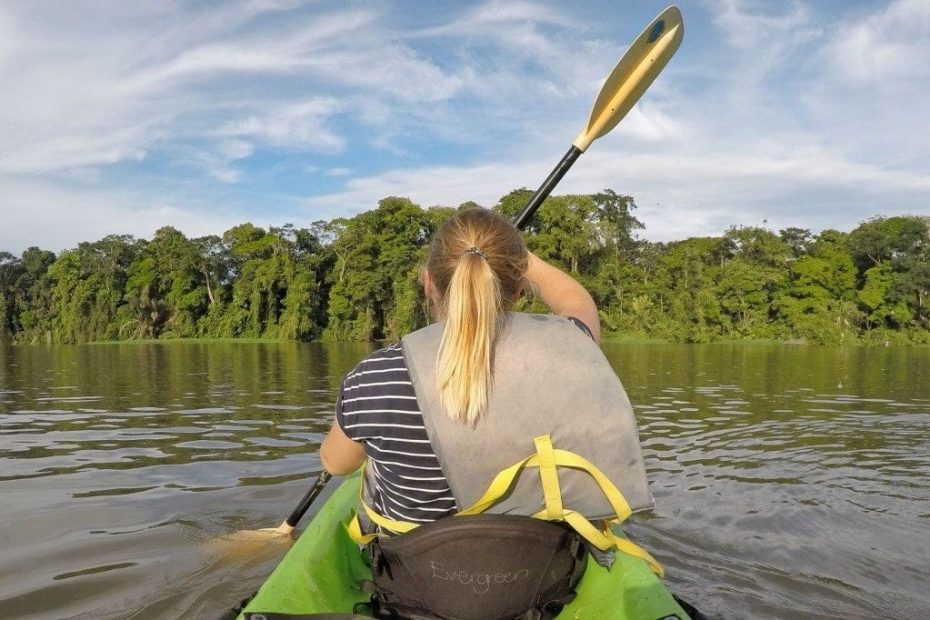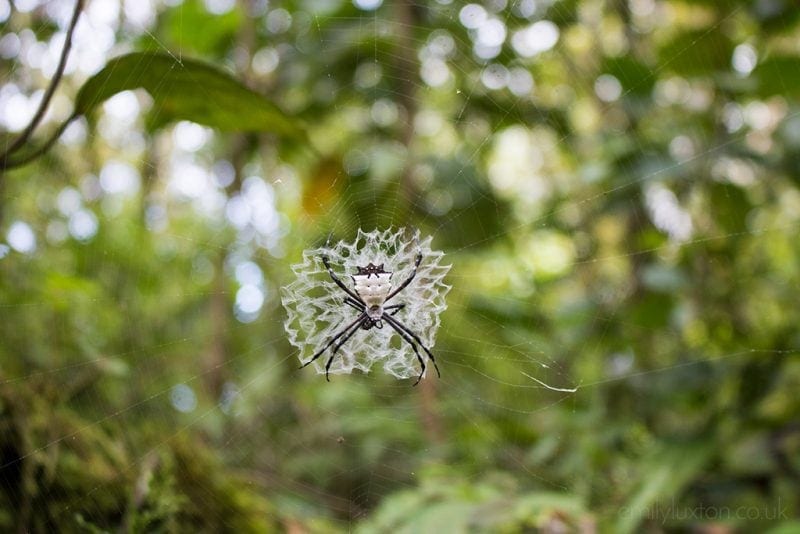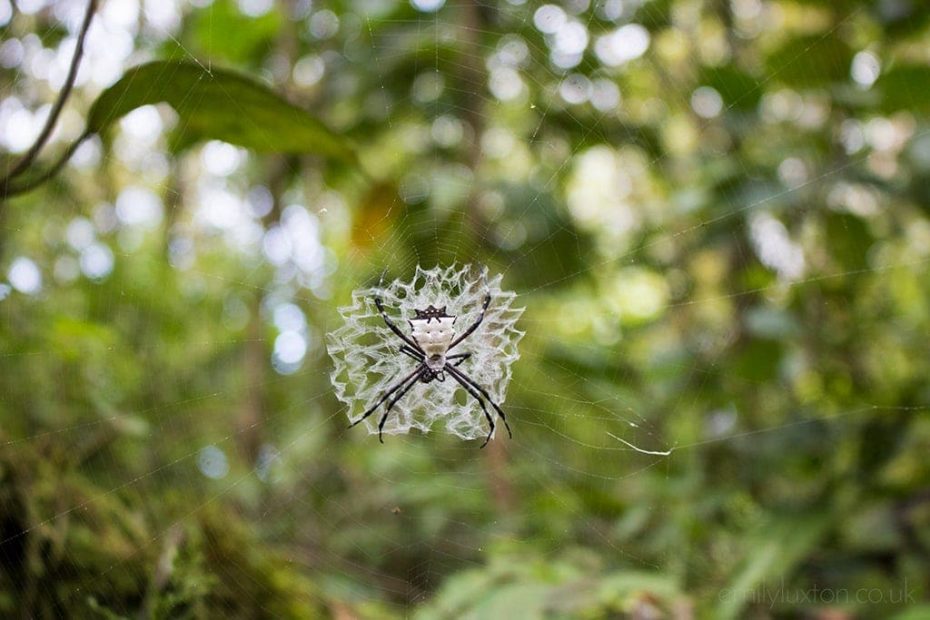 Recommended time to spent in Tortuguero
I only stayed for one night but I would recommend at least two to really make the most of the area and enjoy being in the jungle.
Where to stay in Tortuguero
I loved Pachira Lodge, which really felt like it was in the heart of the jungle. The accommodation was simple, clean, and comfortable – and I loved being surrounded by greenery and wildlife.
Read more
Check out the Best Beach to See Turtles in Costa Rica from the lovely GlobalHelpSwap for loads more information about Tortuguero and how/when/why to see the turtles there. And read Vicky Flip Flop's post on the kinds of animals you can spot on a Tortuguero river tour (and giggle at her imaginative bird names).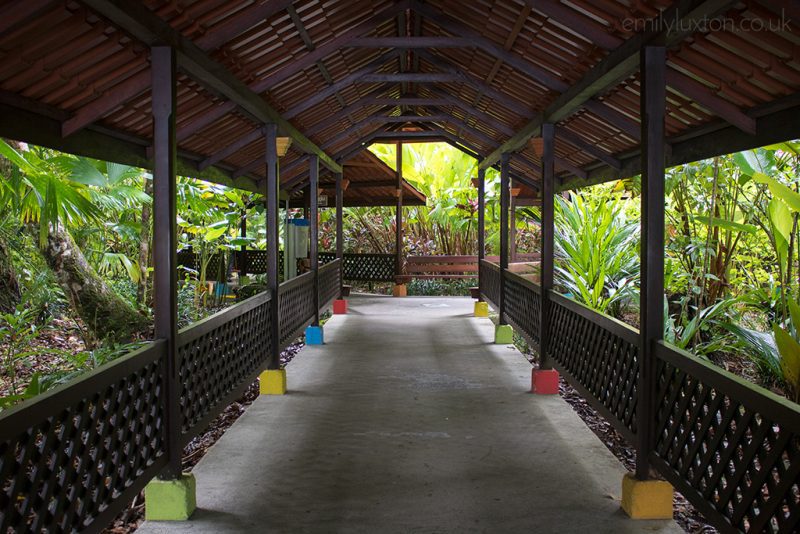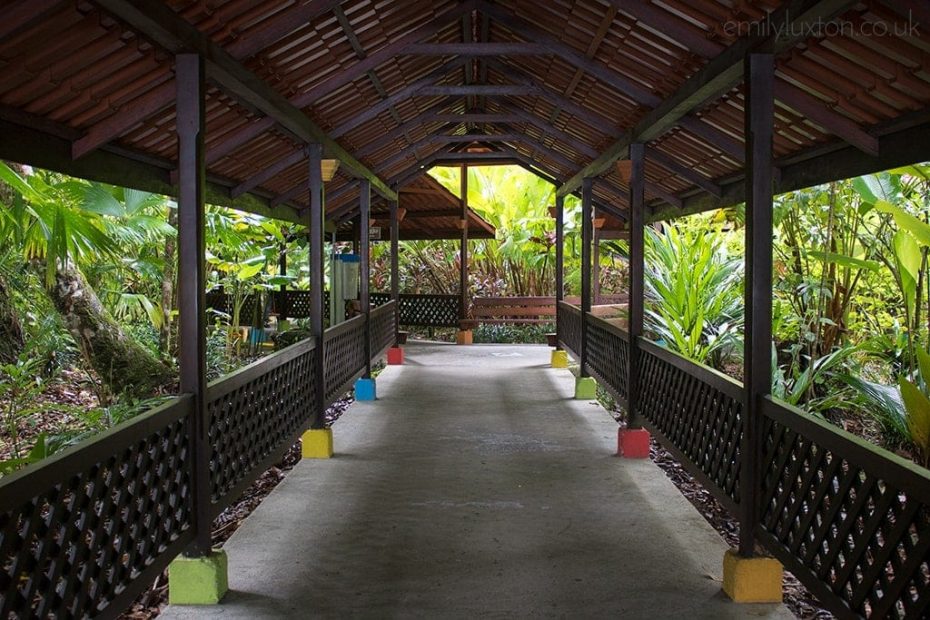 Arenal and La Fortuna
From Tortuguero, we journeyed back inland via boat and bus, to reach La Fortuna on the slopes of Arenal volcano. It was dark by the time we arrived, so it wasn't until I woke up that I first glimpsed the volcano – its conical tip peeping through the jungle, perfectly visible from my bed. In the soft golden light of dawn, it was a breathtaking sight.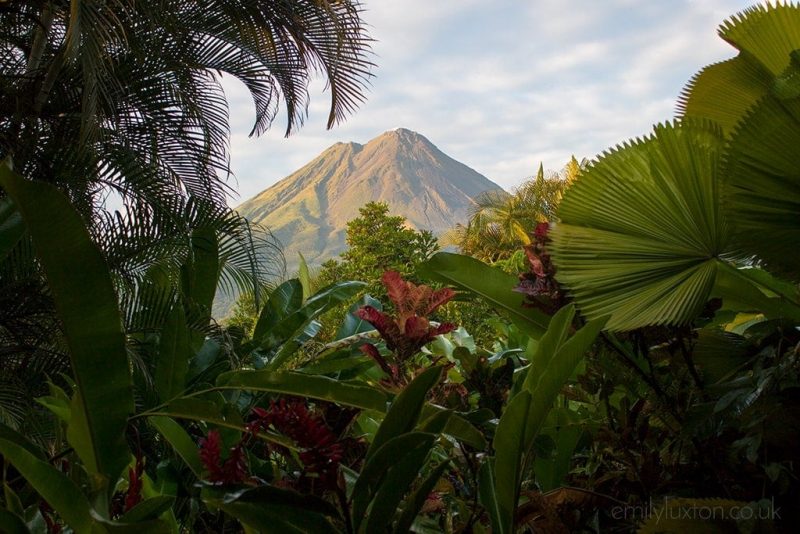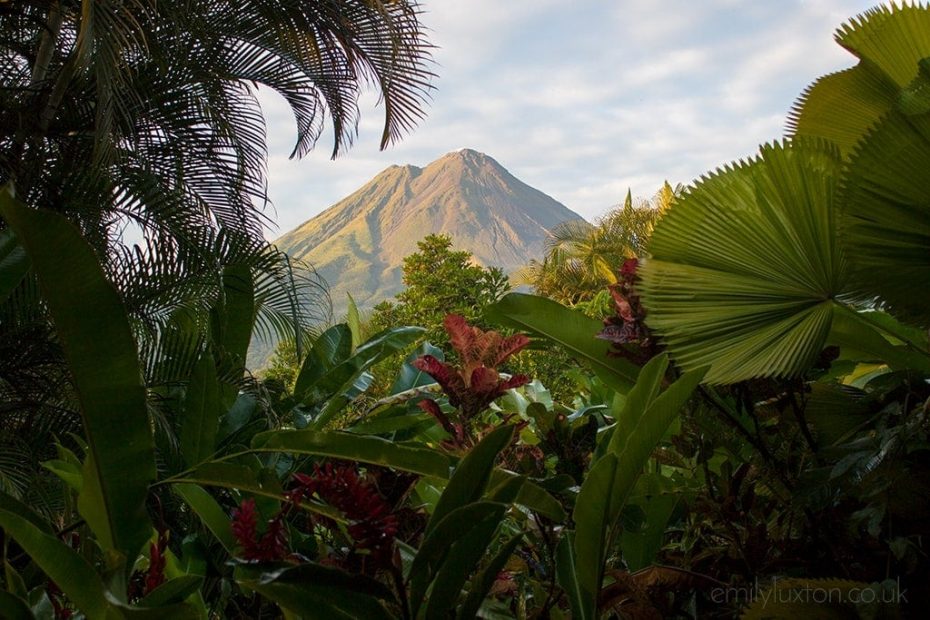 La Fortuna was the busiest stop on our week in Costa Rica. From wildlife spotting in Arenal National Park to a pedal boarding tour of Lake Arenal – which is similar to Stand Up Paddleboarding but the boards have handlebars and pedals, and go much further, faster, than SUP boards – we covered a lot of ground!
One of the most fun activities was zip lining with Sky Adventures. I love zip lining and have done it a few times, but there was something extra special about hurtling above the jungle canopy with Arenal volcano looming in the background.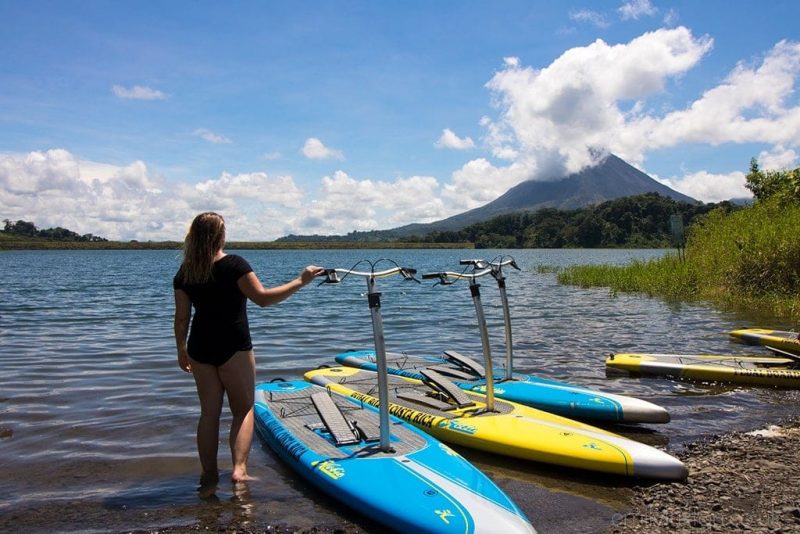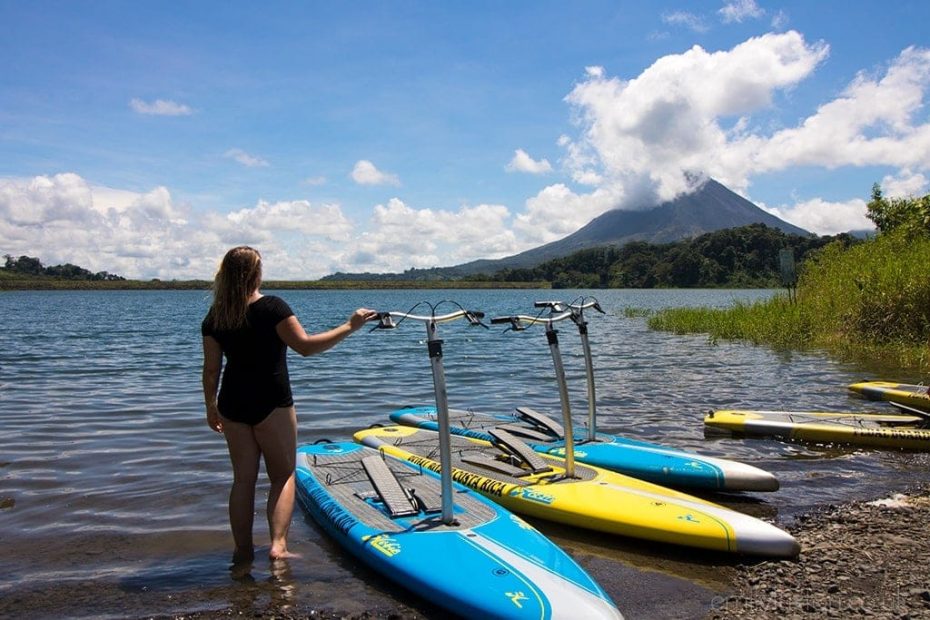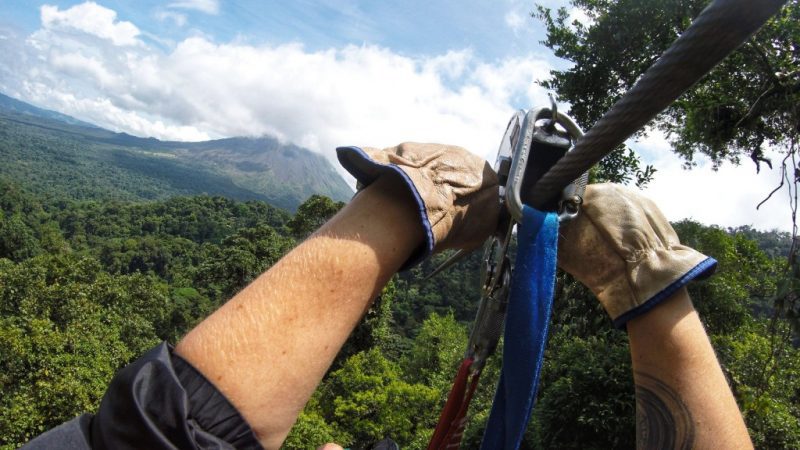 On our last evening, we were lucky enough to visit Tabacon Hot Springs. The naturally hot Tabacon River is known for its restorative properties, and at the ultra-luxurious Tabacon resort they take relaxing to the next level.
A series of rocky pools and rivers with mini waterfalls running through lush gardens, the setting is breathtaking. And when an intense thunderstorm began flashing through the sky above us the scene took an even more dramatic turn. There's nothing quite like relaxing in naturally hot water beneath cool rain and electric bolts of lightning!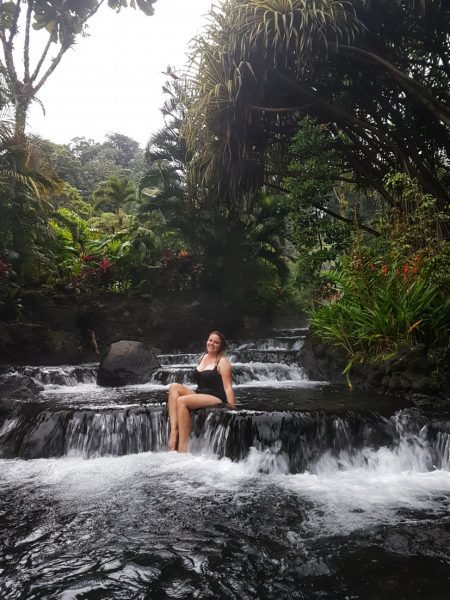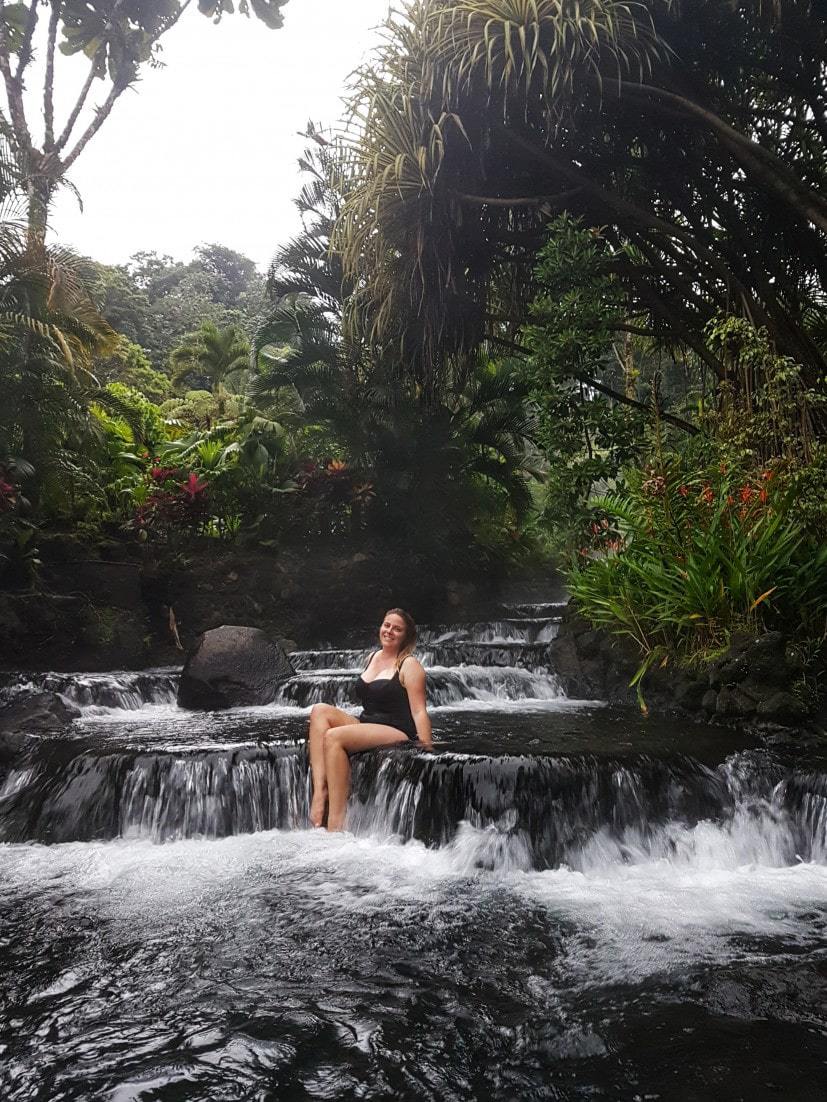 Recommended time to spent in La Fortuna
Three nights (more if time permits).
Where to stay in La Fortuna
Just outside the town lies Arenal Nayara Hotel, a gorgeous luxury resort spanning two sides of a river. From my villa balcony – complete with hot tub – I had the most incredible view of the volcano. With multiple pools to choose from around the resort, a swim-up bar, and several fantastic restaurants this is the perfect place to enjoy a spot of luxury.
Read More
Don't miss my round-up of fun things to do in La Fortuna for more details on what to do there.
San Ramón and the Cloud Forest
With one night left on our whirlwind weekend in Costa Rica we were able to squeeze in one more brief stop, at the lovely Villa Blanca Cloud Forest Hotel and Nature Reserve just outside of San Ramón. This is yet another of Costa Rica's numerous different climates; Cloud Forest. Different from the rainforest in that it's at a higher elevation and tends to be cooler, the cloud forest region is gorgeously green and ideal for wildlife lovers.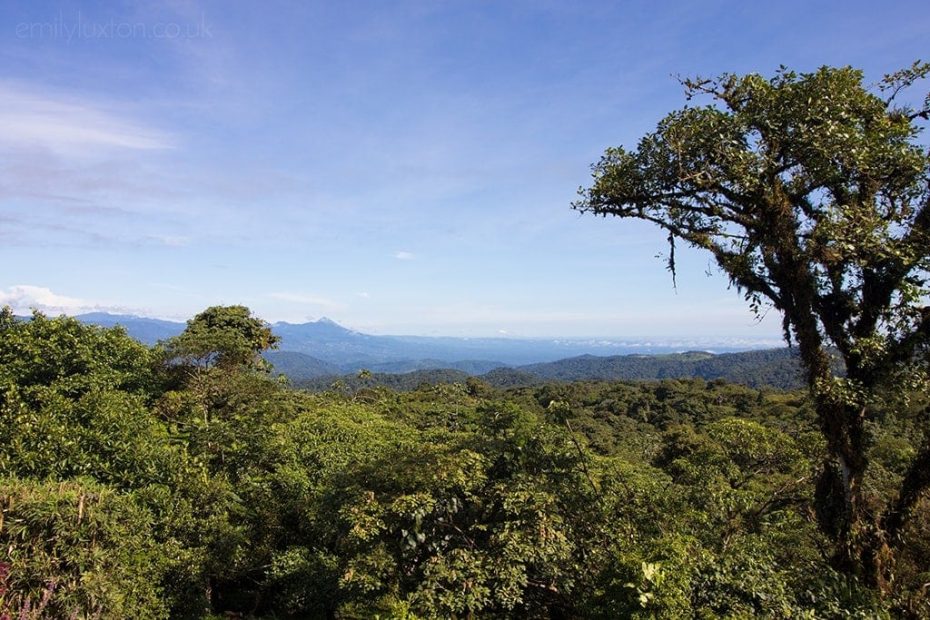 Villa Blanca is a peaceful, boutique eco-resort from the small local chain Greentique. Once again, the focus is all about preserving and protecting Costa Rica's wildlife at the same time as showing it off to tourists. With two greenhouses and a small dairy farm on-site, Villa Blanca are able to produce or locally source almost all the food used in their restaurant. Guests can even visit the farm to try their hands at milking or to feed one of the babies.
Our one night at Villa Blanca felt far too short – and I don't think any of us wanted to go home when Costa Rican Trails dropped us off at the airport. Lucky for me, my trip was just beginning – but that's another story! Still, I was overwhelmed by how much we were able to see and do in just one week in Costa Rica. Keep reading to get an overview of the itinerary…
Recommended time to spent in San Ramón
I highly recommend staying more than one night if you can, especially if you're at Villa Blanca. One night was not enough to make the most of the hotel or the amazing nature nearby.
Where to stay in San Ramón
Villa Blanca Cloud Forest Hotel and Nature Reserve, of course!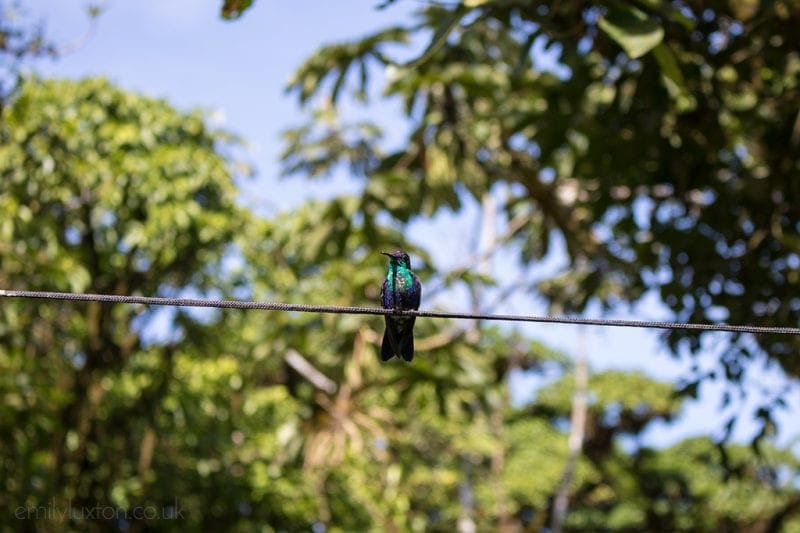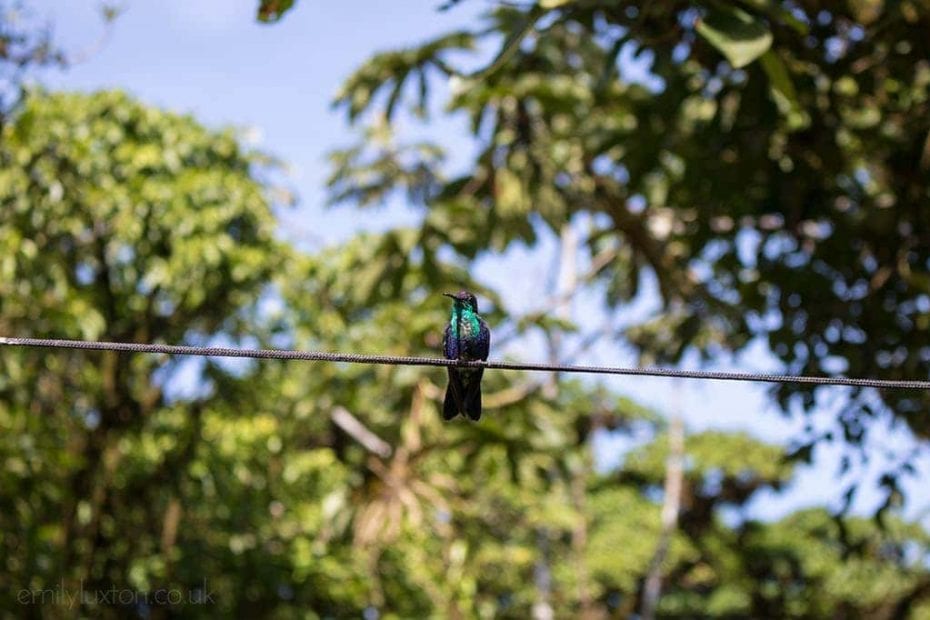 About Costa Rican Trails
Our guide and driver for the week came from Costa Rican Trails, a local tour company with a great reputation. Both Hernan and Erick were absolutely lovely and made us feel really welcome.
Erick the guide was seriously knowledgeable and had such an infectious passion for the local wildlife that even I – notorious for losing attention during anything educational – retained a few facts! Even the bus, our home for the week, was comfy and welcoming. If you're looking for a great tour company in Costa Rica I really can't recommend them enough.
Costa Rica Itinerary 7 Days
As you can tell from the above, you really can see a lot in one week. But I'd recommend spending at least two weeks in Costa Rica to really make the most of it – especially if you prefer to take your time and relax.
If you fancy recreating my one week in Costa Rica, here's how we did it:
Day One – British Airways flight arrives at 1.15pm at San Jose airport. Check into Hotel Grano de Oro. Afternoon and evening exploring the city.
Day Two – Exploring San Jose
Day Three – 6:50am flight to Tortuguero. Check into Pachira Lodge. Afternoon kayaking in the National Park and nighttime turtle tour.
Day Four – 9:30am boat transfer to La Pavona Pier. Bus to Arenal (four-hour drive). Check into Arenal Nayara Hotel.
Day Five – Exploring La Fortuna and Arenal.
Day Six – Check out and drive to San Ramón (1.5-2 hours). Check into Villa Blanca Cloud Forest Lodge.
Day Seven – Check out and drive to San Jose (2 hours). British Airways flight at 15:05pm.
Pin This Post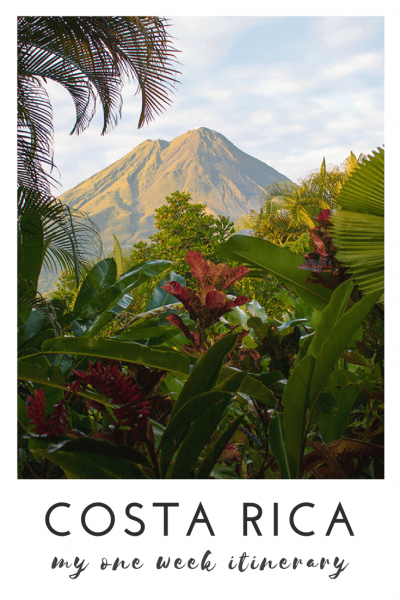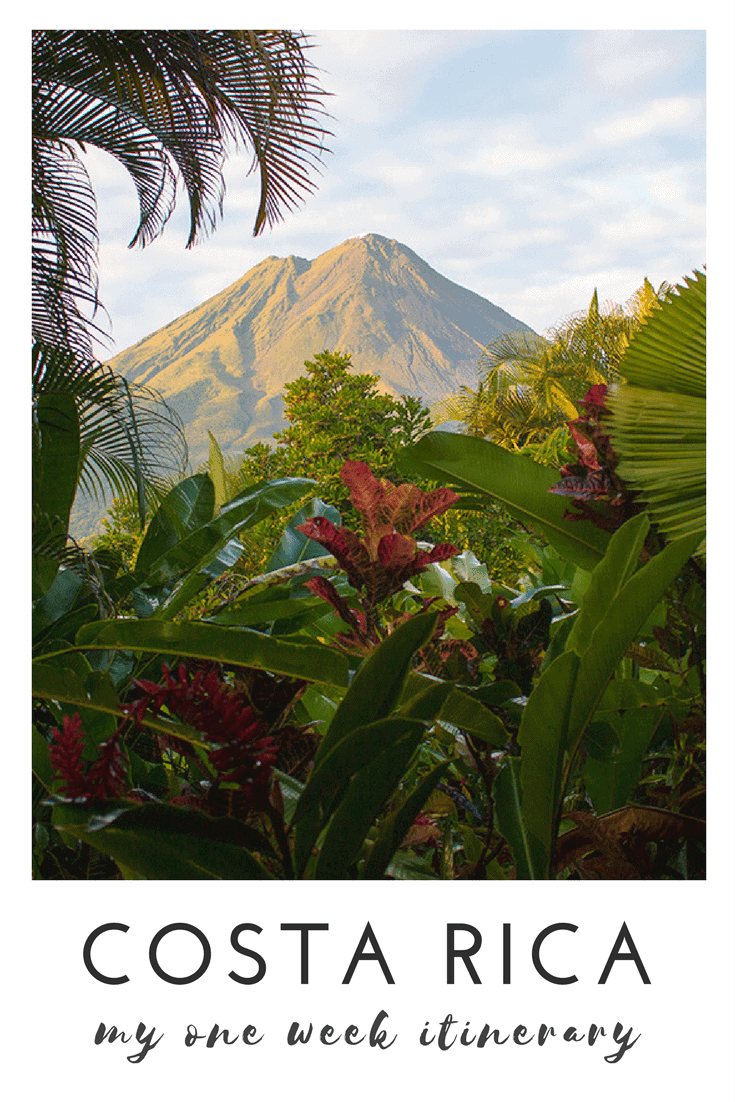 My one week in Costa Rica was a press trip with Visit Costa Rica and British Airways. All words and opinions are, always, my own!