Some posts on this site contain affiliate links. If you book or buy something through these links, I earn a small commission (at no extra cost to you). Take a look at my privacy policy for more information.
Isla Ometepe, at the edge of Lake Nicaragua, is one of the most magical places in all of Nicaragua. I spent a full third of my time in the country staying on the island, and left absolutely desperate to return.
Shaped by two massive volcanoes – the active, conical Concepcion and the dormant Maderas – Ometepe is an island full of nature, wildlife, and adventure. There are few settlements and much of the island is wild, so this is a great place for nature lovers. While many people come to climb one of the two volcanoes, these aren't the only things to do on Ometepe. These are a few of my favourites…
Stay at El Zopilote Hostel
I've already raved about my stay at El Zopilote hostel – and I'll continue to do so, because it's one of the best hostel experiences I've ever had!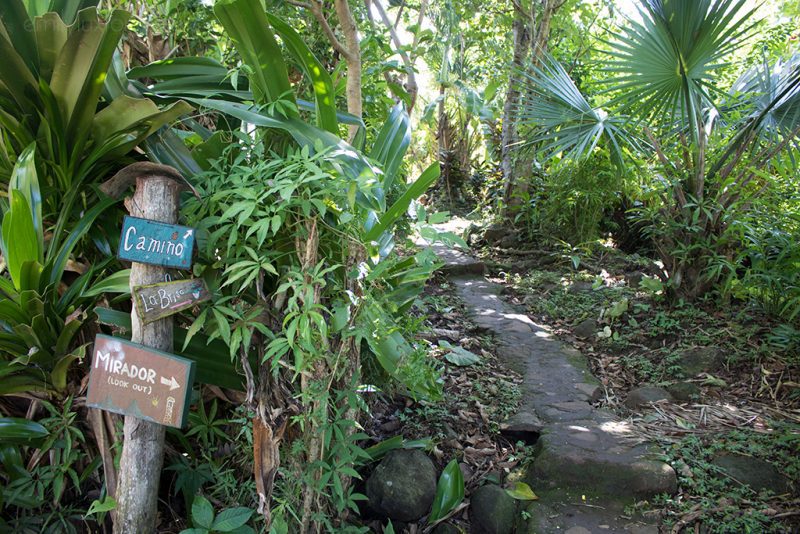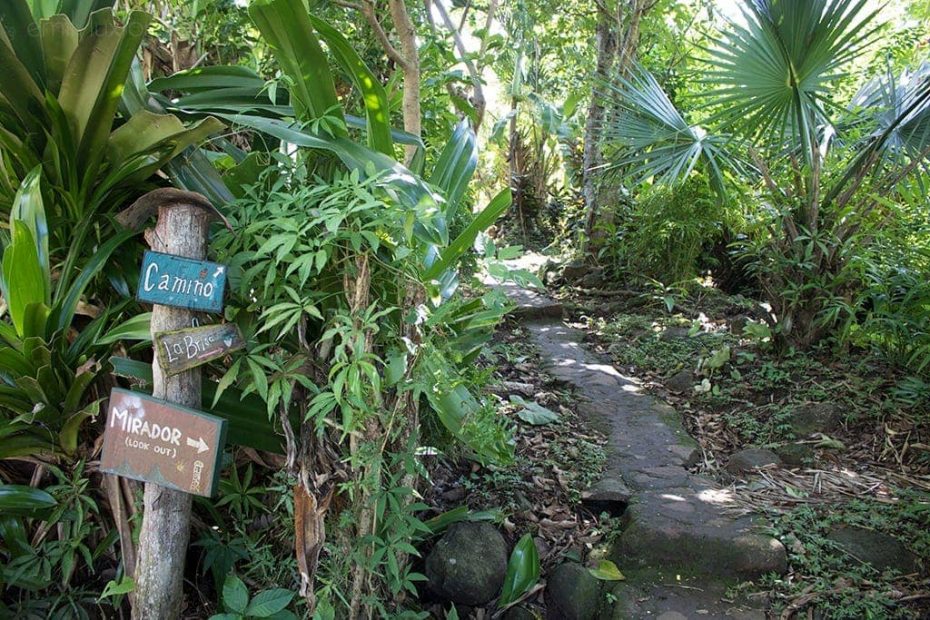 This hostel is just outside of Santa Cruz, about a 10 minute walk uphill into the forest. It's like a mini village in the forest, with the dorms in wooden cabins dotted about on the eco-farm. This hostel might not be for everyone – if you feel squeamish about bugs, cold showers, or walking through jungle at night, you might want to consider somewhere in town. But honestly, El Zopilote is a magical experience. The community there is amazing, and you're completely surrounded by nature.
El Pital – Chocolate Paradise
One of my favourite discoveries on Isla Ometepe was El Pital, aka Chocolate Paradise. This is a fairly new business started by some passionate guys who are making their own all-natural chocolate. It's a gorgeous little cafe on the lake with hammocks and swings strung around, plus loads of amazing chocolatey treats.
Don't miss their signature dish – the Magic Ball. It's a ball of chocolate served on a tower of ice cream, fruit, and granola. The dish comes with hot chocolate sauce – and as you pour on the sauce the ball collapses. Fun, beautiful, and ridiculously delicious. Definitely one of the most unmissable things to do on Ometepe!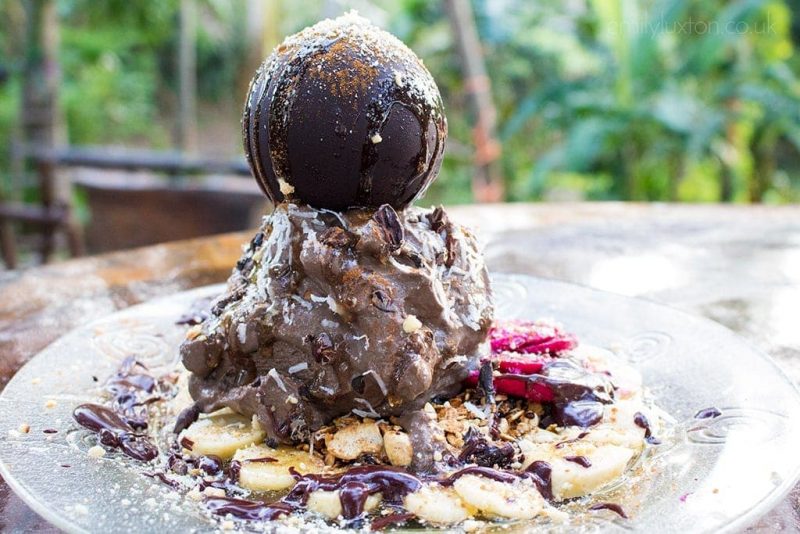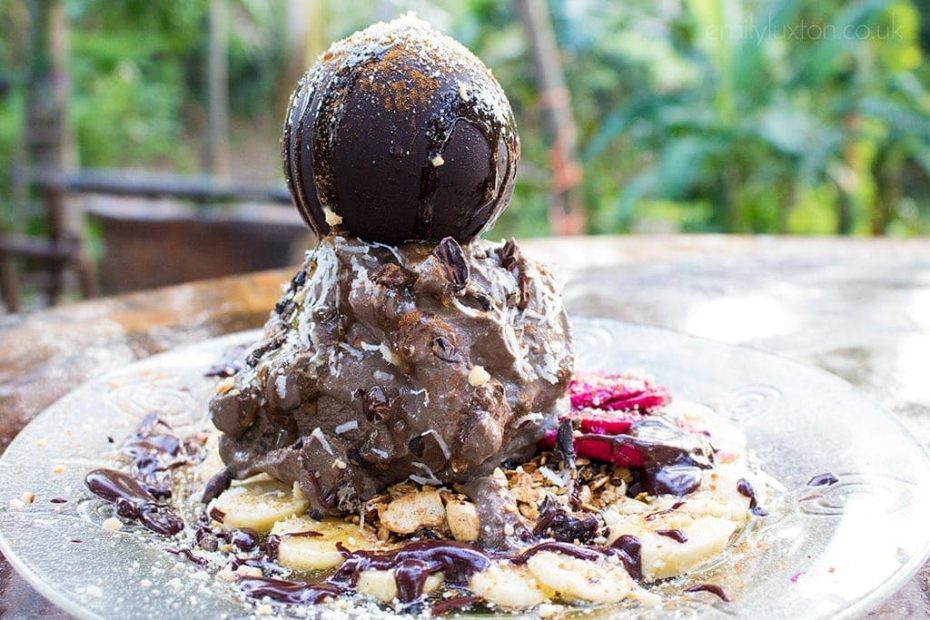 Swim in the Lake
Ometepe is an island within the largest lake in Central America – and the 19th largest in the world! The water is fresh, clean, and a gorgeous temperature. And there are loads of places you can visit to take a dip. I liked the mini beach at El Pital, or Playa Santo Domingo is very popular too.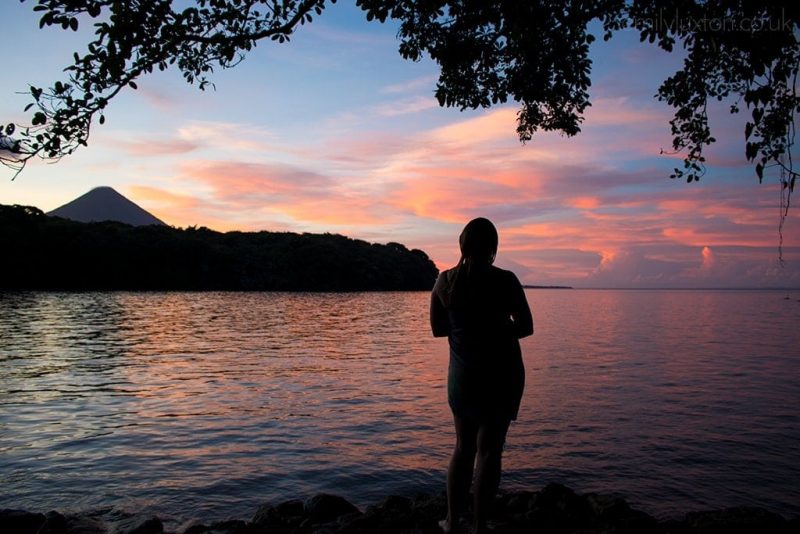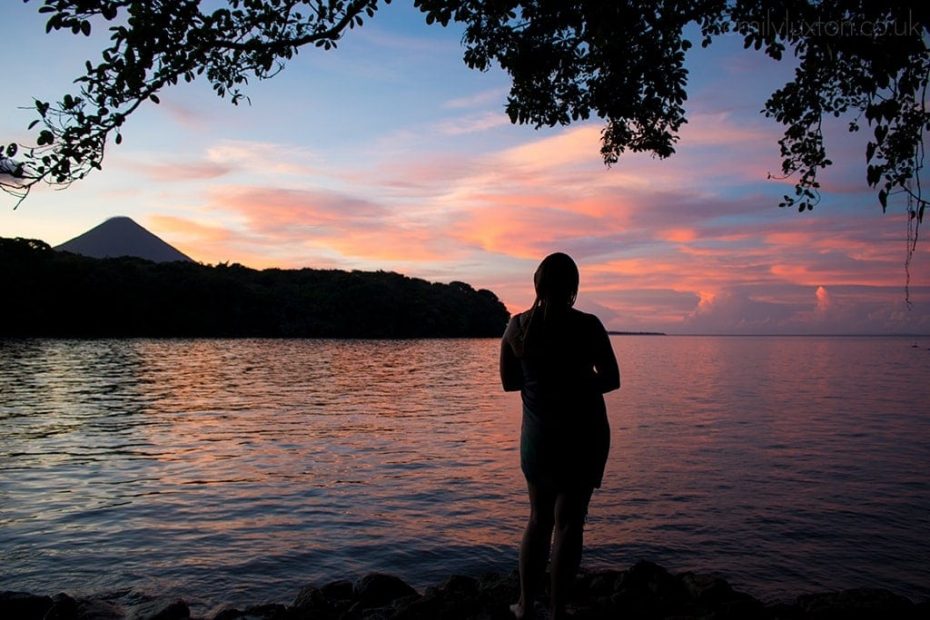 You can also swim at El Ojo de Agua, a man-made pool fed by natural waters. It's pretty enough, but personally I don't think it was worth the $5 entrance fee. It's not much more than a public pool – and the lake is free, clean, and spectacular!
Rent a Scooter
For a small island, Ometepe is surprisingly big. If you want to get around, you can take the infrequent (but usually on time) public buses, or take an expensive taxi. Or, if you fancy some freedom and you're feeling adventurous, you can rent a scooter. Renting costs around $15-25 a day depending on your haggling skills (most vendors will go down to $16).
Be warned – not all the roads are paved. And the ones that aren't paved are pretty horrendous! Steep hills, sand and gravel, lots of loose rocks… it's not for the faint-hearted. But the views are spectacular and the paved road running from Moyagalpa to Santa Cruz is great fun to drive on.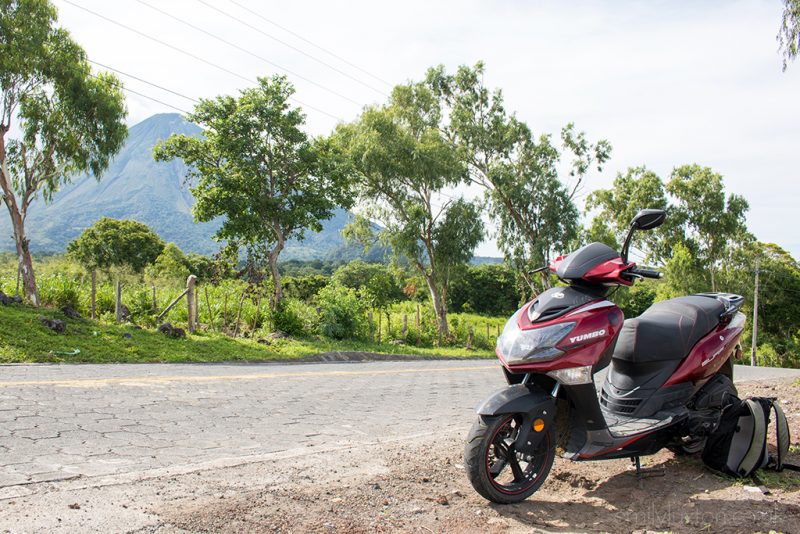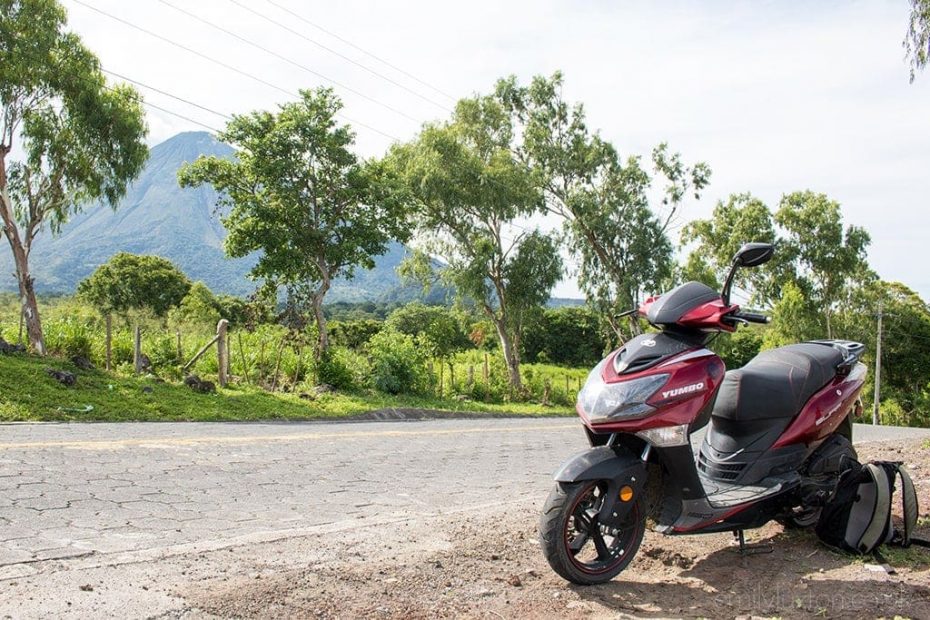 San Ramon Waterfall
The San Ramon Waterfall (Cataratas San Ramon) is considered one of the most unmissable things to do on Ometepe – so I'm kind of sad I missed it myself. Just another reason to go back!
On the southern slope of Volcan Maderas, the waterfall is about a 45 min – 1.5 hour hike uphill (depending on who I asked). During wet season (May – October), it can be hard going because the path gets pretty slippery. But this is also the best time to visit as this is when there's more water. Although the pool is pretty small, the waterfall is really spectacular and worth the hike up!
Watch Sunset
Sunsets on the island are a daily magic show – and definitely one of my favourite things to do on Ometepe.
On the east side of the island, the mirador at Zopilote hostel offers up gorgeous sunset skies behind La Concepcion volcano. And while you can't quite see the physical sunset at El Pital, the sky reflecting off the lake with both volcanoes visible is truly dreamy. Over on the west side, Punta Jesus Maria and Hacienda Merida are two of the best places to watch the sunset on Ometepe.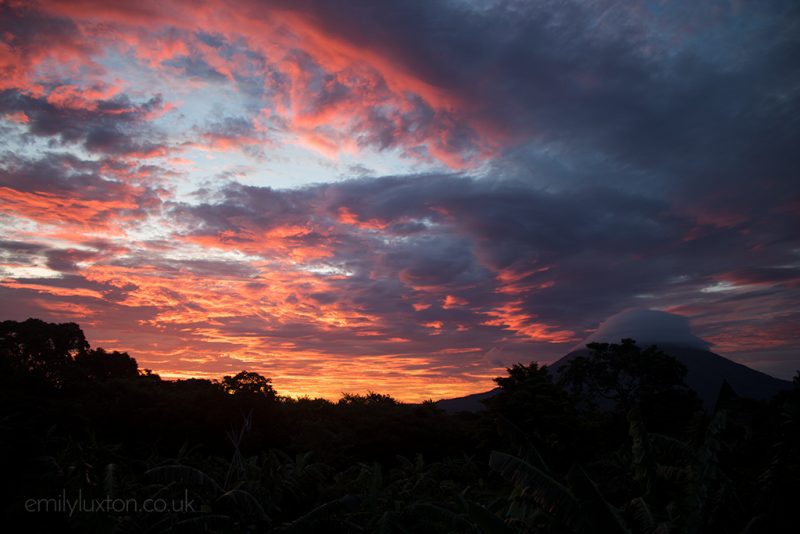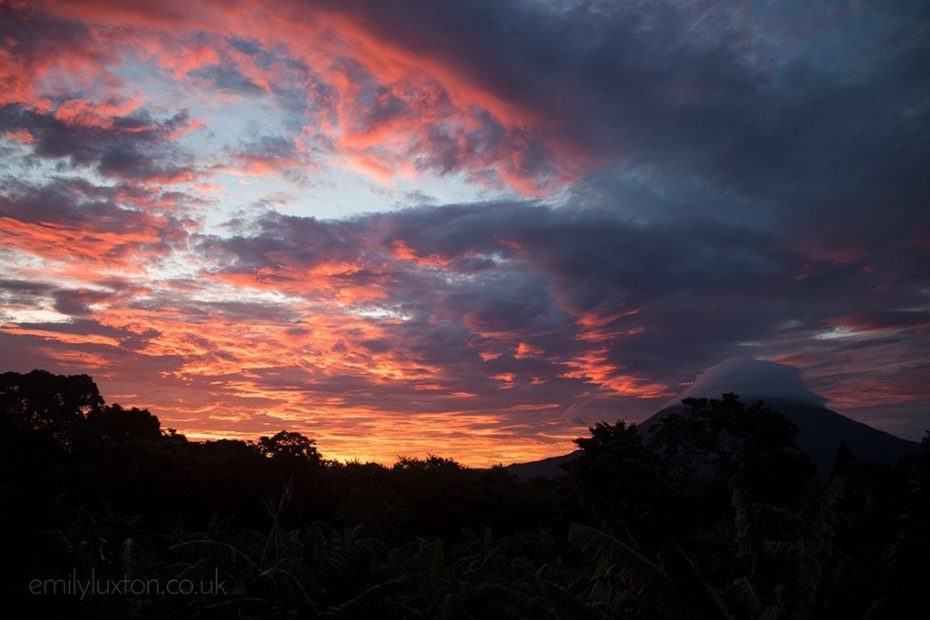 Rent a Bike
If you're feeling active and don't mind a few hills, Ometepe is a great place for cycling. You can rent a bike from around $5-6 at most hostels, or at the roadside stalls which you'll spot in most towns.
It's not as easy as a scooter, of course, and there are lots of steep hills to keep you busy. But that also means lots of downhills, too.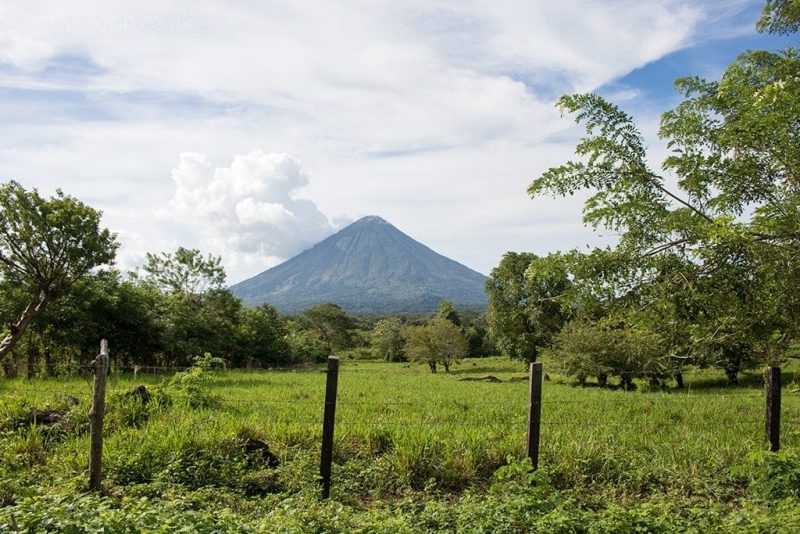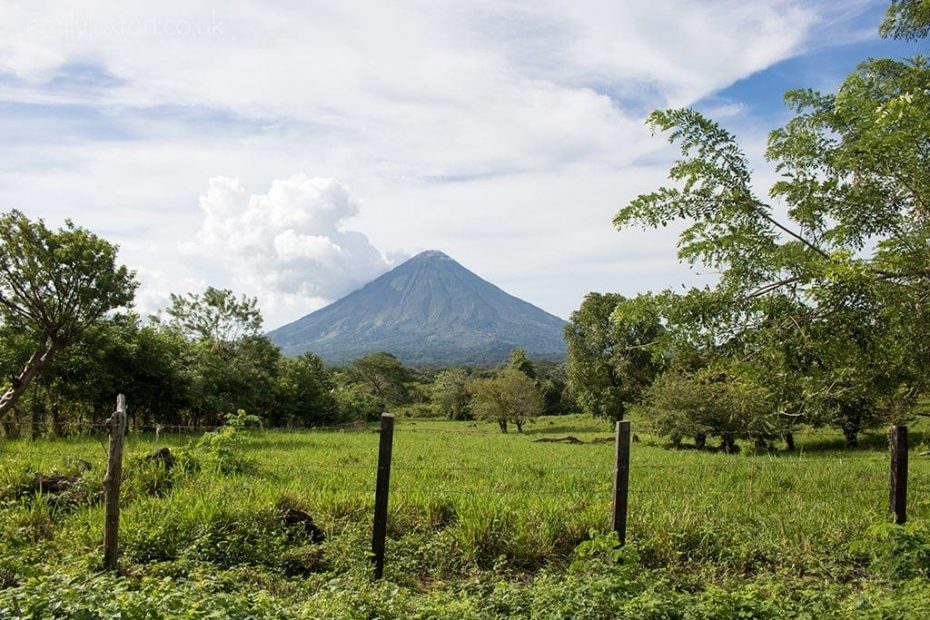 Kayaking Ometepe
On the Maderas side of the island, Rio Istián is a marsh and river network that's teeming with wildlife. To see it best, take a kayaking tour with a local guide. We spotted herons and other water birds, as well as a baby boa constrictor! If you're lucky you'll also spot the noisy howler monkeys, and maybe even a caiman or two!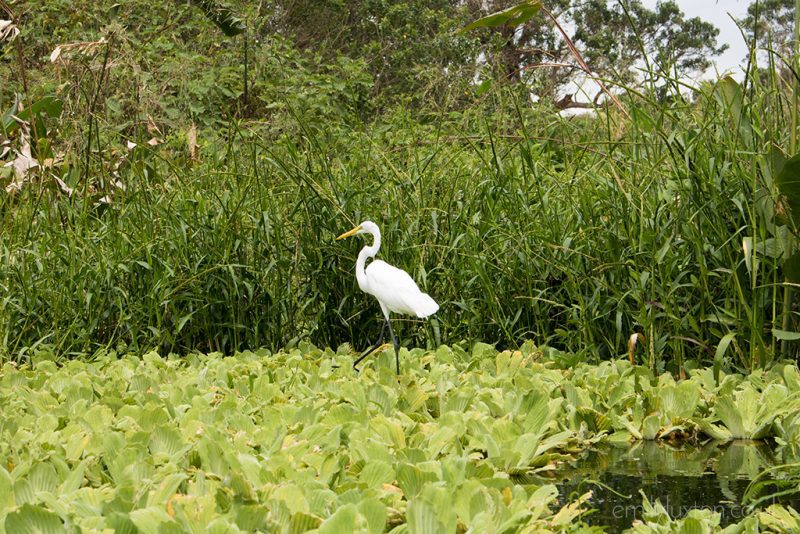 The price of a kayaking tour on Ometepe depends on your haggling skills, the time of year, and how many people are in your group. We paid $15 each for a three hour tour (there were three of us), but another couple paid $20.
Know any more great things to do on Ometepe? Share in the comments!
Pin this post!