Some posts on this site contain affiliate links. If you book or buy something through these links, I earn a small commission (at no extra cost to you). Take a look at my privacy policy for more information.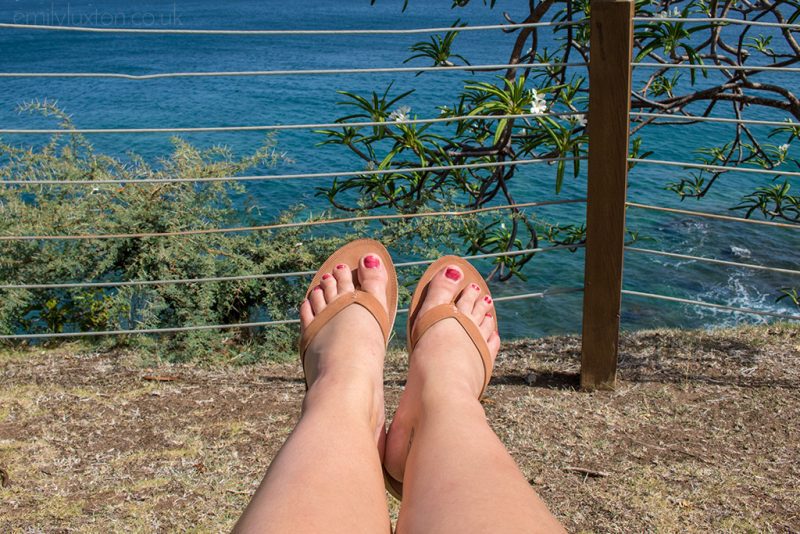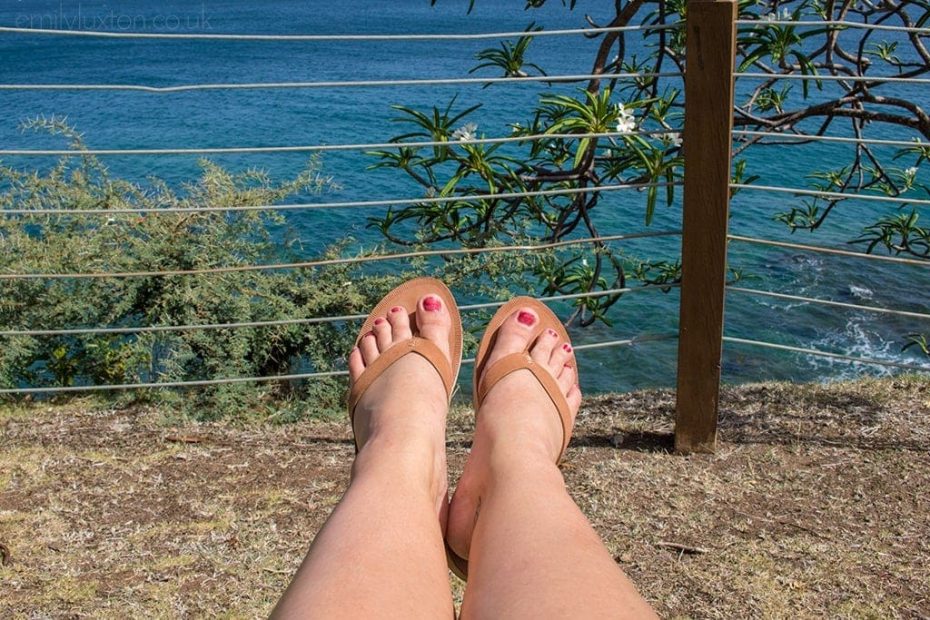 Looking for some awesome comfortable flip flops for travelling? I've got you covered!
Whether you're heading for a weekend at the beach or a RTW backpacking trip, you need a really good pair of flip flops. Ones that will last, and can survive whatever adventures you throw at them.
And, more importantly, they need to be comfy. These are a few of my favourites…
Some (not all) of the products I'm recommending were gifted to me in exchange for an honest review. All opinions are my own and 100% honest, as always. 
5 Fab, Comfortable Flip Flops
Reef – Escape Lux Prints
Pros: Super lightweight, water resistant, pretty!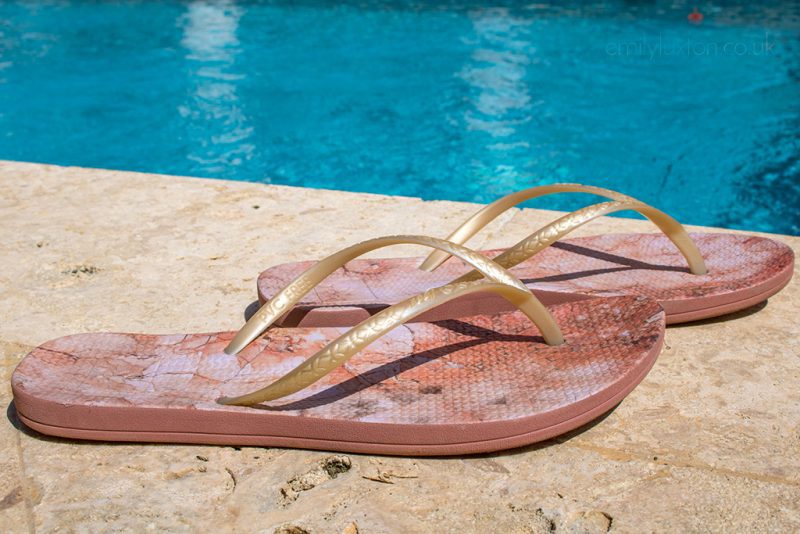 These slim, dainty flip flips from Reef have fast become my new favourites. They're super lightwieght and water resistant, so they're great for throwing in a bag for the beach. Normally, flat skinny flip flops like these can be a little uncomfortable for wearing all day, but these Reef Escapes feature a contoured footbed with anatomical arch support so they're super comfy. I wore them pretty much all day everyday on my recent St Lucia trip and they never rubbed or felt uncomfy.
Also PVC free, making them better for the environment, these are surprisingly comfy and very pretty flip flops that make the perfect addition to your beach bag. I'll be wearing mine all summer long!
Aussie Soles – Aussianas
Arch support, waterpoof, crazy comfy!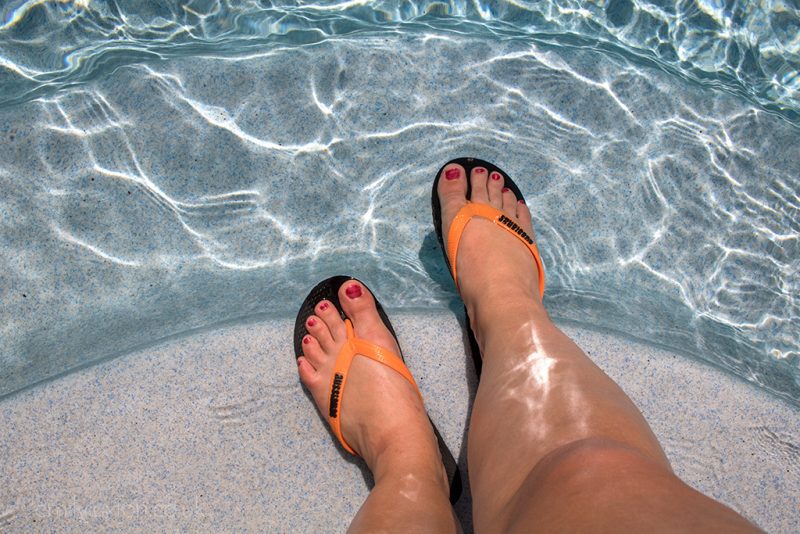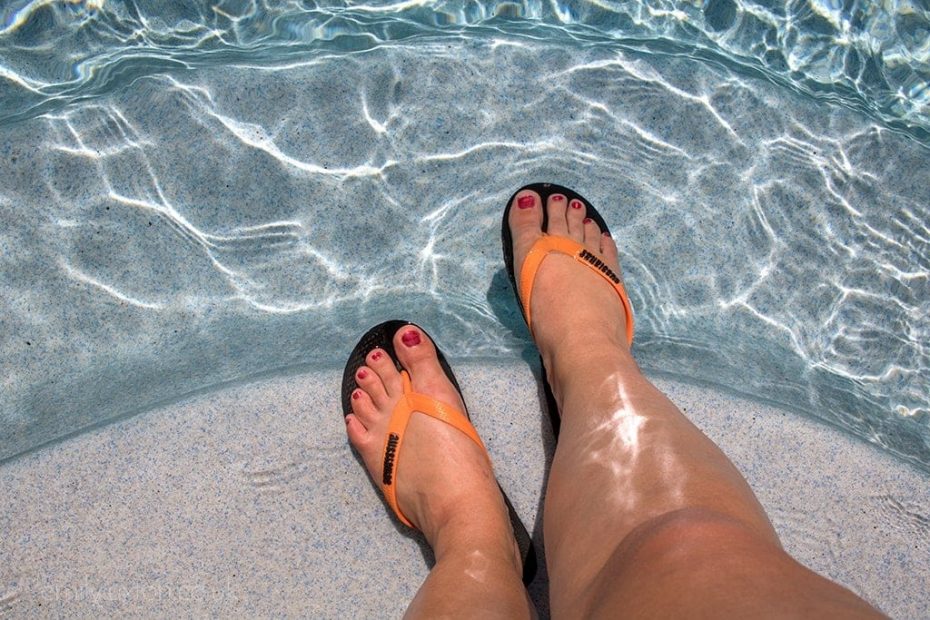 Born in Australia, Aussie Soles made their UK debut this summer and they're the perfect option for travellers. Especially if you're planning some active days. Aussie Soles have been orthopedically designed to offer decent arch support, something that's seriously lacking in most flip flops. They were also designed with surfers in mind. So they're lightweight, waterproof, and made from a unique antibacterial polymer foam (which means it doesn't matter if your feet sweat!).
I wore my new Aussianas all over Langkawi while I was there, and they were perfect for the humidity. And for going from the street, to the beach, to the market. Plus my feet were much less achey at the end of a long day's exploring.
Reef – Voyage Sandals
Gorgeous design, waterproof leather, super soft!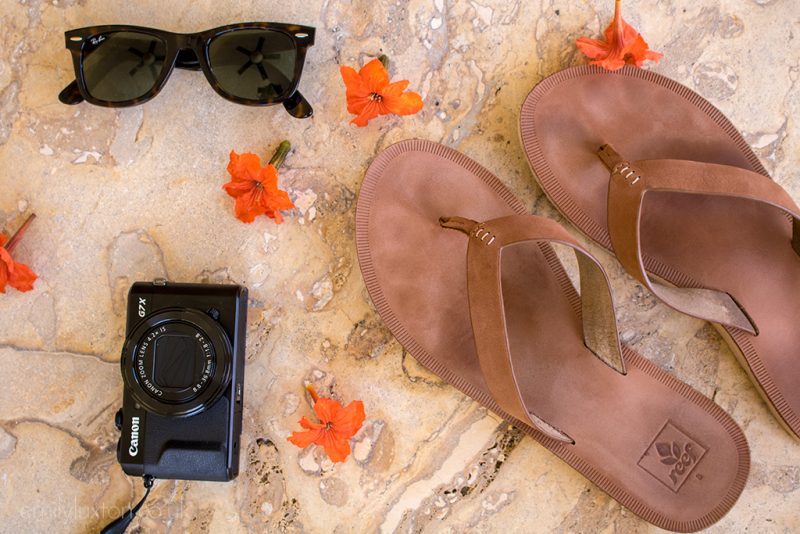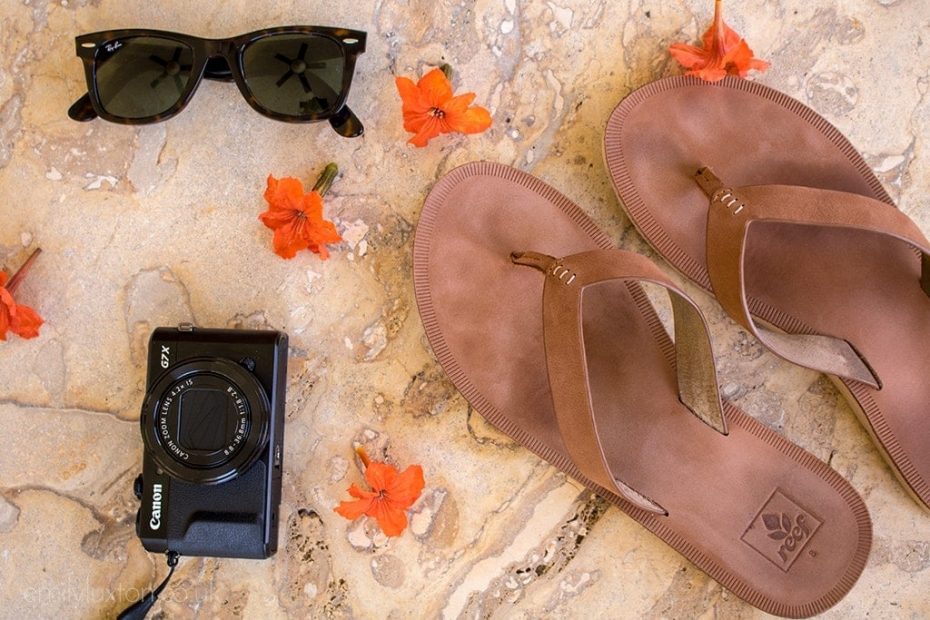 I LOVE the way these leather Voyage flip flops from Reef look. The soles are moulded to a foot's natural shape, so they're more comfy and supportive than regular flipflops. And the topsole is super soft which makes them lovely to wear. These flipflops are also super lightweight, AND the leather is water-resistant – so they're another great beach option.
The first time I wore them for a long walk, the strap rubbed quite a bit, so I think maybe the sandals need to be worn in a bit if you want to wear them all day. But they're ideal for chilled out days if you don't plan on walking too far, and they're so comfy to wear.
Havaianas – Luna
Ankle strap, non slip, great range of colours!
You can't beat a good pair of Havaianas, but while they're one of the best known flip flop brands, they aren't necessarily the comfiest. Or so I thought, until I discovered the Luna (thanks to my little sis for getting me a pair last year).
The new ankle strap design makes them much more comfortable meaning you can wear them for a long time without complaint. Perfect for city sightseeing as well as beach days!
The bases are still pretty flat though, without much arch support – so these don't make the best all-day option (the Reef Escapes above are a better shout for that). But the fun colour range and cool design make them great for chilling by the pool or a casual evening out.
Sketchers – Go Walk 3 or On the Go 600
Crazy comfy, memory foam midsole, machine washable
My Sketchers Go Walk flip flops are still my firm favourites, because they're insanely comfy, with memory foam bottoms and a sculpted shape that's a dream to wear all day. AND you can chuck them in the washing machine, so they never get too smelly!
There's a newer range now, the Skechers On the Go 600. They look pretty similar, but with a slightly nicer, less "practical" looking design. The Goga Max footbed is the same, perfect for sporty types (or hot, sweaty days) and there's a squishy memory foam midsole.
What are your favourite comfortable flip flops for travelling? Scroll down to leave me a comment!