Some posts on this site contain affiliate links. If you book or buy something through these links, I earn a small commission (at no extra cost to you). Take a look at my privacy policy for more information.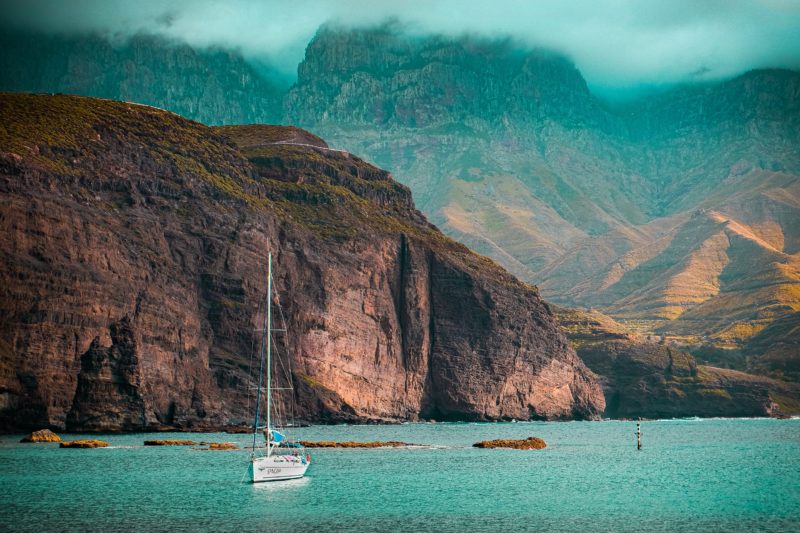 Are you planning your summer holiday and looking for the perfect destination? Look no further than Gran Canaria! This stunning island in the Canary Islands archipelago is a true paradise with its beautiful beaches, vibrant culture, and breathtaking landscapes.

Of course, you could easily spend your whole holiday lounging on the beach enjoying Gran Canaria's gorgeous climate! But there's so much more to see and do on this beautiful island, from cute little towns and stunning natural sights to epic watersports and vibrant nightlife. 

One of the best ways to explore Gran Canaria is to take a road trip – calling at some of the island's top sights along the way. You can hire a car at the Gran Canaria airport and hit the road straight away. Alternatively, you can base yourself in one part of the island and use your hire car to take day trips to explore various different places. 

Need some more inspiration to get planning? Here are then of the best things to do in Gran Canaria during your summer holidays:
Best Things to do in Gran Canaria
1. Relax on the Beaches
Gran Canaria boasts some of the most stunning beaches in the world. Whether you prefer the lively atmosphere of Playa del Ingles or the serene beauty of Maspalomas Beach, there's a stretch of sand for everyone. Soak up the sun, take a refreshing dip in the crystal-clear waters, and simply unwind on the golden sands.
2. Explore the Dunes of Maspalomas
Speaking of Maspalomas, don't miss the opportunity to explore its iconic sand dunes. These vast, rolling dunes create a unique and breathtaking landscape that feels like a mini desert. Take a stroll along the boardwalk or embark on a camel ride for an unforgettable experience.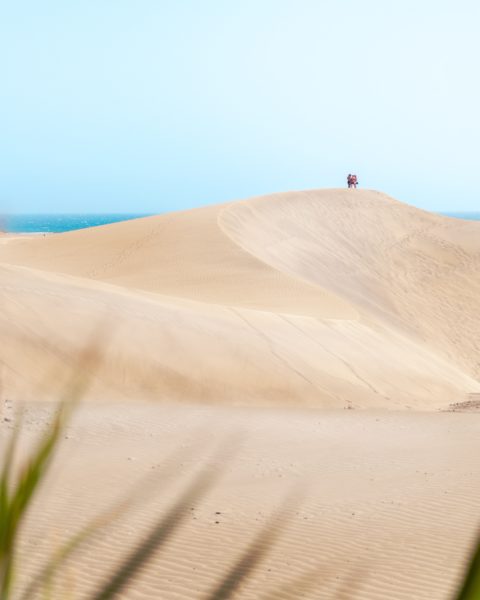 3. Visit the Picturesque Town of Puerto de Mogán
Take a day trip to Puerto de Mogán, a charming coastal town often referred to as "Little Venice." With its colourful houses, picturesque canals, and vibrant marina, it's a delightful place to wander around. Explore the local shops, enjoy a meal at one of the waterfront restaurants, and soak in the relaxed ambience.
4. Hike in the Stunning Natural Park of Roque Nublo
Nature lovers shouldn't miss the opportunity to explore the Roque Nublo Natural Park. Lace up your hiking boots and venture into the lush green landscapes, with its rugged mountains and awe-inspiring views. The highlight of the park is the towering Roque Nublo rock formation, offering panoramic vistas that will leave you in awe.
5. Discover the Historic District of Vegueta
Immerse yourself in the rich history of Gran Canaria by visiting the historic district of Vegueta in Las Palmas. Stroll through its narrow streets, lined with beautiful colonial buildings, and visit attractions like the stunning Santa Ana Cathedral and the Casa de Colon museum. Don't forget to try some local delicacies at the charming cafes and restaurants in the area.
6. Take a Boat Trip to Spot Dolphins and Whales
Embark on a memorable boat trip from Puerto Rico or Puerto de Mogán to witness the incredible marine life of Gran Canaria. Look out for playful dolphins and majestic whales as they swim and frolic in their natural habitat. It's an experience that will stay with you long after your holiday ends.
7. Indulge in Water Sports
Gran Canaria is a haven for water sports enthusiasts. From surfing and windsurfing to jet skiing and paddleboarding, there's no shortage of thrilling activities to try. Head to the popular beach of Playa de las Canteras or any of the other coastal spots where you can rent equipment and get your adrenaline pumping.
8. Explore the Subtropical Gardens of Palmitos Park
Escape into a world of lush greenery and exotic flora at Palmitos Park. This beautiful subtropical garden is home to a diverse array of plant species from around the world. Enjoy leisurely walks, admire the colorful parrots, and catch entertaining animal shows that will delight visitors of all ages.
9. Soak in the Natural Pools of Agaete
Visit the charming coastal town of Agaete and discover its natural seawater pools. These stunning pools are formed by volcanic rocks and offer a refreshing place to swim while enjoying breathtaking ocean views. Take a dip in the crystal-clear waters and let the tranquillity wash over you.
10. Experience the Nightlife in Playa del Ingles
When the sun sets, the party begins in Playa del Ingles. This vibrant resort town is renowned for its buzzing nightlife. Explore the numerous bars, clubs, and live music venues that come alive after dark. Dance the night away, sip on delicious cocktails, and create unforgettable memories with friends and fellow travellers.
With its stunning beaches, vibrant culture, and endless opportunities for adventure, Gran Canaria is a dream destination for your summer holiday. Whether you're seeking relaxation, exploration, or thrilling experiences, this magical island has it all. It's also one of the more affordable places to visit in Europe – so you can see and do a lot without breaking the bank! So pack your bags, book your tickets, and get ready for an unforgettable summer in Gran Canaria!