Some posts on this site contain affiliate links. If you book or buy something through these links, I earn a small commission (at no extra cost to you). Take a look at my privacy policy for more information.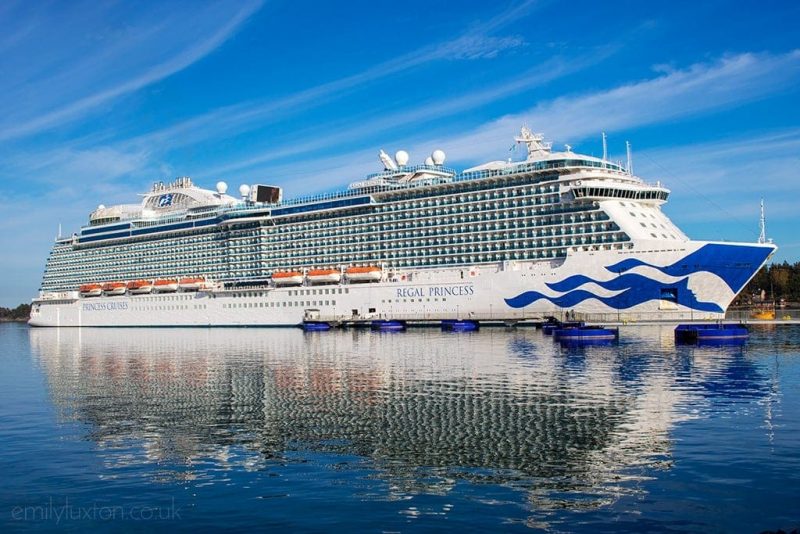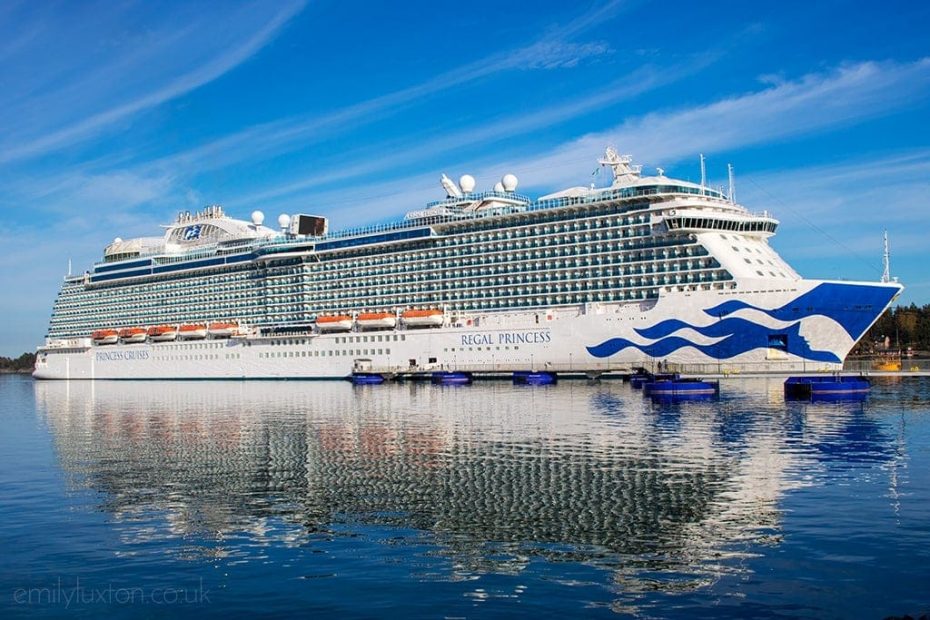 An in-depth review of the Regal Princess cruise ship from Princess Cruises – including cabin reviews…
Want to know exactly what to expect from a cruise on the Regal Princess? I've travelled on this ship twice now and know first-hand how much fun it can be.
So, following those two trips, I decided to write up a review of the Regal Princess to give you an idea of what to expect on board.
As one of the largest ships in the fleet of premium cruise line Princess Cruises, this huge ship is packed with incredible facilities and amenities.
A few years ago, when I cruised Scandinavia and Russia with Princess Cruises, I posted a review of the trip and the ship mixed together. Since I've now done two trips on the Regal Princess, this is kind of an updated review, a ship tour, and a breakdown of everything that's available onboard.
Hopefully, this will help you plan and get excited for your own trip on the Regal Princess. If you're still looking for your perfect cruise, this post could also help you decide if the Regal is right for you.
This Regal Princess review is based on two press trips I've done with Princess Cruises and Traverse. The photos featured are from both trips. As always, all words and opinions are my own and unbiased.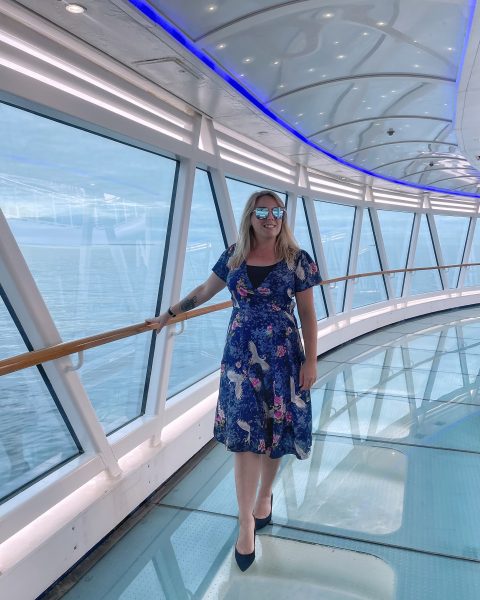 Regal Princess Review
The Regal Princess' inaugural cruise was in May 2014, so it's still a relatively new ship – and that's reflected in the decor and overall upkeep throughout. Before I crack on with my full review, here are a few facts about the Regal Princess to introduce the ship:
Guest Capacity: 3,560
Number of Crew: 1,346
Length: 1,083 feet
Height: 217 feet
Tonnage: 142,229
Number of Decks: 19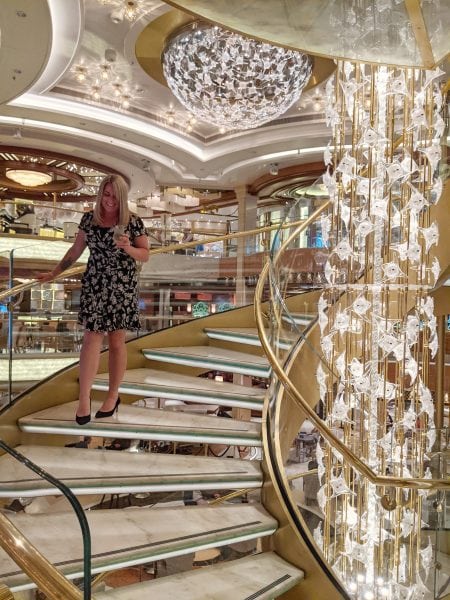 Regal Princess Cabin Reviews
There are a total of 1,780 cabins onboard the Regal Princess, including 38 wheelchair-accessible cabins. These are the 5 different kinds of staterooms onboard:
Inside: 161-240ft2
Balcony: 222-333ft2
Deluxe Balcony: 233-312ft2
Mini-Suite: 299-465ft2
Suite: 440-705ft2
On my two trips, I've stayed in both a Balcony cabin and a Mini-Suite, so I can review two of the room options onboard the Regal Princess. Next time, hopefully, I'll get to try out a suite and update this post with some more info!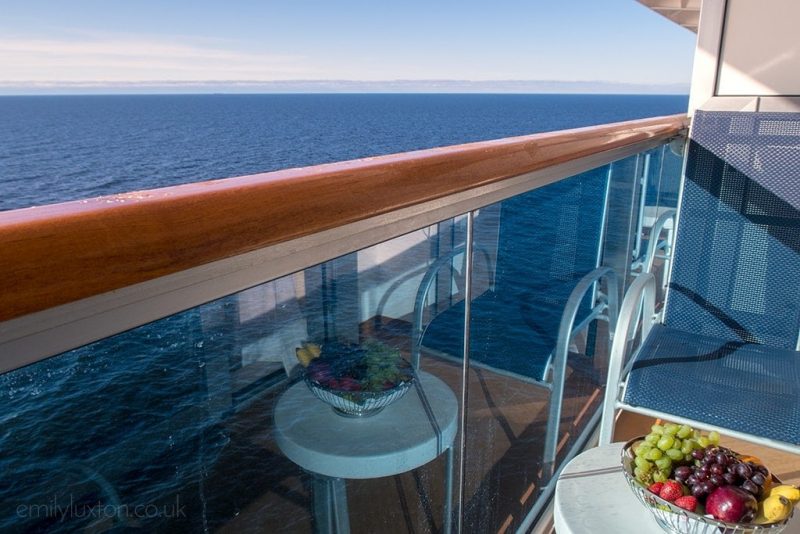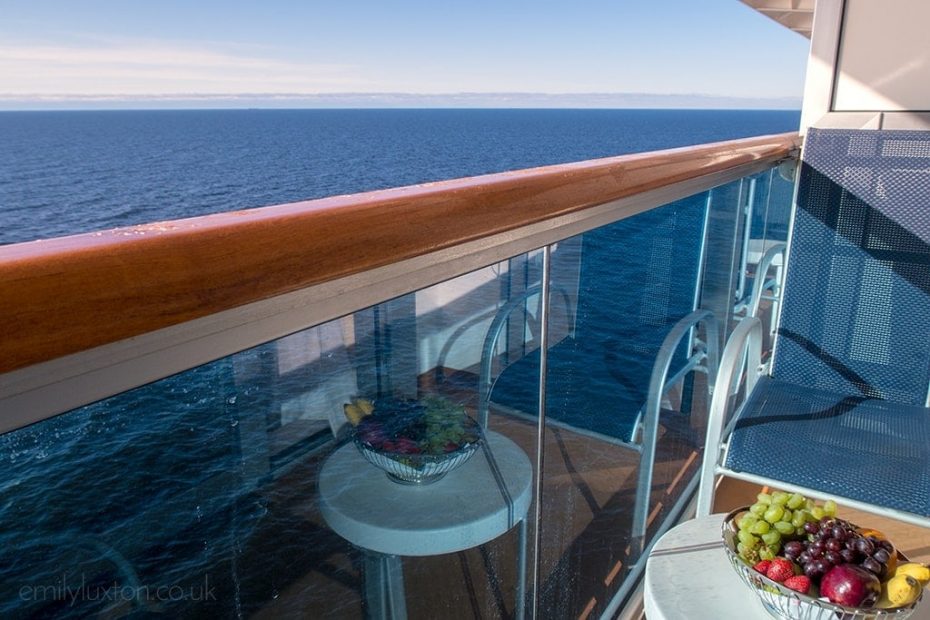 Balcony Cabin
At first glance, my Balcony cabin looked quite small, but it was actually surprisingly spacious. The rooms are really well designed to make use of the space, with lots of clever storage options and an enormous wardrobe area.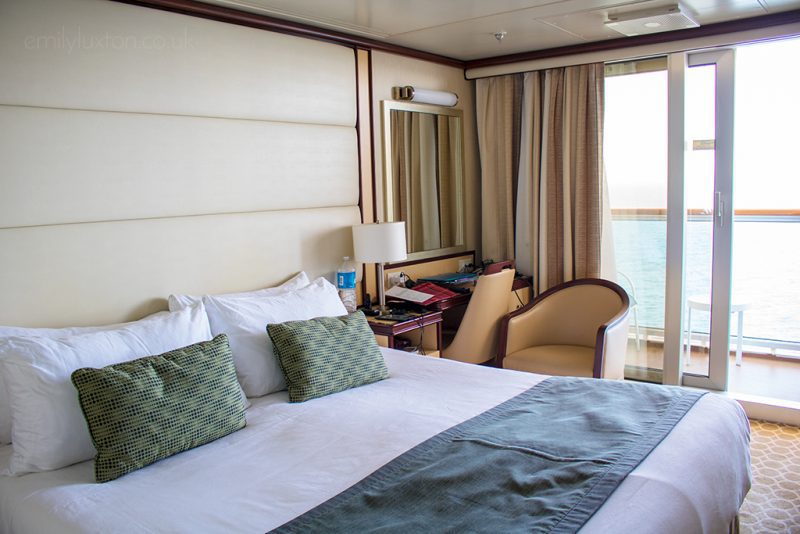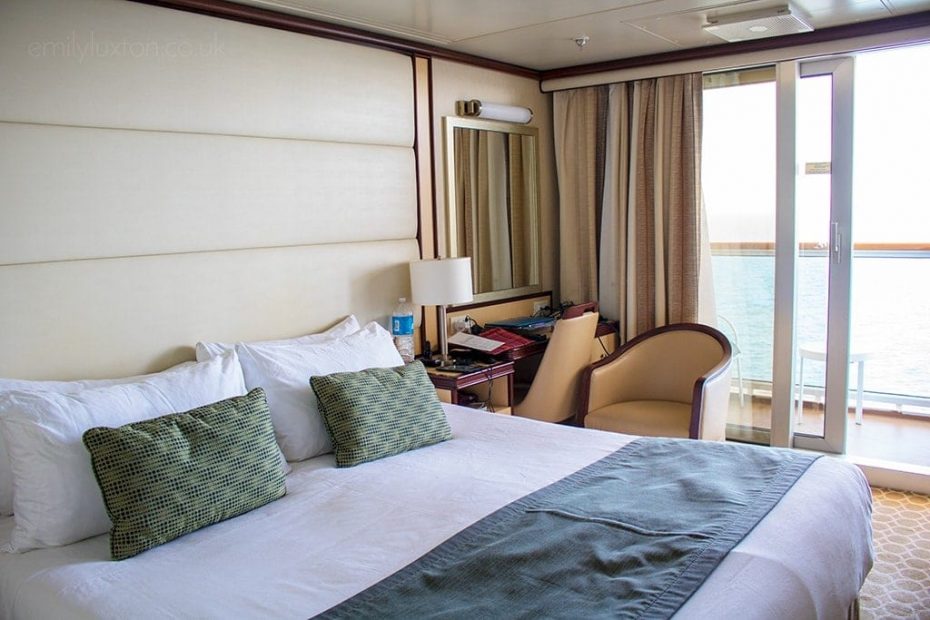 My favourite part of the room was the bed! Princess Cruises are known for their beds: the Princess Luxury Bed was designed in collaboration with a sleep expert! I adored mine. It was so comfy, and the huge upholstered headboard was a nice touch for watching TV whilst lazing in bed.
The decor is lovely and bright, with soft neutral colours. With the room being dominated by the patio doors to the balcony, you get a lot of natural light. There's nothing better than lazing in bed in the morning with the doors open, listening to the sound of the ocean!
The main highlight of the room is, of course, the balcony. It's a lovely, big space with a small table and chairs and a glass barrier. This was the perfect spot for lazing about watching the world – or the sea – go by!
Interior Cabins
The interior cabins were more or less the same as the balcony cabins on the Regal Princess, minus the balcony. Similar decor and size, and just as comfortable, but without the sea views. If you're not on a tight budget, it's definitely worth the splurge to opt for a room with a balcony!
Mini-Suite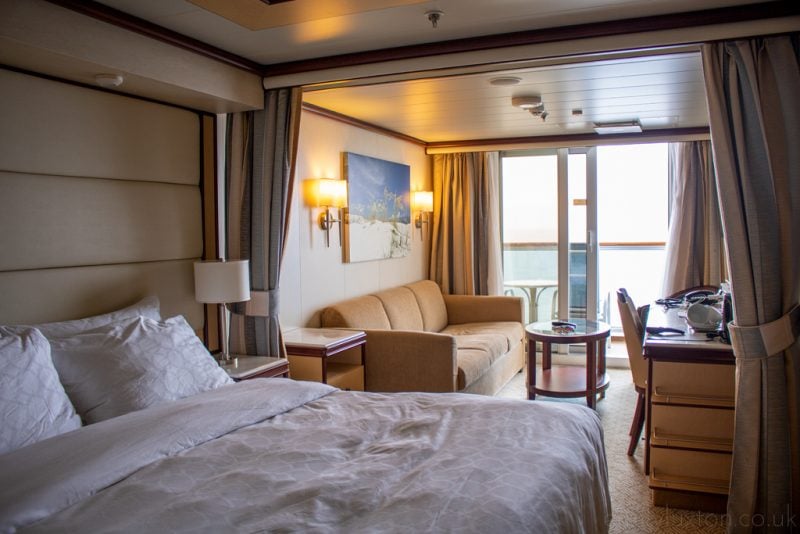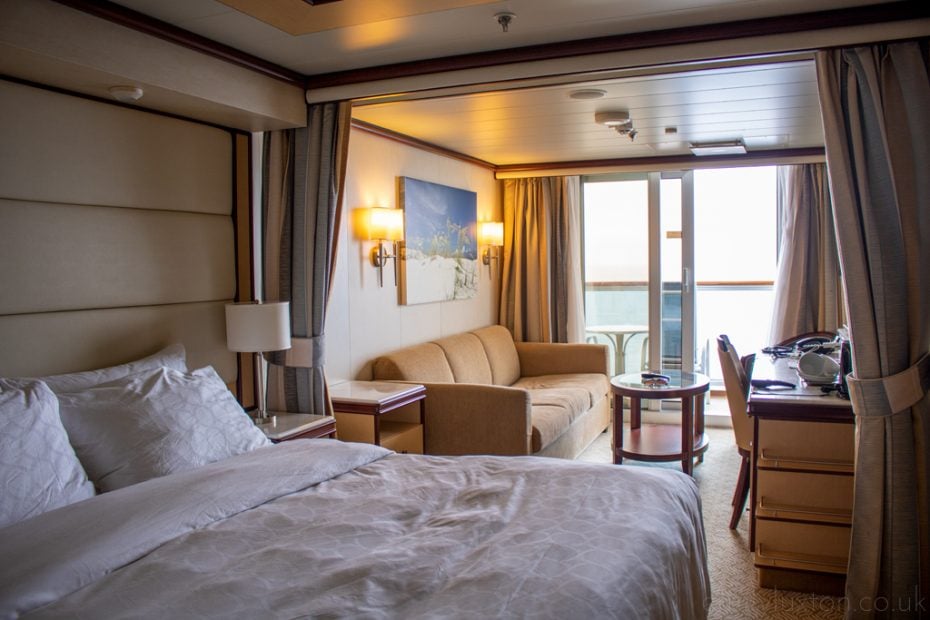 On my more recent trip with Princess Cruises, I stayed in a Mini-Suite onboard the Regal Princess.
This was substantially larger than the balcony stateroom, which made for an even more comfortable experience. The decor was similar – with the addition of a sofa, coffee table, and a larger desk. There were also two wall-mounted TV's, so you can watch from the sofa or from bed, depending on your mood!
The sofa is actually a sofa-bed, and there's a curtain dividing the two "sections" of the room. So you could actually fit up to four people into the Mini-Suite if you wanted to. I'd say this is a better option for families with small kids, as it might be a bit of a squeeze for 4 adults. Then again, if you don't plan on spending much time in the room other than sleeping, it's a handy way for a group to save money on their Regal Princess cruise.
Overall, the upgrade to the Mini-Suite felt very much worth it. The extra space and amenities made for a much more comfortable experience!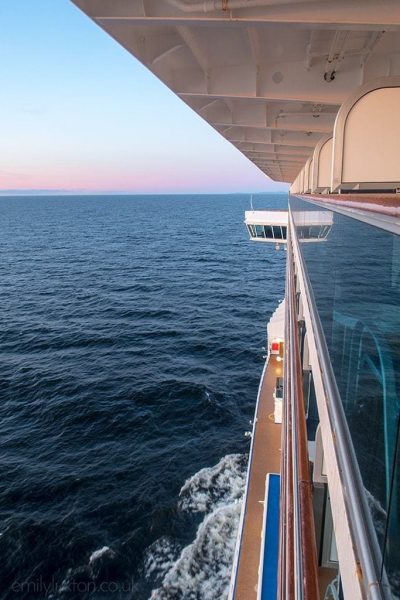 Activities and Facilities
There are SO many activities and facilities to enjoy onboard the Regal Princess. I've already written about all the activities and entertainment options onboard in this post, with more in-depth info, so check that out for a full breakdown.
Pools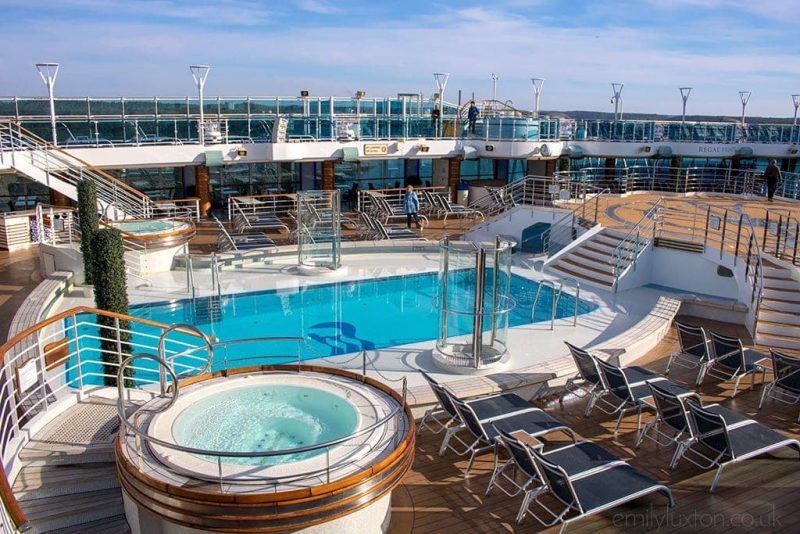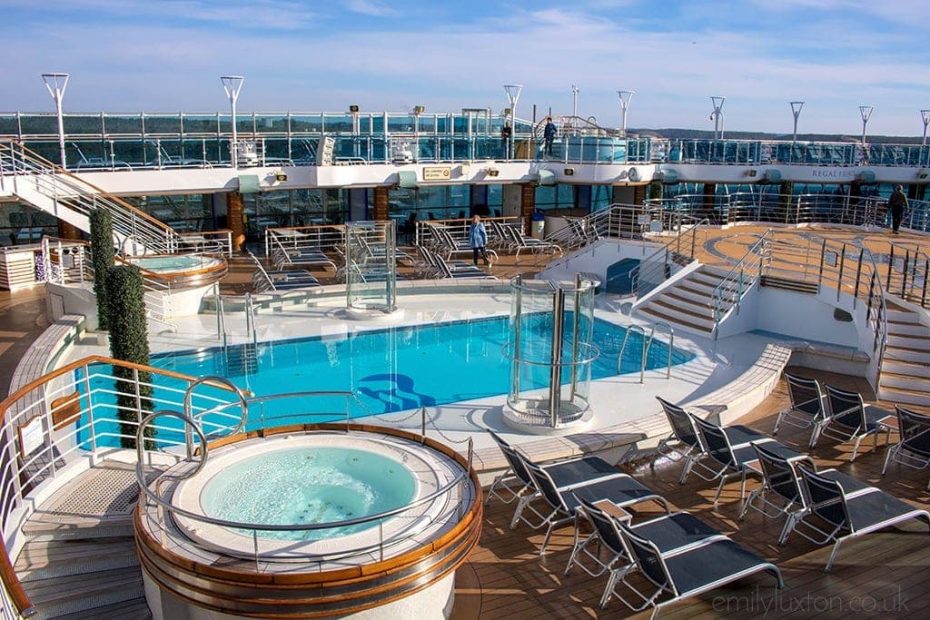 There are three excellent pools, several hot tubs, and numerous sun loungers if you want to simply relax and enjoy the sunshine on deck.
My personal favourite was The Retreat, an adults-only area near the front of the ship which was often a bit quieter than the main pool.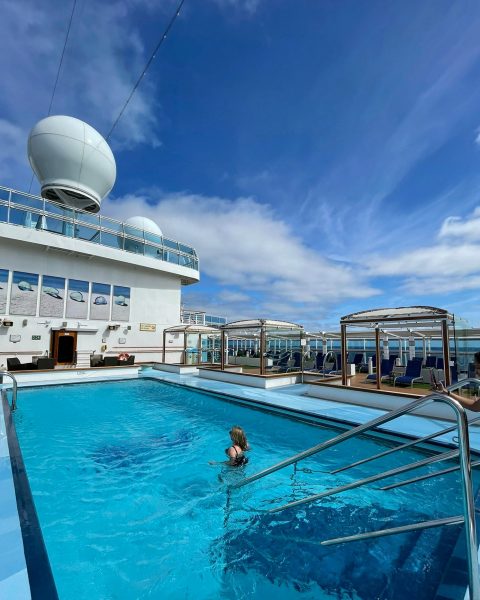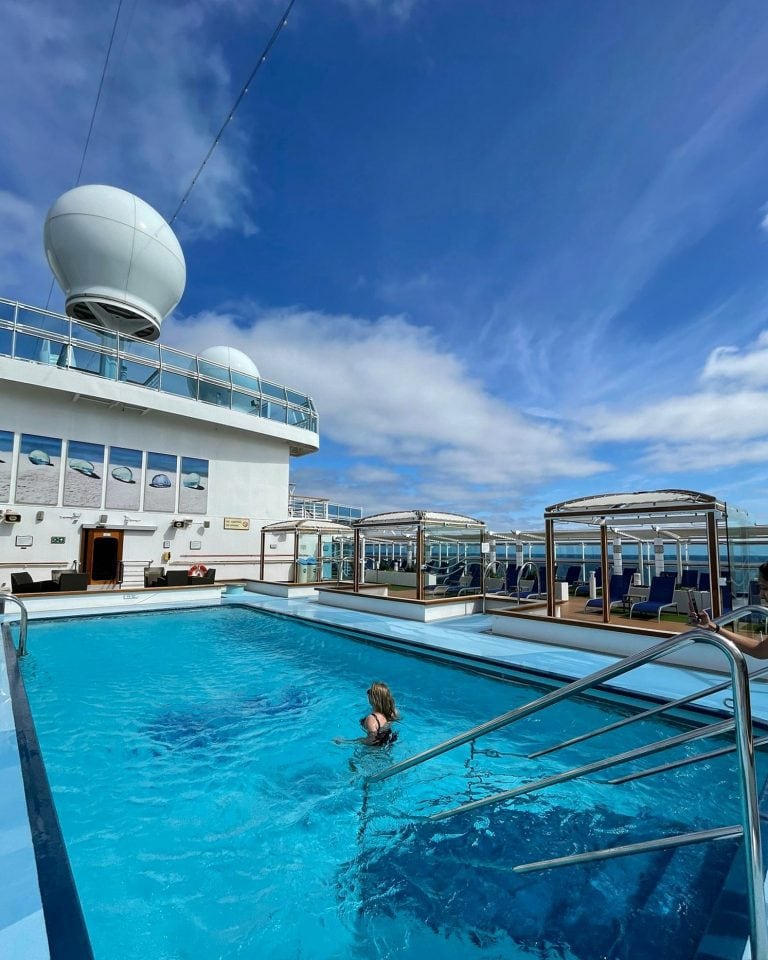 Gym and Sports Facilities
There's also a wealth of sports facilities onboard, including a large gym where you can exercise with a sea view!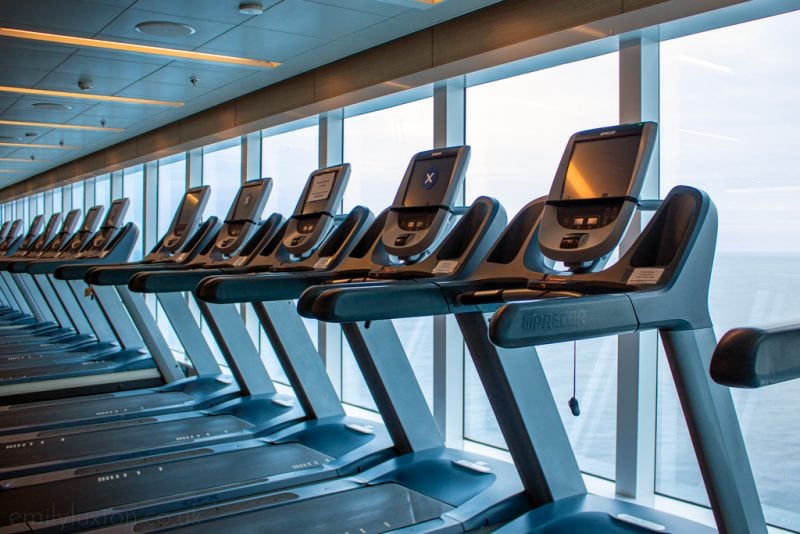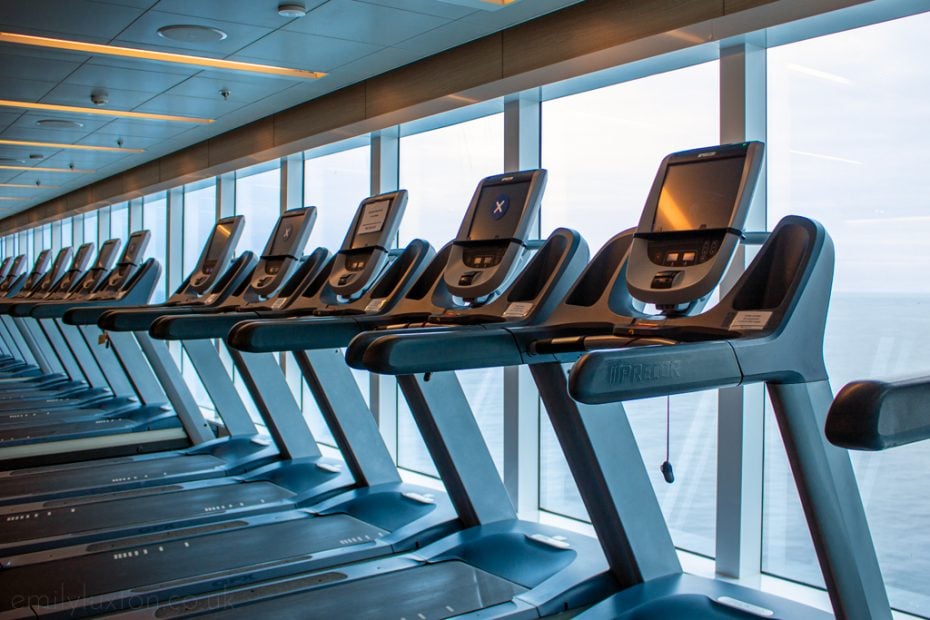 Fitness Centre with a well-equipped gym and a private aerobics studio
Outdoor Jogging/Walking Track
Centre Court – can be used for basketball, tennis, volleyball and badminton
Driving Range
Batting Cage
Simulated Laser Shooting
Lawn Court – a grassy area for putting, bocce ball, croquet and lawn bowling
Game Lounge – including table tennis and virtual gaming with KinectTM systems
Lots of daily activities, from ballroom dancing to zumba to yoga. Check the daily schedule for more details.
Other Facilities
Lotus Spa – A surprisingly large space with dozens of treatments rooms, as well as a gorgeous thermal suite called The Enclave. The staff are all lovely and the treatments are spot-on! I've visited twice and can highly recommend it.
The Sanctuary – a private, adults-only area of the outside deck where beds and/or cabanas can be hired out for an additional fee.
It's $20 for a half-day and $40 for a full day, so pretty reasonable for the luxury of peace and quiet! I absolutely LOVED my afternoon spent lazing in the sun here on a plush lounger, with attentive service from our own personal server! Plus the afternoon tea was fab.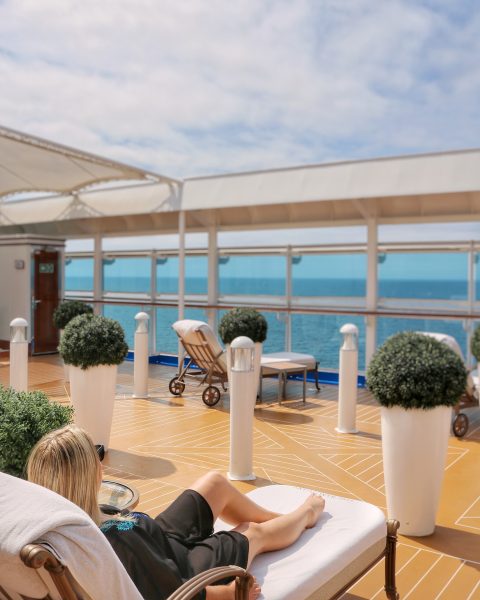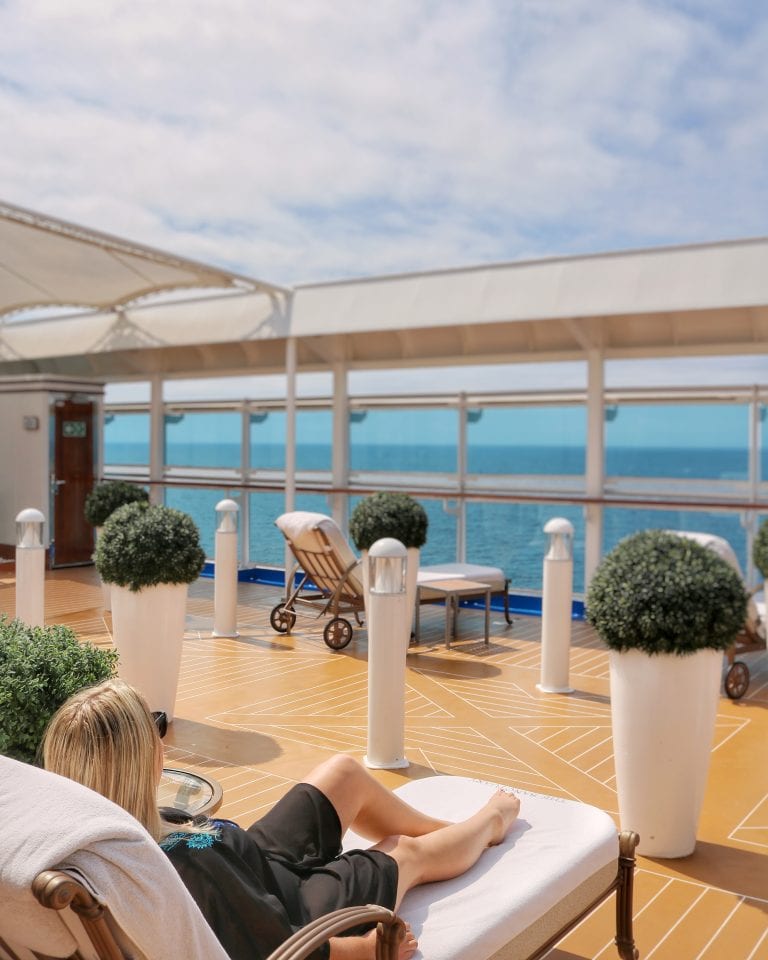 SeaWalk – a glass walkway jutting out from the edge of Deck 16, some 128 feet over the ocean. Perfect for Instagram snaps!
Casino – a pretty large casino filled with slot machines, electronic games, and traditional table games.
Onboard shops – There are a surprisingly large range of shops onboard the Regal Princess, including an art gallery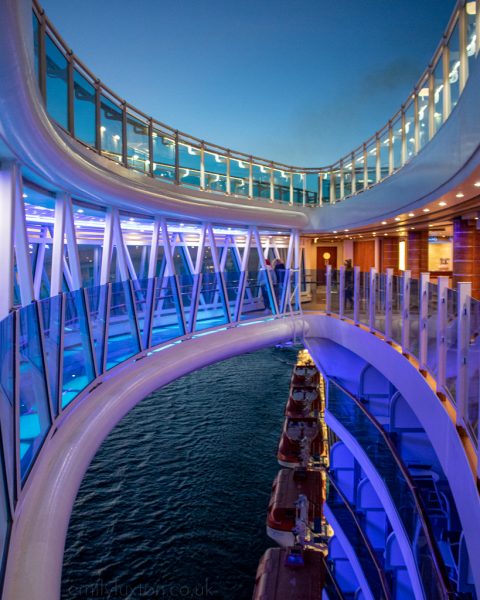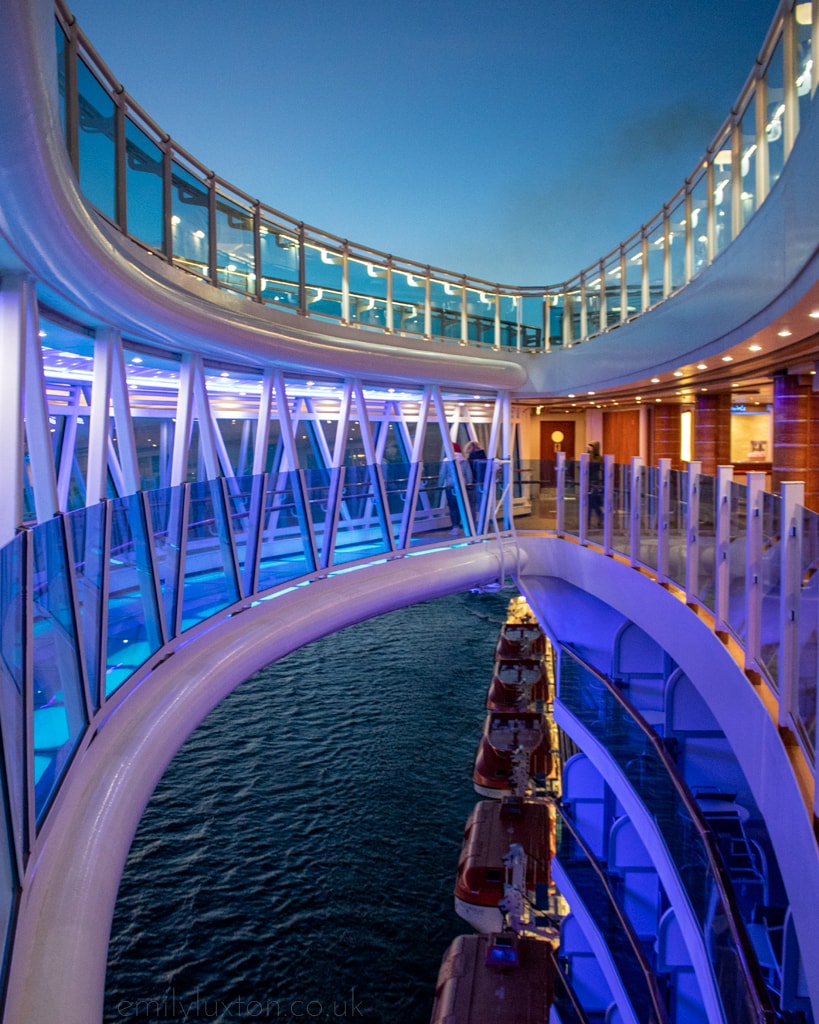 Regal Princess Entertainment Review
The entertainment onboard the Regal Princess is absolutely top-notch. All the performers I saw were amazing, from the musicians playing live in bars to the dancers and singers in the theatre productions.
There was such a huge range: fun classic covers from the ship's band, celebrity guests (we had a Gareth Gates concert on my most recent cruise), comedians, and West-End-worthy theatre productions.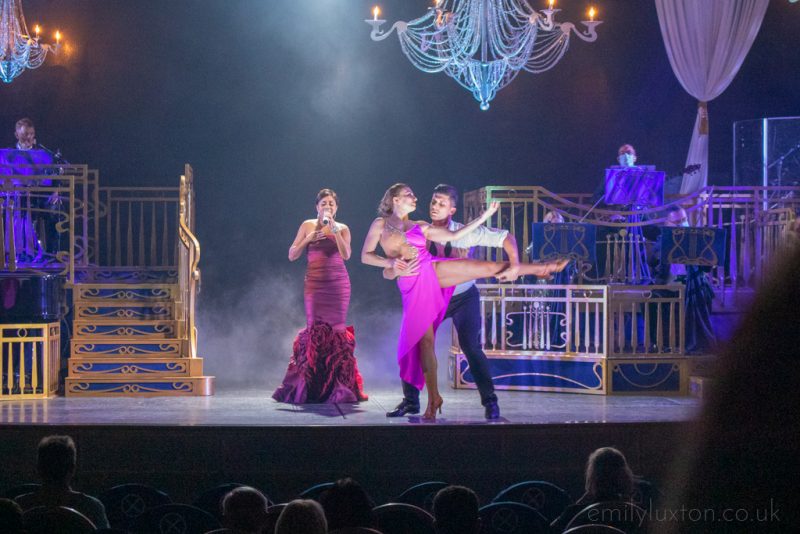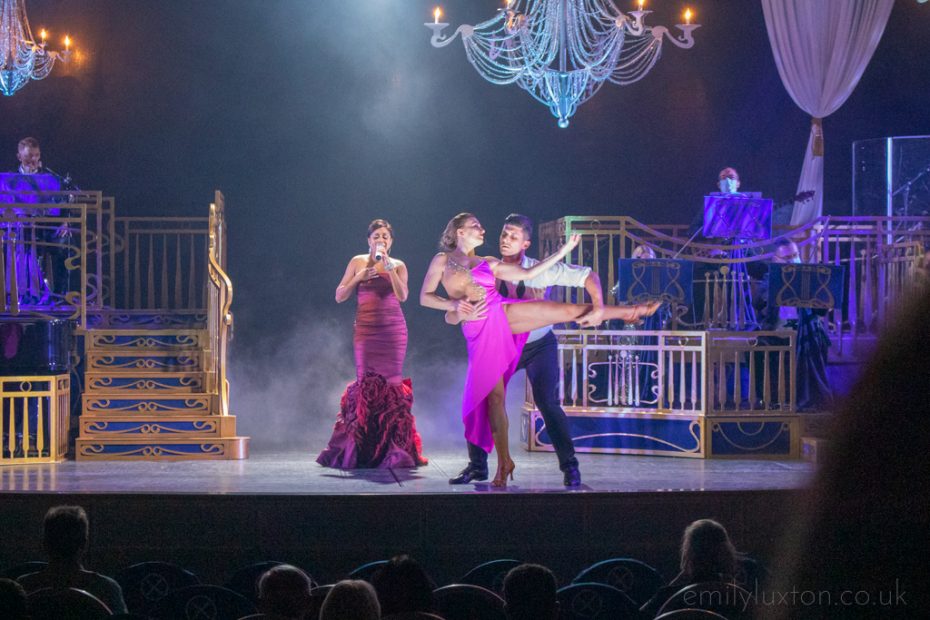 Again, you can find a full breakdown of the entertainment options onboard the Regal Princess in my other review, so I won't go into details here. Instead, here's a quick list:
Princess Theatre: a full-blown theatre company with a different show every night – and with several big musical numbers. Don't miss the signature show, BRAVO.
Vista Lounge: a more intimate entertainment venue where the ship's in-house band perform, as well as other performers such as comedians and illusionists.
Movies Under the Stars: big screen on the top deck.
Nightly Fountain Show
Princess Live!gameshow
Bingo
Trivia Sessions
Classes – demonstrations, classes, destination-themed activities, fitness classes, and even lectures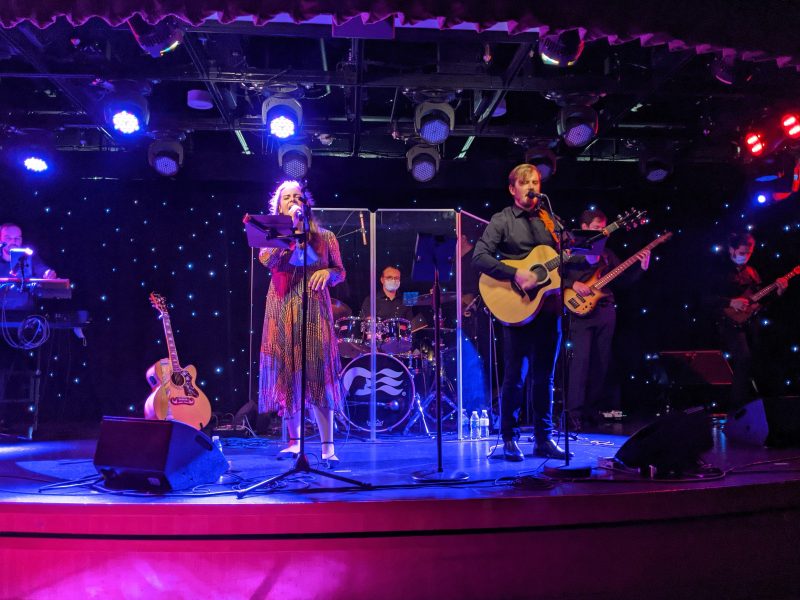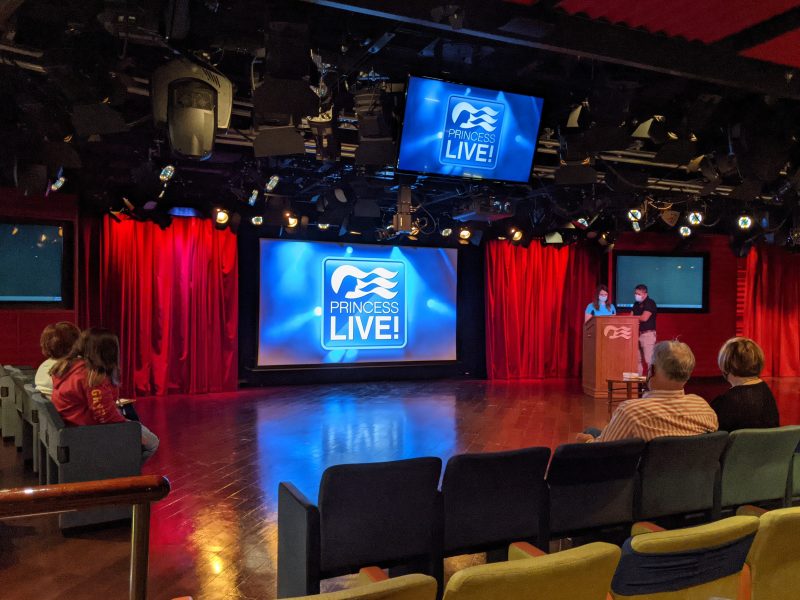 Regal Princess Food Review
One of the best things about the Regal Princess is the food. There are SO many options, and it's all so good. Many of the restaurants are included in your dining option, including some that you might expect to pay extra for. Be sure to try as many as you can on your trip!
I've already written a full review of the Regal Princess dining options and a breakdown of all the different restaurants, so check that out for much more in-depth info. Below I'll just share a brief overview of all the options.
Restaurants Included in your Dining Option
4 Main Dining Rooms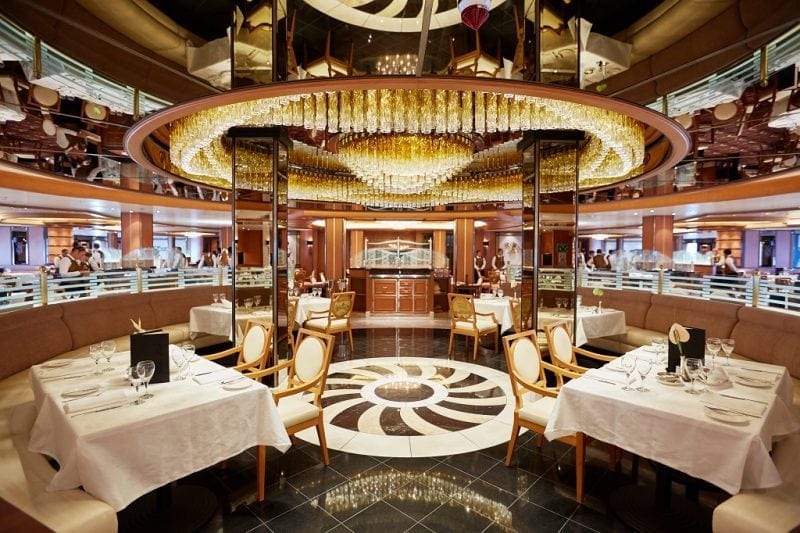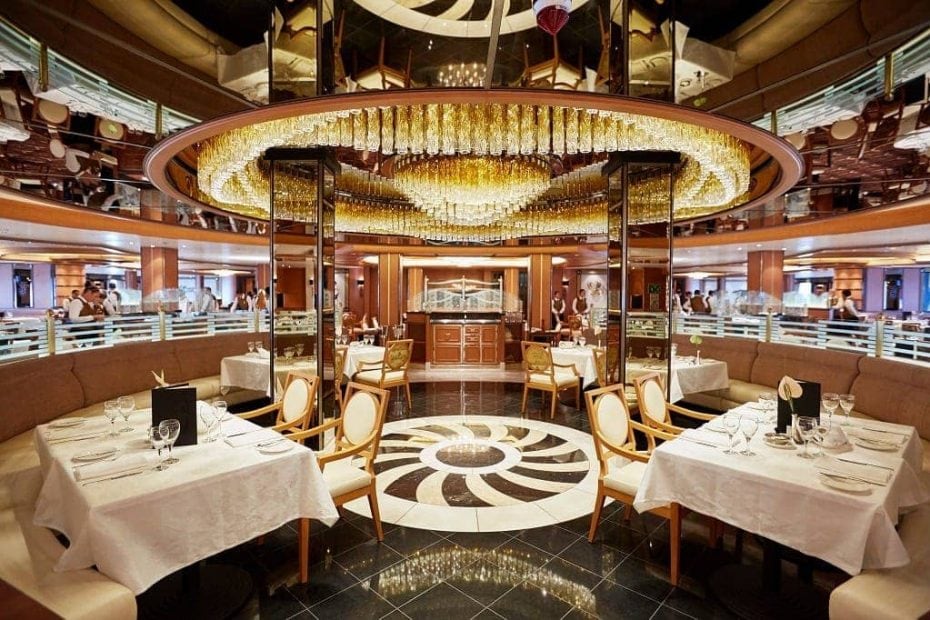 You can choose between fixed dining and anytime dining at the Regal Princess main dining rooms. Fixed Dining means you'll be assigned a table and dine at the same time every evening (unless you choose to dine elsewhere) – so you're always guaranteed a table.
For Anytime Dining, you'll be assigned one of the other two main dining rooms and can simply head there whenever you're ready (but you might have to wait for a table at busier times).
Allegro's – Fixed dining.
Symphony – Anytime dining.
Concerto – Anytime dining.
All of them have the same menu every night, so you don't need to feel left out about only being assigned one. The menu is a la carte and changes every day, although there's also a list of about 5-6 "Princess Favourites" which are available every day.
Other Restaurants included in your Dining Option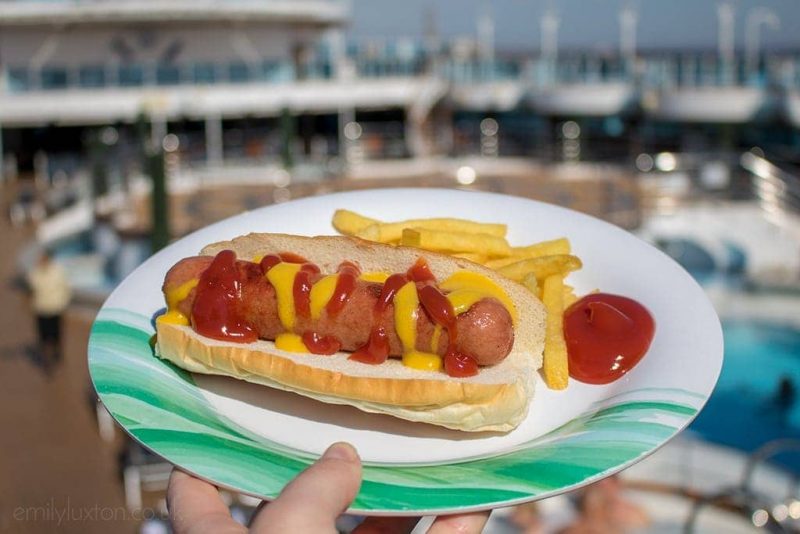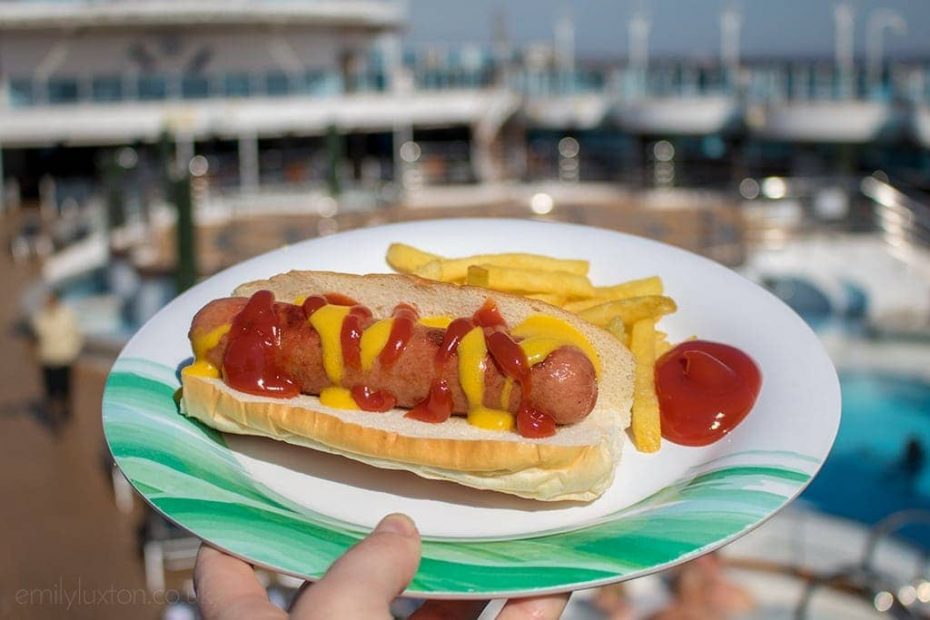 Horizon Court and Horizon Bistro – two adjoining buffet restaurants on the lido deck near the top of the ship.
International Cafe – open 24/7 with pastries, sandwiches, and other snacks – as well as a coffee bar*.
Alfredo's Pizzeria – sit-down restaurant serving up gourmet pizzas.
Prego Pizzeria – poolside eatery serving pizza by the slice.
Trident Grill – poolside eatery with mainly bbq food.
Swirls – ice cream parlour.
In-Room Breakfast – room service breakfast, which you order by filling out the card in your room.
*Additional charges apply to the speciality coffees unless you have a Beverage Package or Princess Plus (more on that later).
Speciality Restaurants (additional fee)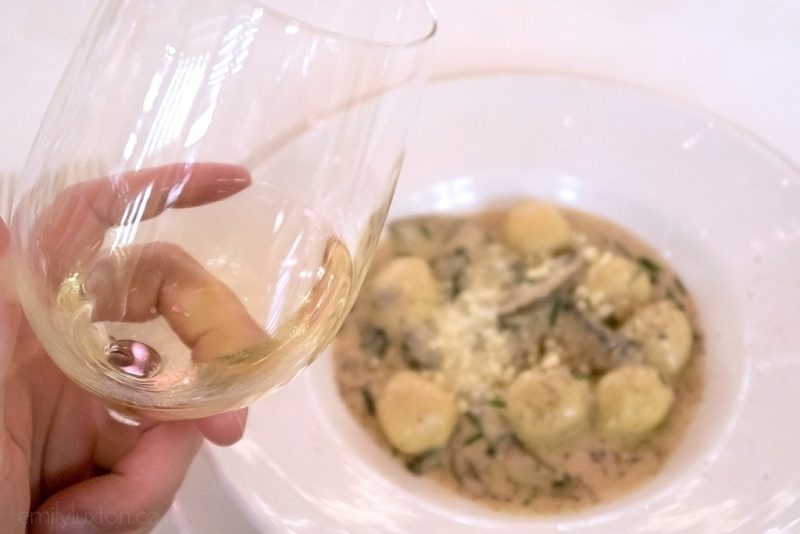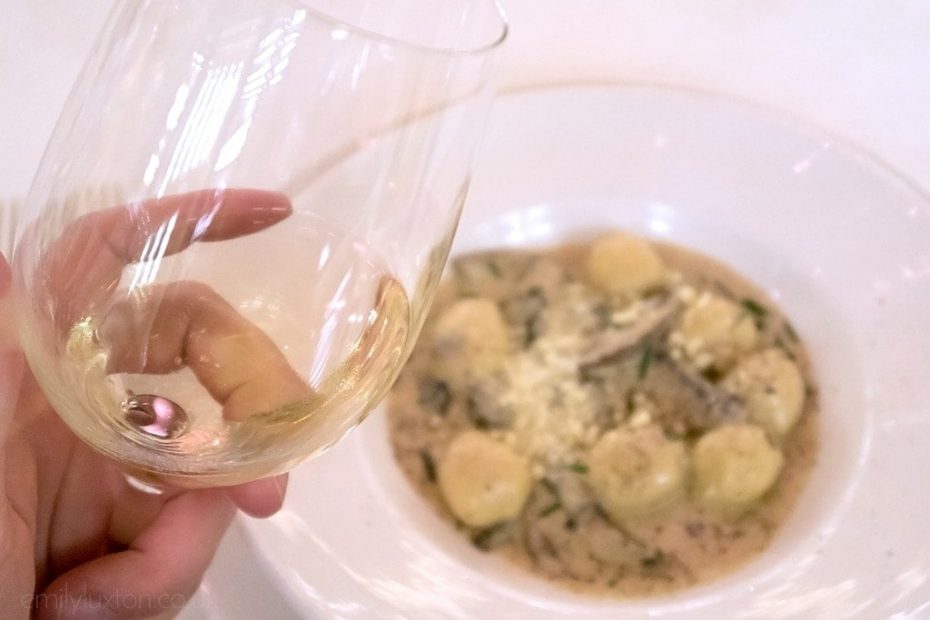 Sabatini's – Italian speciality restaurant – $35pp.
Crown Grill – Incredible steak and seafood restaurant – $39pp. One of my favourites on board.
Chef's Table Lumiere – set menu served at a special table surrounded by a "curtain of light" – $110pp.
Ocean Terrace – a la carte seafood and sushi restaurant. The sushi here was amazing!
Gelato – ice cream parlour also serving waffles and crepes.
24/Hr Room Service
Regal Princess Bars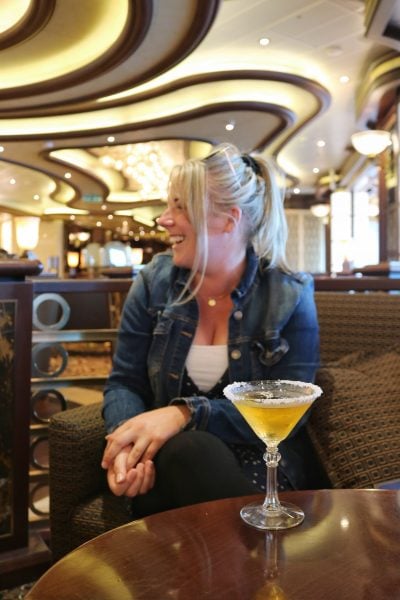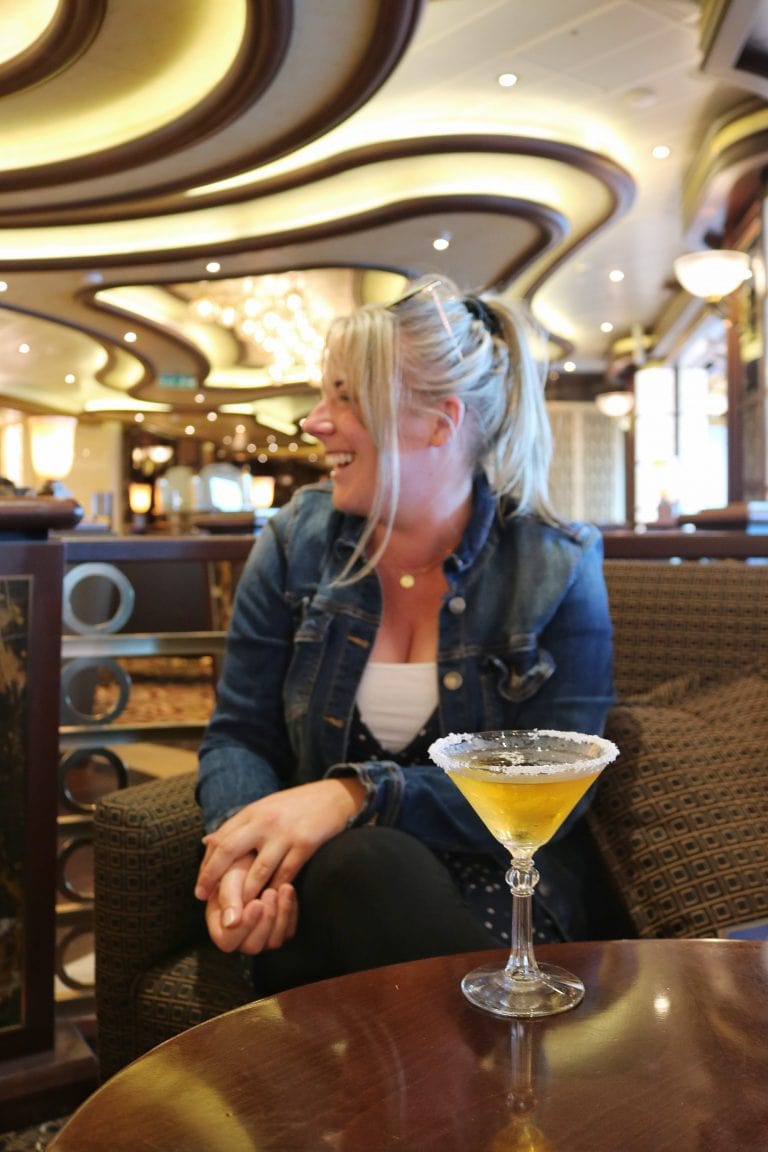 A list of all the bars onboard the Regal Princess – there are 13 to choose from!
Vines – wine bar.
Bellini – champagne bar.
Piazza Bar – different performances thoughout the day.
Good Spirit's – cocktail bar with a live cocktail-making show in the evenings.
Wheelhouse Bar – nautial themed.
Crooner's Bar – live piano music.
Mermaid's Tail – poolside bar.
SeaView – poolside bar.
Outrigger Bar – overlooking the terrace pool.
Churchill's – cozy pub-style bar for smokers.
Princess Live! Cafe bar – along the side of the ship.
Vista Lounge – live entertainment venue.
Club 6 – small nightclub with dancefloor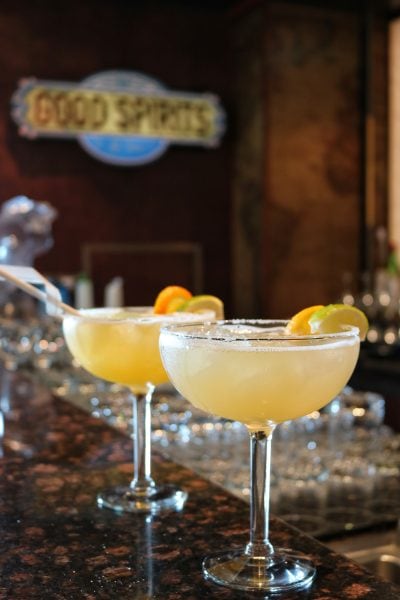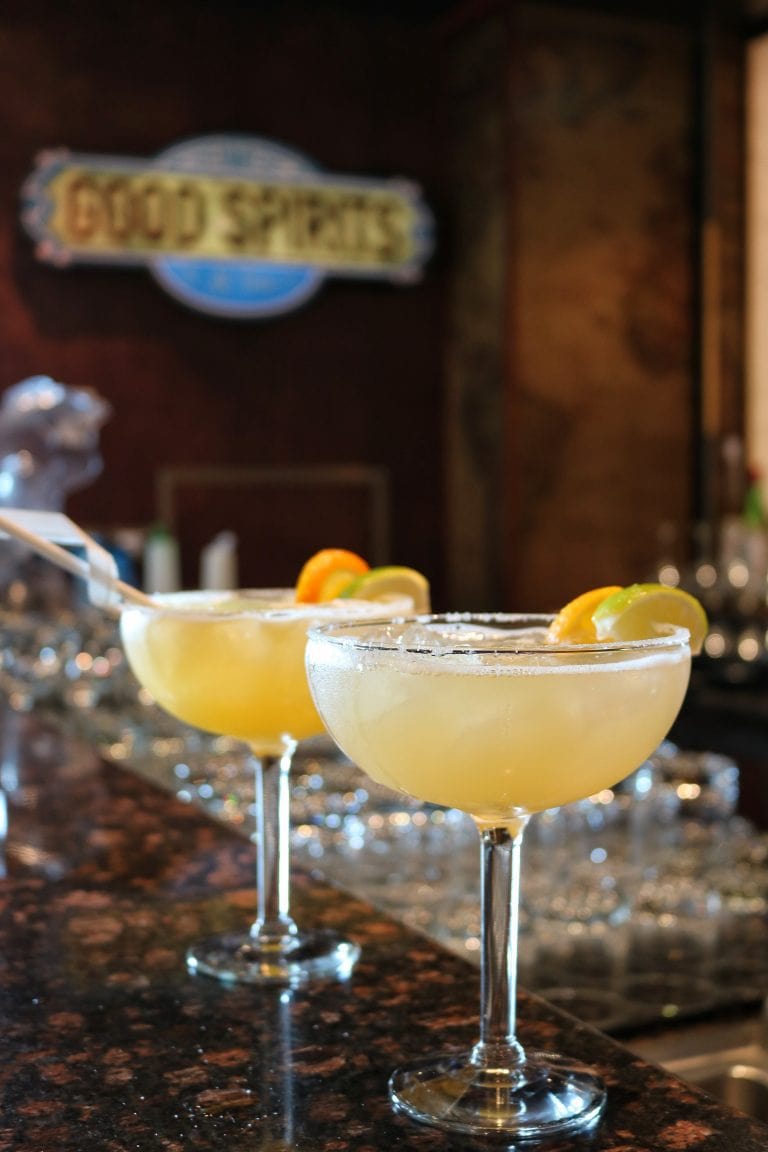 Princess Cruises OceanMedallion Review
One of the things that sets Princess Cruises apart are their fab OceanMedallions™. These are tiny, wearable devices (about the size of a 10p) which make your whole onboard experience effortless – and contactless!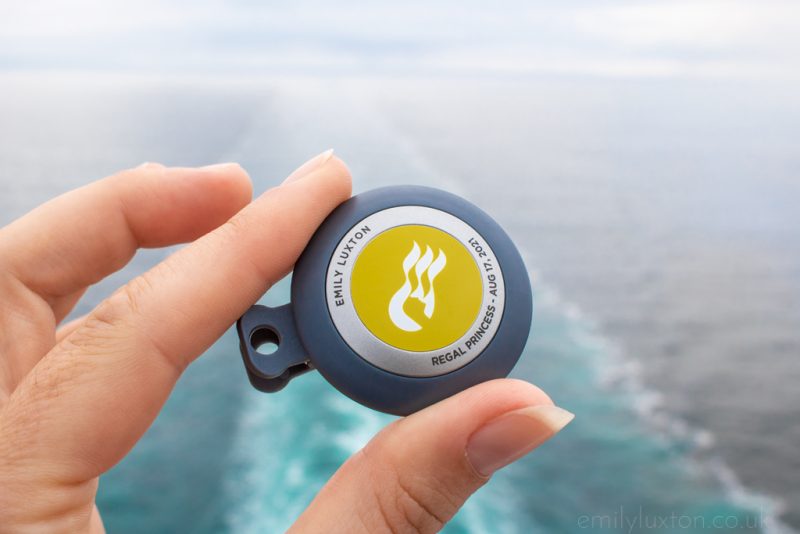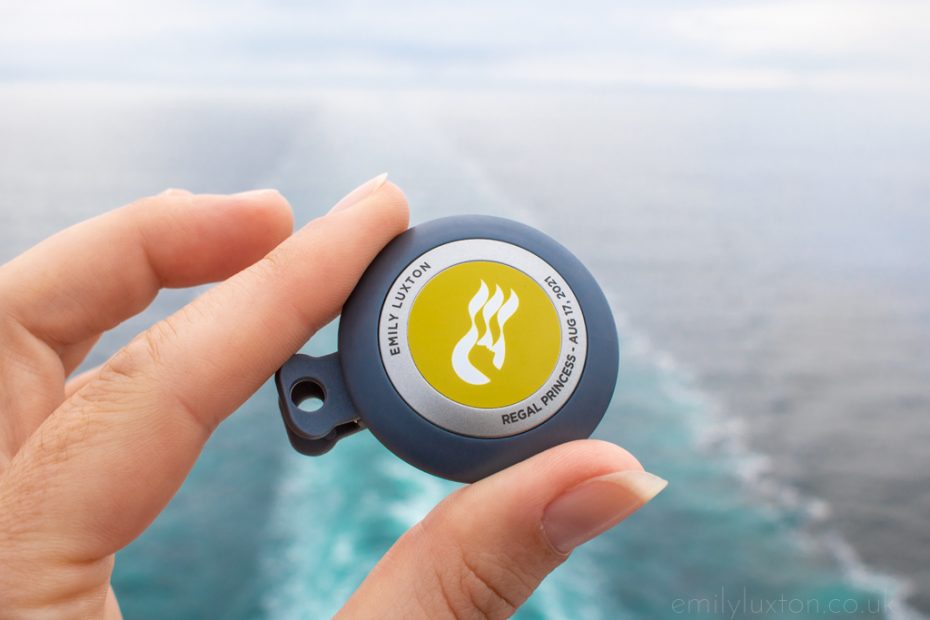 Roshni, one of the bloggers I was travelling with, has written an excellent post reviewing the OceanMedallion in-depth – so check that out for full details.
It's your room key first of all – but you don't even have to get it out of your bag. As soon as you walk near your door, the digital display outside greets you and the door unlocks!
The medallions also allow for contactless boarding. As soon as you walk near the scanner, your profile photo pops up, and the staff greet you by name. It made boarding so much more efficient than my last two cruises
Using the MedallionClass app, you can use the OceanNow feature to order from the bars, restaurants and shops for delivery right to your location. The staff will use your OceanMedallion and the logged profile picture to find you – so you don't have to queue – or even move!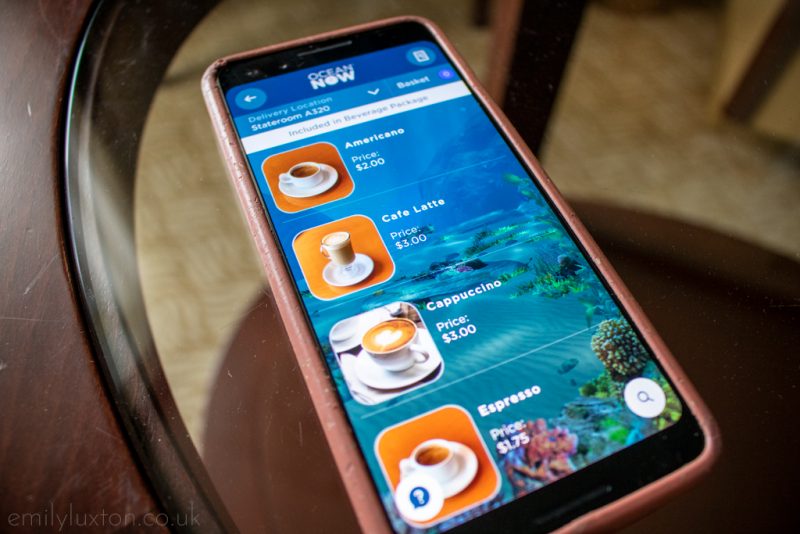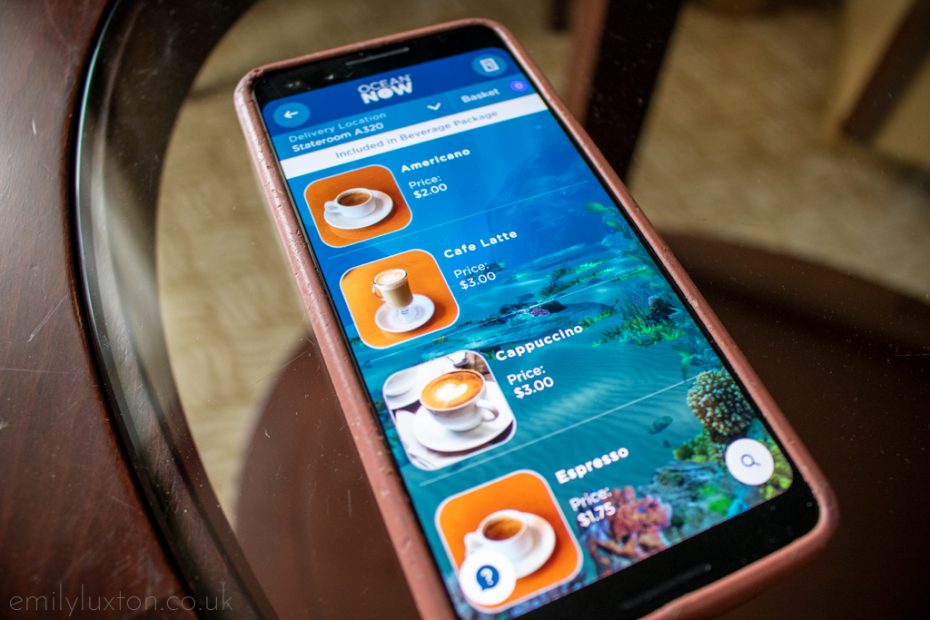 The same technology also allows you to find your friends and family onboard – you just have to add them as a friend in the app, and you can locate them whenever you need to.
There's also a map on the app which you can use to plot a route to wherever you need to get to.
The Medallions come on a lanyard, but you can also buy other accessories to make it more discrete. I like the little clips, which I clipped to my bag.
Finally, the JourneyView planner function lets you see all the activities and entertainment coming up on your Regal Princess cruise. It's a great way to stay on track and plan your days on the Regal Princess.
All-Inclusive Princess Plus Fare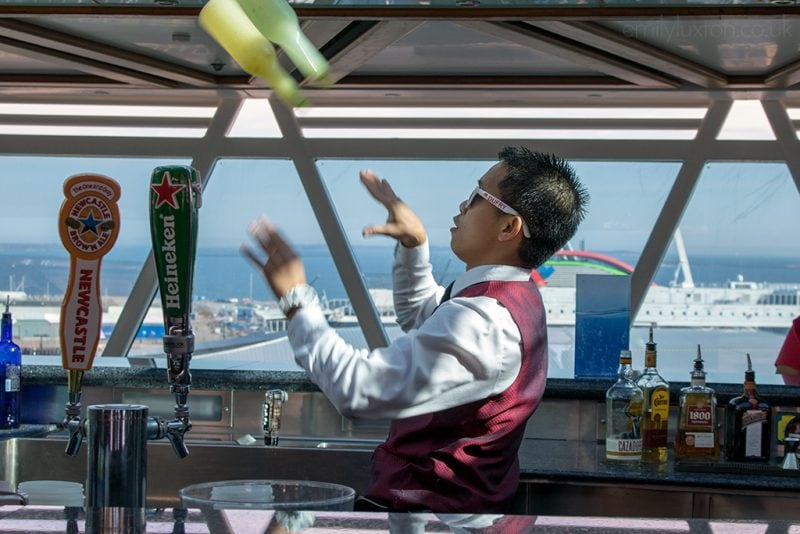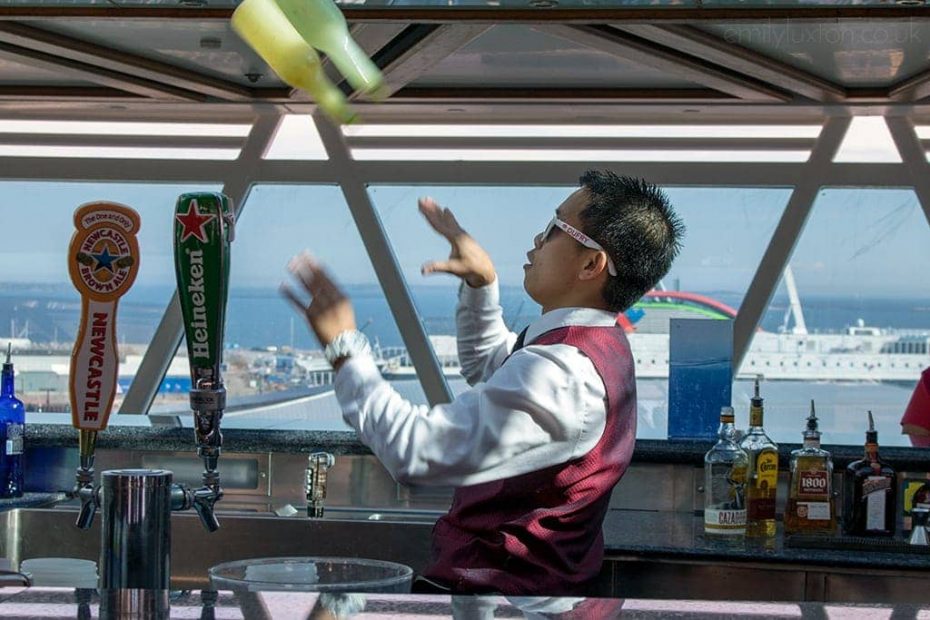 On my most recent trip on the Regal Princess, I tried out the new All-Inclusive Princess Plus Fare for my review.
This includes unlimited WiFi, an all-inclusive drinks package, Unlimited juice bar, Premium desserts (2 per day), Fitness classes (2 per cruise), 2 casual dining meals per guest, OceanNow® delivery, room service delivery, and Crew appreciation (tips) – and it's only £50pp per day.
When I took my last cruise with Princess, the Plus Fare package covered less stuff but only cost £30 a day – which I thought was well worth it. Now, I think it's only worth it if you think you're likely to spend at least £50 day on drinks and treats during your cruise. If you're not a big drinker, you might want to simply pay as you go.
Plus Beverage Package
The Princess Plus Fare comes with the Plus Beverage Package, which I made full use of on my trip!
I've copied the following from the Princess Cruises website to make sure I get it right:
Our Plus Beverage Package includes the classics: sodas, Speciality coffees and teas, cocktails, spirits, wine and beer up to $15 each. Even hot chocolate, smoothies and water to go. You'll also enjoy 25% off all bottles of wine. Whatever you want – with tips included!
Even if you don't plan on drinking much in the way of alcohol, it's good to know that all your soft drinks and speciality coffees etc are covered.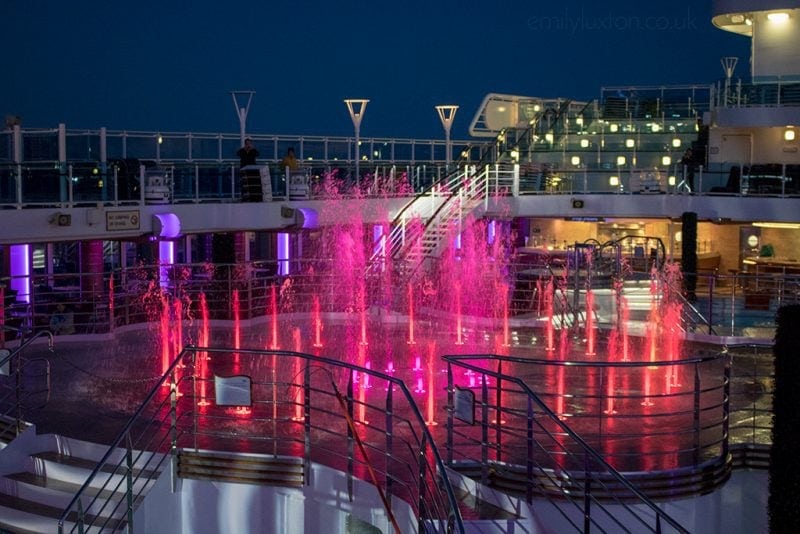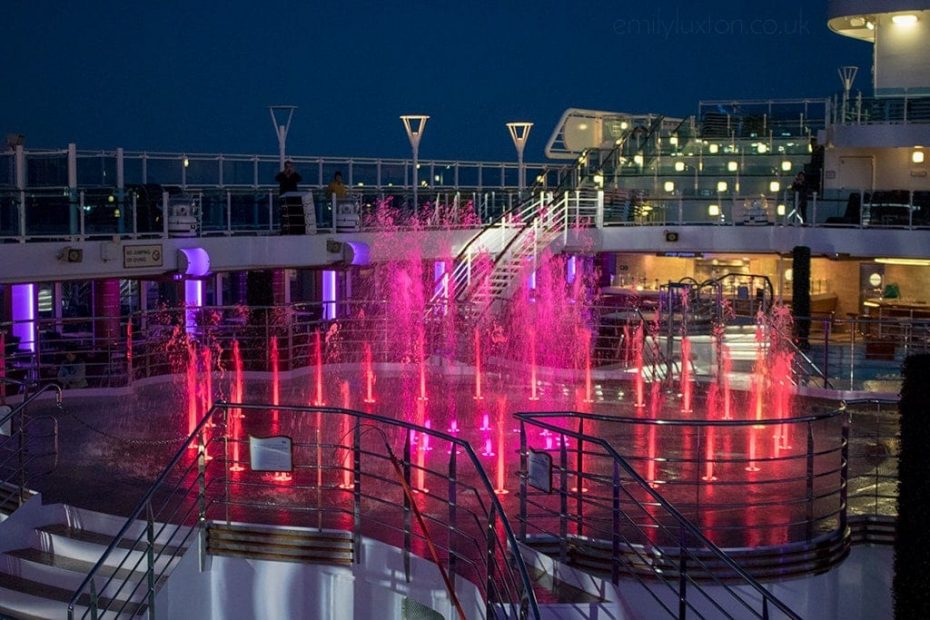 Best WiFi at Sea
Princess Cruises pride themselves on having the "best WiFi at sea"!
If you're going on holiday to switch off, you might not care much about that. But if you want to stay in touch with folks back home via WhatsApp or email, or post to social media during your trip, you might want to stay connected. And data roaming charges can be excruciating, especially at sea.
The WiFi onboard wasn't always perfect, but it worked well for me almost all of the time. I struggled more using my laptop when trying to do a bit of work (involving uploading photos), but I was able to post photos and videos to my Instagram stories and Twitter throughout the trip without a problem.
A couple of the others in my group said they encountered connectivity problems, but I didn't have any. On the whole, I'd say it was pretty decent WiFi – especially for such a large ship, at sea in the middle of who-knows-where!
Crew Appreciation
Princess Plus also includes Crew Appreciation. Basically, this means tips are paid in advance on your behalf, so you don't have to worry about bringing cash onboard with you.
Crew incentive is $16 per person per day for Interior, Oceanview, and Balcony staterooms, $17 per person per day for Mini-suite and Club Class staterooms and $18 per person per day for Suites.
Princess Premier
The next level up is the Princess Premier package, which includes everything Plus covers – as well as a whole lot more.
It costs £65 per guest and includes:
Wi-Fi (up to 4 devices per guest), Premier Beverage Package (drinks up to $20 each), Unlimited juice bar, Premium desserts (unlimited), Fitness classes (unlimited), Photo package (unlimited digital + 3 prints), Princess Prizes, 2 speciality dining meals per guest, Medallion accessory, Reserved theatre seating (for production shows only), Unlimited casual dining meals, OceanNow® delivery, Room service delivery, and Crew appreciation (tips).
The Premier Drinks Package "includes everything our Plus Beverage Package does as well as drinks up to $20 each with a premium selection of spirits, cocktails and wine by the glass. You'll also enjoy 25% off all bottles of wine."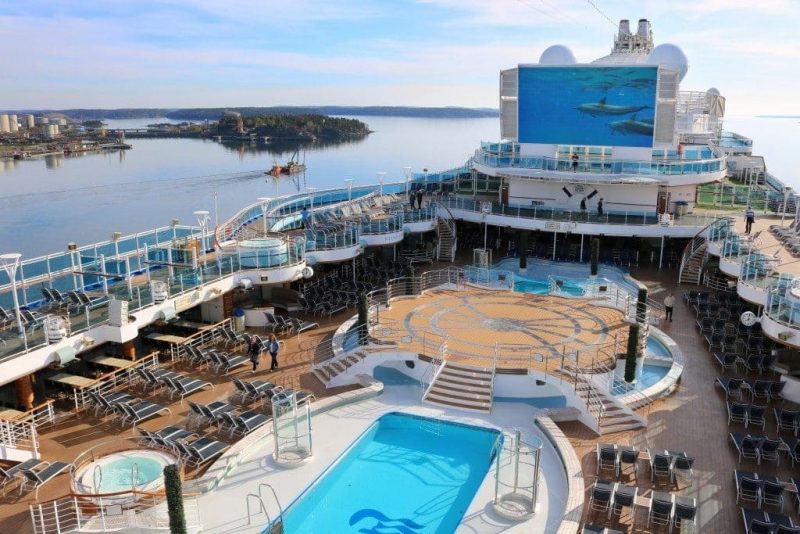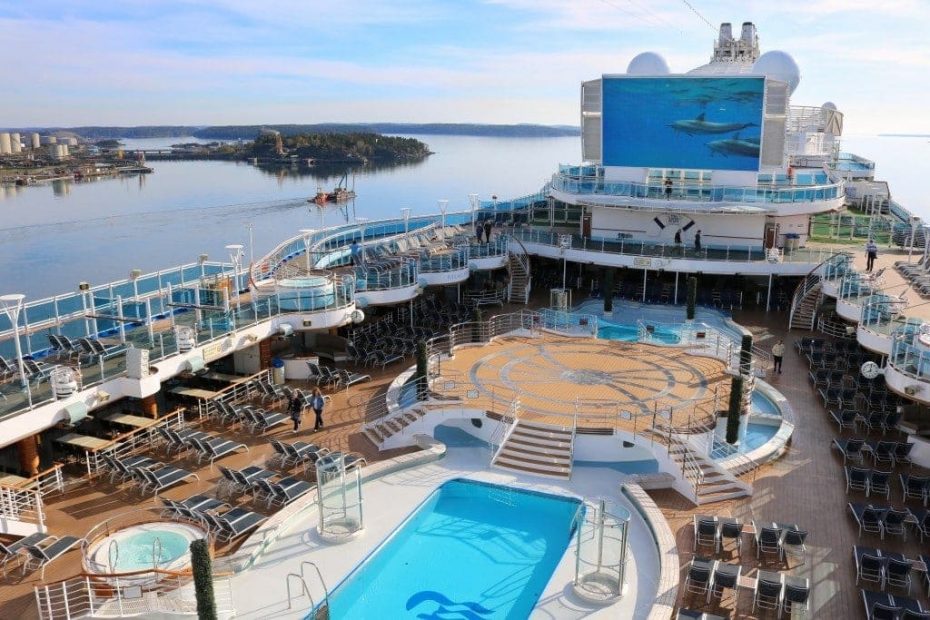 Princess Cruise Review – Conclusion
I've travelled on the Regal Princess twice now and had a fabulous time on both trips. There are so many things to do, so many facilities to enjoy, bars to drink in, shows to watch, and foods to eat that you could never be bored!
The thing I like best about Princess Cruises is that they let you have exactly the kind of cruise you want. Whether you want to lounge by the pool all day drinking cocktails, or fill your days with ping pong tournaments and bingo sessions, there really is something for everyone.
You can keep yourself as busy (or as un-busy) as you like – it's your holiday, after all!
Search for cruises here to find your perfect trip on the Regal Princess.
Read More
17 Things to do on the Regal Princess
Princess Cruises Baltic Cruise Review
Regal Princess Dining and Food Review