Some posts on this site contain affiliate links. If you book or buy something through these links, I earn a small commission (at no extra cost to you). Take a look at my privacy policy for more information.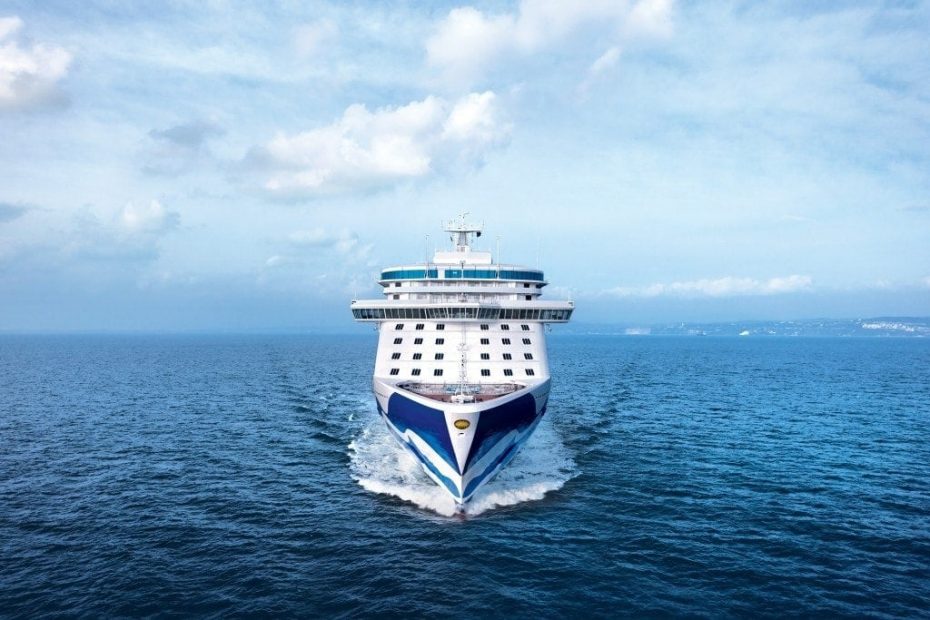 Think you might be bored on a sea day on the Regal Princess? Think again!
Just like all Princess Cruises, there are SO many activities, amenities, and entertainment options to enjoy on the Regal Princess that you'll never have time to try even a fraction of them all.
This post is a round-up of all the best things to do onboard the Regal Princess. And there are a lot!
From blow-out productions in the theatre, to staying active with a fitness class, to simply lazing by the pool… there's plenty to keep you busy. Or busy doing nothing, depending on your preference!
Whatever you get up to, the incredible staff and warm welcome onboard are sure to make your holiday with Princess Cruises absolutely brilliant. Hopefully, the following list gives you an idea of just how much there is to see and do on the Regal Princess…
This post is based on two press trips I've done with Princess Cruises and Traverse. The photos featured are from both trips. As always, all words and opinions are my own and unbiased.
READ MORE: In-Depth Regal Princess Review
17 Things to do on a Regal Princess Sea Day
Almost all of these Regal Princess activities and entertainment options are available every day and night, not just on sea days. So if you're skipping a port stop, or coming back early, you can enjoy any of the following things to do on the Regal Princess.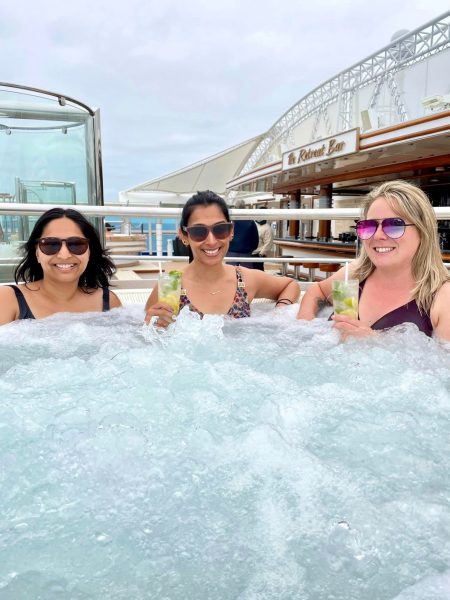 I've also mentioned the evening entertainment, which is of course available every night. Be sure to get back in time from any port days so that you can enjoy it all!
Use JourneyView to Plan
One tip I have for making the most of the Regal Princess entertainment is to download the MedallionClass App ready for your trip. There's an orienteering session on how to use all its functions when you first board, so be sure to attend that.
The JourneyView planner function lets you see all the activities and entertainment coming up on your Regal Princess cruise. You can also register for events that might get fully booked, and save the things you plan to attend in your personalised timetable. It's a great way to stay on track and plan your days on the Regal Princess.
Daytime Activities on the Regal Princess
1. Chill by the Pool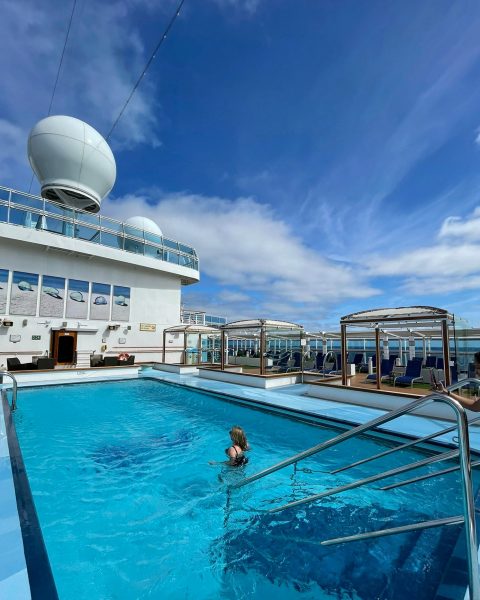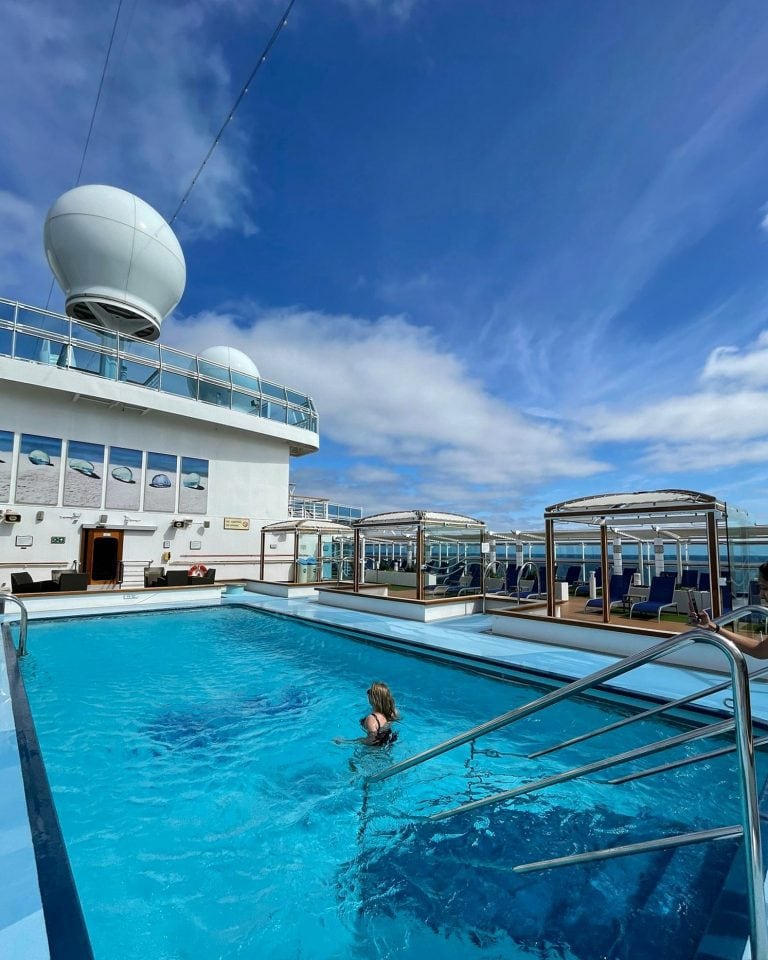 Nothing says "holiday" quite like lazing on a sunlounger by the pool. Perhaps with a drink in your hand and a book on your lap. And if that's the kind of sea day you want, the Regal Princess has you covered!
There are three pools onboard – listed below. The pools aren't really heated, so they're better for hot weather. But there are also eight outdoor hot tubs to enjoy which are perfect for any climate – I loved using them while we cruised around the chilly Baltic Sea, and more recently, the English Channel!
Main Pool – a decorative pool area on the main deck, overlooked by the big screen which often shows entertainment during the day. There are several bars on deck and a few hot tubs.
Retreat Pool – an adults-only area near the front of the ship with a larger swimming pool, two hot tubs, and a bar. Usually a fair bit quieter than the main deck.
Terrace Pool and Bar – a small plunge pool at the back of the ship with great sea views.
2. Eat and Drink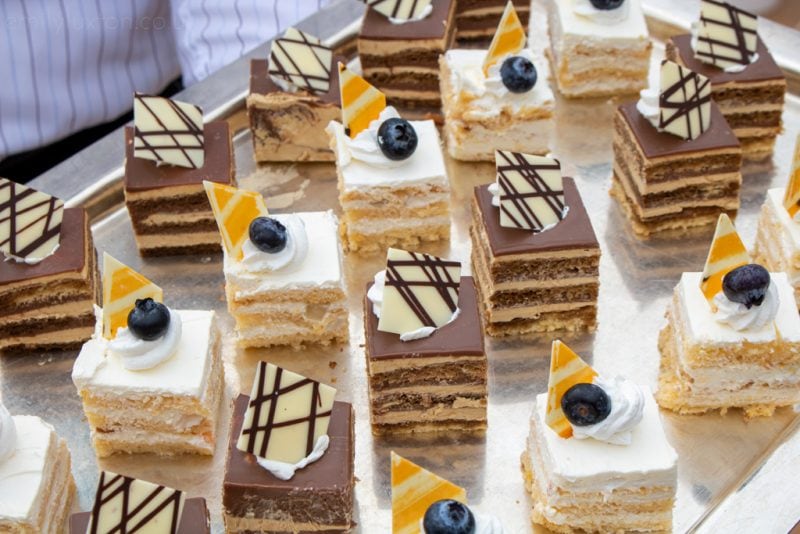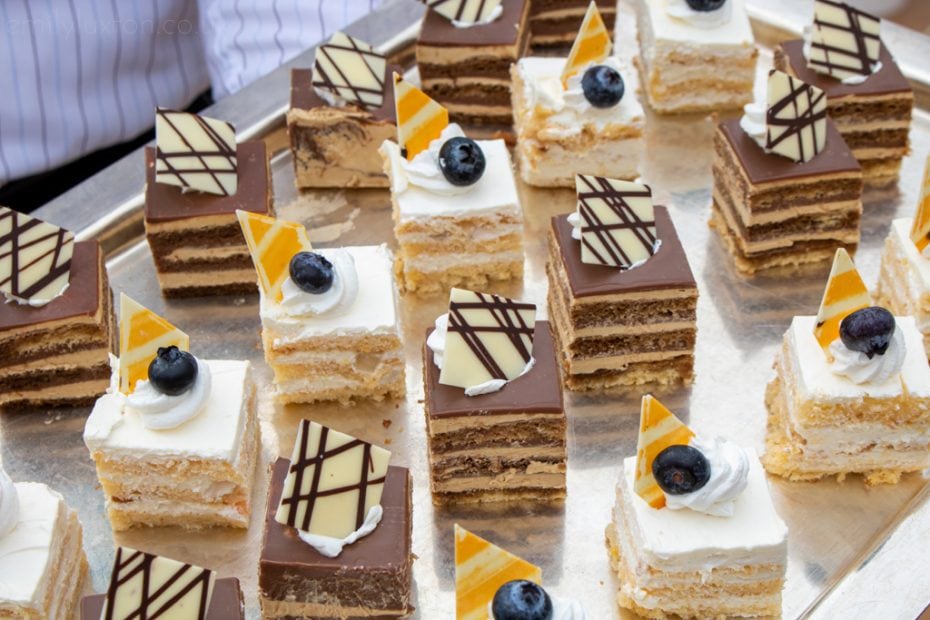 Princess Cruises are known for their food, so one of the best activities for a sea day is to try one of the incredible restaurants onboard the Regal Princess. And a few of the fabulous bars, too.
There are dozens of dining options to choose from – many of them included within the dining plan. But for something truly special, a visit to one of the speciality restaurants like the Crown Grill or Sabatini's is worth the extra cost.
I've already posted a complete guide to ALL the dining options on the Regal Princess (and whether or not they're included in your cruise fare), so check that out to pick out ones that suit you.
3. Unwind in the Lotus Spa
The Lotus Spa is a Princess Cruises staple and the perfect way to relax and unwind on a sea day.
It's a surprisingly large space with dozens of treatment rooms, as well as a gorgeous thermal suite called The Enclave. This was temporarily closed on my most recent cruise, but I was lucky enough to visit on my first trip. It's a really beautiful space with a big hydro-therapy pool, two steam rooms, a sauna, and some gorgeous heated beds.
Spend a bit of time feeling totally cut off from the liveliness of the rest of the ship, and maybe treat yourself to a massage or a facial. It's worth it!
4. Hit the Gym or Take a Class
If you know me, you'll have no trouble believing that I never once set foot inside the Regal Princess gym voluntarily! But we did stop by on our ship tour, so if you're less lazy than I am you'll be pleased to know it's a pretty fab gym.
Surprisingly big, with a whole fleet of treadmills, cross-trainers, and bikes, all looking out to sea – plus a private aerobics studio.
The gym usually runs a few exercise classes throughout the day, from gentle yoga to Bootcamp fat-burn sessions. So if you need to burn off all that amazing Princess Cruises food, there's plenty to try.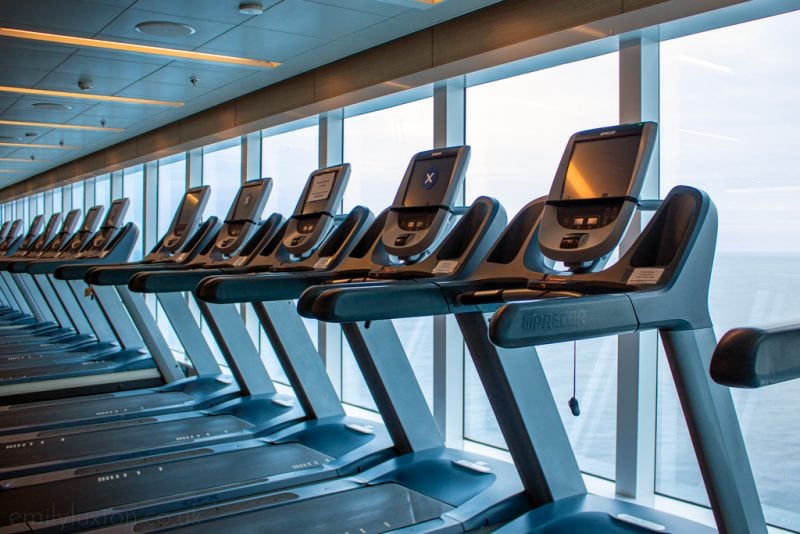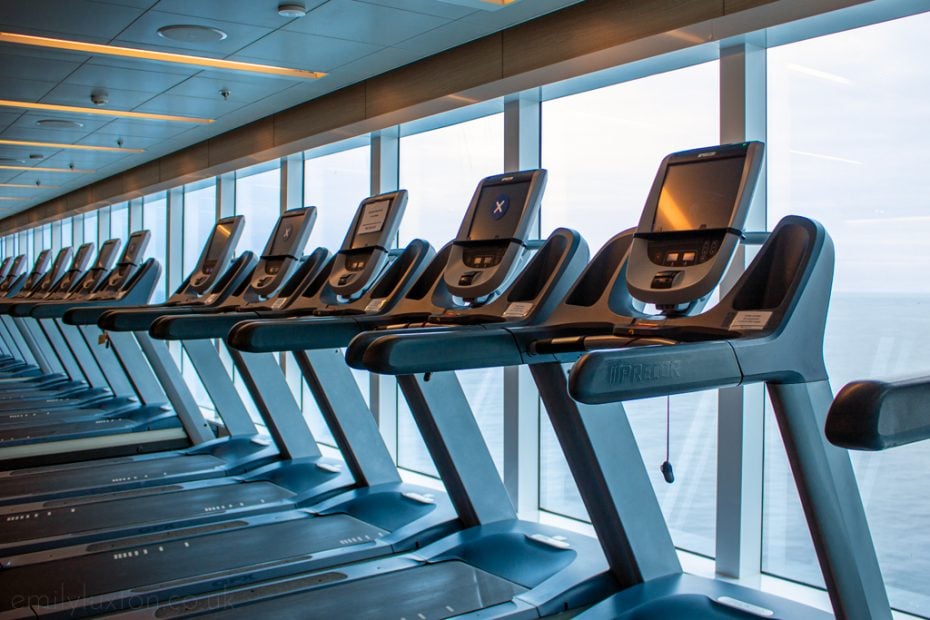 5. Experience the Fitness Centre
Alongside the gym, there are several other sports facilities to enjoy on a Regal Princess sea day. From an outdoor jogging and walking track, to the Center Court for games like basketball or tennis, to a driving range… there's plenty to keep you busy!
Again, there are sometimes classes to try, as well as occasional tournaments. On my most recent cruise, I spotted a shuffleboard competition and a table tennis tournament on the listings.
6. Learn Something New
I've already mentioned the sports and fitness classes, but those aren't the only learning opportunities onboard with Princess Cruises. There are all kinds of demonstrations, classes, destination-themed activities, and even lectures to choose from.
History lectures, wine tastings, dance classes, there are so many opportunities to learn something new. It always varies, so you'll need to check the timetable – the best way is to use JourneyView on the MedallionClass App.
7. Hit the Trivia Sessions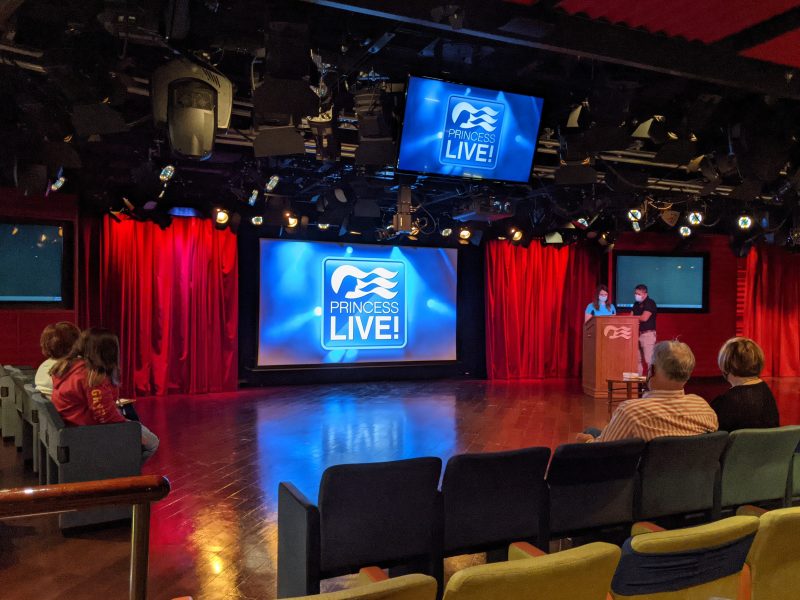 One of my favourite entertainment options on the Regal Princess was the trivia sessions. These were held in the Princess Live! studio, which also hosts the Princess Live! gameshow experience. There was at least one trivia quiz on every day, usually lasting about 45 minutes, and we made it to a few of them. Didn't win even once – but we always had a laugh playing!
8. Get Your Instagram Snaps on the SeaWalk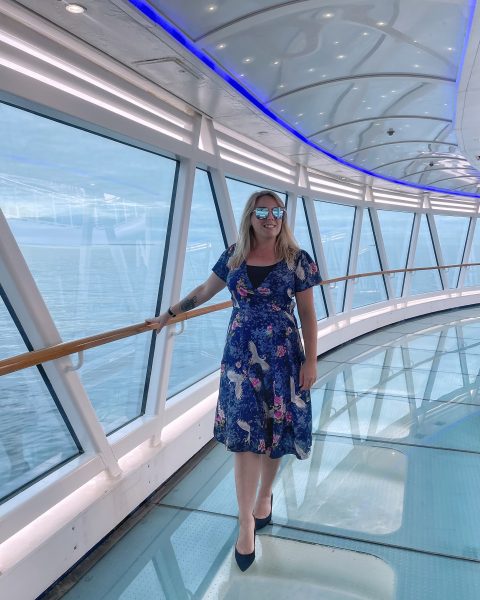 One of the best attractions onboard the Regal Princess is the Seawalk. This is a glass walkway jutting out from the edge of Deck 16, some 128 feet over the ocean. The views are amazing and it's really fun stepping onto the glass with the sea rushing beneath you.
And of course, it's the perfect spot for an Instagram photo op… I'm pretty sure every blogger I did the trip with has the exact same snap, on the Seawalk in a nice dress. Me included!
9. Test your Luck in the Casino
This one is for day or night! There's a surprisingly large casino onboard the Regal Princess – filled with slot machines, electronic games, and traditional table games. Pop in for a round of your favourite chance games, such as blackjack, Texas Hold'em and roulette.
10. Escape the Crowds in the Sanctuary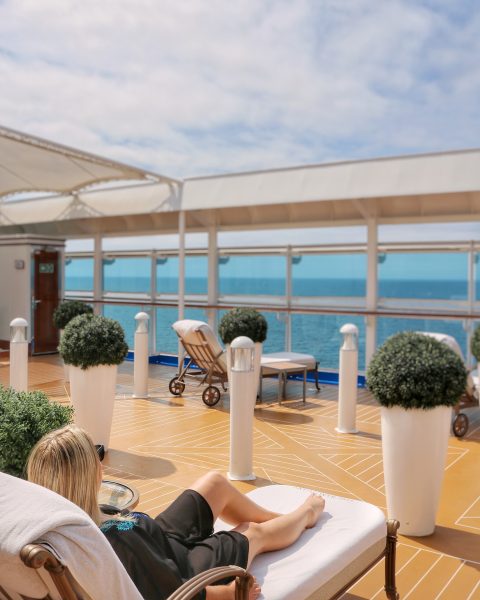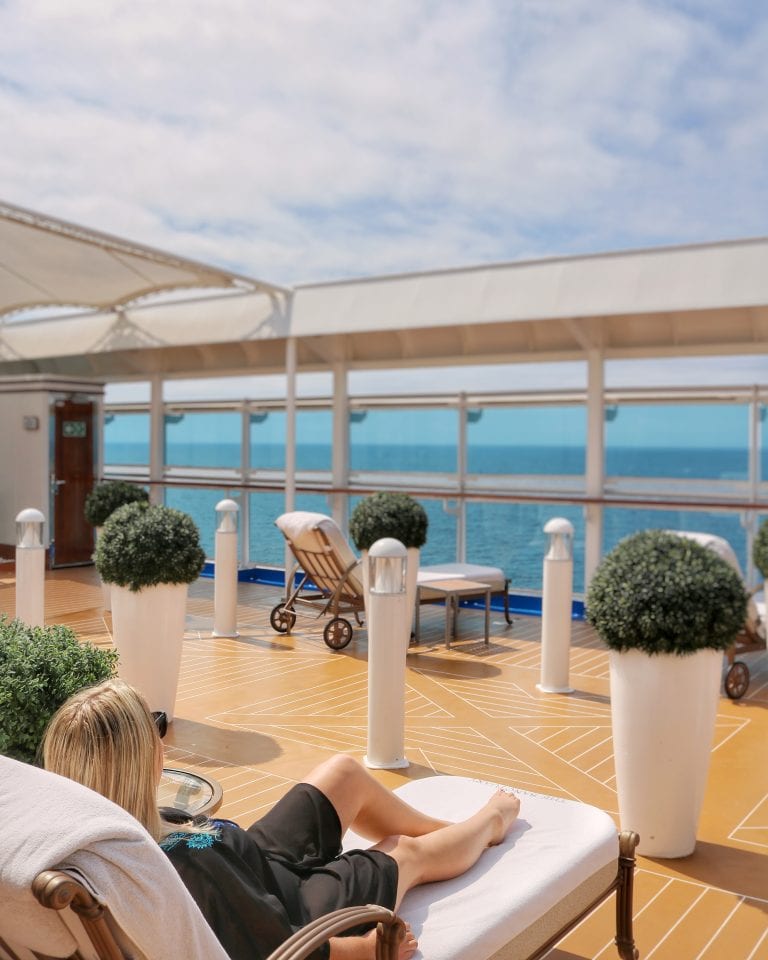 The Sanctuary is a private, adults-only area of the outside deck that can be hired out for an additional fee. There's no pool, but comfy sun loungers and some big, covered cabanas (complete with TV, sofa, and mini-bar).
Confession: before I experienced The Sanctuary, I couldn't really see the point of it. But after spending a fab afternoon there on my most recent trip I'm definitely a convert!
The main deck gets really busy on sea days, and can feel quite crowded and noisy. Inside The Sanctuary it's super tranquil – and you're guaranteed a sun lounger (which are also comfier than the standard ones)! Plus you can enjoy attentive service from your own personal waiter. They offer a great menu (morning and afternoon), as well as an indulgent afternoon tea with seemingly unlimited cake!
11. Go on a Shopping Spree
Did you know there's a whole area of shops and high-end boutiques onboard the Regal Princess? And they're all duty-free! From Princess Cruises merch in the gift shop, to high-end jewellery, designer sunglasses, perfume, and much more – with up to 30% off retail prices. There's even an art gallery, and often an art auction or two during the cruise!
Evening Entertainment on the Regal Princess
12. Watch the Nightly Fountain Show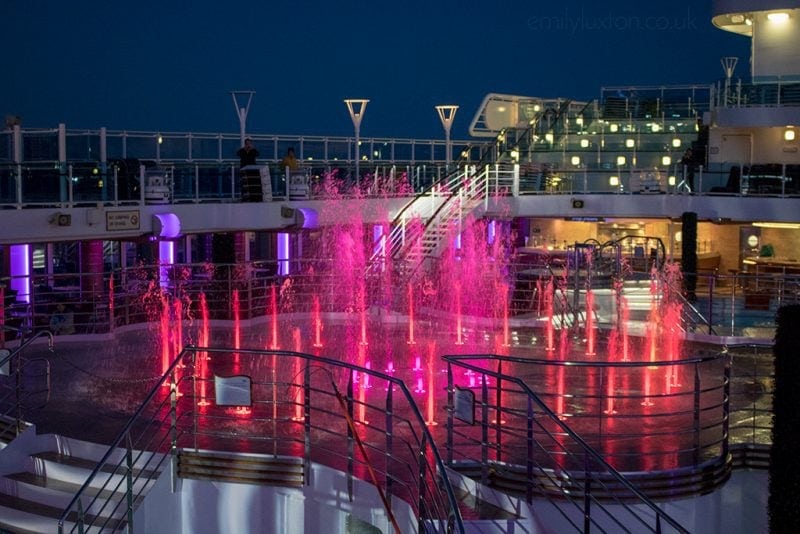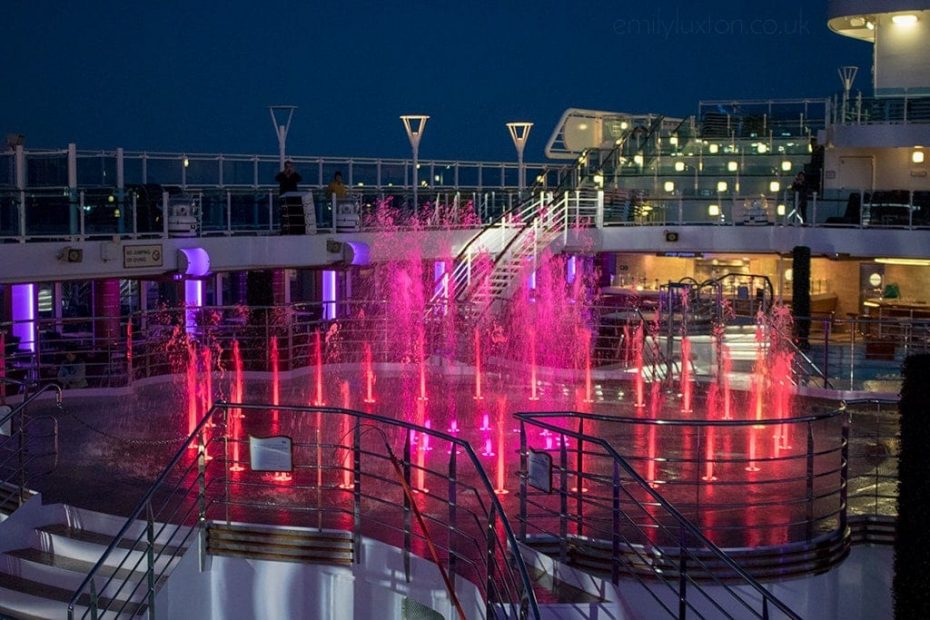 The Regal Princess' evening entertainment kicks off with the Princess WaterColor Fantasy®. It's an amazing fountain and light show timed to music, next to the main pool. Grab yourself a cocktail from one of the on-deck bars and sit back to watch the show. This one is also a must-see if you're travelling with kids.
13. Relax with a Movie Under the Stars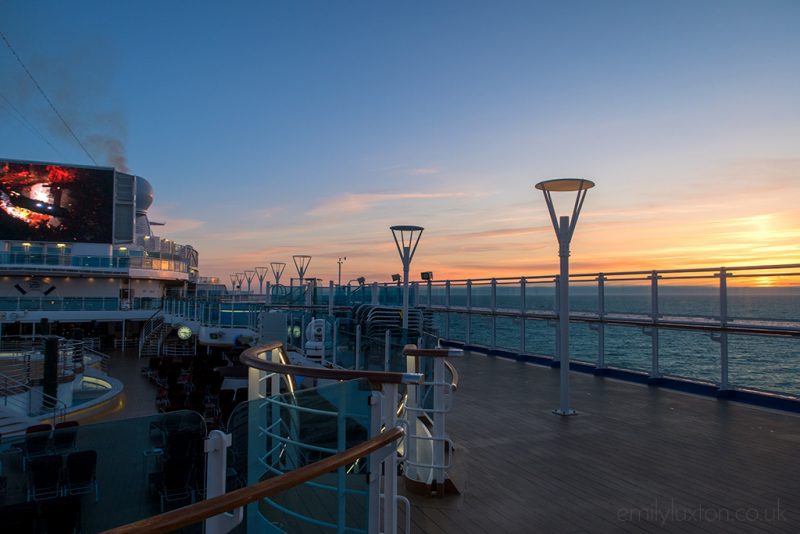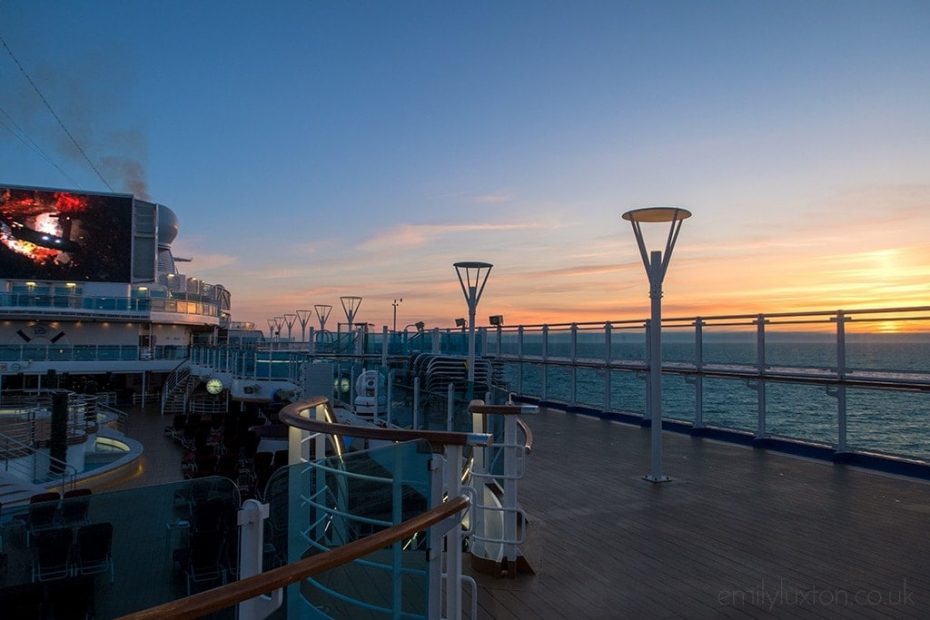 Princess Cruises pride themselves on being one of the first ships to feature a big screen on deck – and I have to say, it's a huge selling point for me. During the day they sometimes play films or recordings of live concerts for people to watch from the pool (if you fancy a quieter experience pop to the Terrace Pool or the Retreat).
At night, the Princess team cover all the pool-side loungers with padded cushions and put out blankets, ready for the nightly Movies Under the Stars experience. A film on the big screen, with the stars overhead and the inky black ocean all around. It's such a great treat – especially if you grab some fresh popcorn and/or a nice cocktail!
14. Catch a Show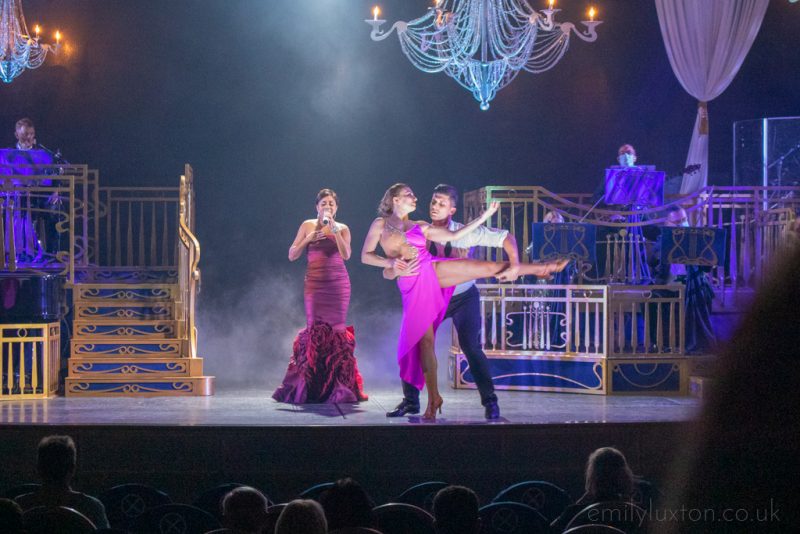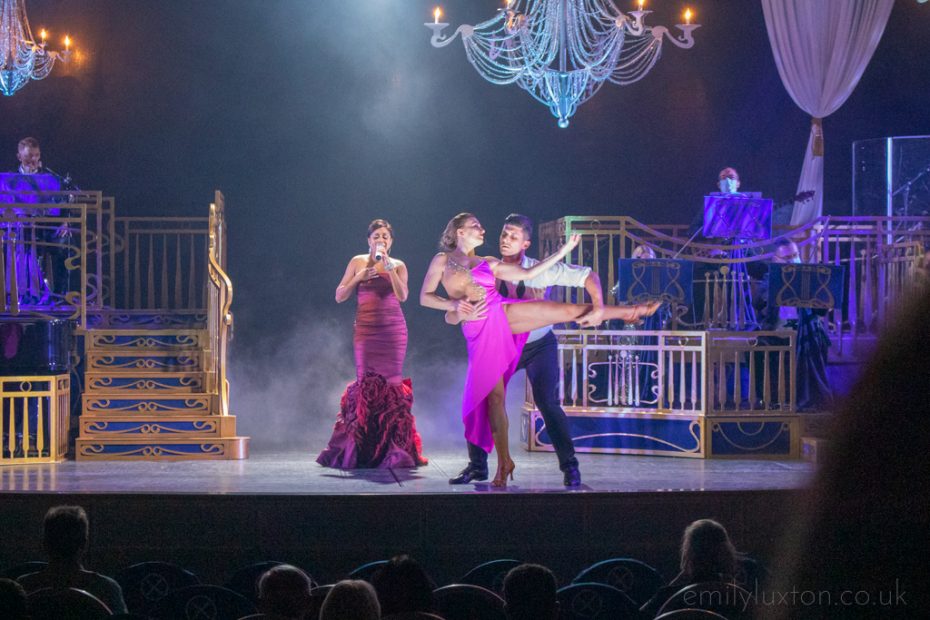 The entertainment onboard the Regal Princess is incredible. Every night, the Princess Theatre hosts a different show, from brilliant crew productions to celebrity guests. Check your JourneyView planner on the Medallion App at the start of the trip to see what's on and plan which shows you want to catch.
On my most recent trip, we watched a stand-up comedian, the amazing Bravo! show (songs from musicals and opera), and a concert from guest star Gareth Gates. So that gives you an idea of the variety onboard!
15. Watch a Live Musician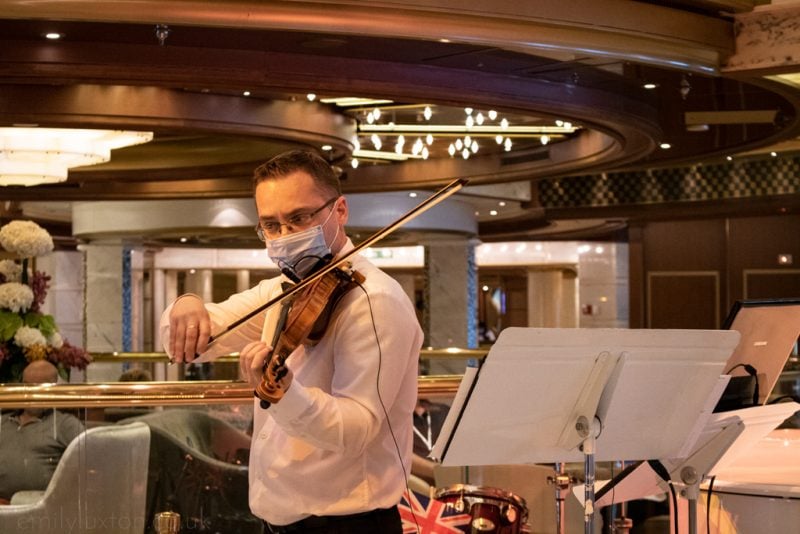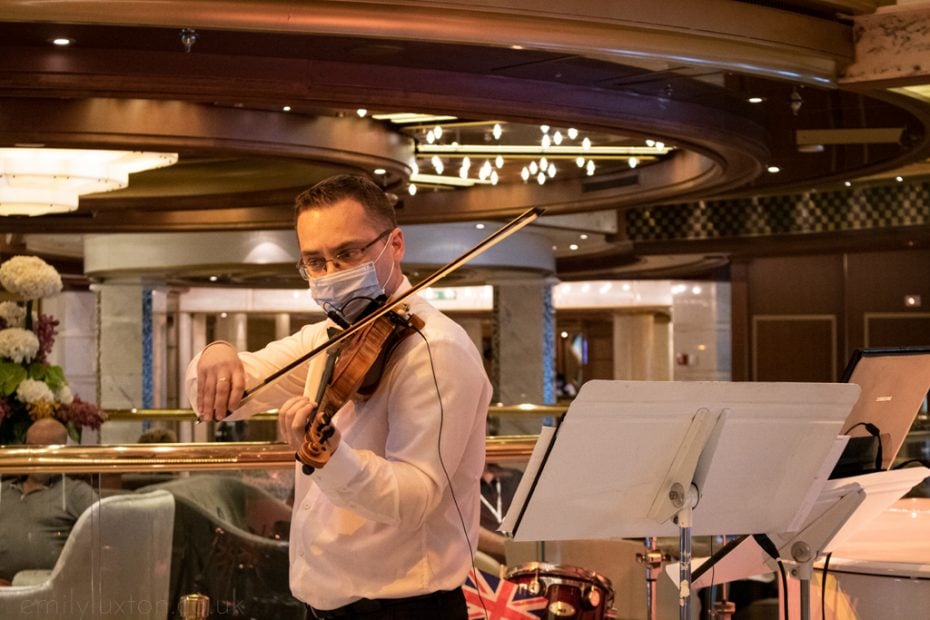 Alongside the theatre shows, there's always plenty of other live entertainment dotted throughout the Regal Princess.
There's a resident entertainer in the stunning Crooners Bar; think piano music and classics. Be sure to try one of the martinis here, they have over 50 varieties!
Throughout the day and evening, you'll often see a musician in the Piazza. There's a great variety, so if you hear something you like, grab a drink in Vines Wine Bar or a delicious pastry from the International Cafe and have a seat.
Finally, there's the Vista Lounge at the aft (back) of the ship. This is a more intimate entertainment venue than Princess Theatre. The ship's in-house band perform most nights – we became their biggest fans and bagged front row seats every single night! Vista Lounge also hosts other performers such as comedians and illusionists, as well as themed parties and special events.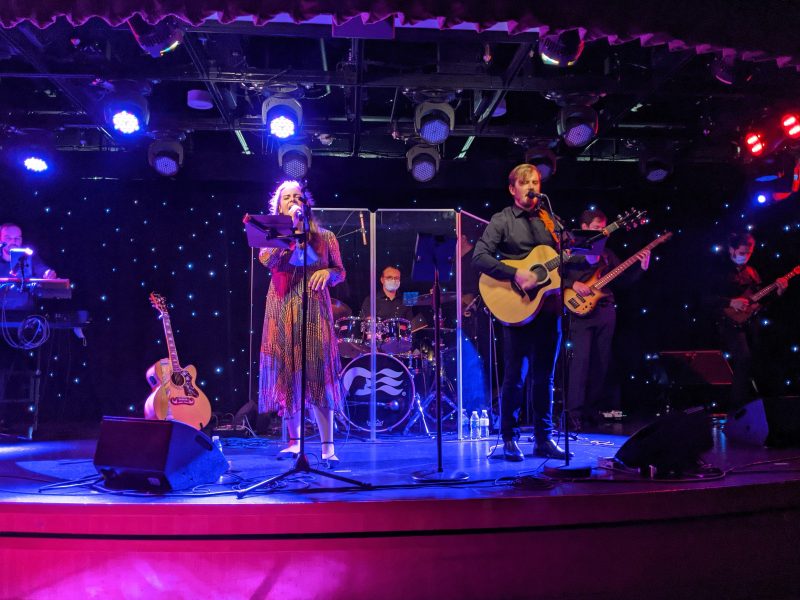 16. Swing by Club 6
Another confession: on my first cruise with Princess I ended up in Club 6 – the small Regal Princess nightclub – almost every night. Dancing VERY badly! I was half disappointed and half relieved when I discovered the dancefloor was closed on my more recent trip (due to post-pandemic restrictions). Happily, the dancefloor is now open again, so Club 6 is a great option if you want to finish your night off with a bit of a party!
17. Learn to Make Cocktails at Good Spirits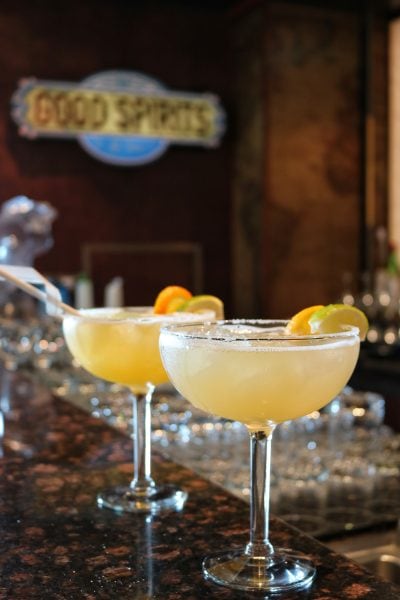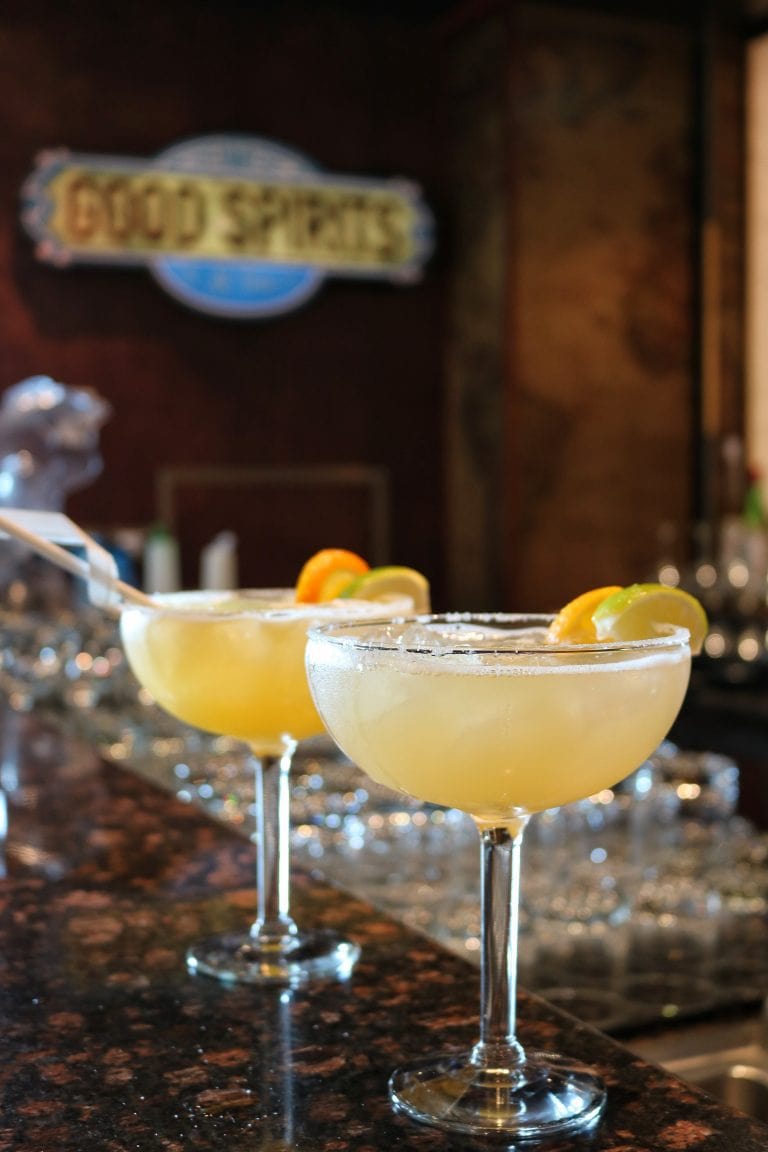 A relatively new addition to the Regal Princess entertainment options is the fabulous Good Spirits bar near the piazza.
Aside from being a seriously incredible cocktail bar with some unique drinks for you to try, they also have a live evening show where the bartender will teach you how to make one of the drinks. The experience is based on Good Spirits, the popular TV series, and is a must for any cocktail lover.
Read More
Cruising Scandinavia and Russia with Princess Cruises
Regal Princess Ship Tour and Q&A
How to Make your Cruise more Cultural