After leaving the gorgeous countryside surrounding the sleepy town in Salento, we had only a very brief stopover in Cali (which wasn't long enough to see anything particularly exciting) before catching a flight early the next morning to the border town of Leticia, way down in the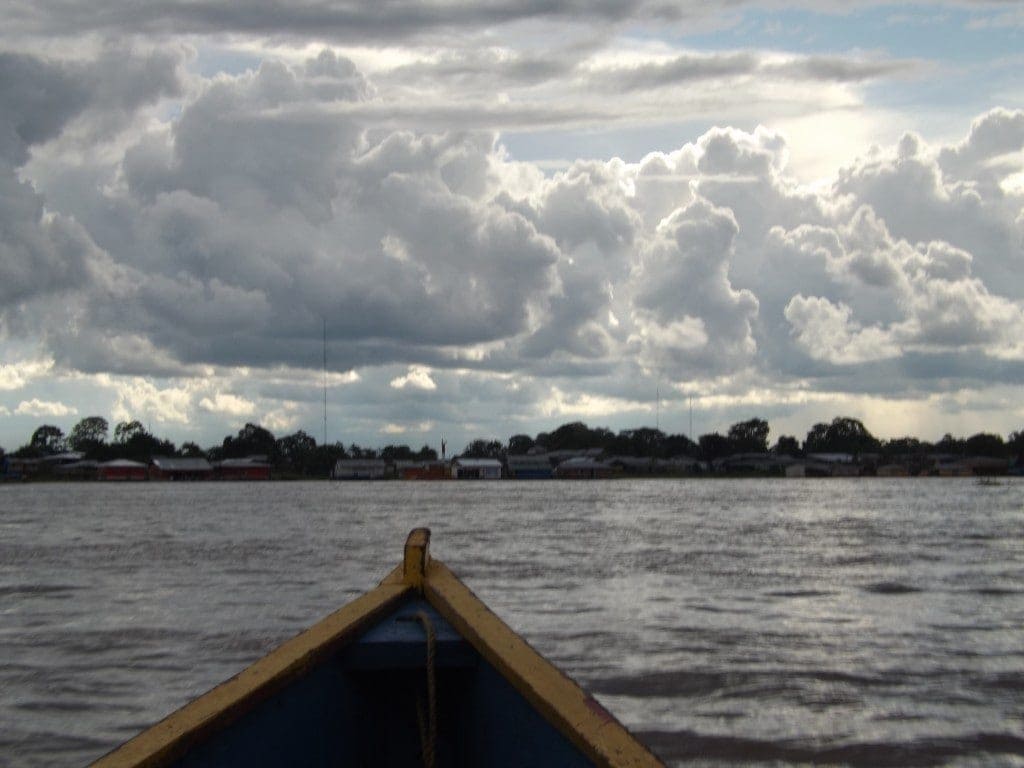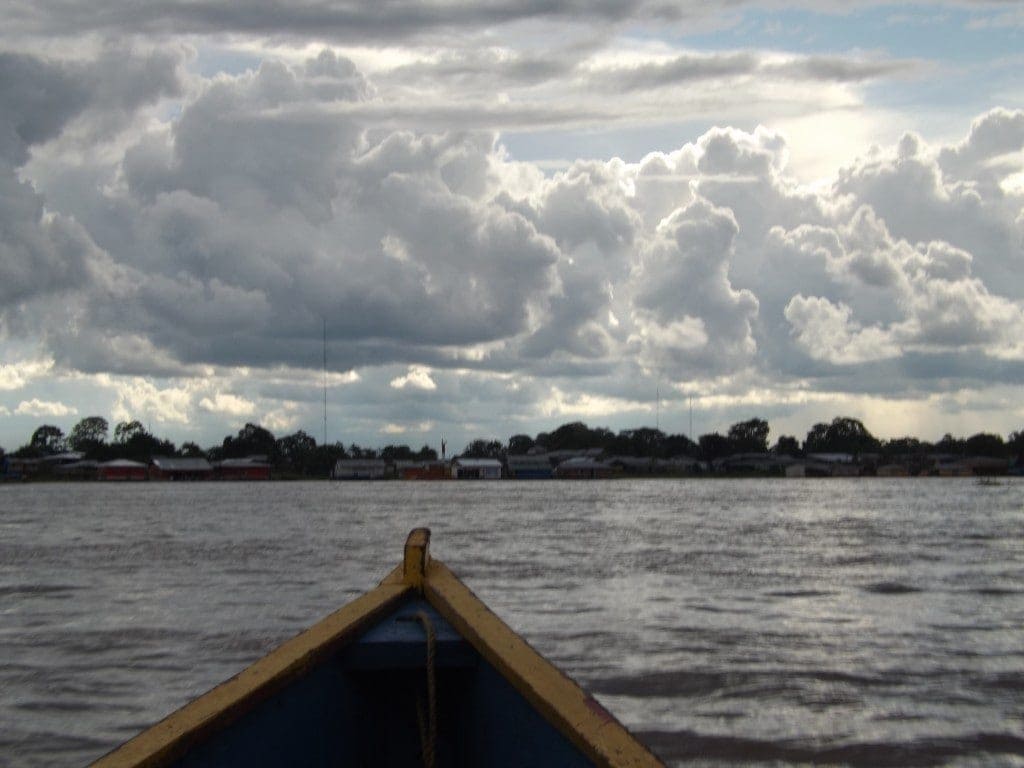 bottom right corner of Colombia: in the heart of the Amazon rainforest. We had wanted to travel completely overland, with no internal flights, but there are no roads in the jungle and there was no other way to get to Leticia. The two overland options we had for leaving Colombia were by bus through Ecuador, which would have been such a rushed trip that it seemed a little wasteful, or by boat down the Amazon river into Peru. The second option sounded far too romantic to miss, so we opted for a short flight from Cali to Leticia via Bogota, and hopped straight from the green, cloudy countryside of the Andes into the vibrant and dazzlingly bright Amazon rainforest.
I could smell it as soon as we stepped out of the plane at Leticia's tiny airport; under the oil and engines were the scents of hot, wet leaves and damp earth, rich and woody. The sun was blindingly bright and wickedly hot, the air was thick and humid, and the small airport was surrounded by a wall of green and brown: the edges of the endless, continent-sized blanket of emerald green we had glimpsed from the plane window.
At the airport, we asked a taxi driver to take us to the ticket office for the 'rapido' – fast boat – to Iquitos in Peru, but when he said that the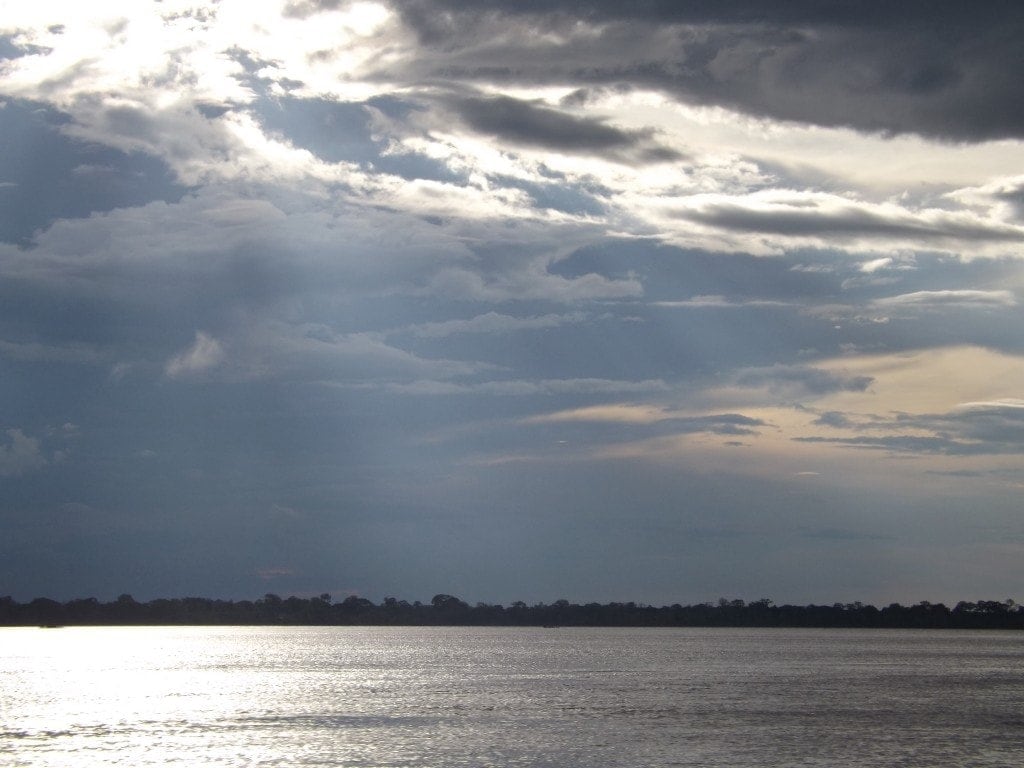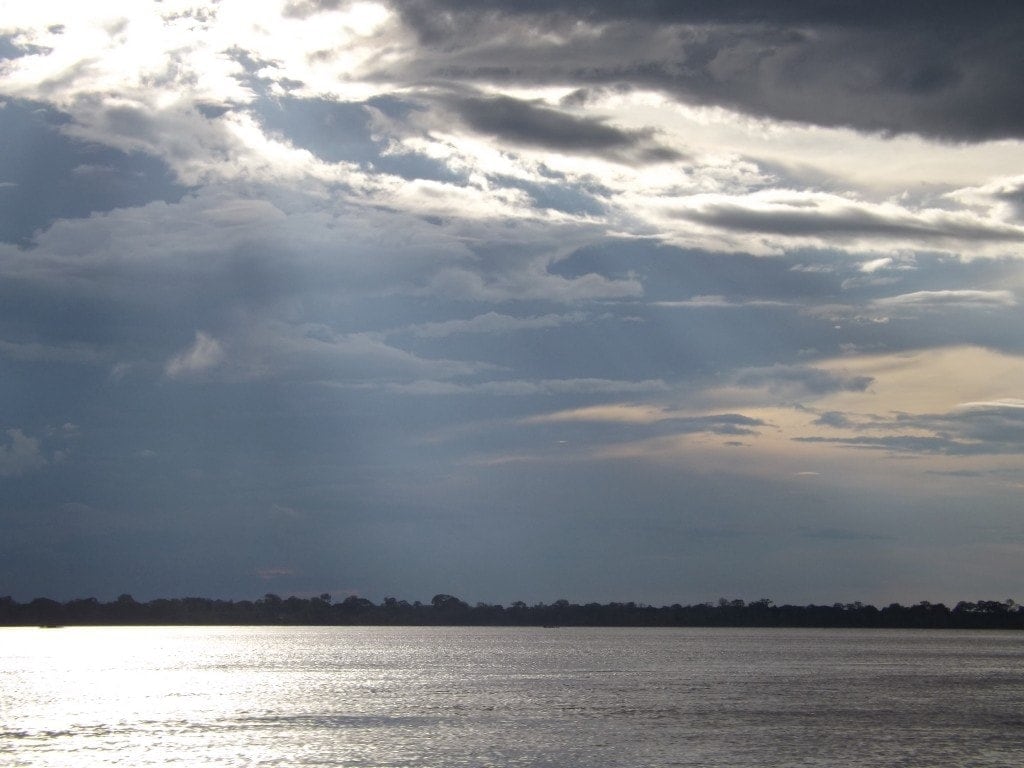 office was in Brazil we decided he must be completely insane and instead got out in Leticia's town centre. After an hour or so trying unsuccessfully to locate a ticket office, or an English speaker to give us some advice, we finally asked another taxi driver who confirmed what the first guy had told us. The ticket offices to buy tickets from Colombia to Peru are, of course, in Tabatinga, Brazil. As it turns out, this is less than a five minute drive from Leticia's centre, with no border control. Halfway down a normal looking road, the driver said "we're in Brazil now", and that was that.
Having bought our tickets and moved from Colombia to Brazil and back again in less than twenty minutes, our taxi driver dropped us at the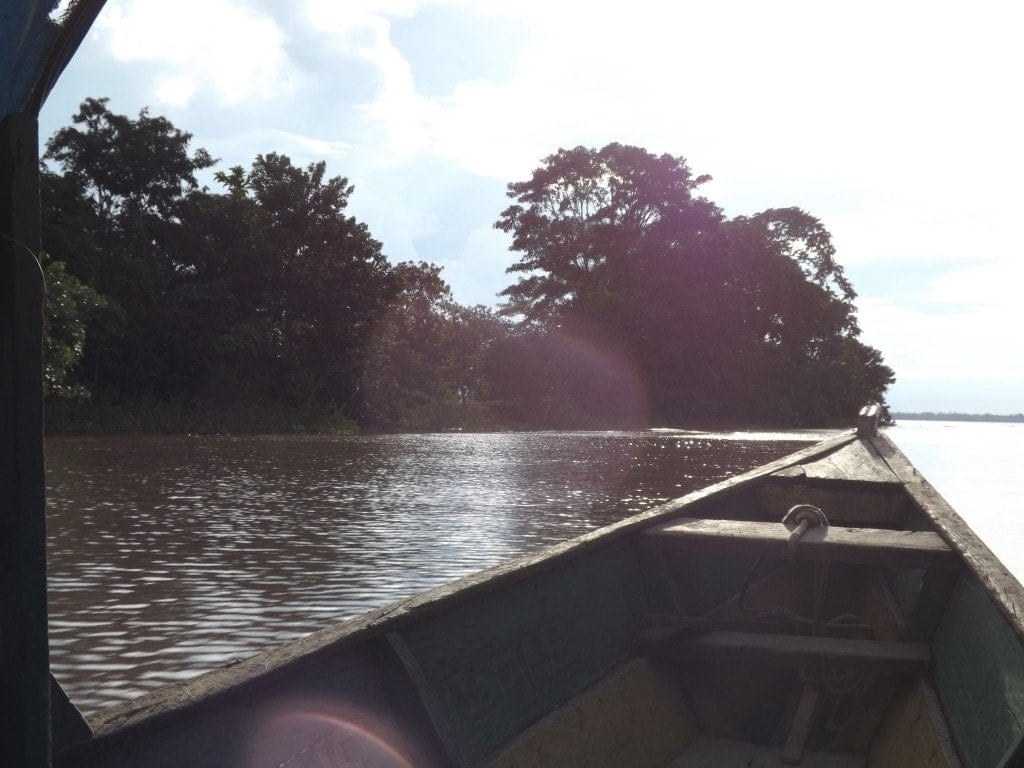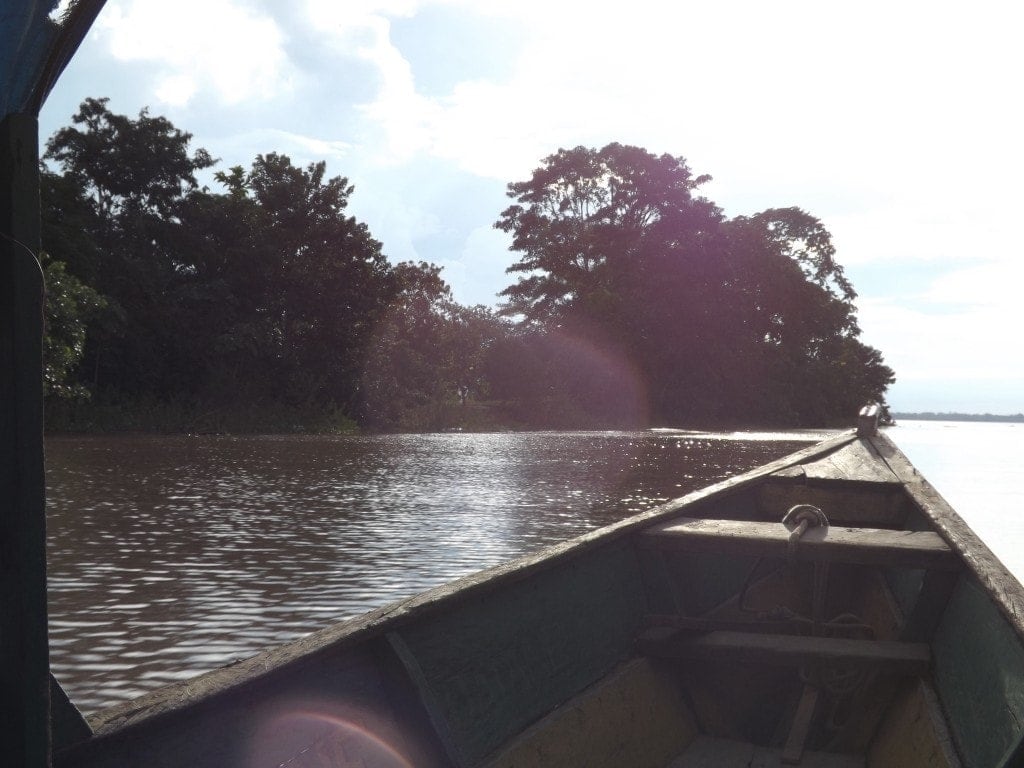 edge of the river and pointed out the ferry boat to Santa Rosa. This is Peru's border town and the boats to Iquitos set off from here. We sailed across the river in a small motorboat – wowed by an incredible scenery of coffee-coloured river lined with a belt of green and suddenly struck by the thrilling notion that we were in the Amazon – to grab a Peruvian entry stamp at the tiny immigration office, where we had to step over a sleeping dog to reach the desk. At some unclear point before or during the river crossing, we had entered Peru, so that in the space of one hour we had been in three different countries.
Once we were completely organised, and the stress of not having a clue what we were doing had died down, we felt much better and decided to enjoy our first evening in the Amazon. We met a local tour guide who offered us an evening tour to spot wildlife, so we decided to do that (only realising later that the 100,000 COP pp – about £30 each – he charged us was a huge rip off). He commissioned a local boy with a motor boat and we hopped in, setting off down the Amazon river as the sun was beginning to slip down the enormous expanse of sky that stretched over the low, flat landscape, lighting the sculpted clouds in red, gold, purple, pink. The river was unbelievably wide, more like a lake, the colour of milky tea, and skirted by thin bands of green on either side that were thick and broodingly, silently alive, so rich with mysterious life they seemed to pulse with it even as they stretched, still and silent, into the distance.
Suddenly, breaking the water and curling over in the golden light of the sunset, the dark shadow of a dolphin appeared, slow and graceful,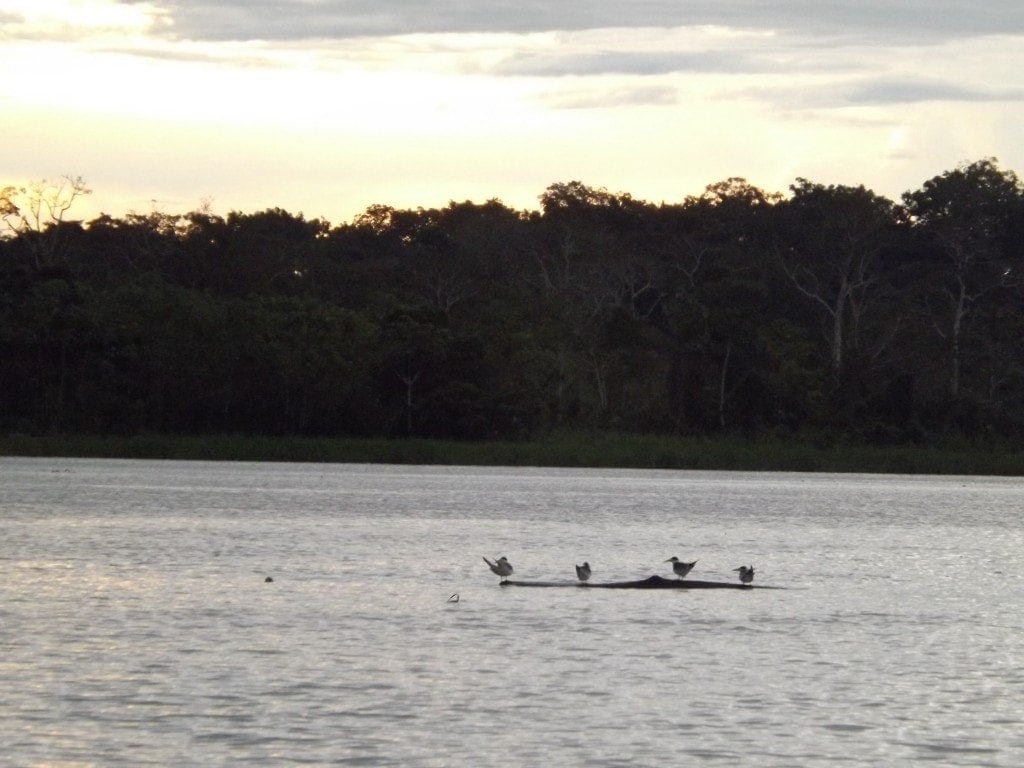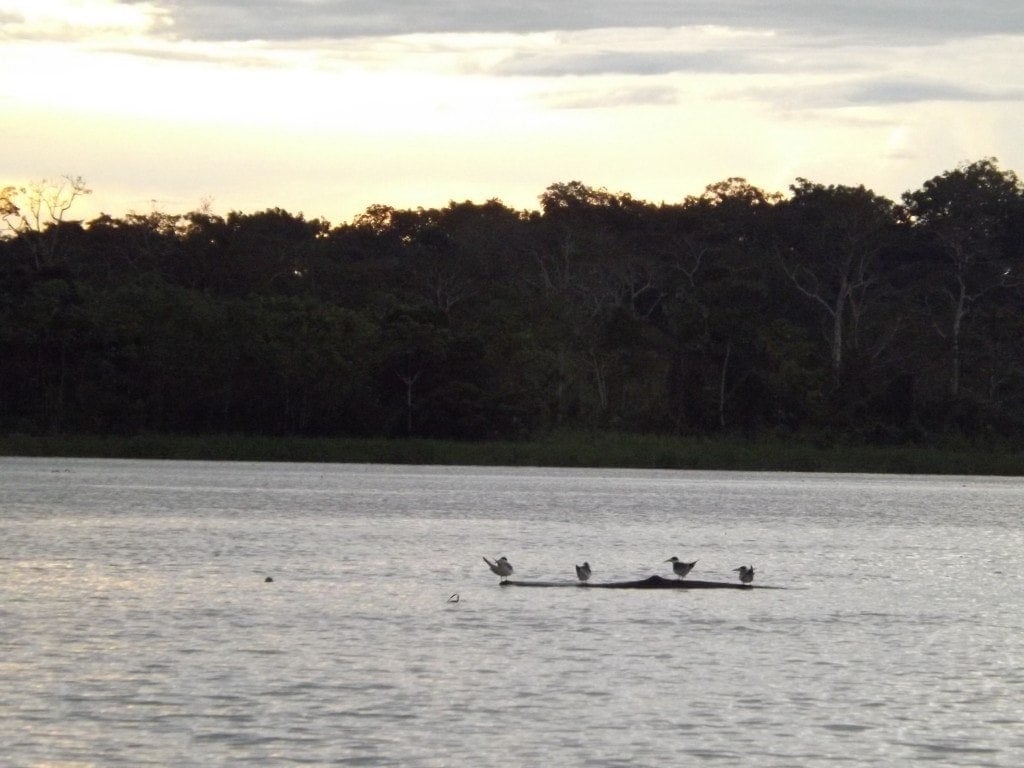 quite close to our boat. Too dark and too quick to tell if it was pink or grey, but smooth and beautiful in the dying light. We sailed upriver for an hour or more, and spotted more dolphins, only occasionally and always too quick for my camera, breaking the surface in tightly curled dives.
Eventually, we stopped at a small village of wooden, stilted huts – many of which had only three walls – just as darkness was beginning to settle. The forest had become an impenetrable shadow and the sky was a dark bruise of blue clouds. The villagers quickly surrounded us, a group of women and children holding animals for us to pet, hold, or stagger back from. A pig-nosed prehistoric turtle, warty and weird with a flat, spade-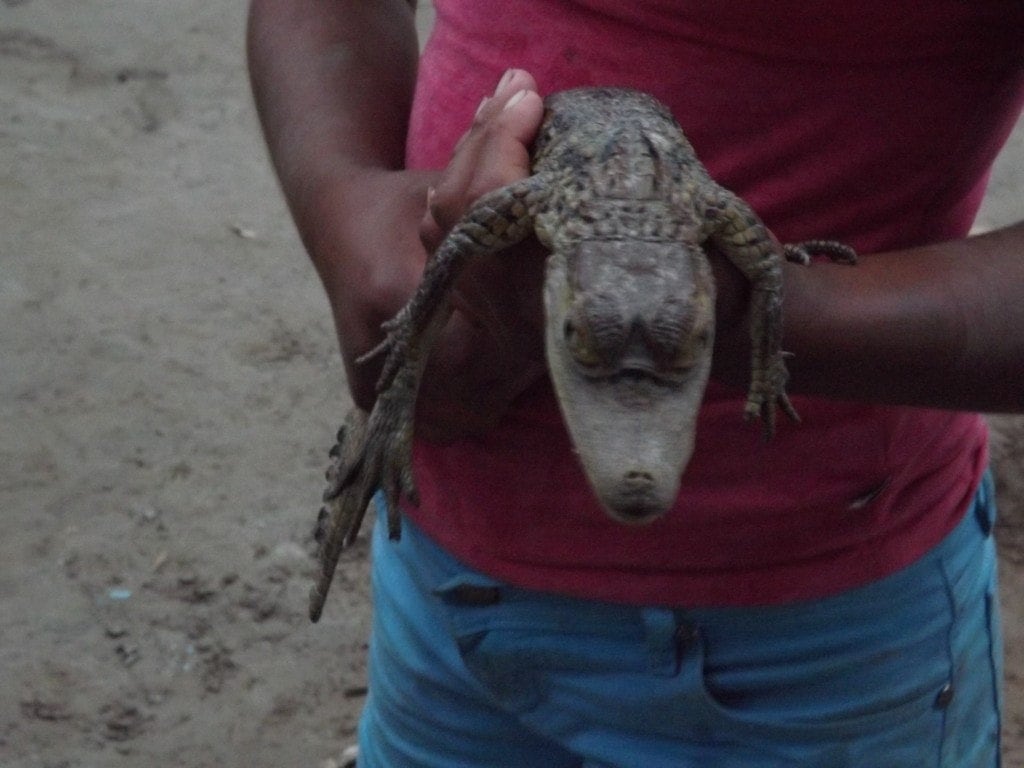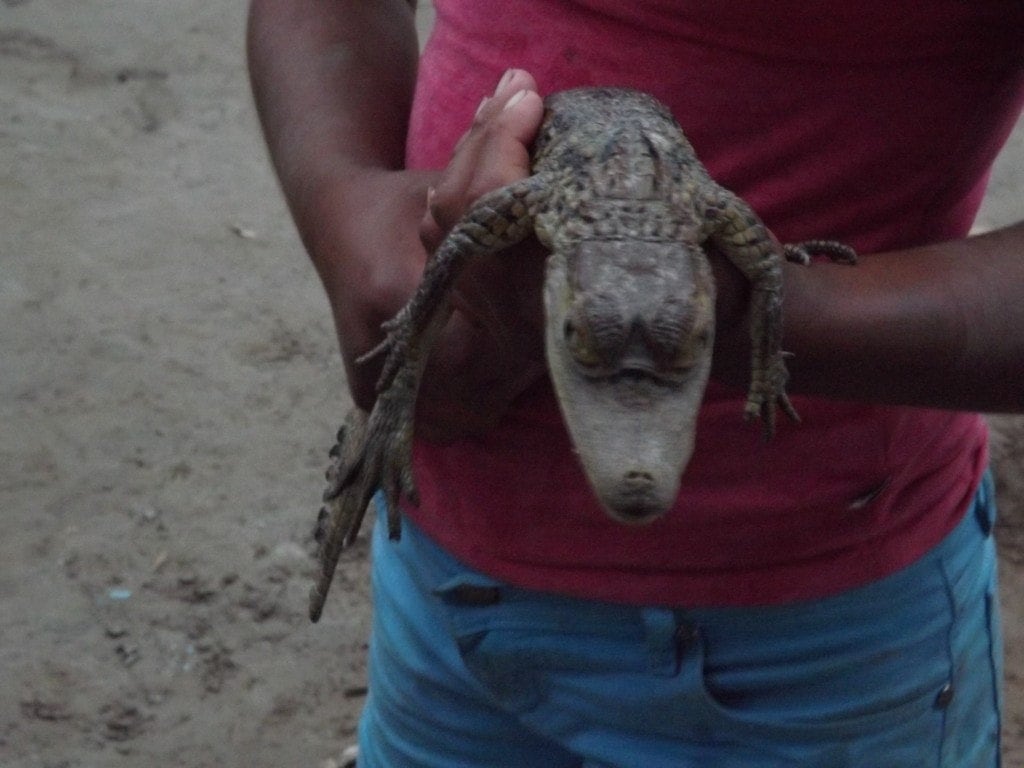 shaped head. Baby caimans with their calm smiles and cold, intelligent eyes that seemed to watch us knowingly. A little boy with huge dark eyes held a baby monkey on his shoulder, but when Sam held it the monkey wriggled and raced over him, trying to bite. A big sloth that sat still like a teddy bear and let us hold him without moving, smiling like a stoned teenager, a scruffy porcupine coated with needles, two anacondas whose strength I could feel as I held them on my shoulders.
Now it was night fully, and we walked with the guide first to a lake filled with huge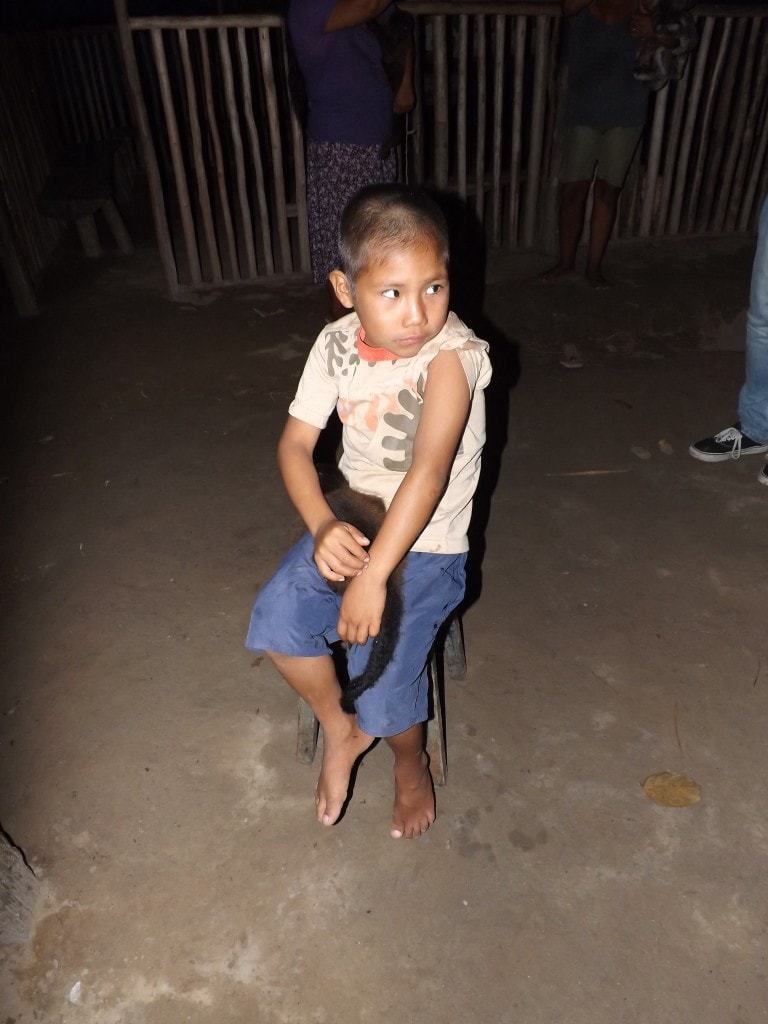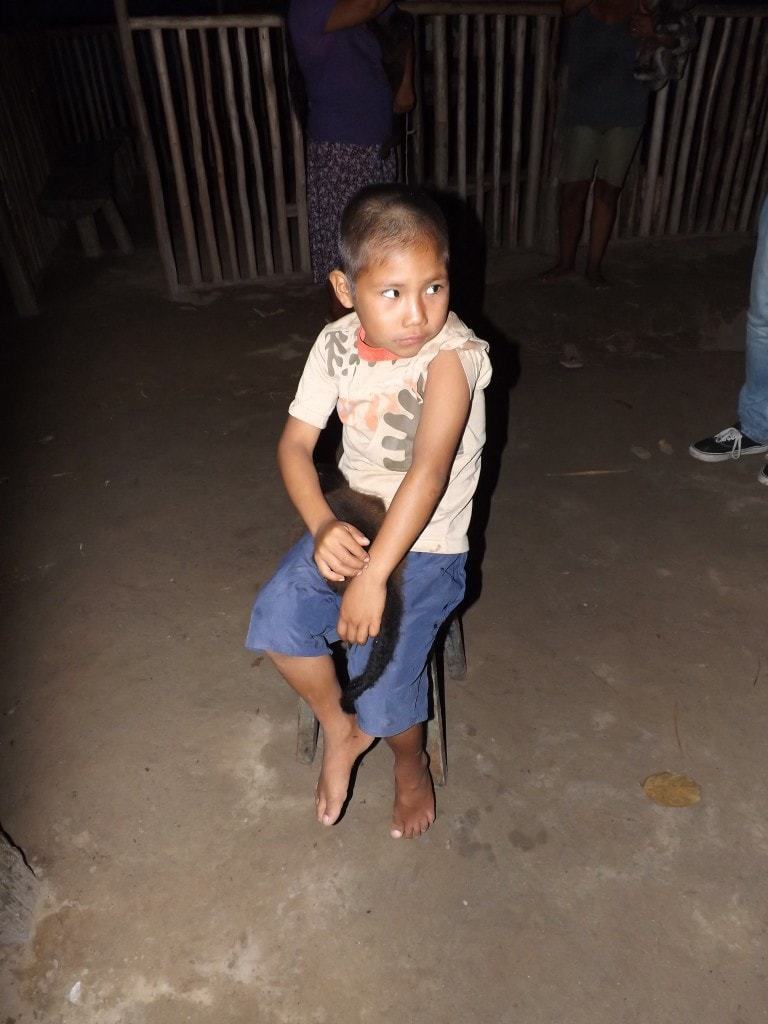 lilypads, then to a big paddling pool home to a baby manatee, which looked like a swimming pig with thick, spiny hairs dotted across it's head. It circled the pool restlessly and poked it's strange, slippery face up to look at us, and I hated to see it away from it's mother in a too-small pool, wondering if it was properly cared for. Although it was cool to see so many animals up close, I hadn't been expecting to see them in captivity, domesticated and docile, and it wasn't quite the tour we'd hoped for.
We sailed back to Santa Rosa down a dark river, watching flashes of lightning tear across the sky in the distance, lighting the horizon in every direction as though we were surrounded by storm. The trip was beginning to feel like a true adventure; everything since stepping off the plane had been as surreal and as strange as you'd expect a day in the Amazon to be.