Some posts on this site contain affiliate links. If you book or buy something through these links, I earn a small commission (at no extra cost to you). Take a look at my privacy policy for more information.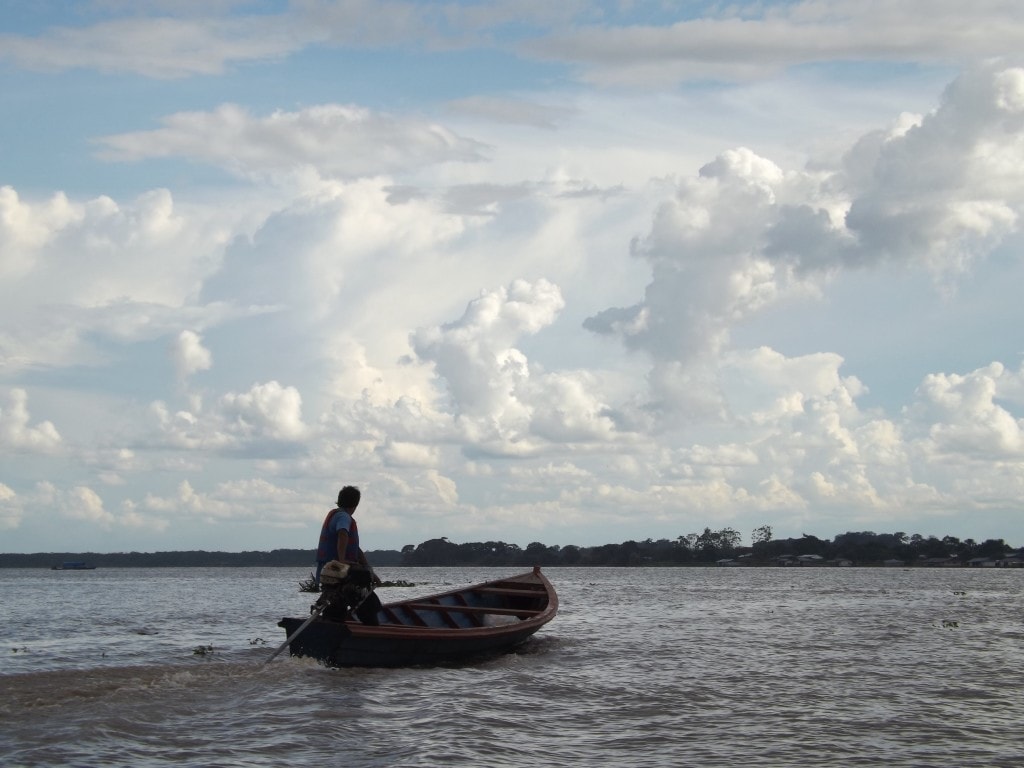 If you want to travel from Colombia to Peru by boat, it can be hard to figure out just how to do this. So I've compiled a post all about it, based on my experiences, to help you travel from Leticia down the Amazon into Peru.
July 2021 Update – latest travel info updated with help from a local hotel owner at www.amazonbb.com.
February 2022 COVID Update – I have not mentioned Covid restrictions in this post as things change fast and I am not equipped to keep the post up to date. The latest update suggests that land borders are now open but I have not travelled there myself to check this.
COVID and Travel – It is currently unclear if travel overland from Colombia into Peru is allowed. I recommend reaching out to your country's embassy in Peru for advice or using the links mentioned below.
Contacts: the official Peru tourist board website contains up to date info and is a good place to check for clarification. You can also contact the tourist board advice centre by both WhatsApp and email, click here for the contact details.
How to Get to Leticia
The town of Leticia, in Colombia's bottom right corner, is right on the borders with Brazil and Peru, and it's possible to reach both countries via boat. You can fly to Leticia from anywhere in Colombia via a connection in Bogota. Both Avianca and LATAM have daily flights to Leticia.
At the airport in Leticia, you need to get your passport stamped with an exit stamp for Colombia. You can't do this on the boat and they won't let you sail, or get your Peru entry stamp, without it. The immigration office is within the main airport building, after you disembark from the plane and go through baggage collection etc.
Colombia to Peru by Boat – the Options
1) The Slow Boat
The slow boat takes two – three days. I've spoken to people who have taken this option, they have said the boats are comfy enough but overcrowded; many shared space with cargo and animals like pigs and sheep. Lodgings are usually hammocks in a public space, food is provided, but the boats are unreliable – I've hear reports of them sailing four days after originally planned. According to Alexa at Amazon B&B, the slow boats cost about $30-35.
You can book tickets through travel agencies in Santa Rosa, or directly on the boat. The price varies depending on the standard of class – but do not forget these are cargo boats! They offer a very basic standard of accommodation etc.
2) The Rapido / Speed Boat
The rapido takes between eight – ten hours depending on current and weather conditions etc. These leave every day except Monday at around 3/4 am. This was the option I chose, so the rest of this post will deal with the rapidos…
Once in Leticia, you need to hop the border into Brazil to buy your tickets for the boat. You can do this in a taxi or tuc-tuc: the Brazilian town of Tabatinga is right next to Leticia and there is no border control here, so no passport needed. In Tabatinga, there are two companies selling tickets; Transtur and Golphino. Both companies leave on alternate days, so which one you book depends on which day you want to leave:
Transtur currently sail on Wednesday, Friday, and Sunday. The other company sail on Tuesday and Thursday.
As of March 2014, a ticket for the rapido with Transtur (including two meals) cost 200,000 COP (about £50) per person.
Getting Your Immigration Stamps
The boat leaves from Santa Rosa, which is across the river from Leticia and is in Peru. Again, there's no border crossing or passports needed.
Once you have your tickets, and your Colombian exit stamp from the airport, you need to head to Santa Rosa in a ferry (5000 COP – £1 – pp) to get your Peruvian entry stamp. The immigration office is right by the small port at Santa Rosa, any local will be able to point it out to you.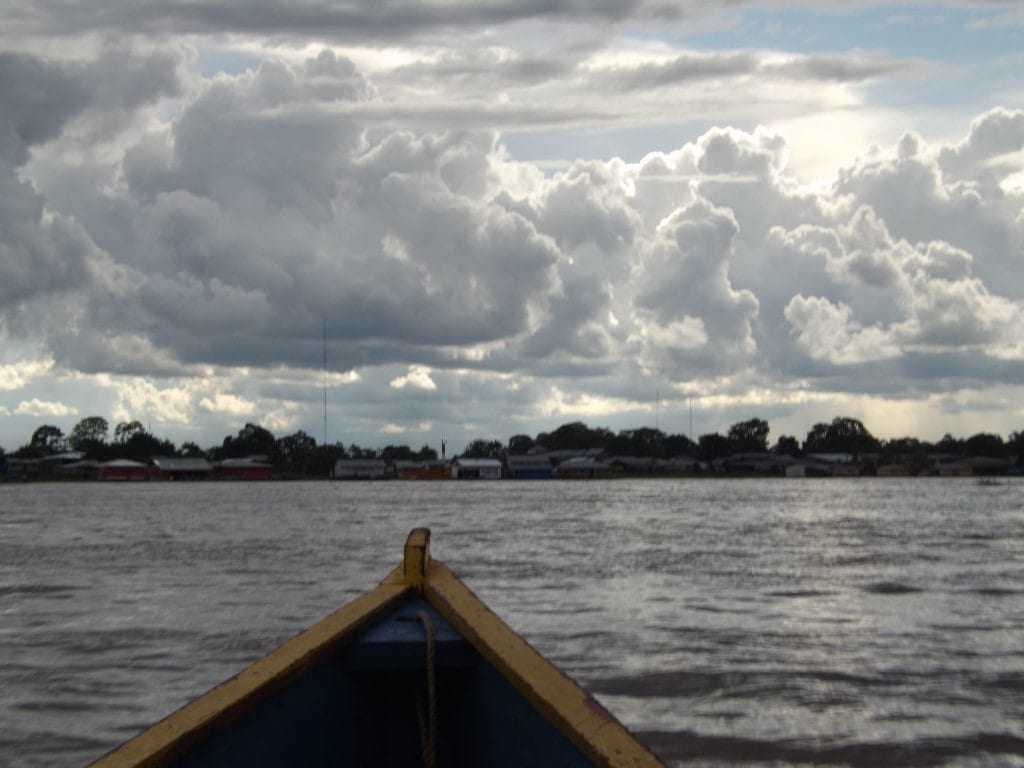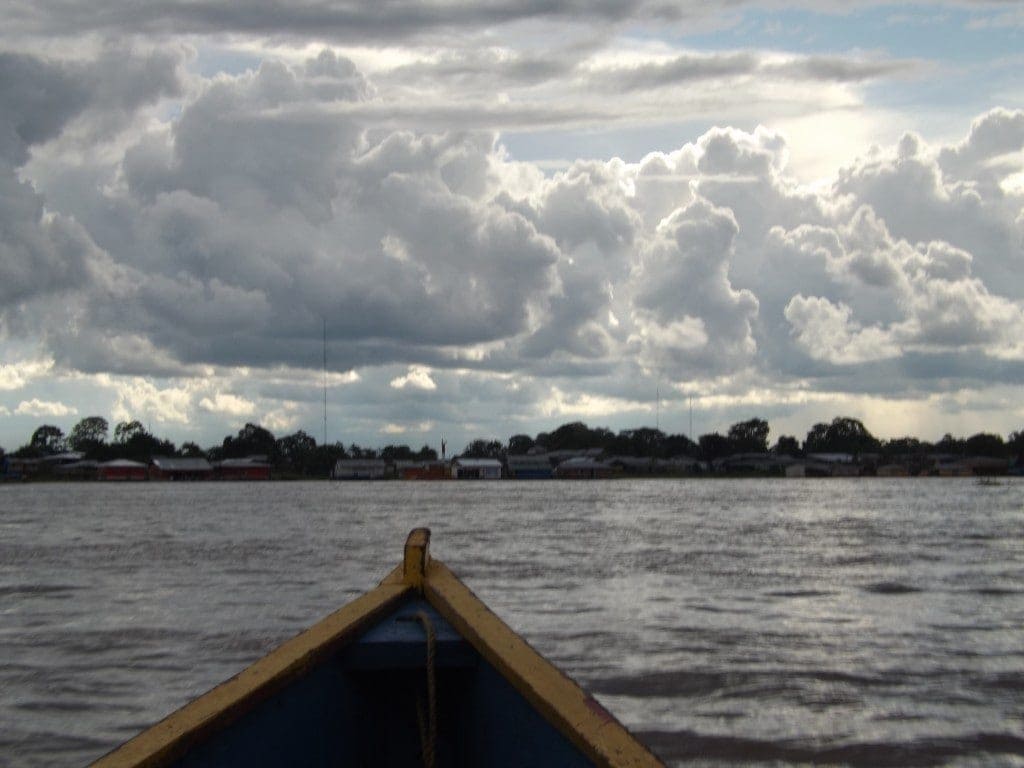 The immigration office will give you a stamp in your passport, and will ask how long you plan to be in Peru. Always say more than you really plan, in case you run over. If you say one month they will write '30 days' on your passport stamp, and if you stay in the country any longer than that you will be charged $1 per extra day when you leave. If you plan to be there for 30 days, say 45 and cover your back.
The immigration office will also give you a small white immigration card. They won't staple it in your passport and they will not tell you how important it is – but it is so important! DO NOT throw away this immigration card – without it you will be charged additional taxes in most hotels/hostels and will have complications when trying to leave the country, especially at a land border (you may not be able to leave without heading back to the nearest airport to get a new card). FYI – if you lose your card, you can pick up a new one for S./30 (£6 GBP) at an immigration office in most major cities like Lima and Cusco.
Where to Stay in Leticia
Once you have your exit stamp, boat tickets, and entry stamp, you're free to relax. The boats leave at about 3:30am most days – the actual time will be confirmed on your ticket. My advice is to stay in Santa Rosa – Leticia is the bigger, more modern town (with nicer hotels) but it will make getting to the port in the morning much more difficult and you'll need to leave earlier. In Santa Rosa there are very cheap hotels right next to where the boat leaves, so you can stay in bed that much longer.
According to my local contact, there is a risk of dengue in Santa Rosa during summer time, and that the sanitary conditions are fairly poor. There is also no electricity in Santa Rosa at night.
Amazon B&B are the ones who helped me update this post with current prices and information. They're a local business and might be a nice place to stay before your trip. They also can help you booking your boat ticket, and with sorting out the migration etc. The staff can provide a breakfast box for your journey, which is a nice idea as the food on board isn't great.
There are a few jungle tours that you can do around Leticia and Santa Rosa while you're waiting for your boat – but go with a reputable company to avoid getting ripped off like we did. A good idea might be to see if you hire a ferry driver and ask him to take you down the river at sunset, it'll be much cheaper than a tour and you have a good chance of spotting river dolphins around that time. The views from the river are incredible!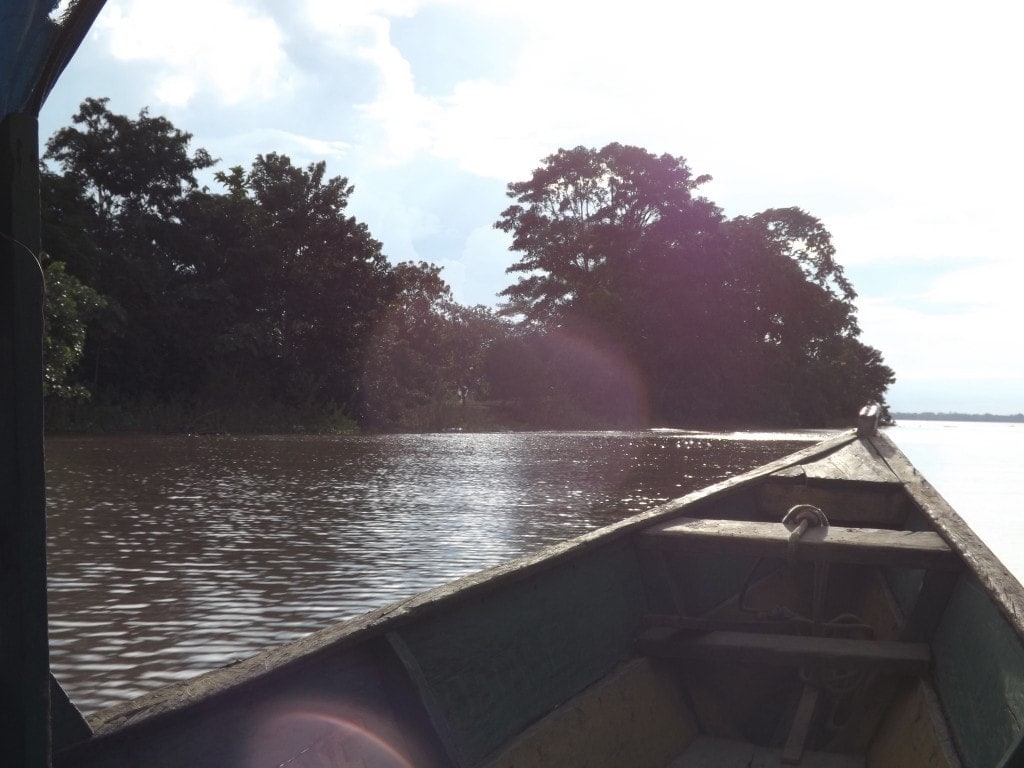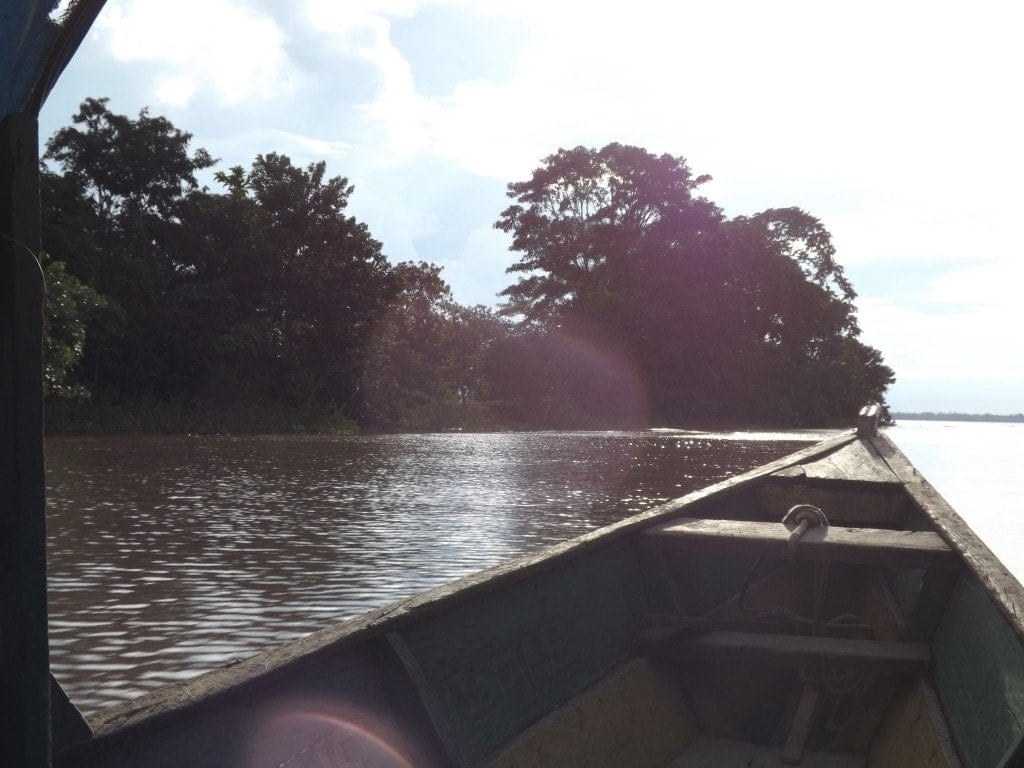 Taking the boat from Colombia to Peru – What to Expect
Get an early night – you will thank yourself at 3am the next morning when you are struggling to sleep on a crowded boat.
The fast boats are narrow motor boats with about 30 seats. These don't recline and are pretty packed in, so don't hold out hope for much leg room.
There is a toilet on board but no soap, and the paper ran out about halfway – so take some tissues and an anti-bac hand gel in your carry-on. I also recommend taking a few wet wipes so that you can clean your hands an face.
Two meals are provided by Transtur: breakfast about 7am (coffee and a roll/sandwich), and a hot lunch at around midday (meat with rice, fizzy drinks). It's a good idea to take fruit or salad with you so that you can eat healthily. You should also take plenty of water for the journey – check out my review of the Water-to-Go Filter Bottle and grab a 15% discount using my code ELUX15.
The boat is scheduled to take ten hours, but can take less or more time depending on conditions. Take a lot of reading material and music, and prepare yourself for a long ride!
The river journey down the Amazon into Peru sounds romantic – but it is also uncomfortable and tough. If you don't like discomfort, dirty hotel rooms, stress, uncertainty, cramped spaces, or travelling by water, then I would recommend taking the plane. The journey is rewarding but you need to be prepared for it!
Read all about my experiences on the Amazon river here.