Some posts on this site contain affiliate links. If you book or buy something through these links, I earn a small commission (at no extra cost to you). Take a look at my privacy policy for more information.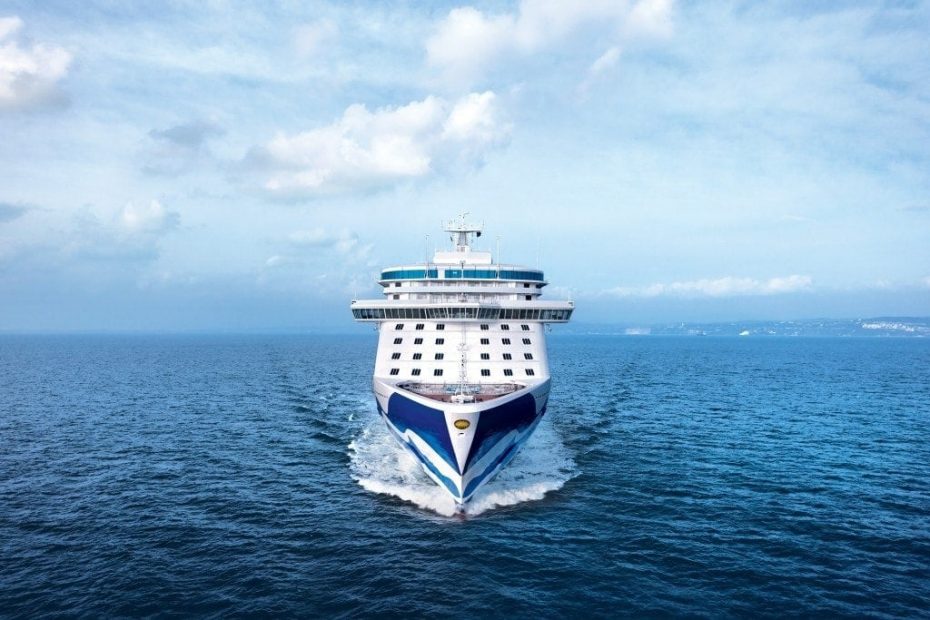 If there's one thing that will never happen on a Princess Cruise, it's for a guest to go hungry! There are dozens of dining options to choose from – many of them included within the complimentary dining plan – so you can almost eat in a different restaurant every evening. This ship is a food lover's paradise!
During the eleven days I was onboard the Regal Princess, I was able to try almost every single one of the restaurants onboard. So I've put together a little food review and restaurant guide for the Regal Princess to help you plan your trip. I've also separated everything into what's included and what costs extra – so you know exactly what your options are. So get ready to eat, and be warned: you'll probably come home heavier!
Skip ahead:
Included In Your Cruise Fare
Not Included – Optional Extras
READ MORE: Check out my full review of the Regal Princess for more information on the ship! 
Regal Princess Dining: Included in Your Cruise Fare
Princess Cruises Anytime Dining vs Traditional Dining
A lot of people don't realise that the "main dining room" on a Princess Cruise is one of the restaurants included in their dining package. On board the Regal Princess there are actually three main dining rooms – two for anytime dining and one for fixed.
So what's the difference between anytime dining and fixed dining? Fixed dining means you'll dine at the same time every night, at either 5:45pm or 8:15pm. You'll be assigned a table in Allegro's and will be there at the same time every evening (unless you choose to dine elsewhere). That way, you're always guaranteed a table right away, but of course you can't be as flexible with your plans. Anytime dining means exactly that – you can turn up at any time, but if it's busy you may have to wait for a table. The anytime dining rooms on the Regal Princess are Symphony and Concerto – you'll be assigned one and then you can simply head there when you're ready for dinner.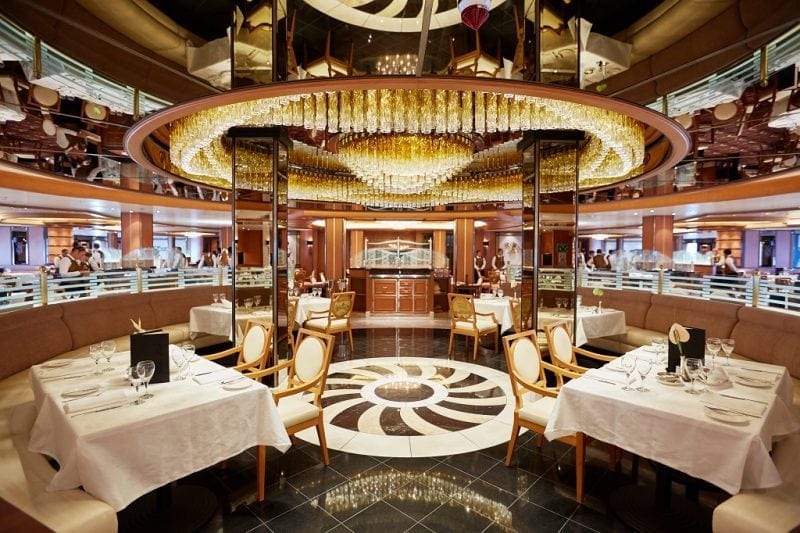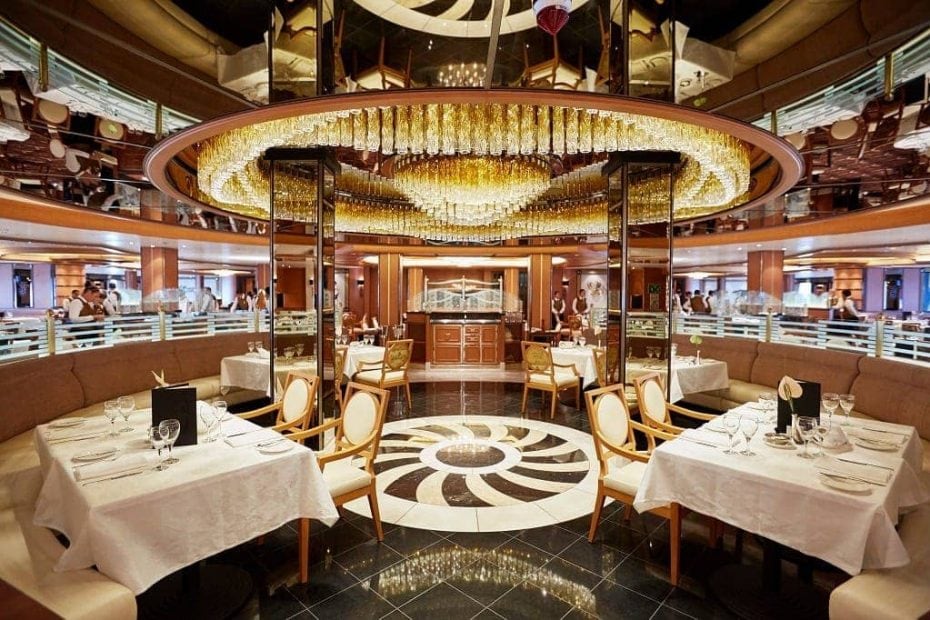 Symphony, Concerto, and Allegro
Breakfast, lunch, and dinner. Plus afternoon tea (included). Opening times vary* depending on ship and voyage.
The three main dining rooms on board the Regal Princess are Symphony, Concerto, and Allegro. All of them have the same menu every night, so you don't need to feel left out about only being assigned one. The menu is a la carte and changes every day, although there's also a list of about 5/6 "Princess Favourites" which are available every day – like pasta alfredo and cheeseburgers.
I loved the food in the main dining room on the Regal Princess. Especially the creme brulee (I had it 4 times in 11 days so it deserves a special mention!). And honestly the service was amazing – our waiter Edgar was an absolute legend, and every time we headed into Symphony we were treated like family.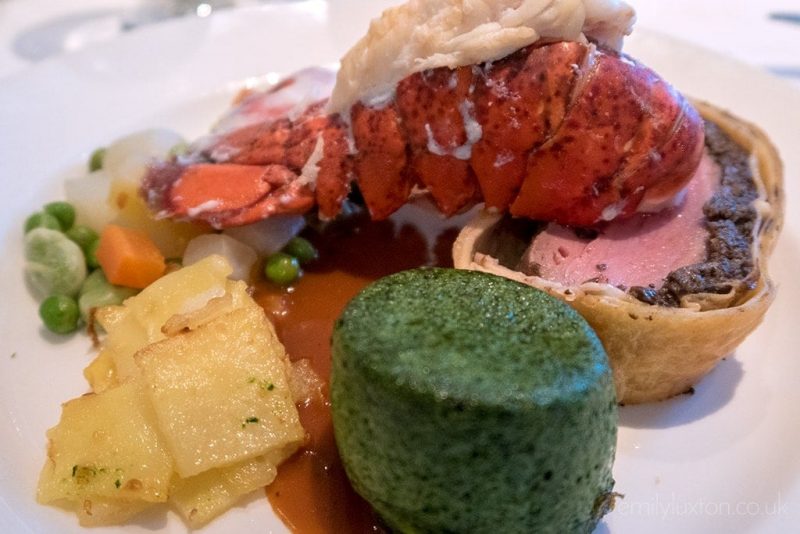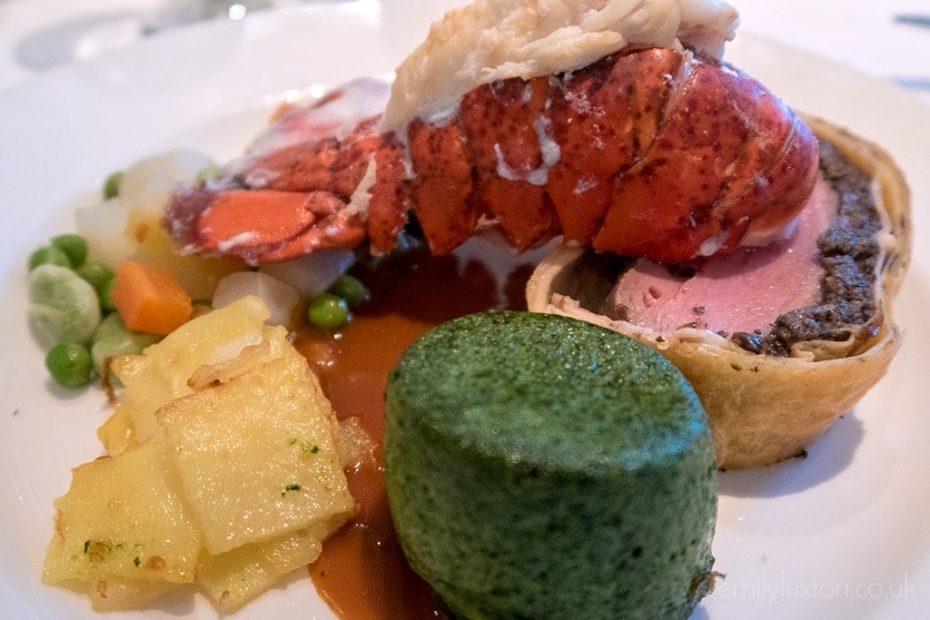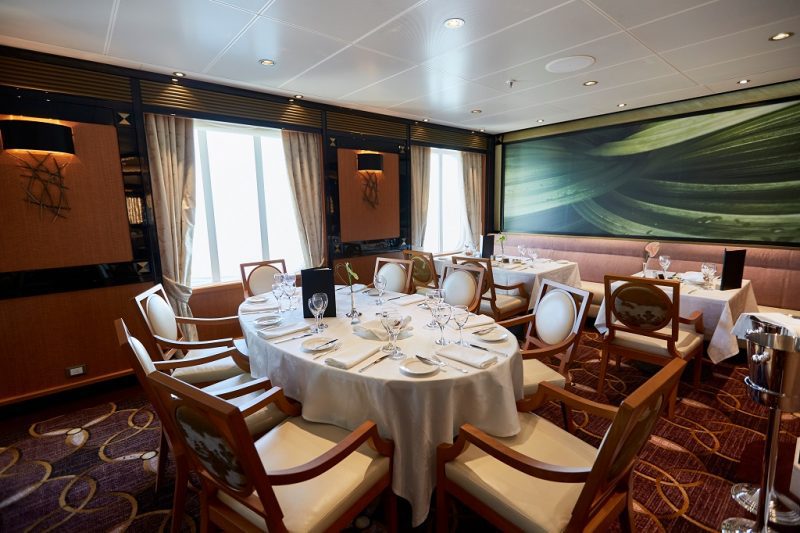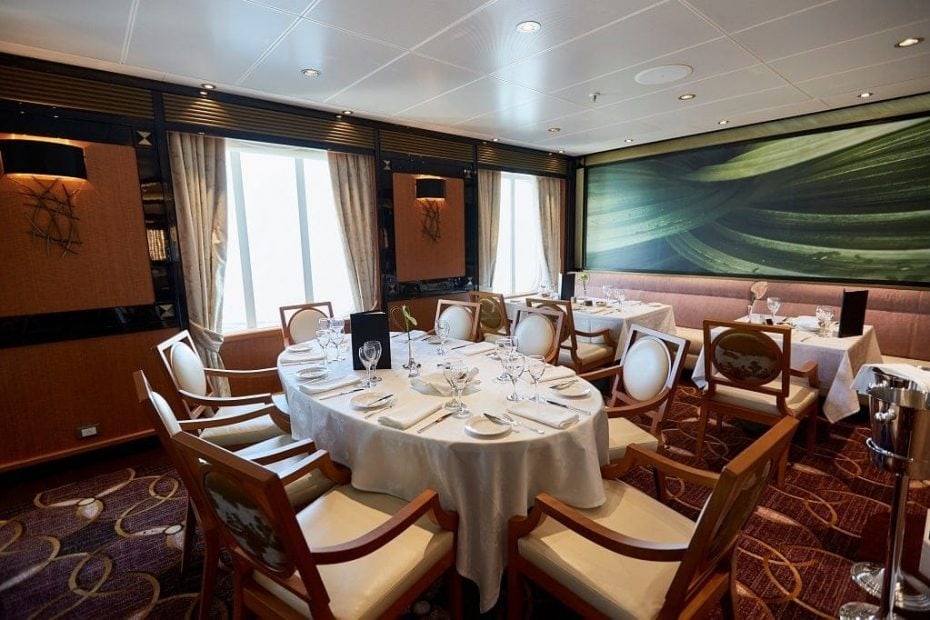 Regal Princess Buffet – Horizon Court and Horizon Bistro
Breakfast, lunch, and dinner. Opening times vary depending on ship and voyage.
On the Regal Princess, the two buffet restaurants are up on the lido deck near the top of the ship. They're next door to each other and both are open, so it's possible to take food from both buffets at the same time. Although buffets aren't my favourite way to dine (and they threaten my self control!) it's definitely a quick, convenient way to eat without needing to hang around for a table. Perfect if you're in a hurry to head off for a tour or to catch the evening entertainment. And the buffet breakfasts on board the Regal Princess are epic – I've never seen so much choice in my life!
In the middle of the Horizon Bistro you'll also find the Pastry Shop, which was definitely my favourite part of the buffet. Don't miss the chocolate and almond croissants at breakfast! And during lunch and dinner the cake selections are overwhelming.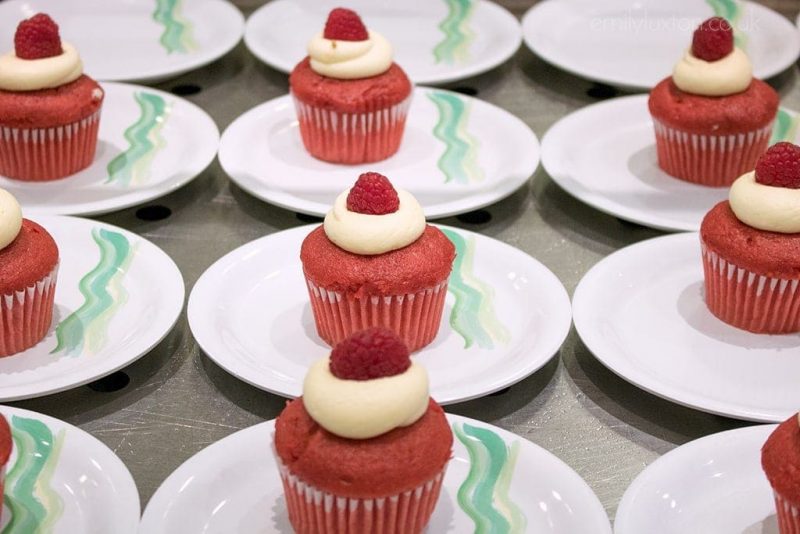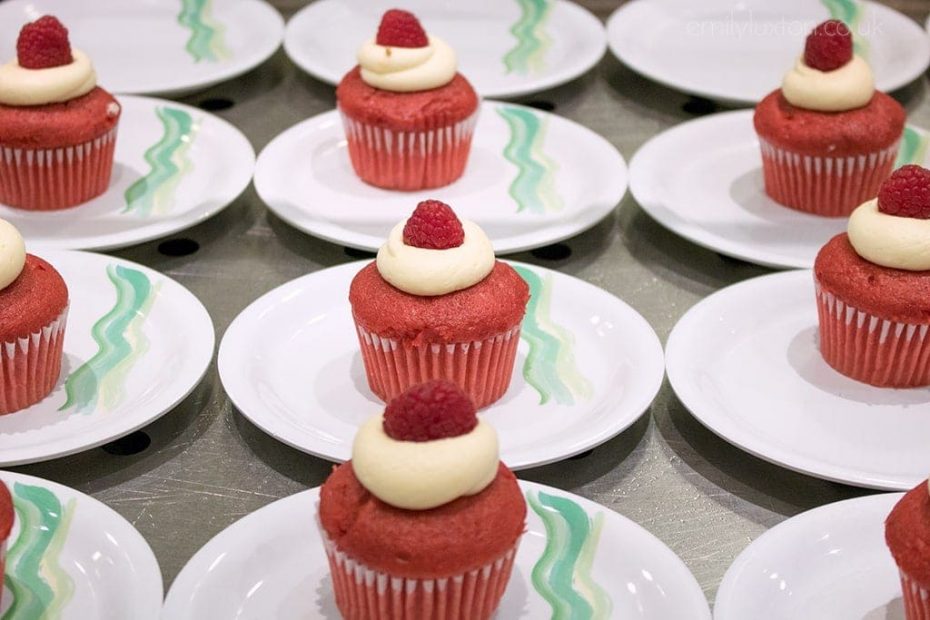 International Café
Open 24 hours.
The International Cafe is perfect for a quick breakfast or lunch on the go. Or if you find yourself in dire need of a cake at any time of the day or night. It's open 24/7 with pastries, sandwiches, and other snacks – as well as a coffee bar*. Like many guests, I was a huge fan of the egg and bacon muffins they serve in the morning – perfect if you're in a rush. Or if you had one too many glasses of wine the night before!
*Additional charges apply to the speciality coffees.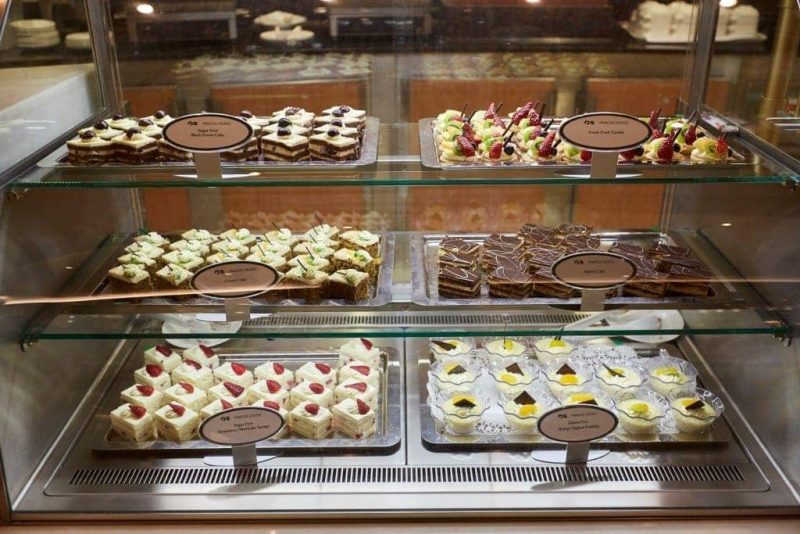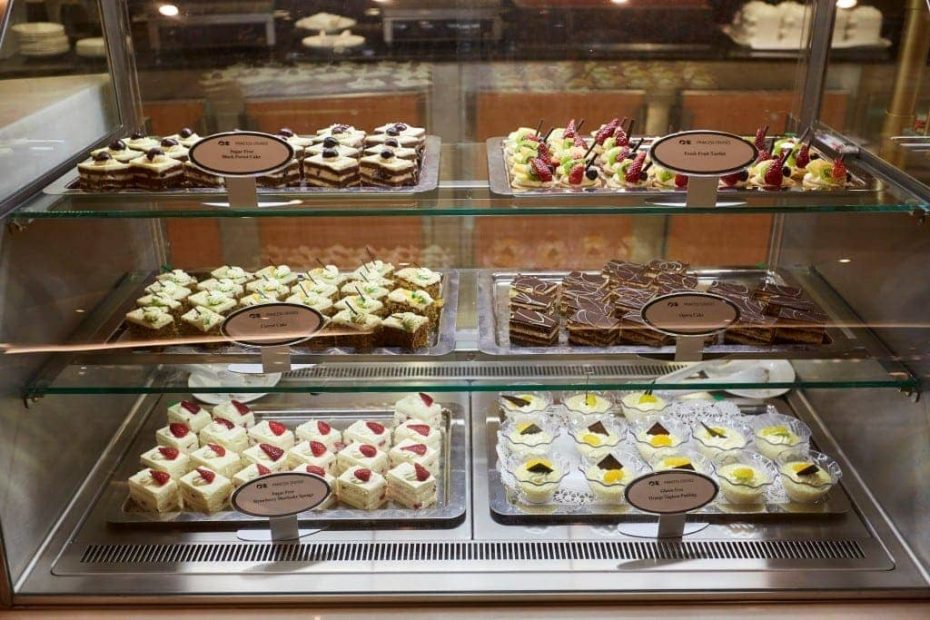 Alfredo's Pizzeria
For a break from the standard dining rooms and buffets, make a reservation at Alfredo's. This is a sit-down restaurant serving up gourmet pizzas made fresh to order. We had a quick dinner in here before heading out to St Petersburg to catch the ballet and it was really tasty. Try the calzone – I loved it!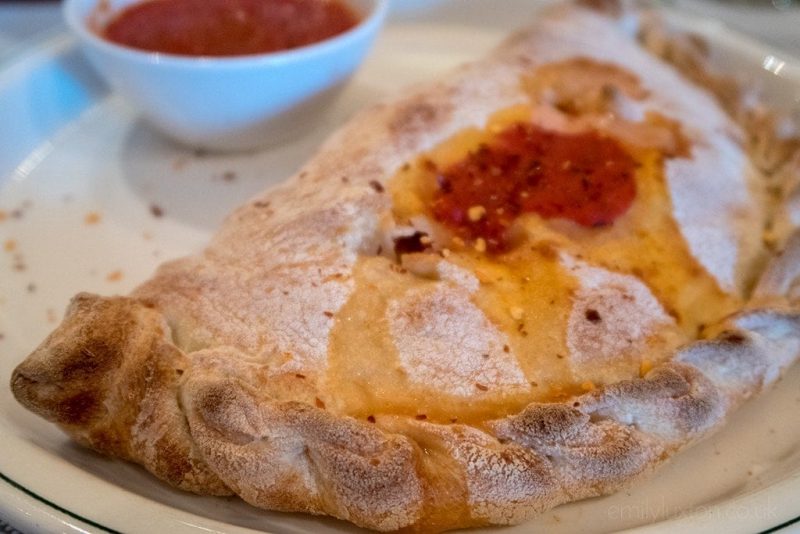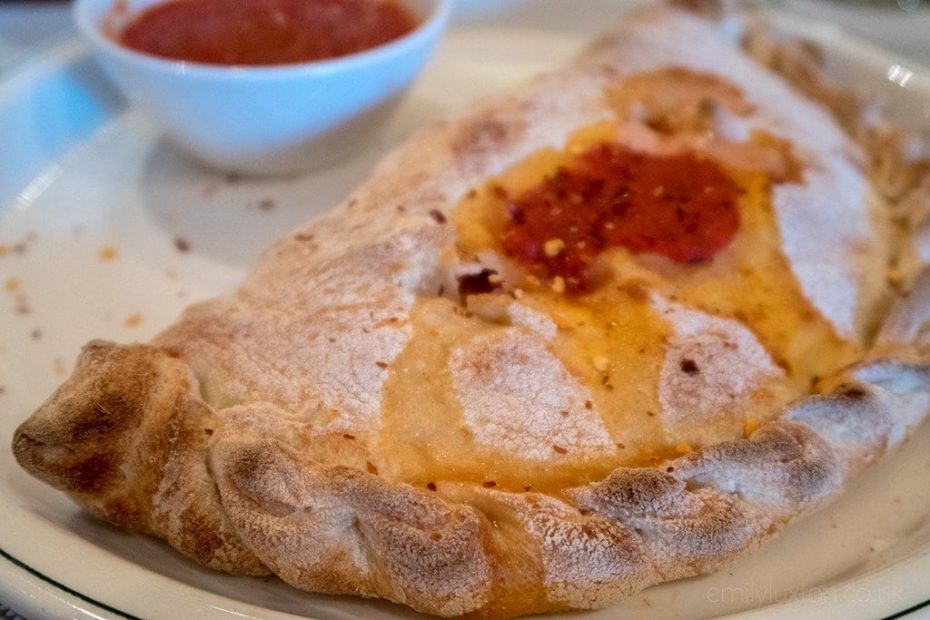 Poolside Food – Trident Grill and Prego Pizzeria
Can't tear youself away from the pool? The Regal Princess have you covered, with two great poolside dining options. Prego Pizzeria serves up pizza by the (enormous) slice, and across the bar is the sizzling Trident Grill. Hot dogs, made-to-order burgers, and chips* make up the tasty on-the-go lunchtime offerings. In the evening, Trident Grill steps it up a notch with smokehouse-barbecue dishes like chili, texas style brisket, and spare ribs. Perfect for a casual dinner al-fresco.
Also to be found pool-side is the Swirls ice cream parlour. Soft-serve ice cream – with sprinkles – included in your cruise fare! You can't ask for more than that!
*(aka French Fries to my US readers)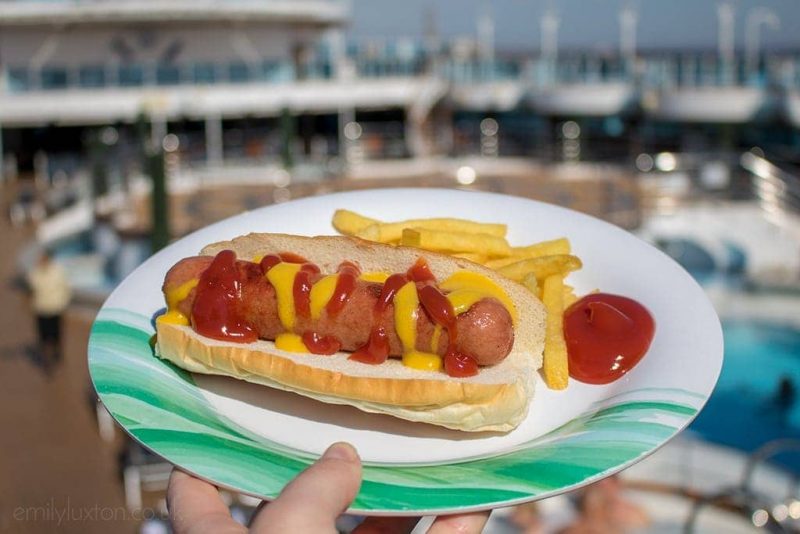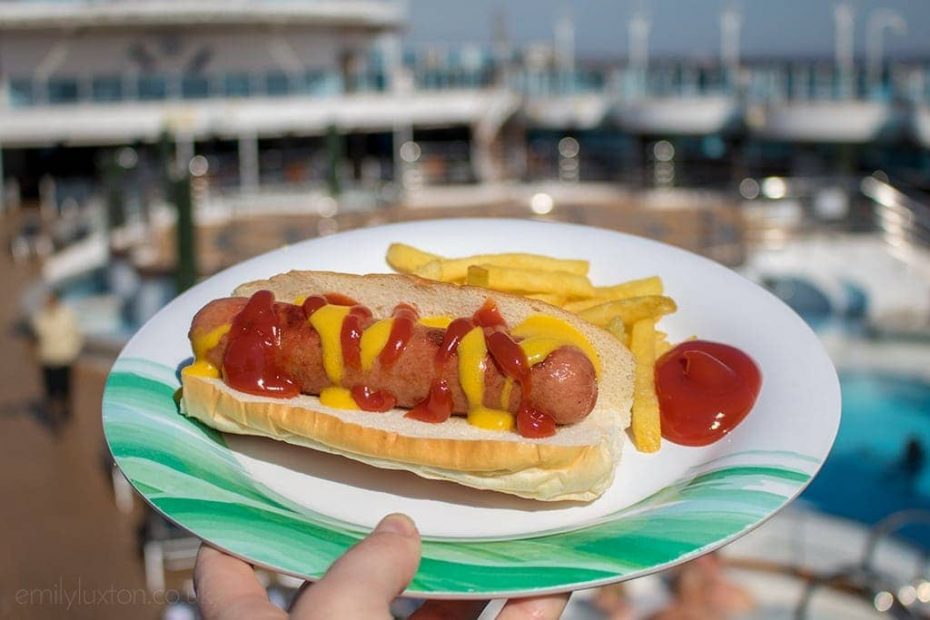 In Room Breakfast
Are you the kind of person who, like me, can't get out of bed in the morning? Luckily, there's also the option to order breakfast to your room – free of charge. You can place on order online or by filling out the order card in your room and hanging it on your door.
Simply select the time you want it delivered, and what you'd like; and your steward will do the rest. It was lovely sipping my morning coffee on the balcony every morning, looking over the view of a new port in a new country. I found that there weren't too many options for the in-room breakfast, though. If you want a big breakfast or lots of choice I suggest heading to the dining room or the buffet instead.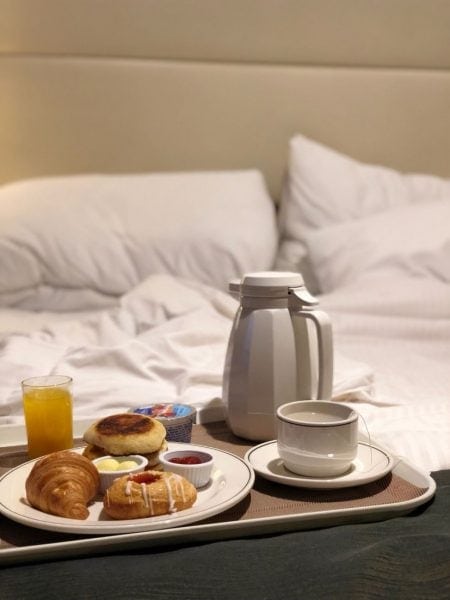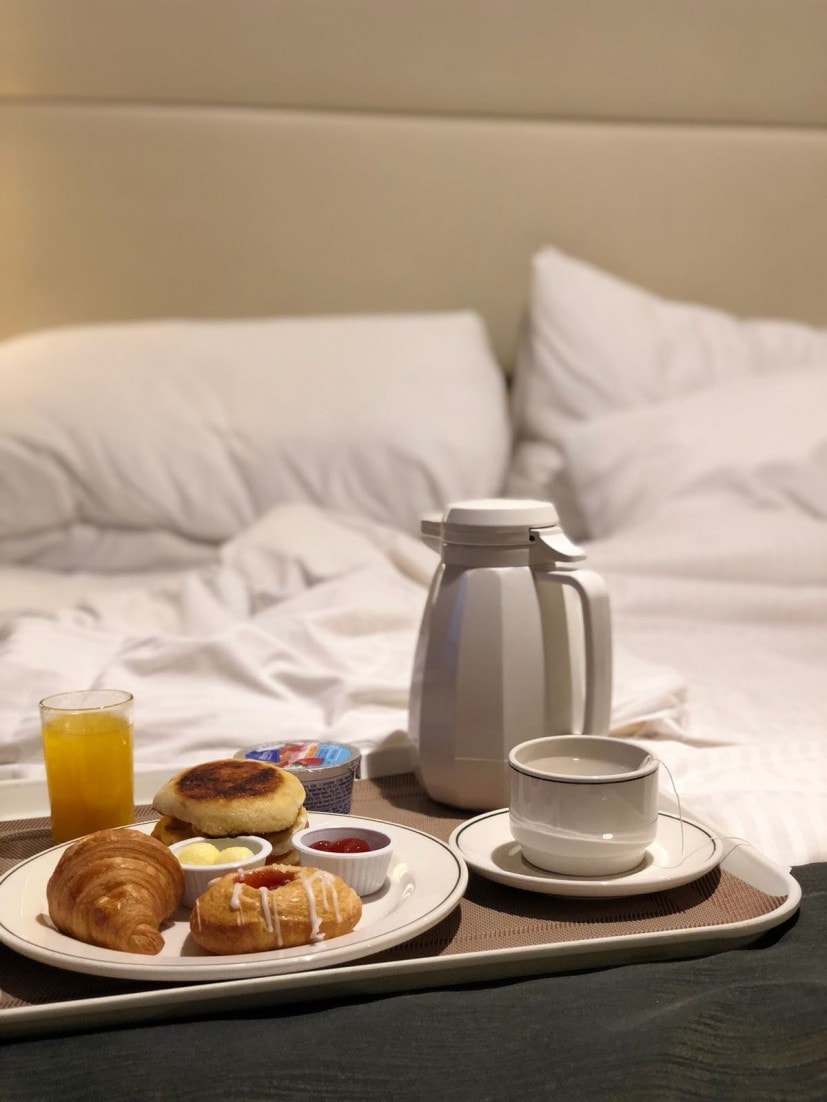 Regal Princess Dining Options – Not Included
If all the included restaurants aren't quite enough for you, or you want to treat yourself for a special occaision, there are a whole host of extra Princess Cruises dining options available for an additional charge. Some of them really aren't too bad considering the quantity (and quality) of the food you'll be getting. Here's my break down of the extra dining options on board the Regal Princess – and what I thought of them…
Unless otherwise stated, prices don't include drinks.
Sabatini's
$25 per person
This Italian speciality restaurant is a firm favourite among Princess guests, and it's easy to see why. This was one of my favourite meals on board – I loved my creamy ravioli, and the quartet of mini desserts was sublime. Although every bit as friendly as the rest of the ship, service felt a little bit more formal and fancy – perfect if you're having a special occaision.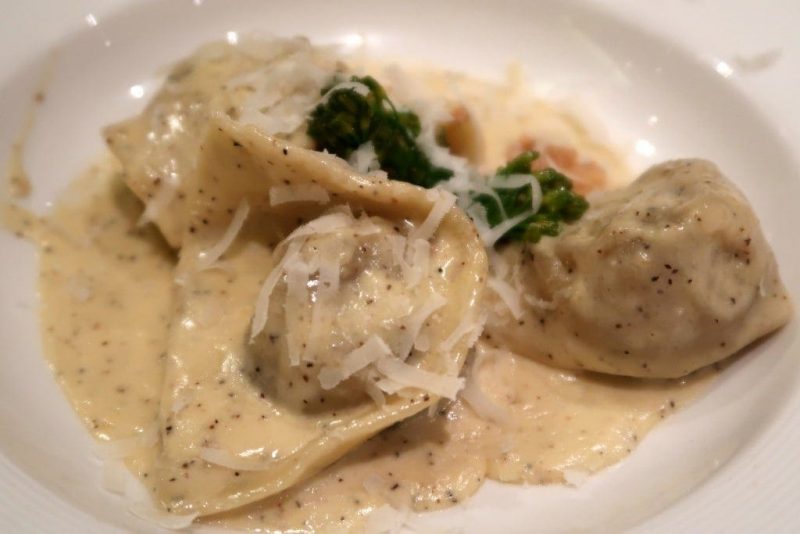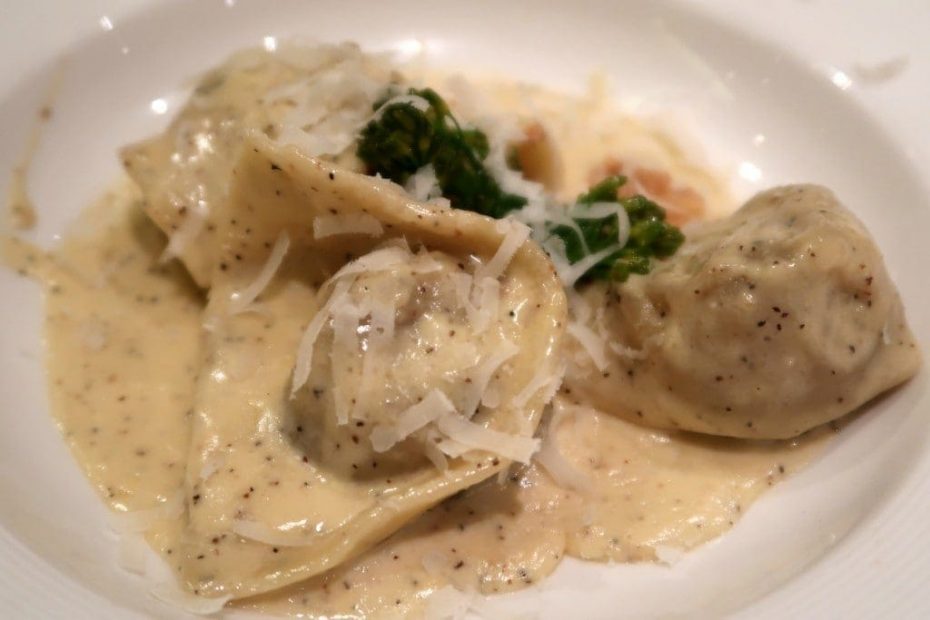 Wine Makers Dinner
$40 per person (inclusive of drinks)
I think it's safe to say that the Wine Makers Dinner was one of the dining highlights of our time on the Regal Princess. An extra special set menu, where each course is paired with a different wine. This is a fantastic way to explore the best wines on board the ship, and to indulge in some amazing food too. I really enjoyed the whole expeirence and given how generous the staff are with the wine, I think this is one of the best value experiences on the ship. Ideal if you're looking for something a little different!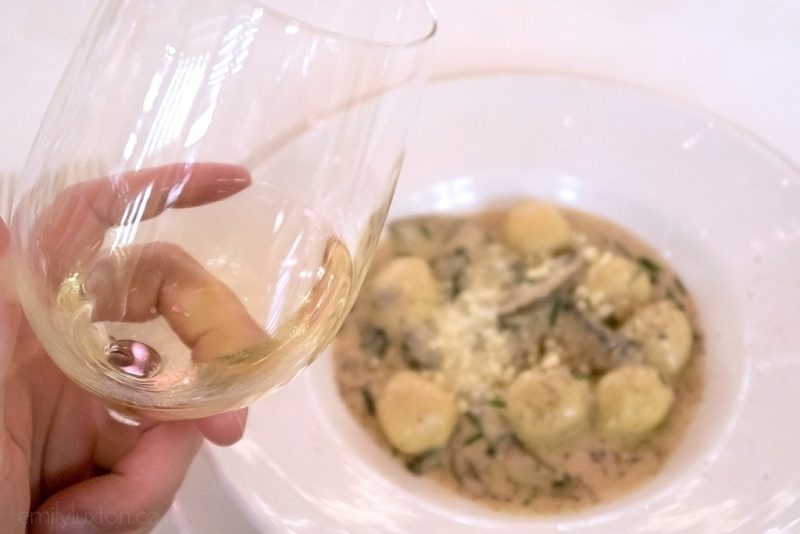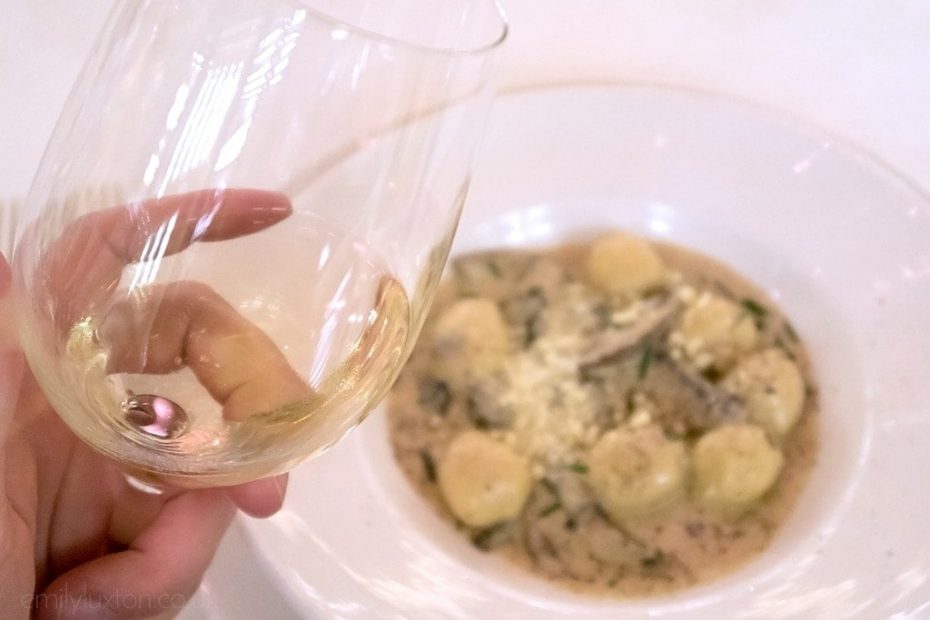 Chef's Table Lumiere
$115 per person
This is one of the few Regal Princess dining experiences I didn't try during my trip – but it's one that comes highly recommended. Princess Cruises created the first ever chef's table experience at sea, and their new Chef's Table Lumiere in the Allegro dining room takes it to a new level. The large dining table is surrounded by a "curtain of light" to keep it separate. I've only seen pictures, so I can't say more than that, but it looks like a fabulously extravagent affair!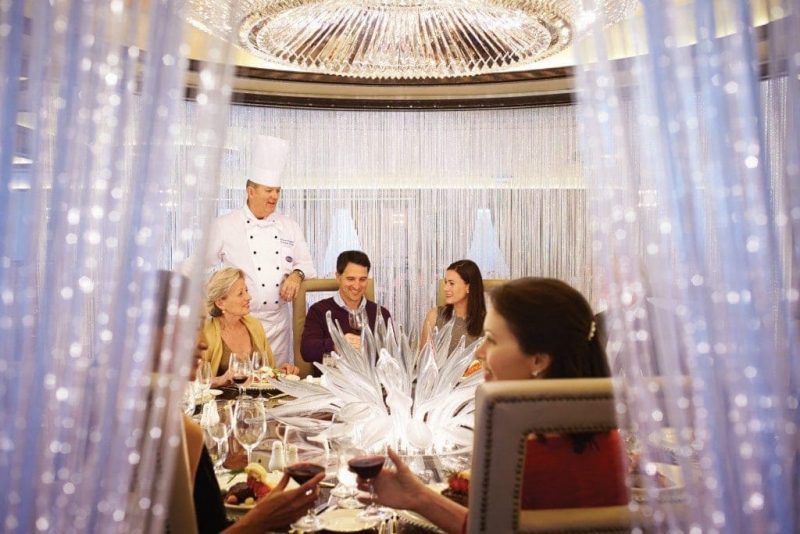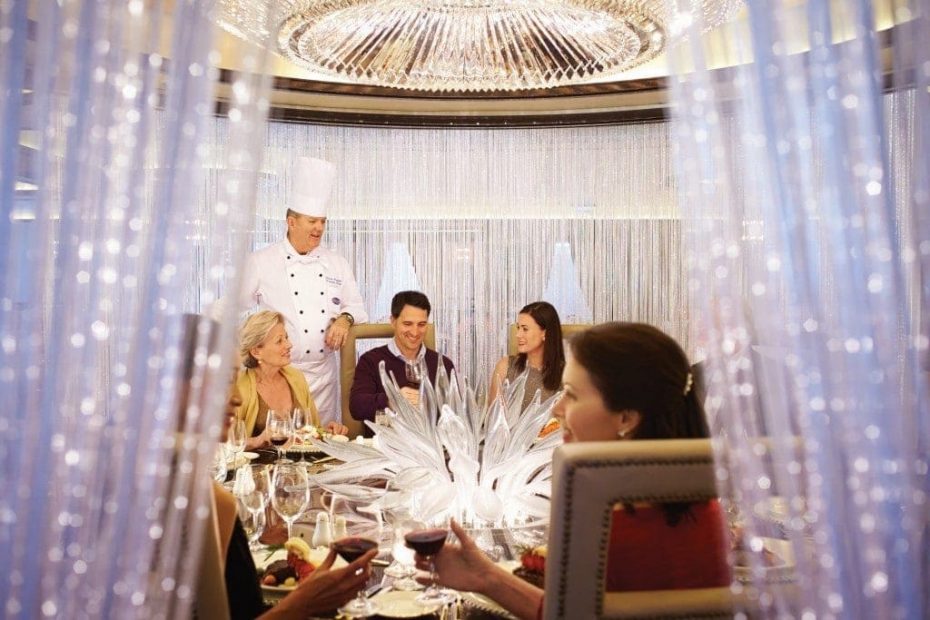 Crown Grill
$29 per person
Another of my dining highlights on board the Regal Princess was our epic steak dinner at the Crown Grill. Steak and seafood are the specialities of the theatre-style kitchen here – and we were not dissappointed. Before ordering, the Maître D' brought out a whole array of steaks to talk us through all the different cuts of meat. From tender filet mignon to enormous porterhouse steaks, there's something for every meat lover. It was all so well prepared, and I loved the choice of salts to accompaniy everything. And you can upgrade your main to include a side of lobster tail – something I heavily regretted not doing after seeing it on other peoples' plates!
Bar Menus and Pop-Ups
The above Regal Princess restaurants aren't even the end of the speciality dining options! There's so much more to discover that I wasn't able to cover it all, even with 11 days to play with. Many of the bars also serve food. There's a tapas menu in Vines, and the Outrigger Bar serves made to order Mexican treats like burritos and flautas. The Ocean Terrace is an a la carte seafood bar. And there's daily afternoon tea, too. The main dining room serves one which is included in your cruise fare, or there's Royal Afternoon Tea in the Atrium atarting at $10 per person.
Plus there are occaisional pop up dining experiences, like the Crab Shack which is hosted within the Horizon Court. Oh.. AND there are special packages where you can have a picnic in a cabana in the adults-only Sanctuary on deck 17. In short, the Regal Princess is full of choice when it comes to dining!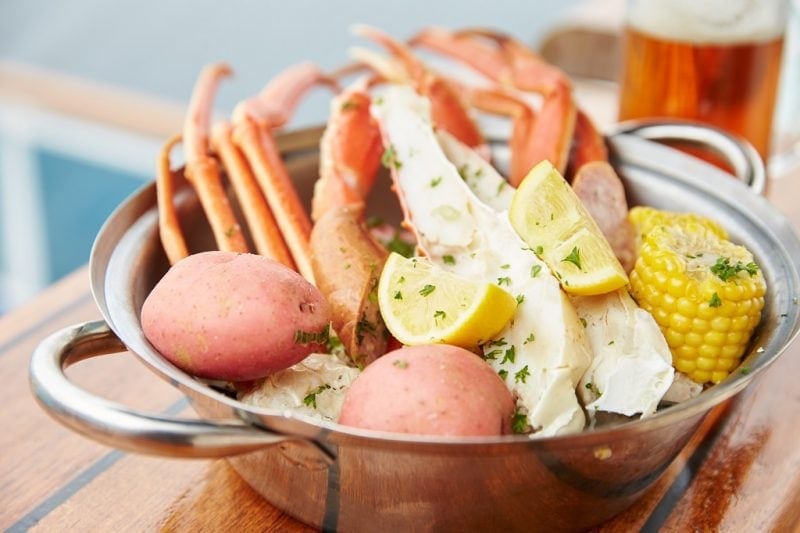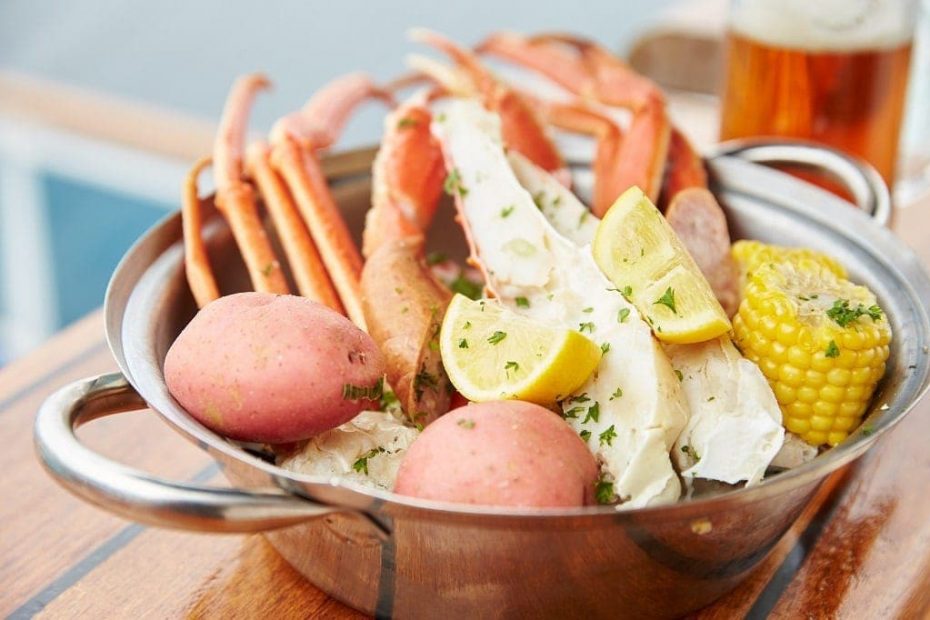 Gelato
From $1.50 per scoop
If you have a sweet tooth like me there are plenty of places to indulge it on board the Regal Princess. I loved the ice cream parlour Gelato on deck five. They had a great range of flavours and toppings, as well as fresh made crepes and waffles.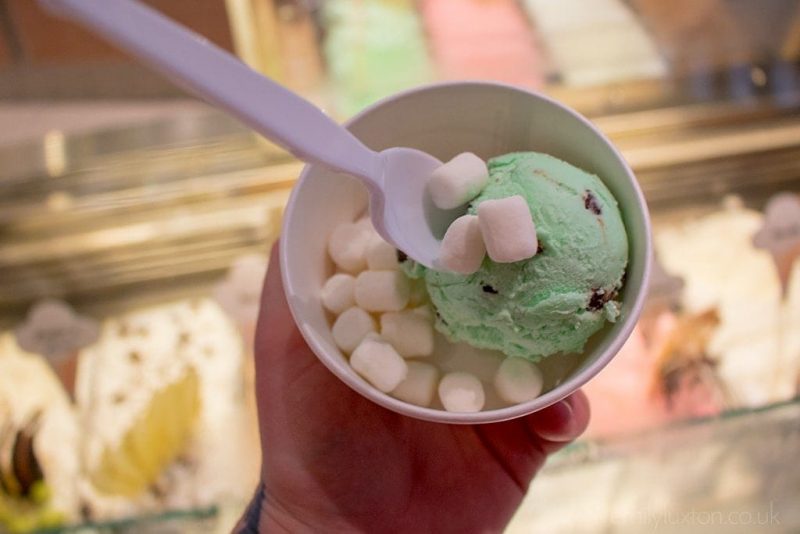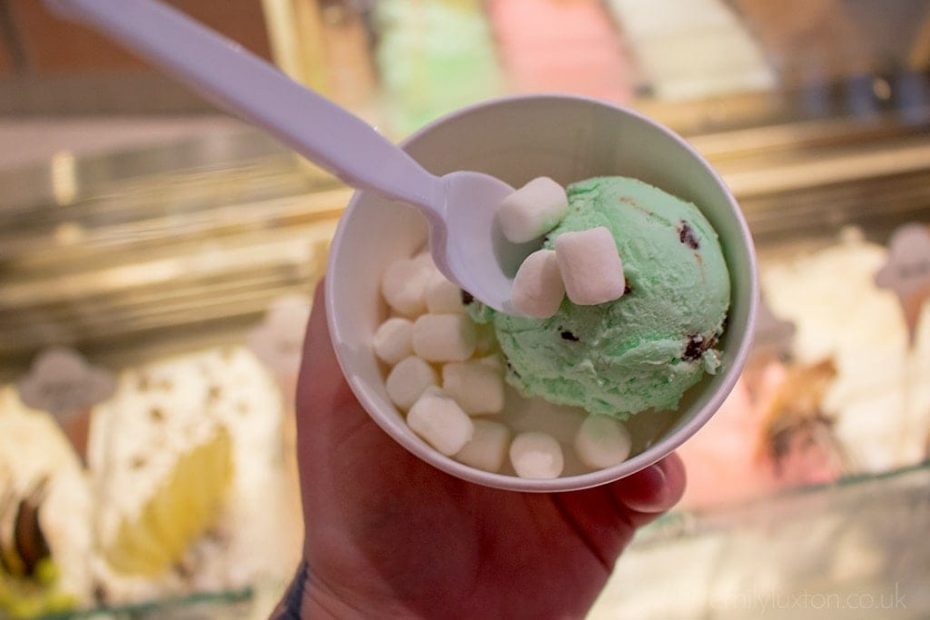 Regal Princess Bars
There's no shortage of bars on board the Regal Princess! You have at least 12 to choose from – and possibly even more that I never discovered. In 11 days I don't think I came close to trying all the bars on the ship! My favourites were Vines – a speciality wine bar that serves champagne by the glass – and the Retreat Bar in the adult's only pool area on the Lido Deck. With so many to choose from and some fab cocktails to be found in all of them, I suggest you simply explore the ship and discover your favourites.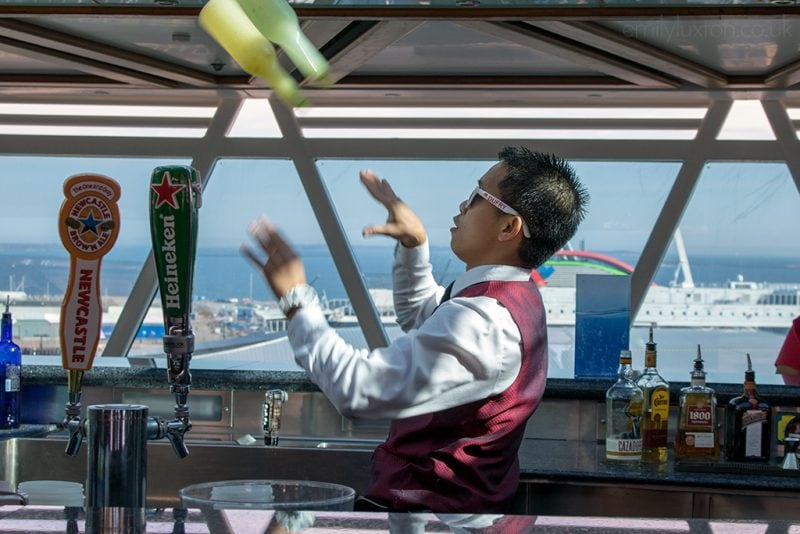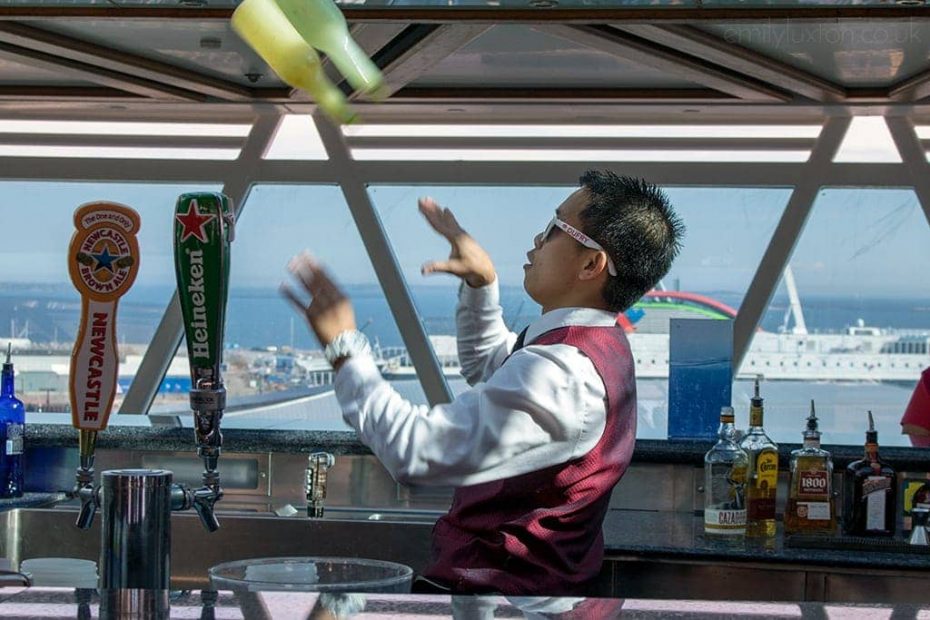 Read More
17 Things to do Onboard the Regal Princess
Princess Cruises Summer Seacations
My UK Seacation on the Regal Princess
Have you travelled on the Regal Princess – or with Princess Cruises before? What did you think of the dining options and food on board?
My trip was kindly supported by Princess Cruises and Traverse Events. As always, all words and opinions in the post are my own and unbiased.
Pin This Post!